Halloween Rice Krispie Treats
These Halloween Rice Krispie Treats are PERFECT for a monster-themed party or Halloween treats! They are super easy to make and they're utterly adorable! Even the adults are your party will be sneaking one!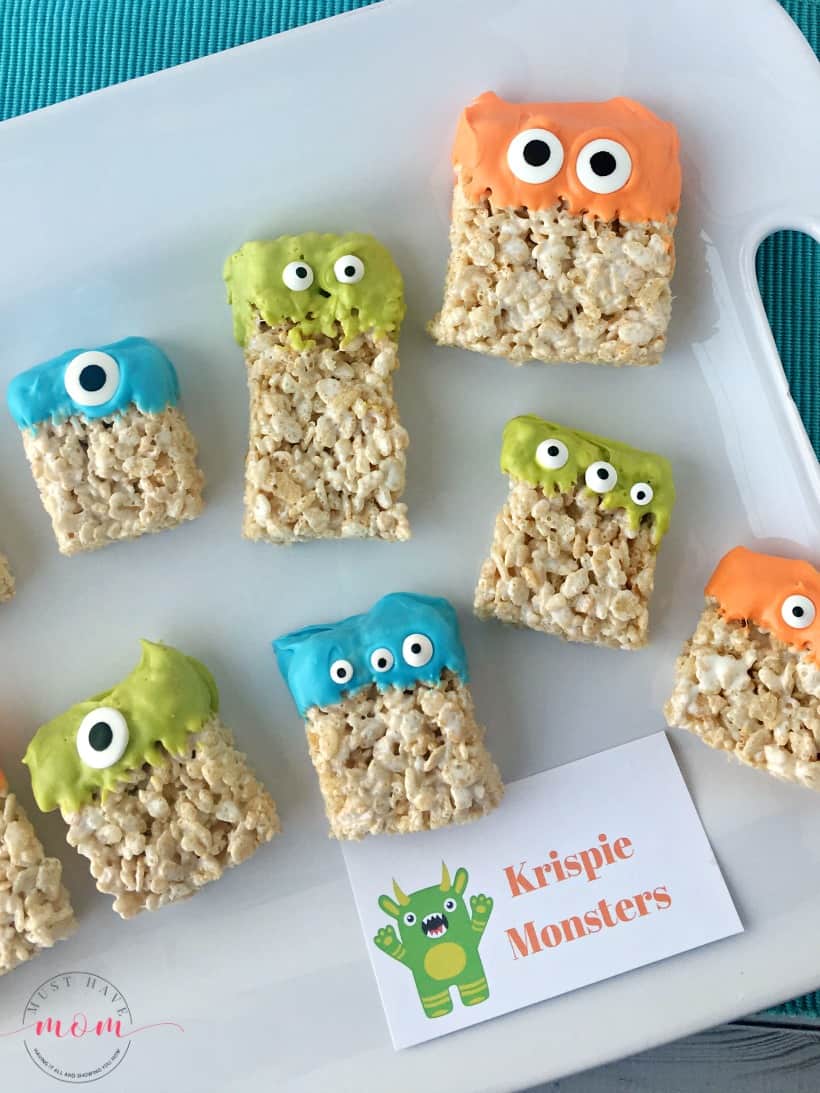 Halloween Rice Krispies
These Halloween Rice Krispies monster treats are absolutely adorable and are perfect for a monster themed party or for Halloween treats. They go along perfectly with these eyeball monster cookies and this cheese puff monster. Serve them at a party or bag them up individually! These are so easy to make and they are sure to impress the kids! I also created free monster party printable food tags to go along with them which you can print at the bottom of this page!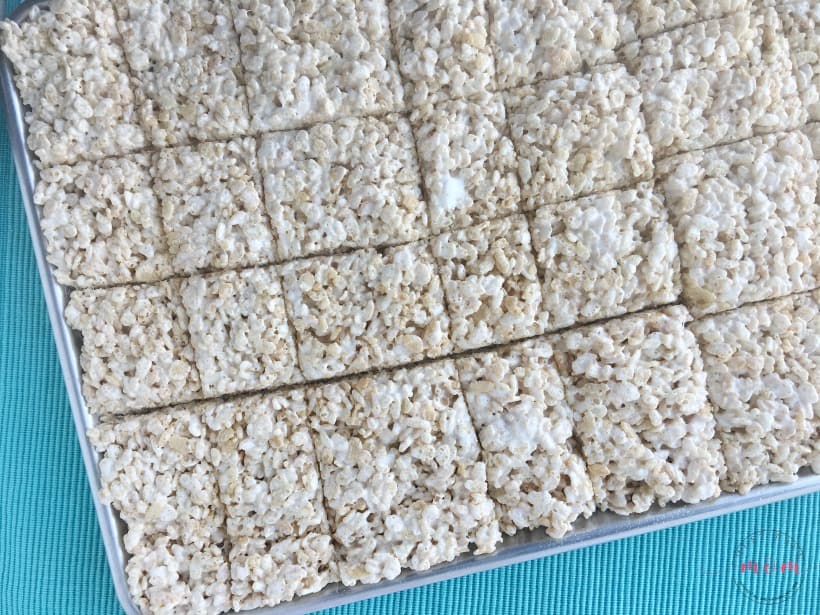 How To Make Rice Krispie Bar Monsters
Begin by making the standard rice krispie bar recipe. It's included at the bottom of this post! Once the rice krispie bars have cooled completely, cut into various sized rectangles. They should vary so that your monsters aren't all the same. See photo above for inspiration. Cut some skinny and some wide and make sure they are long enough to give you room to top each one with colored candy melts.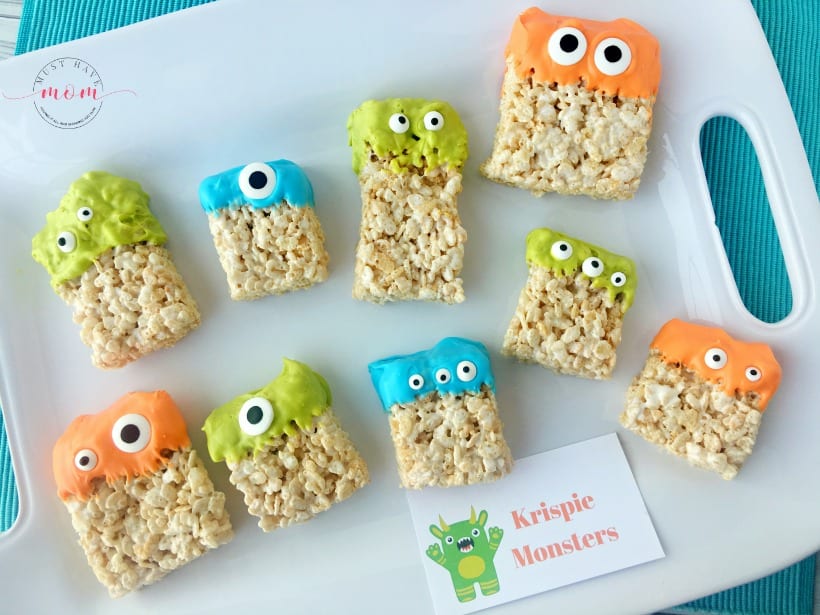 Pull apart each rice krispie bar and then melt different colored candy melts. I used blue, green and orange candy melts. Melt one at a time in a candy melting pot and dip the tops of the rice krispie bars in the melted candy. Before the candy hardens, add eyeballs by pressing the eyeball candy into the candy melts. Add the eyeballs in various patterns and amounts so each monster has its own unique look. Allow candy melts to harden completely before serving.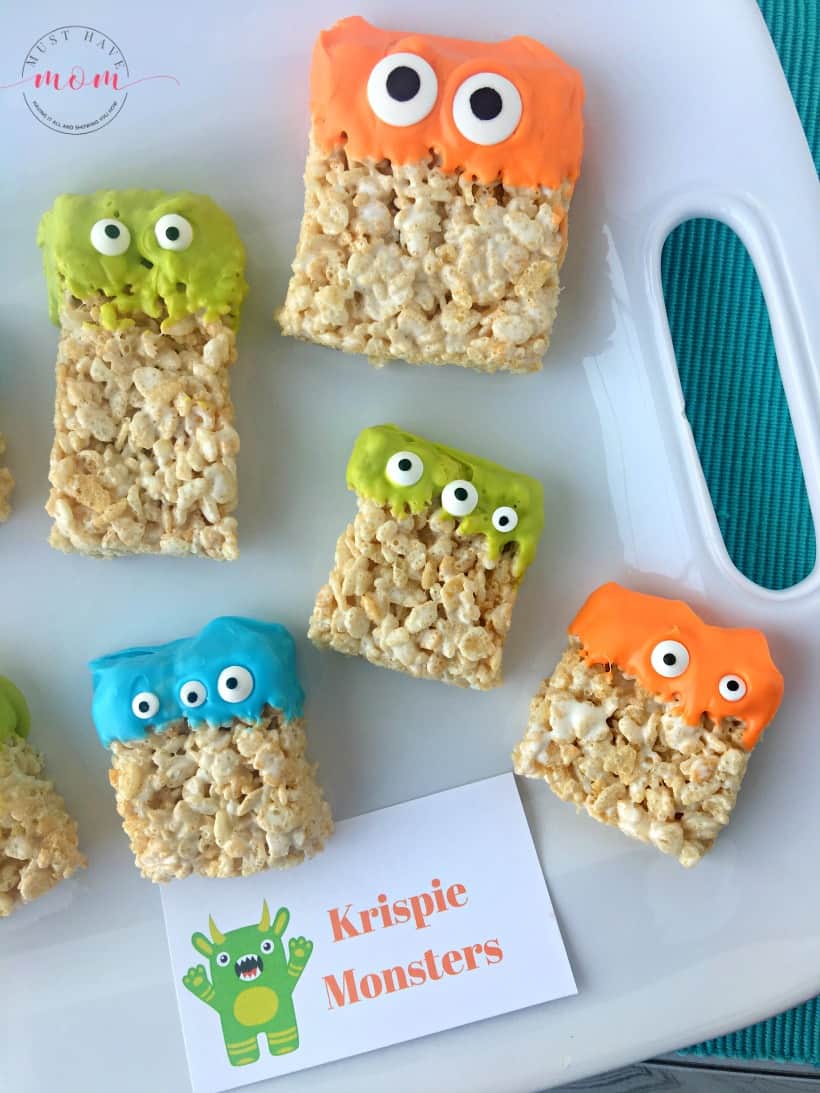 Place rice krispie bar monsters on a serving tray or wrap each one in a clear plastic bag and serve! These were a huge hit at our monster party for my son's birthday! More to come on all of our monster themed food we served at the party. Grab the free printable monster food tags below!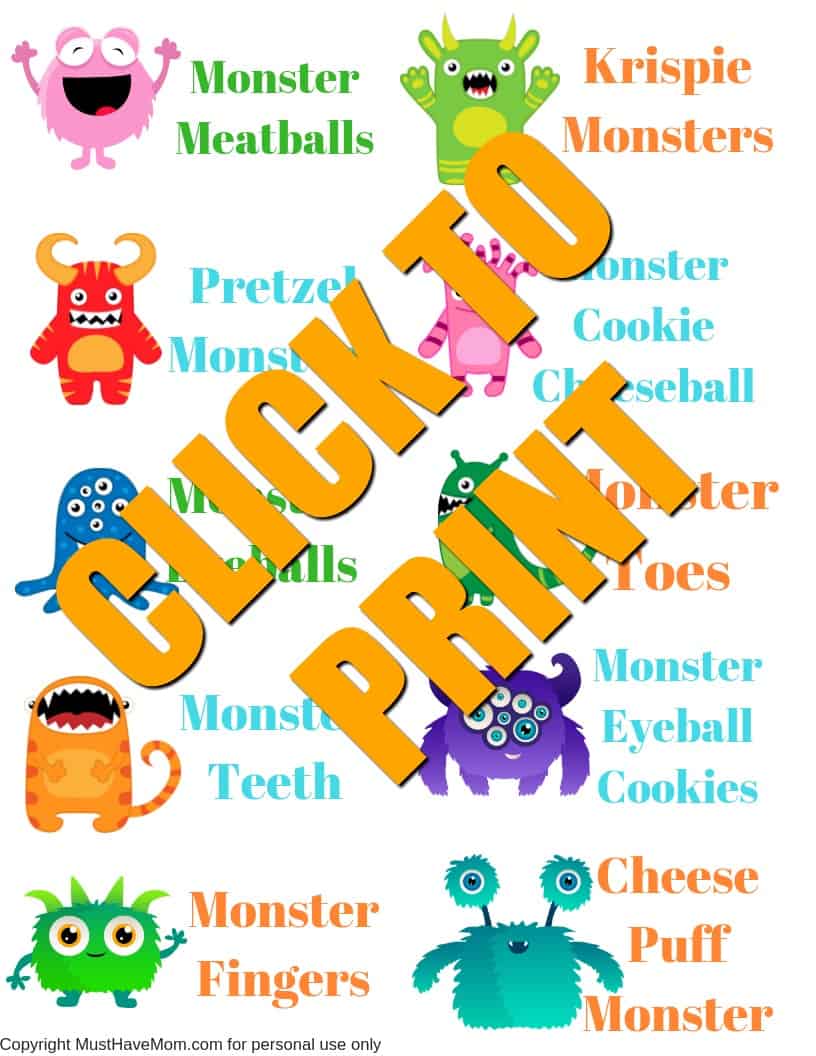 Free Printable Monster Party Food Tags
Want my free Krispie Monsters food tag that goes along with this? I'll send it straight to your inbox and include all of my monster party food tags with it! Just enter your email here and it'll magically appear in your inbox. I promise to never spam you or sell your information because I hate that too!
Rice Krispie Bar Monsters Recipe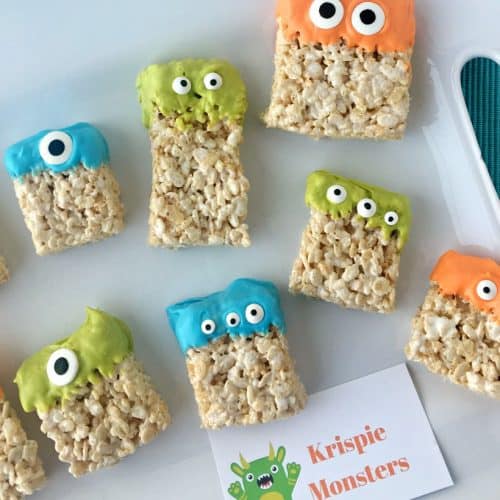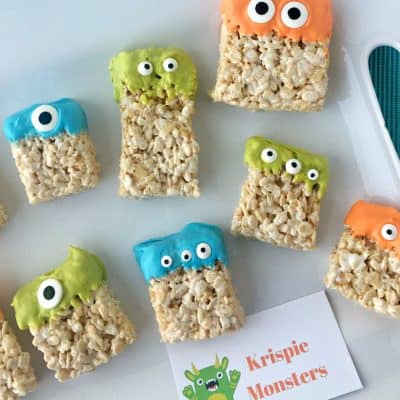 Rice Krispie Bar Monsters
Fun and easy rice krispie bar monsters are perfect for monster themed party food or Halloween treats that aren't candy!
Ingredients
3

tbsp

butter

1

package

JET-PUFFED Marshmallows

(10oz., about 40)

6

cups

Kellogg's® Rice Krispies® cereal

Candy Melts

various colors

Candy eyeballs

various sizes
Instructions
In large saucepan melt butter over low heat. Add marshmallows and stir until completely melted. Remove from heat.

Add KELLOGG'S RICE KRISPIES cereal. Stir until well coated.

Using a buttered spatula or wax paper evenly press mixture into 13 x 9 x 2-inch pan coated with cooking spray. Cool. Cut into various sized rectangles.

Melt candy melts in a candy melt warmer or double boiler. Dip rice krispie bar tops into the candy melts and then add candy eyeballs in various patterns and quantities to the candy melt to create different-looking monsters. Repeat with different colored candy melts for all of the bars so you have different colored monsters. Allow to cool completely before serving.
Pin Krispie Monsters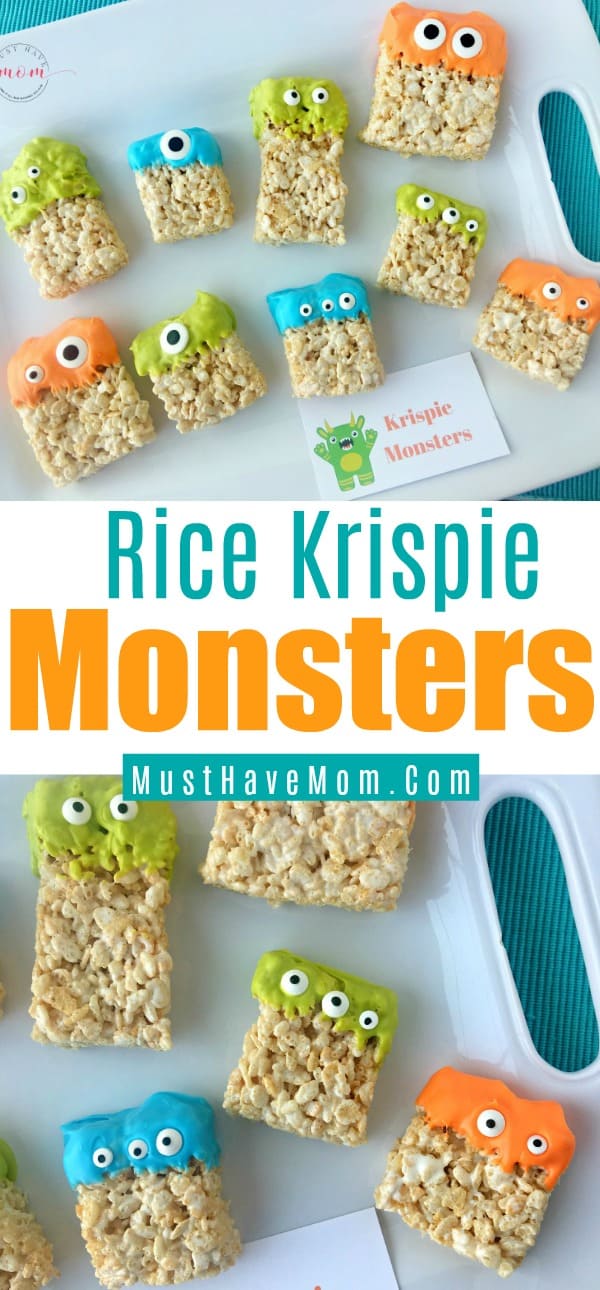 Other Monster Party Food Ideas
Here are some more adorable monster party food ideas to go along with these Rice Krispie monster treats.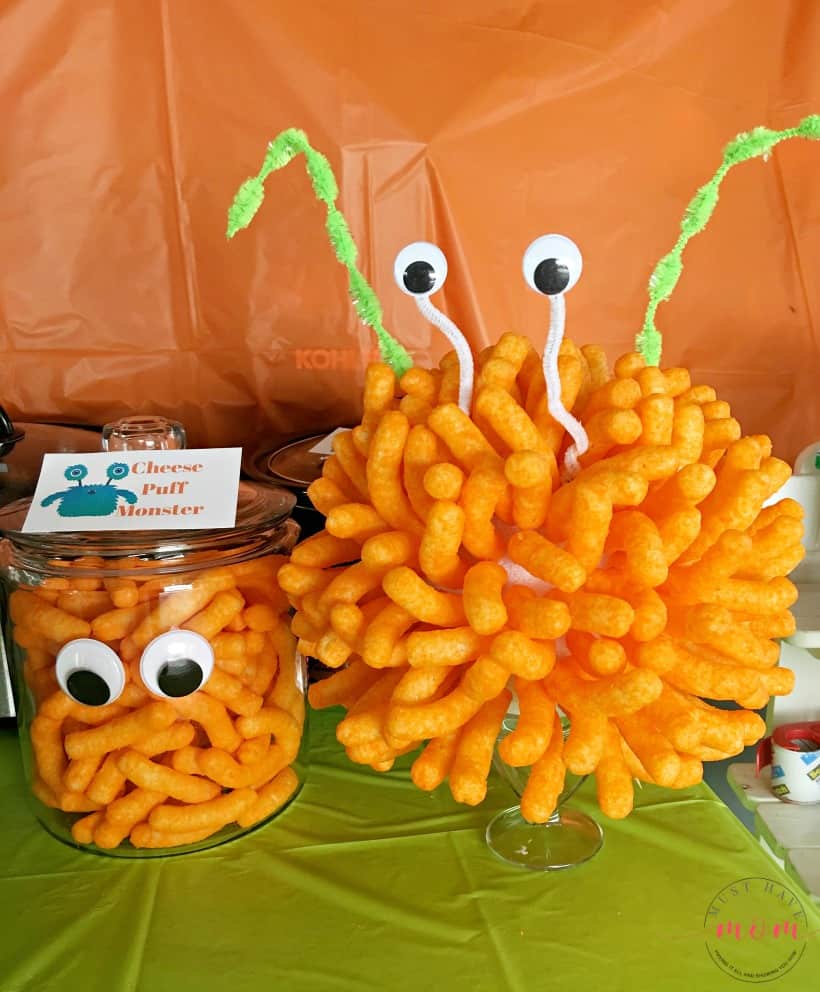 Cheese Puff Monster Party Food Idea