Pirate Treasure Hunt Sensory Bin with Kinetic Sand!
This pirate treasure hunt sensory bin with Kinetic Sand will keep kids entertained for HOURS! I'll show you how easy it is to make! Great for unwinding after school or keeping younger kids busy while the older kids are at school for the day.
Thank you Spin Master for sponsoring today's post!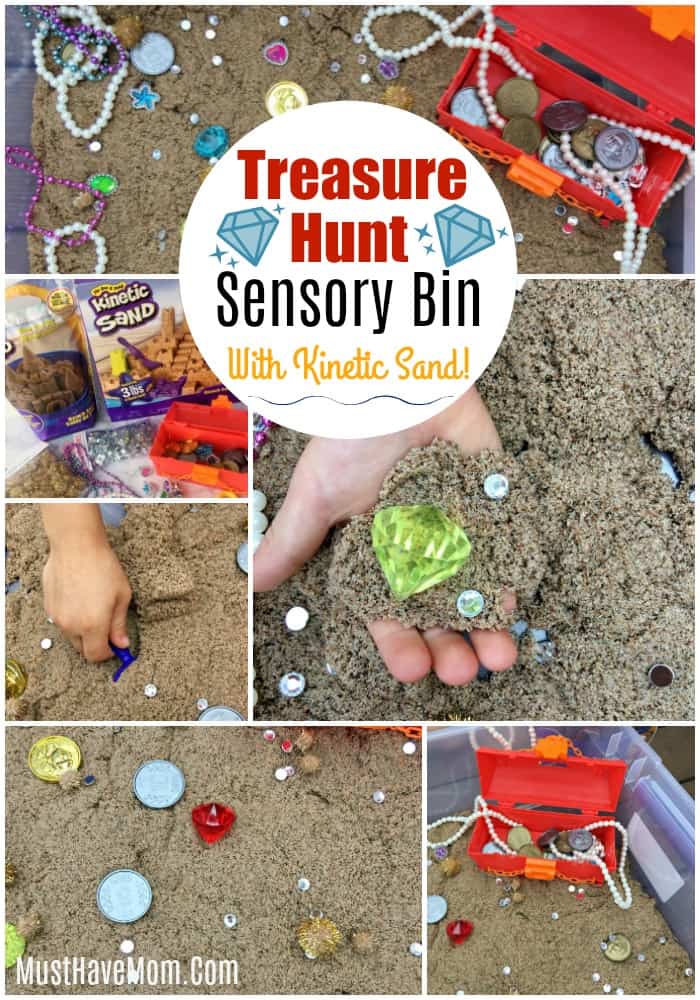 What Is A Sensory Bin?
Before we dive into showing you how to create this super fun pirate treasure hunt sensory bin, you may be wondering what a sensory bin is. A sensory bin is typically a large tub/container or table with a container built into it that is filled with various materials designed to stimulate the senses. You can use a variety of materials in a sensory bin including water beads, rice, dry pasta, water and our favorite, Kinetic Sand! It typically also includes other supplies in it to help create a fun themed experience. You can check out some of our other sensory bin ideas including our ocean sensory bin, frozen ocean sensory bin, ocean pollution sensory bin, rainbow jello sensory bin and more here. Now that you know what it is, let's get started making a treasure hunt sensory bin!!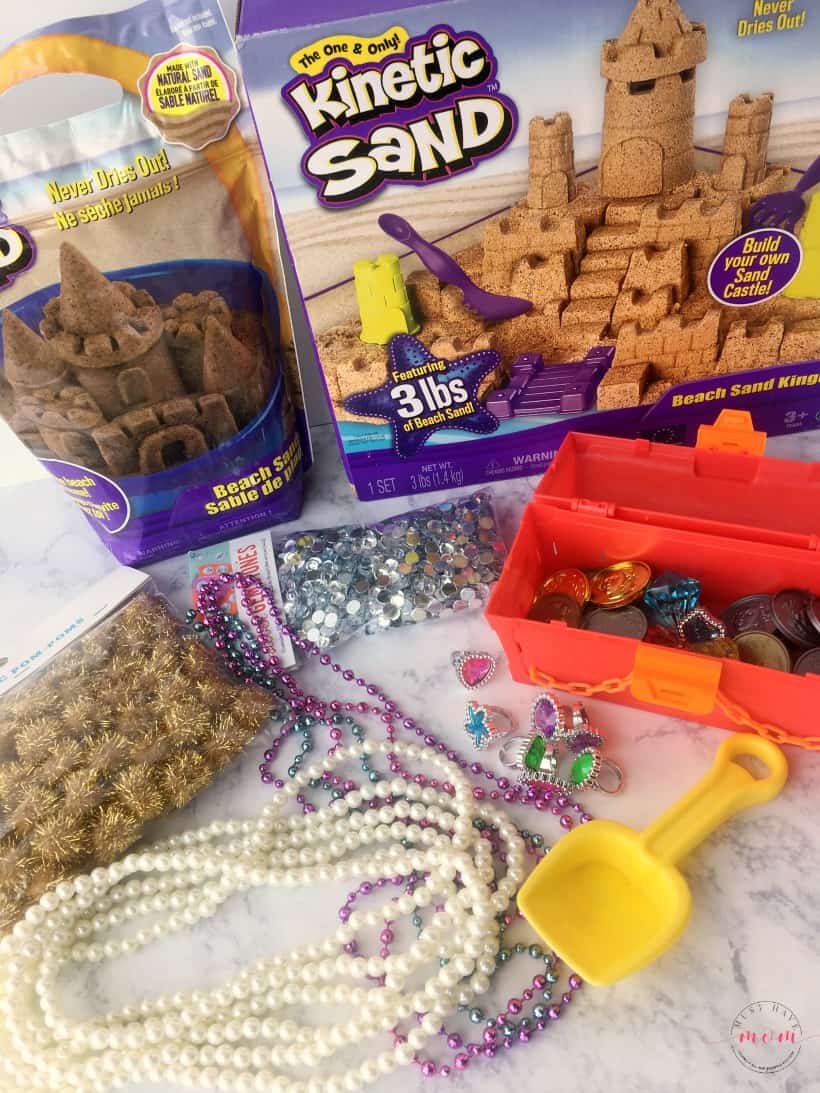 Pirate Treasure Hunt Sensory Bin
This pirate treasure hunt sensory bin is SO much fun and it's quick and easy to put together. You'll need a few supplies including:
6-12 lbs of Kinetic Sand (

Buy Here

) we used the Beach Sand Kingdom set and another 3lb bag of beach sand

large tub/bin

fake gold coins

play pearl necklaces (I found these in the party favor section)

costume rings (party favor section)

silver gemstones (craft aisle)

gold pom poms (craft aisle)

treasure box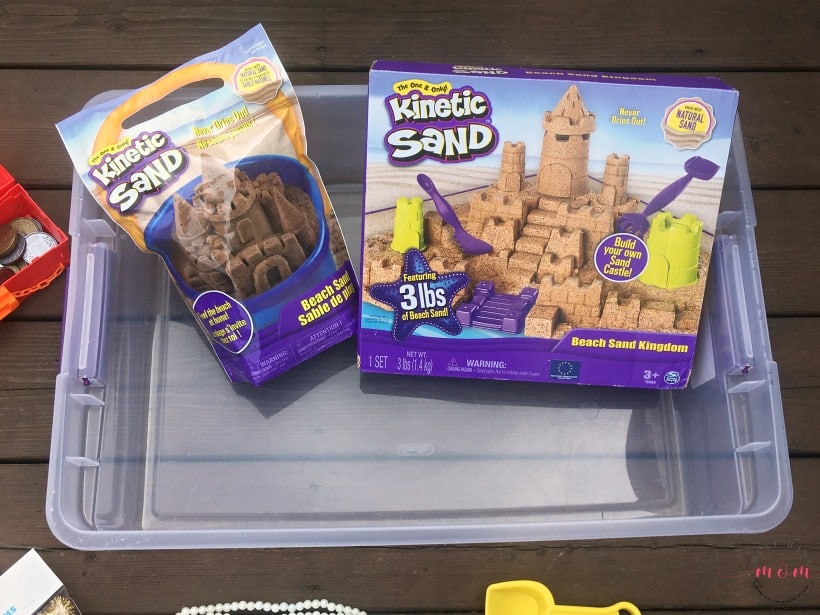 Begin by filling the tub with the Kinetic Sand beach sand.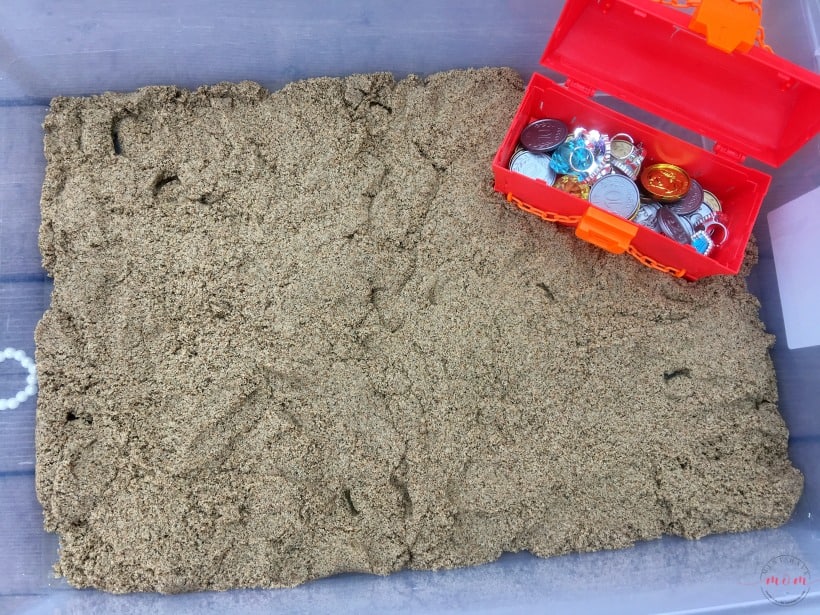 The Kinetic Sand will come out of the package in a big lump. Spread it out flat on the bottom of your sensory bin. Place a treasure chest in the corner so they can collect the treasures they find in the sand. I found this one in the dive toys section. It works great! You could also use a wood treasure box from the craft aisle.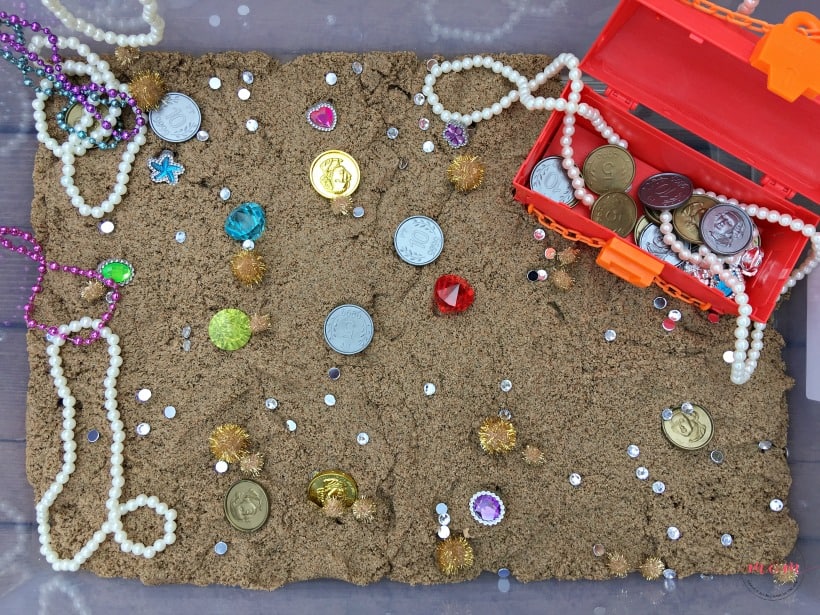 Next, add the treasure to your sensory bin. I added play pearl necklaces, gold coins, gems, small gemstones, play rings, and gold pom poms.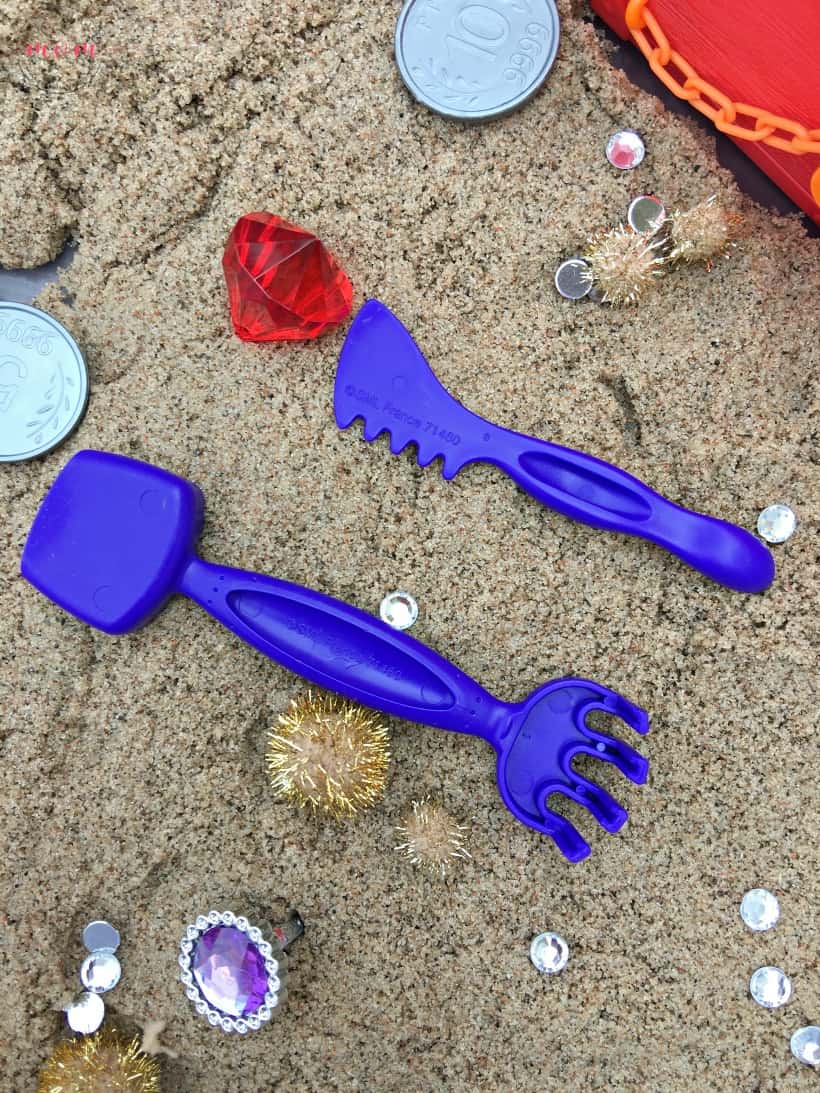 Use the digging tools that are included in the Kinetic Sand Beach Sand Kingdom set. Kids can use these to help dig for the treasure!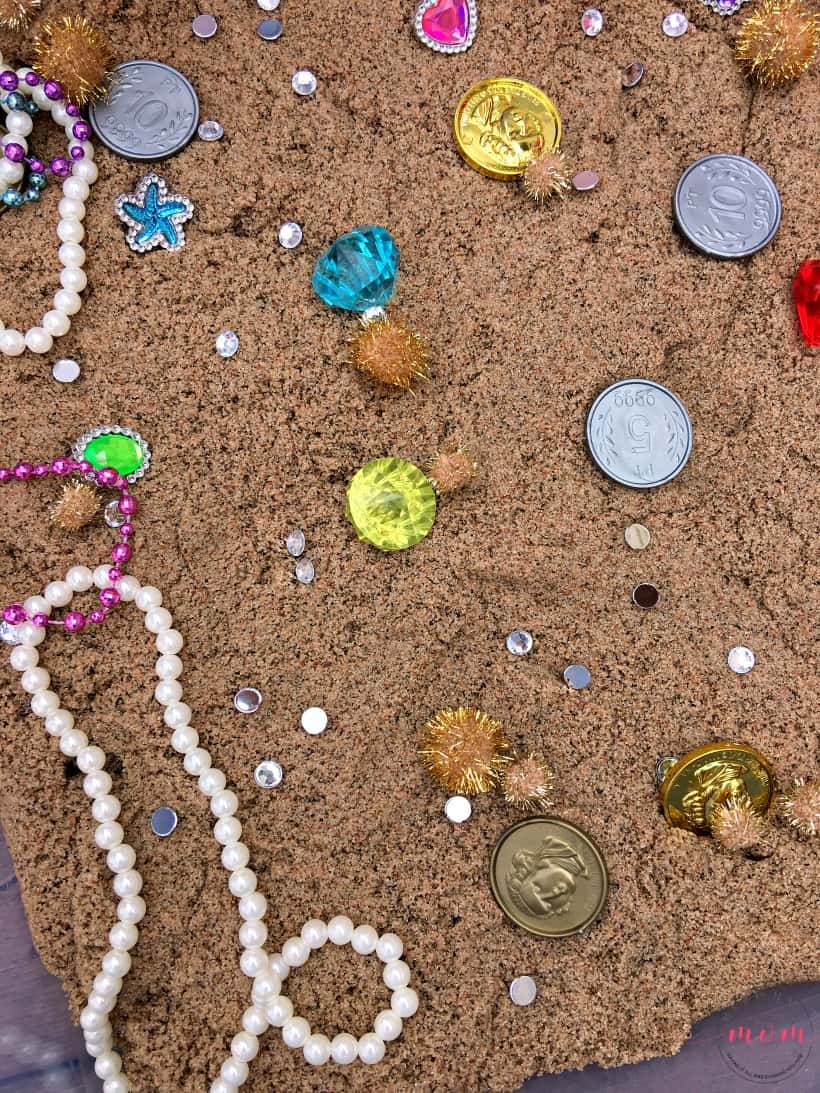 Once you've added all the treasure be sure to mix it all up and bury some in the Kinetic Sand.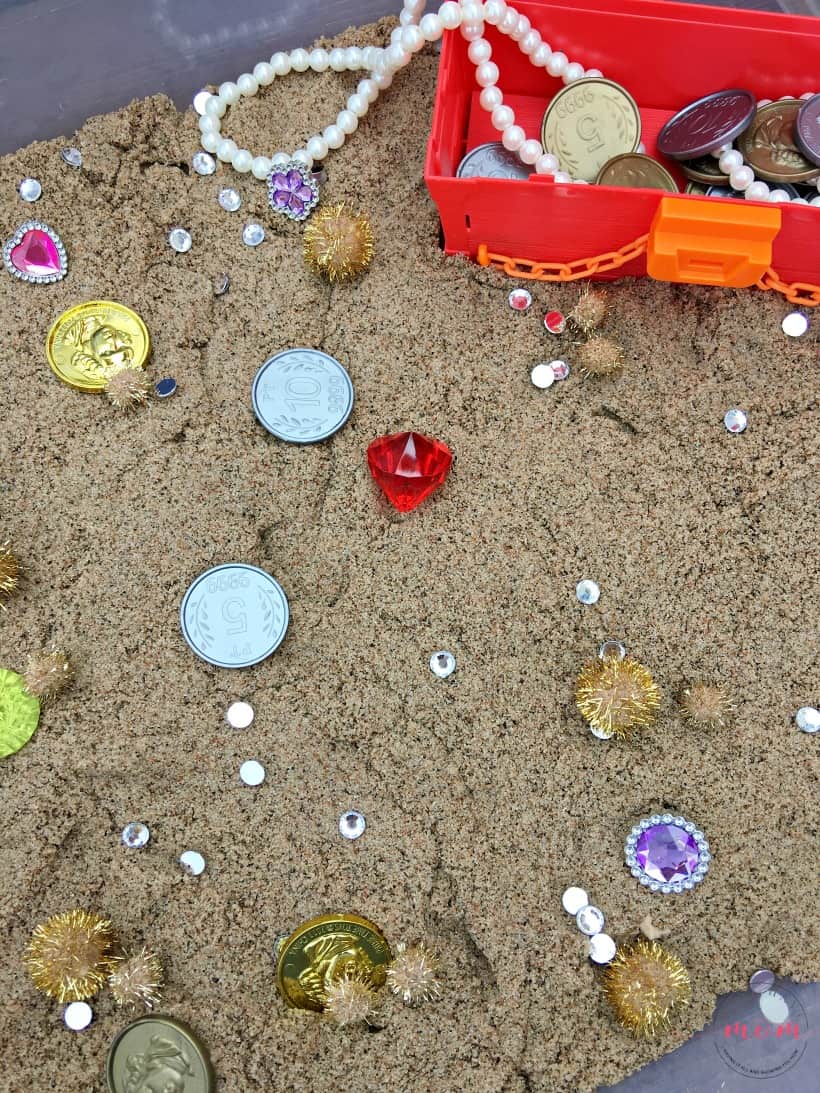 We always choose Kinetic Sand for our sensory bins because Kinetic Sand is just about the coolest sand ever and is far less messy than plain sand is. It doesn't even stick to the fuzzy pom poms! It's really neat. Kinetic Sand is 98% real sand and 2% magic and it oozes, moves and melts right before your eyes. It is completely moldable and always holds its shape. It's so cool that even I love playing with it! Kinetic Sand is made with 100% natural sand is free of gluten, casein, and wheat! It is safe for kids with these allergies to play with (especially for kids who are allergic to the ingredients in Play-Doh).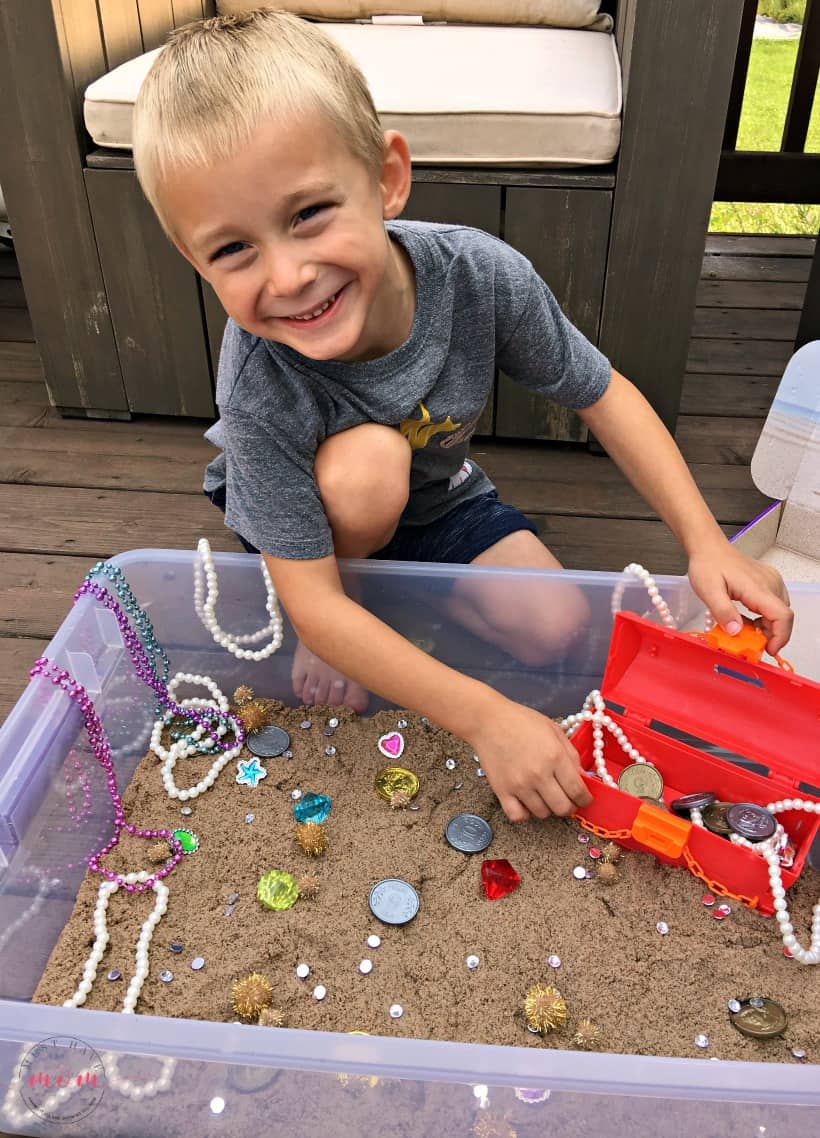 Now it is time to let your kids play with the treasure hunt sensory bin! Brady starts preschool this year and he will go 3 days a week. The other 2 days that his siblings are in school he tends to get SO bored. This sensory bin will keep him entertained while he awaits their arrival home from school. It's also fought over by my older kids who love the Kinetic Sand just as much as Brady does. It's a relaxing after school activity for them to unwind and have some time to relax after a busy day.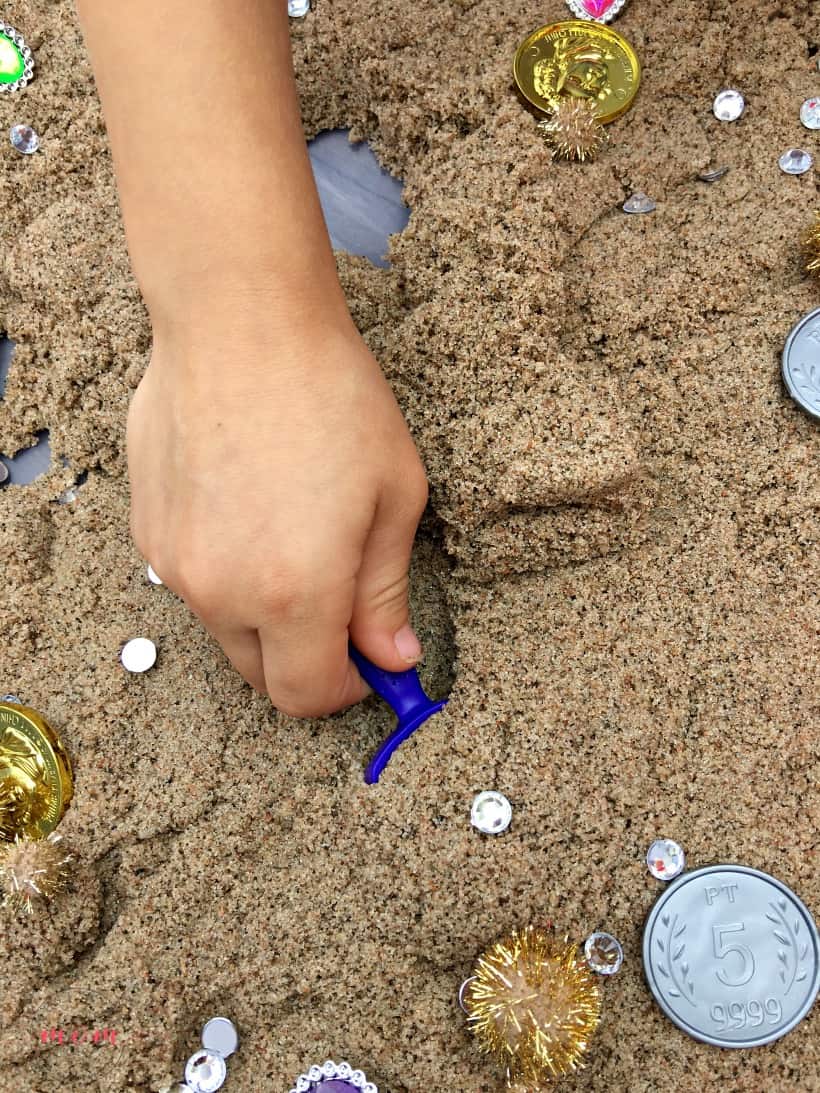 Kids can find the treasures hidden in the sand and then place them in the treasure chest!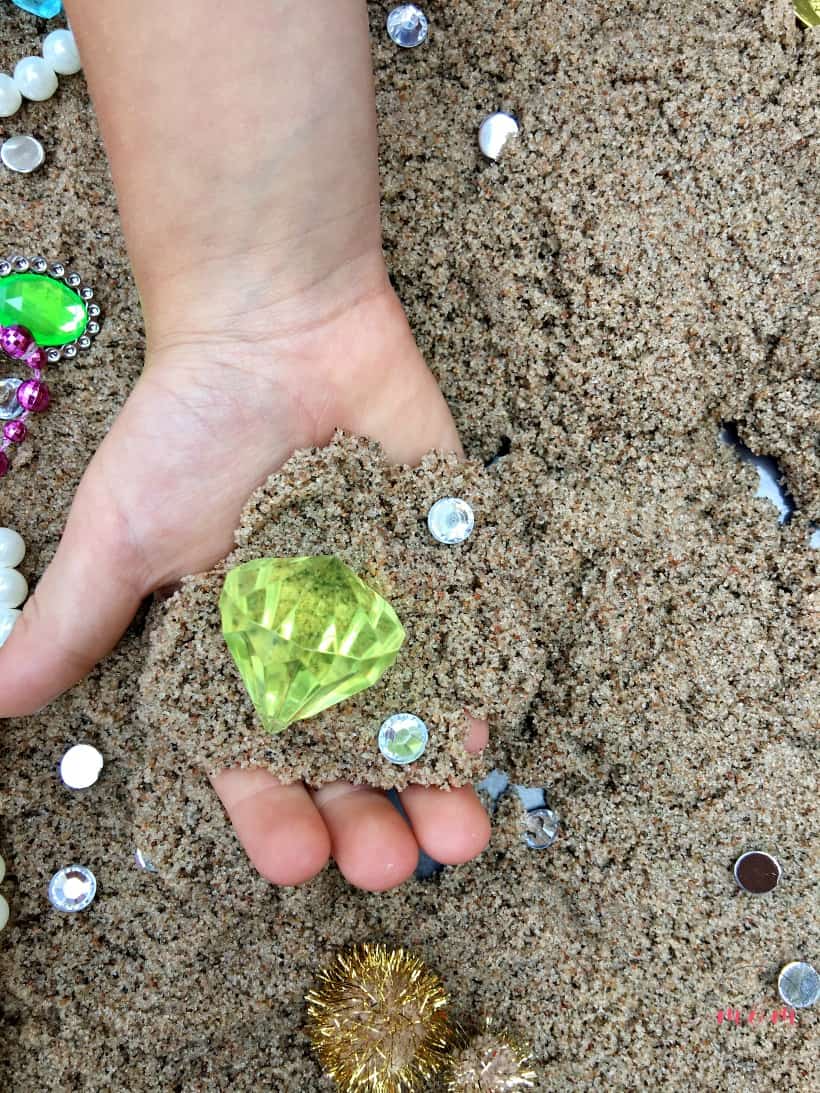 Brady loved pretending he was a pirate searching for treasure! He also thought it was cool to pretend he was mining for diamonds. This sensory bin has kept him busy for hours on end. He would find and rebury the diamonds over and over! He also loved how easy it was to mold and shape the Kinetic Sand, so he could build new challenges for himself with the sand, and squish them back down and start all over again. Plus, it's not messy! Kinetic Sand sticks to itself and not to your kids so clean up is a breeze. It's one of the few molding formulas I'll allow in my house because it doesn't make a mess.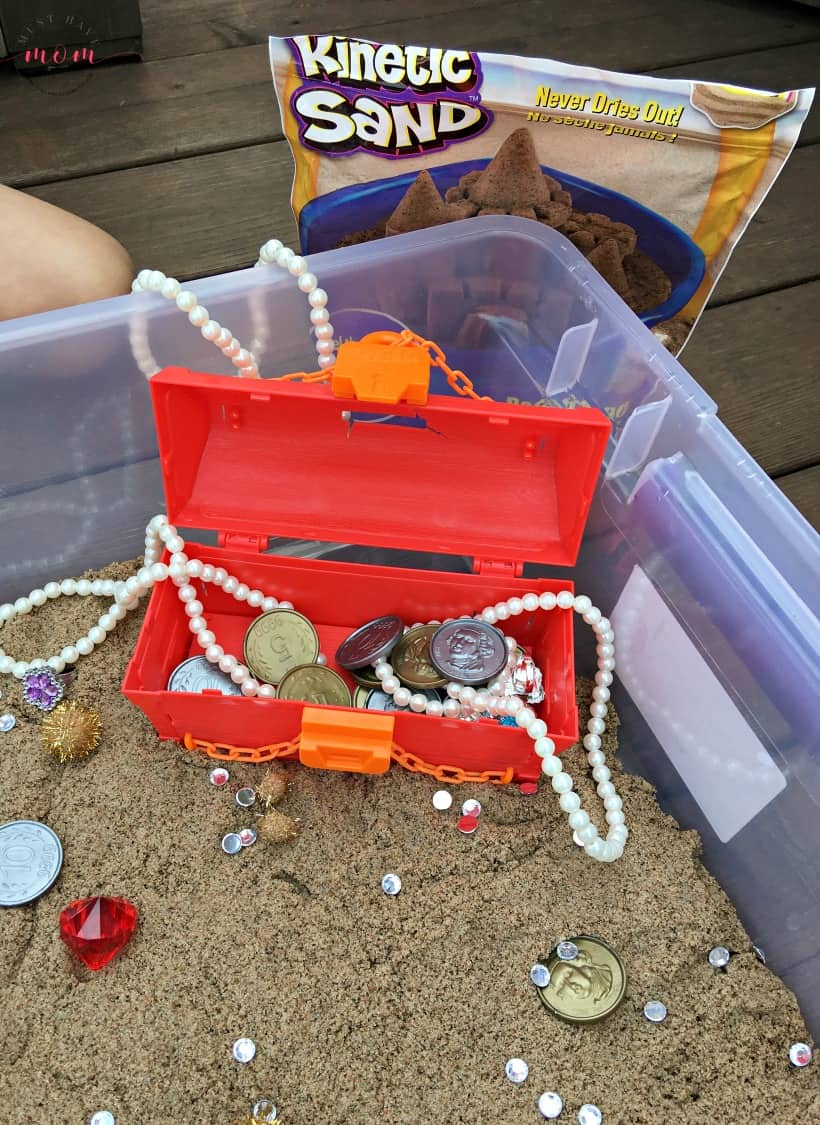 Kinetic Sand is a great tool to help develop fine motor skills and stimulate children's creativity. This is just one sensory bin idea that you can create with your sensory bin. Kinetic Sand never dries out, so you can use it over and over again in all sorts of different sensory bin ideas! Buy Kinetic Sand here and don't be fooled because there is only one Kinetic Sand and I've yet to find another like it!
Pin Treasure Hunt Sensory Bin: