Summer is in full swing and if you find yourself longing for an outdoor space where you can sit and feel peace and relaxation overtake you then you are in the right place. This DIY patio decor makeover has everything you need to turn your drab space into something fab!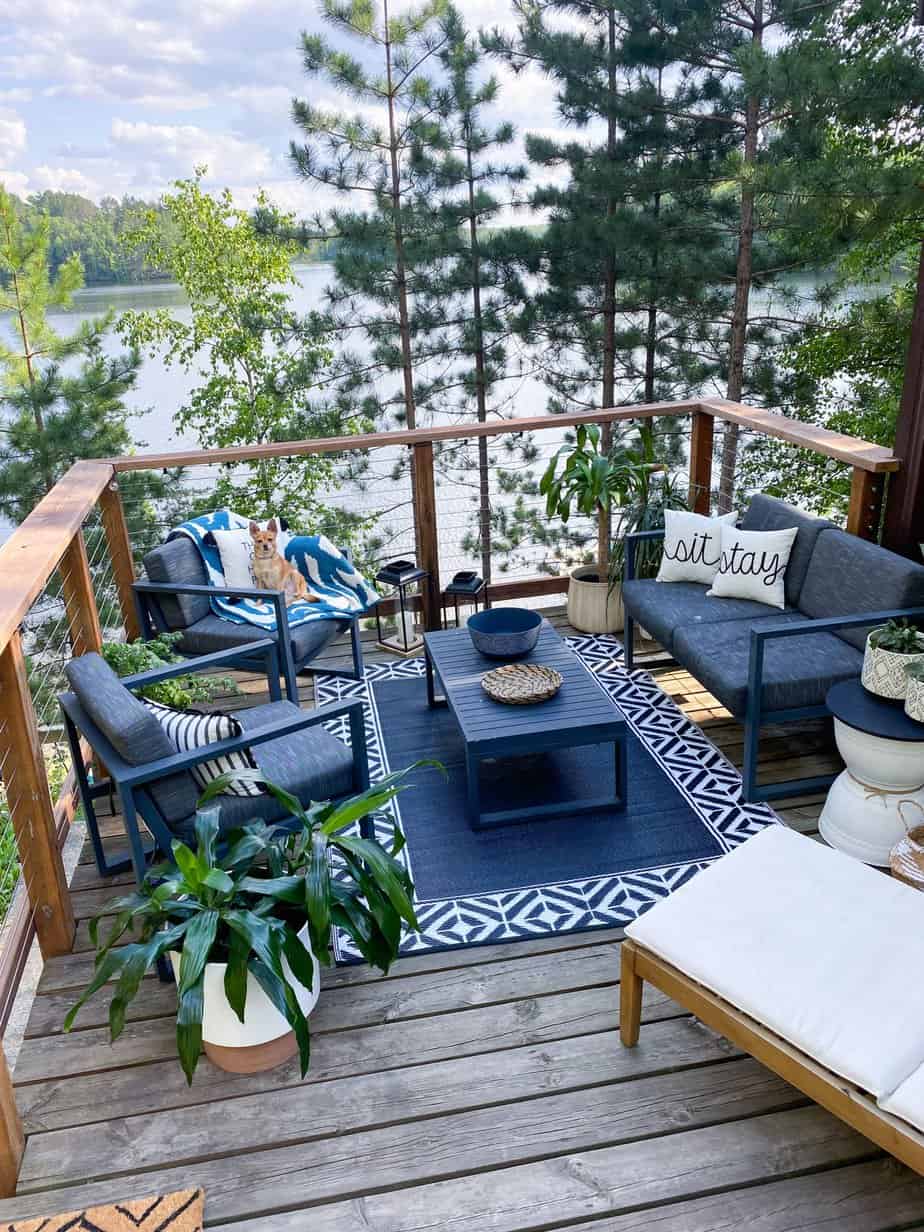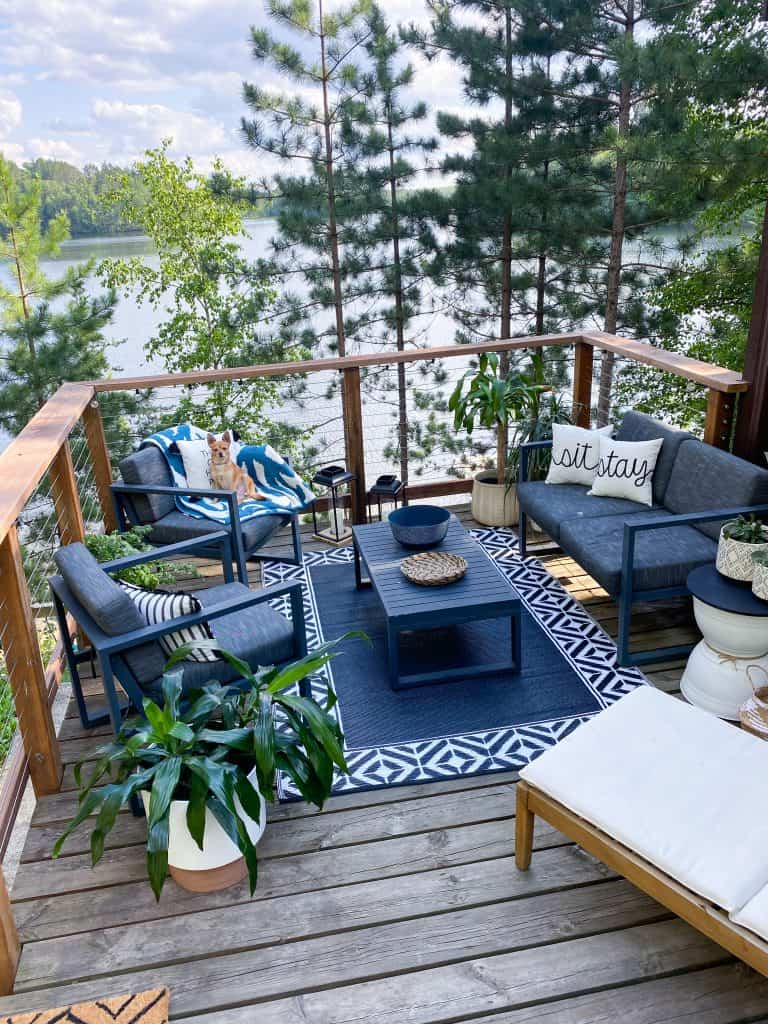 Summer is my absolute favorite time of the year! We live in northern Minnesota so the majority of our weather is freezing cold. Once the sunshine peeks out and delivers some 80-degree days, I'm in my happy place. My deck at our cabin wasn't reflecting that happy place I was feeling, and I knew it was time for a makeover! I am absolutely in love with the little oasis we created and I can't wait to show you how you can create your very own oasis even if you are on a limited budget or your deck has seen better days! Let's get started!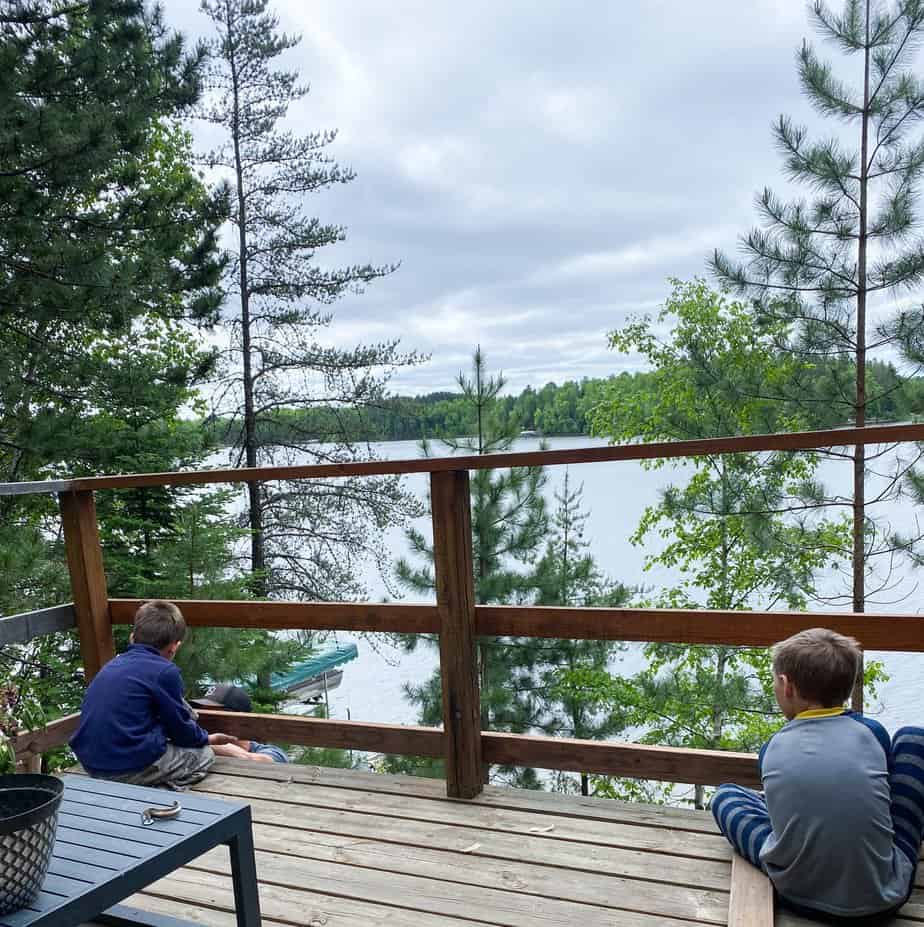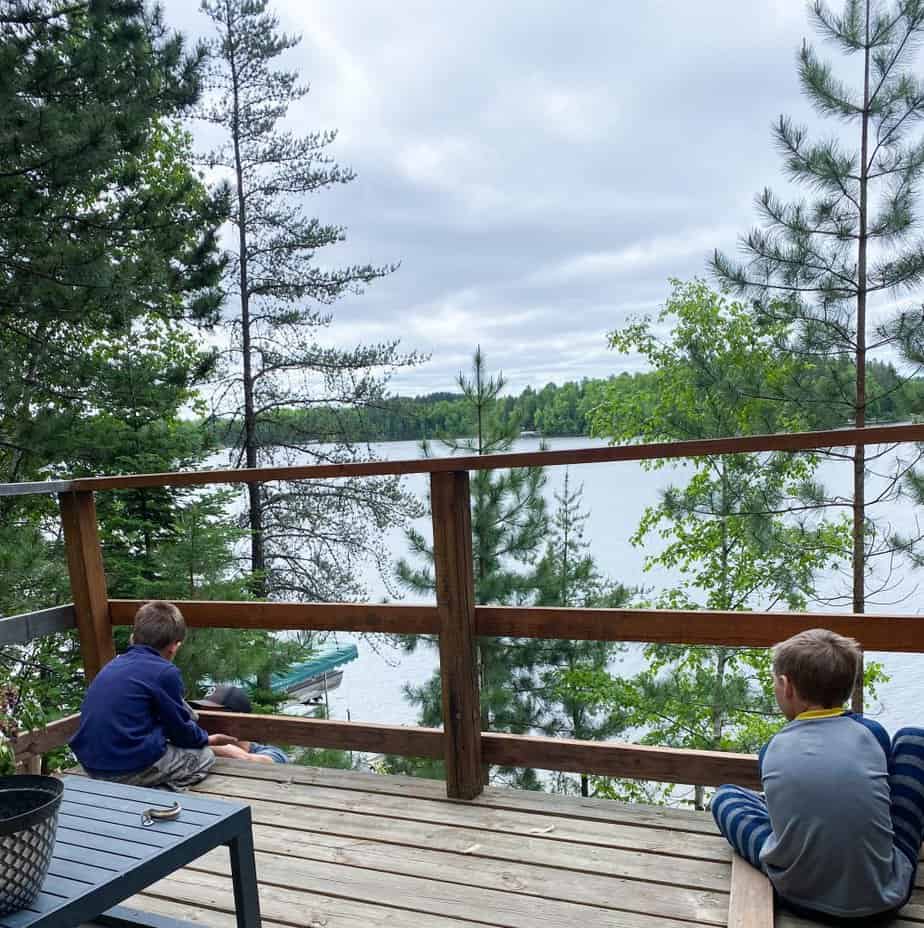 First, I have to show you what we STARTED with! Check out that extremely dangerous deck railing that was on our deck when we bought our cabin. Clearly not up to code and kids and dogs could easily fall through! We knew we had to update that asap. We decided we wanted a modern look that we could see through so we could still enjoy that gorgeous view.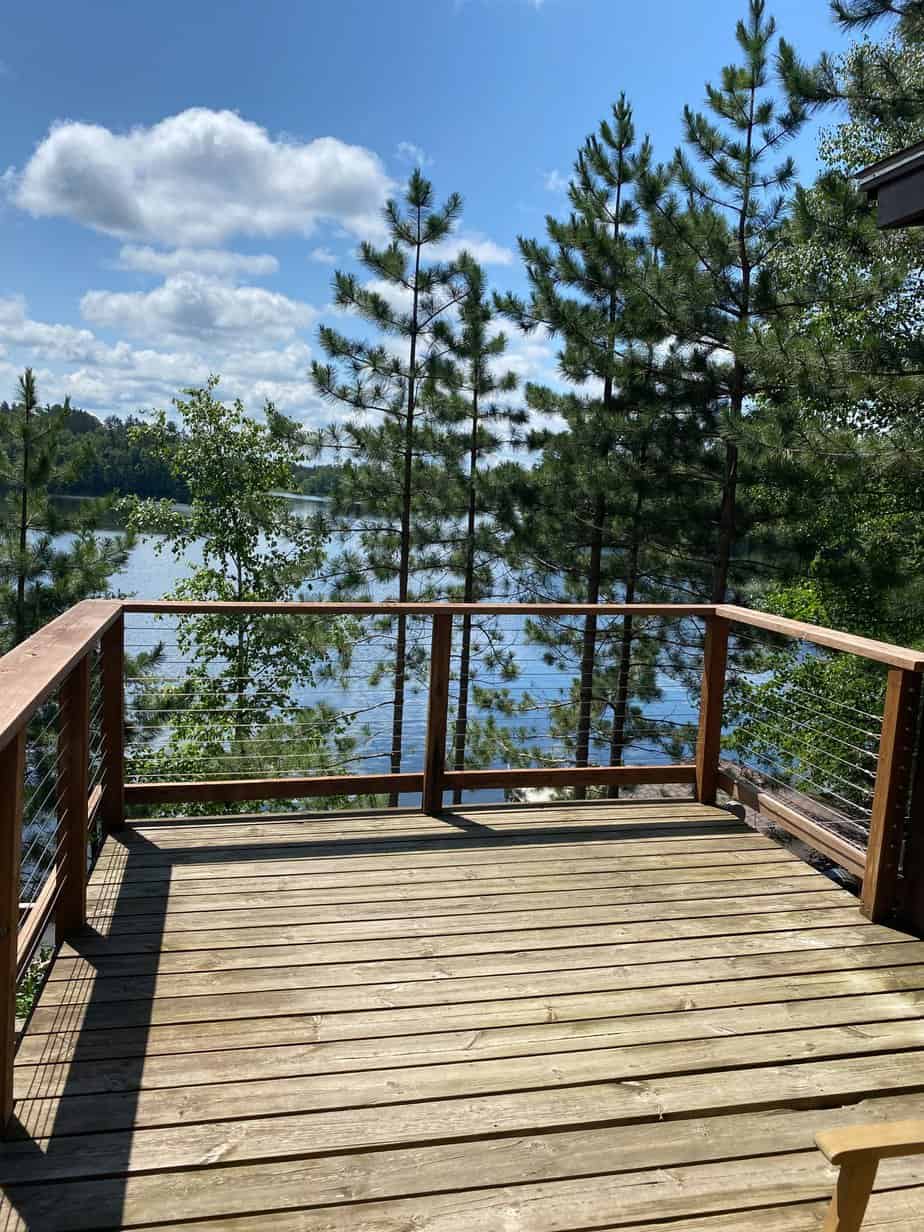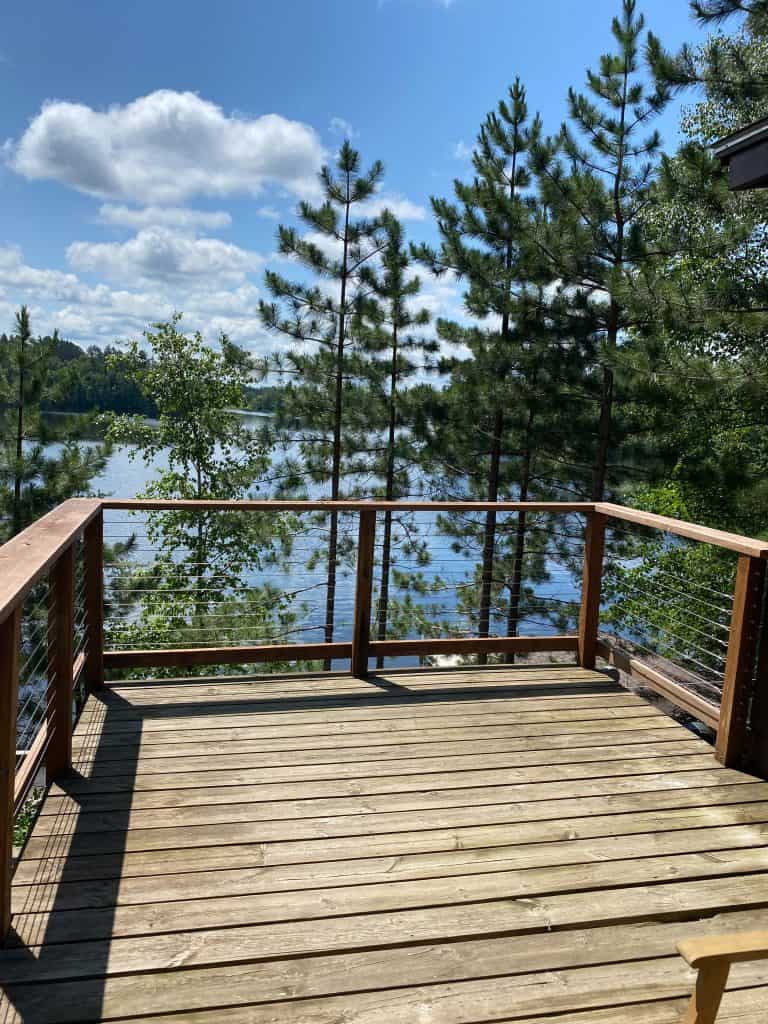 Check out the after view! My husband did an amazing job using metal cable to create a safe and secure deck railing that we could still enjoy the view through! I love the modern aesthetic. Plus, it was now a safe space for people, children and pets! Now it was my turn to makeover the space. This is my favorite part!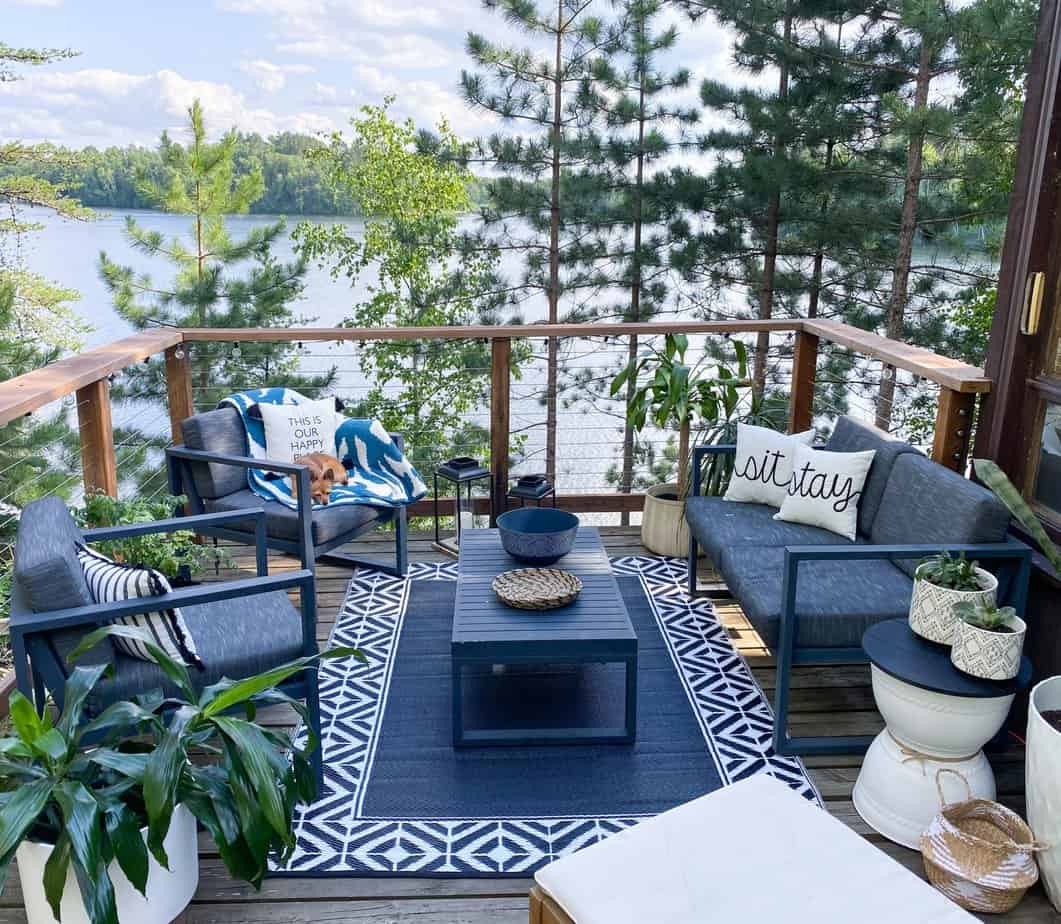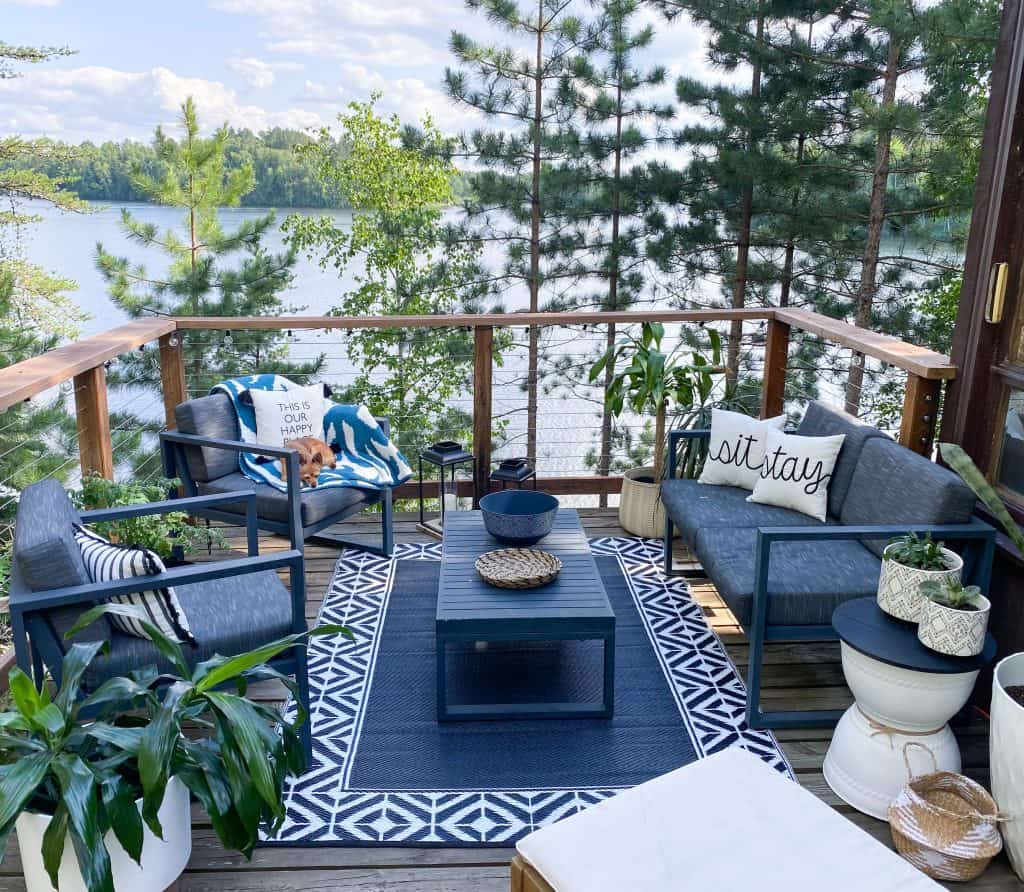 I absolutely love how it turned out! I was able to repurpose my black patio furniture and make it look fresh and new. Adding some simple touches really made the whole look come together. Ready to see what you need to makeover your own outdoor space? Let's get started!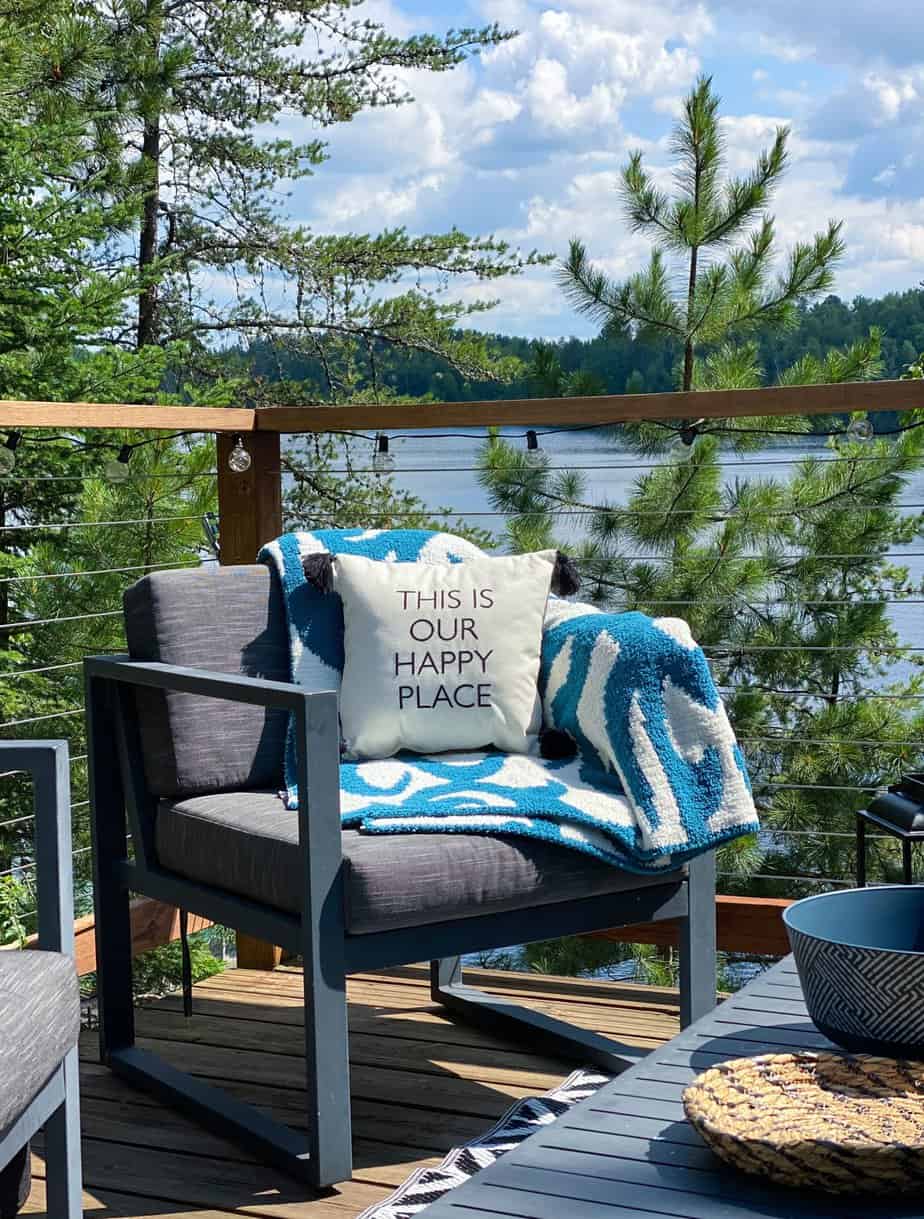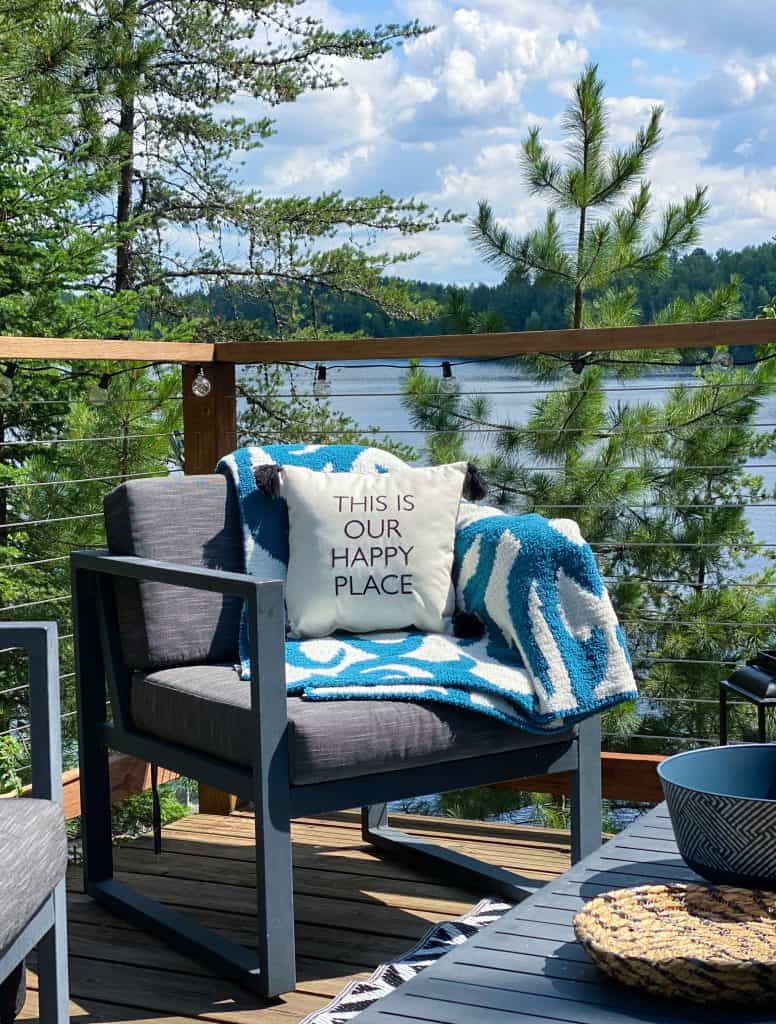 Our cabin sits on a lake and the deck overlooks the lake. My inspiration for this entire patio makeover was this gorgeous throw blanket from Sunday Citizen. The Casablanca Throw in Cobalt Blue is plush, comfortable, and perfectly oversized. With a reversible pattern for twice the styling options, this best-selling, double knit blanket will elevate your decor and keep you super cozy. It is my absolute favorite for when nights cool off and I am ready to snuggle up with a blanket.
This throw has quickly become my favorite blanket of all time. While I initially chose it for the gorgeous colors that went so well with my lakeview, I knew as soon as I opened the package that I was going to be in LOVE with this blanket. It is thick and luxurious and positively the best blanket of all time. I should have expected this as my first experience with Sunday Citizen was this amazing, environmentally friendly bedding that I instantly fell in love with. This throw does not disappoint, much like their bedding. You'll want several more. They're just amazing.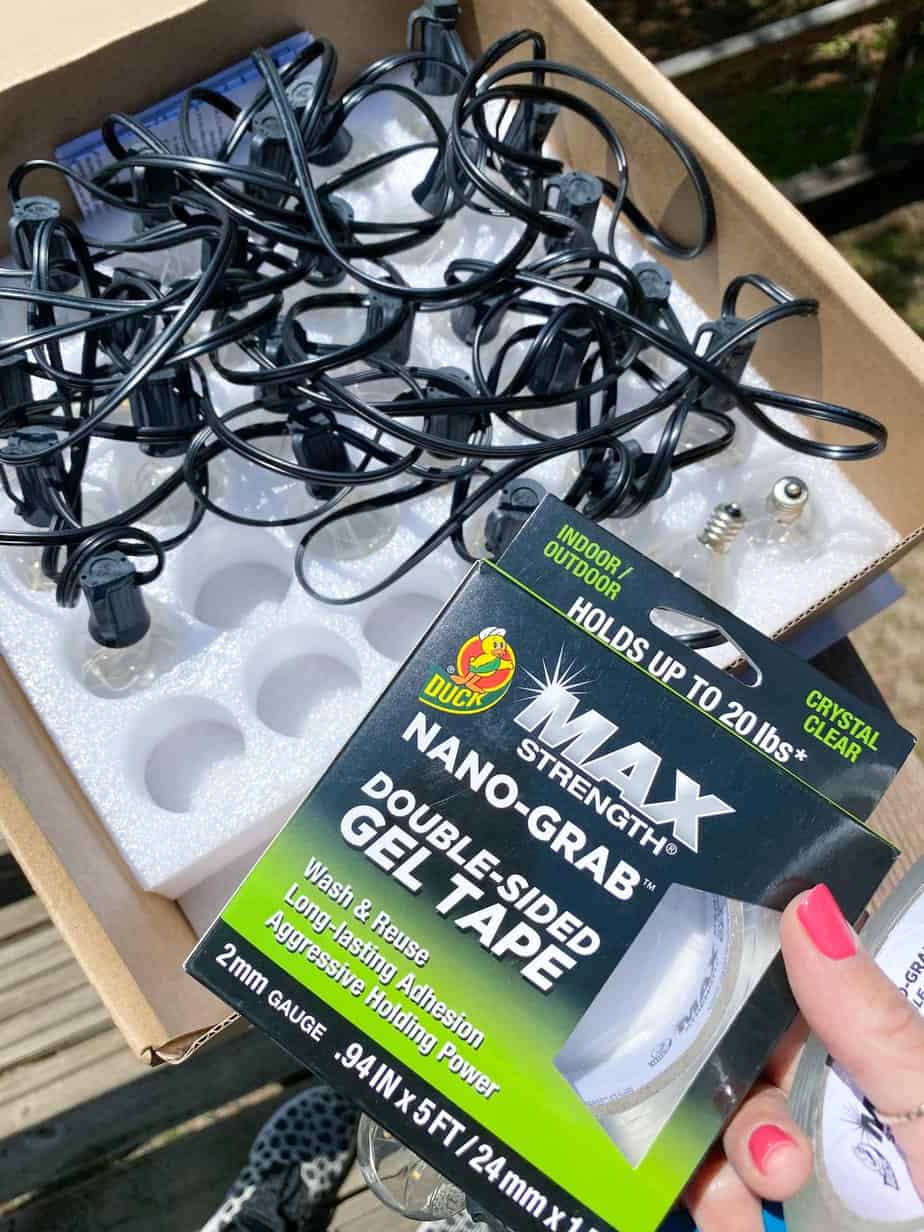 Now that we have our inspiration item, it's time to create some mood lighting. One thing I love about having this gorgeous deck is that it can be used day or night. I have wanted little globe lights around the deck for years! I wasn't sure how to attach them without it looking tacky though. I found the perfect solution! This Duck Max Strength Nano-Grab double-sided gel tape was exactly what I needed. I attached the lights to the underside of the deck railing and it worked perfectly! It has held up through storms and rain no problem. It was also super easy to use and apply. Just cut it to the correct length and stick it on. Easy peasy!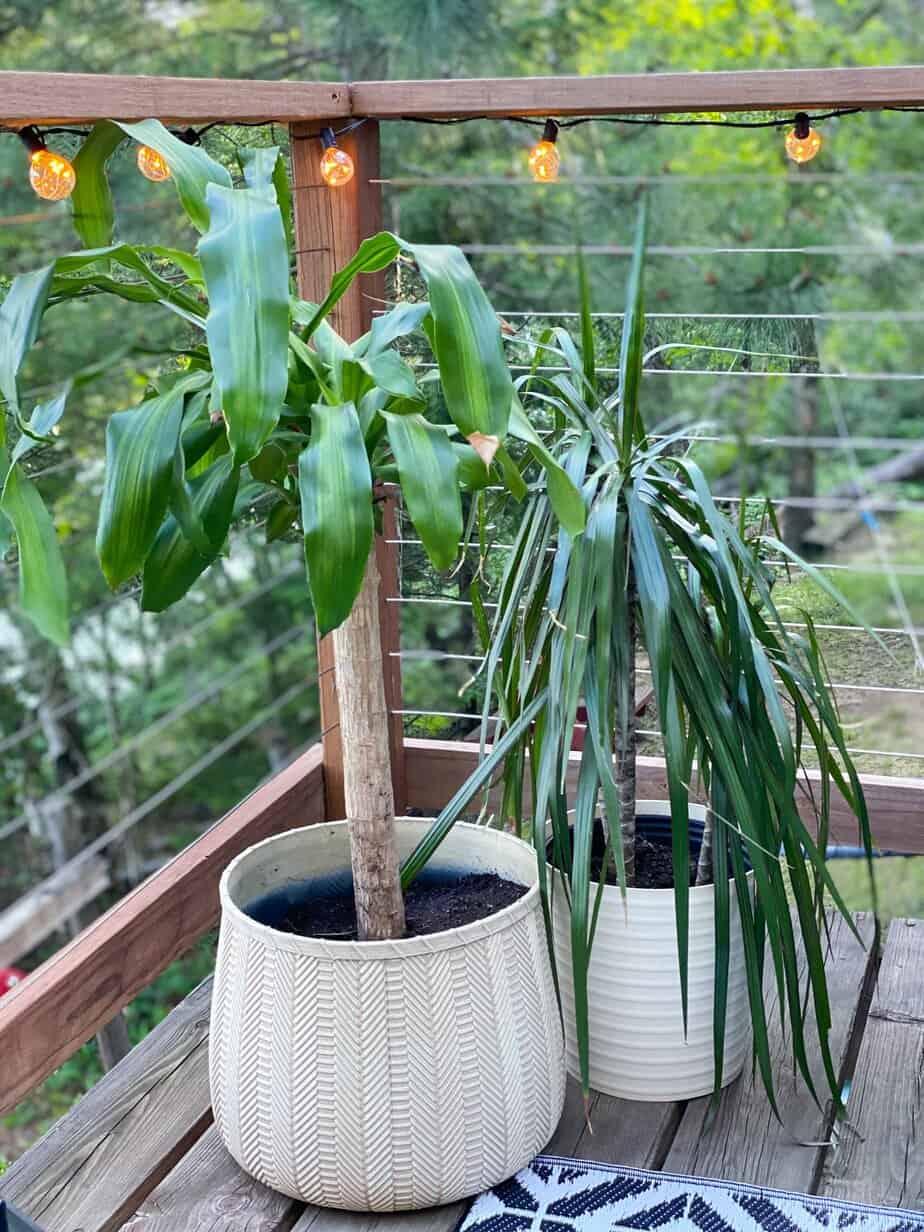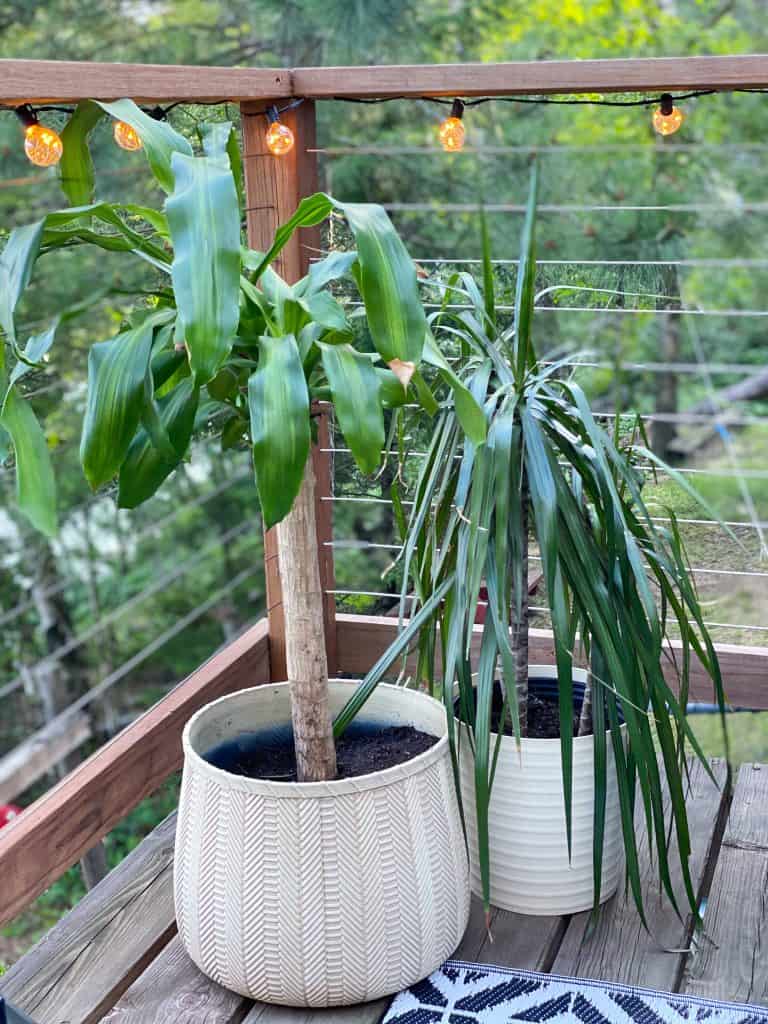 The lights created the perfect vibe I was going for when the sun goes down!
That brings me to the next item you MUST have for your patio decor. Plants!! You simply must fill your space with some greenery. It creates a very relaxing vibe that instantly invites you in and warms up the space.
Thankfully, you don't have to break the bank to get some bold statement planters that will complete the look you are going for. Better Homes & Gardens has the most chic boho collection of planters ever and you'll find them at Walmart! The prices can't be beat and I am in love! I went with some tropical plants to fill them and create an outdoor vibe that felt very chill and tropic.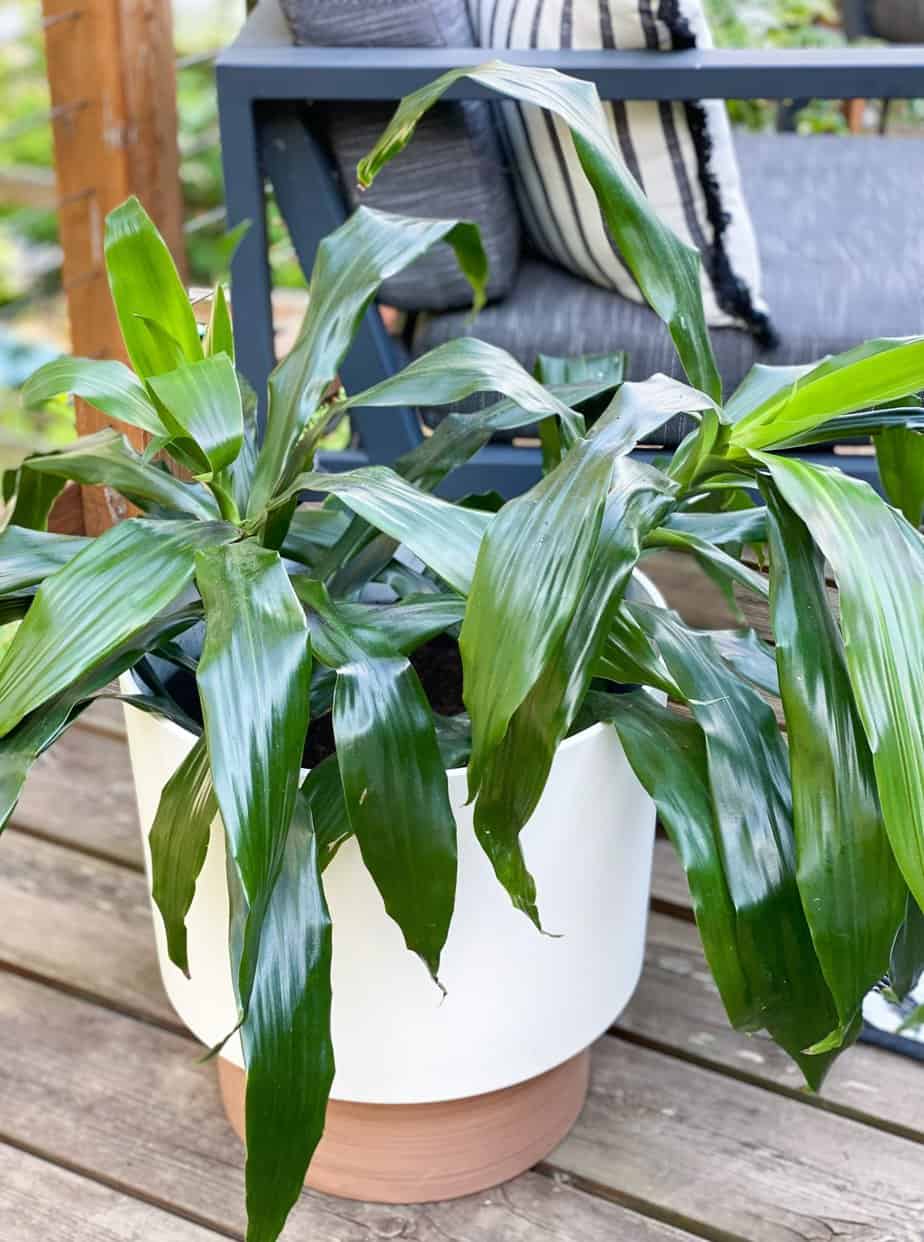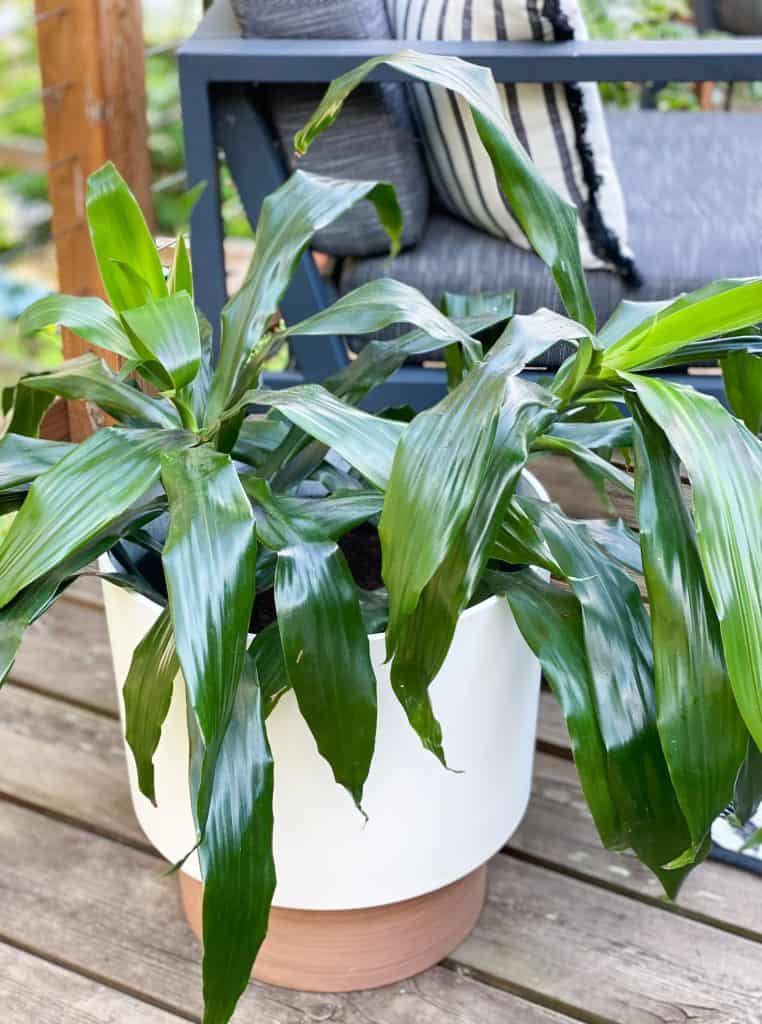 I also repotted this corn plant which we had gotten from a loved one's funeral into this beautifully boho BH&G resin planter also from Walmart.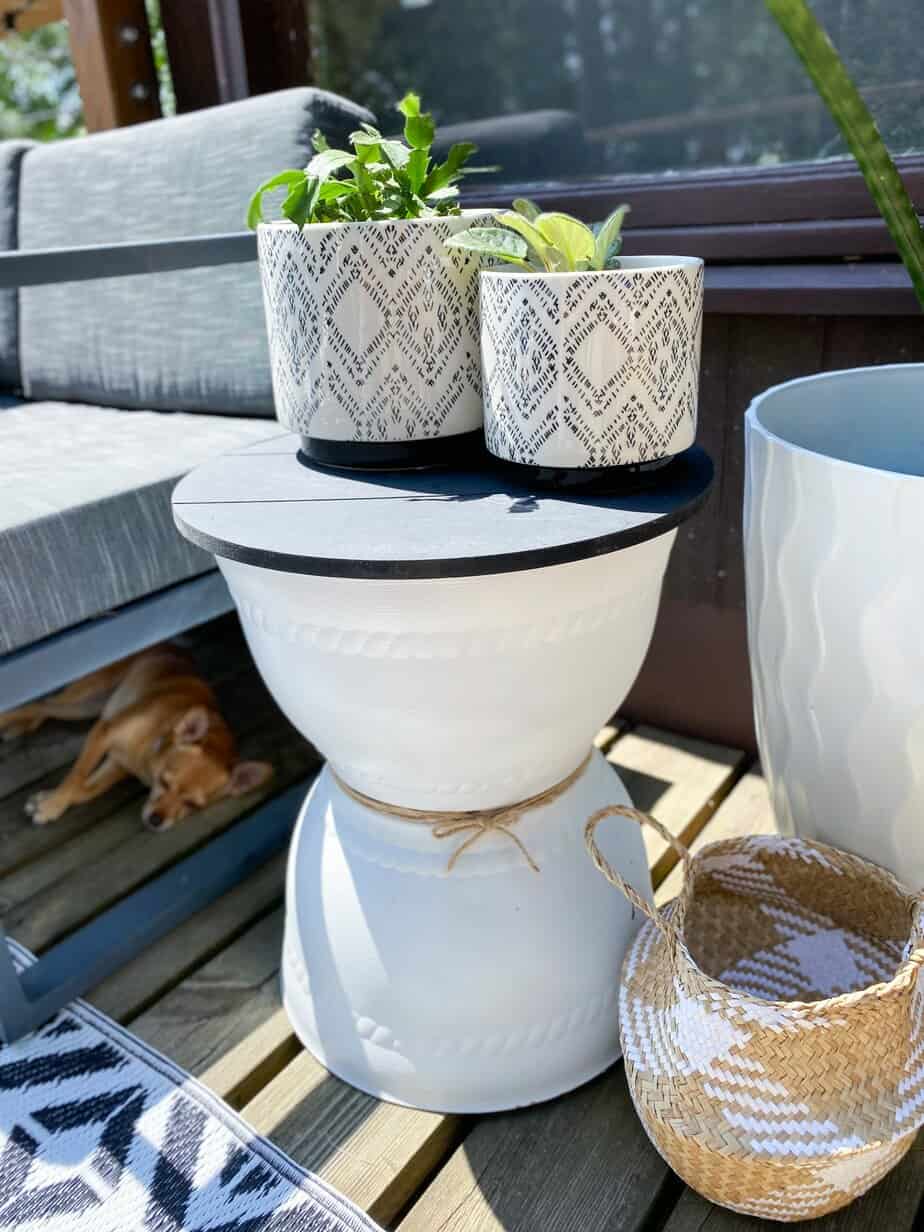 Don't forget to get some table-size planters as well! These chic BH&G black and white planters are SO gorgeous and will definitely come indoors once summer leaves us.
You can DIY your own side table on a dime as well! That chic little white and black table is simply two planters that I painted and glued the bottoms together. Then wrap twine around the seam to hide it. Attach a wood round to the top that you've covered in black chalk paint and you've got an inexpensive side table!!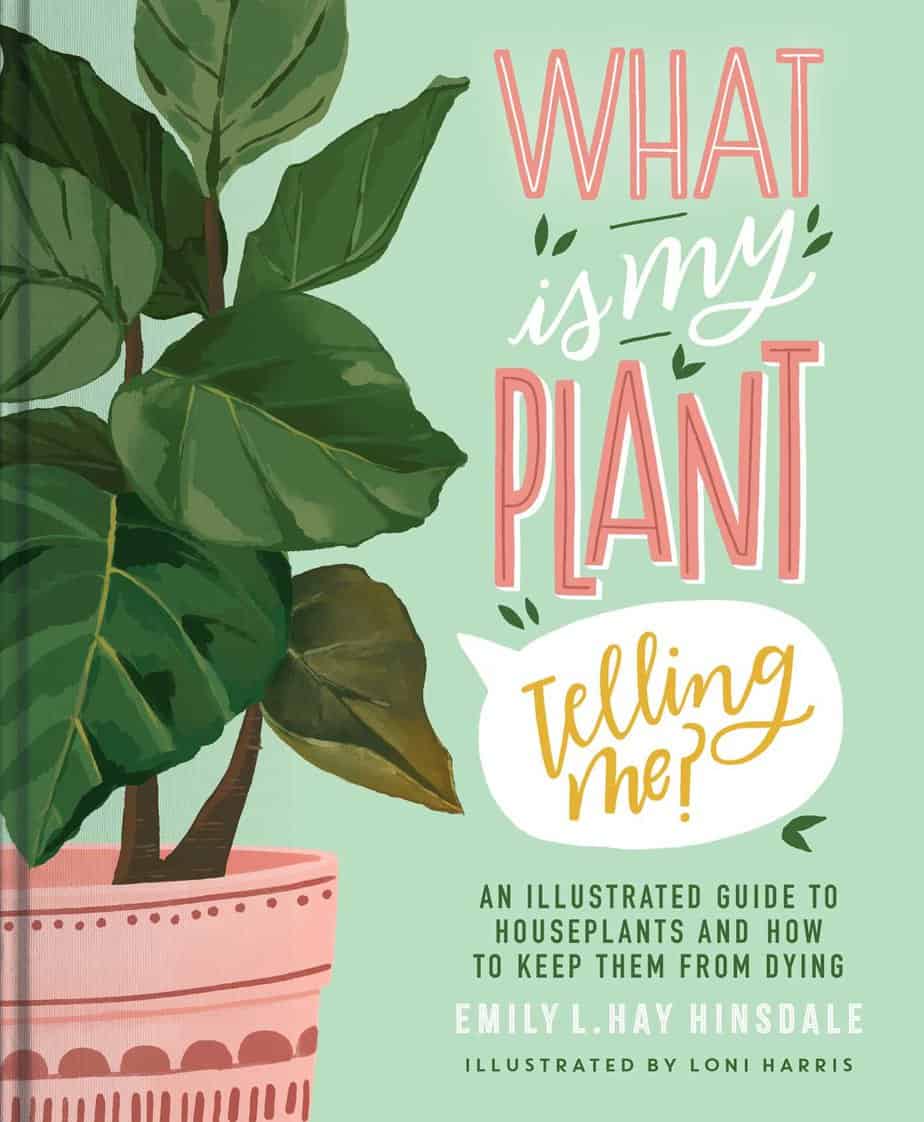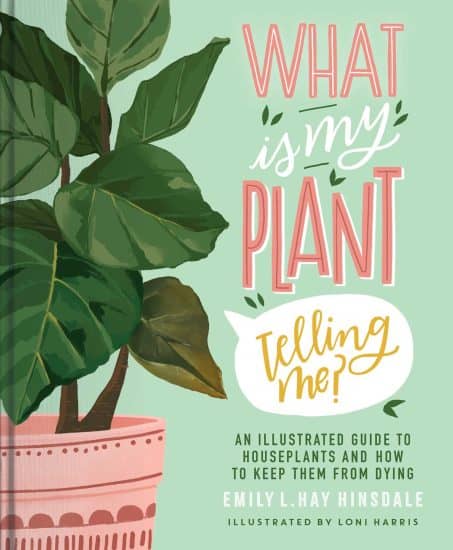 No matter if you are a green thumb, or seem to kill every plant you touch, you MUST add this book to your coffee table! What is my Plant Telling Me? I have had so many plant problems that I couldn't diagnose and this book is invaluable! In fact, my corn plant turned brown and the leaves curled after I put it on the deck and I looked it up and discovered that my plant had gotten sunburned! I was able to properly remedy it so it didn't die. This book is my favorite!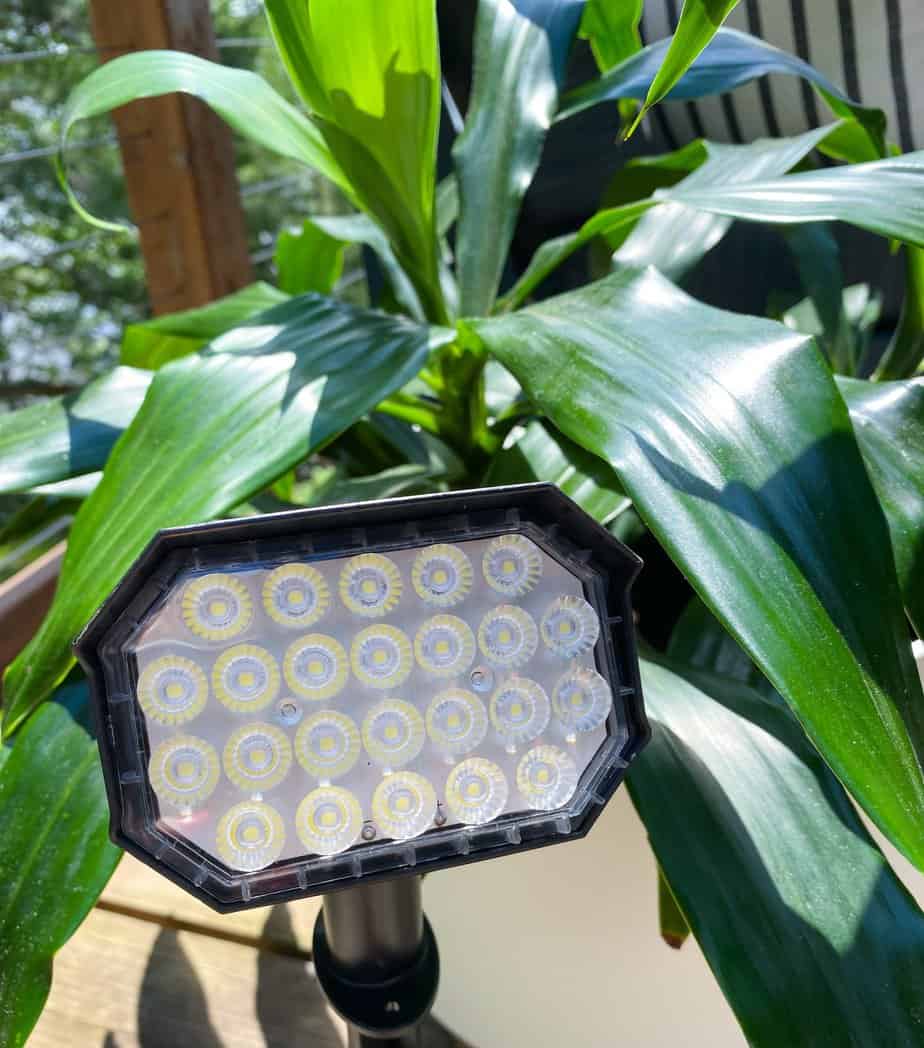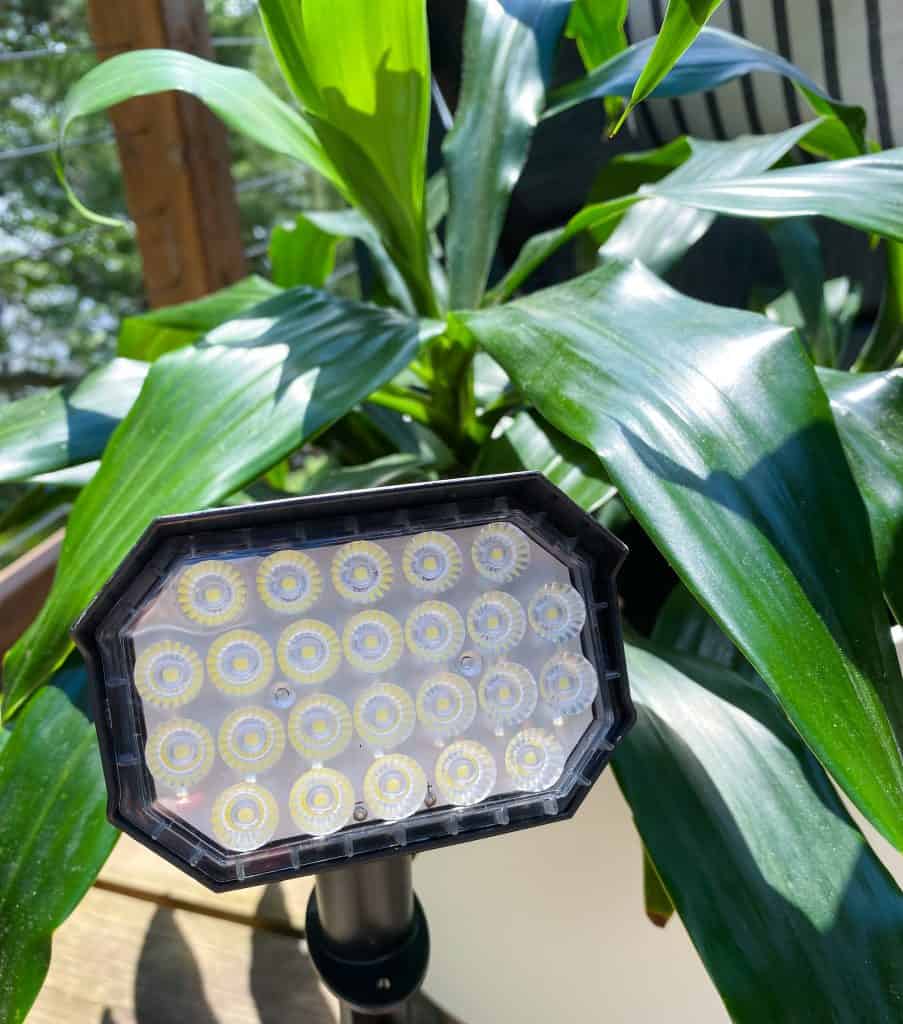 To finish off our proper lighting, you'll need a good set of solar lights to illuminate the pathways at night. I found these solar lights on Amazon and I absolutely LOVE how brightly they light up the dark paths we struggled with.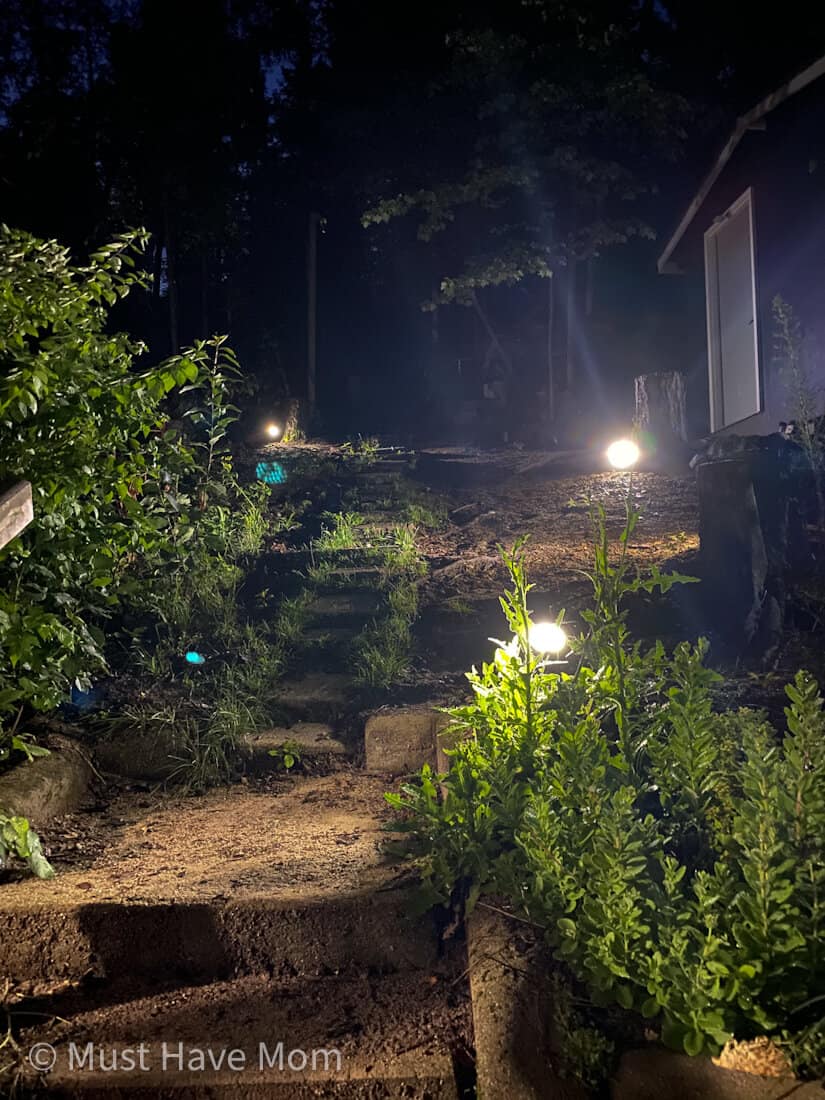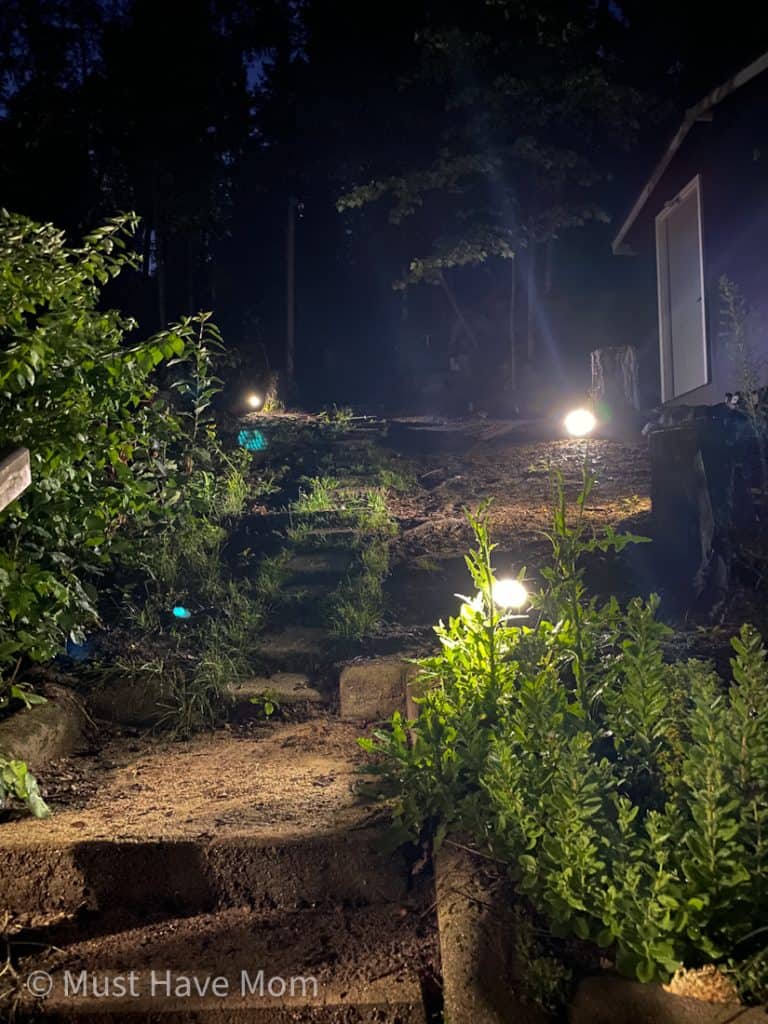 They create a clear walkway in the dark so we can easily navigate what used to be very dark paths to and from our cabin to our deck and bunkhouse. They charge in the sun and couldn't be any easier to use!
You can save 10% on your solar lights with code: 5E6OLTQ8 on Amazon.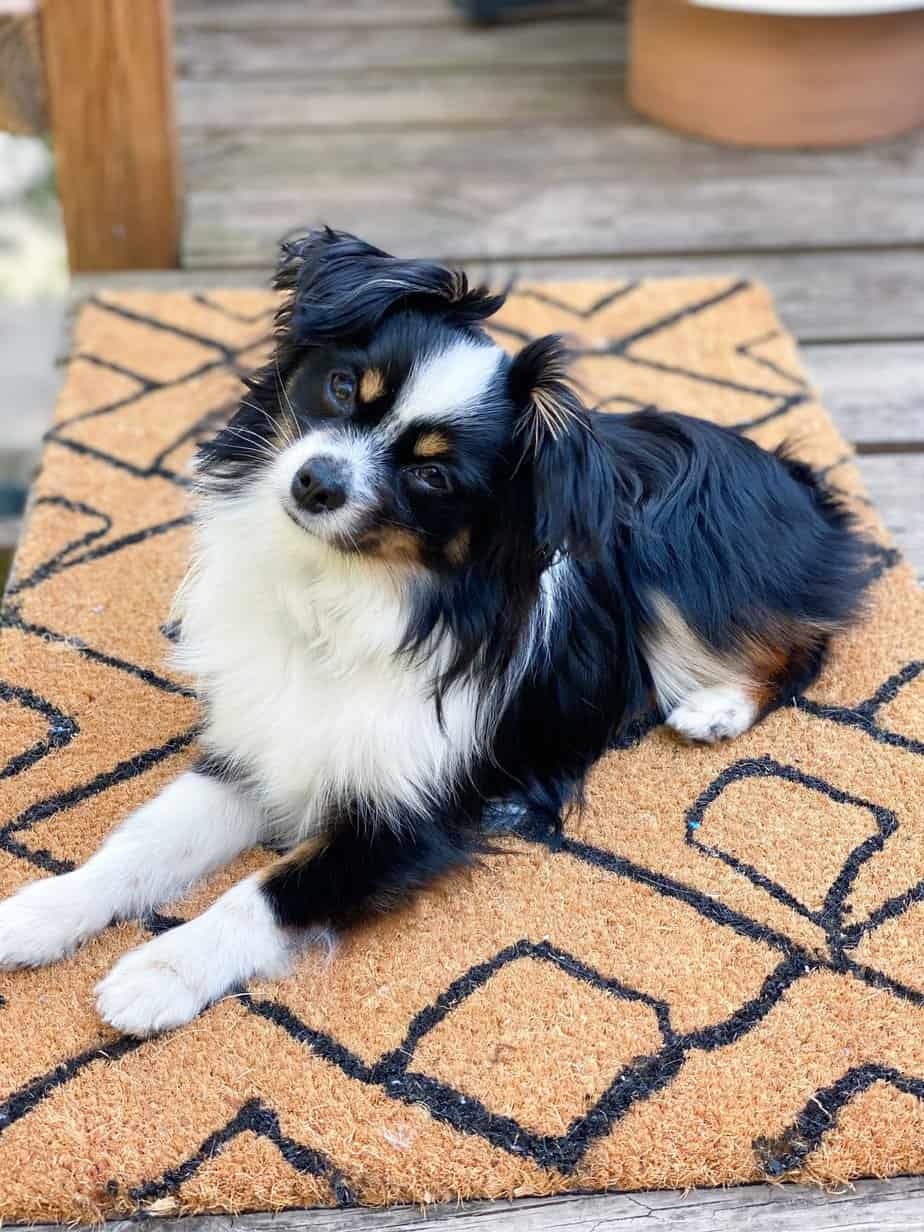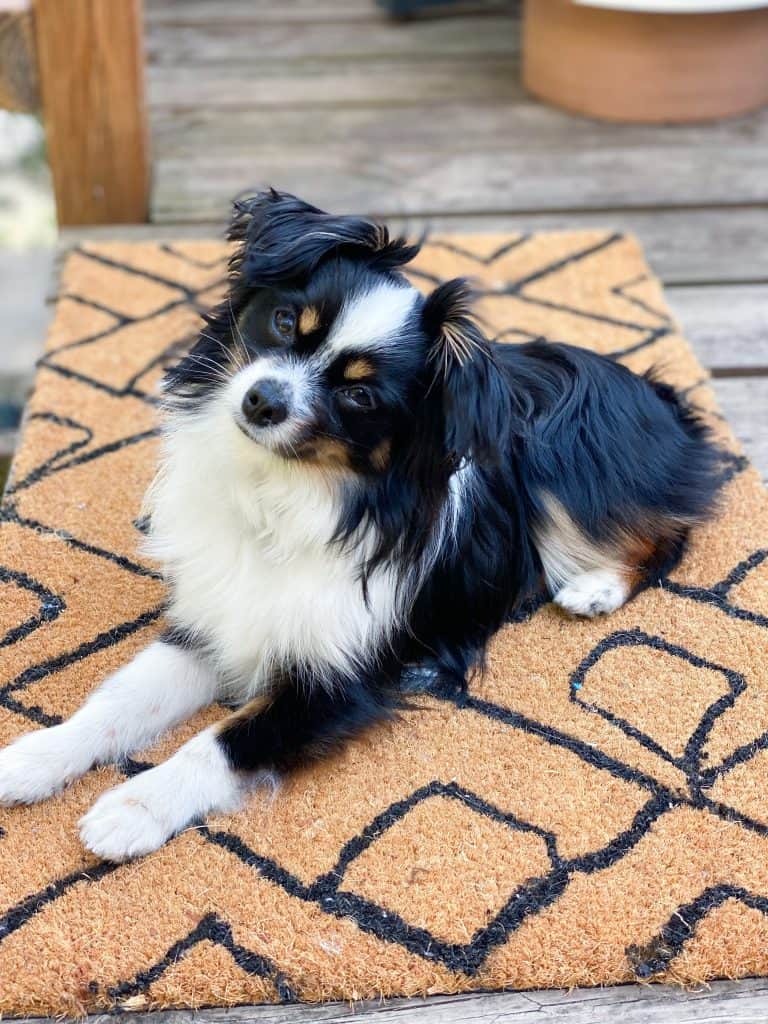 Of course, it is always a good idea to get a quality rug to put near the entrance to the patio so people can properly brush their shoes off. I found this rug at Target and say hello to our newest family member, Jaxon! He is a toy Australian Shepherd and just the sweetest little guy ever!
The black and white rug pictured in my above photos was from Aldi! It is an outdoor plastic type of material so it holds up great in rain and all weather!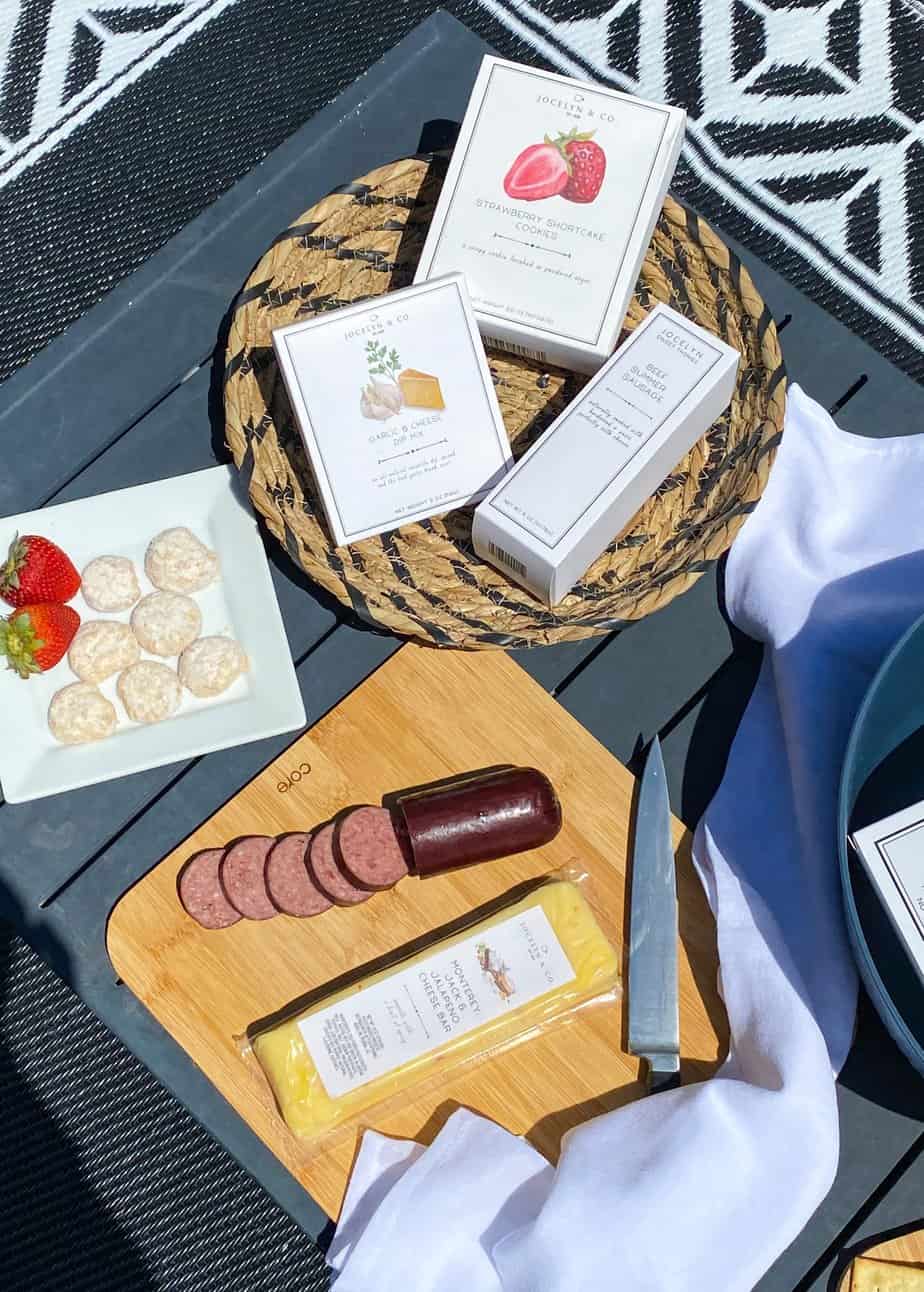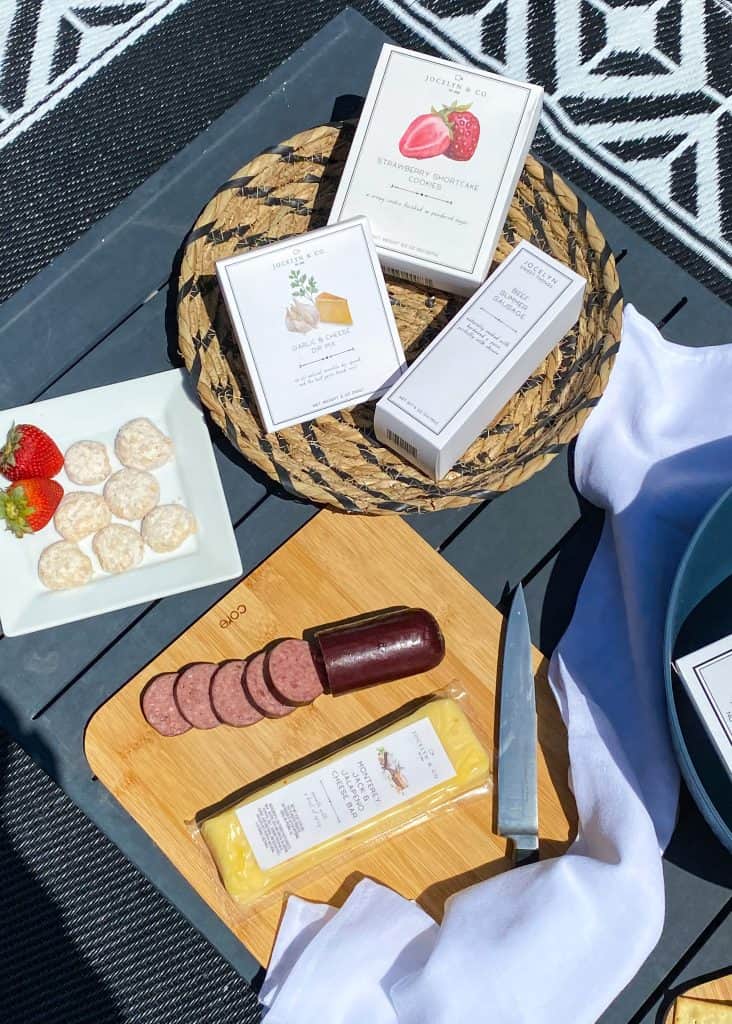 Now that you've created the ultimate outdoor oasis, it is time to start entertaining in your gorgeous space! We celebrated with our first night in our space with a full selection of our very favorite Jocelyn & Co foods! If you've not heard of Jocelyn & Co yet then you are in for a real treat! They have the most fun foods for both entertaining and gifting!
I love the Jocelyn & Co food items because they don't require refrigeration so they are easy to have on hand for quick and unexpected entertaining or gifting. Start with some french baguettes and olive oil crackers and add some jalapeno Monterey jack cheese and strawberry shortcake cookies for the perfect spread!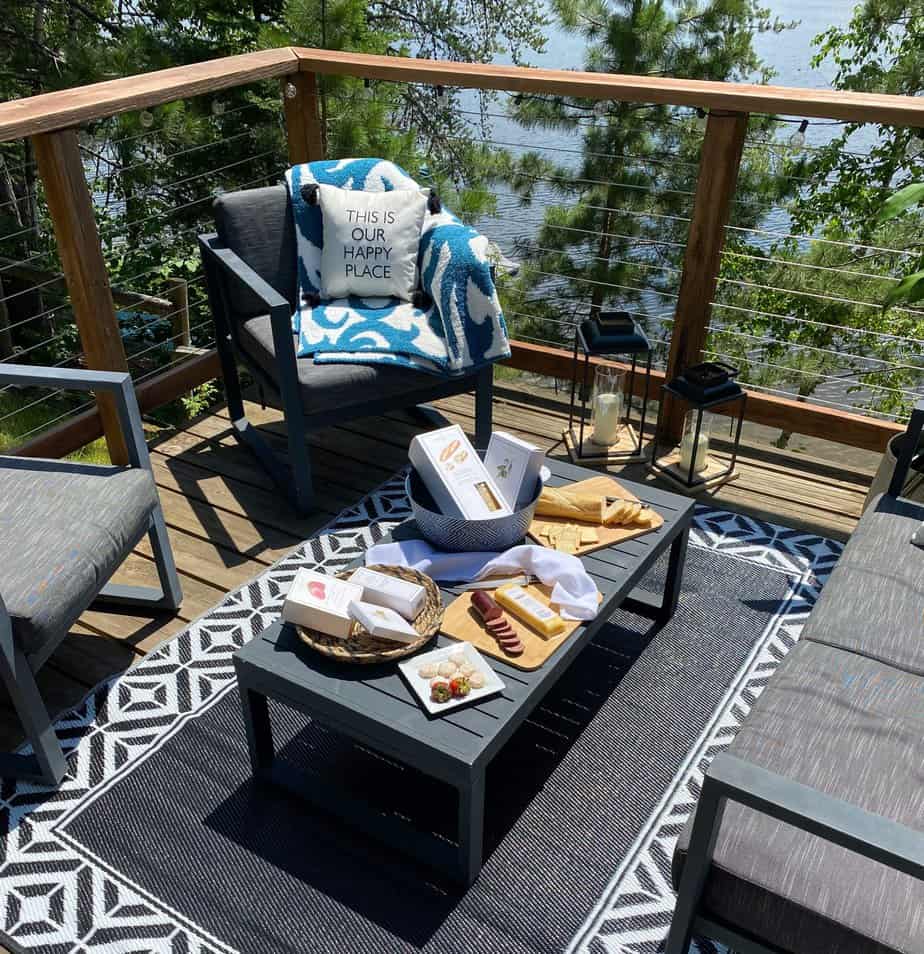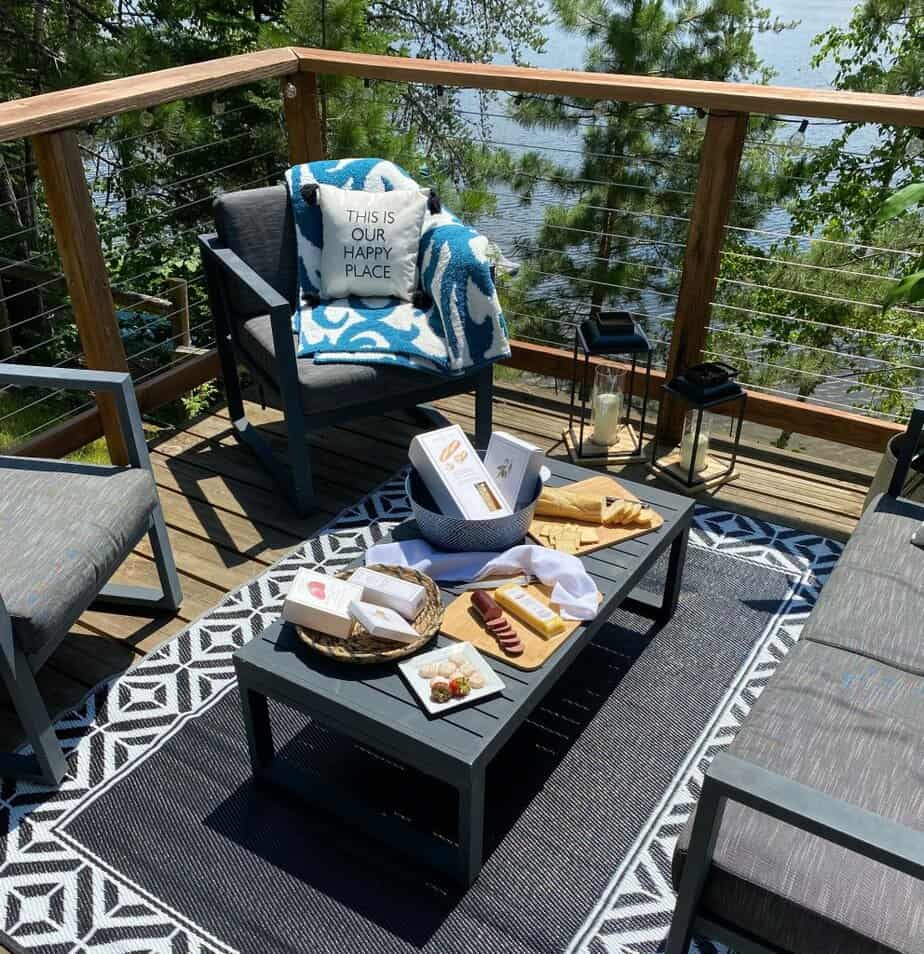 Sprucing up your outdoor space doesn't have to be difficult. A few key pieces can make all the difference! An inspiring throw blanket for cool nights, tropical plants, mood lighting and the right spread of food makes for a peaceful oasis that will be calling your name in no time!