Palmier cookies are flaky, crispy and downright delicious. These delicate French cookies are also known as elephant ears. With just 3 ingredients they are easier than you would think to make your own!
This week we made these amazing palmier cookies for our homeschool unit on Europe. It was the first time I have ever made them and they were SO easy (the kids basically did it themselves) and they tasted AMAZING. I felt like I walked straight into a bakery. Make a batch and see for yourself!
I love cooking with the kids and the kids love learning how to cook. This recipe is a great one to have the kids help with because it is easy and fun. We have several recipes we plan on making for our Europe homeschool unit including beet borscht, beef stroganoff and paska bread! It's going to be a culinary adventure!
French Palmier Cookies
This was the perfect recipe to kick off our homeschool journey through Europe. Palmier cookies are a delicate, flaky pastry with sweet sugar tucked inside and they are absolutely perfect for a taste of France! It also helps that they are really easy to make! Of course, we cheated and used pre-made puff pastry dough but if you are a more adventurous baker and want to tackle your own pastry dough then feel free! By using pre-made pastry dough it made this recipe a doable part of our homeschool lesson. These cookies are light, crispy and flaky!
With only 3 ingredients this recipe is easy and satisfying. I learned after we made them that French palmier cookies are also known as elephant ears! I knew when I was eating them that they reminded me of something from my childhood but I couldn't put my finger on it. Now I realize they reminded me of the special times I would get to pick a treat at the bakery and I would pick the elephant ears! They taste just like them!
The traditional way to make French palmier cookies is with just sugar and served with coffee. I also saw some people adding cinnamon and I think that would taste great too! We stuck with the traditional method though to stay true to our Europe unit study!

Why Are They Called Palmier Cookies?
In French palmier means palm tree, elephant ear or pig ear. This French pastry is shaped into the shape of an elephant or pig's ear so the name is fitting!

How To Make Palmier Cookies
As I said earlier, we used store-bought puff pastry for this recipe. Making your own puff pastry is very time consuming and using store-bought puff pastry is a great hack.
Making palmier cookies is easy and only requires 3 ingredients. The most tricky part is rolling them up so I made sure to add a quick video of that so you can see how to roll palmier cookies.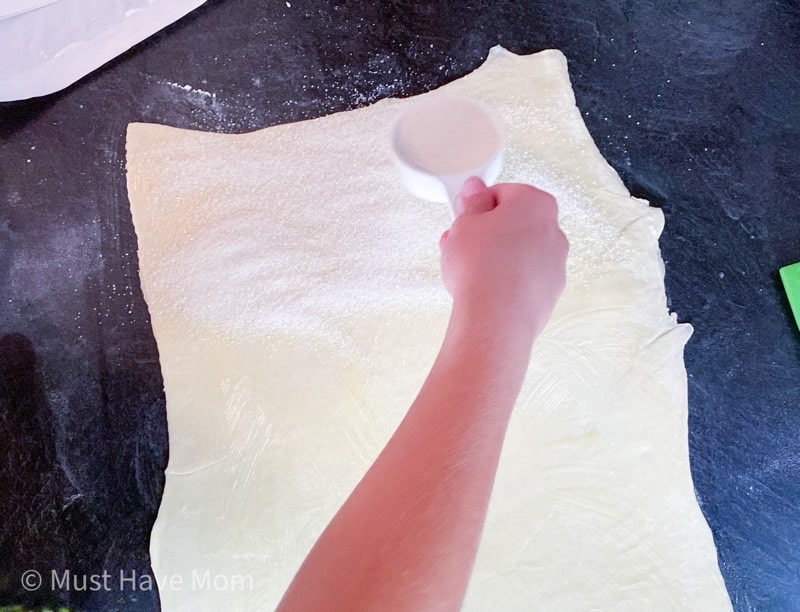 Make sure when you roll out the puff pastry you lightly flour your surface. Also, make sure to follow the directions on the box for thawing the puff pastry either overnight in the fridge or on the counter for 40 minutes or so. Do not work with frozen dough as they will not turn out properly.
Scroll down for the printable recipe instructions.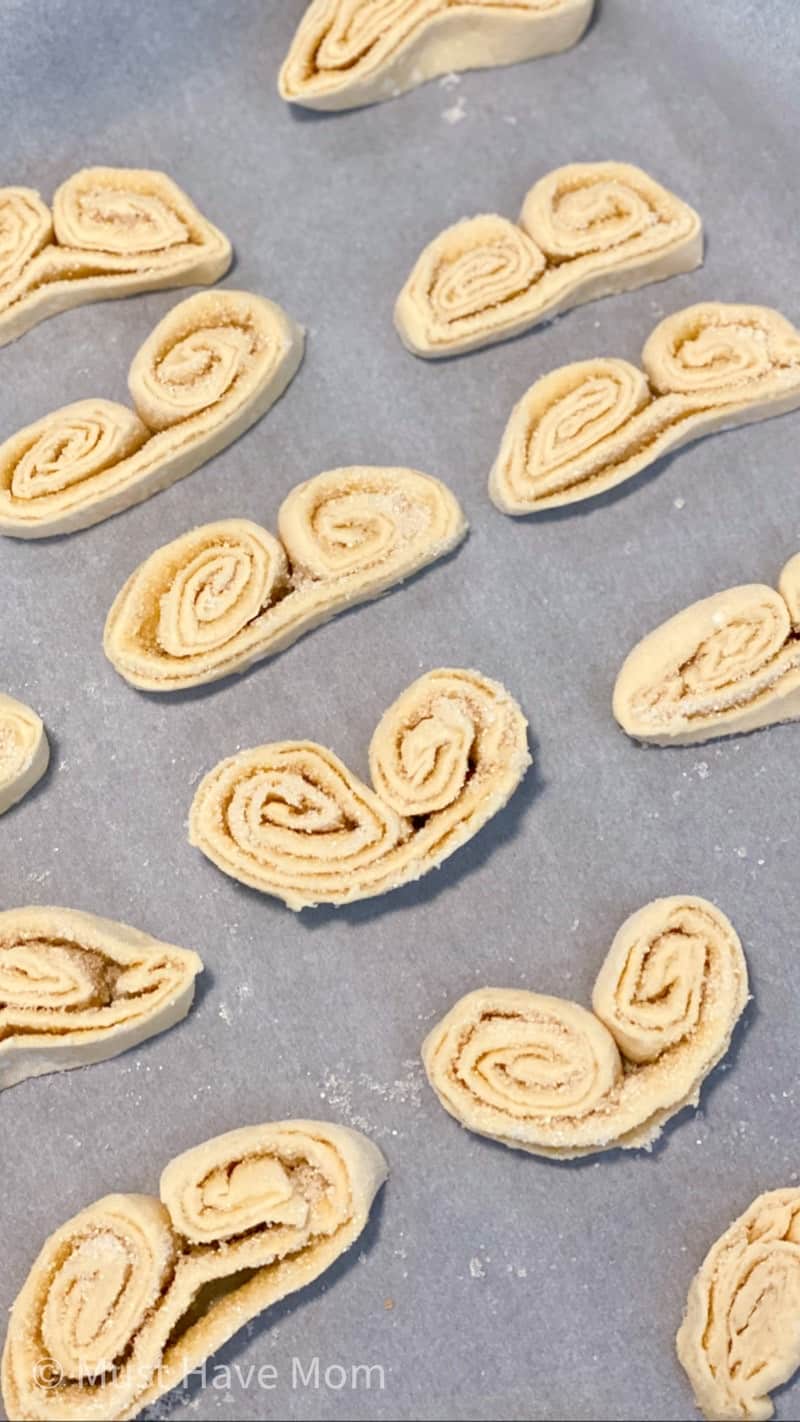 How Long Can You Store Palmier Cookies?
Palmier cookies can be stored in an airtight container for 2-3 days but they do begin to dry out so we prefer eating them the same day!
You can also freeze palmier cookies.
Bake them and then freeze in an airtight bag. When you remove them from the freezer quickly crisp them in the oven at 400 degrees for 5 minutes until crisp.
Alternatively, make the cookies and before baking them arrange them on a sheet pan. Freeze them and then transfer to a bag. When you are ready to bake them remove from freezer and bake from frozen at 400 degrees for about 20 minutes.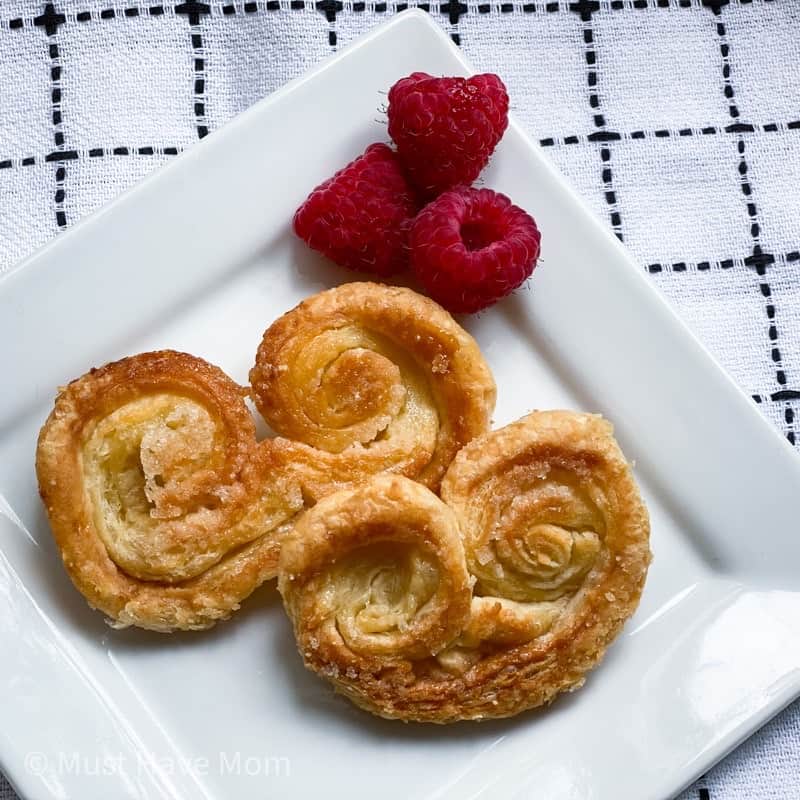 Palmier Cookies Recipe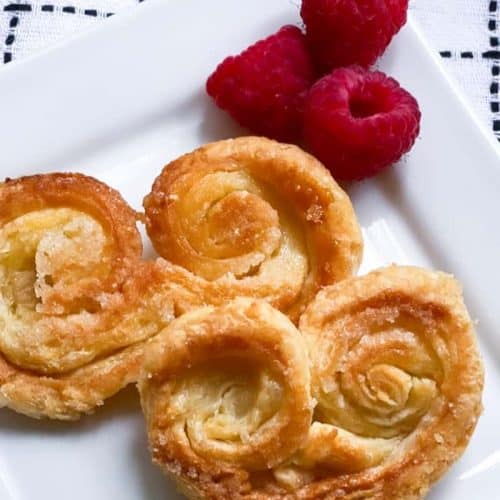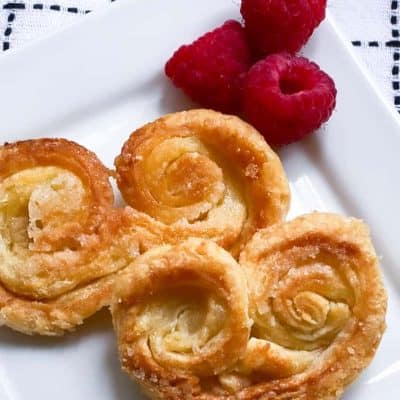 Palmier Cookies
Easy French cookies using only 3 ingredients! Flaky, crisp and delicate cookies that are easy and elegant.
Ingredients
1

package

puff pastry

contains 2 sheets

1/2

cup

butter

melted

1

cup

sugar
Instructions
Follow directions on puff pastry package to thaw pastry dough.

Preheat oven to 400 degrees F. Prepare a baking sheet with parchment paper and set aside.

Roll out 1 puff pastry sheet to the size of a cookie sheet. Brush with melted butter and sprinkle with 1/2 the sugar.

Roll out the second sheet of puff pastry and layer it on top of the 1st sheet of pastry dough. Brush with melted butter and sprinkle with remaining sugar.

Take a rolling pin and gently roll over the top to help press the sugar into the dough.

Gently roll the bottom half of the pastry up to the center of the dough. Roll the top of the pastry down to meet it at the center. Cut into 1/4" slices and lay on prepared baking sheet.

Bake at 400 degrees F for 8 minutes or until bottoms are golden brown. Flip and bake an additional 4 minutes until bottom is golden brown.
Pin Palmier Cookies