Instant Pot Boiled Peanuts
These Instant Pot boiled peanuts couldn't be any easier to make! This salty, briny snack is perfect for parties, game nights and snack attacks. This salty snack is popular in the south and can be enjoyed anytime!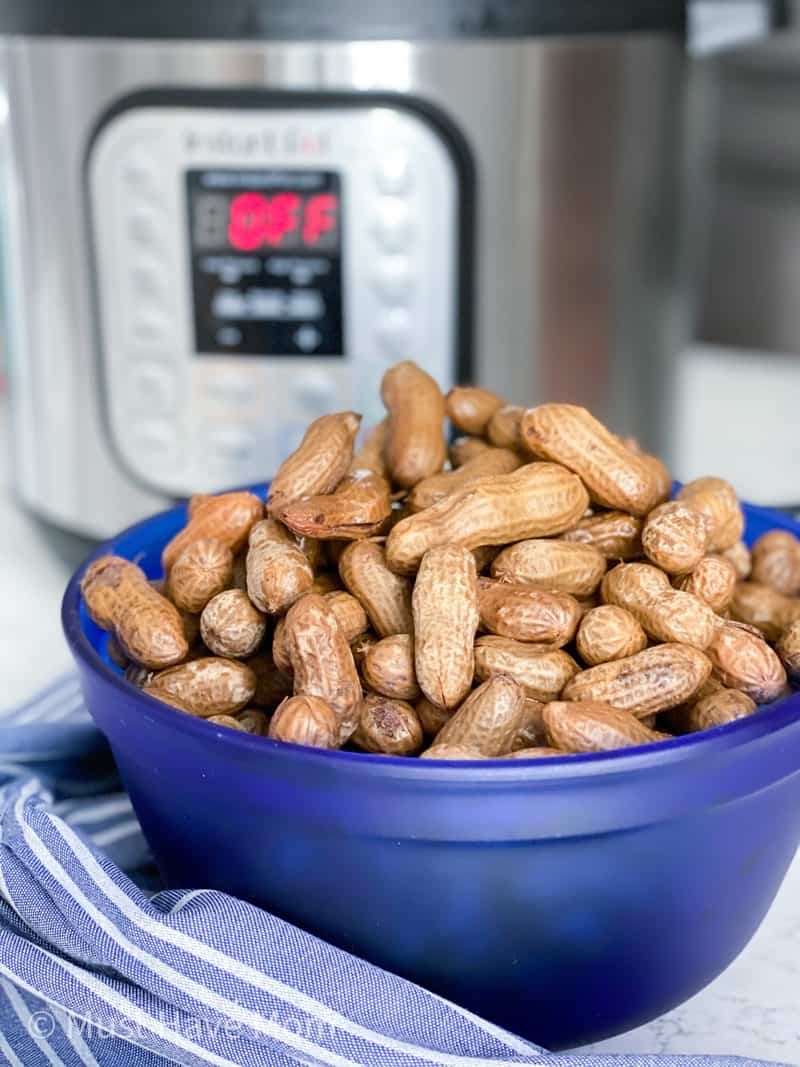 I love making homemade snacks like my homemade cheese crackers, these energy bars or this grape juice fruit leather. Making your own snacks ensures that you know the ingredients in them and it usually ends up costing way less too.
Boiled Peanuts
Boiled peanuts are a snack you commonly come across in tropical areas and in the south. If you've never had them then you should definitely give them a try! Boiled peanuts are made with raw peanuts and cook in a salt brine to deliver amazing flavor. You can even add in your own spices if you want to flavor them in different ways.
Inside the sometimes hard and sometimes soft shell you'll find tender peanuts. Don't forget to slurp up the salty water contained inside the shell as you eat them!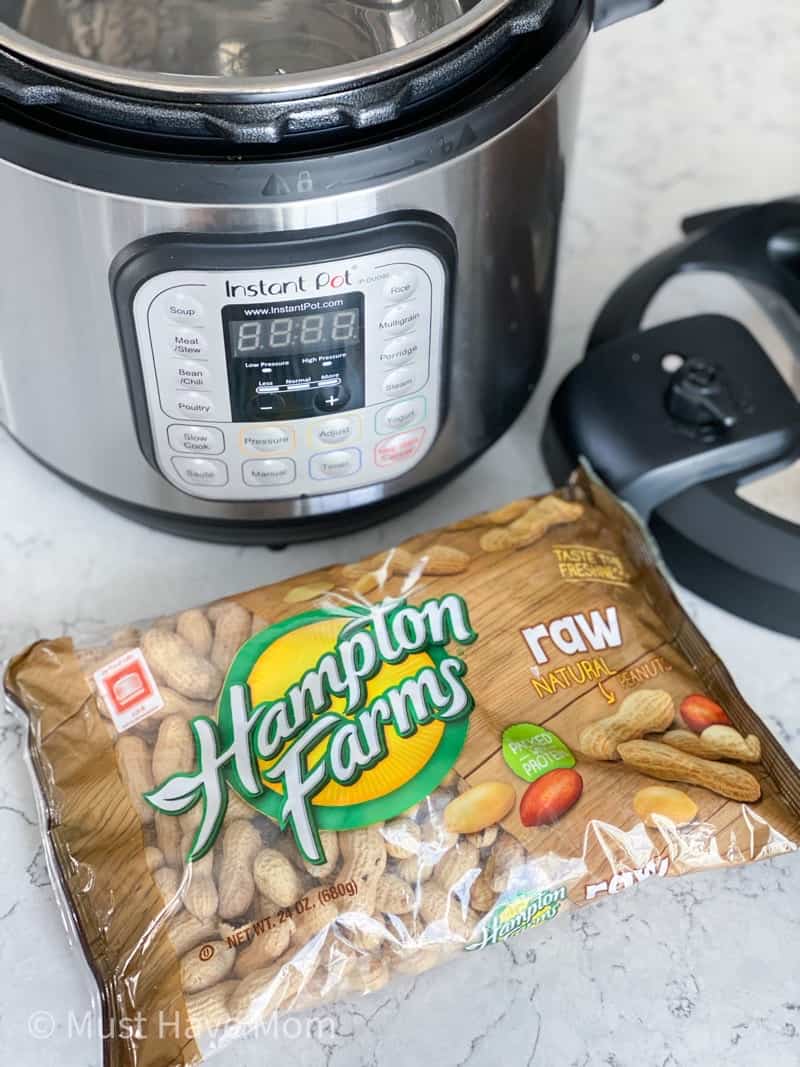 Raw Peanuts For Boiling
Living in rural Minnesota, finding raw peanuts for boiled peanuts wasn't an easy task locally. I ordered these raw peanuts from Amazon and they are even non-GMO!
It is important to note that you can not use roasted peanuts for this recipe. You must use raw peanuts that haven't been cooked or roasted yet. They are called raw peanuts or green peanuts. You can find them in the Asian section of grocery stores or order them from Amazon like I did.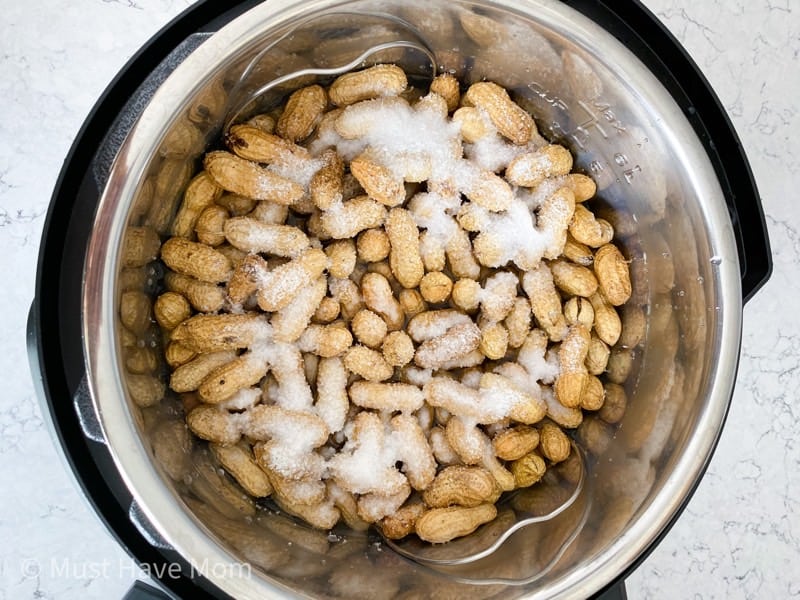 Pressure Cooker Boiled Peanuts
To make boiled peanuts in your Instant Pot or pressure cooker you'll need the following ingredients:
raw or green peanuts – see notes above
sea salt
water
optional: spices – you can flavor your peanuts with any spices you like! Make them garlic or cayenne or whatever your favorite flavor is. Experiment and get daring with it.
Begin by washing your peanuts as they will be dirty and make the water brown. Rinse them and drain them then allow to soak overnight in a bowl of water.
Then, place peanuts in your Instant Pot along with salt and water (see full recipe below for amounts). If you have a metal screen to put over them and keep them immersed in the water then do that now. If you do not have one that's okay too! I didn't have one either.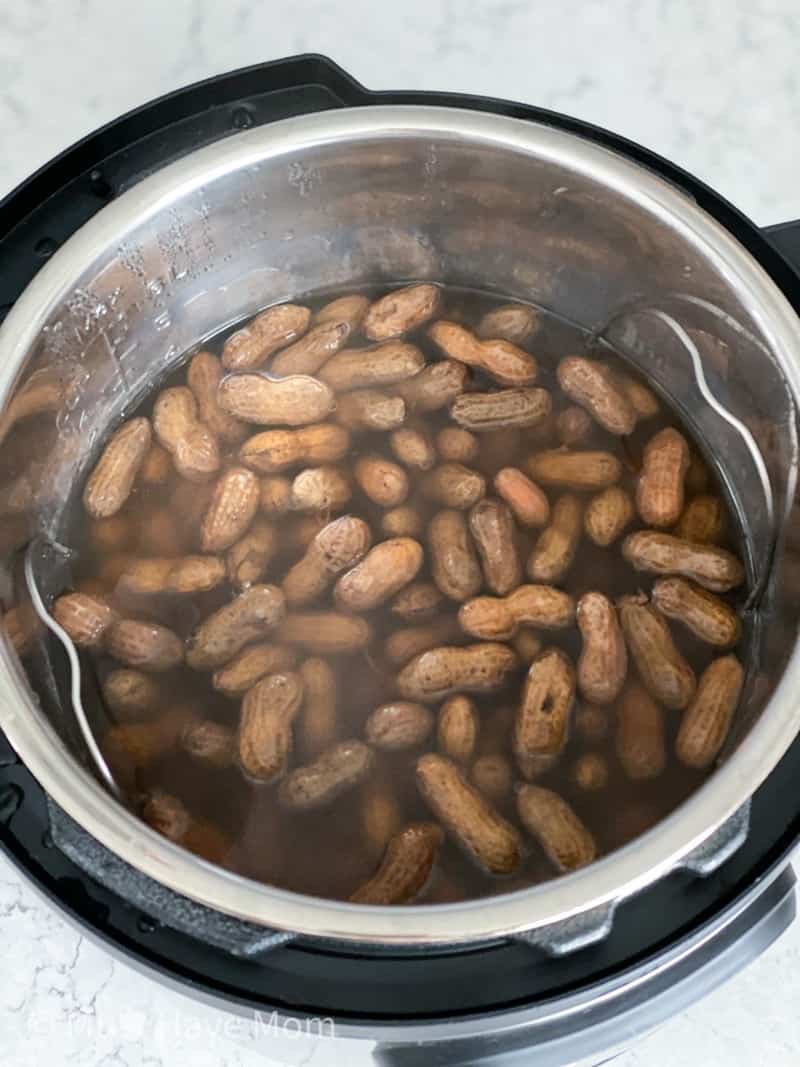 Then close the lid and turn the Instant Pot to "sealing". Cook for 80 minutes followed by a natural pressure release.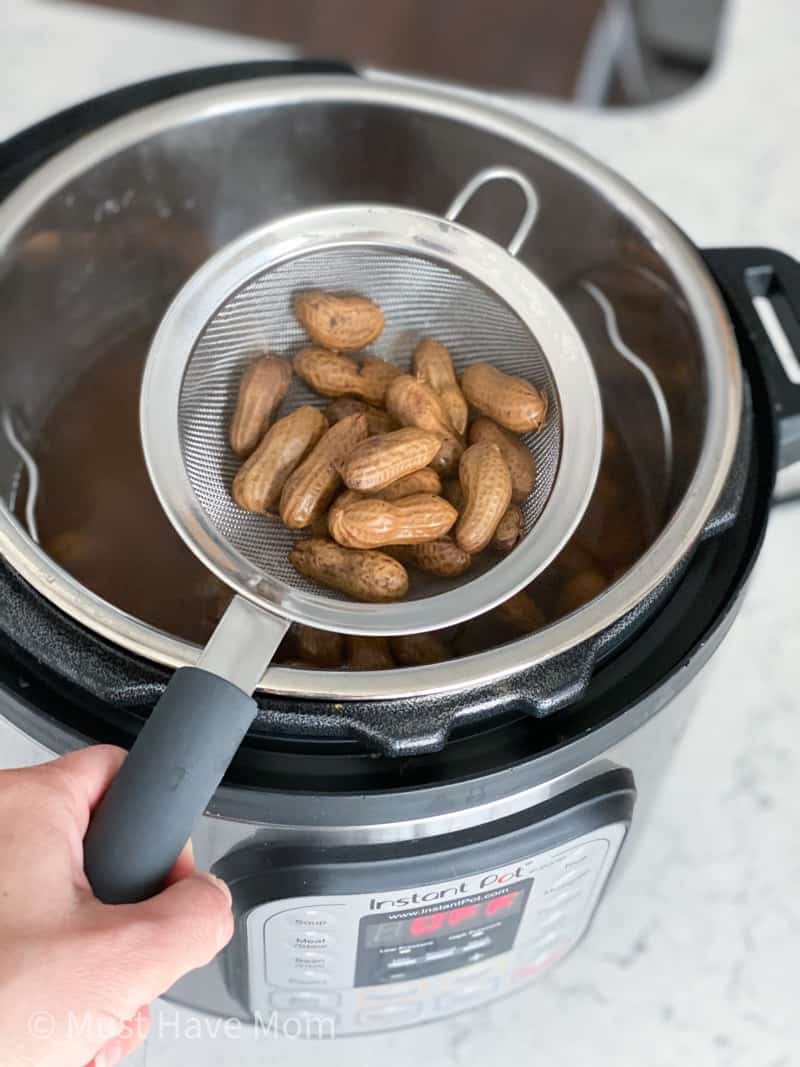 When the pressure has released, open the lid and reveal your delicious boiled peanuts!
If you plan to eat them boiled peanuts immediately then use a mesh strainer to scoop them out and serve them.
If you do not plan to eat them immediately then store them in the brine.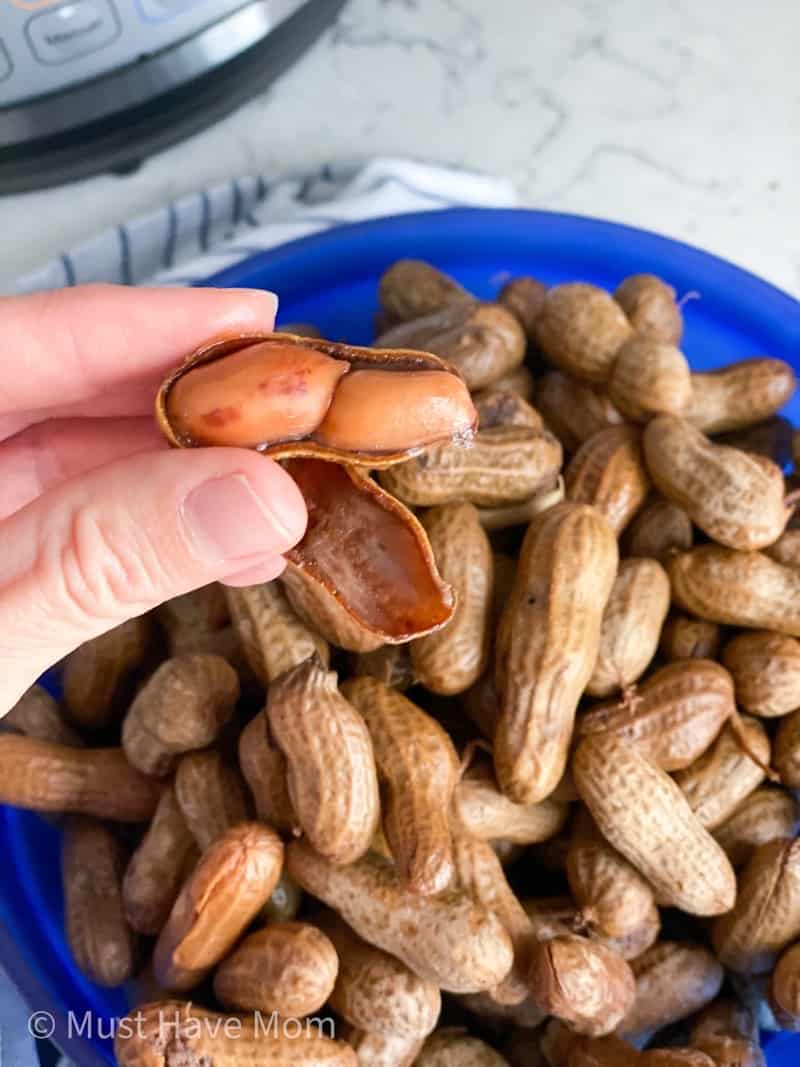 How To Store Boiled Peanuts
Boiled peanuts should be stored in the fridge for up to 10 days.
Can you freeze boiled peanuts?
Yes! You can freeze boiled peanuts by draining them and allowing them to fully cool. Package in freezer bags and freeze. They will keep in the freezer for at least one year.
How long are boiled peanuts good for?
Boiled peanuts are only good at room temperature for about 24 hours. In the fridge, they will last for up to 10 days and frozen they last a year!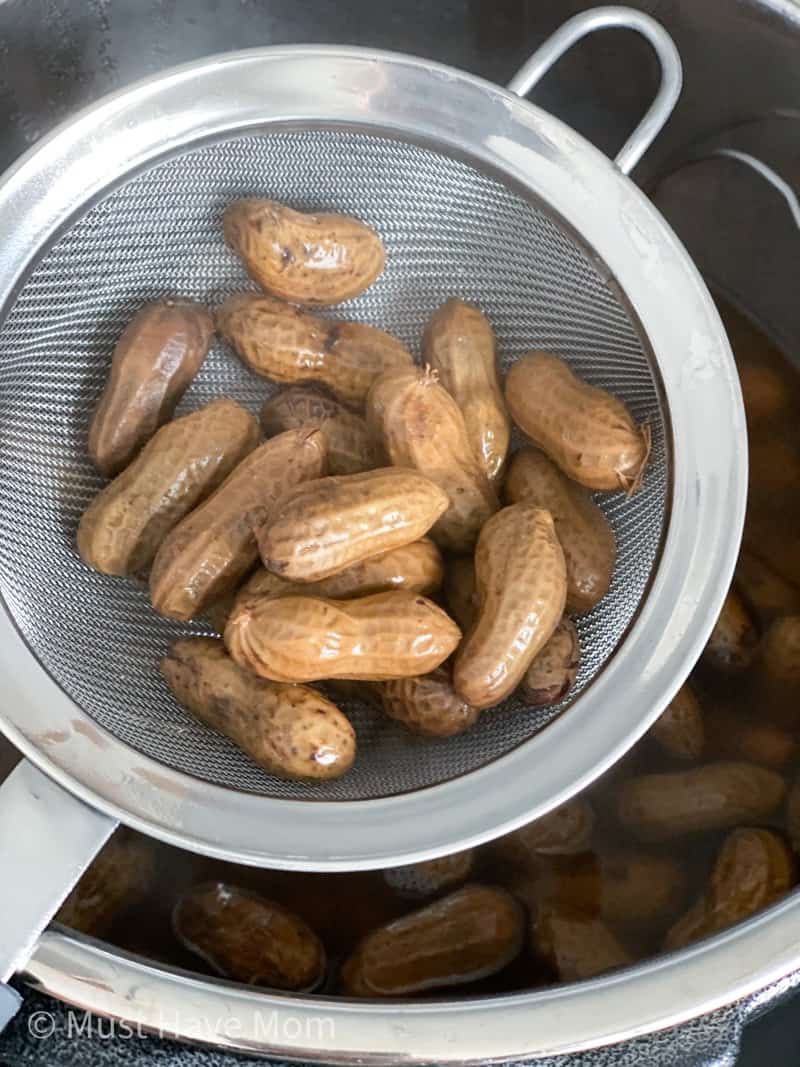 Are boiled peanuts keto?
Yes, boiled peanuts are fine to eat while following a keto diet. You can have a decent amount of boiled peanuts even if you are on the keto diet. 33 peanuts has about 6 grams of carbs in them.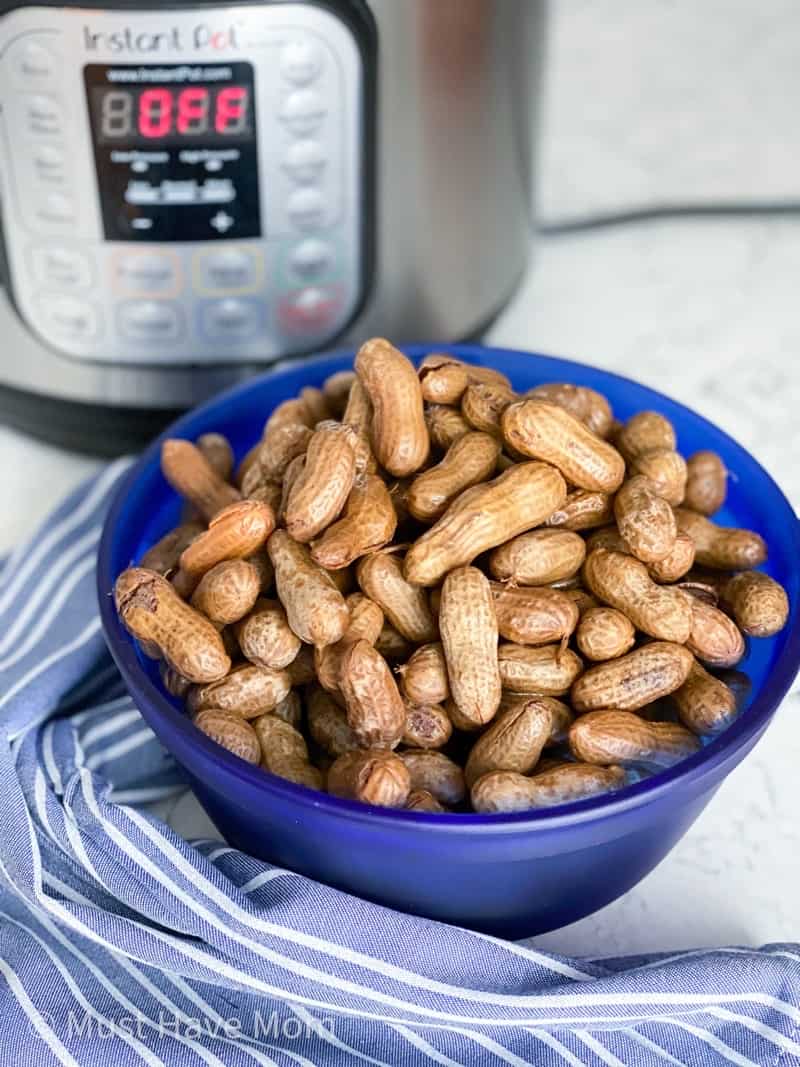 How to reheat boiled peanuts
You can easily reheat boiled peanuts by bringing a pot of water to simmer on the stove. Fill with enough water to cover the peanuts. Add peanuts and simmer until warm.
If you are reheating frozen peanuts, first thaw them in the fridge and then follow the above directions to heat them.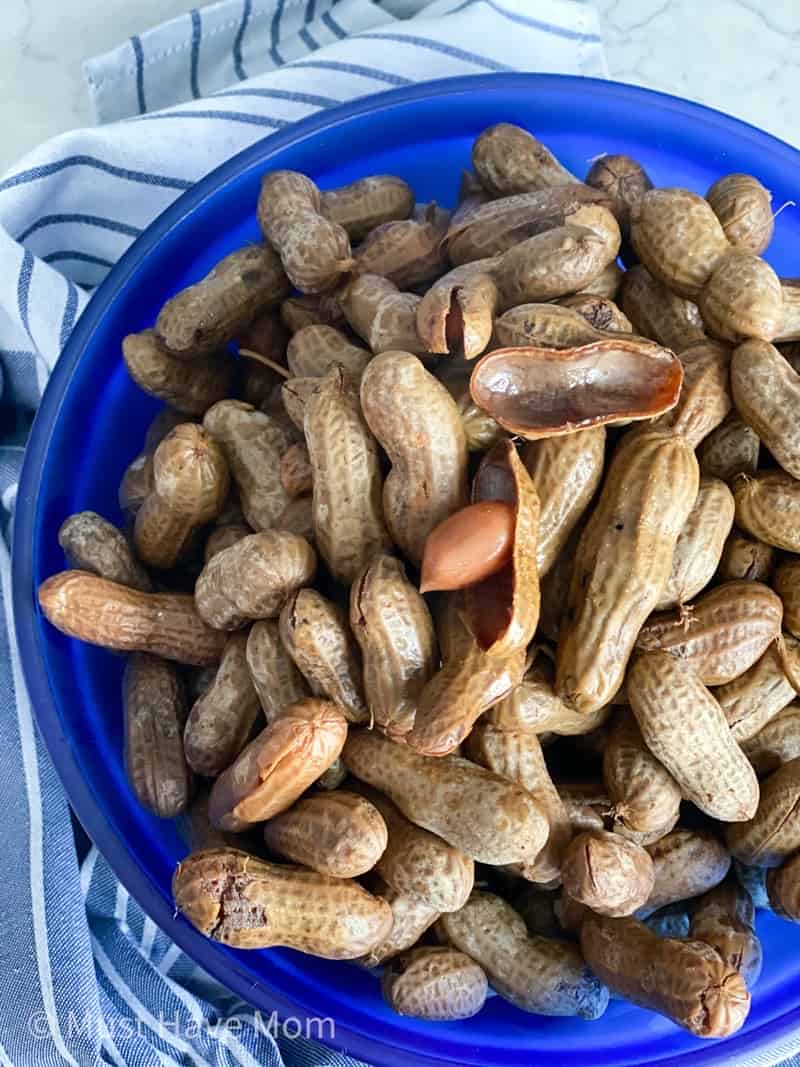 Print Boiled Peanuts Recipe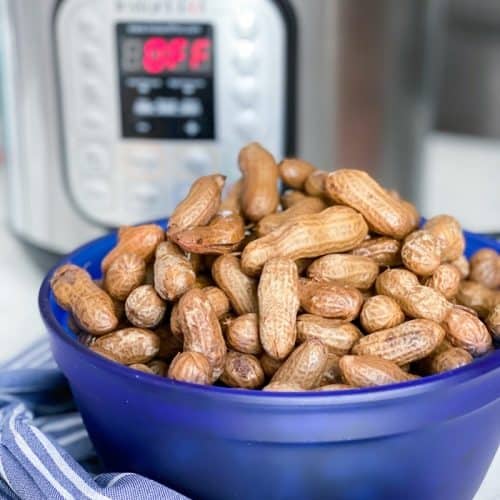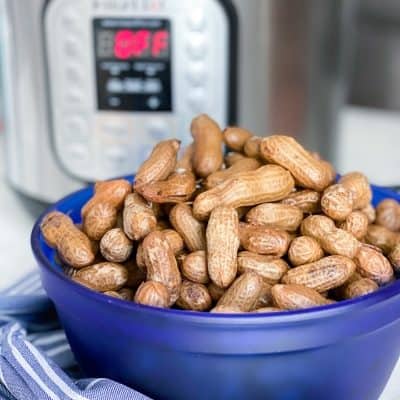 Instant Pot Boiled Peanuts
Easy Instant Pot boiled peanuts recipe. This salty, delicious snack is just what you've been craving! Keto friendly!
Ingredients
1

lb

raw or green peanuts

1/4

cup

sea salt

water

enough to cover peanuts by 1"

1/2

tbsp

favorite spice

optional
Instructions
Wash peanuts and drain. Soak raw peanuts overnight and then rinse. Place peanuts in Instant Pot. Add salt. Cover peanuts with water to cover them by 1". Add any optional seasoning if you wish.

Cover with lid and set to "sealing". Cook on manual for 80 minutes. Allow to naturally release the pressue.

Strain peanuts out of brine and serve immediately. If serving later then store in the brine.
Notes
*Store peanuts in the fridge. 
**To reheat: simmer water on stove top and add peanuts and heat until warm.
***May be frozen: Strain peanuts from water, allow to cool fully and package in zip top bags.
How to eat boiled peanuts
You can simply crack the shell, slurp the brine and eat the peanut inside. Alternatively, you can put the whole shell in your mouth and crack it open using your teeth and spit out the shell. Discard shells when done.
Pin Instant Pot Boiled Peanuts