These lactation cookies are SO delicious and on top of that they are gluten free, egg free and dairy free! If you are trying to boost your breastmilk supply then give these lactation cookies a try and give your body the things it needs to boost milk supply while feeling like you are eating a treat!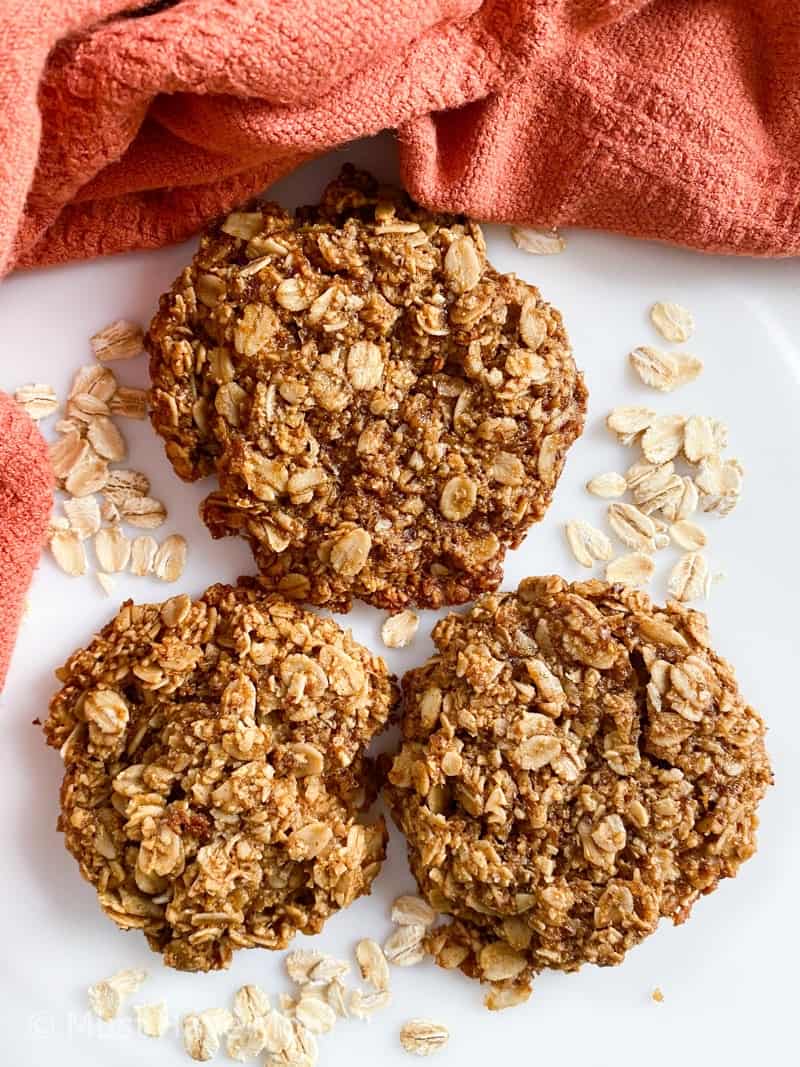 Breastfeeding is a joyful bond between mother and baby. I have shared with you all about pumping and storing breastmilk and how to build a good supply. If you are struggling with supply issues first read that post and then try this lactation cookies recipe!
Lactation Cookies
Buying and tasting multiple different lactation cookies can get costly and the store bought variety just aren't that tasty. Making your own homemade lactation cookies not only leads to better tasting lactation cookies, but also allows you to tailor them to your dietary needs. This lactation cookies recipe is healthy and delicious.
This lactation cookies recipe is:
gluten free
egg free
dairy free
Eliminating some of the top allergens helps to make this lactation cookie suitable for more moms and babies.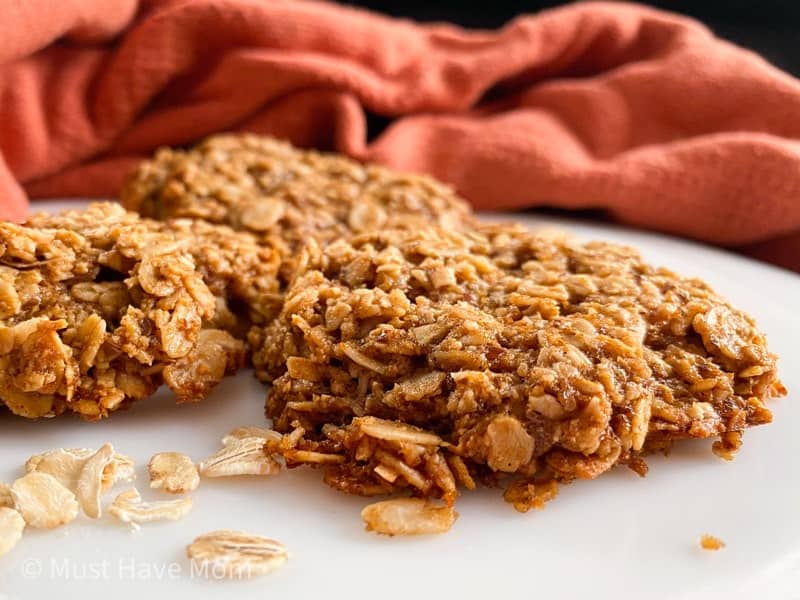 Lactation cookies are cookies made from lactogenic foods that may help to boost the mother's milk supply. They contain important nutrient's for a breastfeeding mother's milk.
Each breastfeeding mother may have different foods or beverages that help to boost their milk supply. This can make it a trial and error process for a mother, but the good thing about this cookie is that it contains multiple lactogenic foods.
Oats are thought to boost supply due to helping increase the mother's iron supply.
Flaxseed contains phytoestrogens and essential fatty acids that may help to boost milk supply.
Coconut oil contains healthy fats which may help to boost supply.
Coconut oil has also been shown to increase the antimicrobial properties in breastmilk. That is an added bonus in this cookie!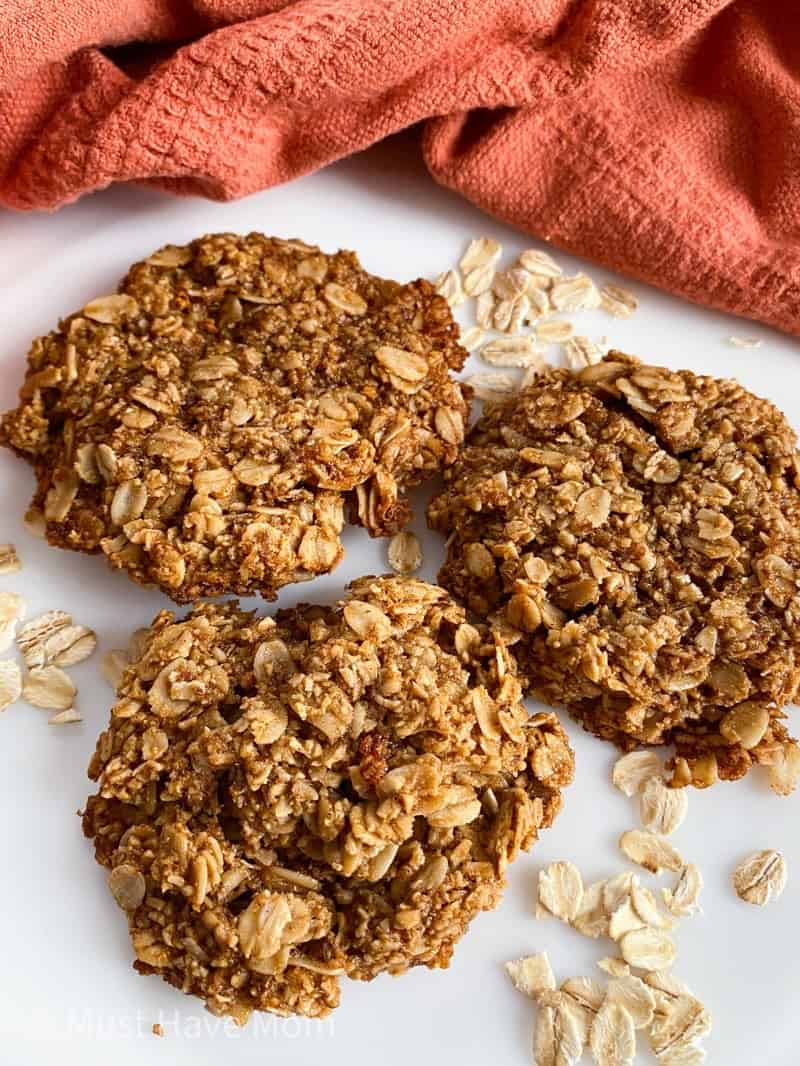 This lactation cookie is not only delicious but it is packed full of lactogenic foods that may help to boost milk supply. There is nothing worse for a mother than to be worrying if they are producing enough for their baby.
These cookies are easy to make, and the best part is that the dough can be eaten raw while they are being made!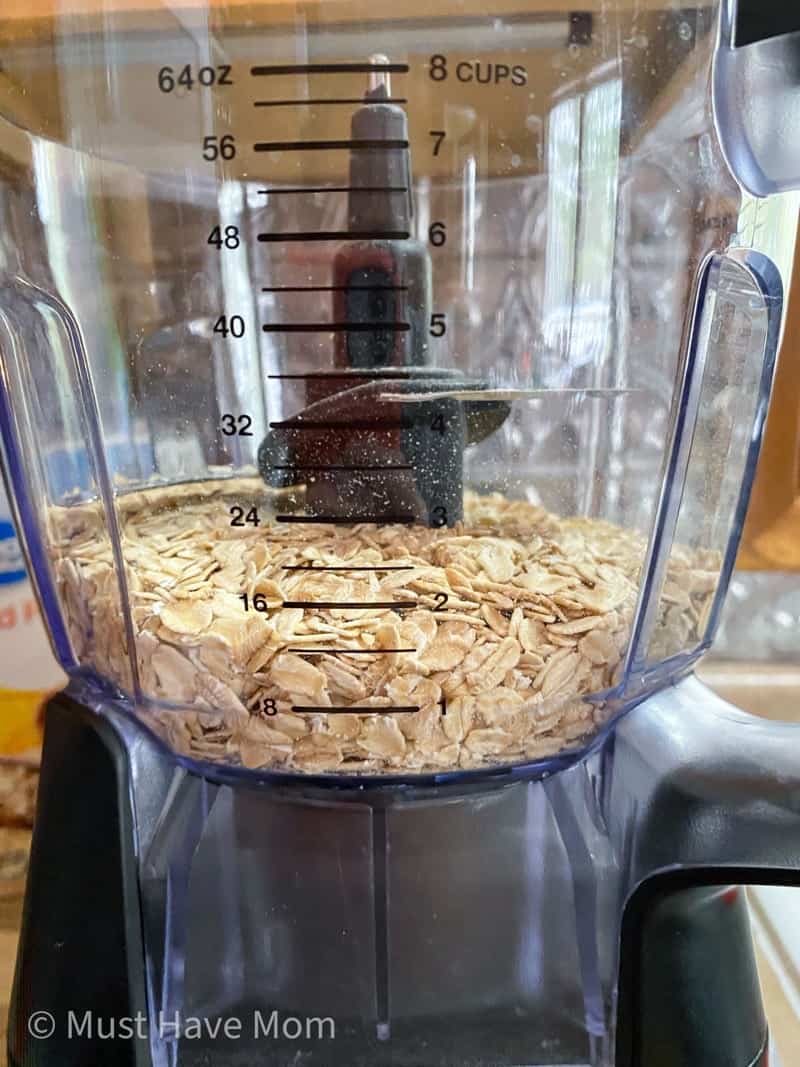 How To Make Your Own Oat Flour
The first thing that needs to be completed is to make the oat flour unless oat flour has been purchased. Oat flour can be made by putting oats into a food processor and pulsing until it becomes a powder. It's an easy and inexpensive way to make your own oat flour. Just pulse until a fine flour is achieved.
Pour the oat flour into a bowl and add in the salt, cinnamon, baking soda, flax seed, and coconut flakes. Mix the dry ingredients.
Don't put your food processor in the sink yet!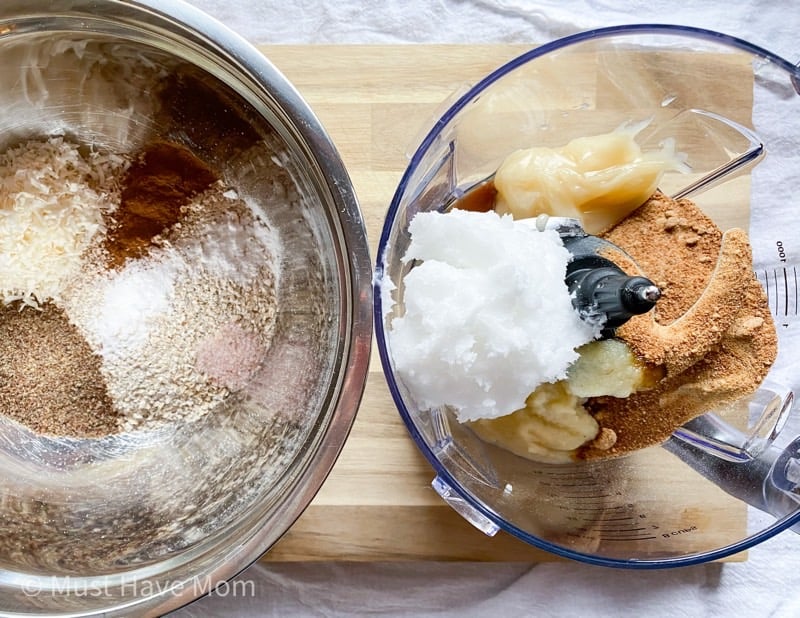 It is time to put the wet ingredients into the food processor. If you do not have a food processor a mixer can be used, or a good old-fashioned spoon will work!
Mix together by pulsating the applesauce, coconut oil, vanilla, coconut sugar, flaxseed, and honey.
Pour the wet ingredients into the dry ingredients bowl. Mix well, then fold in the oats.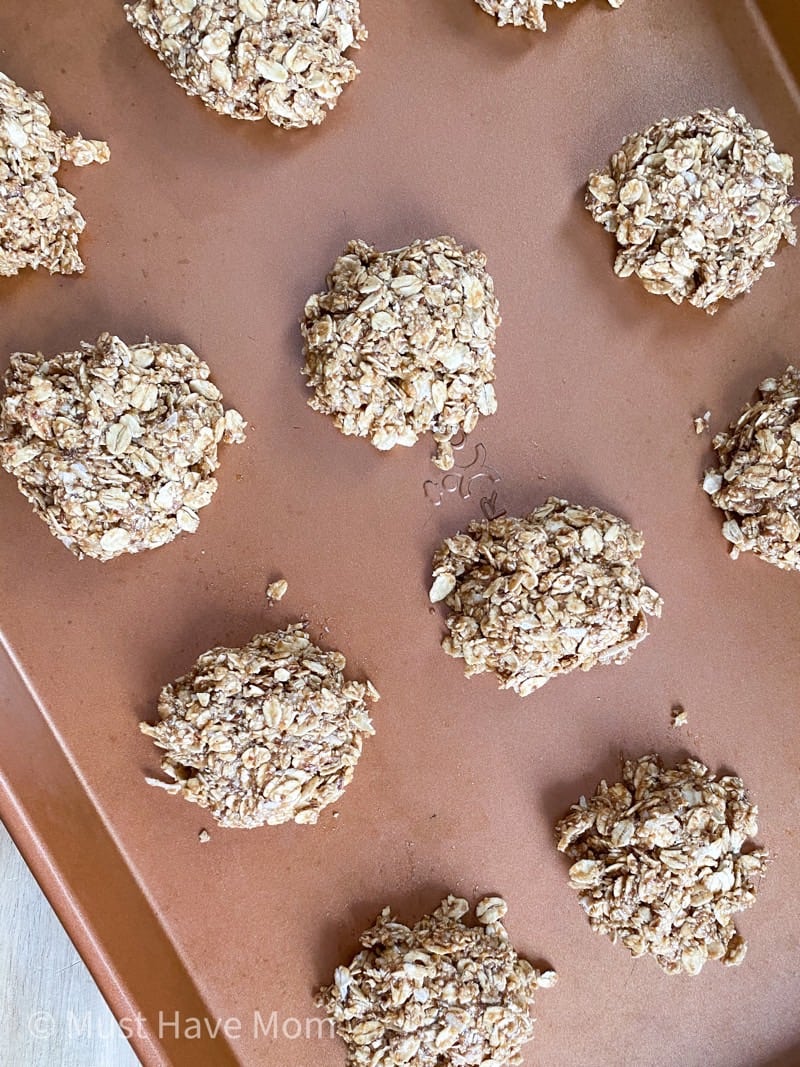 Using a cookie scoop, scoop out the batter and place onto a baking sheet. Ensure that the batter is smashed together and pressed down onto the cookie sheet. This can be done by using your fingers or the bottom of a glass. These cookies are crumbly so be sure that the batter is stuck together before baking.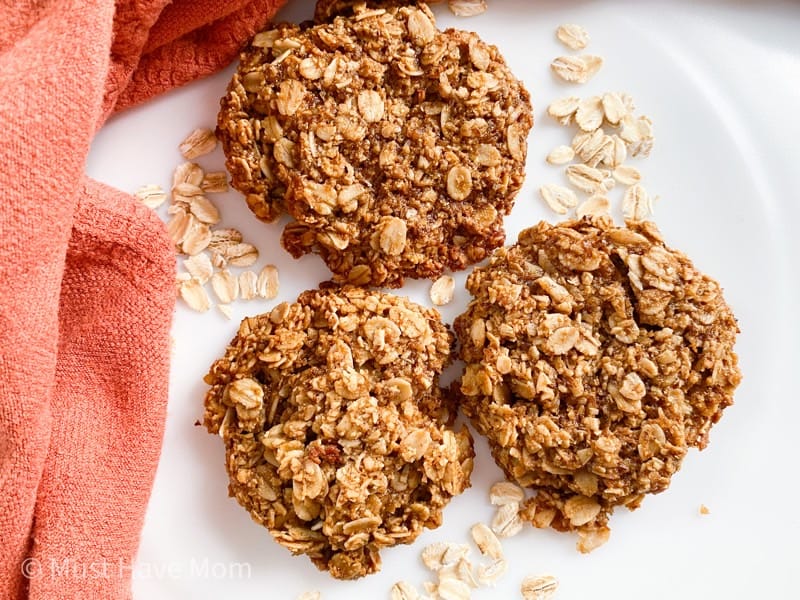 Bake at 350 degrees for 9-11 min or until the edges are slightly golden. It is best to let the cookies cool completely on the baking sheet before using a spatula to take them off. And don't forget to set one aside to enjoy while the rest of the cookies are baking! Enjoy!
Print Lactation Cookies Recipe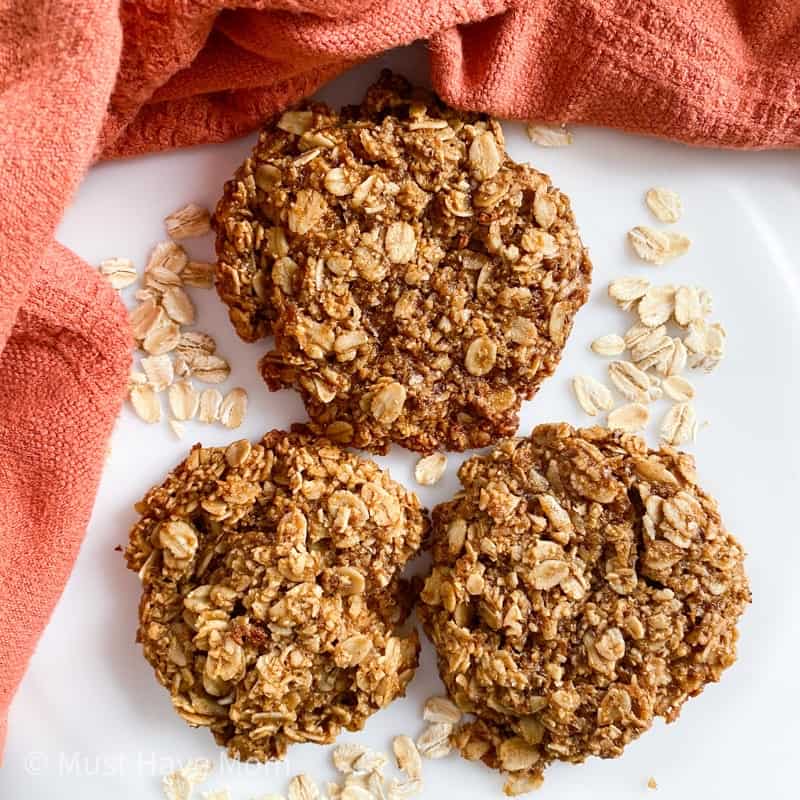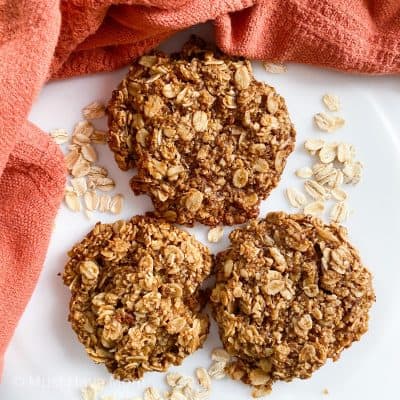 The Best Lactation Cookies
These lactation cookies are dairy free, gluten free and egg free, ensuring that most mamas can enjoy these!
Ingredients
2

cups

oat flour

see instructions to make your own

½

tsp

sea salt

1

tsp

ground cinnamon

1

tsp

baking soda

3

Tbsp

flaxseed

½

cup

coconut flakes

½

cup

applesauce

½

cup

coconut oil

1

cup

coconut sugar

1

tsp

vanilla extract

¼

cup

honey

2

cups

old fashioned oats
Instructions
Preheat oven to 350 degrees.

Use a food processor to pulse 2 cups of oats to make oat flour.

Mix together oat flour, salt, cinnamon, baking soda, flaxseed, and coconut flakes in a medium size bowl. Set aside.

Use a food processor or mixer to mix applesauce, coconut oil, coconut sugar, vanilla, and honey.

Combine the wet and dry ingredients and mix well. Fold in the oats.

Scoop out batter and drop on cookie sheet to form 24 balls. Ensure that batter is mixed into tight balls then press them down with the bottom of a glass to flatten them.

Bake at 350 degrees for 9-11 minutes or until edges are golden. Allow cookies to cool completely on cookie sheet.
Every mama is different but you should see an increase in supply in 1-2 days! Moms will typically notice an immediate boost in supply but give it a couple days if you aren't noticing anything immediately.
Every mom's needs are different. Aim to eat around 3 cookies per day and no more than 5 to increase your supply. Keep in mind the added calories and sugar in these and don't overdo it.
When should I start eating lactation cookies?
You can start eating lactation cookies anytime, however, the ideal time to consume them is once your milk has come in and your supply has self-regulated. Moms can typically see a slump in supply around 4-5 months and this is an ideal time to try lactation cookies to boost your supply.
Is water consumption important for breastmilk production?
Staying hydrated is definitely important when it comes to breastmilk production. Ensure you are drinking enough water to stay hydrated. Another great option is to drink coconut water. This is a great hydrator and can help with milk supply by keeping you well hydrated.
Can men eat lactation cookies?
Yes! Anyone including men and children can eat lactation cookies as these healthy cookies contain many beneficial nutrients that anyone can benefit from. Go ahead and enjoy them with your whole family!
Pin Lactation Cookies