Travel Snack Hacks + Homemade Cheese Cracker Recipe
*This is a sponsored post written by me on behalf of Mott's® and Dollar General. All opinions are mine alone.
Summer is almost here and that has me on the hunt for travel snack hacks! We travel often in the summer and I've acquired some amazing travel tips that I'll be sharing with you today. Plus you'll get my favorite homemade cheese cracker recipe that is great for an easy snack for on the go travels.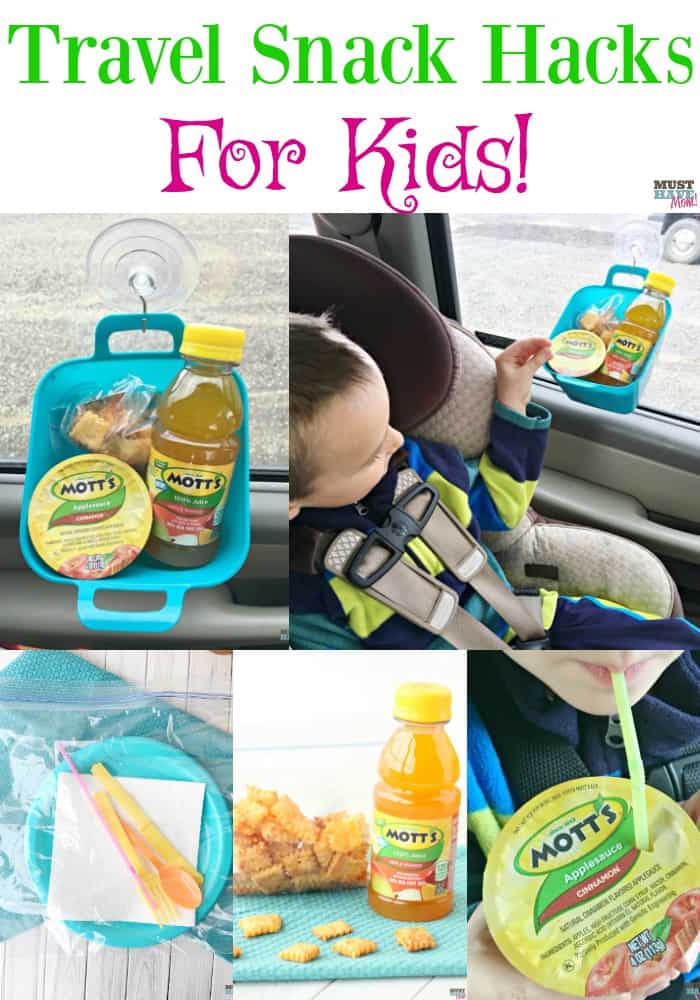 Travel Snack Hacks
After driving from northern Minnesota down to the tip of Florida (straight through mind you) with four kids packed in our suburban, I can easily say I have acquired some must have travel snack hacks that every mother should know.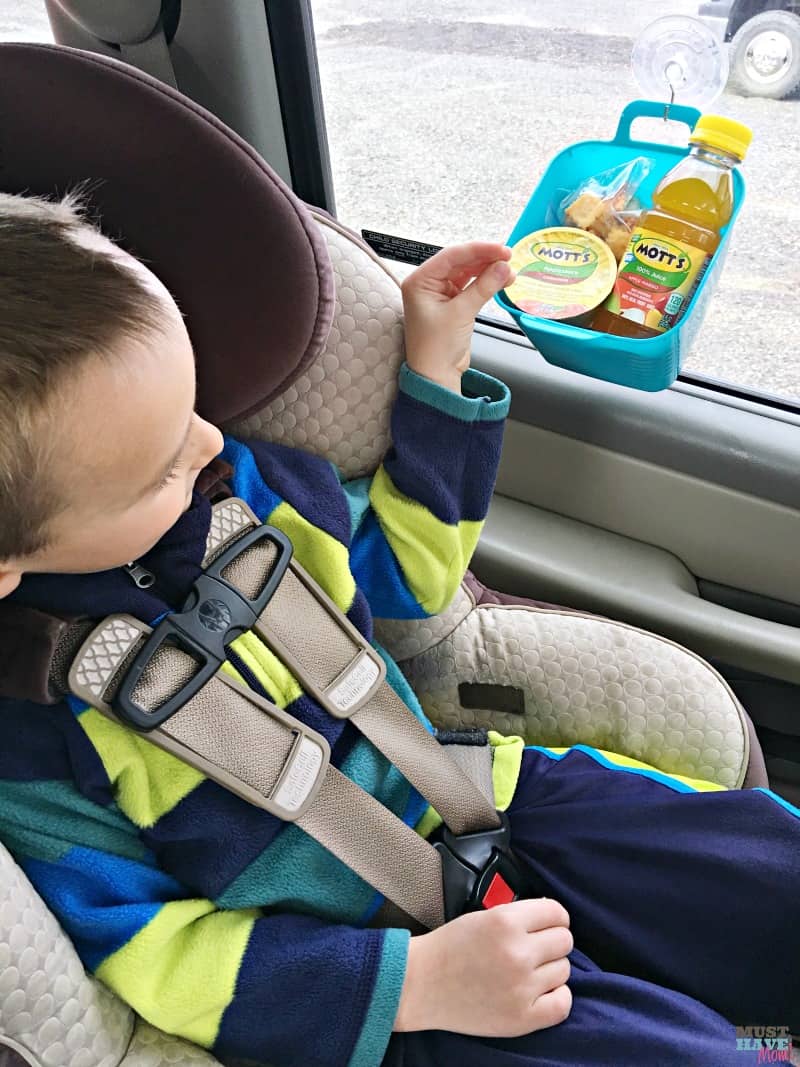 This suction cup snack bin is the PERFECT way for your kids to have their snacks within easy reach while you are driving. Inevitably, kids always need something as soon as you take off and you aren't able to turn around and hand them anything. This easy DIY snack bin keeps snacks within easy reach and eliminates the need to hand them snacks throughout the ride.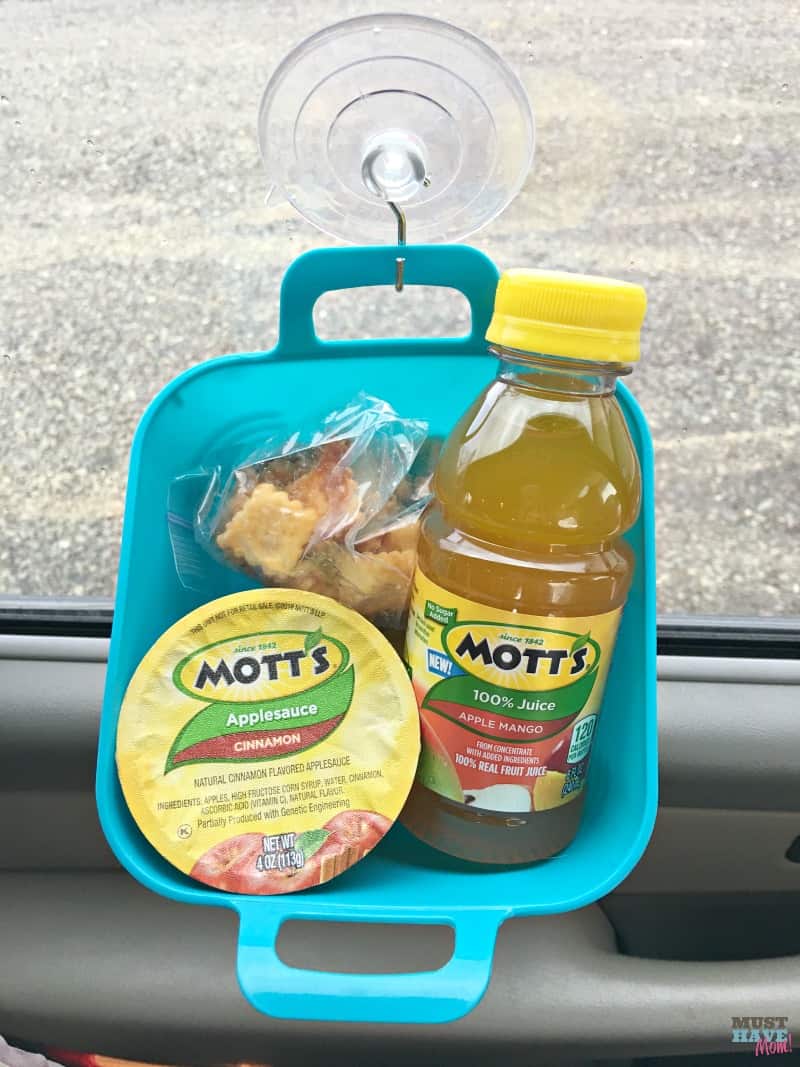 To make this ingenious travel snack bin simply pick up a suction cup with a hook on it (I found them available in inexpensive 2 packs in the hardware section) and a square bin with handles (check Dollar General). Then simply place the suction cup on the car's window, nearest your child's seat, and hook the bin on it. Make sure it is within reach when they are seated and buckled in their car seat.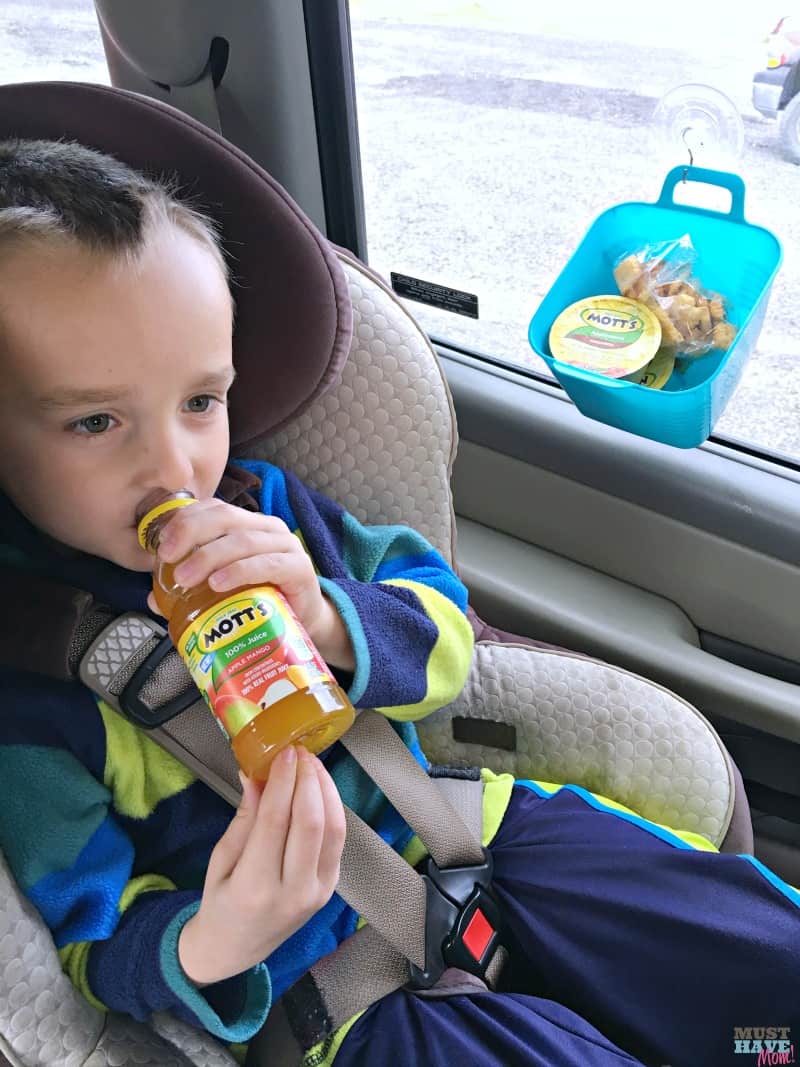 Then fill it up with their favorite travel snacks. We love to pack it with my homemade cheese crackers, Mott's Applesauce and a bottle of Mott's 100% Apple Mango Juice. Concentrate on mess-free snacks for the ride.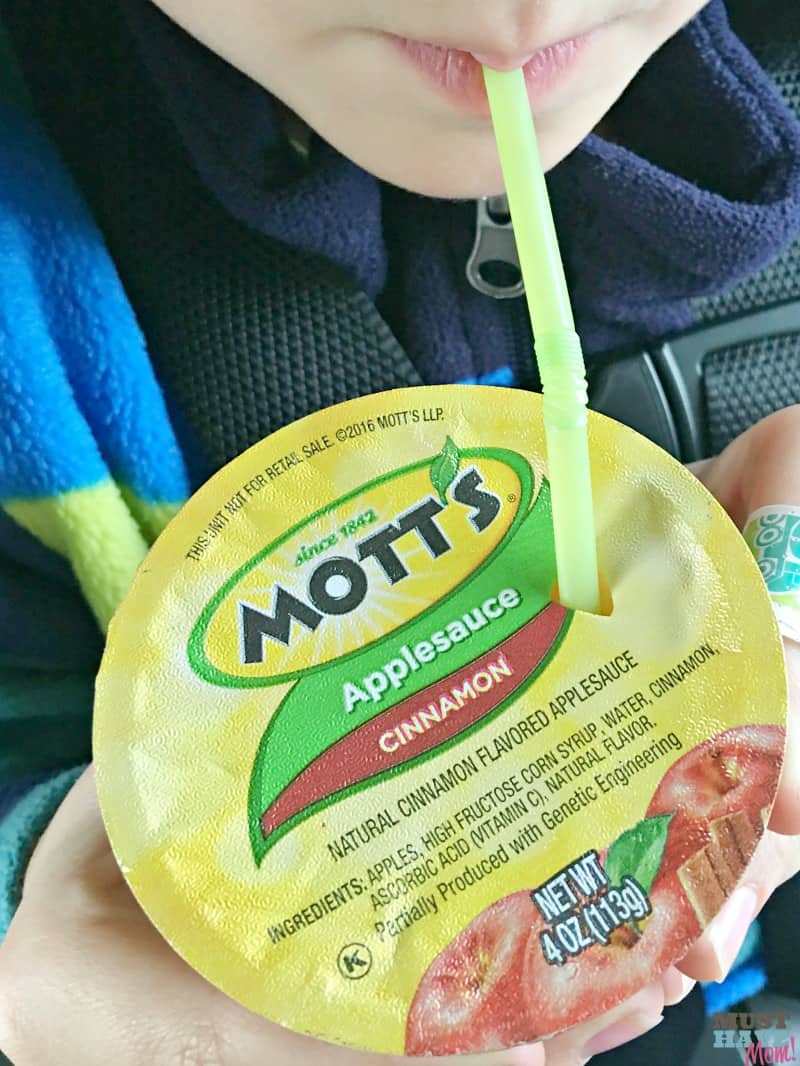 We use an ingenious snack hack to eat the Mott's Applesauce cups without the mess. Simply cut a drinking straw so it is short and pack it in their snack tub. When they are ready to eat the applesauce they can just poke the straw through the lid and drink the applesauce cup which eliminates the need for eating it with a spoon which can get messy. Snack hacks for the win!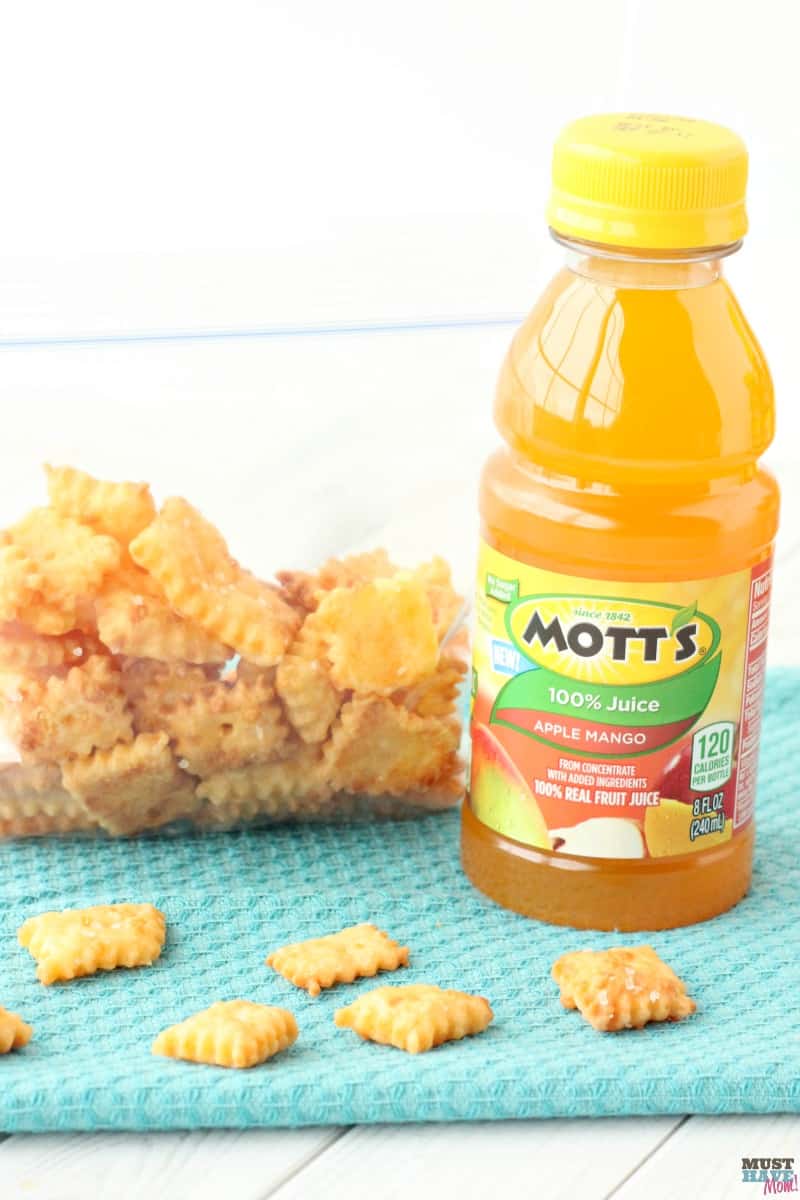 Skip the sugary drinks this summer and keep your kids hydrated with a better-for-you drink like Mott's 100% Apple Mango Juice. It is non-GMO, 100% real fruit juice and is great for staying hydrated. It pairs perfectly with my homemade cheese cracker recipe below!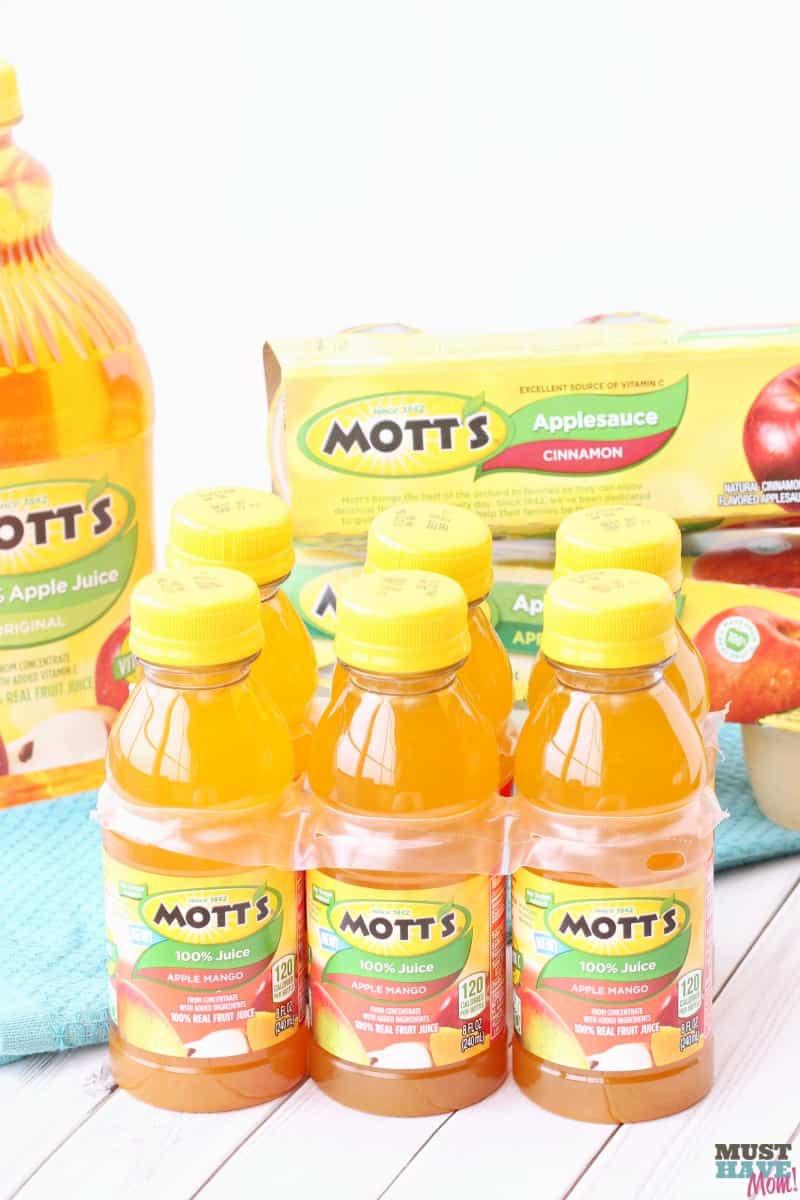 You can find these 8oz bottles of Mott's 200% Apple Mango Juice exclusively at Dollar General at the lowest price available (just $2.75 per 6 pack!).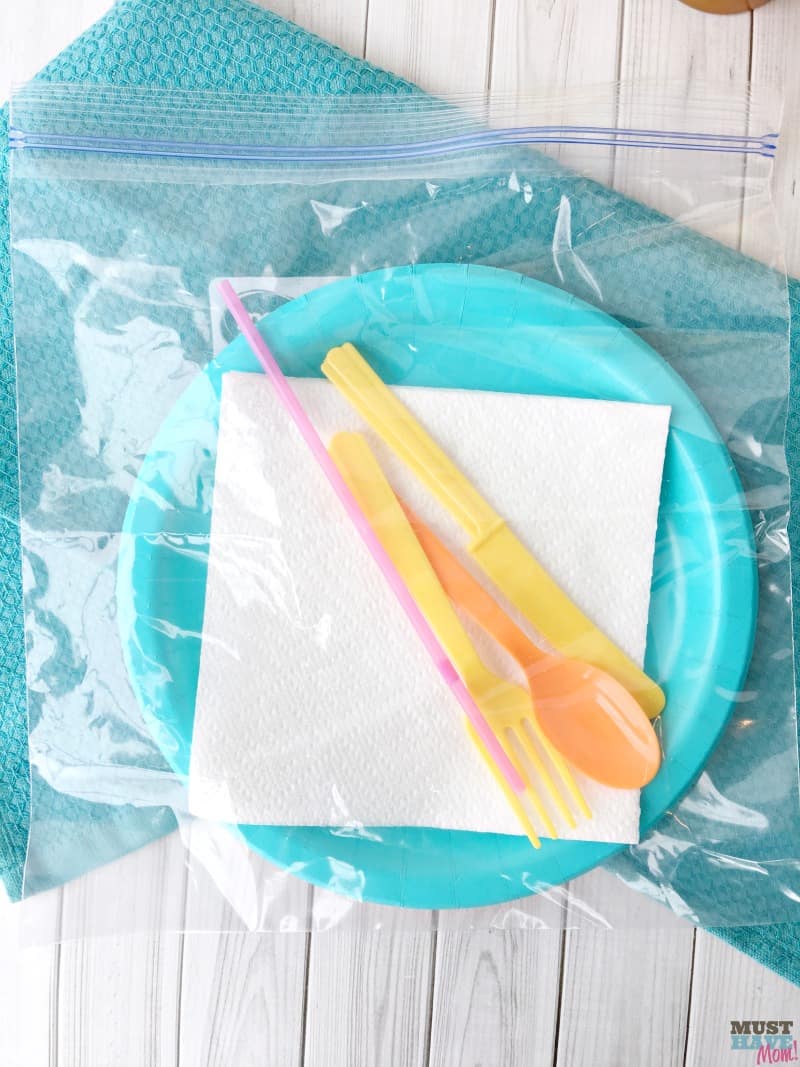 I have two other genius snack hacks you need to know and then I'll share my super tasty homemade cheese crackers recipe with you!
First of all, I always keep several of these to-go packs in my car. Each one has a plate, napkin, utensils and a straw inside a gallon zip top bag. Have you ever gone through a drive through and got back on the road only to realize they forgot your straw or you didn't have a napkin? If you keep a few of these to-go packs in the car you won't ever have that dilemma again! They are SO handy.
My last travel tip for you isn't a snack hack but does go along with it. Always keep a box of gallon zip top bags, a roll of paper towels and a few garbage bags in your vehicle. You never know when you might have a spill in the car and these items are invaluable when that happens!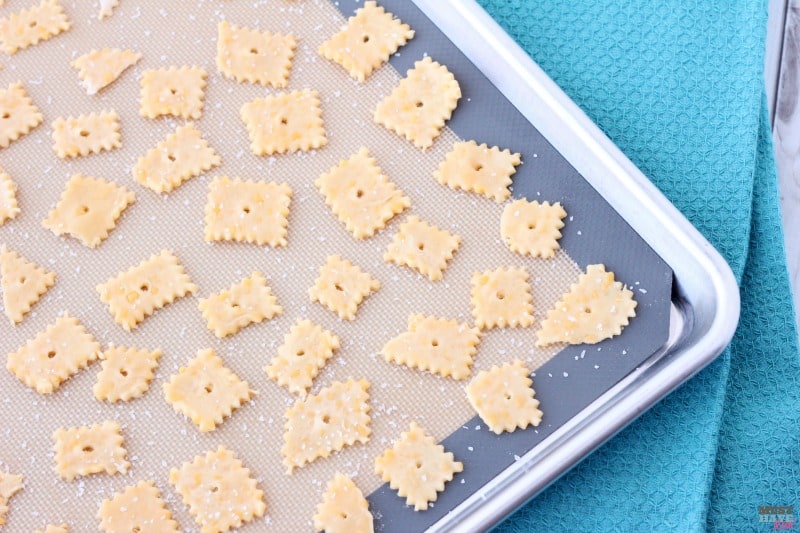 Cheese Cracker Recipe
With four kids who love to snack I also employ other snack hacks. My kids LOVE cheese crackers but with four kids in the house we go through an entire box in one sitting. I started making my own cheese crackers recipe and not only are they tastier than the store bought cheese crackers, but they are made with clean ingredients and nothing extra. This recipe allows you to store them in a container on the counter instead of in the fridge which you'll find with many other cheese cracker recipes. Make these before your next trip and take them in the car for an easy on-the-go snack!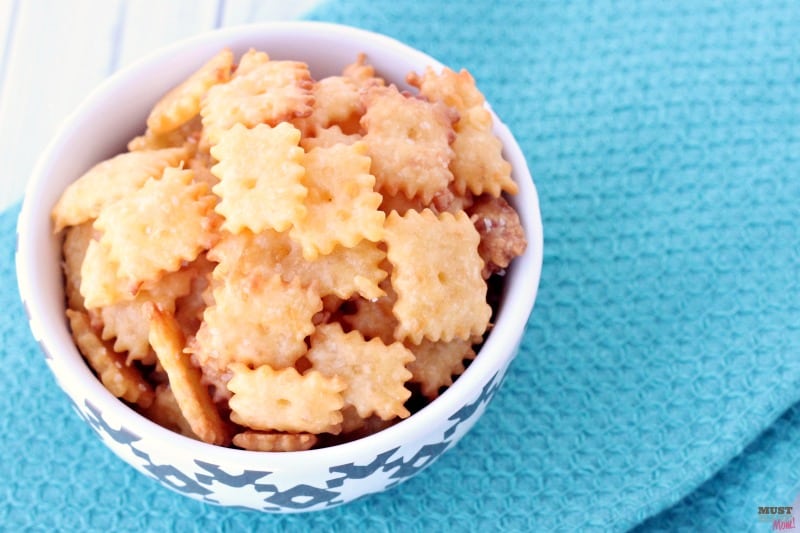 Print the Cheese Cracker Recipe: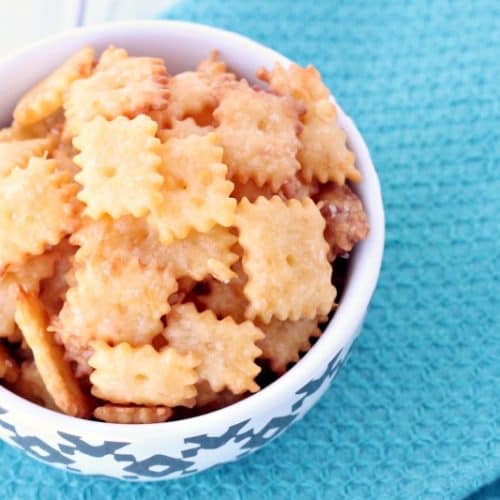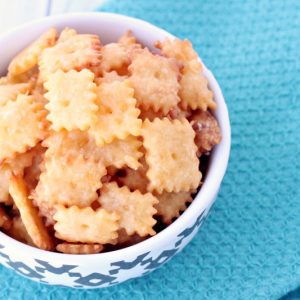 Travel Snack Hacks + Copycat Cheez-Its Recipe
Easy snack recipe for homemade cheese crackers! This cheese cracker recipe is a great alternative to the store bought version.
Ingredients
2

cups

shredded cheddar cheese

any type-sharp, colby, etc

4

tablespoons

unsalted butter

at room temperature

1

cup

flour

2-3

tablespoons

milk

coarse salt for topping
Instructions
Place all ingredients except milk and coarse salt into a food processor. Pulse until the mixture turns into crumbs. Slowly add liquid a little at a time until dough forms a ball.

Divid dough in half and shape into a round disc. Wrap in plastic wrap and place in the fridge for 30 minutes to chill.

After dough has chilled preheat oven to 375 degrees F.

Roll out one disc of dough on a lightly floured surface to 1/8" thickness. You want them very thin as the dough expands when it cooks. Use a pastry wheel or knife to cut into 1" squares. Transfer squares to a baking sheet lined with parchment paper or a silpat mat. Use a toothpick to poke a hole in the center of each cheese square. Make the hole a decent size by wiggling the toothpick in a circle.

Sprinkle with coarse salt and bake for 10-15 minutes or until edges are lightly browned.

Remove from oven and cool on a rack. Store in a glass container (with a lid) at room temperature for up to 2 weeks.
Pin the Cheese Cracker Recipe image below:

Thank you to Mott's and Dollar General for sponsoring this post.
Find more homemade snack recipes and travel hacks: