Healthy Pumpkin Spice Latte Recipe
This healthy pumpkin spice latte recipe not only tastes amazing but it puts Starbucks pumpkin spice coffee to shame! With just 4g of sugar, this dairy free pumpkin spice latte is packed with superfood and is actually GOOD for you! BOOM!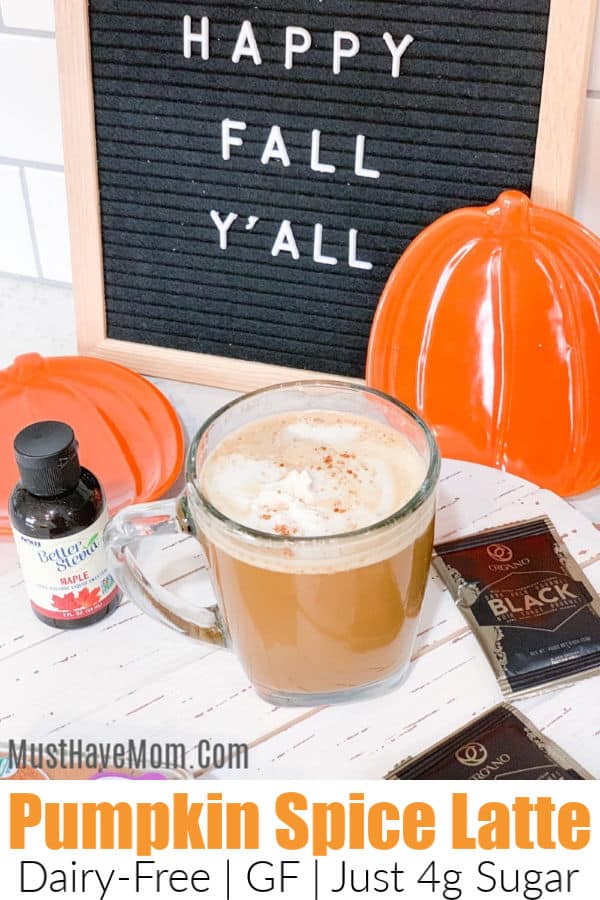 Pumpkin Spice Latte
The pumpkin spice craze is in full swing now that fall has arrived. If you're thinking of swinging through Starbucks (or another similar coffee chain) for a pumpkin spice latte you may want to think again. Take a quick look at the nutrition facts and you might be stunned at just how much sugar is inside that cup! Appalled may be a better word.
Going by the nutrition label off a 16oz Starbucks pumpkin spice latte you'll be consuming a whopping 50g of sugar in that ONE drink! Not to mention all the GMO's, junk ingredients, and dairy that are in there. Have I made you rethink how many of those pumpkin spice lattes you want to drink now? In case you aren't up on just how much sugar that is…
According to the American Heart Association (AHA), the maximum amount of added sugars you should eat in a day are: Men: 37.5 grams or 9 teaspoons, Women: 25 grams or 6 teaspoons.
So ladies, that means just one Starbucks 16oz pumpkin spice latte is DOUBLE the amount of sugar you should consume in an ENTIRE DAY at maximum! I don't have to tell you just how unhealthy that is do I? Sugar is at the root of so many diseases and sicknesses that we struggle with today. Cut it out and you will see your health improve.
That doesn't mean you have to go without your beloved pumpkin spice lattes though! Rejoice because I have a healthy pumpkin spice latte recipe that will knock your socks off. It's delicious, it's packed with flavor and more importantly is what is NOT in it! No dairy, no gluten, no artificial ingredients and only 4g of sugar!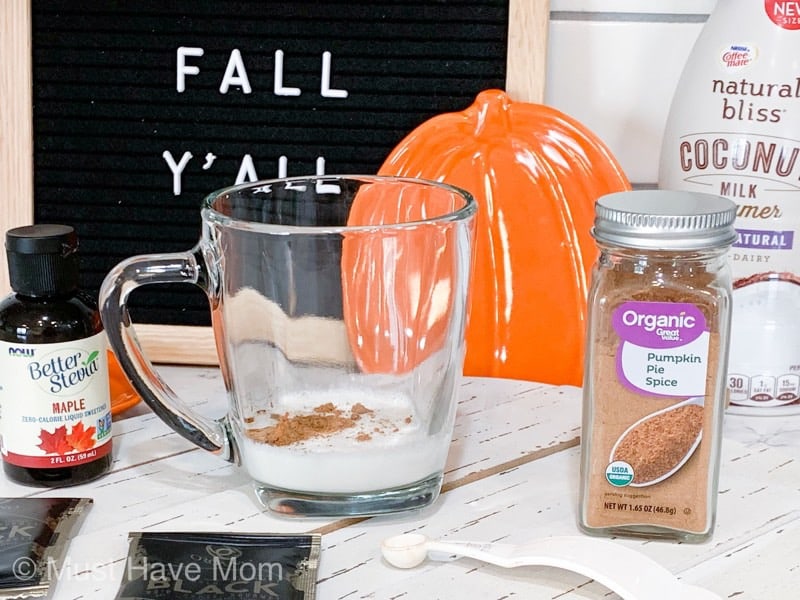 How to Make A Pumpkin Spice Latte
Making a pumpkin spice latte is REALLY easy and I'll show you how to make it in no time. I've been enjoying these all week and they only take a minute to whip together. You'll need the following ingredients:
Organo black coffee (superfood mushroom coffee)
organic pumpkin pie spice (you can find on Amazon)
maple stevia (I use this one)
Sweat Creme coconut creamer (I used Natural Bliss non-GMO brand)
Almond whipped topping (optional)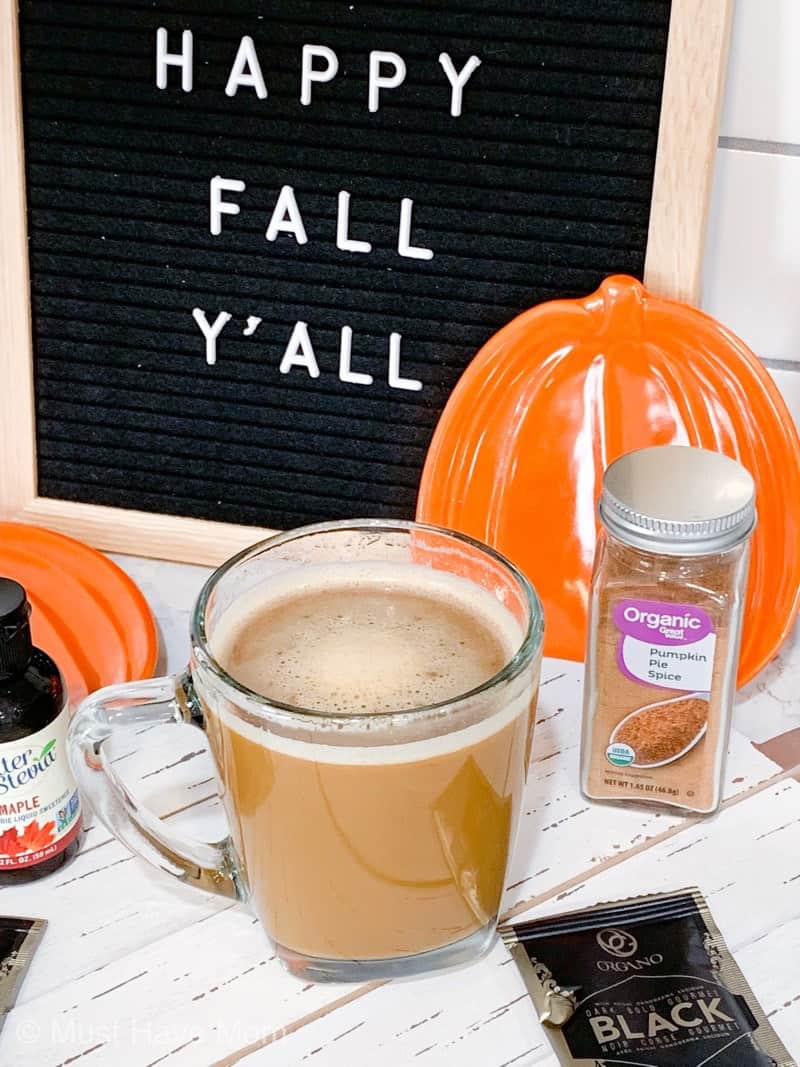 Add two tablespoons of coconut milk creamer to the bottom of your cup (or more to taste). Then add the maple stevia and pumpkin pie spice along with your sachet of black mushroom coffee. Add boiling hot water and use a coffee frother to stir together until well mixed.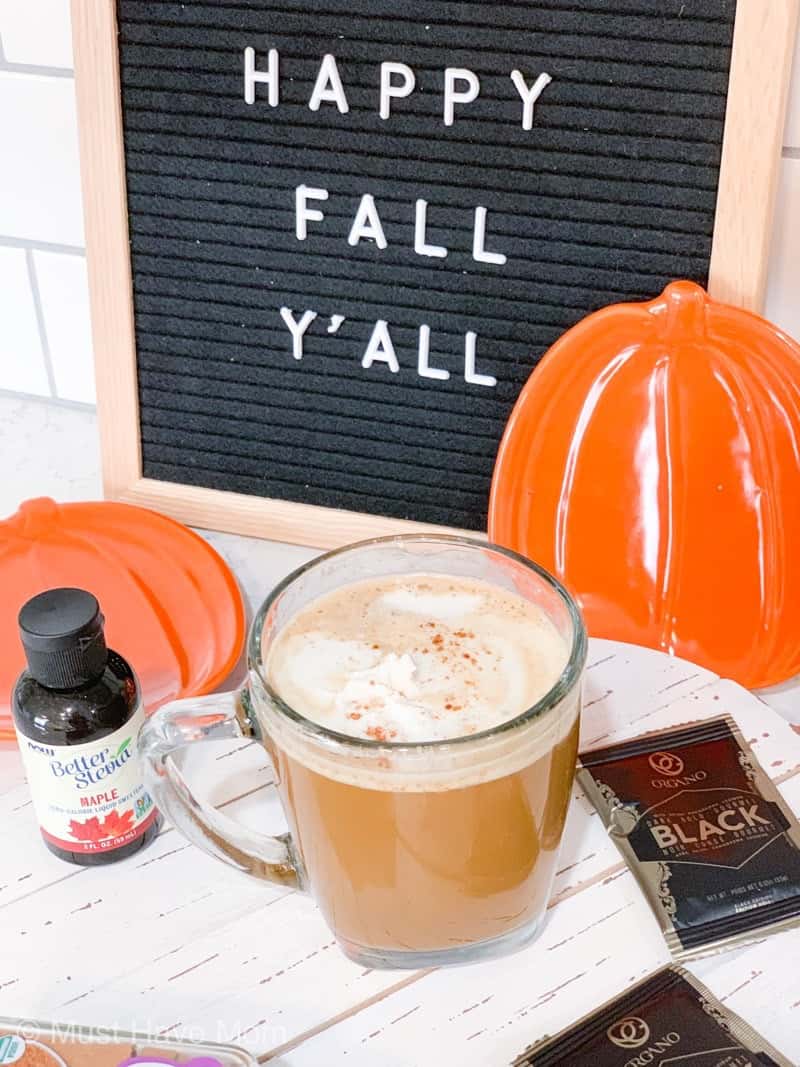 If you'd like you can add some almond whipped topping to the top and a sprinkle of pumpkin spice. This will add some additional sugar to it if you choose to do so but it still won't even come close to the Starbucks version!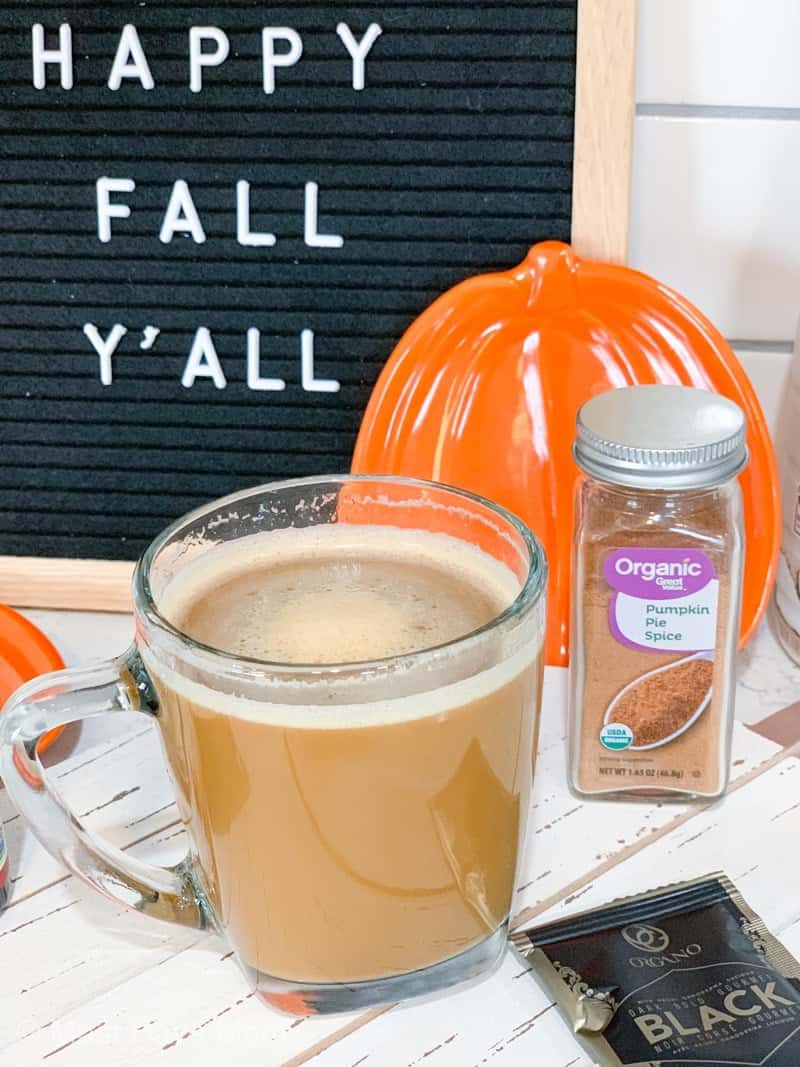 Why I Use Mushroom Coffee
If you haven't heard of mushroom coffee yet then you're probably wondering why I use it in my pumpkin spice latte recipe. Mushroom coffee is infused with the ancient superfood herb Ganoderma. It's prized for its ability to help the body in a way that your body specifically needs. It's an adaptogen which means that whatever your body is struggling with is where it will go first to help. There are testimonials upon testimonials of its ability to improve health, deliver better sleep, more focus, clean energy without jitters, and more.
I strictly drink only Organo mushroom coffee now because it has done SO much to improve my health and the health of my family members. One family member drinks a latte a day and no longer has hot flashes. For me personally it has helped reduce my seasonal allergies, given me better energy and helps me sleep better. My husband loves it because it keeps him going all day without the heartburn and acid effects of regular coffee. My sister drinks it because it reduces her allergies and helps her focus. I could go on and on with the amazing stories. That is why I only drink Organo mushroom coffee now.
If you want to see what mushroom coffee can do for you then I'd recommend joining the 30 day coffee challenge and seeing firsthand how it benefits you. Then come back here and use this recipe while you do the challenge.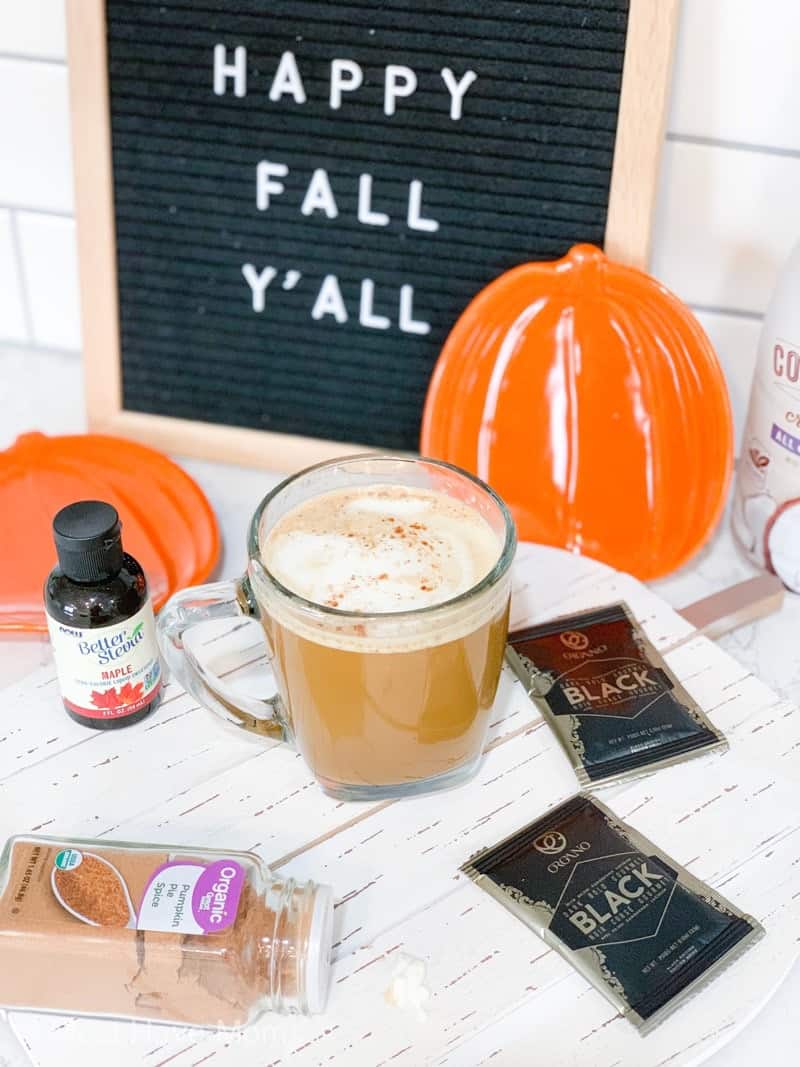 Pumpkin Spice Latte Recipe
Print the recipe below!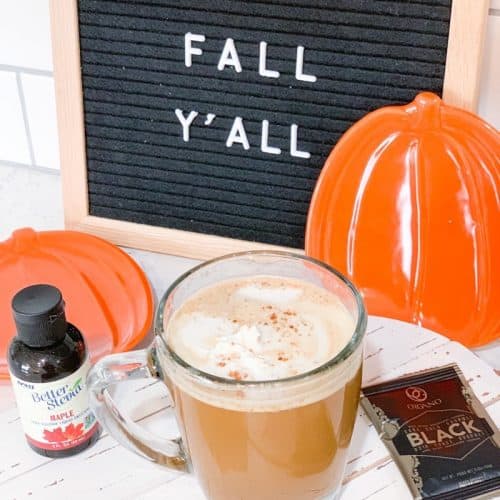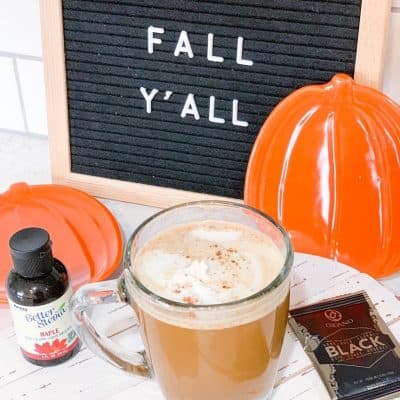 Pumpkin Spice Latte
This healthy pumpkin spice latte recipe is dariy free with just 4g sugar! It uses superfood mushroom coffee for a healthy superfood coffee!
Ingredients
1

sachet

Organo black coffee

2

tbsp

sweet creme coconut milk coffee creamer

1

drop

maple stevia

I use Better Stevia brand

1/8

tsp

organic pumpkin pie spice

1

cup

water

boiling

almond whipped topping

optional
Instructions
Pour coconut milk creamer into the bottom of a coffee cup. Add maple stevia, pumpkin pie spice and black coffee sachet to cup. Pour boiling water over the top. Use a frother to stir together.

Optional: Add almond whipped topping and a sprinkle of pumpkin pie spice to the top.
Pin Pumpkin Spice Latte Recipe