Italian Meatloaf Freezer Meal Recipe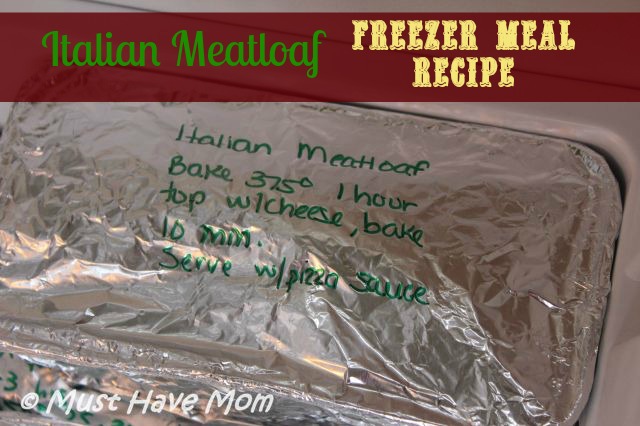 I have to admit that I am not a huge fan of meatloaf but I DO like this recipe! I like variations of meatloaf that make it more interesting which is exactly what this recipe does! It's easy to whip up a few and put them in the freezer to make later. If you have been following along this week I have been sharing all of my favorite freezer meal recipes with you. These are the recipes we make time and time again that pass the test with my husband and 3 kids. They are the best of the bunch! If you missed my previous posts then be sure to check out all of my posts on freezer cooking including my getting started freezer cooking post! Now here is the awesome Italian Meatloaf Freezer Meal recipe which also includes directions for making in a slow cooker as well! This way you can either make it as a freezer meal or a crockpot meal. You choose!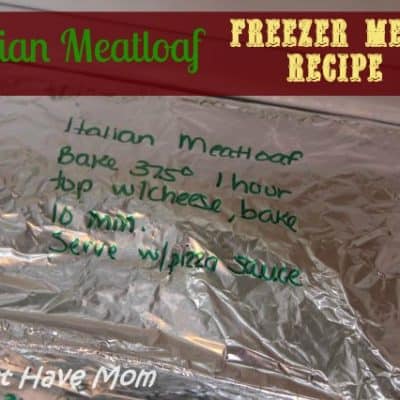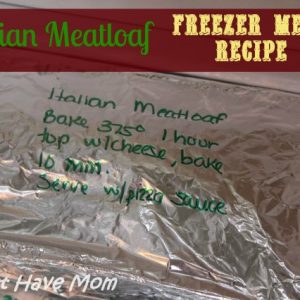 Italian Meatloaf Freezer Meal Recipe
Easy Italian Meatloaf freezer meal or slow cooker recipe. Directions for both are included!
Ingredients
1

Egg

1 8

oz

Can Pizza Sauce

1/2

Cup

Seasoned fine dry bread crumbs

2

Pounds

lean ground beef

1/4

C

Mozzarella cheese
Instructions
In a large mixing bowl beat the egg with a fork.

Stir in 1/2 C pizza sauce and bread crumbs.

Add ground beef and mix well until combined.

Form into a tin loaf pan.

Top with remaining pizza sauce.

Cover and freeze. Package mozzarella cheese in plastic bag and freeze with loaf for use later.

Cooking Day:

Thaw overnight in fridge.

Bake at 375 degrees for one hour.

Top with mozzarella cheese and bake 10 minutes more until melted and bubbly.

Slow Cooker Variation:

Shape meat mixture into a round loaf.

Use disposable liner in crock pot to make lifting loaf out after cooking easy.

Make sure meat isn't coming in contact with sides of slow cooker to prevent burning.

Cover and cook on low for 5-6 hours or high 2.5-3 hours.

Lift meat from slow cooker using throw away liner and transfer to serving plate.

Spoon pizza sauce over top before serving. Sprinkle with cheese and let stand 10 minutes before slicing.
I usually make 3 of these at a time and freeze them. This is also a great recipe to double and freeze one and cook one the same day!
Like this post? Pin it, Share it, Tweet it 🙂