Healthy Chicken Tortilla Soup Slow Cooker Recipe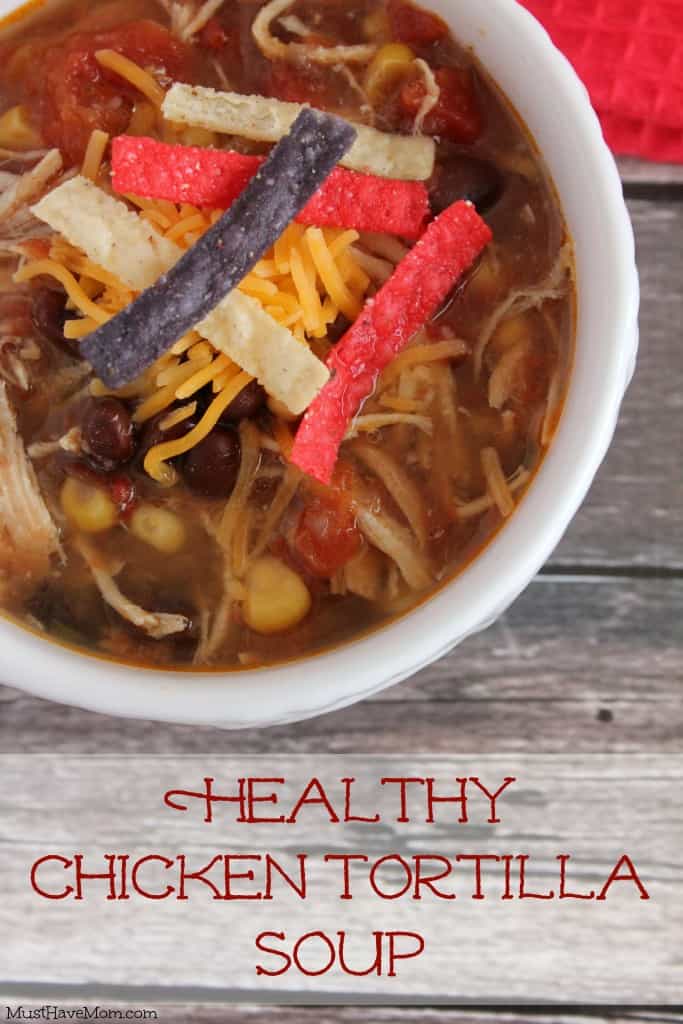 By the time the end of the week rolls around I am inevitably running low on fresh ingredients and running out of ideas for dinner. This healthy chicken tortilla soup slow cooker recipe is one of my absolute favorites and is perfect for when you are cooking from your pantry ingredients! It's made primarily of canned ingredients so there are no fresh ingredients required really. You're sure to have these in your pantry. This soup is amazingly flavorful and it's even healthy for you compared to other chicken tortilla soup recipes out there! Print the recipe off at the bottom of this page.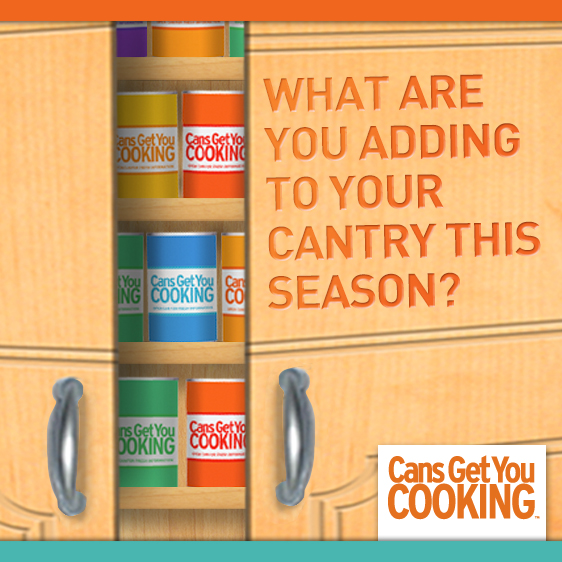 I have a pretty well stocked pantry in my basement. I like to stock up and always have staples in the house so even when I run out of fresh ingredients I can continue to prepare healthy meals for my family without having to run to the store. We live in the country so a trip to the store and back takes an hour and that's not including the time spent at the store so I have good reason to keep a well stocked pantry. Wondering what goods you should always try to have on hand in your pantry? Here are a few of my staples that I always have:
Canned vegetables including corn, beans, tomatoes, and green chilies
Canned beans of all varieties
Chicken broth
Sweetened condensed milk and evaporated milk
Soups including basic chicken and noodle, cream of chicken and cream of mushroom
Canned pineapple (always comes in handy for a sweet and sour chicken on the fly!)
Dry pasta
Dry rice
Baking necessities including sugar, flour, brown sugar, baking soda, baking powder, powdered sugar, chocolate chips and sprinkles
Extra condiments including ketchup, mustard, sweet and sour sauce, mayo
My pantry is quite extensive but these are a few things I am never without!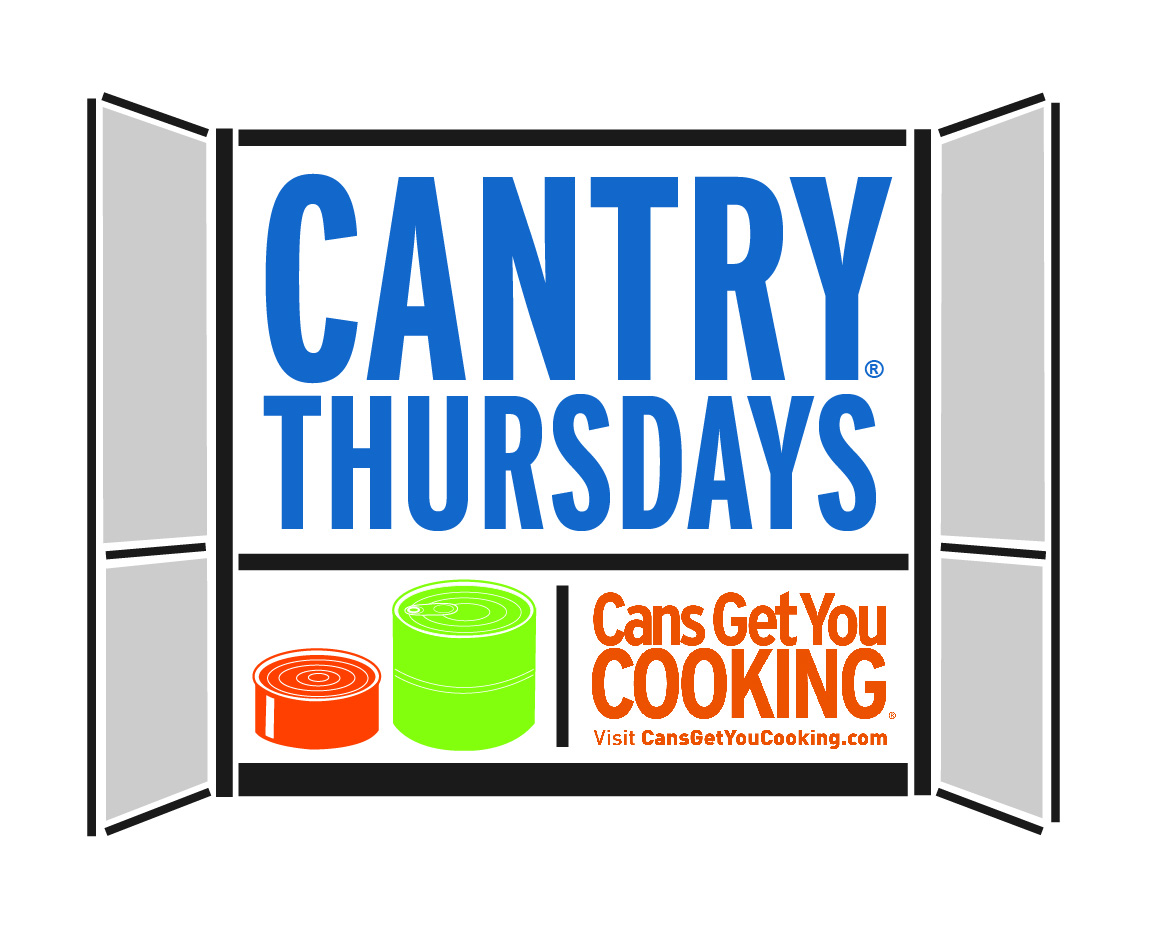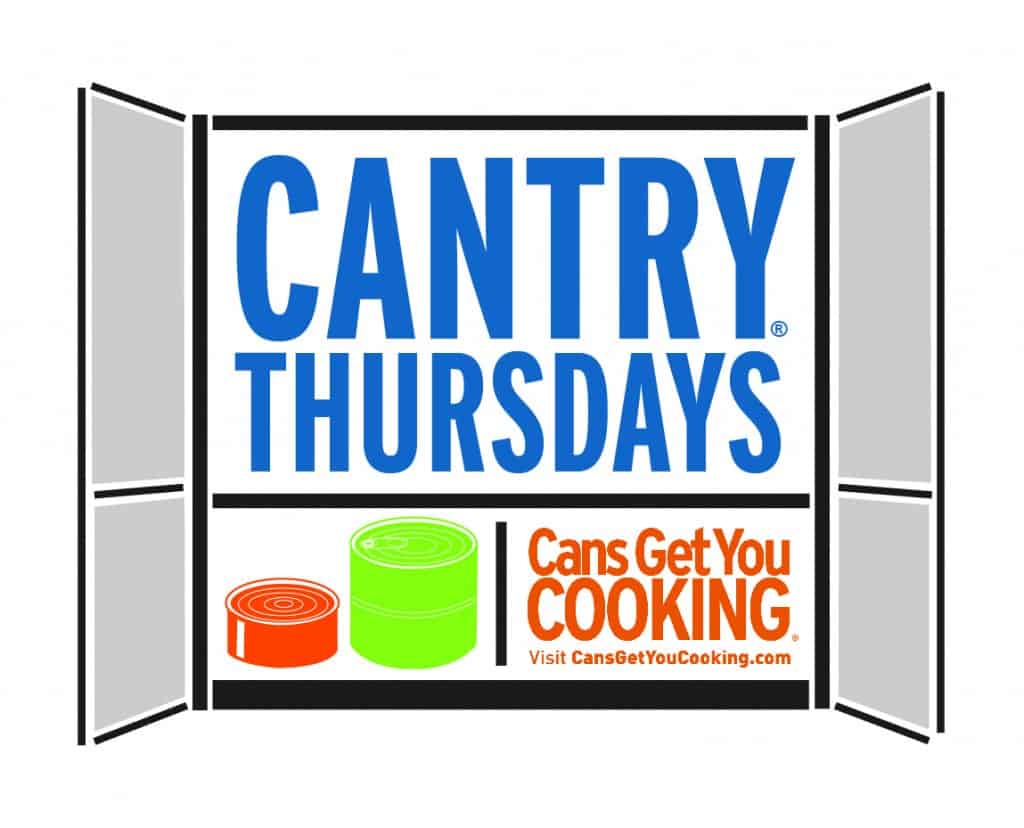 Cantry Thursdays aim to address the problem of what to make for dinner at the end of the week. Inevitably by Thursday we are usually out of fresh ingredients and it's time to get cooking from the pantry instead of running to the store! February is National Canned Food Month so what better time than now to join in on the weekly challenge?
People who frequently eat canned foods may have healthier diets than people who don't. An analysis of NPD data shows that adults and children who ate 6+ canned food items over two weeks were more likely to meet or exceed their recommended daily allowance for 17 essential nutrients than those who ate 1-2 canned food items over the same two-week period. I believe part of the reason this is true is because we are able to cook a healthy, nutritious meal from our "cantry" (ie- pantry filled with canned goods) rather than ordering takeout on those nights we don't know what to cook. Get creative and cook from what you have on hand instead!
Canned produce is on par nutritionally with fresh and frozen varieties, and in some cases even better. Studies conducted by researchers at Michigan State University, UC Davis and Oregon State University all concluded that canned foods have similar (or better) nutritional profiles as their fresh or frozen counterparts.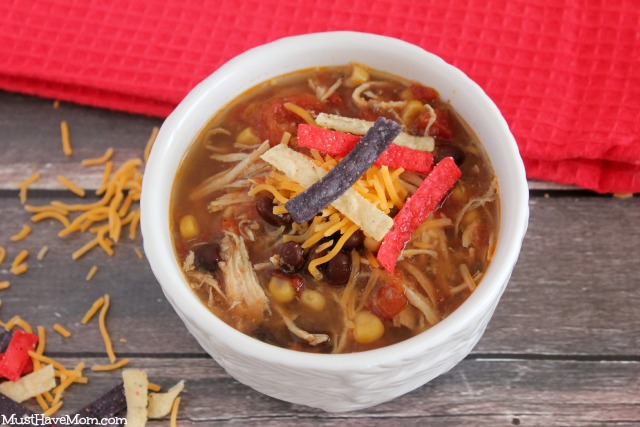 Let's combine the ease of using your slow cooker with the convenience of cooking with canned foods and create an amazing, mouthwatering chicken tortilla soup recipe that will satisfy your cravings! This is definitely my favorite soup and I can eat it for days! I usually make a double or triple batch and freeze the rest in individual portions. I use these freezer containers to freeze the soup in ready to eat portions. It will keep in a chest freezer for 6+ months.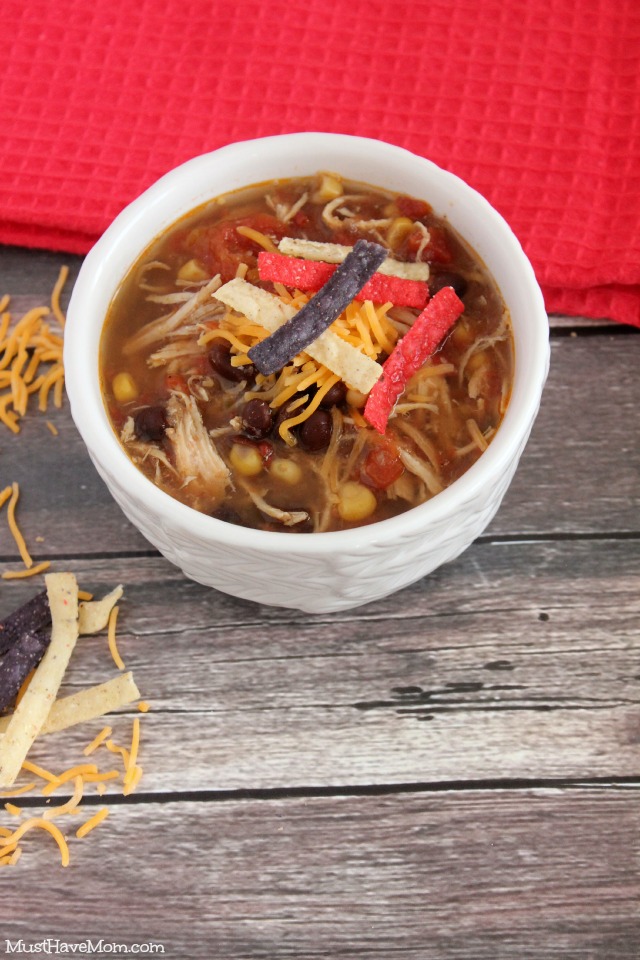 Print off the recipe below or pin it for later!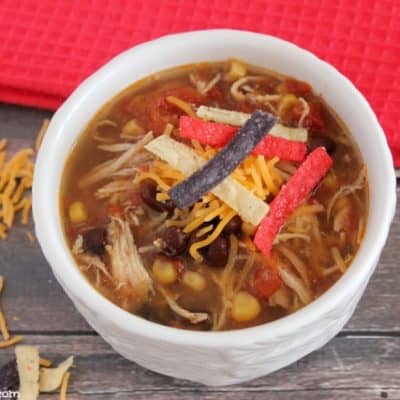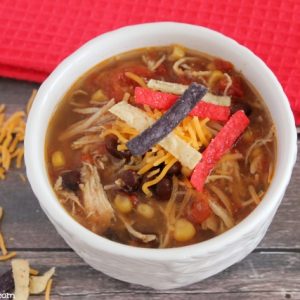 Healthy Chicken Tortilla Soup Slow Cooker Recipe
Easy, healthy slow cooker chicken tortilla soup recipe.
Ingredients
1

# Boneless

skinless chicken breasts (2-3)

10

oz

Diced tomatoes with green chilies

14.5

oz

Diced tomatoes

1 15

oz

Can corn

1 14.5

oz

Can Black beans

drained and rinsed

3 14.5

oz

Cans low sodium chicken broth

1

Medium white onion

diced

1-2

Jalapenos

diced

2

Cloves

garlic

minced

1

tsp

Ground cumin

1

tsp

Chili powder

1

tsp

Salt

1/4

tsp

Black Pepper
Optional Toppings
Tortilla strips

Shredded cheddar cheese

Avocado

Plain greek yogurt

Cilantro

Guacamole
Instructions
Combine raw chicken, diced tomatoes with green chilies, diced tomatoes, corn, black beans, chicken broth, onion, jalapenos, garlic, cumin, chili powder, salt, and black pepper into a slow cooker and stir to mix well.

Cover and cook on low for 6-8 hours.

At the end of cooking time remove your chicken breasts to a cutting board or plate and shred with two forks. Return shredded chicken to the crock pot and stir.

*Notes: I put frozen chicken breasts in and just shred them at the end. The chicken is so tender and moist! You can also put in fresh chicken breasts either whole or cubed. I just love how nicely it shreds, rather than cubing it at the beginning.

Serve hot and top with tortilla strips and shredded cheese. You may also top with avocado, plain greek yogurt, cilantro, guacamole, etc.
Visit Cans Get You Cooking for everything from delicious recipes to sustainability information. You can also follow Cans Get You Cooking on Facebook, Twitter, Pinterest, and YouTube!
 What one canned food item do you always have on hand?