*This post is sponsored by Global Influence with product provided by Hershey's. My opinions are my own.
My 3 year old son Aiden has a life threatening peanut allergy and thus we live in a completely nut free house. We don't have anything with nuts in our house. I miss candy bars the most (especially being pregnant now and craving them!), but we've learned to get by without the nuts and have also learned to find products that are safe to eat. Many classrooms are going nut free and if you are looking for a fun nut free Halloween treat then this is for you! If you are not a nut free home then this is for you too! These taste AMAZING and are so easy to make. I seriously ate half of them and the only reason I didn't devour the other half was because my husband beat me to it!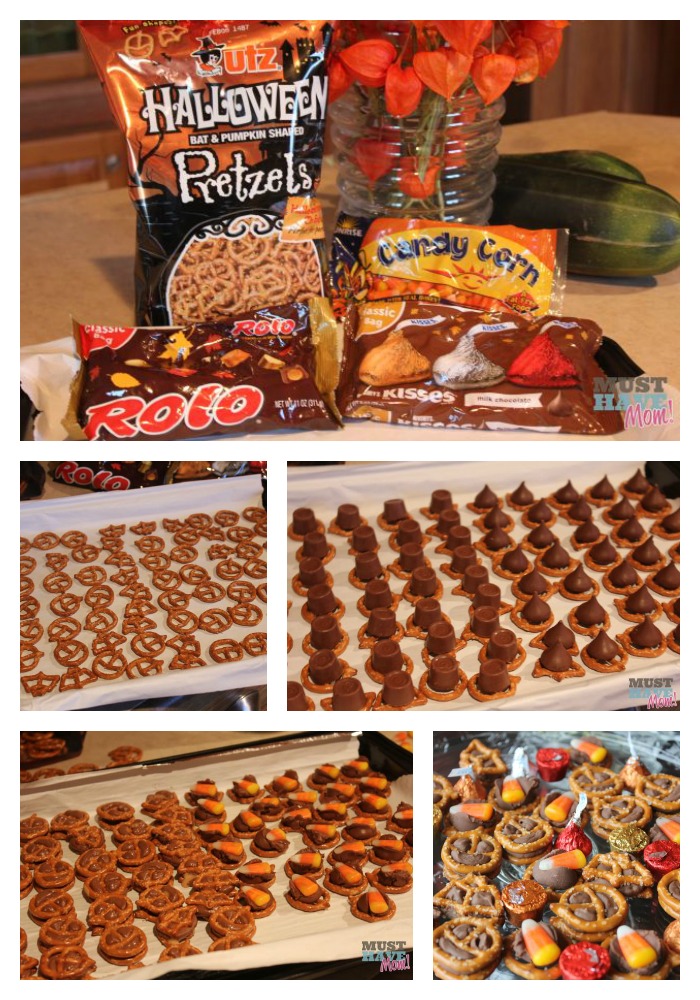 For these yummy Hershey's  Pretzel Chocolate Halloween Treats you will need to pick up some Halloween pretzels (I found these Halloween pretzels made my Utz that are nut free!), a bag of Rolos, a bag of Hershey's kisses and a bag of candy corn (I found a nut free brand of candy corn at the dollar store surprisingly!). These are so easy to make but taste sooooo good and they are adorable too! Next lay out your pretzels in a single layer on a parchment lined cookie sheet. Place one Rolo or Kiss on each pretzel (I did half a pan of each). Bake 3-5 minutes at 350 degrees until chocolate softens (don't overcook though!). Once chocolate is soft then place a matching pretzel shape on top of each Rolo and a candy corn on top of each Kiss. Let cool and enjoy! Be careful though because you might find yourself quickly addicted to these yummy treats!! Our pan is gone and I am making another pan tomorrow because these were so amazing. They are perfect for Halloween parties too!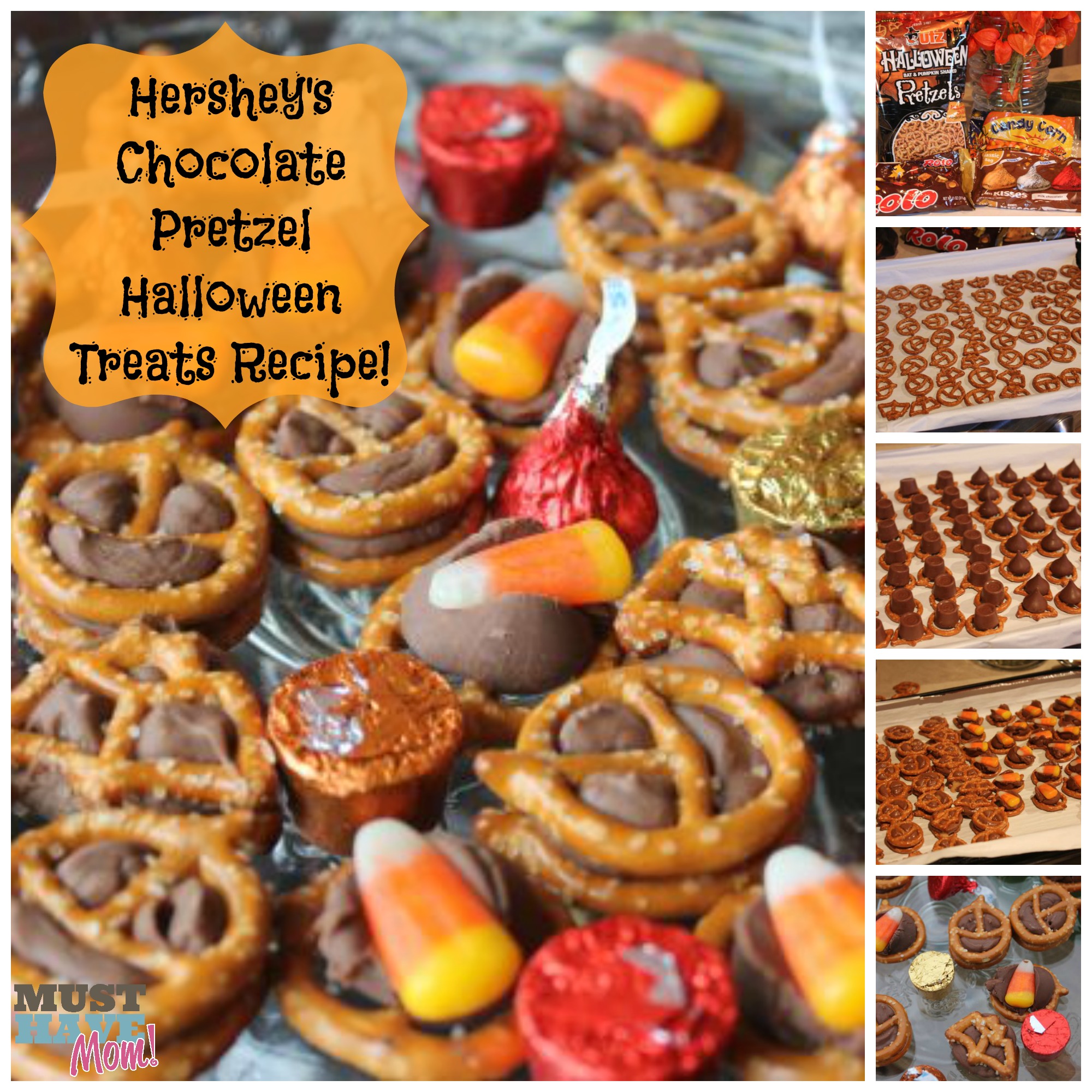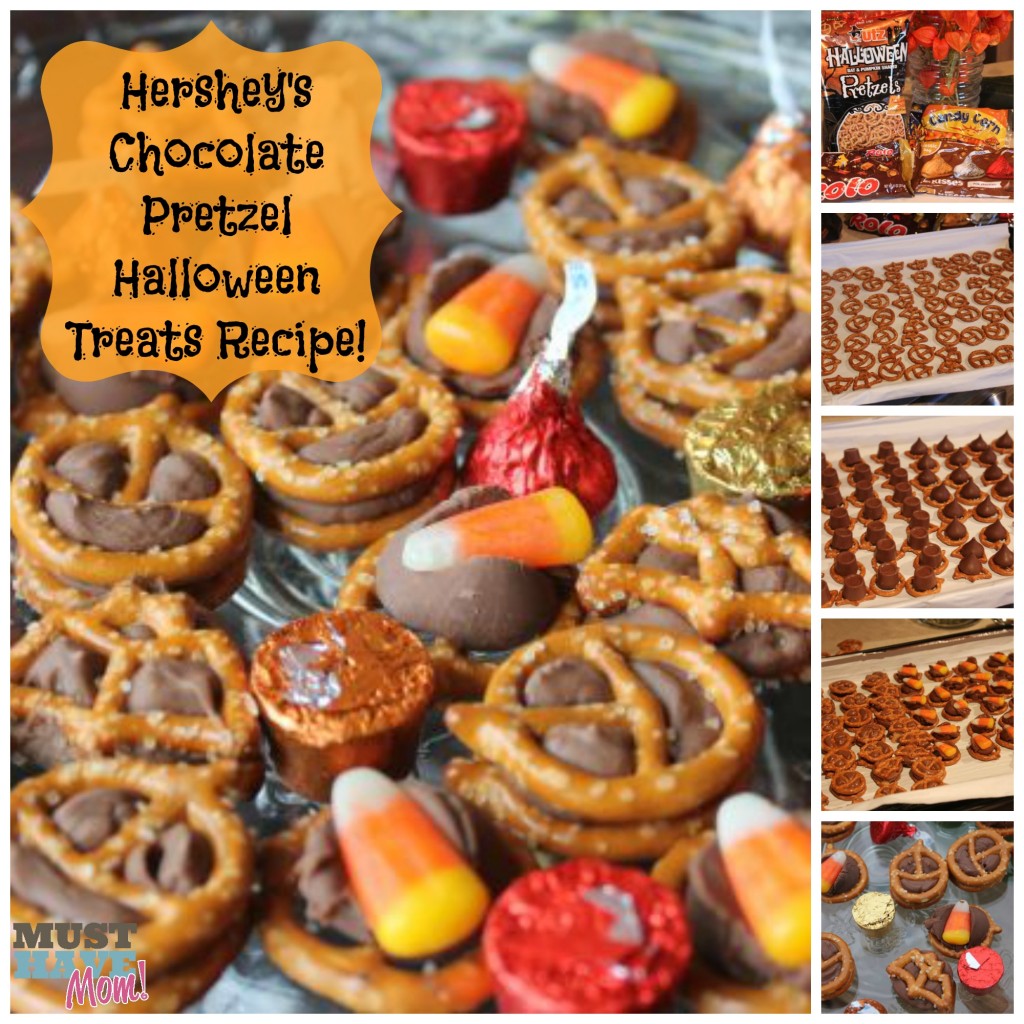 Here is the printable recipe!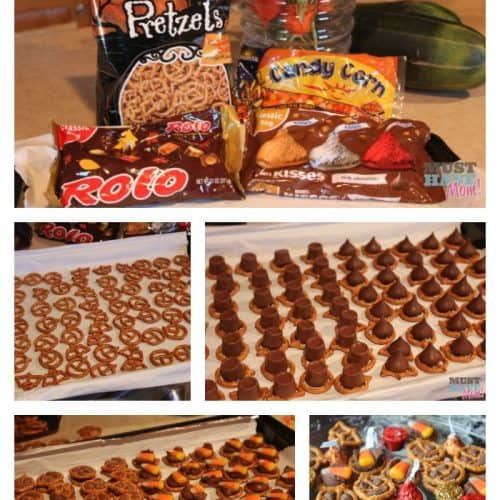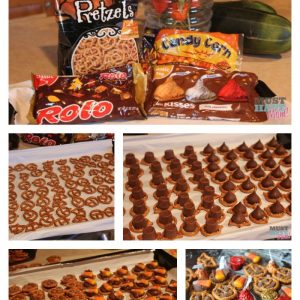 Hershey's Pretzel Chocoloate Halloween Treats Recipe! Nut Free Halloween Treats For Your Halloween Party!
An easy to make Halloween treat that tastes amazing! Can be made to be completely nut free!
Ingredients
1

bag Halloween Pretzels

1

bag Rolos

1

Bag Hershey Kisses

1

bag Candy Corn
Instructions
Preheat oven to 350 degrees.

Line cookie sheet with parchment paper.

Place pretzels in a single layer on parchment paper.

Top with one Rolo or Kiss (I did half a pan of each)

Bake 3-5 minutes until chocolate softens (but don't let it melt all over!)

Once chocolate is soft remove from oven and top Rolos with a pretzel and top Kisses with a piece of candy corn.

Store in an airtight container.
If you are making this recipe to be a nut free recipe then be sure to read all ingredient labels carefully. Many pretzels are made in a facility with nuts so be sure to check the label. The Hershey candy I featured above is nut free and is NOT made in a facility with nuts. Candy corn is often made in a facility with nuts. I found a nut free variety at Dollar Tree.
I was surprised at just how good the combination of pretzel, Kiss and candy corn was. Initially I thought it might be too sweet but it was cute so I decided to try it out. The candy corn and chocolate together are SO good and it almost makes the candy corn taste like a chewy nouget. I think these treats taste as great as any candy bar and they fill the void in my nut free diet 🙂
Get more great recipes on Hershey's site!