Free Travel Bingo Printable + Road Trip Essentials!
There are 2 road trip essentials when it comes to kids, activities and snacks! Be prepared with both and a few more tips below and my free printable travel bingo game!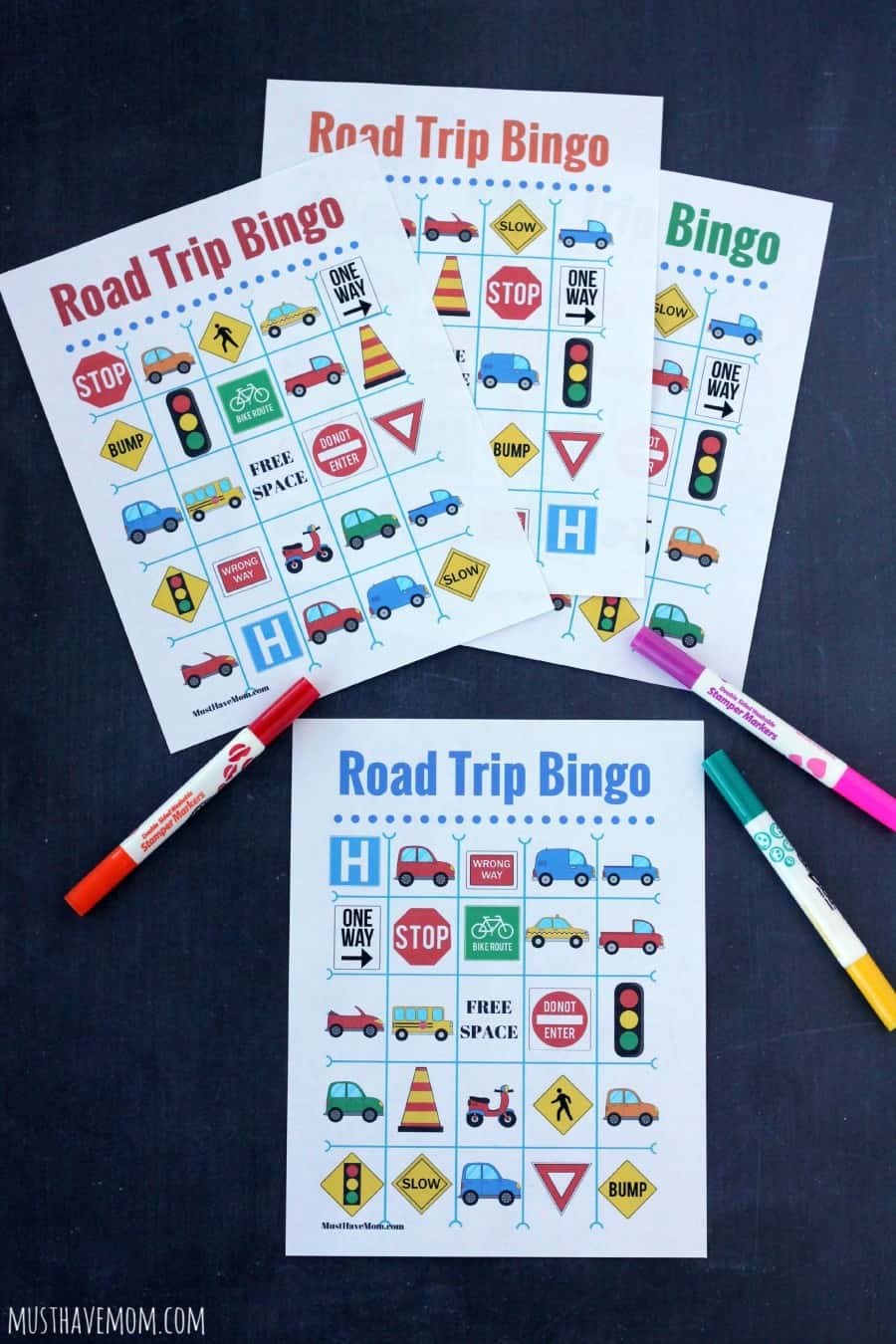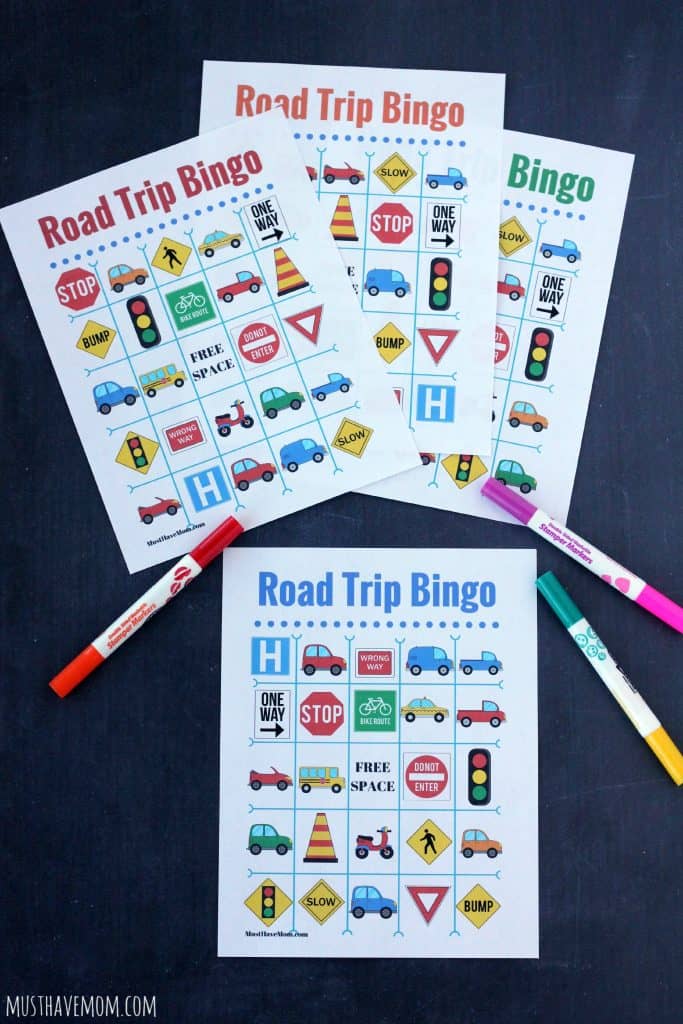 Road Trips With Kids
As you plan your upcoming Spring break and Summer vacation it's no doubt that many of you have fun road trips planned! Road trips can be a challenge if you have kids along so be prepared with these great road trip travel tips!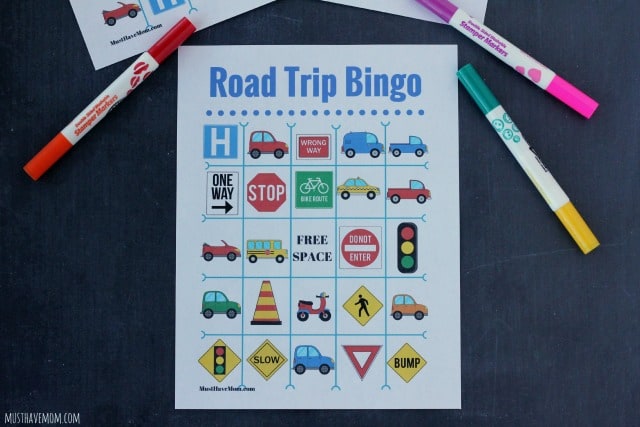 My kids often play "I Spy" in the car and take turns trying to spot a red car or a number eight. I took that one step further and created these awesome Road Trip Bingo free printable games. There are four different bingo boards so all the kids can play (and won't have the same board, thus winning at the same time). As they spot things on the bingo board they can mark them off. I grabbed some fun stamper markers so they can stamp each space as they see the object. They will need to spot various road signs, different colored cars, a construction cone or a convertible!
Print Road Trip Bingo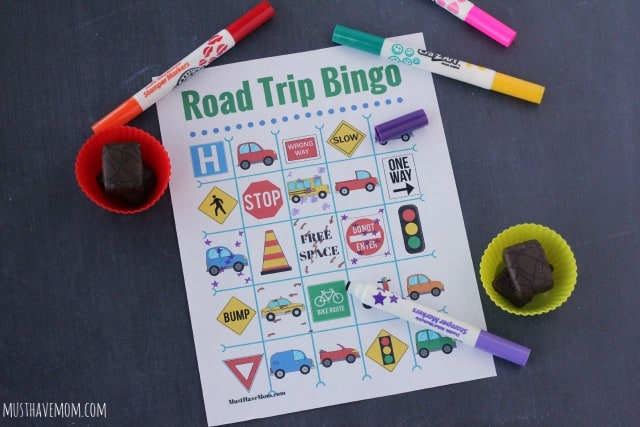 Once they get five in a straight line, diagonal, horizontal or vertical, they win Bingo! You can also mix it up and do different variations such as getting an "X" on the board with two diagonal lines crossing. Mix it up and have fun. Grab my free travel bingo printable and print it off!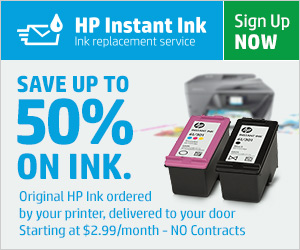 One more tip mommy-to-mommy, if you have a printer and love printing free printables, photos, checklists and more then you definitely need to sign up for HP Instant Ink and save 50% on your printer ink! I have been personally using this service for years and print up to 100 pages a month and never worry about how much ink I am using. When your printer starts running low it automatically orders more ink and it shows up at your door! No postage fees! And with plans starting at just $2.99 you can quit worrying about how much ink you are using and print all the color photos and printables you want! This is the best way to save on printer ink!
Sign up today
and start saving money on your ink.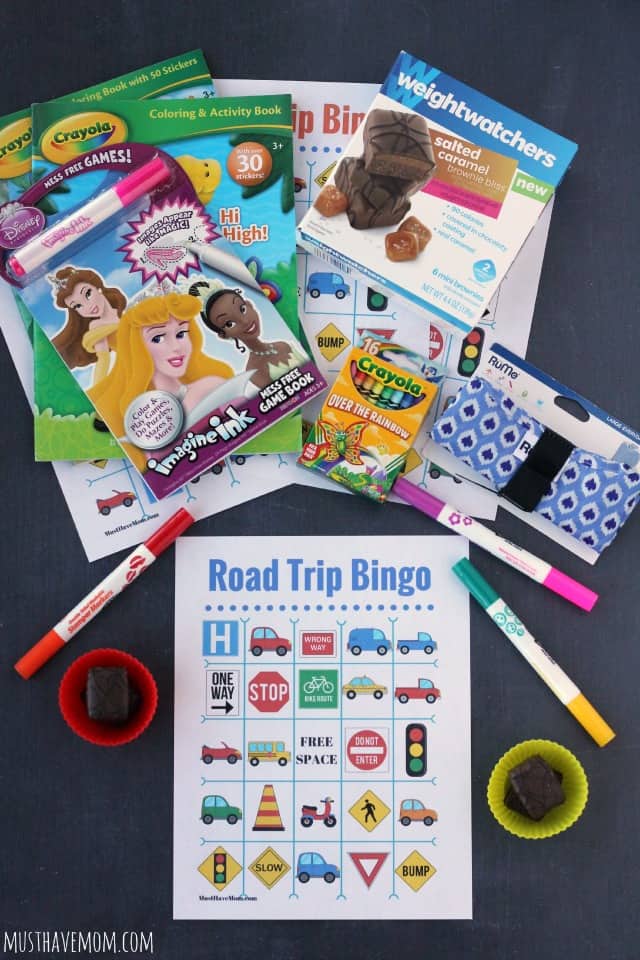 Along with the Road Trip Bingo you'll also want to make sure you bring along plenty of other car games such as coloring books, activity books, travel size board games, kids handheld games and look and find games.
One thing I always make sure to have handy is a bag full of snacks. Stopping along the way every time someone gets hungry is just not doable with four kids in tow! Not only that, but it also gets expensive to do all your snacking from convenience stores. Plus by bringing my own snacks I can bring along healthier snacks than what I would find along the way on a road trip. I always make sure to have plenty of crunchy snacks like chips, pretzels and cheese crackers for the kids. Of course I also bring along treats like gummy snacks and cookies for the kids.
Here are a few other tips for road trips with kids:
Pack plenty of snacks, both salty and sweet. Set yourself up for success by bringing along healthy snacks too. Apples, cheese sticks (in a cooler), and granola bars are great options. Keep healthier sweets on hand to avoid cheating on your diet, like the Weight Watchers Salted Caramel Brownie Bliss bars.
Bring plenty of games along to keep the kids entertained (Grab my free travel bingo).
Have all the kids try to go potty before leaving. Then limit their fluid intake during the trip so you aren't having to stop every twenty minutes. Provide drinks only at snack or meal times and only in limited amounts so they don't chug down a whole bottle of water at once.
Plan to leave on your road trip at nap time or bed time. Driving while the kids sleep is a great way to make good progress without having to stop so often.
Be flexible! Traveling with kids has it's challenges but it also creates priceless memories. Be flexible so you don't get stressed out and miss out on the fun you could be having.
What is your favorite tip for taking a road trip?
Pin Road Trip Bingo Printable