5 Reasons to Use HIBICLENS Antimicrobial Soap for Everyday Hygiene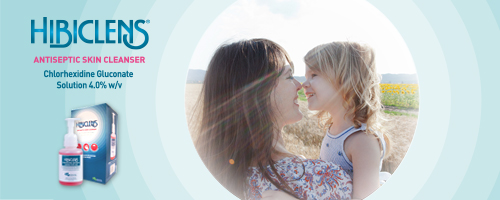 Keeping your family healthy everyday is a top priority for us. After all, a healthy life is a fun life. HIBICLENS® is a medical grade antimicrobial hand soap trusted by hospitals, healthcare professionals, and moms as a skin cleansing antiseptic. Our impressive pink soap is not only tough on germs – killing them on contact – it's gentle enough for everyday use on the most sensitive skin. Here are some reasons for you to consider using HIBICLENS:
1. There are Germs at Home
On average, you come in contact with 840,000 germs every 30 minutes according to the 2011 Tork® Report. These same germs cause everything from the common cold to staph infections. The fight against infection and disease begins at home, so you need a solution that's convenient for at-home use but lasts long enough to protect you after leaving for the day.
2. There are Germs Outside
Parks, playgrounds, and indoor party facilities (like skating rinks and gaming places) are staples of every childhood. If you're a parent who is concerned about the cleanliness of these areas, you have a reason to be. Research from the University of Arizona College of Public Health found that your local playground is more germ infested than a public bathroom! Using HIBICLENS before a family outing will give your family the protection it needs to fight against germs.
3. It's Gentle
If you or anyone in your family has sensitive skin, HIBICLENS offers a gentle option for cleaning and protecting your hands against germs (based on findings from the PRACs Report #R05-0225). This is excellent if you suffer from dry skin, allergies, or eczema. The product is also safe for use by pregnant moms.
4. HIBICLENS Kills Germs on Contact
HIBICLENS is strong enough to kill disease-causing viruses, bacteria, and fungi on contact. It will help prevent cross-infection of dangerous staph infections (including the "superbug" MRSA) and Influenza. It's also effective in killing the germs that lead to the common cold, Salmonella, and Hantavirus. Our goal is to help curb the spread of infectious diseases worldwide by using HIBICLENS.
5. HIBICLENS Protects for up to 24 Hours
Most antimicrobial soaps can't protect your skin from germs for up to 24 hours. HIBICLENS can (according to MBT Study No. 582-106, Study Protocol # 582.1.11.12.12.). With many other antibacterial soap products, your hands become germ-infested as soon as you come in contact with another surface after washing. HIBICLENS is resilient. With its long-lasting protection, you can be confident that you and your children are protected after a simple morning hand wash with HIBICLENS.
Washing your hands with HIBICLENS is a simple process: thoroughly rinse your hands or the area to be cleansed with water. Apply 5 mL (about 1 teaspoon) of HIBICLENS to your cupped hands and gently wash them with warm water for at least 15 seconds. Rinse and dry thoroughly and that's it! HIBICLENS's active antiseptic agent (Chlorhexidine Gluconate [CHG]) kills the germs on your hands on contact!
Are you ready to make HIBICLENS antimicrobial soap a staple of your family's daily regimen for good hygiene? You can find more information on HIBICLENS and a coupon at hibiclens.com.