Free Printable Diaper Bag Checklist
Grab my free printable diaper bag checklist so you aren't ever caught on the go without the necessities! I'll show you what diaper bag essentials you need and give you some tips for on-the-go snacks for your baby or toddler!
Diaper Bag Checklist
Have you ever been caught without diaper bag essentials? I remember a time I brought my newborn and three other small children to a restaurant by myself. My baby had a major diaper blowout and my heart sunk when I realized that I had no extra outfits for him and it was the middle of winter in Minnesota. Leaving the restaurant in just a diaper wouldn't be an option.
I was alone with all four of my kids and out of ideas. I ended up having to wait until my kids finished eating so I could take my baby out to the car and heat up the vehicle before stripping off his dirty clothes and strapping him in his car seat with blankets over the top. It wasn't ideal and it made an otherwise fun trip very terrible! Don't be caught empty-handed like I was. Print off my diaper bag checklist below and make sure your diaper bag is stocked every time you leave the house!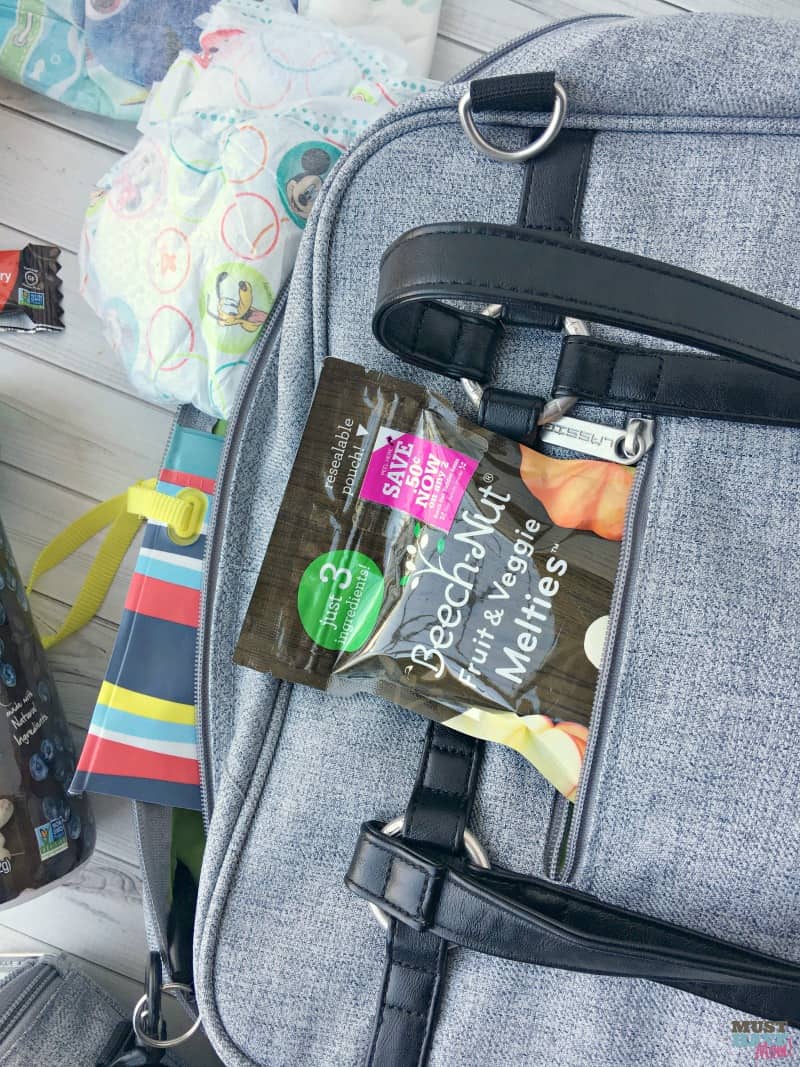 Diaper Bag Necessities
First, let's cover the diaper bag necessities that every diaper bag must have before leaving the house. You'll need the basics, such as diapers, wipes, diaper cream and an outfit change (now that I shared my story with you I bet you won't forget that extra outfit). Hand sanitizer and plastic bags are also essential for messes!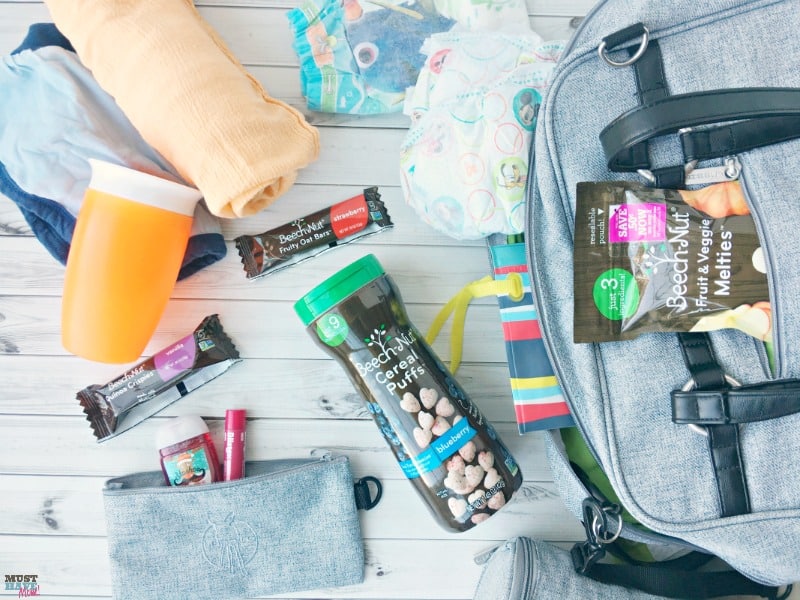 Bring along bottles or a sippy cup as well as formula or nursing supplies. Don't forget snacks! If you've ever been caught waiting somewhere with your baby then you know the importance of snacks.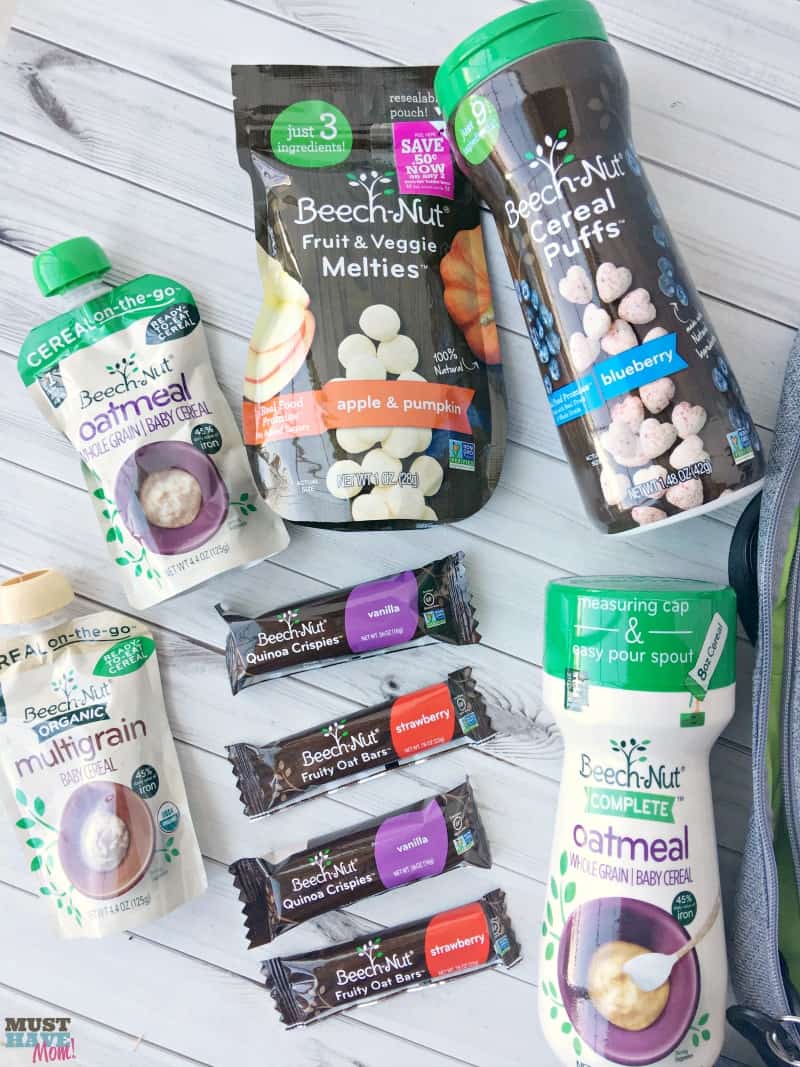 Some of my favorite baby and toddler snacks for the diaper bag are:
Beech-Nut Cereal Puffs – These are perfect for babies learning to self-feed.
Water, juice or breastmilk – Don't forget the bottle or sippy cup with a chilled beverage in it!
Beech-Nut Strawberry Fruity Oat Bars – These yummy bars combine strawberries, plump raisins and sweet dates with whole-grain oats for a tasty stage 3 food for toddlers.
3 Ingredient Toddler Bites – Throw a few of these in a snack bag for a tasty snack on the go.
Vanilla Quinoa Crispies from Beech-Nut – This new take on an old favorite doesn't use any artificial colors, flavors or preservatives.
Homemade Real Fruit Snack Gummies – Make these gummies with real fruit and no corn syrup!
Fruit & Veggie Melties by Beech-Nut – I love that the melt-away texture of these Melties makes learning to chew easy! These come in a resealable bag that is perfect for the diaper bag.
Cereal On-The-Go oatmeal pouches by Beech-Nut – These make feeding baby cereal while traveling easy and mess-free!
Beech-Nut Oatmeal Cereal Canisters – These ingenious canisters come with a measuring cup and easy pour spout so they are great for Grandma's house or daycare!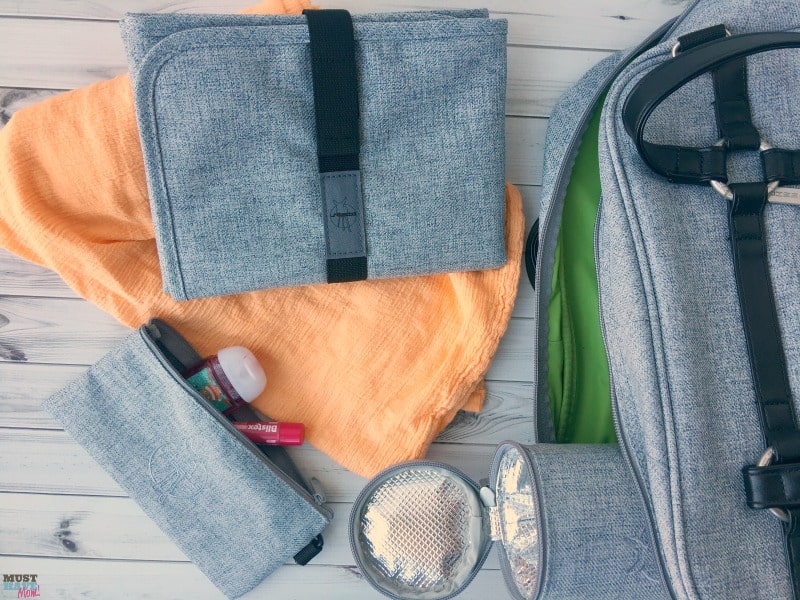 Diaper Bag Extras
If you are in the market for a new diaper bag, then there are a few things to look for that come in handy while traveling with baby.
Insulated bottle bag – These are really handy to keep your formula or breastmilk chilled in the diaper bag.
Mini mommy bag – I hate carrying a purse and a diaper bag into a restaurant or store. Diaper bags that include a mini mommy bag mean you can easily stash your cash/credit cards, phone and lip balm in there and ditch your purse.
Changing pad – There is nothing worse than changing your baby on an unsanitary surface. By bringing your own diaper changing pad in your diaper bag, you are able to ensure you'll always have a clean surface to change your baby on.
Stroller clips – It's really handy to be able to clip your diaper bag onto the handle of your stroller. This isn't a diaper bag necessity, but it is nice to have!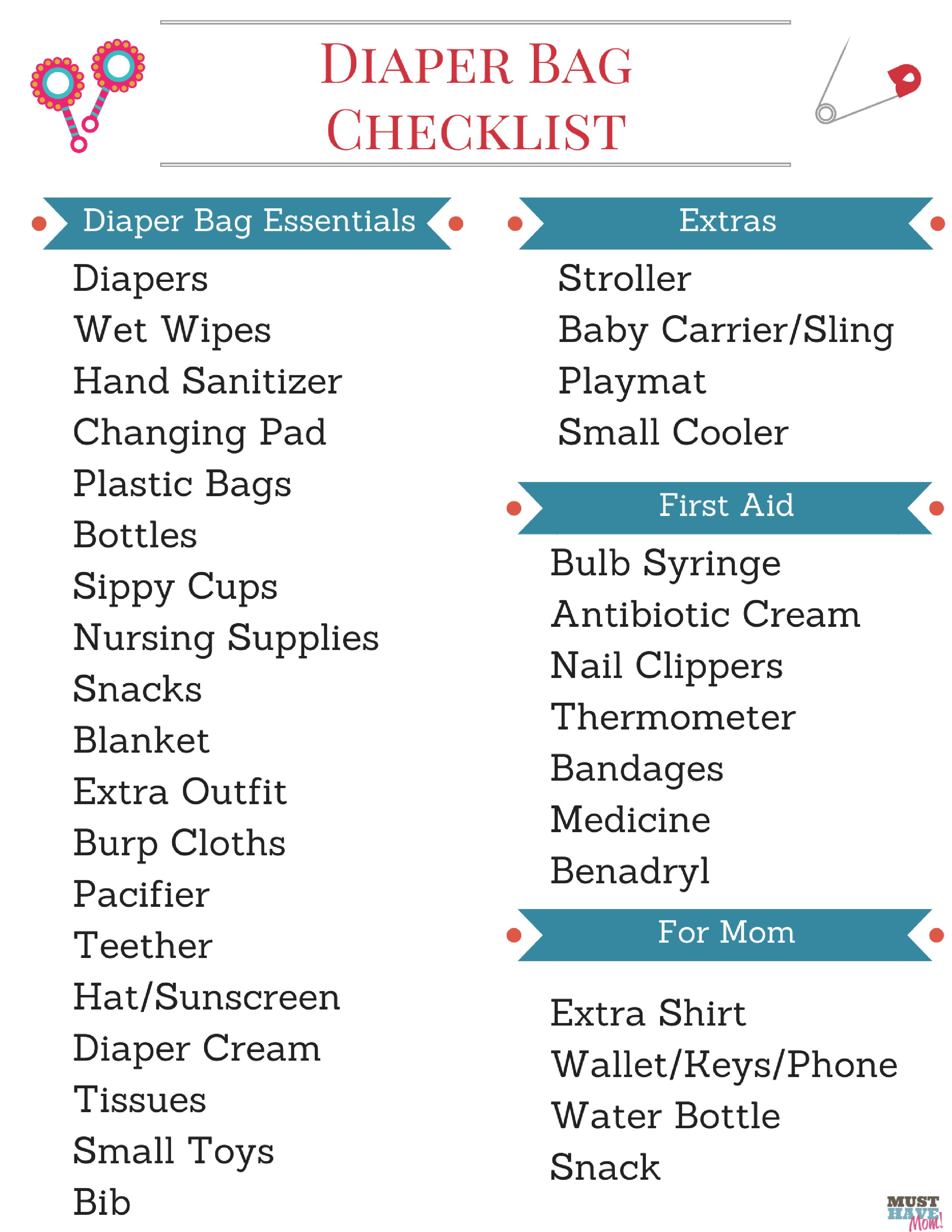 Diaper Bag Essentials For Mom:
It is handy to have a few things on hand to make life easier so I also added extras on the diaper bag checklist. I recommend always bringing an extra shirt for yourself in case your baby spits up on you. I also recommend you bring a water bottle (especially important if you are nursing) and a snack (although I prefer to steal a Beech-Nut Strawberry Fruity Oat Bar!).
Print the Free Diaper Bag Checklist:
You can print this free diaper bag checklist so you aren't ever left stranded without the diaper bag necessities! This comprehensive diaper bag checklist list includes everything you need and includes many items I haven't covered in this post! I hope you find it helpful and that it might save you from being stranded without diaper bag essentials!
Pin the Diaper Bag Checklist Image Below: