Easy On The Go Snacks For Kids!
As a busy mom to three kids ages 5 and under (with baby #4 due in a month!), one thing I am all too familiar with is the hunger meltdown. You know what I mean right? You are rushing to get out the door and make it to an appointment on time only to find yourself in the vehicle with all the kids and inevitably you've forgotten something but you are late so you rush to back out of the driveway and get on to the road. Then you realize that it is almost mealtime and it's no wonder the kids are cranky and fighting like cats and dogs in the back seat. And you've forgotten snacks. Not that you would have had time to pack them anyway because you were already late and you are lucky to have grabbed your purse on the way out the door. A quick peak in the back seat reveals that all the kids have shoes on so that's a bonus. I've been there done that and now I try to avoid the nasty hunger meltdown at all costs. If kids are cranky there are usually a few key triggers that you can blame; hunger and sleep are the top two around here. I try to head off the triggers to stay ahead of the meltdown. Here are some easy on the go snack ideas for kids that will help you stave off the hunger meltdown no matter how late you are on your way out the door!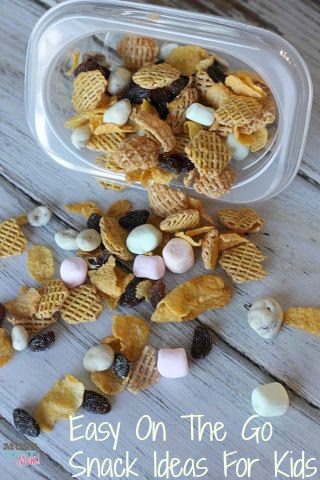 One key to always being prepared when on the go with kids is to plan ahead. In a perfect world we would have plenty of time to pack the diaper bag and get the kids dressed and everyone out the door with time to spare. In the real world that doesn't happen and it's always a mad dash with little time for extra tasks. That is why I love creating easy snack packs to stock my pantry with at the beginning of the week so that no matter how much or how little time I have on my way out the door, I can just grab a handful of snacks from the pantry and be prepared for when my kids inevitably cry "I'm hungry!" from the back seat.
It doesn't have to take long to be prepared for the whole week. Take an hour on Sunday afternoon to whip up these easy snack ideas and you will have your pantry stocked for the whole week. If you don't have an hour to spare then check out what you can do in a minute or less as shown here on this video!
See? It doesn't have to take long at all to prepare easy snacks for your kids!
Here are a few favorite snack combinations that both my kids and I enjoy! These are great for mom and dad too as we often get caught without a snack on hand. I always grab an extra for myself when I pack these for the kids
Easy On The Go Snack Mix:
Ingredients:
2 Cups Kellogg's Corn Flakes
2 Cups Kellogg's Crispix
1 Cup Colored Marshmallows
1 Cup Yogurt Covered Cranberries
1 Cup Raisins
Directions:
Mix all together in a bowl and portion into snack containers. Makes 8 cups.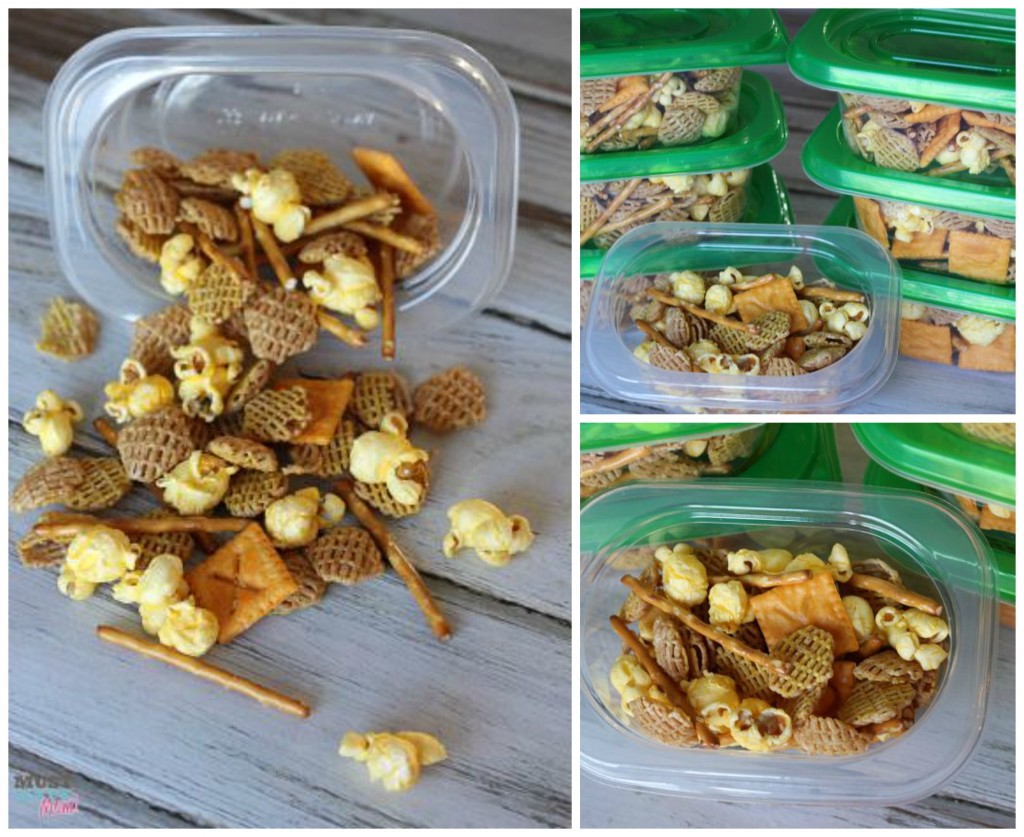 Easy On The Go Snack Mix:
Ingredients:
3 Cups Kellogg's Crispix
1 Cup Pretzel Sticks
1 Cup Cheese Crackers
2 Cups Popped Popcorn
Directions:
Mix all together in large bowl and then portion into snack containers. Makes 7 cups.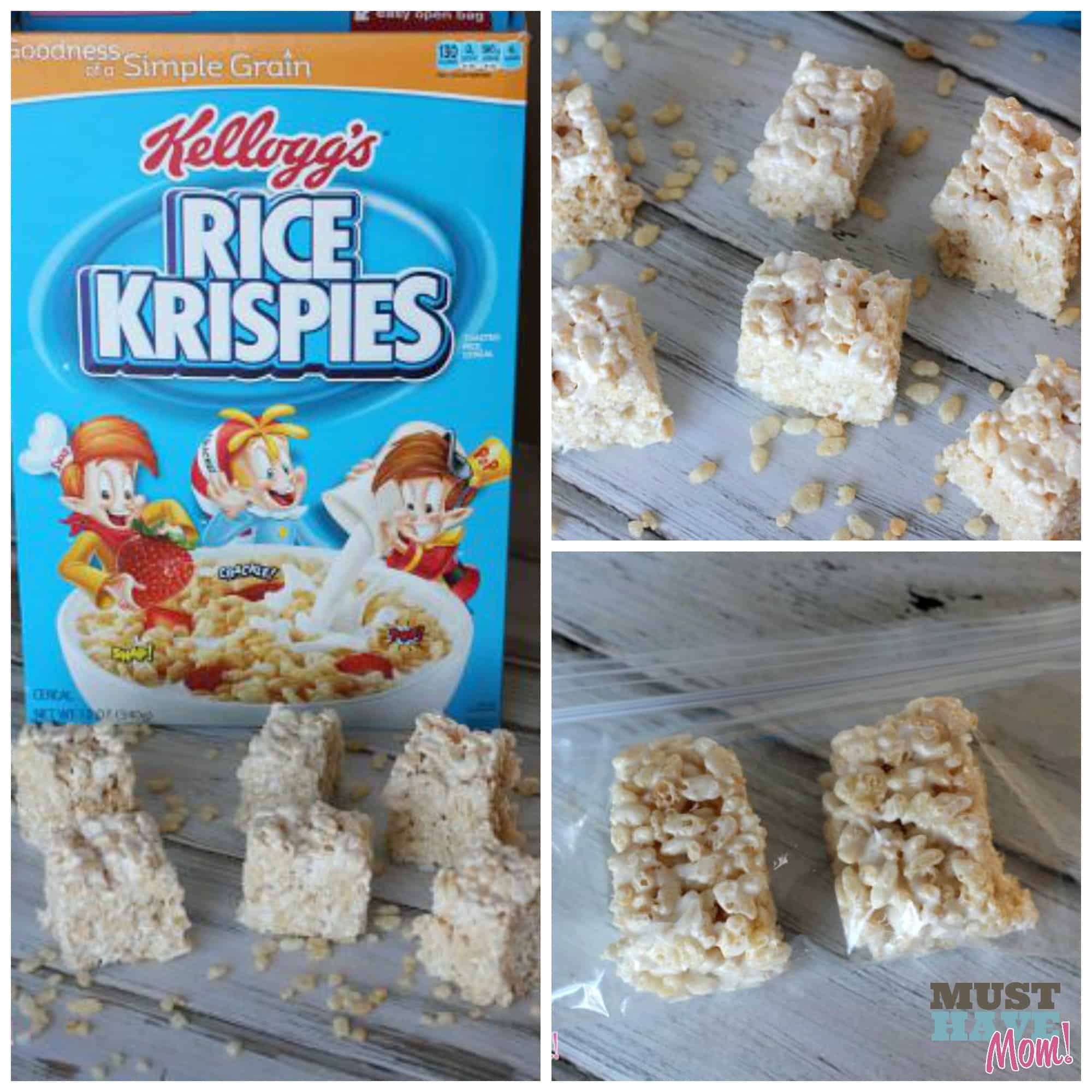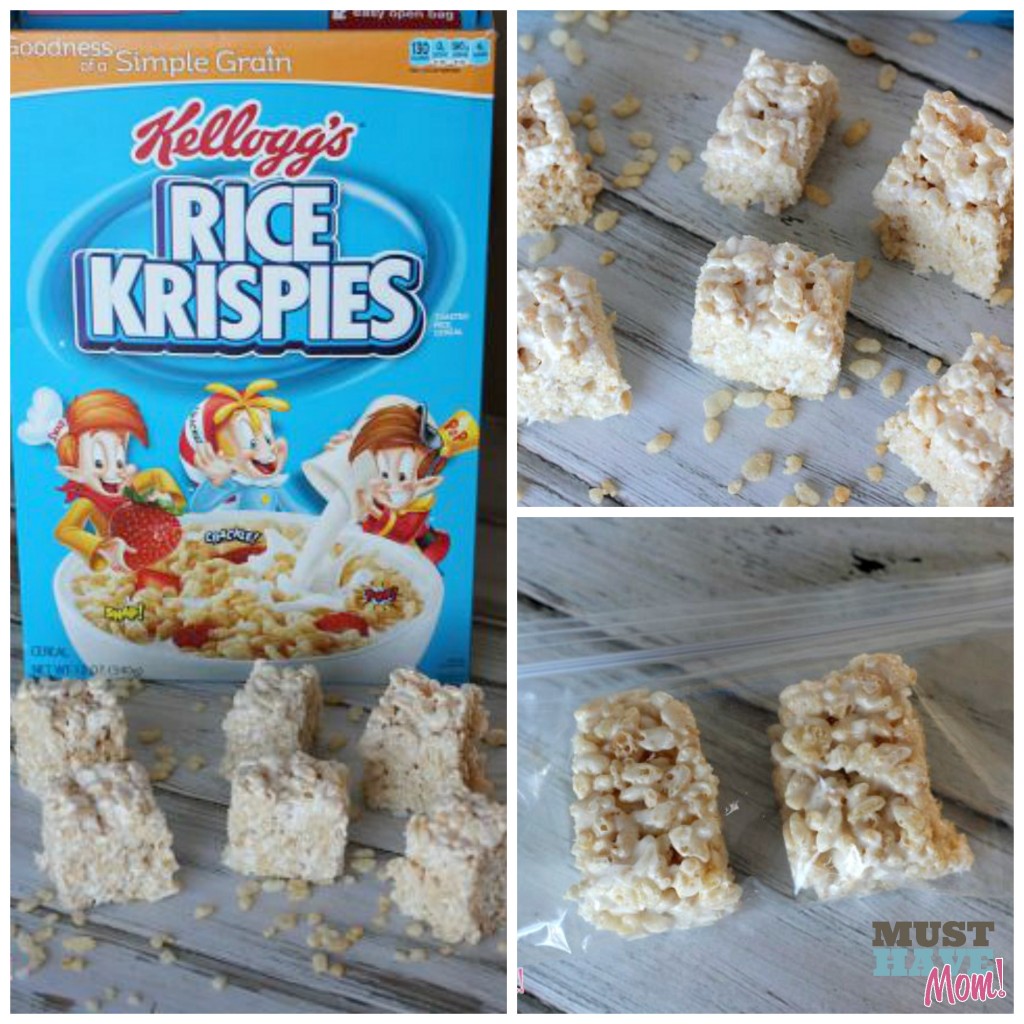 Kellogg's Rice Krispies bars are a classic favorite! I make a double batch of these and cut them into kid size portions and then portion them out into snack size zip top bags. I fill a basket in the pantry and they are perfect for grabbing on our way out the door or for packing lunches. Make these in the microwave to save prep time! You get the same great results in less time than the traditional stove top method.
Kellogg's Rice Krispies Treats Recipe:
Ingredients:
3 tablespoons butter or margarine
1 package (10 oz., about 40) regular marshmallows
–or–
4 cups miniature marshmallows
6 cups Kellogg's® Rice Krispies® cereal
–or–
6 cups Kellogg's® Cocoa Krispies® cereal
Directions:
1. In microwave-safe bowl heat butter and marshmallows on HIGH for 3 minutes, stirring after 2 minutes. Stir until smooth.
2. Add KELLOGG'S RICE KRISPIES cereal. Stir until well coated.
3. Using buttered spatula or wax paper evenly press mixture into 13 x 9 x 2-inch pan coated with cooking spray. Cool. Cut into 2-inch squares. Best if served the same day.
Microwave cooking times may vary.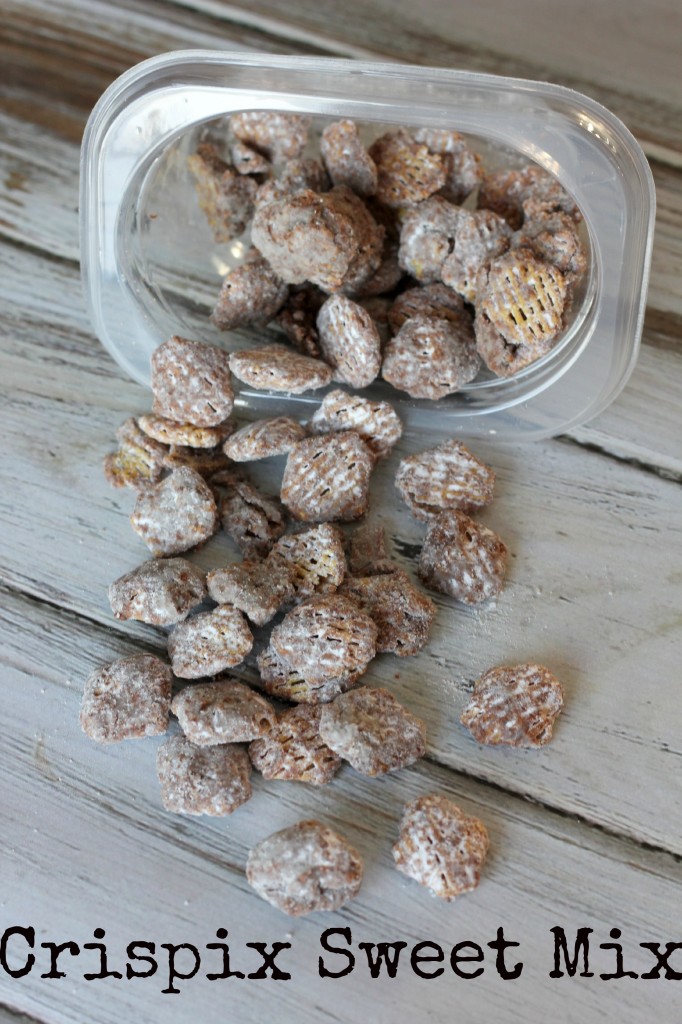 Another favorite recipe from my own childhood is the Kellogg's
Crispix Mix
with chocolate and peanut butter covered in powdered sugar. My son has a peanut allergy so we make these with soy butter instead of peanut butter so we can still enjoy them! This recipe can also be made quickly by using the microwave instead of the stove top method.
Kellogg's Crispix Mix Recipe
Ingredients:
1 package (6 oz., 1 cup) semi-sweet chocolate morsels
1/4 cup peanut butter (or soy butter if you'd like to make these peanut free!)
6 cups Kellogg's® Crispix® cereal
1 cup powdered sugar
Directions:
1. In large microwave safe bowl melt chocolate at high for 1 1/2 minutes, stirring every 30 seconds. Stir in peanut butter (or soy butter).
2. Add KELLOGG'S CRISPIX cereal. Stir until evenly coated.
3. Place powdered sugar in 2-gallon, zipper-type, plastic bag. Add cereal mixture. Close bag and gently toss until evenly coated.
4. Portion into snack size containers.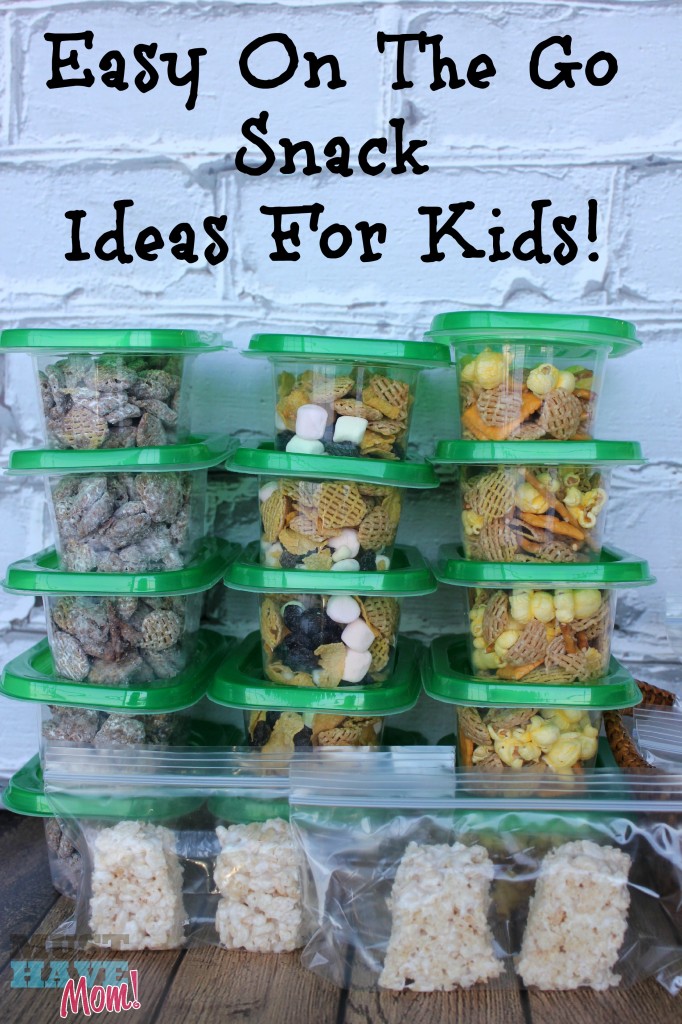 I made all of these snacks in about an hour. Now my pantry is stocked and I can easily grab snacks on our way out the door. I eliminate some of the mad dash that is involved with getting three kids ready to go anywhere and I also eliminate the dreaded hunger meltdown. I also save myself money because I don't find myself having to buy convenience food while we are out and we can avoid the drive through as well since the snacks are usually perfect to get them through until we get back home. By taking an hour out of your week to prepare these snack packs you won't ever be caught empty handed next time you are out with your kids!
What are your favorite easy on the go snacks for kids?
It's so important to get every day off to a great start! Get more great tips from Team Kellogg's at Kelloggs.com/GreatStartsTips!
Kellogg's® believes that From Great Starts Come Great Things®. So we're helping Moms start every day with a tip from the top athletes of Team Kellogg's™ and Team USA dietitians. The thirty days leading up to the Sochi 2014 Olympic Winter Games will each feature fun pieces of advice to help families fuel just like the athletes of Team Kellogg's. To see all 30 tips, visit Kelloggs.com/GreatStartsTips.