Ah we love our dads so much. How do we spoil them on Father's Day? With the very best gift picks of course! We have compiled our top gift picks for dad this year with ideas in many categories so you are sure to find a unique gift for dad that he will love. Take the stress out of shopping and peruse here for the perfect idea instead!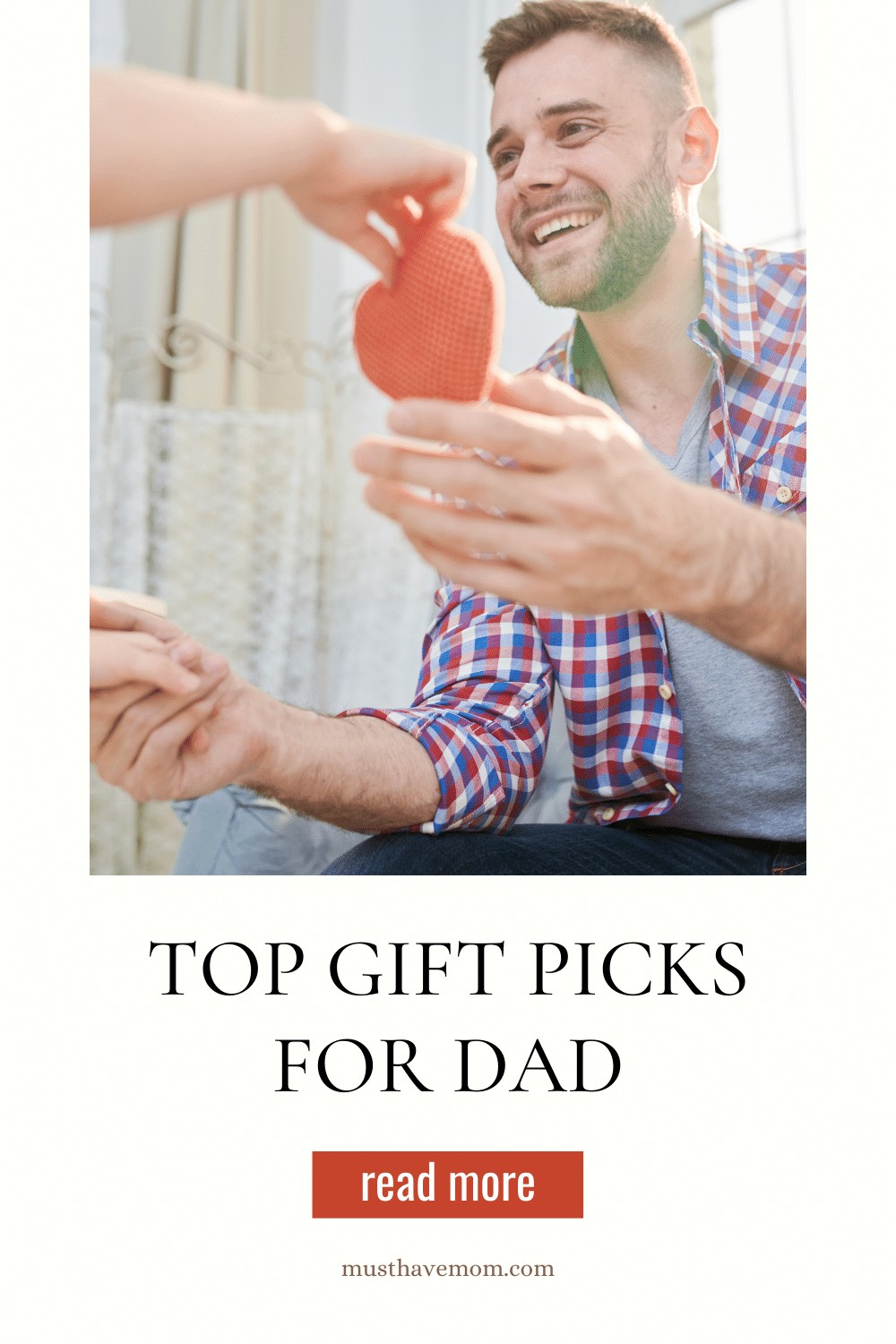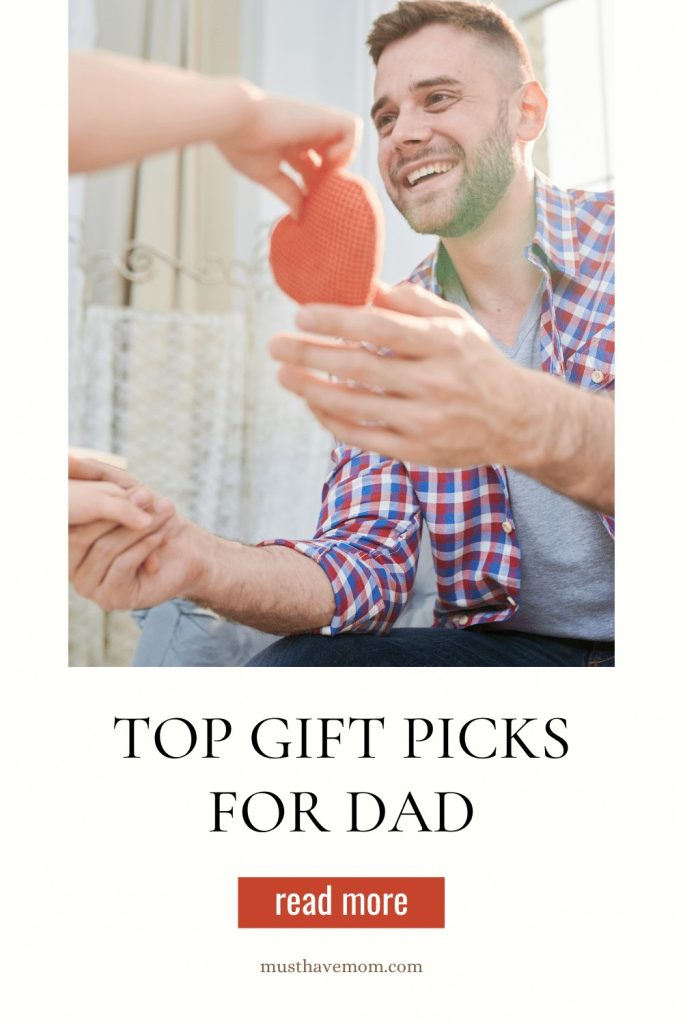 Every year we share our top picks for that special guy we all love, dad! We've shared our gift picks for the dad that has everything, 9 Father's Day breakfast ideas and Father's Day crafts for kids. Be sure to check them out for even more ideas.
BEST unique father'S DAY GIFTs 
For some reason I always find dads are the hardest people to buy for! Women have so many more choices, but dads tend to be more of a challenge. This Father's Day, gift dad something unique that he hasn't seen before. Skip the tie and golf balls and dig a little deeper. Scroll through and choose your favorite, unique gift idea that will make dad feel special this year!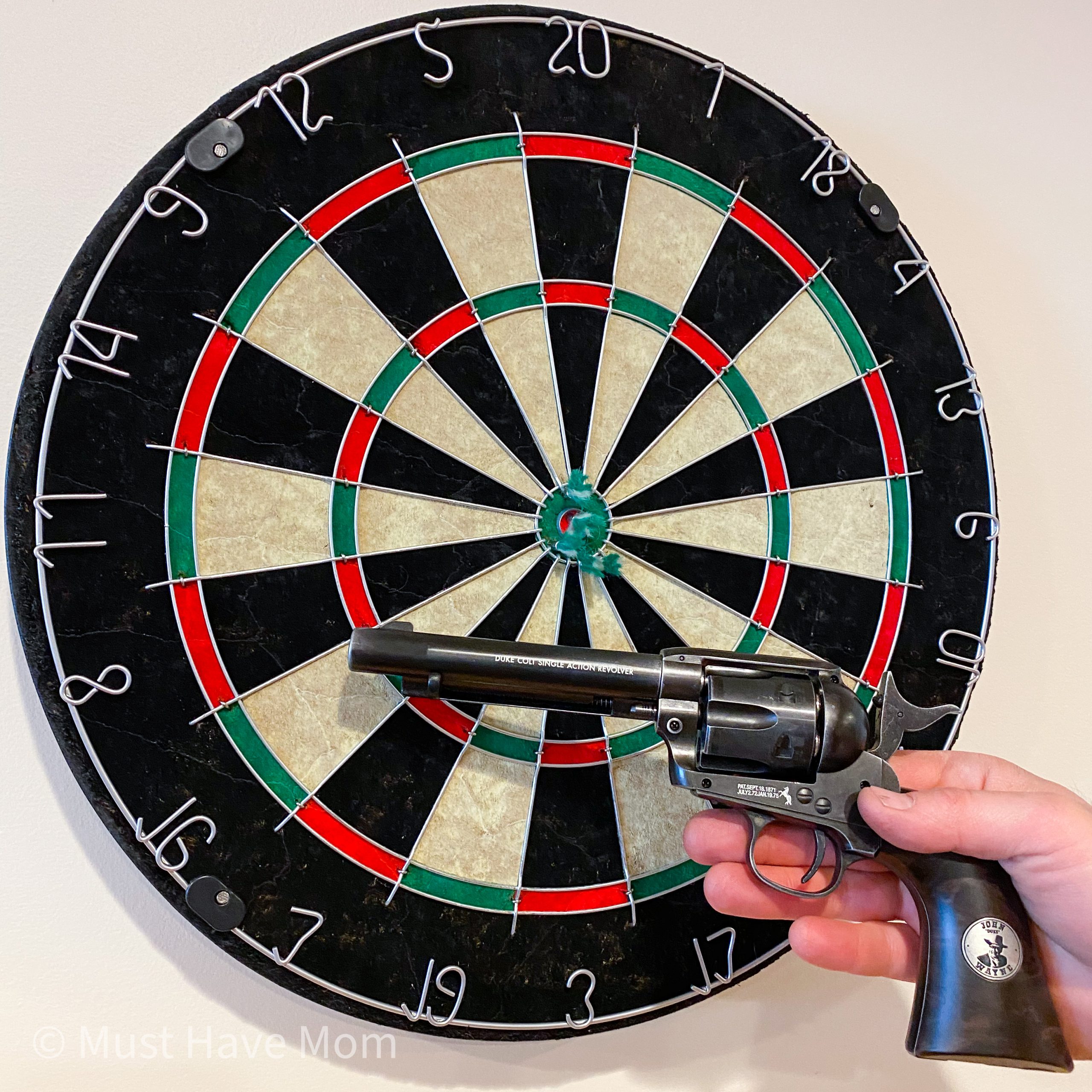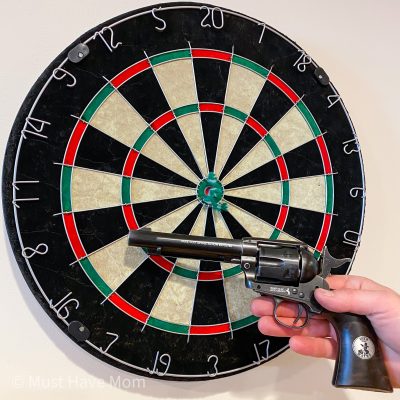 AIR VENTURI AIRGUN DARTS AND AIR VENTURI AIRGUN DARTBOARD​

This is my absolute FAVORITE gift pick for dad because it is SO stinking fun! The whole family will love this one, but especially dad!! My husband couldn't wait to mount this bad boy in the basement and get to shooting. It was the perfect date night in! 
Shoot your way to a bullseye with the Air Venturi Dartboard and Airgun Darts! Perfect for the basement or backyard, you can play Airgun Darts anywhere. Hang the dartboard, load up your airgun darts and fire away. Pair the dartboad with the Colt Peacemaker SAA Pellet Revolver. A highly realistic replica of the legendary standard military service Single Action Army revolver that helped tame the old West, this airgun can be built with different options that reflect the many varieties of its firearm version. It will shoot the airgun darts for the perfect night of entertainment. Dad will want to host his buddies asap!
Lumen metabolism tracker
Lumen is the world's first hand-held, portable device to accurately measure metabolism. Once available only to top athletes, in hospitals and clinics, metabolic testing is now available to everyone. See how your metabolism is affected by your sleep, physical activity, and nutrition. Get daily personalized meal plans. Know exactly what to eat and when. Lumen tracks your metabolism, sleep, nutrition, and fitness data to provide a Lumen Flex Score, which reflects your success and helps sustain results. This one-of-a-kind gift is ideal for every health conscious dad out there!
Get $30 off with code: MustHavemom
CastleFlexx
Everyone deserves a good stretch, especially dads! CastleFlexx also helps athletes, fitness enthusiasts, and those who sit for long periods improve their core strength and mobility. The benefits can be life-changing, especially if you experience lower back pain or other chronic issues, such as tight calf muscles or plantar fasciitis. It's the only device that uses a bar for a balanced and stress-free grip, reducing the chances of sports injuries. Used by the world's top athletes in every sport, CastleFlexx is now available for consumers for their exercise and rehabilitation regimens. It's eco-friendly and made with premium materials such as brushed aluminum and natural cork. The stretch component built into the device is made out of 28 recycled plastic bottles.
Perect for the dad who loves fitness, or who suffers from lower back pain or plantar fasciitis!
Banana loca
Banana Loca® is an innovative kitchen gadget that straightens a banana, cores it while still in the peel, and allows you to fill it with a variety of tasty food pairings like yogurt, honey, jams & jellies, peanut butter and Nutella! A fun idea for a cool Father's day gift for the dad who has everything! 
My husband saw this fun gadget on Shark Tank and instantly wanted one! We made sure to get him one for Father's Day. Banana Loca secured a deal on ABC's Shark Tank with two sharks, Mark Cuban and Kevin O'Leary! Surprise dad with his very own filled bananas on Father's Day!
A Few Wood Men The Edison
I absolutely LOVE wood watches and how they make dad look so put together. They can instantly transform an outfit and take it to the next level. Polished, yet casual. The Edison is a birch and mahogany mixed-wood mechanical bull watch with modern ticks for numerical representation. With a unique slatted, wood face design this is the weekend warrior. 
This original polished, yet classic wooden watch timepiece is one that he will love for Father's Day. Every dad deserves a quality wood watch to make him feel and look next level.
bamboo soft pajamas from Kyte Baby
Award-winning, celebrity-loved apparel! Dad will love these buttery, bamboo soft pajamas from Kyte Baby that can even match his child's jammies or onesies! Moms can also match dad! Plenty of beautiful photo opportunities with matching, cozy, soft pajamas! Unlike other baby apparel, Kyte BABY has the softest baby and adult pajamas that are economically sourced out of bamboo! Bamboo is three degrees cooler than cotton, while also being hypoallergenic. The fabric itself also promotes the smart use of resources and sustainability. Bamboo is the best choice for your baby and for the planet's future, and this way of thinking is evident in every aspect of Kyte BABY! The founder's daughter suffered from infant eczema and she needed comfortable clothing for her at night time for her sensitive, itchy skin, Bamboo's buttery soft fabric was the best answer for her baby girl! 
iLive Bluetooth Tailgate Party Speaker
Full-bodied sound and low, lows are what you want from a party speaker. That's exactly what you get with this iLive Wireless Tailgate Party Speaker. Connect your Bluetooth device and get the party going with room-rockin' bass and a microphone input to make announcements to the crowd.
This is just what dad needs to have a proper tailgate party! Round out the celebrations with his favorite tunes!
purewine
Say goodbye to wine headaches this Father's Day! Using a two-part filtration system, this compact purifier removes the histamines and sulfites that cause after-drink side effects while keeping the flavor intact. Choose from The Phoenix® Reusable Wine Purifier, The Wand™ for a single glass, and The Wave® for a bottle of wine.  
The Wand™ wine purifier is the only product available that purifies your wine by removing both histamines and sulfites from a single glass of wine.
Why Choose The Wand?
• Eliminates Wine Headaches
• Removes Histamines & Sulfites
• Single Use, Per Glass Solution
Dosaze Pillow
Give dad the gift of great sleep! The Dosaze pillow is the ultimate in comfort and I am in LOVE with this pillow. One of the biggest changes I've made in the last year is upgrading my pillow. When our spine is properly aligned during sleep, fluid present in the brain and spinal cord — called the cerebrospinal fluid — washes in and out, like waves, helping the brain get rid of accumulated metabolic "trash." This leads to better recovery during sleep and waking up more refreshed and ready to tackle whatever the day – er – the kids, may bring.
Dosaze's Contoured Orthopedic Pillow cradles the natural curvature of your neck, provides proper support and aligns your spine while you sleep so you never wake up with pain in your neck, shoulders, or back again. Perfect for every dad that craves a good night's rest while waking up pain-free.
zent new york
For every dad that wants a serene space that feels like home, Zent New York is the answer.
Everyone's favorite place in the world is home. It is our sanctuary from our daily grind, our resting place with our loved ones, our private space for collecting life-long memories.
Imagine your abode to have a neat and serene view with a calming scent. Surely, you would view your home anew, as your well-deserved piece of heaven on earth.
Zent New York fragrances are crafted with natural ingredients, to ensure a better and a safer diffusion for your home. All essential oils are blended with Pet Friendly, Non-GMO, Eco Friendly and contain no harmful chemicals or additives.
MyCHELLE's Hydrate Collection
Every guy needs a better skincare routine. Help dad out by gifting him the products he needs to maintain hydrated skin that is free from dryness and flaking. MyCHELLE's Hydrate Collection is a line featuring Hyaluronic Acid which focuses on adding much-needed hydration to thirsty, dry skin. It's safe and free of all the bad things too! Included in the line is the instantly refreshing and moisturizing UH Beauty Mist, the nourishing UH Hydrating Serum and the uber hydrating UH Eye Gel. Each piece brings life back to dull and dehydrated skin!
Trendhim BLACK LEATHER AUTO LOCK BELT
For the dad who loves to be trendy (or maybe needs your help to get there), TrendHim has everything he needs to achieve the perfect look. The leather auto lock belt is our absolute favorite belt for dad.
The best part of wearing real leather is how it ages and improves over time. The best part of wearing a belt with an automatic buckle is how you don't have to worry about holes or struggle to find the perfect fit.
This belt is made from handsome black leather and complete with a polished metal buckle that fastens securely and adds a modern touch to your look. Great for the businessman or trend setter.
RFID-BLOCKING CARD HOLDER & MONEY CLIP SET
My husband and his friends were oogling over this Trendhim money clip set and I just knew it had to make it into our guide. This sleek black card holder and silver-tone money clip set may have a slim design, but its capabilities are huge.
Able to prevent the RFID chips in your cards from being read, the card holder for men is made from 2 pieces of solid metal. A strong elastic band keeps up to 20 cards snuggly and safely in place. Even dropping it won't bend or break what you put inside.
The silver-tone money clip can be used on its own or slotted in the card holder. The only thing missing for a night out is the actual cash and cards you'll need. That's up to you.
ChefsTemp Finaltouch X10 Instant Read Meat Thermometer
Have a dad who loves to grill? He definitely needs the ChefsTemp FinalTouch Instant Read Thermometer which boasts 1 second reading time and ±0.7F accuracy. Superior technology makes the Finaltouch X10 the fastest thermometer in the world…head and shoulders above the rest.
Built-in motion sensors can detect if the device is upside down and rotate the display accordingly, a simple solution for awkward angles and left-handers. Pick up your Finaltouch X10 and it will turn on instantly, set it down to activate the battery-saving sleep mode. The backlit motion-sensing display sleeps and wakes automatically and is bright enough for the dimmest conditions.
It has the most features I've ever seen for a meat thermometer. It's the ultimate gadget for every meat-loving dad!
Ultra Fast Power Bank
For all the tech-loving dads out there you MUST have one of these Einova ultra fast power banks! All the power you need in one incredible 63W backup battery — fast charge up to three devices simultaneously.
Einova's Ultra Fast Power Bank is your essential travel companion, perfect for keeping all your USB-C and USB-A devices powered up on the go, including MacBook Pro and many other laptops. Recharge up to three devices simultaneously.
Slim and portable with an LCD display, wrapped in soft water-repellent canvas and a soft touch frame.
SteadyStraps
Never let your dad drop his phone again with this handy strap! It's hands down the must-have smartphone grip in 2022. Let's face it, whether dad is running to work, errands, school, or carpool, they're always on the go. Life is too busy and whatever can help ease their days is essential!
This is a great idea for every on-the-go dad and comes in at a great price point of just $10!
NoSweat® Baseball Hat & Helmet Liners
Most dads can't wait for the weather to warm up so that they can get outside and do their favorite recreation or sport like golfing, fishing, hunting, biking or hiking. But the mix of warm weather and physical activity can leave Dad smelling like he walked straight out of the swamp. While you can't control all his odors or sweat issues you can gift him with a tool that professional athletes like Golden Tate, TJ Oshie and Dallas Keuchel use to control forehead sweat called NoSweat. The patented liners stick to the inside of any hat to instantly soak up any sweat, dirt or oil on his forehead to help prevent gross, yellow sweat stains and smells. The liners also help prevent common distractions like sweat in the eye or trickling down his cheek as well as helping to keep Dad's dirty hands off his face.
NoSweat® is a disposable moisture-wicking performance liner that sticks inside any hat, visor, helmet or hard hat. Their patented SweatLock™ Technology is engineered to instantly absorb sweat. Perfect for every active dad!
CAMP "No.1 Dad" Tumbler
Dads are, first and foremost, practical. The No. 1 Dad tumbler plays into his frugal, take-it-to-go side. Sized for his morning (or evening) brew, the stainless steel tumbler keeps beverages warm for hours and is durable enough to survive practically any situation. Top that.
We love this tumbler for the on-the-go dad who loves to take his favorite bevi with him!
Kizik Men's Prague
Dad will ADORE these shoes. They slip on with a heel that pops right up and doesn't crush. No hands required!
Blending comfort and style, they took the extra time necessary to find the perfect combination of durable canvas and genuine suede leather (no fake stuff for Kizik) to create this classic sneaker look. Dress them up or down, the Prague works perfectly around the house, at the office, or out on the town. Ultimately, they designed the Prague to be your go-to shoe.
These shoes are our go-to pick thanks to these amazing features:
Patented HandsFree Labs® shoe entry technology
Breathable, removable, and washable contoured insoles
Ridiculously comfortable Rabbit Foam® outsoles for stand on your feet all-day comfort.
Elegear cooling shirt for men
Help dad beat the heat this summer with the Elegear cooling shirt. Built for long-lasting coolness and comfort. It features Japanese Arc-chill cool technology, which can quickly export body heat and bring you icy and silky comfort in hot weather. Every inch of your skin will feel soft and refreshingly wrapped. 
When you start sweating, this moisture wicking shirt wicks away sweat and disperses it onto the surface of the fabric to evaporate in a jiffy. It's lightweight, breathable, and—thanks to the anti-sweat additives in the fabric—this t shirt for men will help you stay cool and fresh, no sweat, stickiness or odor!
Save 10% with code: SFDQASCD
ORIGINAL POSTURE CORRECTOR DEVICE
Give dad the gift of good posture! You can't put a price on good posture. Posture Perfect's original posture corrector brace has been shown to improve posture in as little as 2 weeks—if you don't see results, you'll get your money back guaranteed.
Our Original Posture Corrector Device is a comprehensive body brace designed to facilitate good posture each and every day. Made from high-tech stretchy neoprene material, the brace can be worn comfortably at work, the gym, and even under your clothes to ensure that you can practice safe and effective posture all day long.
Save an additional 20% when you buy 2 or more! Discount automatically applied at checkout.
Which gift idea would be perfect for your dad? Have more AWESOME ideas for dad? Share them in the comments!