How To Start A Blog In 5 Minutes And Start Earning Money From Home
Have you heard that people are actually earning a living blogging? I'm fortunate to be in that group of people. I left my job as a Registered Nurse in favor of staying home with my children and earning my living from home, off my blog. So many people dream of doing this but get tripped up with the huge task of actually diving in and starting a blog. Don't get tripped up! I'll show you how to start a blog in 5 minutes and start earning money from home. Don't put it off any longer!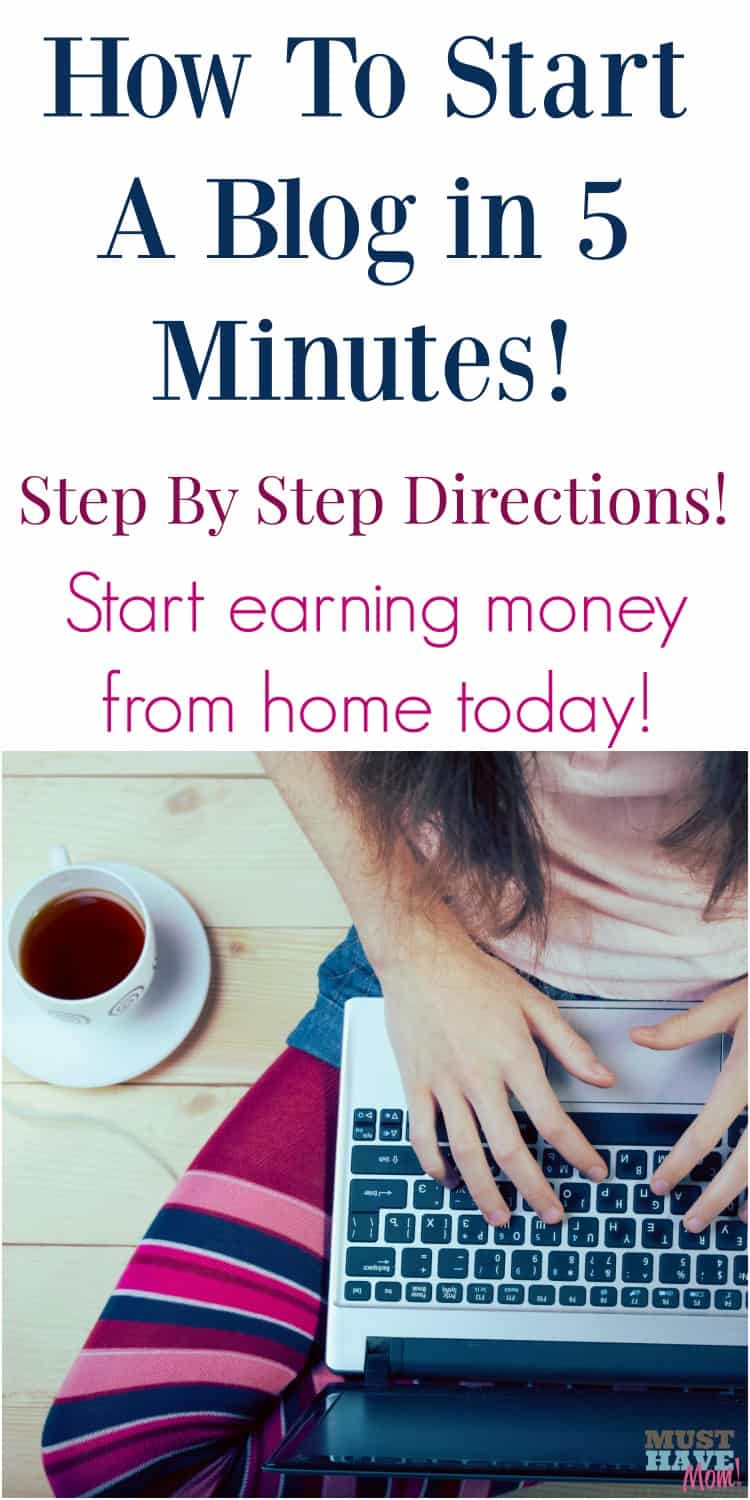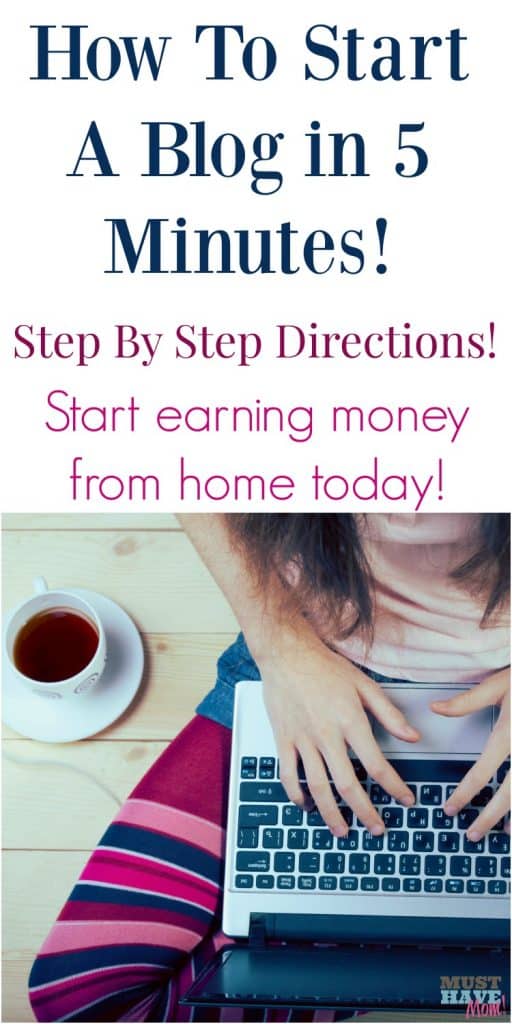 When I started blogging, over 8 years ago, Blogger was the platform that most new bloggers were using. Since then bloggers have realized that if you intend to monetize your site and use it to earn a living then you really need to be on WordPress. Using the WordPress platform enables you to own all of your content and have full control over your website. With the WordPress platform you will need to also purchase your own hosting plan. This is where your blog will live, the WordPress platform is what will make it visible to visitors. Make sense?
There are many hosting companies out there and I've been with several different hosting companies over the years. For new bloggers I always recommend starting out on the Bluehost platform. Bluehost offers extremely affordable hosting that starts at just $3.45 a month which means even if you aren't earning much income yet, it won't hurt your pocketbook. There are many other options out there as well however with Bluehost you'll get the customer service and reliability you need in order to run a professional website. Plus it comes with a 30 day money-back guarantee and the option to cancel at any time. Now on to the good stuff!
I'll show you, step-by-step, how to start a blog so open up a second tab in your browser and follow along. Don't put it off for later, just do it right now! It's easy!!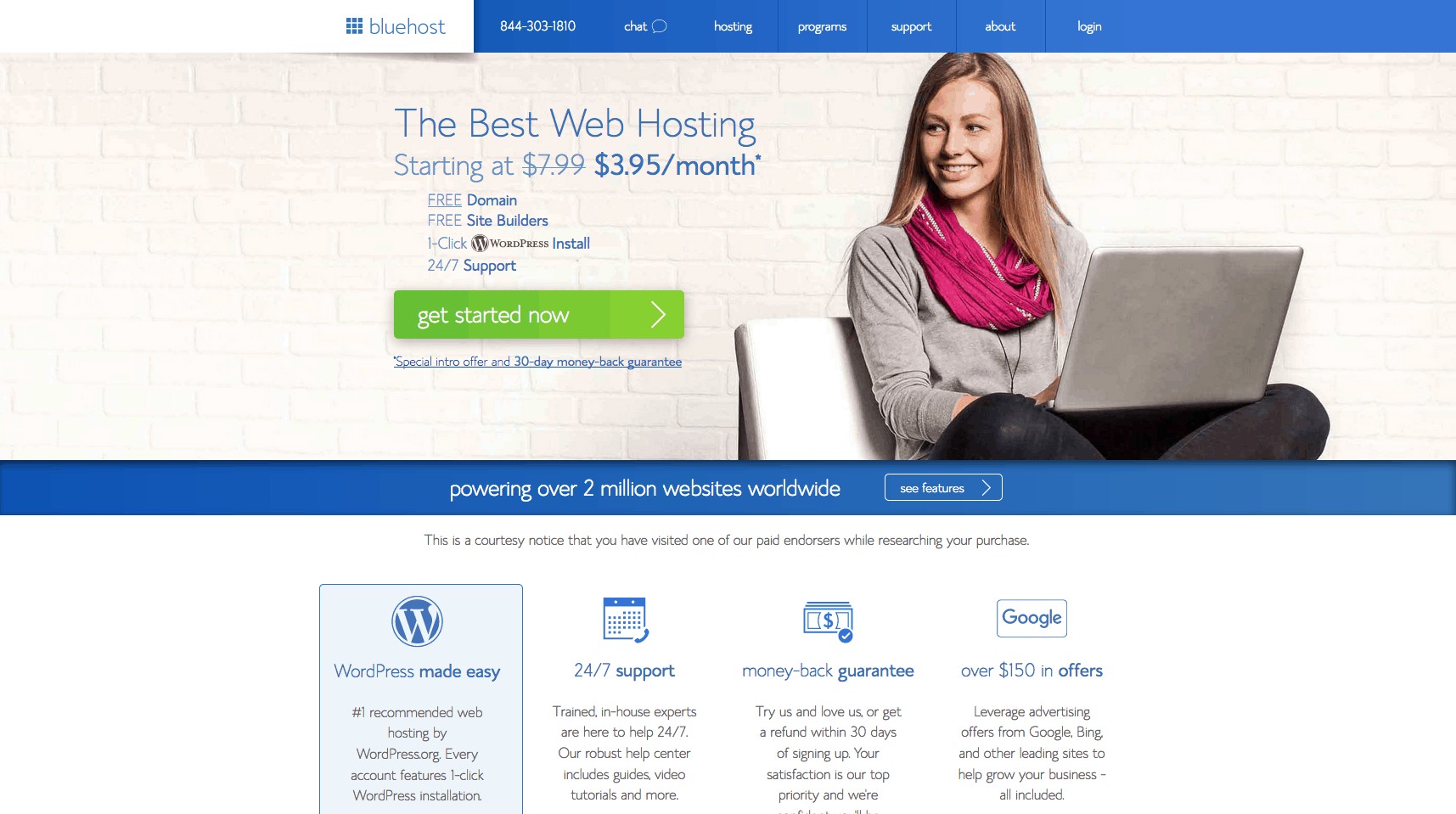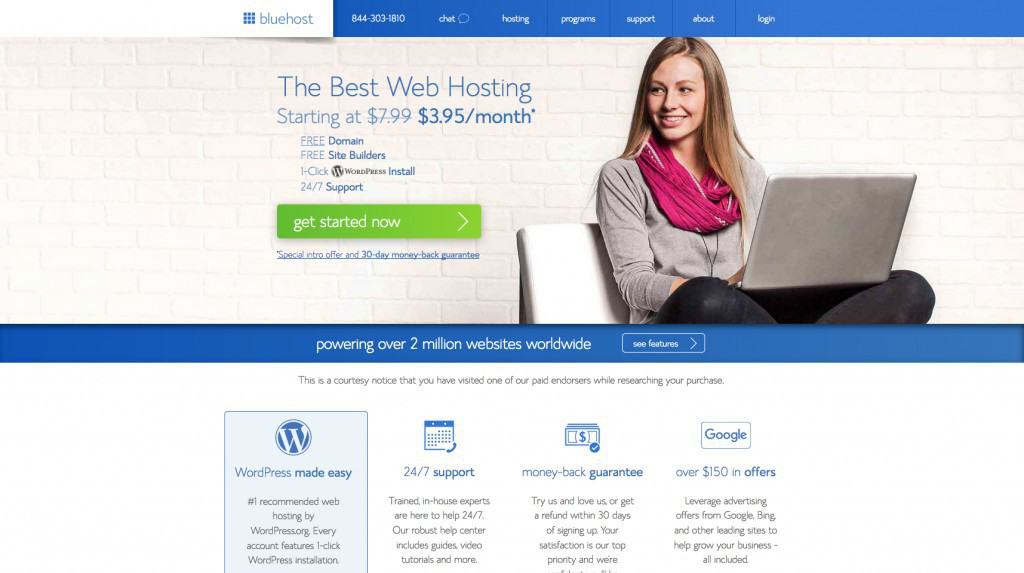 To get started, go to Bluehost's home page and click "Get Started Now."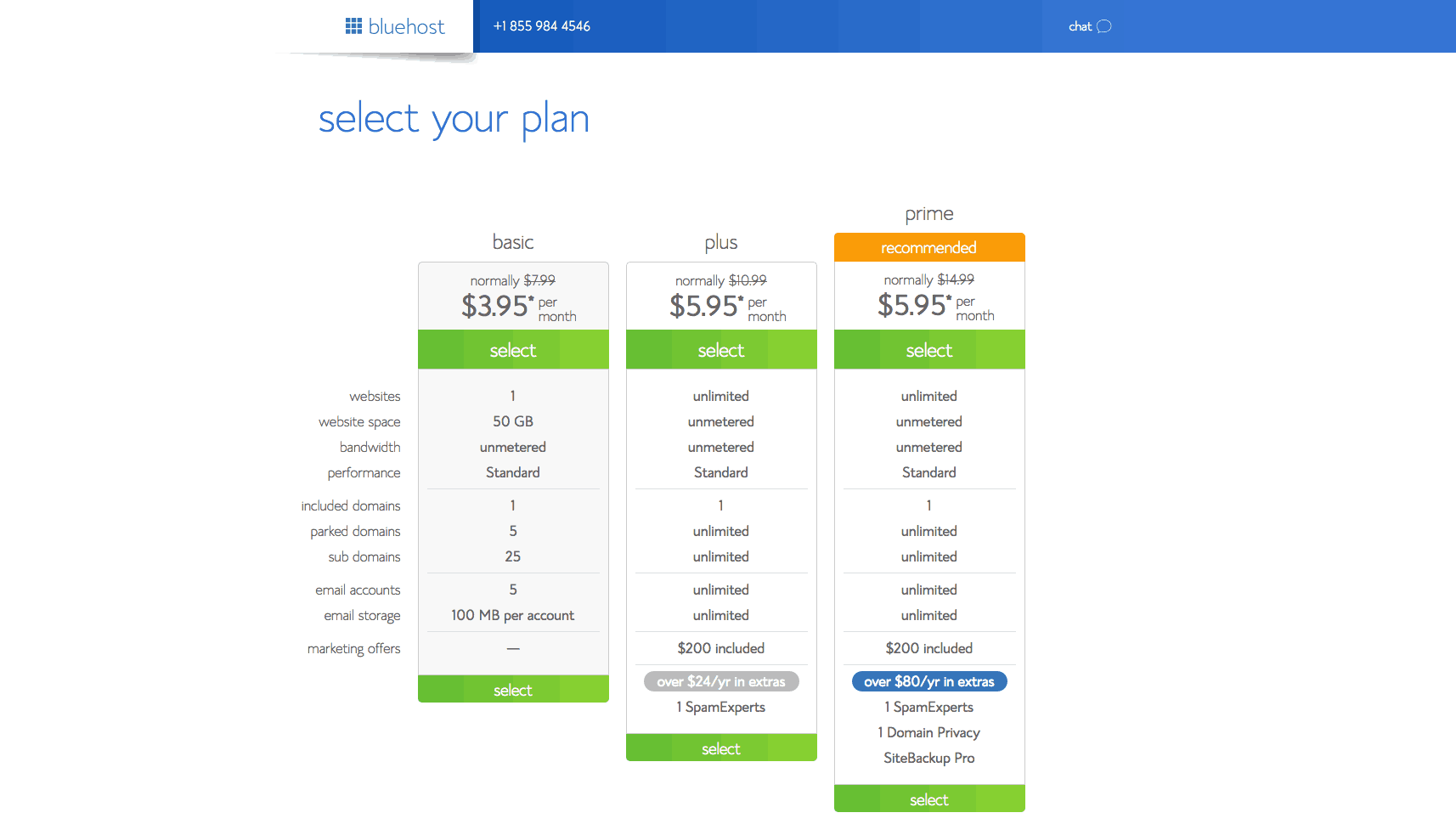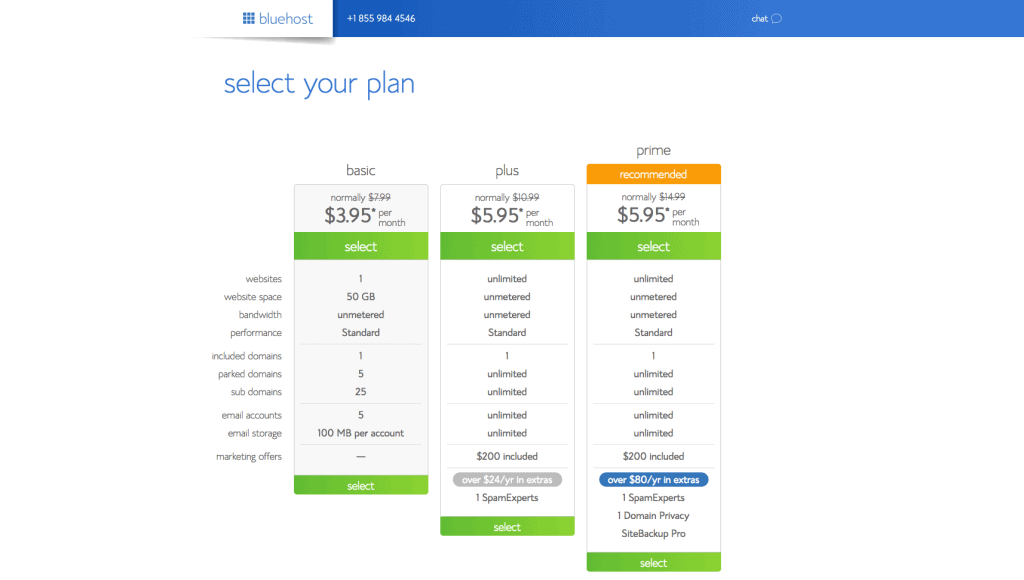 Bluehost offers different, tiered plans to fit your needs. To start out you'll simply need the least expensive package. The basic package is currently $3.95 per month (great deal!). Select Basic.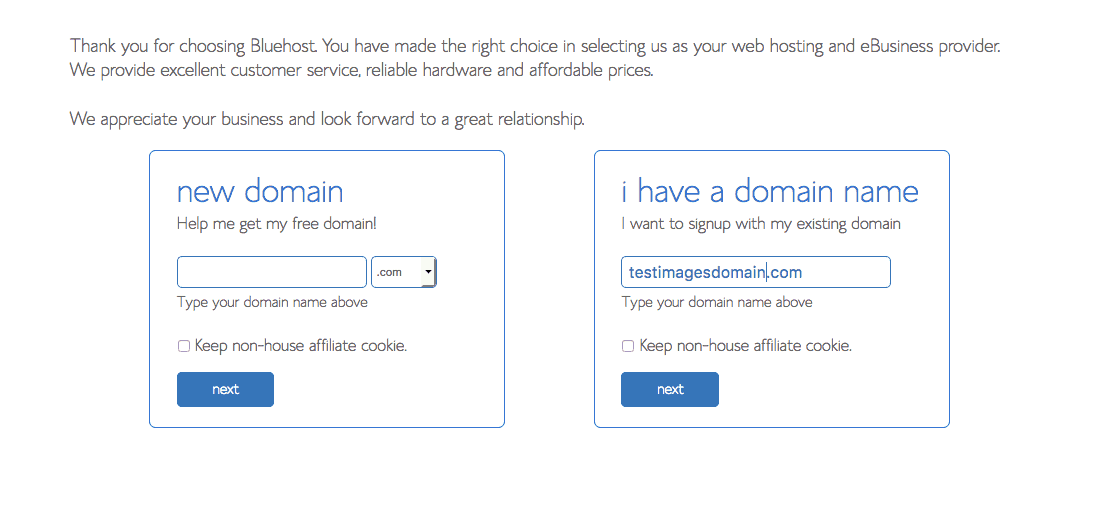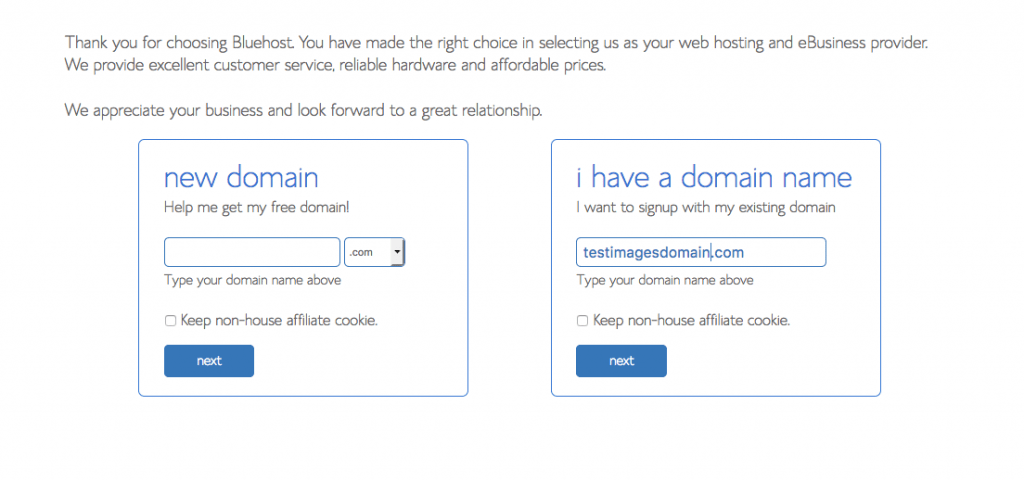 Next, you'll need to pick a domain name. This is the fun part! Think of a name for your blog that will reflect what you are blogging about. Choose wisely because this will become your URL for your site. I suggest avoiding any tricky spellings or underscores, etc. Keep it simple and concise. Nothing too long either!
If you already own a domain name, you can enter it here, and you will just have to go through a few extra steps to make sure you get your DNS pointed to Bluehost. If you don't already have a domain name, you can purchase one from right in the sign up process, and the best part is, it comes free with your new WordPress hosting account purchase.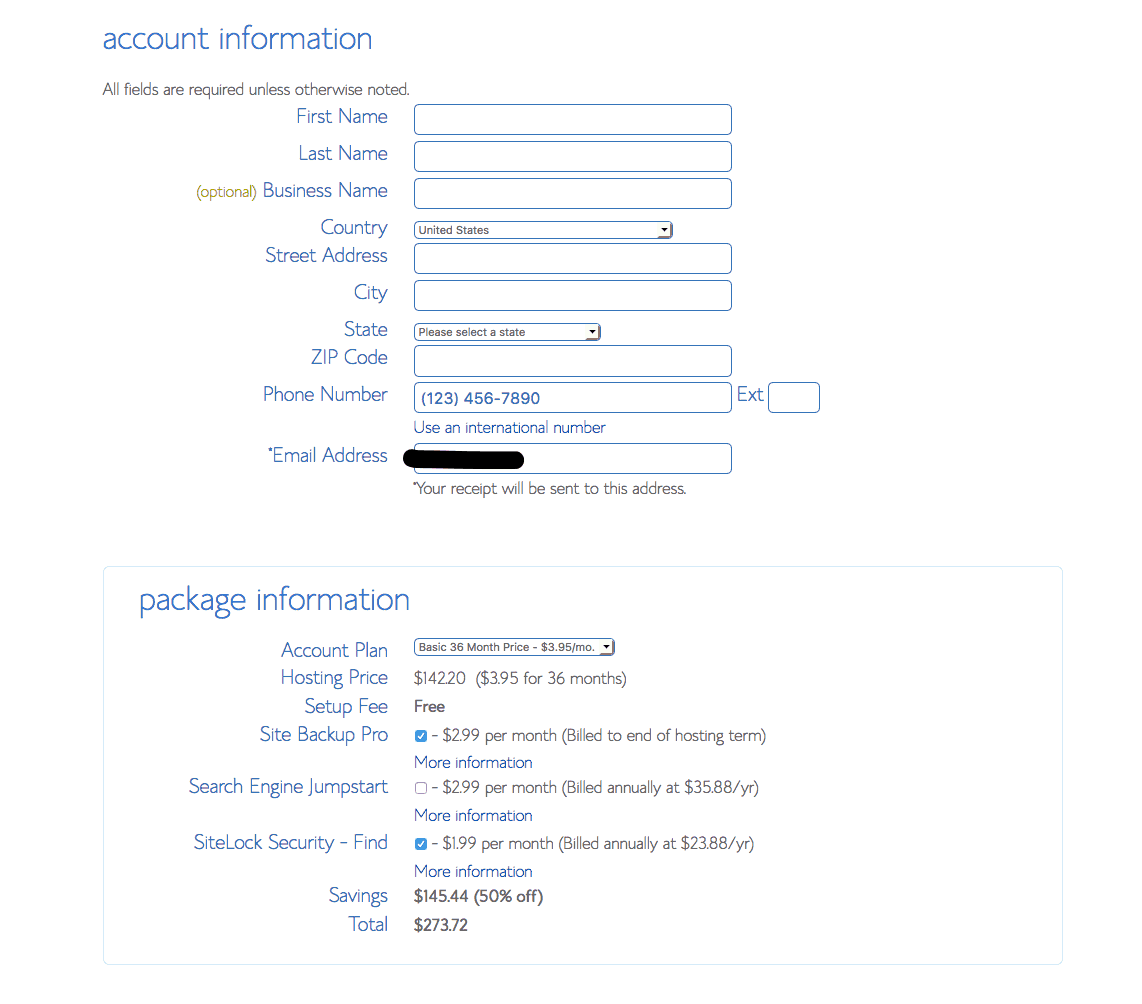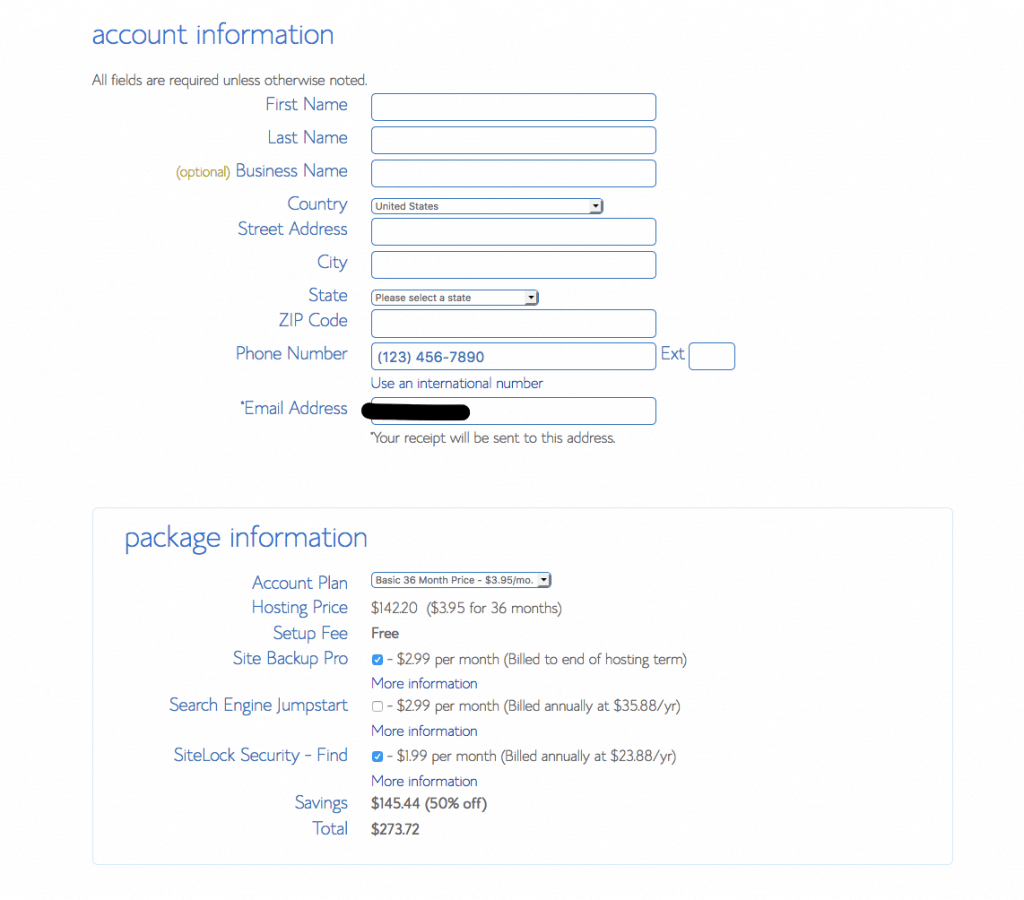 Next, fill in your personal details in order to create your account. Rest assured your information is completely secure and safe. They won't sell it or spam you either.
Then it is time to choose the package details you want. The longer the term you choose, the greater the savings. Pick a package that's right for you. Domain registration is free. There are other add-ons that you can select as well. I suggest selecting the Domain Privacy Protection which will hide your personal information from anyone who is searching for it. This is important for your privacy and safety. The other add-ons aren't necessary at this point.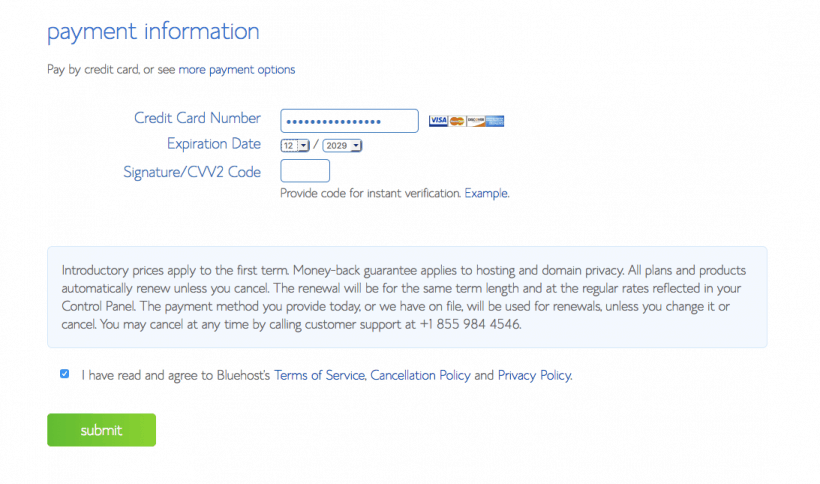 Complete your purchase by filling in your credit card details.



Finally you will choose a password and then sign into Bluehost using the password you selected.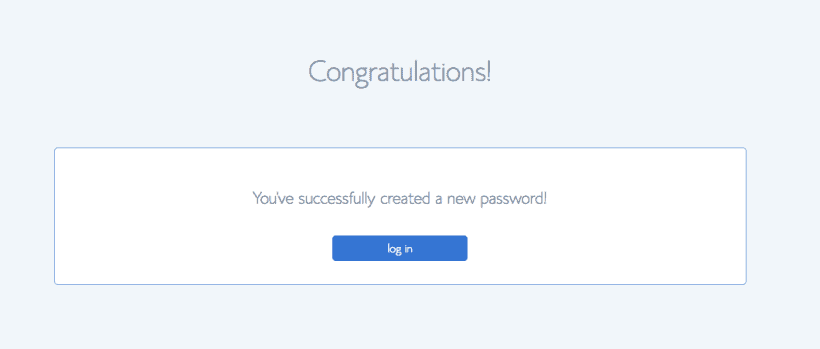 Bluehost has worked really hard to make installing a new theme and WordPress quick and easy! On the next page you will Pick a Theme that you love.  Don't worry, you can easily change themes at any point.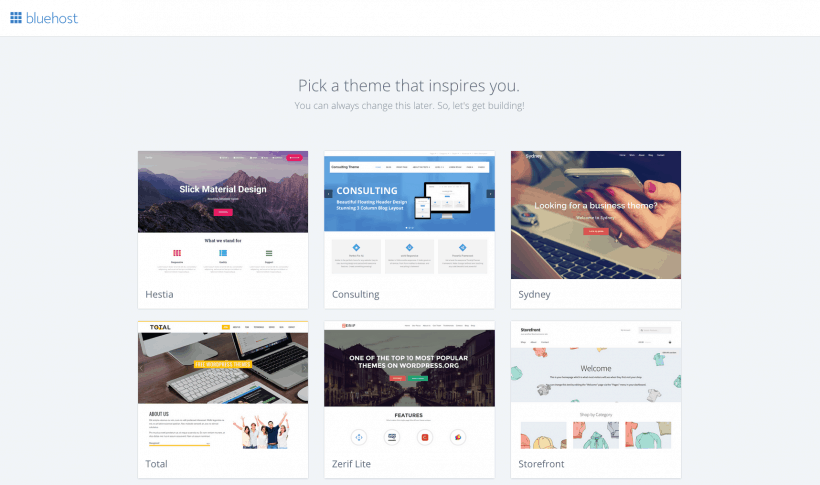 One you have selected a theme you will see an all done page.


Just click on the blue Start Building button to be taken to WordPress. It is here you will start building your site.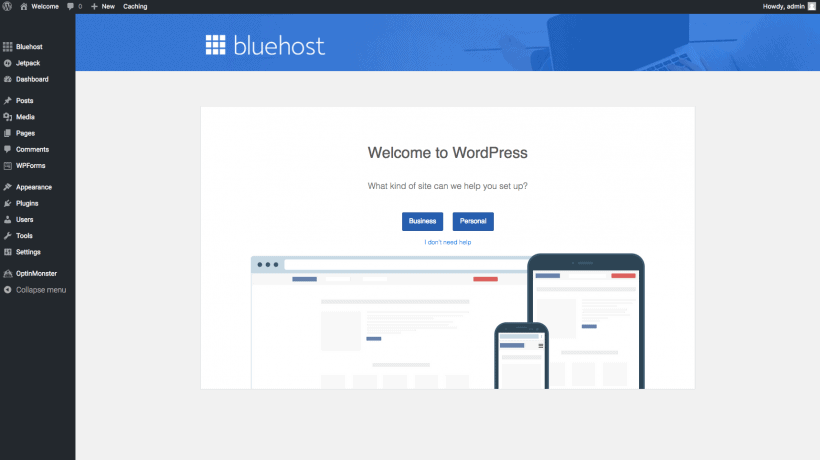 Now select the type of website you are building. A business site is used if you are building a website where you will sell products, take payments, and advertise a certain business. This blog is considered a personal site. Follow all the prompts to install WordPress.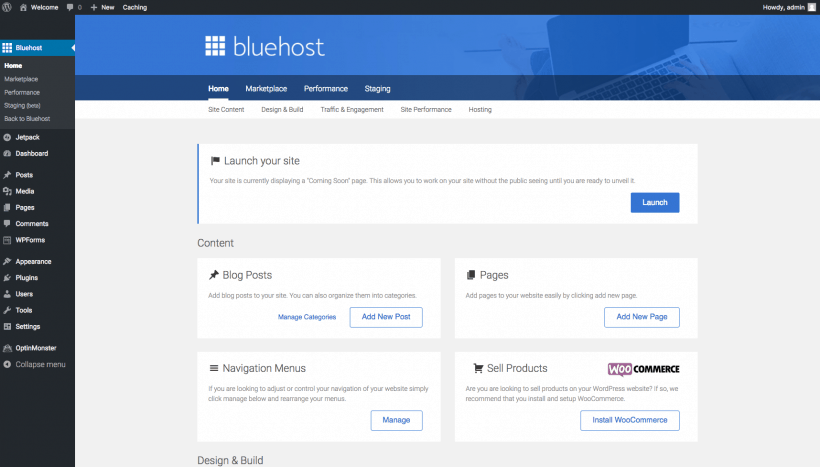 Just like that your website is ready to go. To start with your site will currently display a Coming Soon message. This will allow you to write posts, set up pages, install a logo, and choose your colors for your site before it is live. Once you are happy with how it all looks, just hit the Launch button.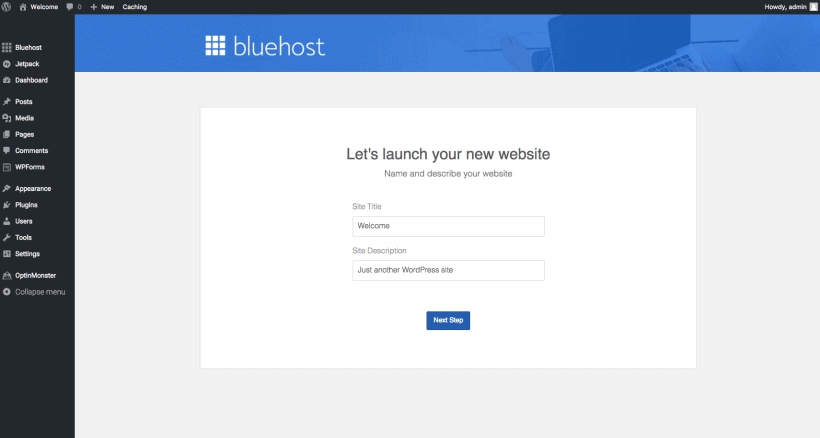 Follow all the prompts including your site name and description.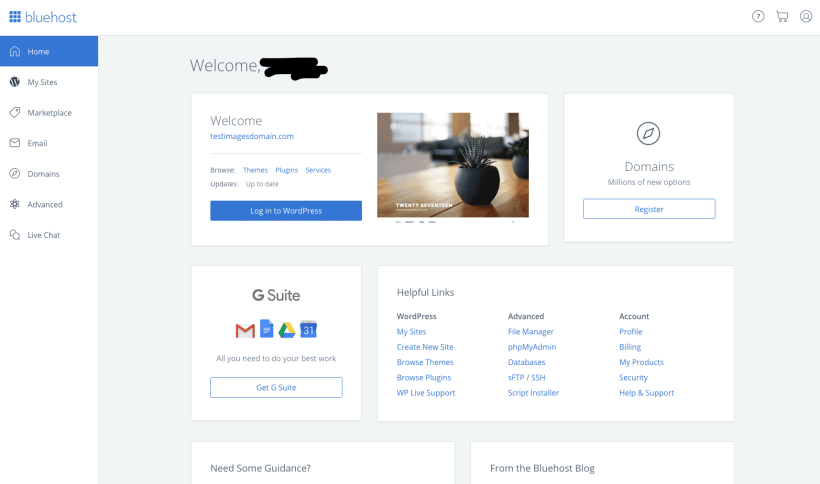 Now you can log into your Bluehost CPanel to access your WordPress site.  You can also make changes here and even ask for help from Bluehost.   The fastest way to access your WordPress site is by going to the admin login URL. Enter your username and password, then click "Log In." This will take you to your WordPress dashboard. From here, you can control everything to do with your WordPress site, such as creating pages, writing posts, and changing the appearance. Do you know what that means? You're ready to start blogging!!!!!!!!!!!!
I told you this was a quick and painless process! I can accomplish it in 5 minutes. You can too as long as you have a domain name already thought of (I think that is the most time-consuming part for me!)
Remember if you sign up for Bluehost through my link you'll get access to the super low monthly price!! Now you are ready to start blogging and earn an income from home! Make sure you subscribe to my newsletter (at the very top of the page!) so you can stay up to date with future posts on how to blog and earn an income from home!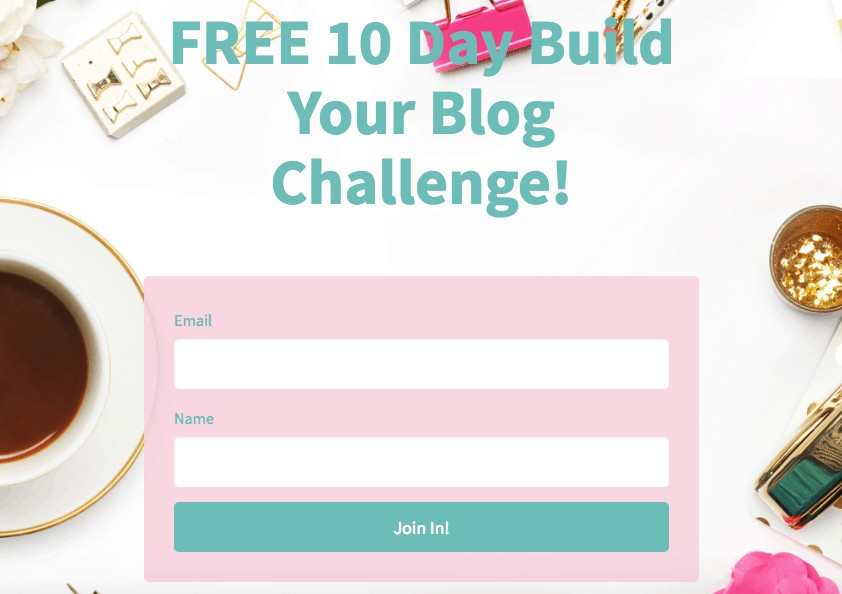 Are you ready to build your blog and make it pretty? Join in my free 10 day email course that takes you step by step through everything you need from installing google analytics to must-have plugins. I cover it all and at the end you'll have a beautiful, custom blog!