This week I've been sharing ideas and pictures from Carson's Dr. Seuss Birthday Party. As promised I will also be sharing with you the recipes from my Dr. Seuss party food and the free Dr. Seuss printables that I created for everything! I hope it saves you some time and helps make your party special!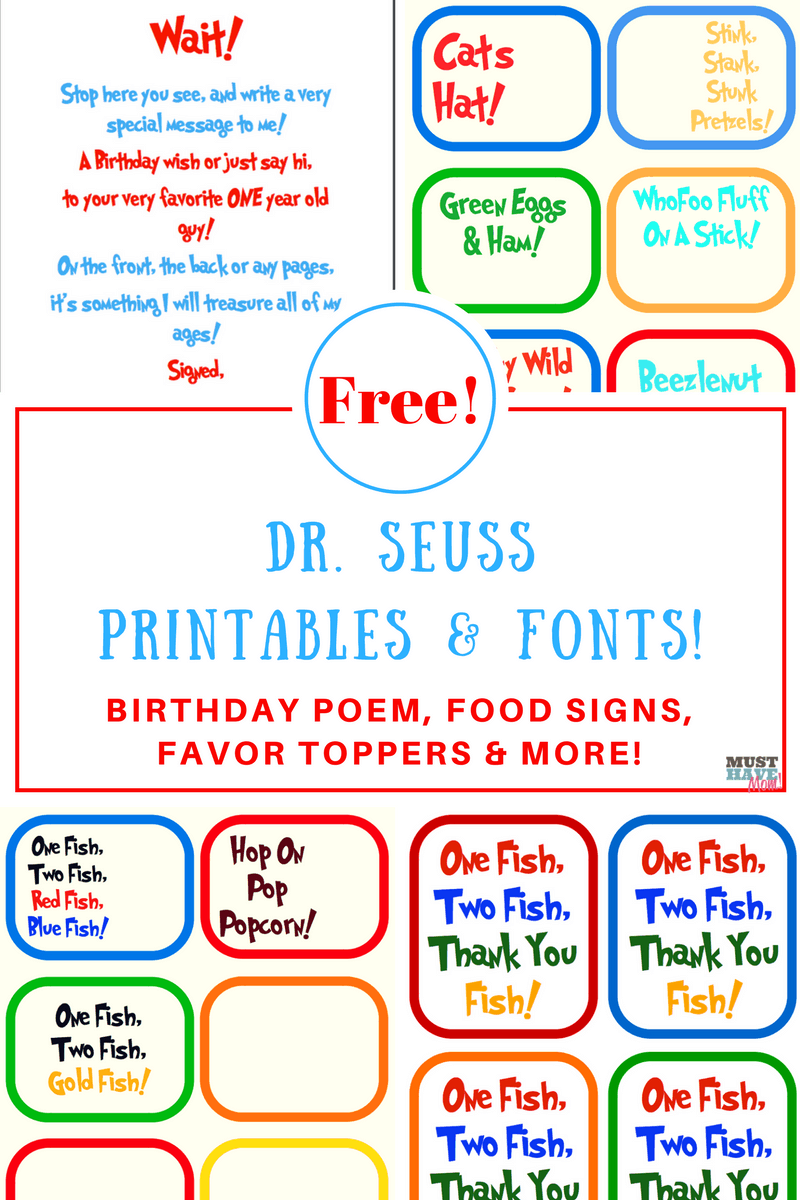 Dr. Seuss Birthday Party
I had a table near the entrance with this Happy Birthday to You!
Dr. Seuss book and a rhyme asking guests to sign the book. You can get my free printable Dr. Seuss Birthday rhyme by clicking the link. I've removed Carson's name so you can add in your own child's name!
UPDATE: I have had many requests for this rhyme in different ages. Please scroll all the way to the bottom of the post and check out the links for different ages. I have removed Carson's name from the bottom of the rhyme so that you can print this off and sign your child's name at the bottom (or have them sign it!). I will not fulfill requests to add your child's name to the rhyme as I am offering this as a free printable and simply can't keep up with all of the requests. I'm glad that so many of you have enjoyed my free printable!
Dr. Seuss Birthday Party Decorations
Order these fun Dr. Seuss Birthday party decorations now so you have them in time for your party! These are a collection of our favorites:
Happy Birthday to You!

Eureka Dr. Seuss Characters Stickers

30 pc Dr Seuss Cat in the Hat Party Balloon Kit: 12 Red 12 White 6 Blue w White Dot Latex

Red & White Stripes Tablecover Party Accessory (1 count) (1/Pkg)

Dr Seuss Party Supplies – Cupcake Wrappers (12)

Dr Seuss Cat in the Hat Room Decor – Thing 1 and Thing 2 Stand In Photo Prop

Dr Seuss Paper Straw Mix – Red and Blue – Striped, Polka Dot, Cevron (25)

Dr Seuss Party Supplies – Party Pack Bundle for 24

Eureka Dr. Seuss's Cat In The Hat Wearable Hat Cut-Out, 32 Hats, Approx 8

Dr Seuss Cat in the Hat Birthday Party Cake Topper and 6 Candles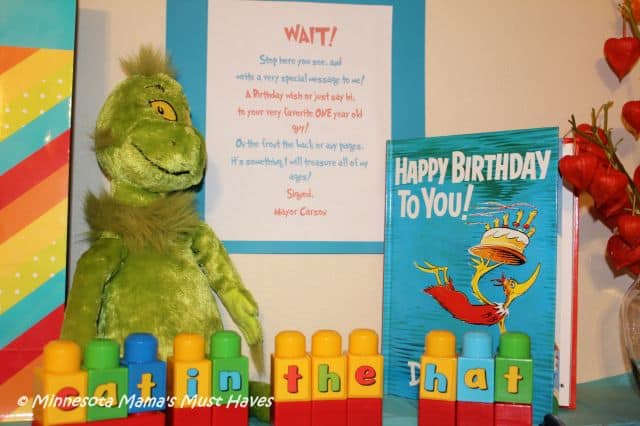 Dr. Seuss Food Signs
I created food picks for everything to go along with the theme! You can see all of my Dr. Seuss food ideas on my previous post. Get all the free printable Dr. Seuss food labels I created by clicking the link! After printing them just cut them out and glue onto a piece of card stock. Add a Dr. Seuss character sticker
to each sign (I left room on the labels for a sticker!). Tape a wood skewer to the back of the sign. Glue or tape another piece of card stock to the back. Voila! You have a food pick!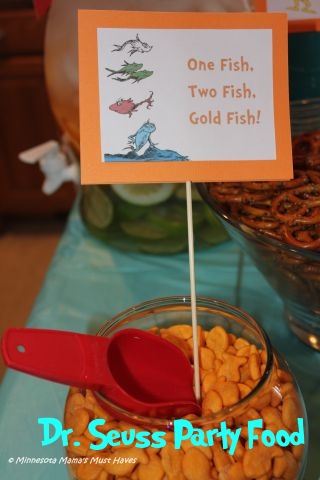 If you'd like to create some of your own signs to go along with your theme you will want to download some free Dr. Seuss fonts.
Get the free Grinched font as seen in the wording on my pictures and in the Birthday rhyme.
And you will also want the three free Dr. Seuss fonts found here.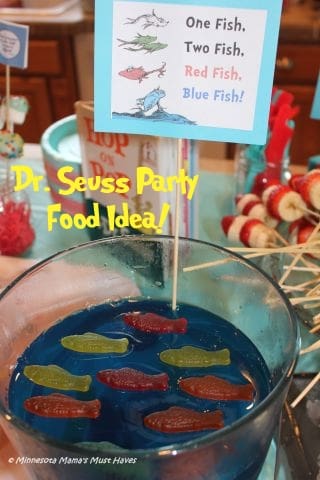 For the party favors I used small packages of goldfish and sweedish fish
 and stapled them together with this rhyme. You can get the free Dr. Suess party favor printables by clicking the link.
Dr. Seuss Party Favor Supplies
Order these Dr. Seuss Birthday party favor supplies now for your party!
Swedish Fish Soft & Chewy Candy, 2-Ounce Packages (Pack of 24)

Pepperidge Farm Goldfish Variety Pack Classic Mix, (Box of 30 bags)

Neenah Exact Index Card Stock, 8.5 x 11 Inch, 90 lb, White, 250 Sheets (40311)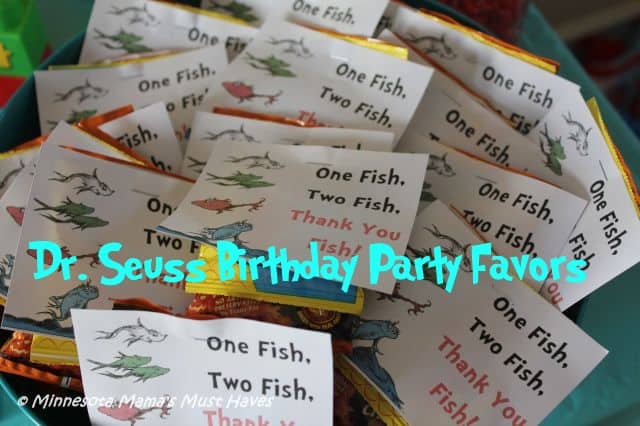 I spent many, may hours creating all of this for my party so I hope it helps save you some time! These are for personal use only and may not be sold or used commercially.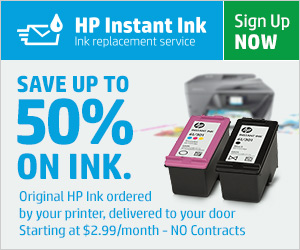 One more tip mommy-to-mommy, if you have a printer and love printing free printables, photos, checklists and more then you definitely need to sign up for HP Instant Ink and save 50% on your printer ink! I have been personally using this service for years and print up to 100 pages a month and never worry about how much ink I am using. When your printer starts running low it automatically orders more ink and it shows up at your door! No postage fees! And with plans starting at just $2.99 you can quit worrying about how much ink you are using and print all the color photos and printables you want! This is the best way to save on printer ink!
Sign up today
and start saving money on your ink.
Free Dr. Seuss Birthday Printables
Print off the free Dr. Seuss Birthday printables below to make your party extra special!
Free Dr. Seuss Printables and Birthday Poem
Here is a round up of all of the Dr. Suess printables and party ideas! I recommend printing these on this cardstock for durability.
Dr. Seuss Birthday Rhyme Variations:
If you liked this post be sure to check out my other party ideas for more fun tips!
*This site is copyright protected.