Dr Seuss Activities One Fish Two Fish Wine Cork Painting
This Dr Seuss activities idea is SO much fun for kids! We use wine cork painting to create a one fish two fish red fish blue fish canvas. It's a great Dr Seuss preschool activity and pairs really well with the book, One Fish Two Fish Red Fish Blue Fish by Dr. Seuss.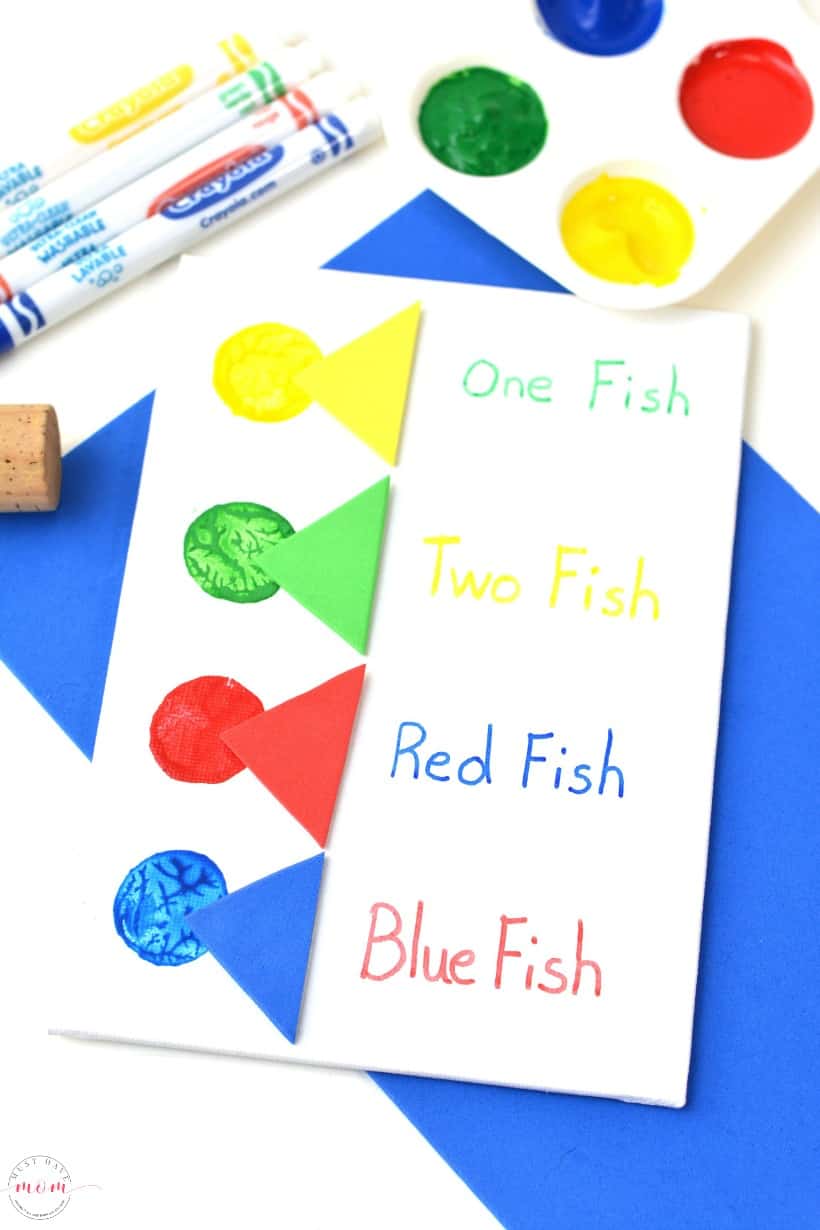 Dr Seuss Activities
This Dr Seuss activities idea combines the One Fish Two Fish Red Fish Blue Fish book with a fun wine cork crafts painting project! It's a great Dr. Seuss activities idea for I love to read month. It's so easy and fun, and also very inexpensive to make! Start saving those wine corks!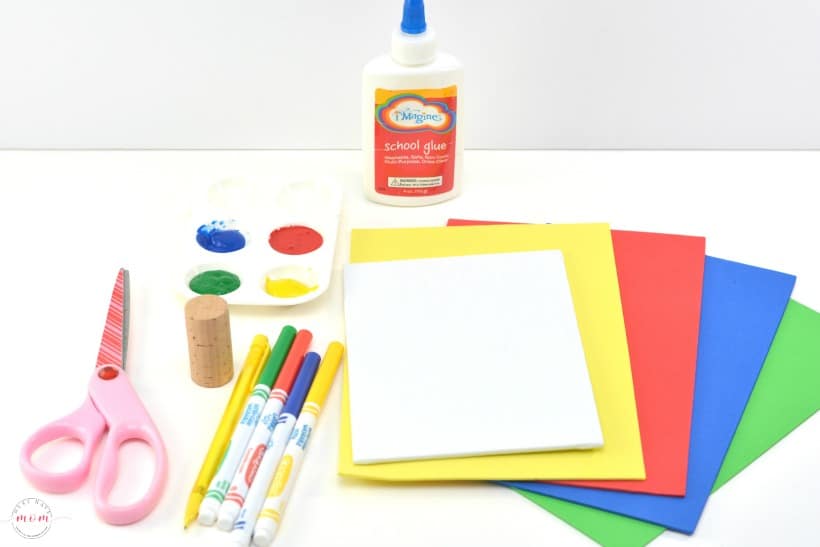 One Fish Two Fish Dr Seuss Activities
This fun and easy one fish two fish activity is quick and easy enough for an entire classroom to do together. Whether you are a teacher looking for preschool activity ideas or a parent with a love of Dr Seuss crafts, this activity is for you! You'll also love my Thing 1 Thing 2 Puppets, Free Dr Seuss Prinables and Fonts, and Dr. Seuss Birthday Printables.
Order Dr Seuss Preschool Activities Supplies
Order your supplies now so you don't have to waste time driving around to get them! Here are the supplies you'll need:
One Fish Two Fish Red Fish Blue Fish (I Can Read It All by Myself)
DecoArt DCA20-9 Crafters Acrylic, 8-Ounce, Christmas Red
FolkArt Acrylic Paint in Assorted Colors (2 oz), 720, Cobalt
DecoArt Crafter's Acrylic Paint, 2-Ounce, Christmas Green
Apple Barrel Acrylic Paint in Assorted Colors (8 Ounce), 20471 Bright Yellow
Phoenix Super Value Pack Canvas Panel 5×7 inch -Pack of 12
Wine Corks | Brand New, Authentic, All Natural | Printed, Winery-Marked, Craft Grade | Uncirculated, Uniform & Clean | Excellent for Crafting & Decor | Pack of 50/100/150/200 Premium Wine Corks (25)
Darice 106-118 40/Pack Foam Sheets, 6 by 9-Inch, Assorted
AmazonBasics Multipurpose Scissors – 3-Pack
Elmer's Washable No-Run School Glue, 4 oz, 2 Bottles (E304)
Dr. Seuss' Pencil Assortment
Crayola Marker Classic Color fine line, 10-count (3-Pack)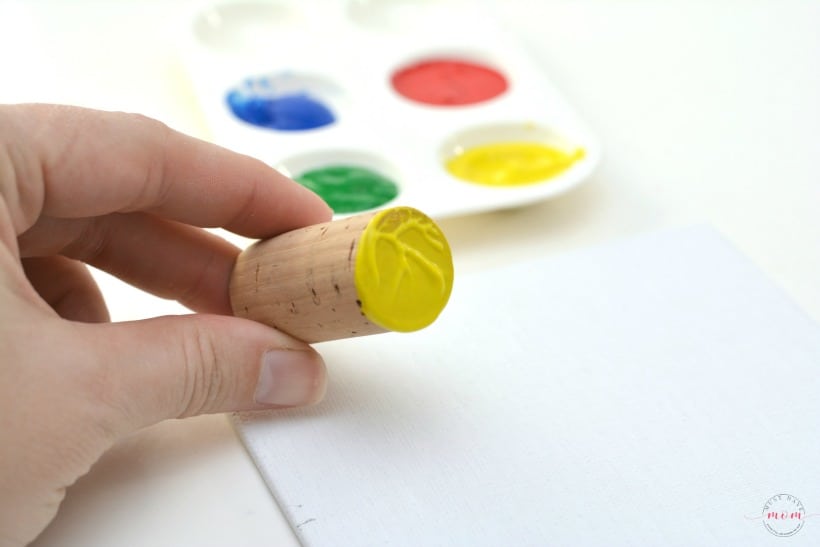 Begin this fun Dr Seuss activities project by dipping a wine cork into one color of paint at a time. Start with yellow, and stamp a yellow circle at the top of your canvas off to the left-hand side.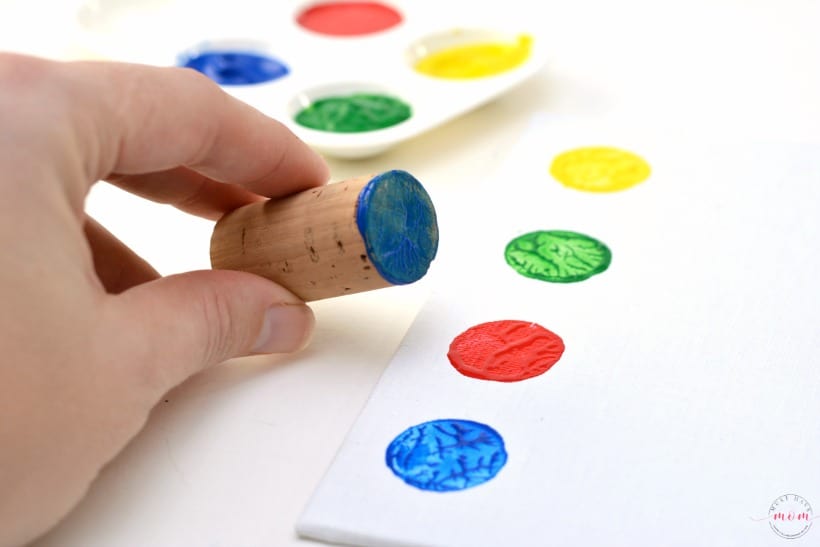 Next, stamp a green circle with the wine cork under the yellow circle, and then continue with first the red and then the blue paint. Wash your wine cork in between each color, and try to make the circles go down the canvas in a straight line.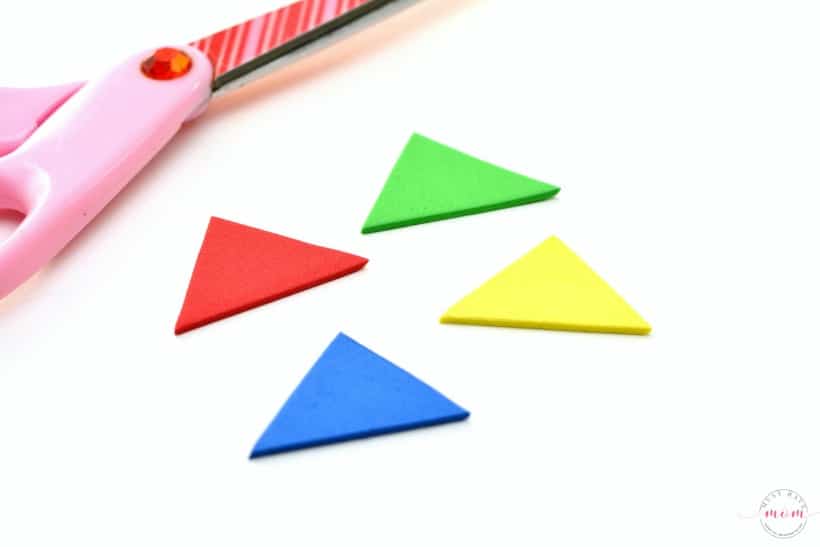 While the paint is drying, cut short and fat triangles out of the red, blue, green and yellow craft foam. These triangles will be the tails of your fish on the canvas.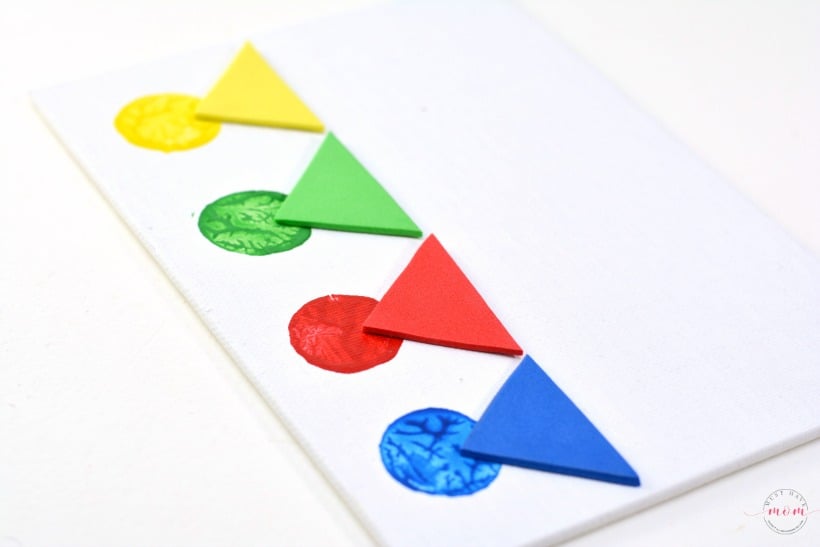 Once the paint has dried completely, glue the tails to the matching colors of the circles on the canvas. The pointed tip of the triangle should be glued to the back of each circle, with the rest of the triangle coming out of the circle like the tail of a fish.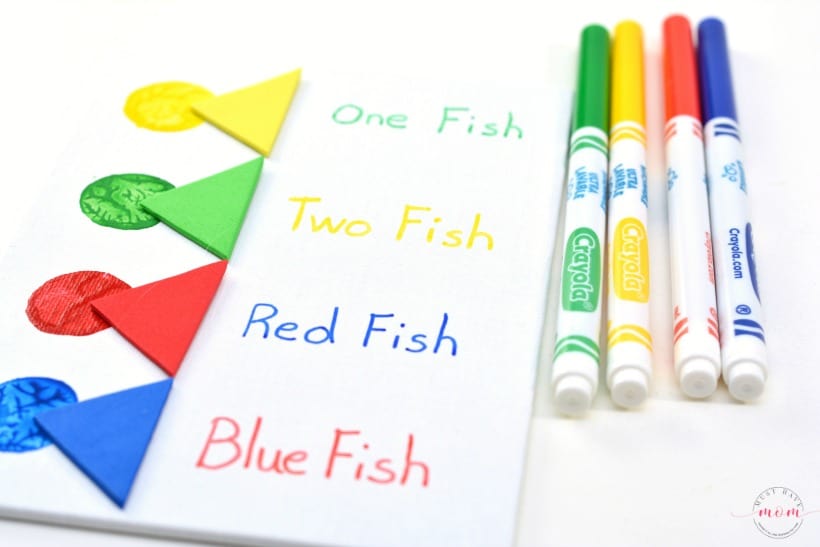 Out to the side of each colored fish on your canvas, write "One Fish, Two Fish, Red Fish and Blue Fish" in alternating colors. You can see the photo for reference on how to do this.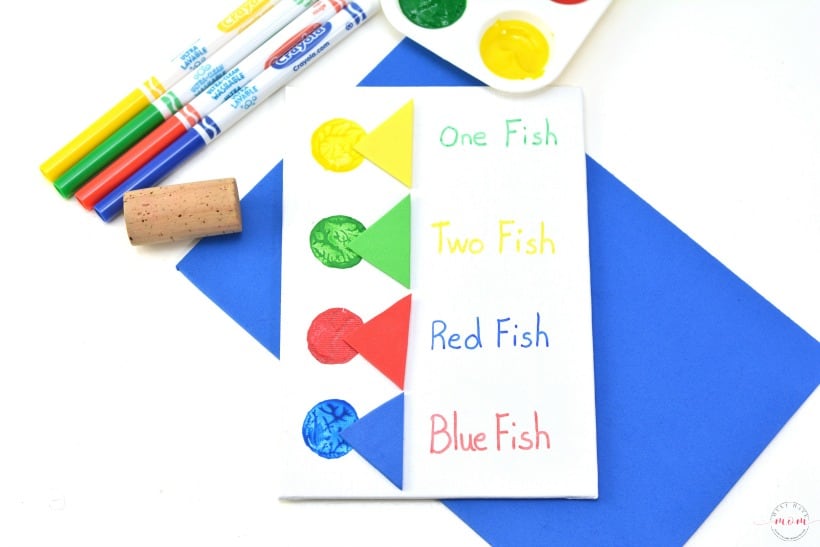 Now your One Fish Two Fish canvas is complete! Read the accompanying book to your child and reinforce their knowledge of the different colors. This is such a fun Dr Seuss activities idea for preschoolers and my kids love wine cork painting for kids of all ages. It's a different way to paint with something new!
Pin Dr Seuss Activities One Fish Two Fish