Dr. Seuss Birthday Party! Dr. Seuss Party Food Ideas, Games, Decor, Favors & More!
This weekend we celebrated Carson's 1st Birthday as I shared with you yesterday. I went ALL OUT with the Dr. Suess theme! It was so much fun I just couldn't resist going a little over the top. There are SO many ideas that you can do with it that they just kept coming to me! Here are a TON of Dr. Suess Birthday party ideas and Dr. Seuss party food ideas for you to pull from 🙂 I even have printables for you! Keep checking back this week as I post the food recipes too!
I wanted the Dr. Seuss theme to emulate through to my guests from the moment they walked in the door so I set up this brightly colored table full of Dr. Suess inspired goodies! It was so bright and colorful! From the moment you entered the door you felt the theme of the party.
I thought the Chinese lantern flowers looked "Seussical" so I used them, along with Dr. Seuss books
, to decorate each table. I also added some jars of WhoFoo Fluff on a Stick to add to the fun!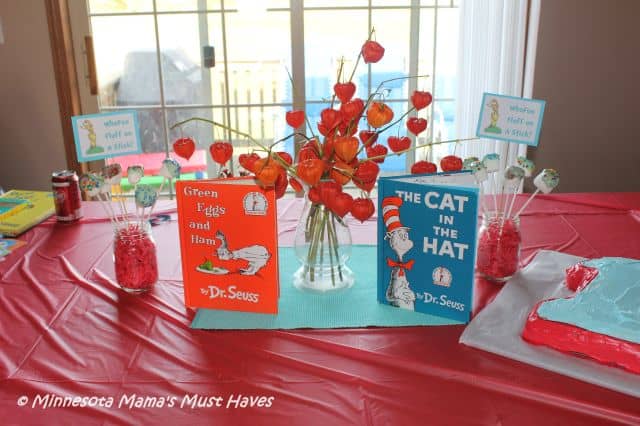 I went with a red and turquoise blue color scheme which I just LOVED. I was able to find the table cloths, napkins, plates, cutlery, balloons, etc all at Walmart for very inexpensive prices (most at 99 cents!). I used blown up balloons with matching curling ribbon and hung them from the ceiling above each table to create a balloon chandelier. I also added in paper lanterns
in the red and turquoise colors which looked great.
There wasn't any food on the table that wasn't Dr. Seuss inspired. Everything had a theme and followed the books of Dr. Seuss. My guests just loved it and it was a huge hit! I created my own food labels using Dr. Seuss fonts and graphics and printed them off and glued them to card stock on picks so I could put them in the food. Get my free Dr. Seuss food sign printables, fonts and more by clicking the link! Then print them off, add a Dr. Seuss character sticker
and tape them on to cardstock
. You can also get all of my Dr. Seuss party food recipes by clicking the link.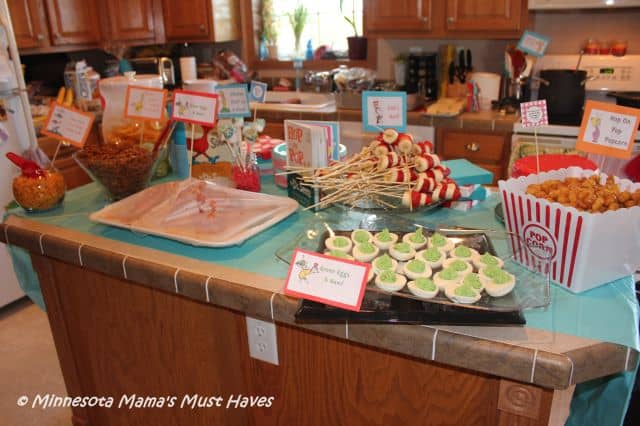 Of course we had to have green eggs and ham! They turned out great and I was surprised to see all 48 deviled eggs gone in just an hour! They were a big hit. I was worried no one would eat them because they were green but people loved them!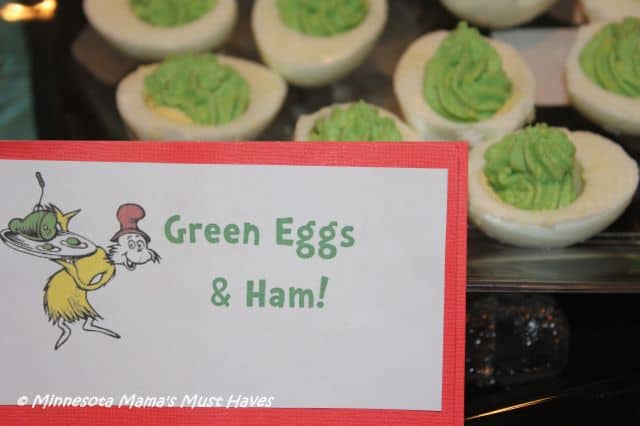 I made a ten pound pineapple ham and cooked it in a bag (which worked great!). It was SO good but apparently too good because we ran out!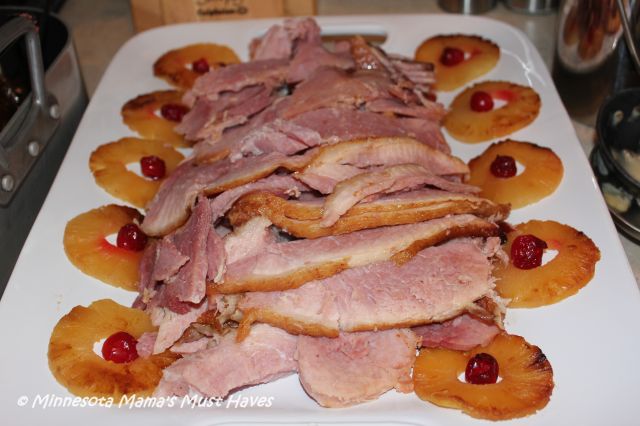 Sticking with the Dr. Suess theme we had One Fish, Two Fish, Gold Fish!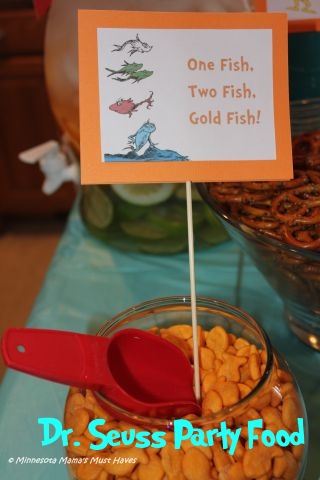 The Hop On Pop Popcorn was also a huge hit and was gone!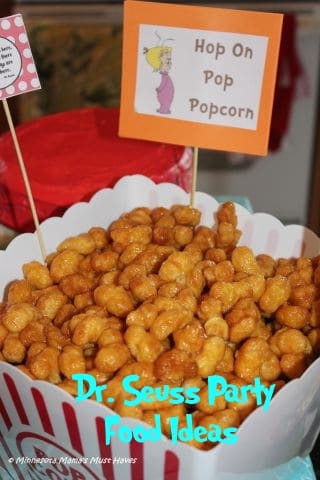 One of my favorite ideas was the Cat's Hat banana and strawberry skewers!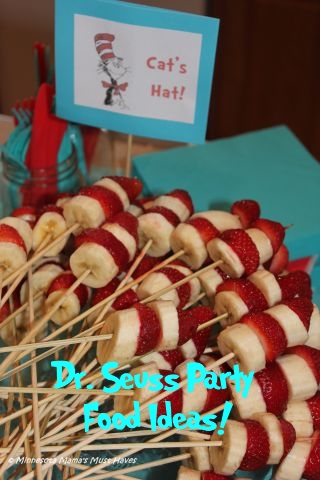 Stink, Stank, Stunk Pretzels are always a big hit!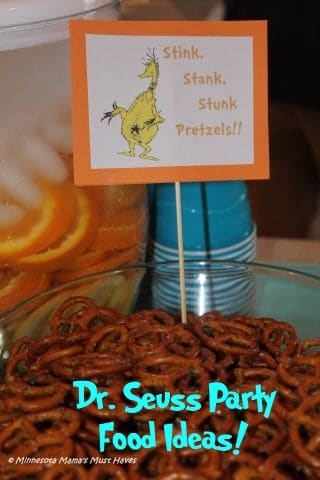 I made my favorite Wacky Wild Rice Soup recipe which is SO delicious!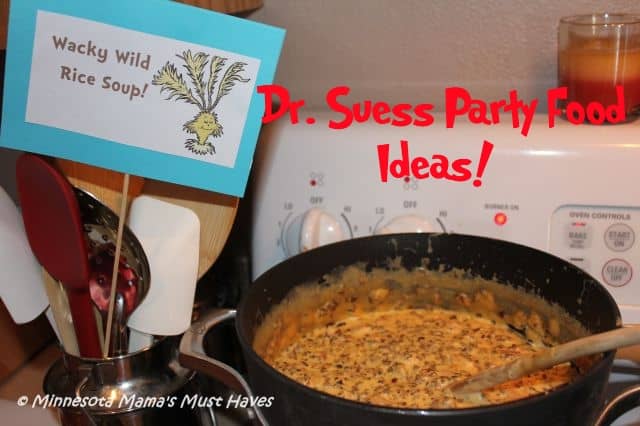 It wouldn't have been a party without One Fish, Two Fish, Red Fish, Blue Fish Jello!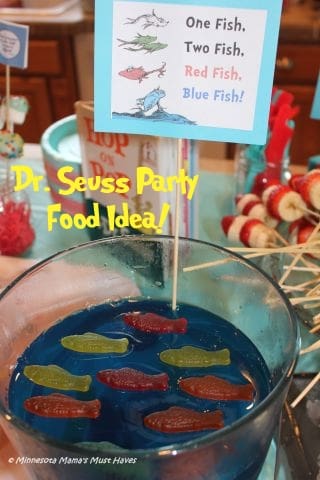 The Beezlenut Splash was a big hit too! We had to refill it several times. Get my Beezlenut Splash recipe!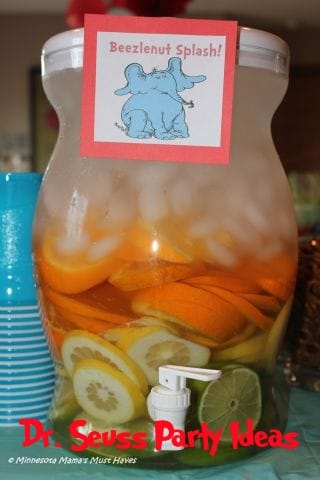 I was glad to see the WhoFoo Fluf on A Stick disappear along with all of the other food.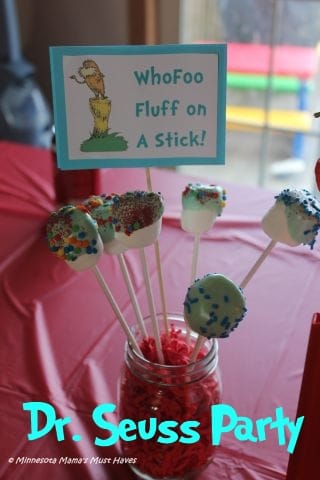 Carson's party was at 4pm and I had baked four 8" cakes the night before and didn't start assembling his Cat in the Hat smash cake until 2pm! It came together quickly though and looked pretty good considering I'm no cake artist!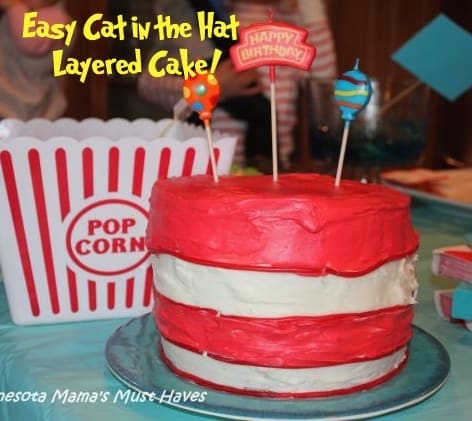 I loved the idea of having all of the guests sign Carson's Dr. Seuss Happy Birthday to You!
 book and the accompanying rhyme instructing them to sign it was really cute! You can get the free Dr. Seuss Birthday rhyme printable here!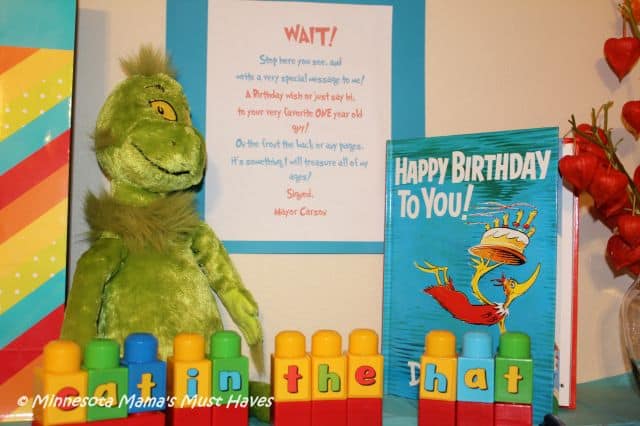 The kids loved the Dr. Seuss party favors which were just a pack of either Swedish Fish
or Goldfish
with the free printable favor label stapled to them.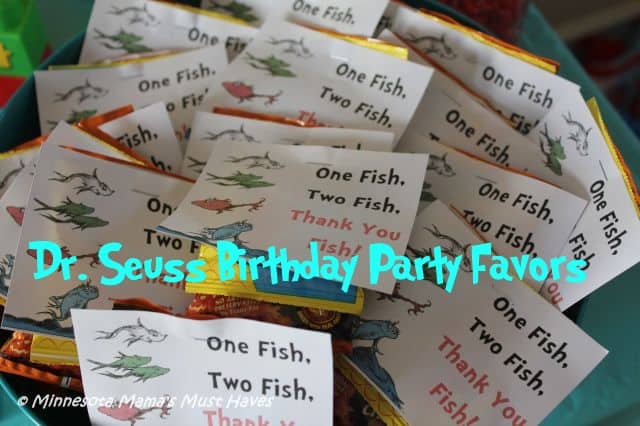 The  Pin the Hat on the Cat game was a favorite of all the kids and they couldn't wait to do it! My awesome sister pulled out her art skills to create this amazing cat in the hat with accompanying hats to pin on. We then blindfolded and spun the kids around so they could each take a turn trying to get the hat on the cat. It was a lot of fun! Not feeling artistic? Grab a Dr. Seuss Cat in the Hat Pinata Kit
 instead!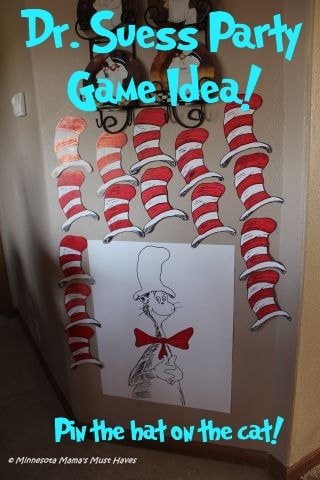 I made Carson his little matching red and turquoise Birthday shirt! I also made his siblings matching shirts with their initials on them. Find my DIY appliqued Birthday shirt tutorial for instructions on how to easily make one yourself!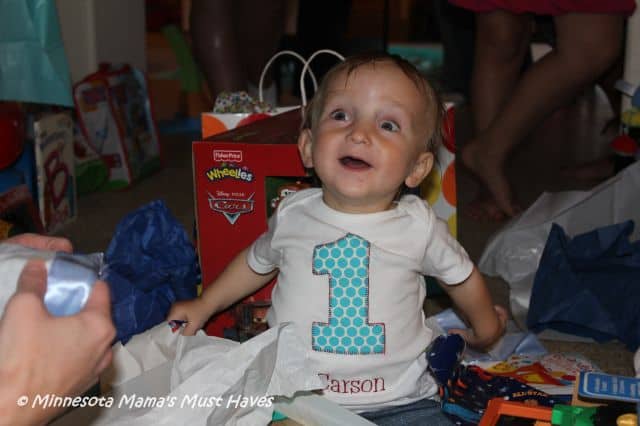 The Dr. Suess party was SO much fun and I highly recommend the theme simply because there is so much you can do with it and so many different ways you can go with it.