I have discovered the easiest way to paint a table without any sanding or prep work required! See how this easy method makes painting a table a quick and easy task using this secret trick that I have used over and over again!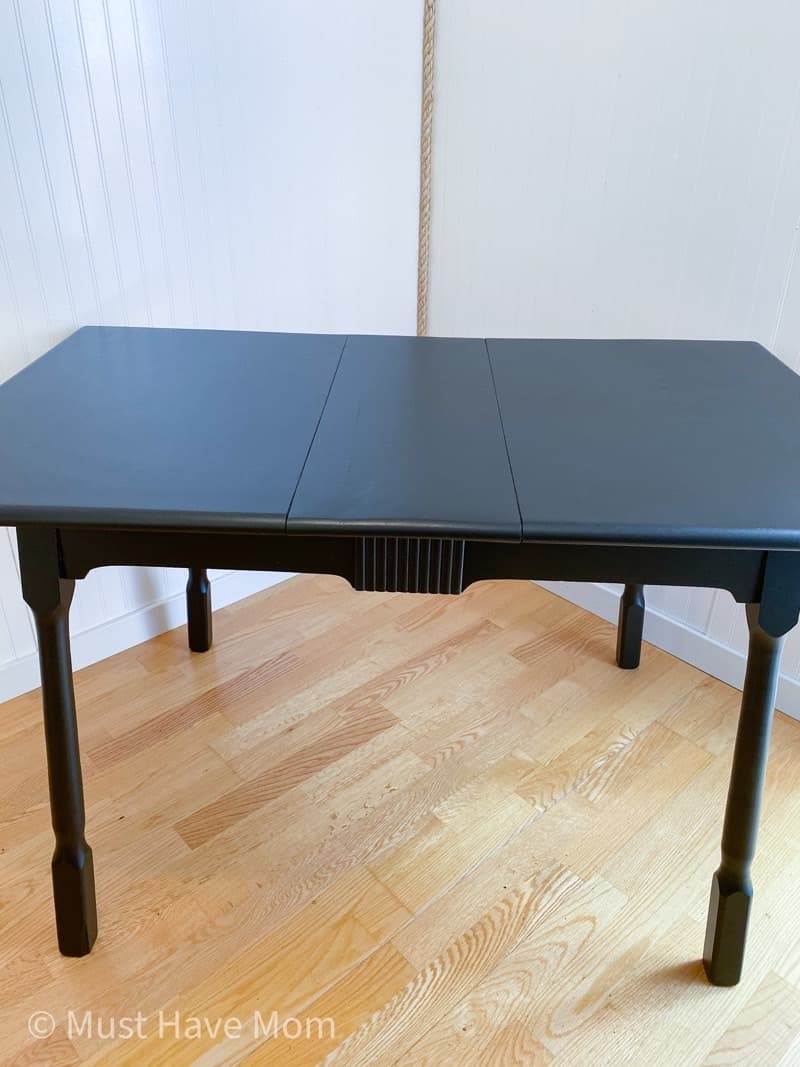 My husband and I have done a LOT of home improvement projects over the last decade and we've learned a lot from those projects. One thing we discovered was how amazing Beyond Paint is and how EASY it makes projects that would otherwise be quite time-consuming. I'm letting you in on this secret so that next time you paint a piece of furniture you don't wreck the piece or waste precious time and effort on things like sanding and scraping.
We even painted an entire RV with Beyond Paint! See it here in my camper makeover post! Everything from the textured, wallpaper walls to the faux wood particle board to the wood table and futon, was painted using Beyond Paint! It held up beautifully and I have been sold on Beyond Paint ever since.
We have since moved on from camping and purchased a cabin. With that cabin, we received some old furniture the previous owners left behind. I knew I could transform it into beautiful pieces that fit my own design aesthetic by using my favorite secret, Beyond Paint! I decided to start with this table and coming up soon, I will be doing an old dresser makeover!
How To Paint A Kitchen Table
Painting a kitchen table requires a little bit of know-how. Since the kitchen table is a surface that gets wiped multiple times a day, you'll want to be sure you use the correct paint and sealer to ensure a durable finish that will last for many years to come.
So often I see people painting their kitchen tables with chalk paint and I cringe. I myself LOVE chalk paint but the kitchen table is one of those things that you DO NOT want to use chalk paint on! Chalk paint is typically sealed with wax and it will NOT hold up to daily scrubbings and abuse. Beyond Paint offers the same low-prep work convenience that chalk paint offers but with a durable finish.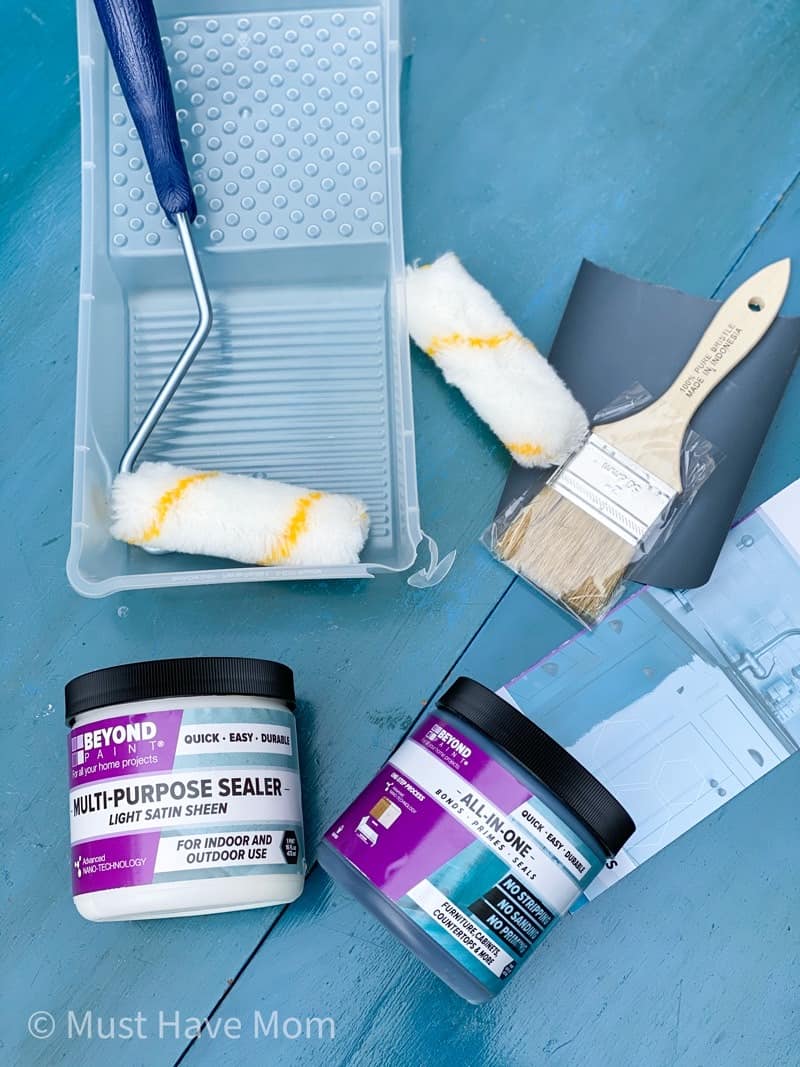 Beyond Paint Sealer
One key thing to note here is that when you paint a surface that will be frequently wiped down you NEED to use the Beyond Paint sealer. Projects that will not be wiped down (like my upcoming dresser makeover) will NOT need any sealer. This is an important note so do not disregard this step.
For this project you will need the following supplies:
table to be painted
Beyond Paint in choice color (we used licorice)
Beyond Paint sealer
paint tray
paint roller (we used the Beyond Paint rollers)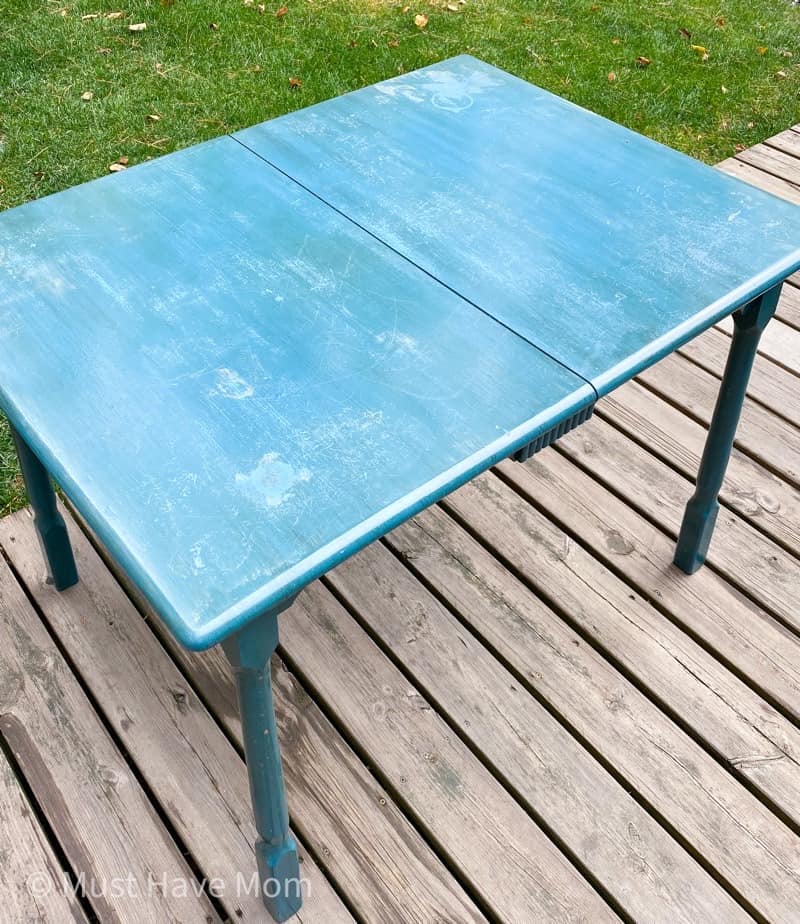 Beyond Paint is my favorite little secret because it doesn't require any prep work! That's right, no sanding is required. You just need to ensure your surface is clean (by simply wiping it down) and you are ready to paint!! It's SO easy and that is my favorite part. No sanding, no stripping, no priming!! Just get right to the best part, painting!
Begin by gathering all the necessary supplies and set up a space to paint your table where you are out of the elements and in a climate-controlled area. I set up inside and put a disposable tablecloth under the table to catch any paint spills that might occur.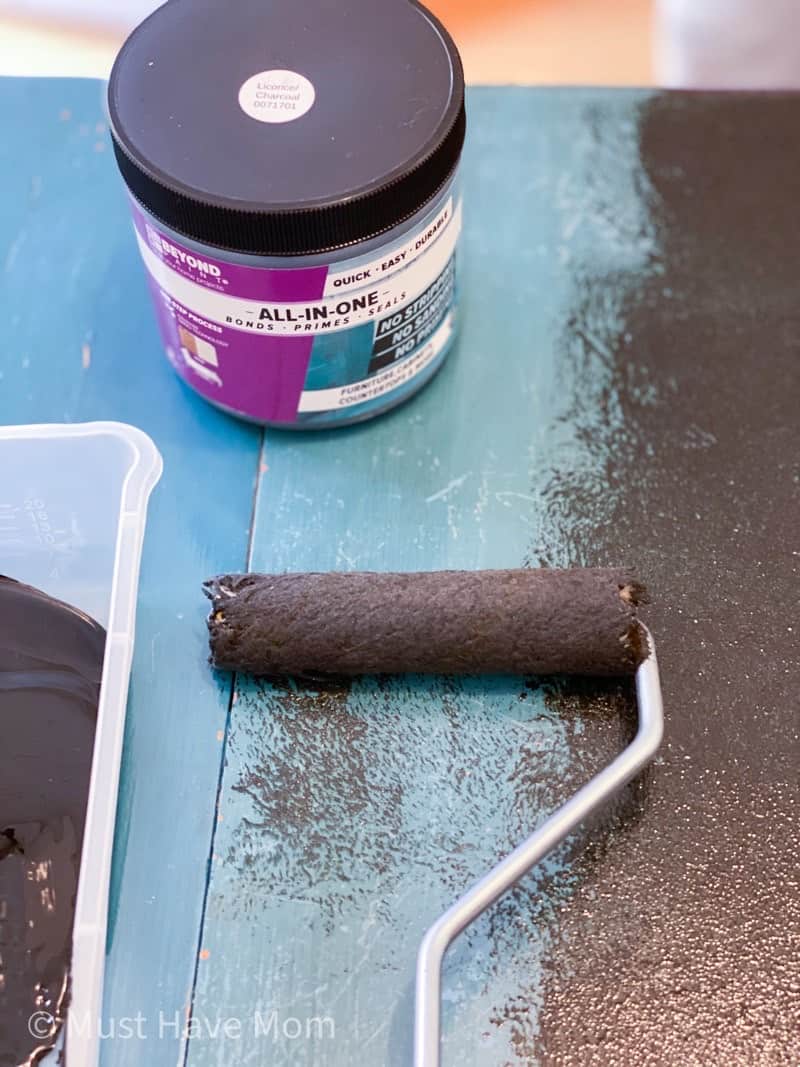 The table I was painting had clearly been painted many times before and had seen better days. I had confidence that I could transform it into a modern piece that looked new!
Begin by rolling the paint on the table in a thin, single coat. The coverage I got with this licorice color was fantastic! I ended up doing two coats but I could have almost got away with one coat!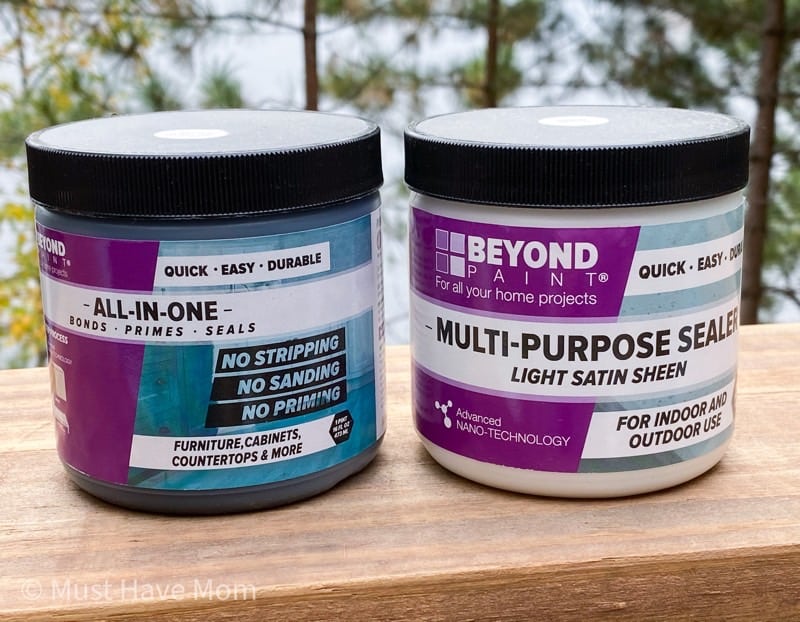 After allowing the paint to cure, follow the directions on the package to apply the Beyond Paint sealer. You will need to allow the paint to sit for the allotted time before applying the sealer (which is typically 24 hours). Then use the same technique you used to paint the paint color on, to apply a thin coat of sealer. It goes on a milky color but dries clear so don't fret if you see it going on milky! It is supposed to.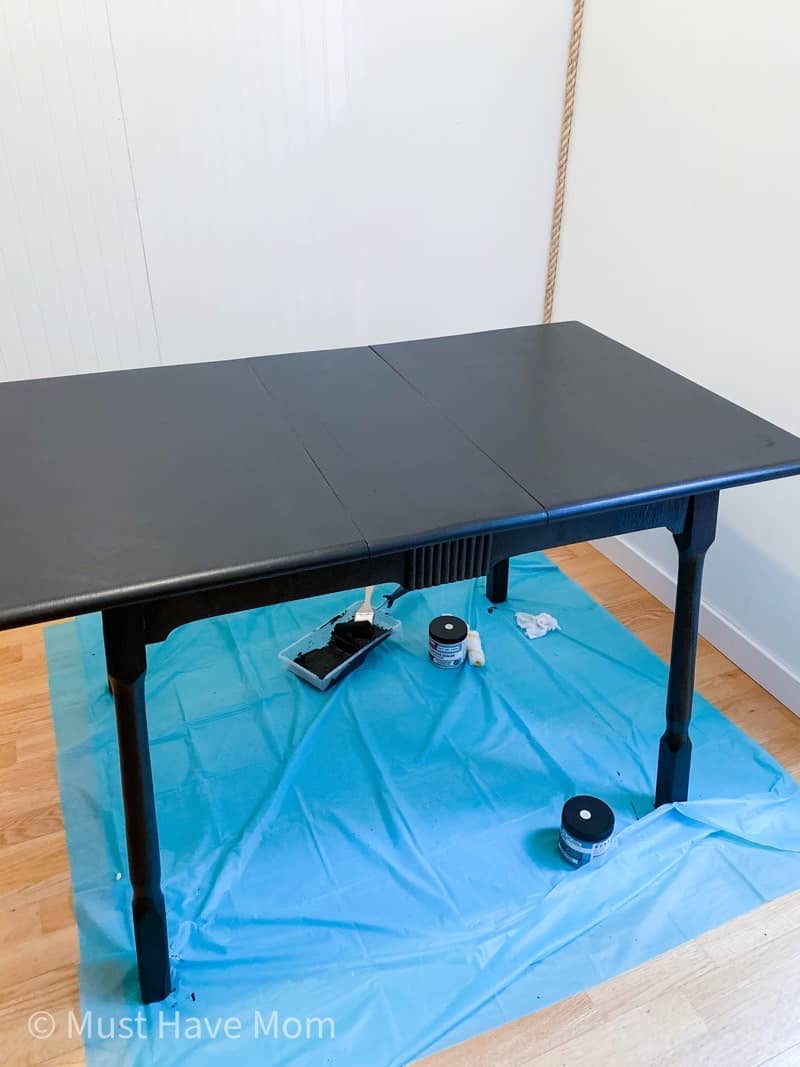 It should be noted that Beyond Paint sealer is rated for indoor and outdoor use! It's pretty amazing stuff and will stand up to daily washing on your kitchen table. Here is my finished table with two coats of licorice and one coat of Beyond Paint sealer applied. I used the smallest containers of Beyond Paint for this table project and had enough to do the whole table with two coats!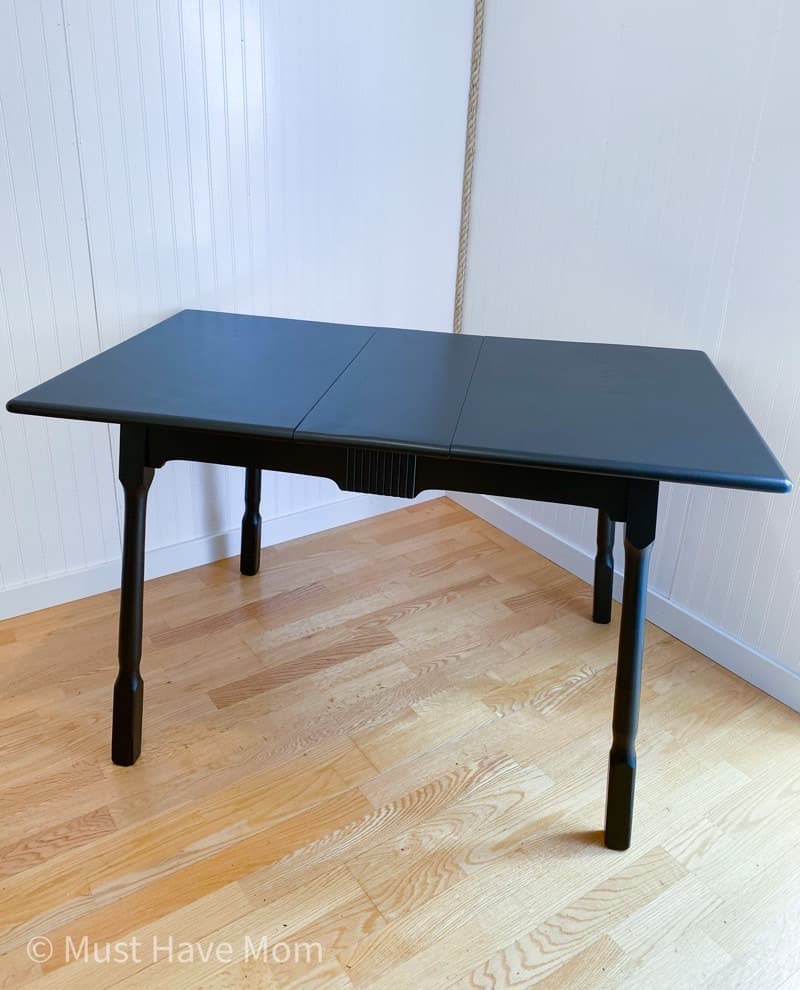 Allow the sealer to cure and you are ready to use your brand new table! Can you believe the amazing transformation that a coat of paint did to this otherwise ugly, old green table?! It now looks like a modern table that I can incorporate into my Scandinavian cabin decor! All thanks to a coat of Beyond Paint!
The best part is that this project took hardly any time at all! It took me half an hour to apply the paint for each coat and ten minutes to seal it. What a difference and just over an hour of time invested into it! You really can't go wrong.
Now it has become somewhat of a game when I spot used furniture at second-hand sales and imagine what color of Beyond Paint I could transform it with. It definitely could be a profitable side hustle to flip furniture and sell it at a good profit. Look for sturdy wood furniture if you plan on doing this. However, Beyond Paint will also work on cheap particle board if you are looking to use it on that.
I'm sure you can see why I love Beyond Paint now and how nice it is to eliminate the time-consuming prep work stage! Give Beyond Paint a try and see what you can transform with it!
Where To Buy Beyond Paint
You can buy Beyond Paint directly from their website. They also have countertop kits and metallic paint! Think how much fun those would be! Use promo code MUSTHAVEMOM to save 10% off your order.
Pin How To Paint A Table