Rustic DIY Candle Holders
These rustic DIY candle holders are cheap and easy decor to make. They are a GREAT way to decorate your home and also make a great DIY gift idea.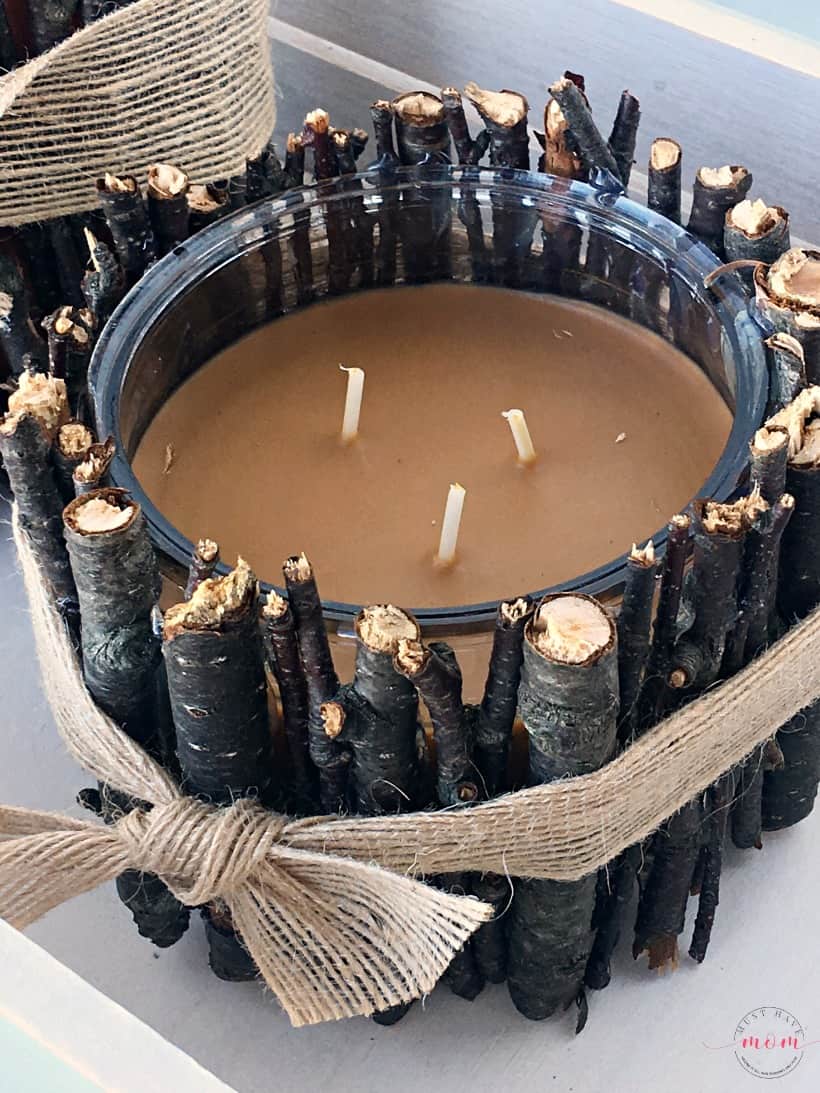 Fall is in the air, my older 3 kids are in school and that means I get to spend a little one on one time with my youngest son. We took him on a Fall nature walk this week and we made these amazing, rustic DIY candle holders with twigs we collected on our walk. I'll show you how to make them and get some bonding time in with your kids!
DIY Twig Candle Holders
I am in love with rustic, farmhouse style decor. Since I am also on a budget, I love to make my own farmhouse decor. These rustic DIY candle holders turned out looking like high-end decor and we made them with twigs we collected on our fall walk! I'll show you how to make them!
My husband and I set out on a fall nature walk with my three-year-old son Brady. He was so excited to go for a walk and he couldn't wait to collect twigs for our craft project. I was excited to have some bonding time with him.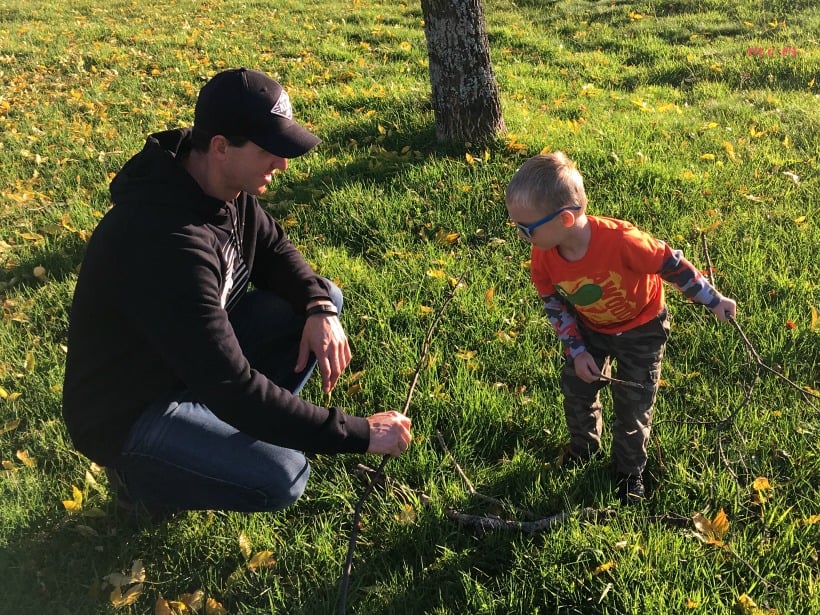 For the rustic DIY candle holders you'll want to collect various sizes of twigs that have fallen on the ground. Enlist the kids in this because they love it!
After all of our time walking, admiring the changing colors of the leaves, and collecting twigs for our project, it was time to take a break! Brady clearly enjoyed all of the attention from mom and dad and LOVED not having to share us with his siblings.
After we finished our nature walk we collected our twigs and headed home to make our DIY candle holders!
DIY Candle Holders Supplies:
twigs collected in the woods
hot glue gun and glue (I use this glue gun on high heat)
scissors
I found some yummy fall-scented candles while I was at Walmart so I picked up a few. They were really inexpensive and had easy peel labels that came right off! Grab a couple different heights so you can pair them together easily.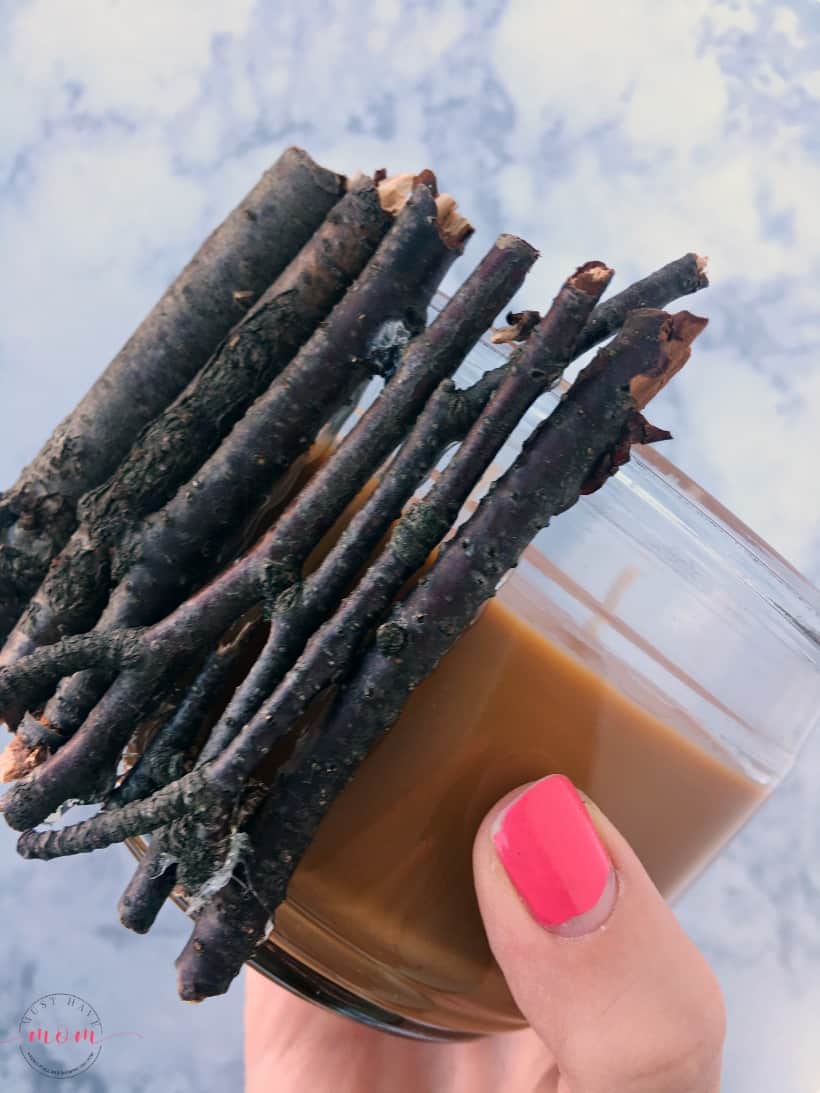 After you peel the label off your candle, you are ready to begin! Measure the height of the candle and use pruning shears to snip each twig to the correct height to cover the candle and extend just slightly beyond the top of the jar.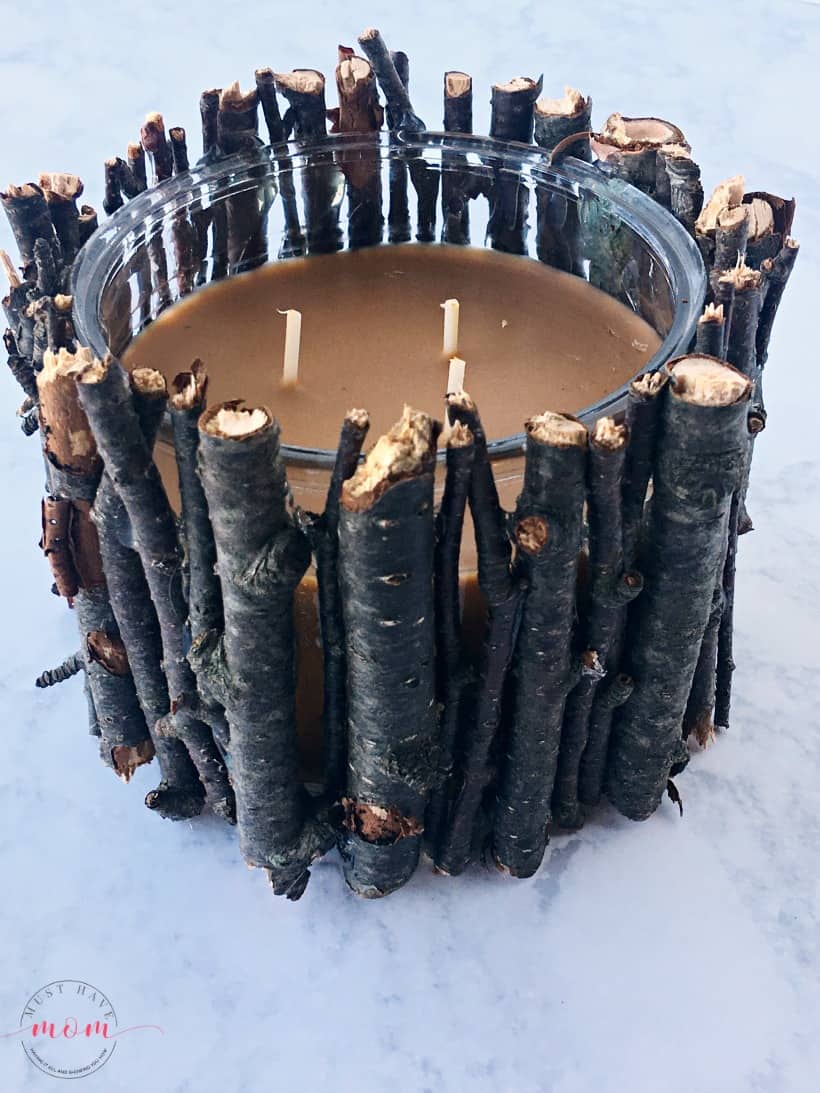 Then, use your hot glue gun to carefully glue the twigs around the outside of the jar, covering as much of the glass as possible.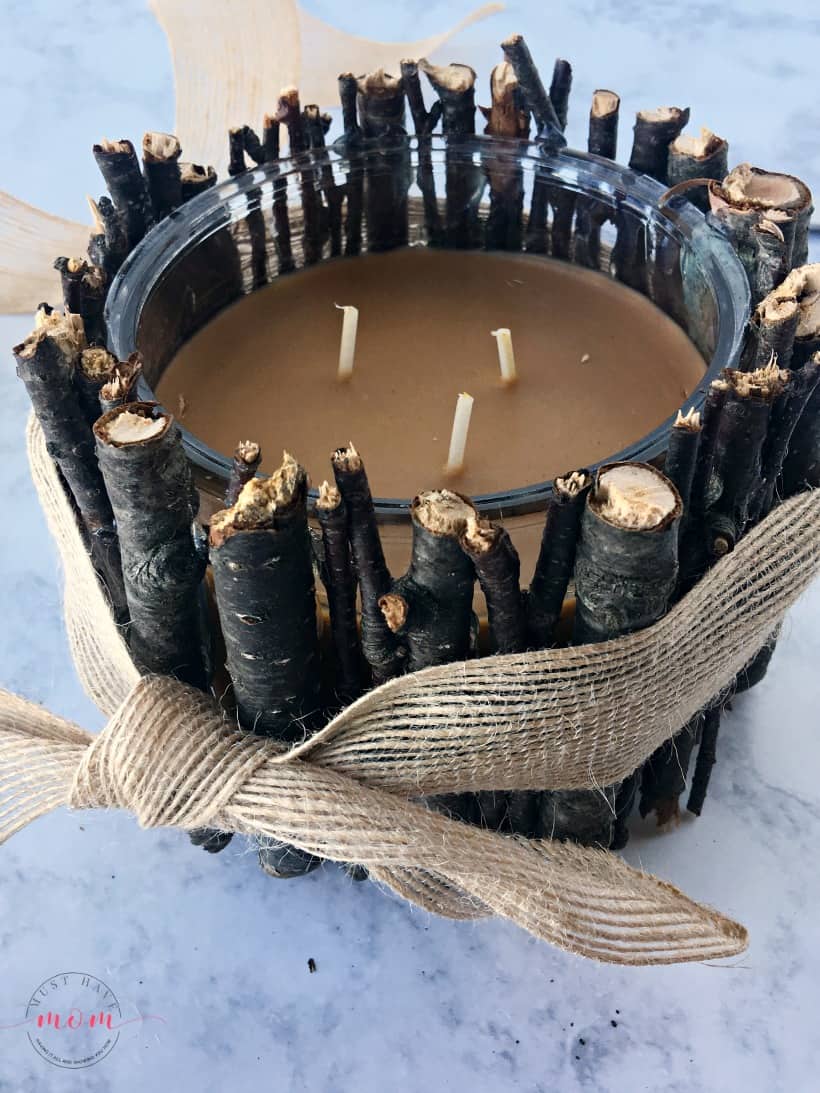 Then, use the burlap ribbon to wrap around the twigs and tie it in a knot.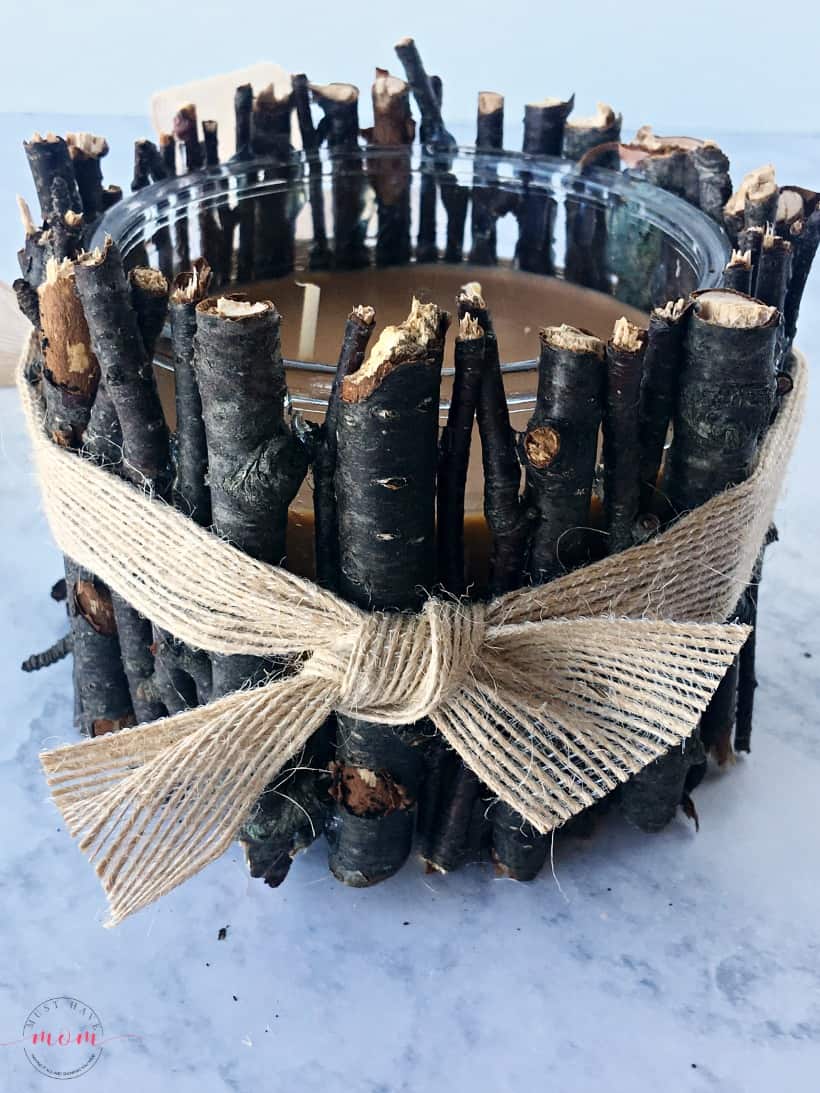 Double knot it and then trim the ends. The ribbon will help hold the twigs together and finishes it off beautifully to complete the look.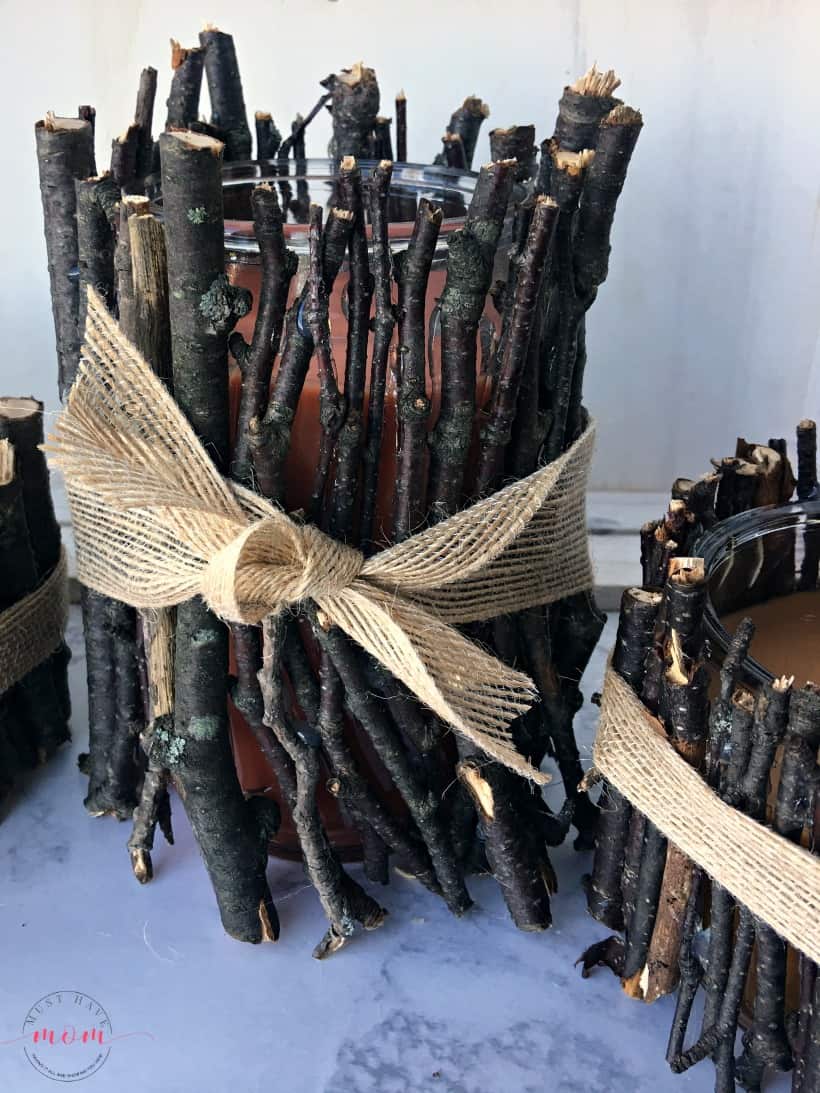 Then, complete the taller candle in the same way. Be sure to measure the height of the candle and cut your twigs the correct length. Finish it off with a burlap ribbon as well.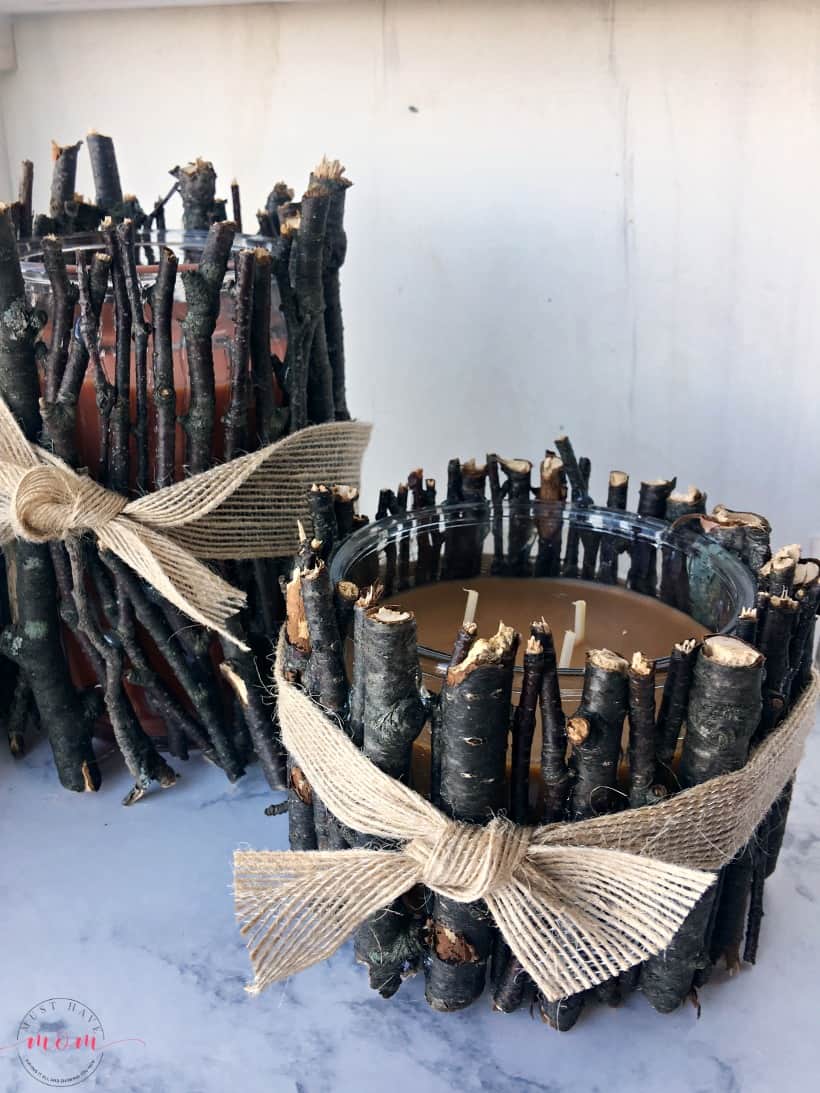 Didn't they turn out beautiful? The varying heights make for a beautiful tabletop display or mantel decor.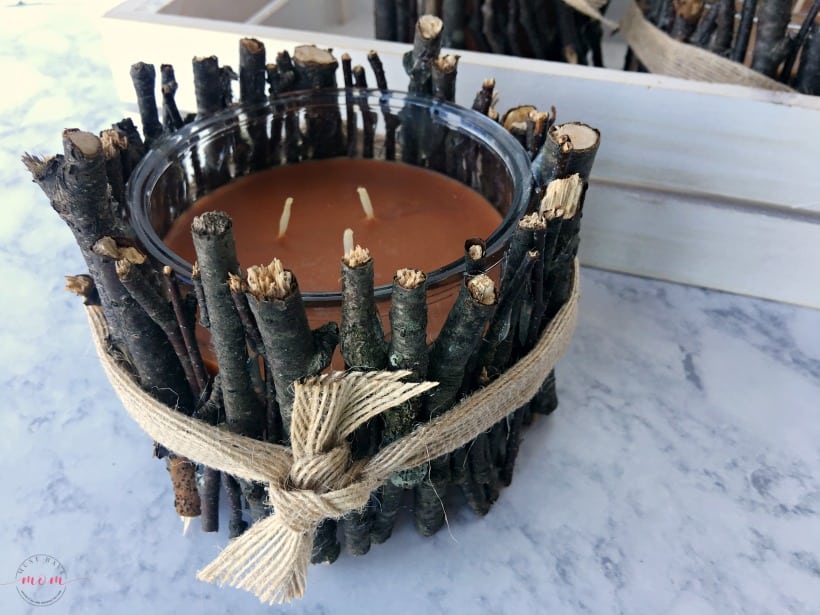 These DIY candle holders make excellent gift ideas and inexpensive rustic decor for your home!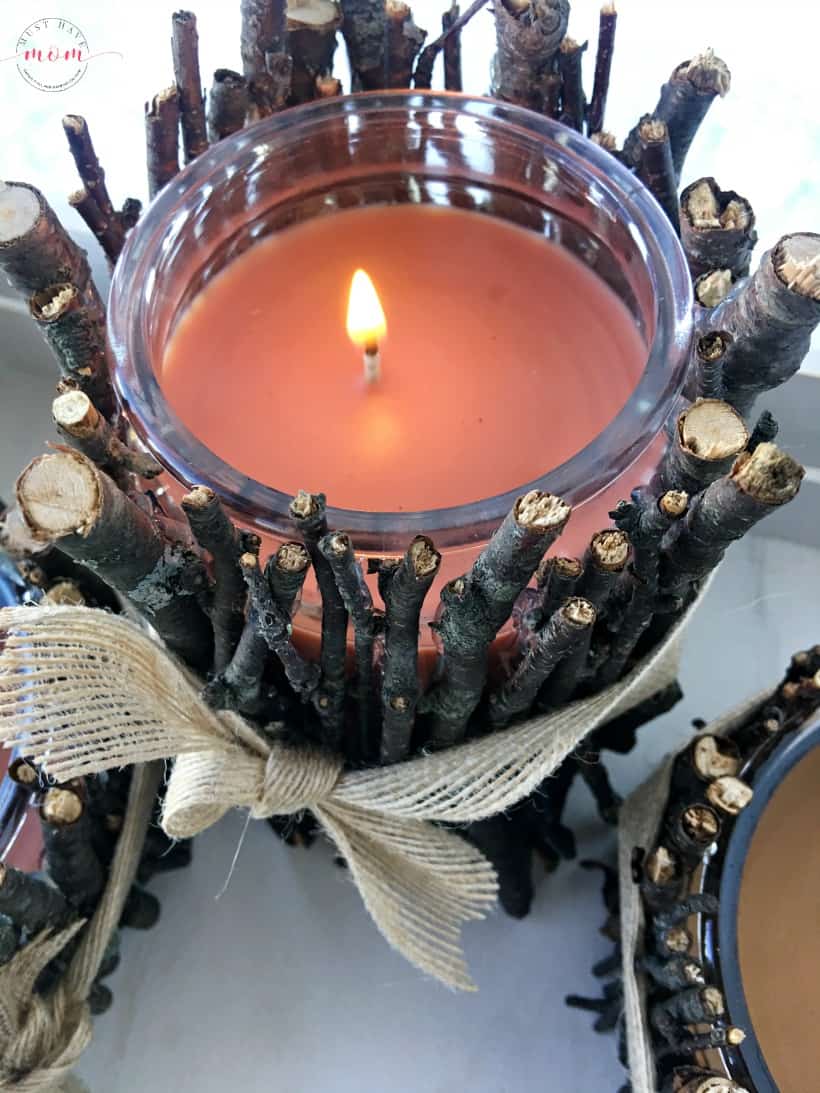 Once you are finished you can light them and fill your house with the delicious scents of fall! And as a daughter of a firefighter, I also have to remind you to never leave candles burning unattended.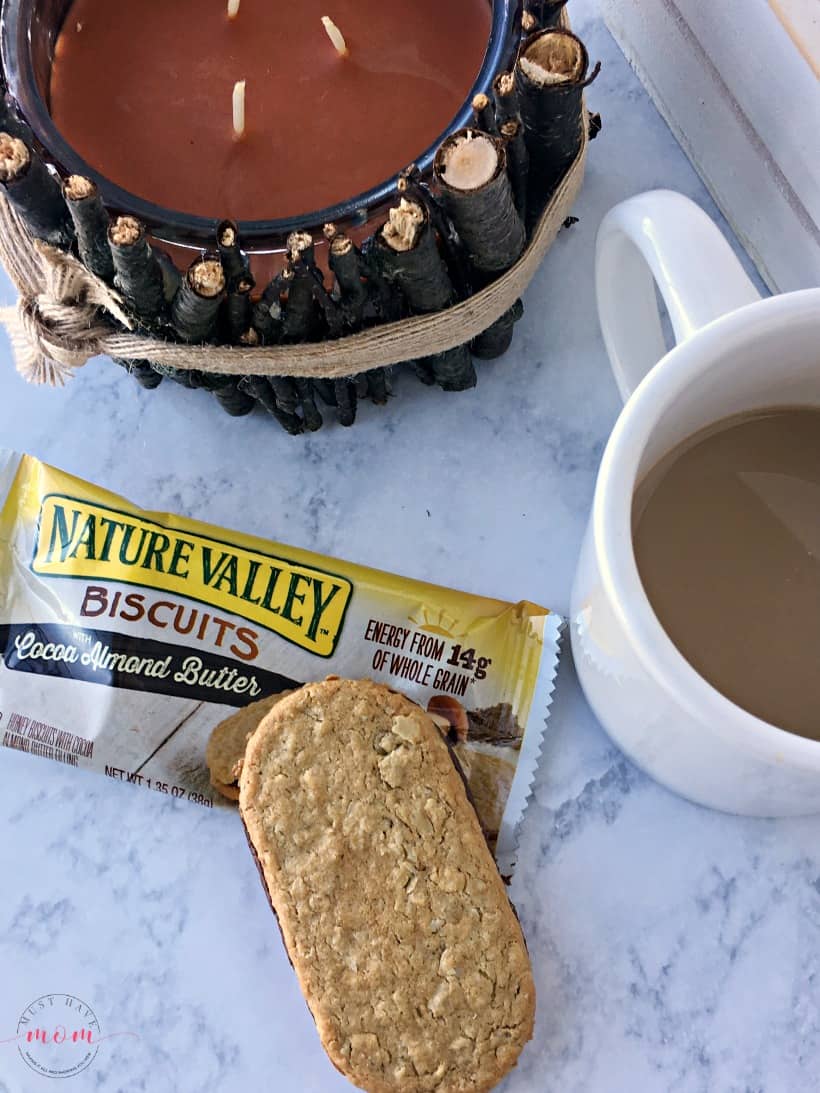 Pin these DIY Candle Holders: