DIY Recipe Dish Towels! Inexpensive Mother's Day Gift Idea
This shop has been compensated by Collective Bias, Inc. and its advertiser. All opinions are mine alone. #PalmoliveMultiSurface #CollectiveBias

Mother's Day is right around the corner and I've got a GREAT, inexpensive Mother's Day gift idea for those of you that just don't know what to get your mom for Mother's Day! It's easy, involves very little skill and it's really inexpensive. What more could you ask for? Well, mom will love it too which is also important! It will be a personal gift that speaks to her heart!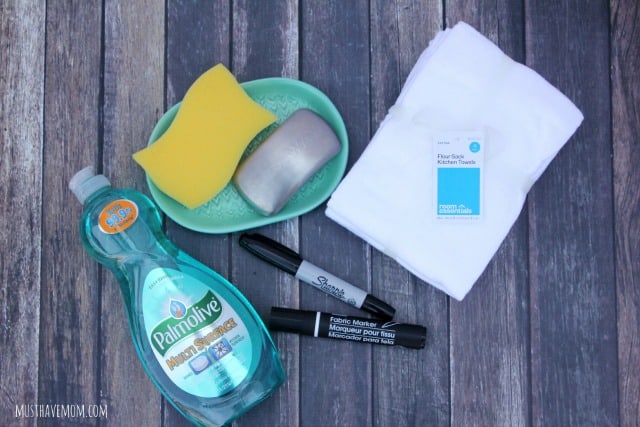 To make these recipe dish towels you'll need some white flour sack kitchen towels which cost me $3.99 for a 4 pack, a black, permanent fabric marker (or a Sharpie if you are in a bind but a permanent fabric marker works better), and a favorite family recipe. Don't forget to grab some fun items to pair with your recipe dish towels once you're finished.
Wrap them along with a fun tray for next to the sink and some Palmolive® Multi Surface dish soap (isn't that color gorgeous?). Another fun idea to include with your gift is a stainless steel Rub Away Bar
 which works great to remove smells like garlic or onion from your hands after you chop them! These are all unique gifts that your mom probably doesn't own already which makes them an extra special gift!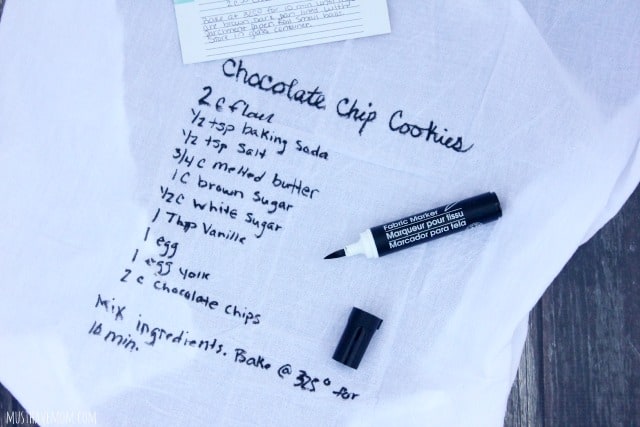 To create the towels you will need to first choose a special family recipe. You can decide whether you further personalize this towel by tracing the handwriting from your recipe or re-writing it in your own writing. If you have a special recipe from Grandma then it's an extra special touch to trace her recipe so your mom has a piece of history on her towel.
If you choose to trace the recipe you will need to place the towel over the recipe and hold it up to a window so you can see through it and trace over it. If you do this I find it easiest to tape the recipe to a large window and hold the towel tightly over the recipe and trace slowly and carefully.
Alternatively, you can re-write the recipe in your own writing. Either way make sure the towel is held taught so it doesn't move and mess up your writing. You may want to iron it before you begin but if you hate ironing as much as I do then it's totally not an essential step 🙂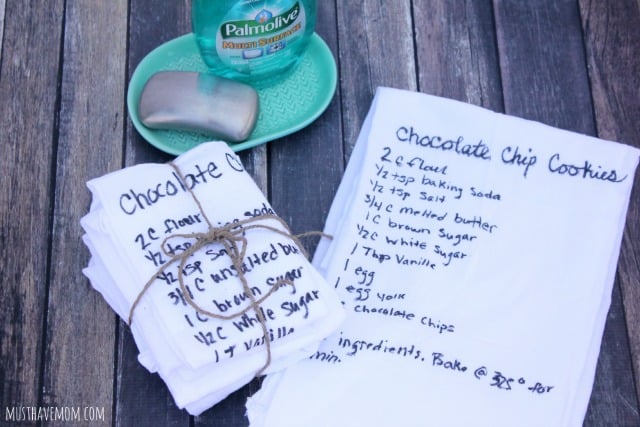 When writing your recipe ensure that you place it in the center of the towel if you divide it in thirds width-wise and half way down length-wise. To find the best place to write your recipe just fold your towel as if to hang it on the stove handle. The area of the towel that shows while hanging is where you want to write your recipe.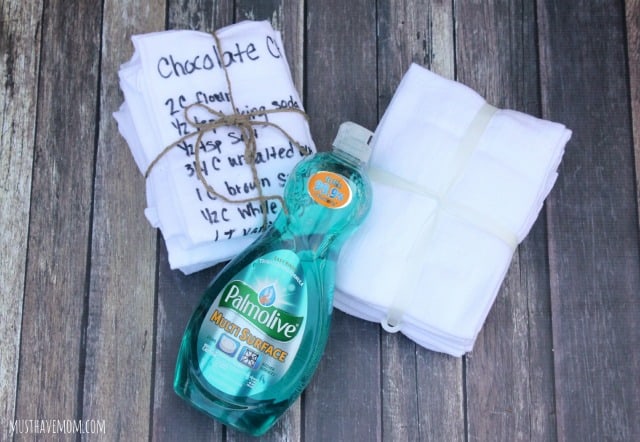 I chose to do 3-4 different towels, each with a special recipe. Then I bound them with twine for a special touch!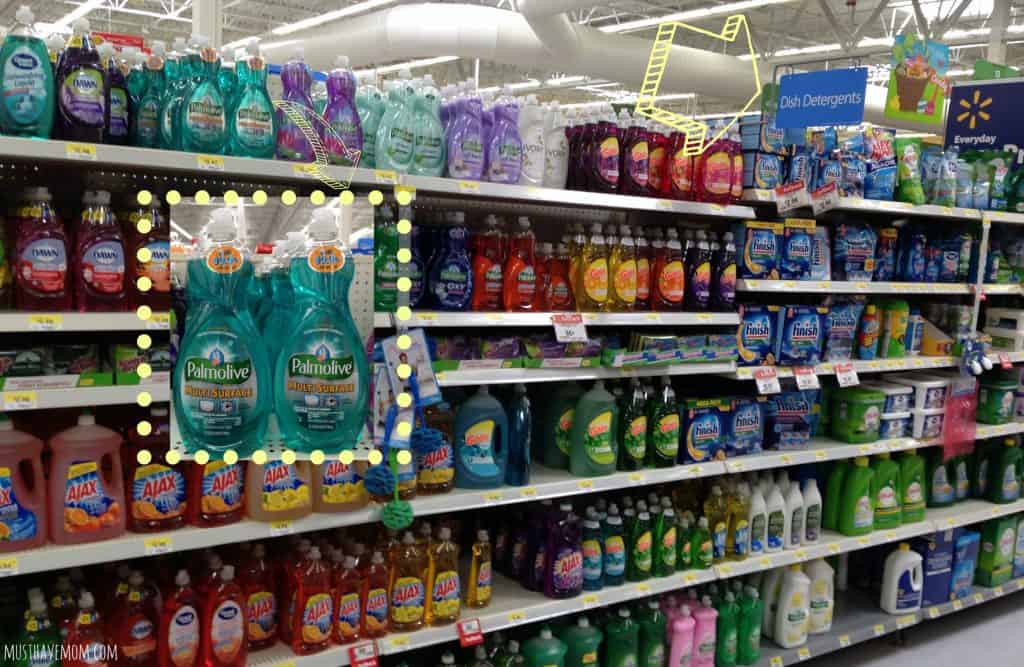 I also included Palmolive® Multi Surface because it is my favorite dish soap! Not only does it power through my dishes with little effort on my part, but it also works great at cleaning the surfaces in my kitchen! Having only 1 product for your kitchen cleaning needs can be a huge time-saver, meaning more 'me-time' for you and mom to relax! Not only that but I think it's the prettiest color dish soap available 🙂
Palmolive® Multi Surface eliminates 99.9% of bacteria (*staphylococcus aureus, Salmonella enterica and E. coli ((157:H7)) from dishes and hard non porous kitchen surfaces and can be found at Walmart in the dish detergent section.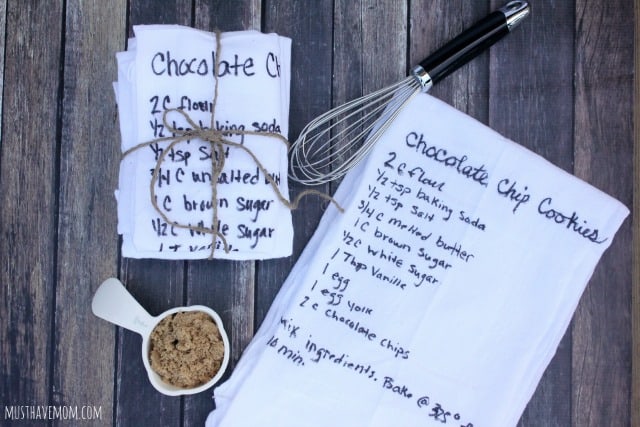 If you'd like some other fun ideas of what to pair with your recipe dish towels consider tucking a whisk under the twine in your bundle or include some measuring cups! Another fun idea is to include some of the ingredients. For example I could pair my chocolate chip cookie recipe towel with a bag of gourmet chocolate chips!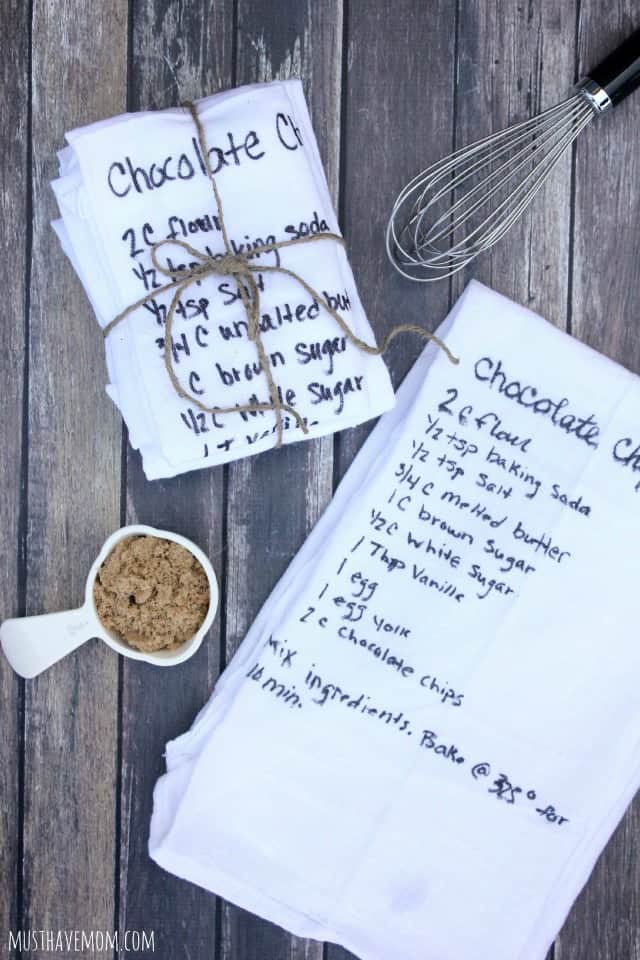 What are some of your favorite inexpensive Mother's Day gift ideas?