DIY Graduation Gift Idea! Graduation Cap Mason Jar Filled With Money Diplomas!
Thanks to VSP for sponsoring this post.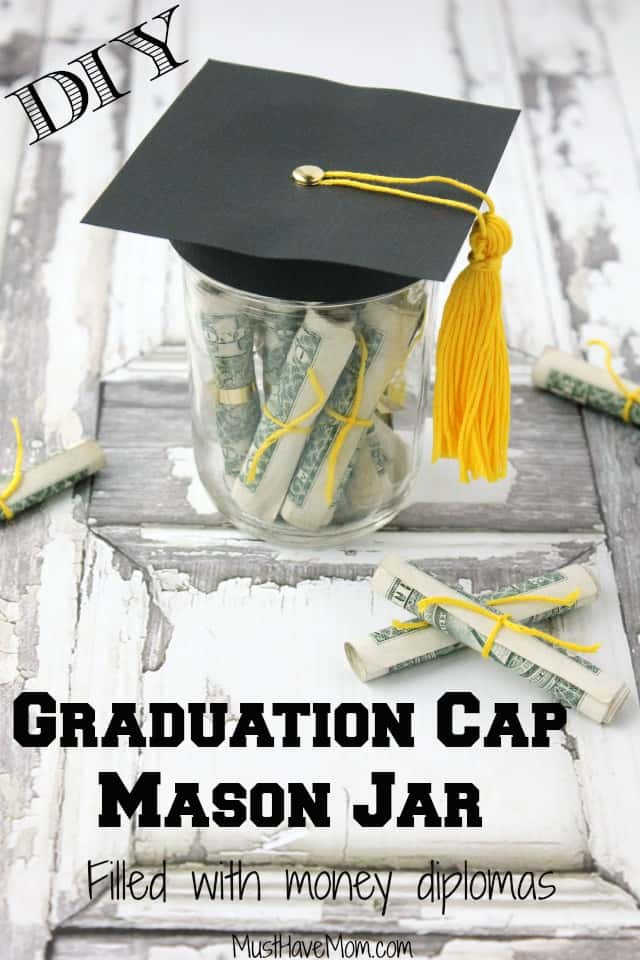 Get creative with your graduation gift giving this year and make this easy graduation cap mason jar filled with money diplomas! Don't just give a card with money in it. That's boring! Be creative! Think outside the box when it comes to graduation gift ideas too. Know a graduate who doesn't have vision insurance? VSP Vision Care has affordable individual insurance plans that can offer any graduate a bright future full of new clarity! Send them off to college knowing their vision is well cared for (and that they can see the board that they are paying so much to see!).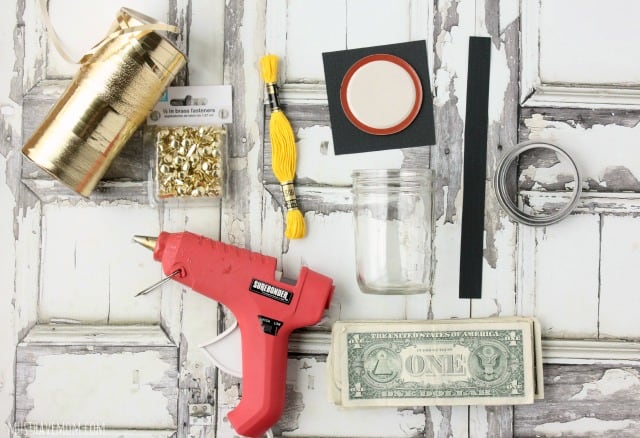 To create this DIY graduation gift you'll need the following supplies:
1 pint size mason jar, lid and ring
black cardstock paper, 1 12″x12″ sheet
one gold colored embroidery floss
1 brad (gold fastener)
$1 bills
optional: curling ribbon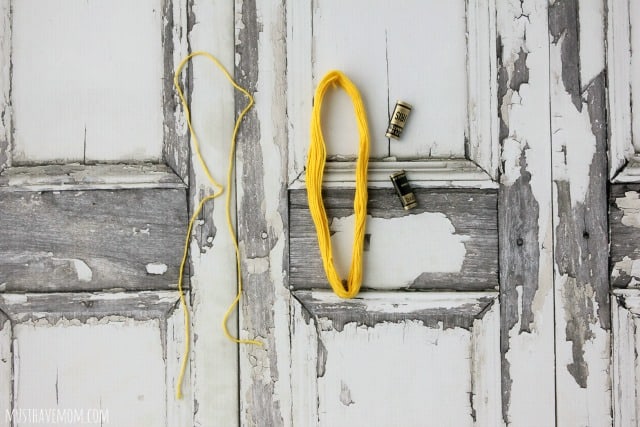 Begin by creating the tassel for the graduation cap. Remove the paper packaging but keep the loop in tact so it remains the same shape as when you bought it. Unwind approx 12″ of floss and cut it, keeping the rest of the floss looped.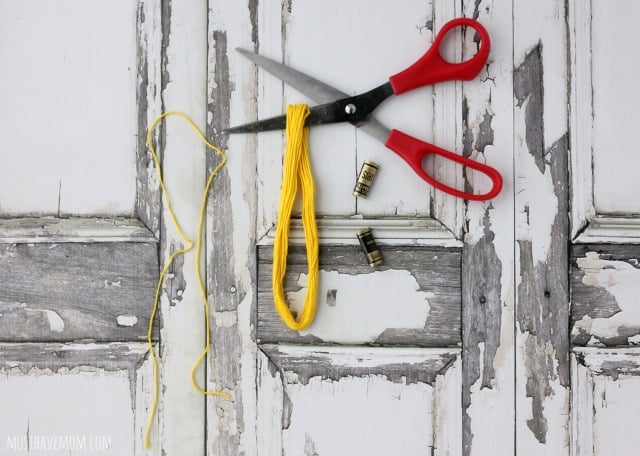 Now cut one side of the floss loop, leaving the other end in tact.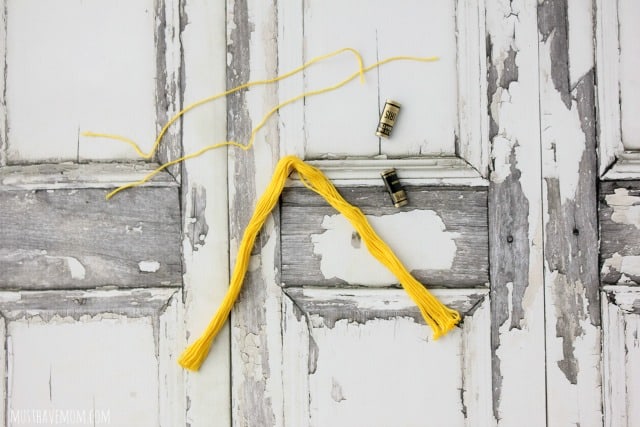 Now cut your 12″ piece of floss that you removed previously in half.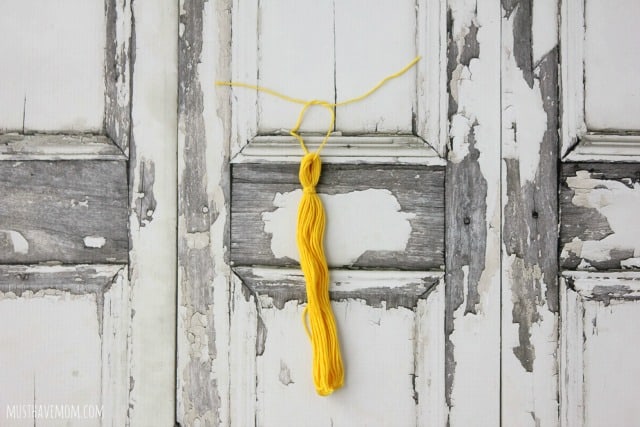 Use one of those single strands of floss to wrap around the end of the floss that you did NOT cut. Begin by tying a knot and then loop the floss around and around until you reach the end. Then tie it off and trim the rest off.
Next, use the remaining single strand of floss and loop it through the loop you just created. Tie a loose knot leaving it so you can measure the length before double knotting it.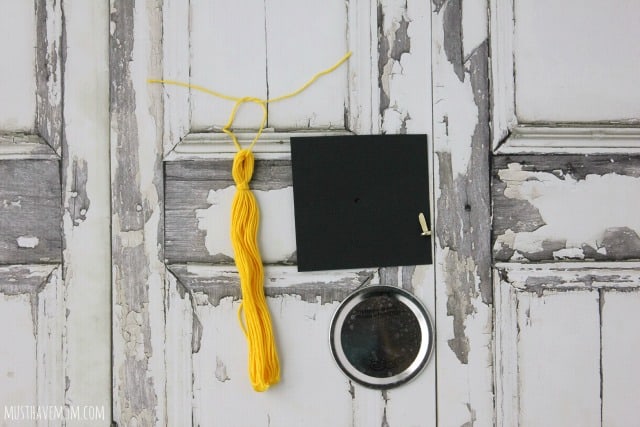 Set aside the tassel now and begin working on the graduation cap.
Place your lid on your cardstock and cut a square out that is slightly bigger than your lid.
Poke a hole in the center of your square cardstock with the brad fastener.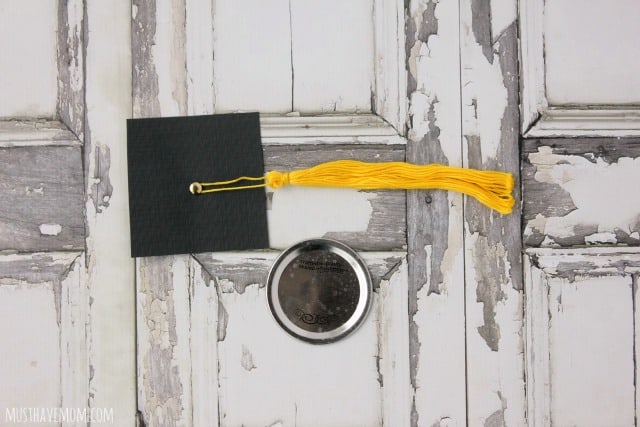 Now loop the tassel on the brad fastener and double knot it and trim it once you have measured it to hang over the side of the cardstock so it resembles a graduation cap. Trim the loose ends and fasten the brad to the cardstock.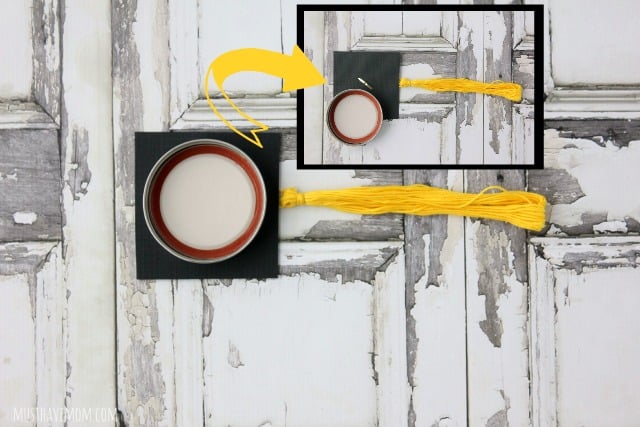 Next you will hot glue the lid and ring to the black cardstock. Be sure you are gluing the lid and ring to the underside of the cardstock as shown in the picture.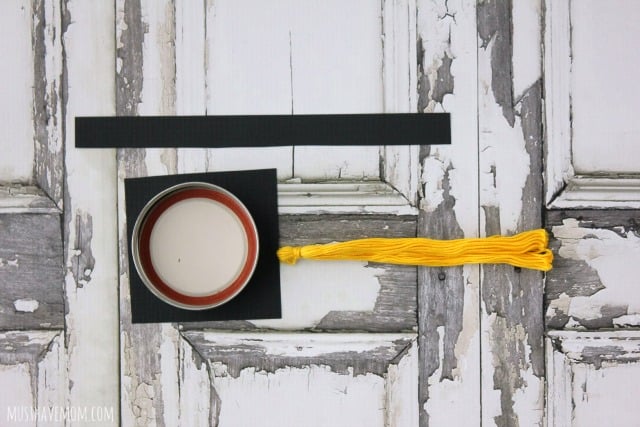 Next cut a 1″ x 10″ piece of black cardstock to cover the ring. You can also just use your ring to measure the amount of cardstock you need to cut.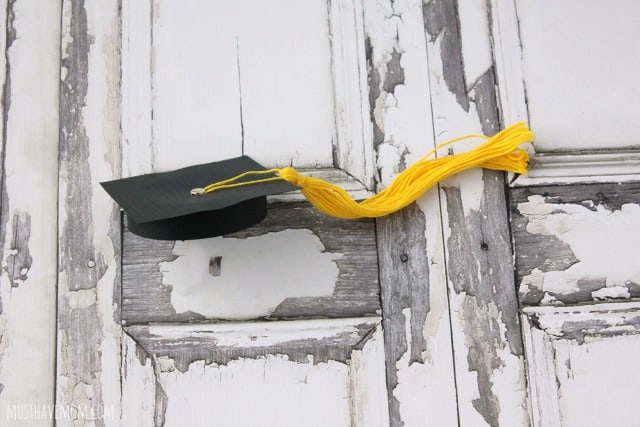 Now hot glue the cardstock to the ring to cover it and create the look of a graduation cap.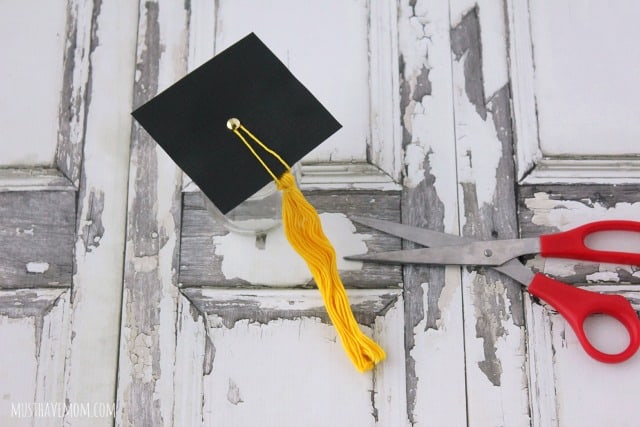 Now place the "cap" cover on the mason jar and trim your tassel so it hangs nicely and isn't so long.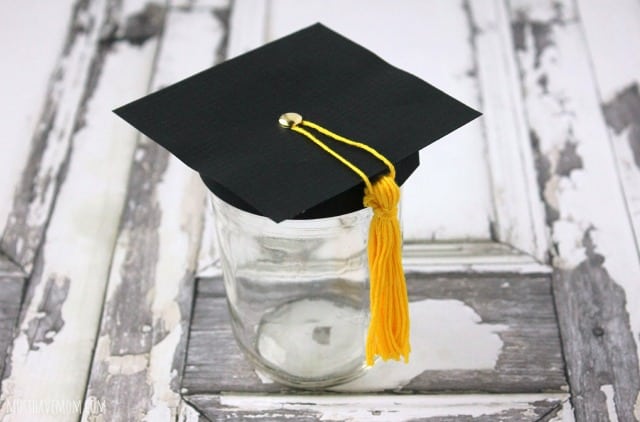 It should look like this when you are finished.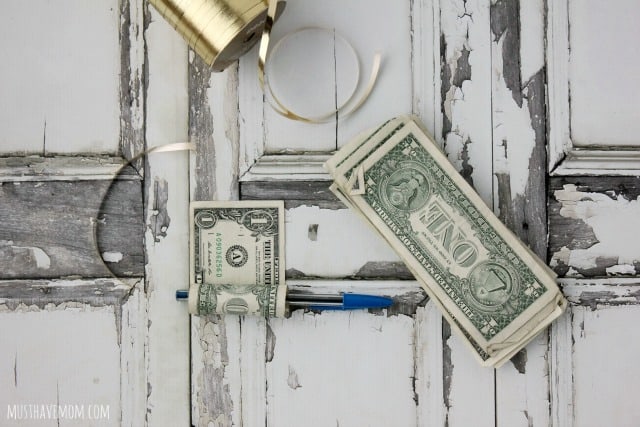 Now you can create your money diplomas to fill your jar with. I found it easiest to use a pen to roll up the bills with.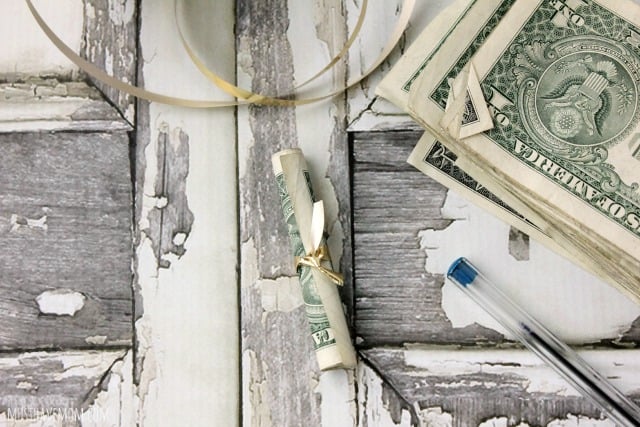 Then tie them with curling ribbon or with the leftover embroidery floss you had after trimming your tassel.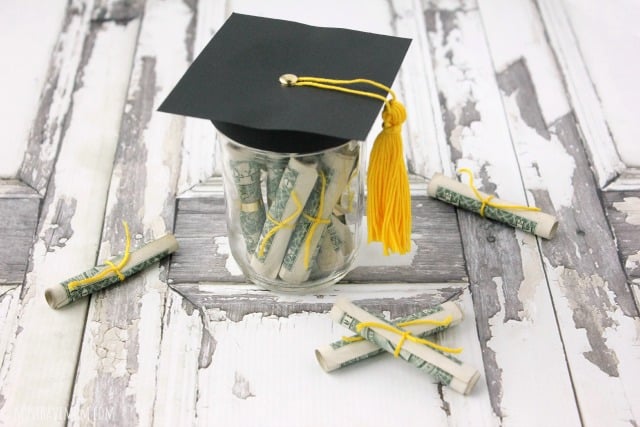 Fill the mason jar with the money diplomas, attach the graduation cap lid and you're ready to give the most creative graduation gift ever!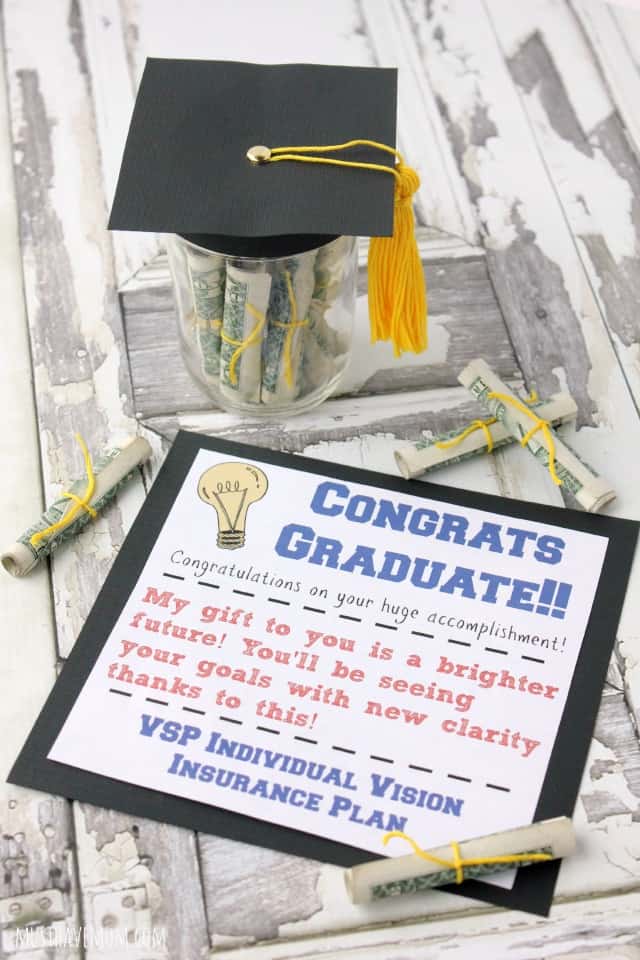 Now take it one step further and gift the new graduate with a VSP individual vision care plan too! Everyone deserves to see clearly and graduates definitely need clear vision as they head off to college. You want to know they are able to see the board and be able to take notes and actively participate in class. Good vision is the start to all of that! I even created a free printable that you can print off to give them along with your gift of vision insurance to them!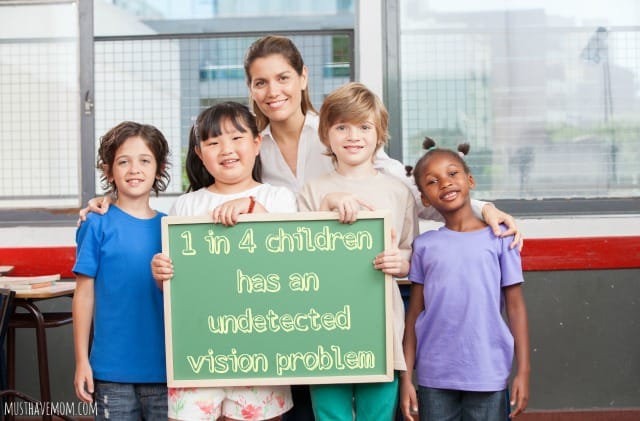 Did you know that 1 in 4 children have an undetected vision problem? About 20% of children struggle to read because of vision problems and this effects their ability to learn. An annual comprehensive eye exam can ensure that correctable visual problems don't become permanent.
Coverage includes:
Covers the eye exam with a low co-payment
Provides allowance for glasses or contacts, fully covered lens options
Lowest out-of-pocket cost in vision care with a typical annual savings of $227
100% satisfaction guaranteed
30,000 providers in convenient locations makes VSP the largest doctor network in the industry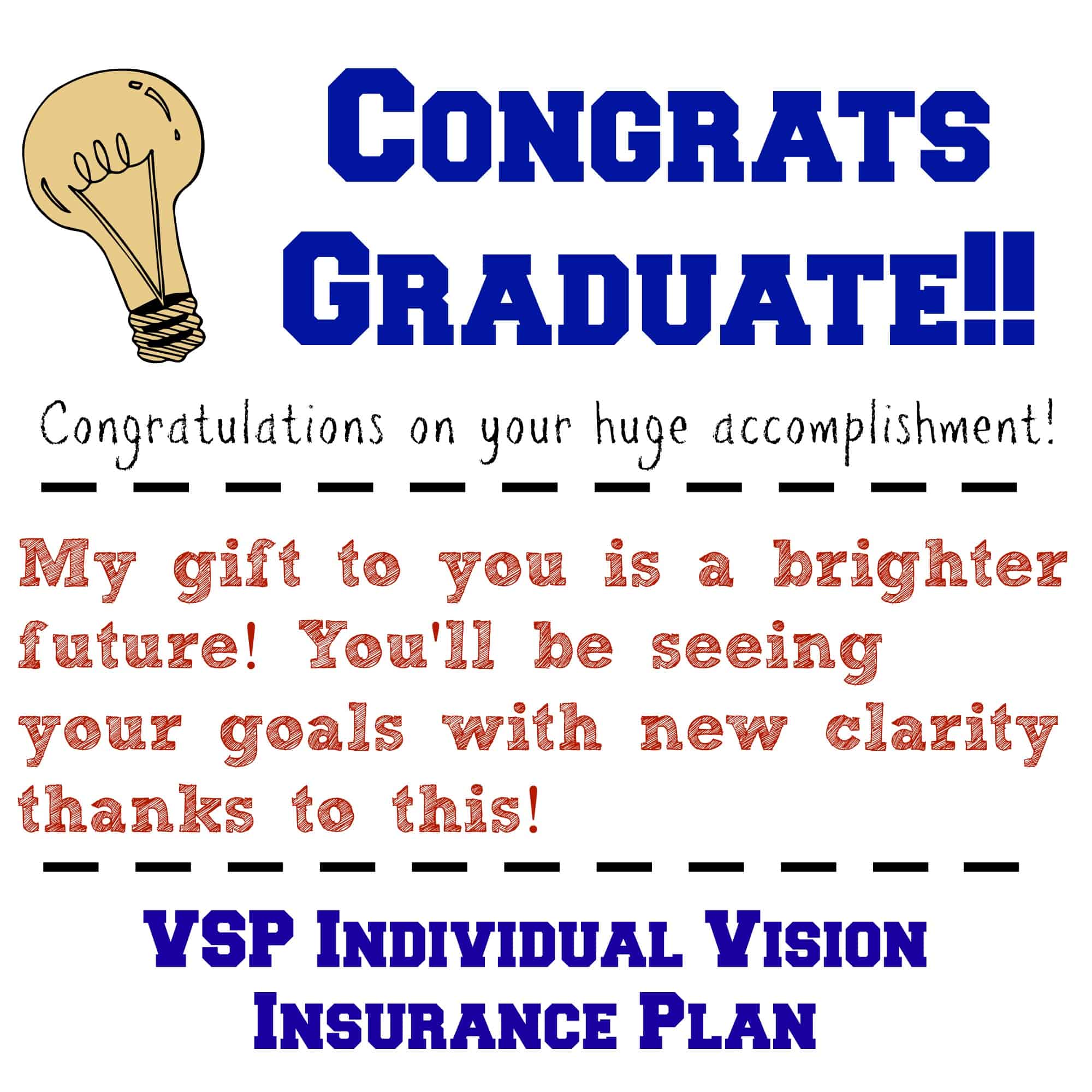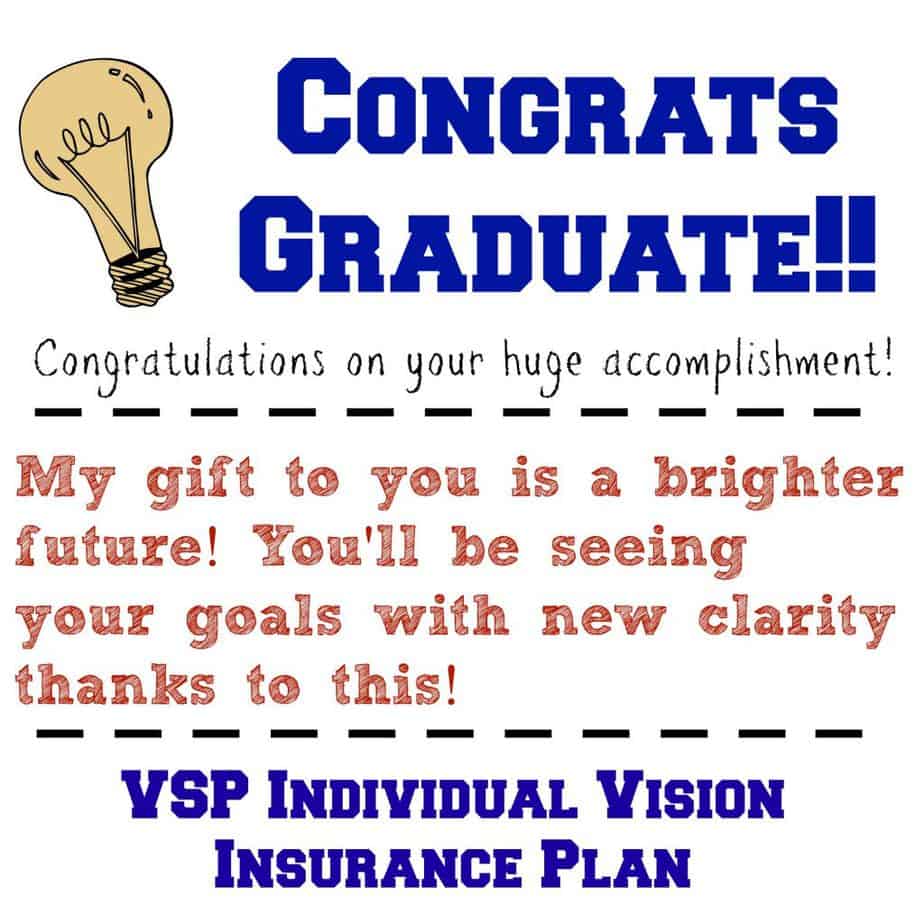 Print off your free printable graduation gifting card here.
You can check out the VSP vision care plans and purchase them here.