It's no secret that we love bath bombs. They are a great stress reliever and even the kids love them. Now you can surprise kids on their birthday with these DIY Birthday bath bombs. These birthday bath bombs are made with all-natural ingredients and they fizz beautifully and make your skin feel silky soft.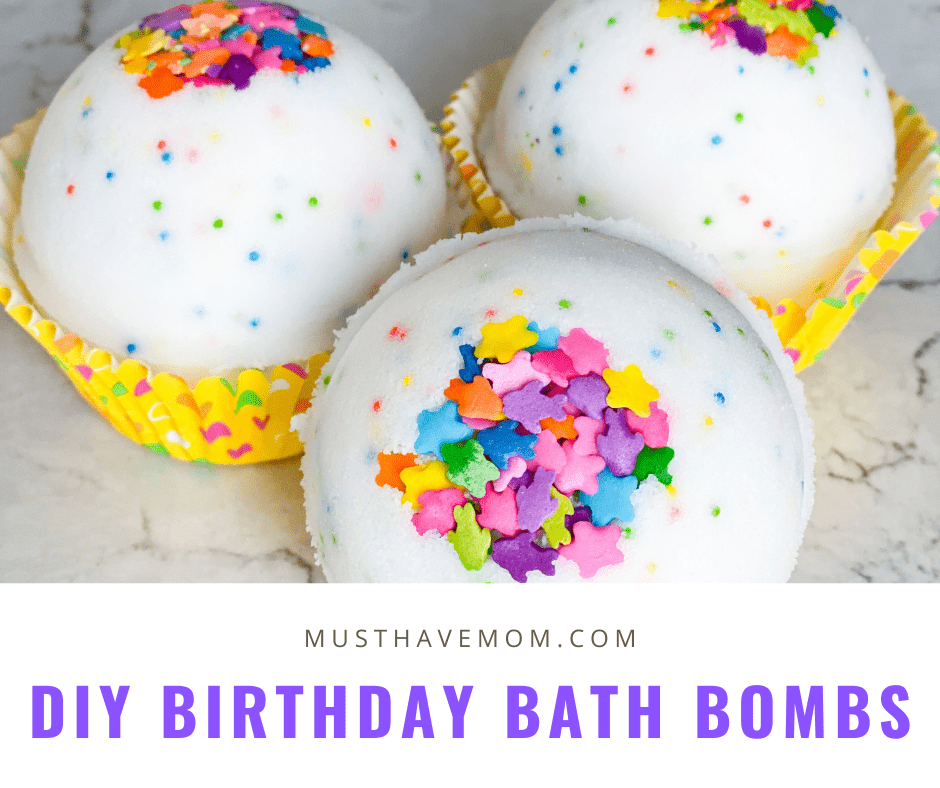 I recently made bath bombs with a toy inside and they were a huge hit for all my kids. The boys especially loved the little trinkets and it gave them something to play with in the tub. Since I have made it a point to try out more self care ideas, I knew that birthday bath bombs would be a perfect gift idea for not only my children but also my friends and family.
DIY Birthday Bath Bombs
For these birthday bombs, you just need a few simple ingredients.
For the birthday bath bombs – put birthday sprinkles into half of the mold before adding the bath bomb mixture. Fill another half with the mixture as well and press together. When you open the mold you'll see the sprinkles on top. I added them into some colorful cupcake wrappers to dress them up a bit.
Copycat Lush Bath Bombs
Lush bath bombs are amazing. But they come with a really big price tag. These copycat Lush bath bombs are just as amazing and are only a fraction of the cost.
Try these tips for making your bath bombs:
For variety,  you can change the color of your birthday bath bombs by adding food coloring. I kept them white to make the sprinkles really pop.
Make sure you pack your bath bomb mold tightly with your mixture for the best results.
Give your bath bomb plenty of time to harden. It may crumble if you take it out of the mold too soon.
The most common reason bath bombs expand too much is the mixture is too wet, and the fizzing reaction is happening prematurely. In addition, bath bomb mixtures can fizz prematurely due to moisture in the air. Try making your bath bombs on a clear, low humidity day.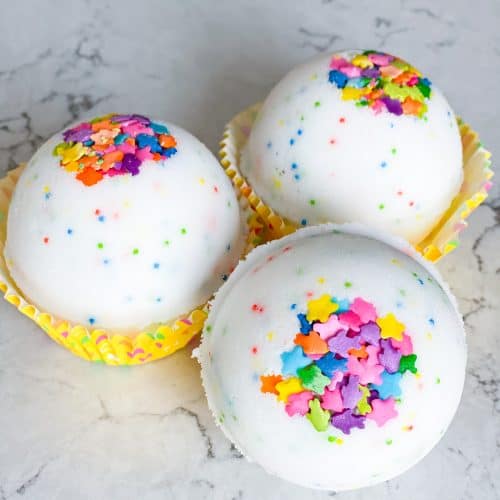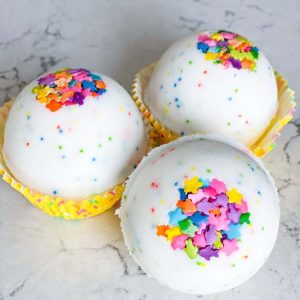 Birthday Bath Bombs
The best birthday bath bombs using all-natural ingredients! These fizz beautifully in the bathtub and make your skin feel silky soft. Plus they have sprinkles!
Ingredients
1 1/2

cups

baking soda

1

cup

citric acid

essential oils for scent

2

teaspoons

rainbow sprinkles
Instructions
In a large bowl, combine baking soda and citric acid together and mix well.

Use half of the mold and add sprinkles first. Then scoop up a heaping scoop of the mixture. Repeat with the other half of the mold. Don't pack them in, just let them be heaping.

Press the two halves together and give them a gentle twist to lock them together. Brush away any excess mixture that came out the sides.

Let it sit for a few minutes and firm up. Then carefully open up the mold and see if your bath bomb is formed enough to remove it from the mold.

If needed, you can add extra dry ingredients or coconut oil depending on if your mixture is too dry or too wet. This will vary depending on your local climate

Remove onto a tray and allow to sit undisturbed for 24 hours or until dry and firm.

Store for up to 6 mos.
Notes
For essential oils, you can use any combination your want. I use:
6 drops of stress away
2 drops cinnamon
2 drops nutmeg
1 drop cedarwood
OR
2 drops of stress away
2 drops valor
1 drop lime
1 drop lemon
Birthday Bath Bomb Scent Essential Oils:
You can use any combination you want in your bath bombs to customize scents that you like the best. For these I used either:
6 drops of stress away
2 drops cinnamon
2 drops nutmeg
1 drop cedarwood
OR
2 drops of stress away
2 drops valor
1 drop lime
1 drop lemon
Can You Use Food Sprinkles in Your Bath Bombs?
Yes, you can use food sprinkles in your bath bombs. Sprinkles are non-toxic and will dissolve or wash down the drain without any issue. It makes for colorful, fun bath bombs that are completely safe.
Pin DIY Birthday Bath Bombs
We love when you pin our content. It allows you to find it easier and also lets others see it.