DIY Water Bomb Flowers Pool Toy & Game Idea
This is a sponsored post written by me on behalf of Stearns Puddle Jumpers®. All opinions are 100% mine.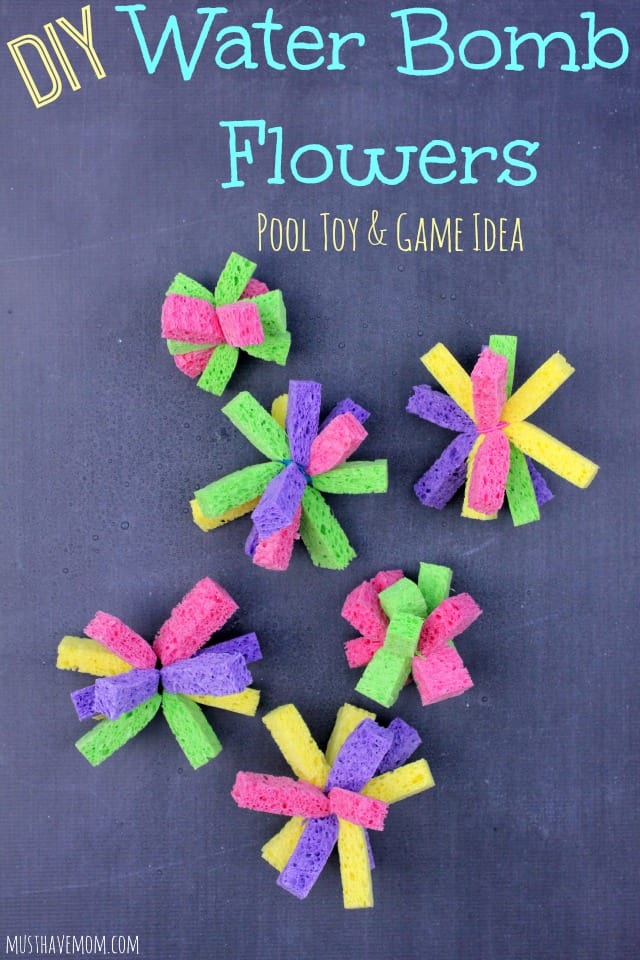 After a failed trip to the Waterpark of America this Winter we realized that our kids were all afraid of the water. We knew we needed to do something to change this before Summer came. We enlisted the help of my sister who is a lifeguard and has given swimming lessons. We began visiting the pool once a week for private swim lessons with Auntie. I cannot believe how far my kids have come and I am so excited for them! They have conquered their fear of the water and they are looking forward to swimming at the cabin this Summer! Victory!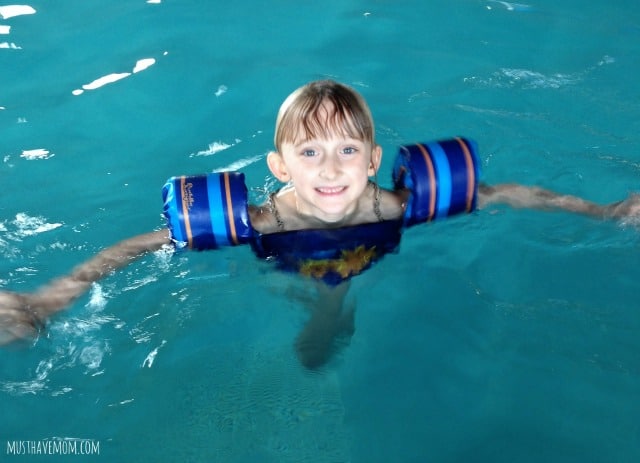 When we began our kids were very attached to cumbersome life jackets that they didn't want to take off. We needed them to experience mobility in the water so they could get used to the motions of paddling their arms and legs without the restrictions of traditional life jackets. The Stearns Puddle Jumper has long been a favorite of ours for the mobility it offers our kids and while we were used to using it primarily for safety on the lakeshore, we found it also worked great for swimming in the pool too! It kept Danika up above water while she learned the different paddles and kicks.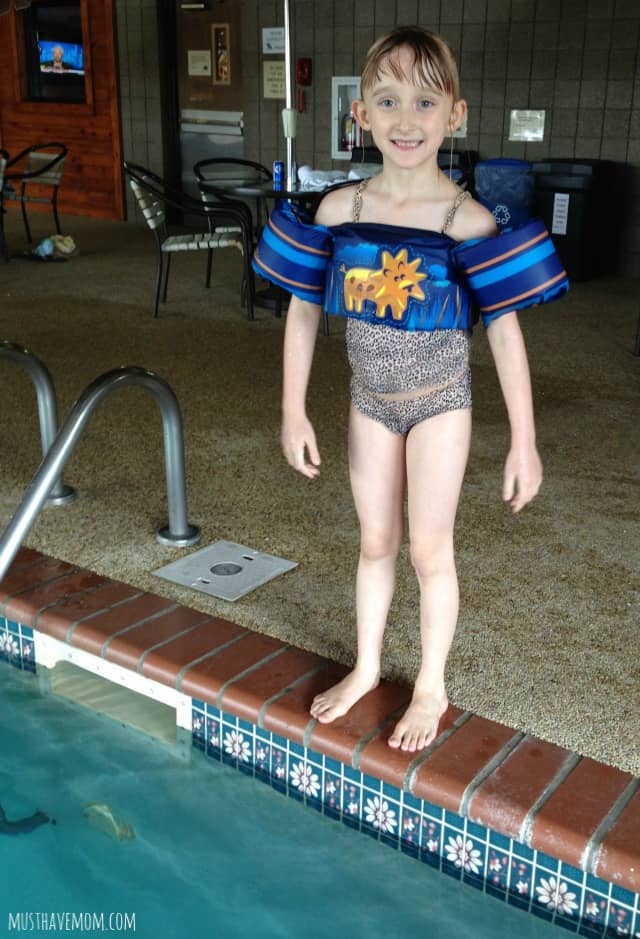 The Stearns Puddle Jumper even gave her confidence to jump in the pool without someone there to catch her. She felt a newfound freedom in the water while still feeling safe and secure. This built her confidence until she was able to learn to swim without any flotation devices! The Stearns Puddle Jumper will definitely be our go to flotation device all Summer long. It is perfect for kids playing on the beach, near water or in the pool. It keeps them safe while still offering freedom of motion. For more info (and where to buy) these awesome kids flotation devices check out StearnsFlotation.com.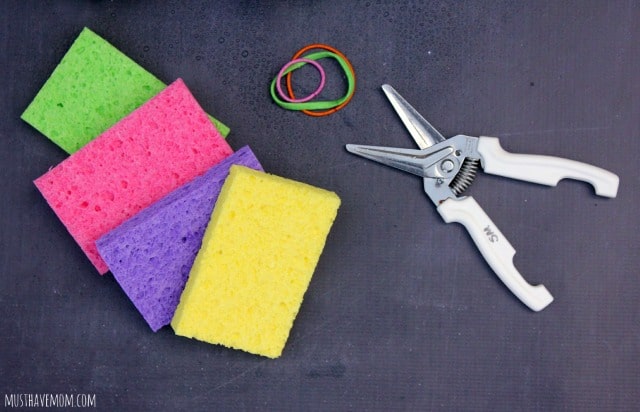 As part of our swimming lessons I created these DIY Water Bomb Flowers to encourage the kids to swim across the pool. It gave them something to swim towards and distracted them from the task of swimming across the pool and instead gave them a goal to reach. Plus once the game was over they could launch them at their siblings and soak them!
To make these sponge water bombs you'll need four standard sponges (the soft ones, no scrubbies!), hair ties or rubber bands and kitchen shears or sharp scissors.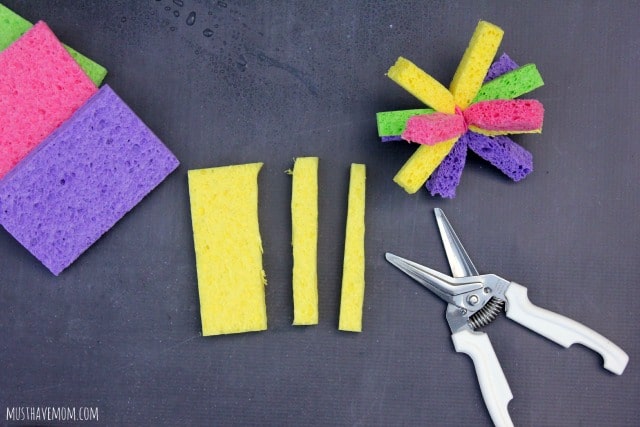 You will cut each sponge into four strips.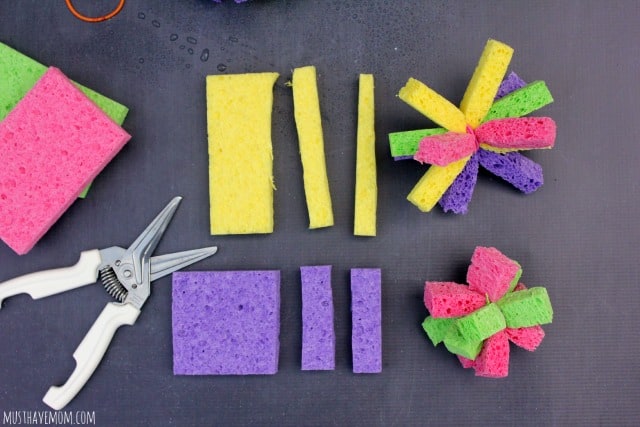 You can cut them the long way or the short way depending on what size you want your flowers to be. I did a mix of both so we had big and small flowers.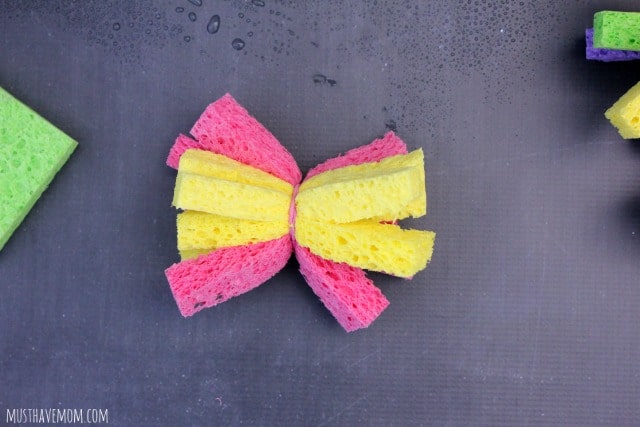 Then once you've cut up all your sponges, grab six sponge strips and bundle them together, securing them in the center with a rubber band or hair tie.
Then fluff up your sponges to create the flower look. To do this just pull each sponge strip in a different direction.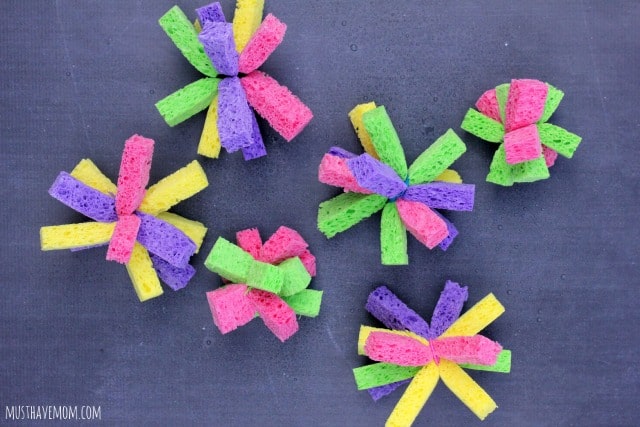 Now you are ready to play! These float in the water and they also soak up water so they soak whoever you toss them at!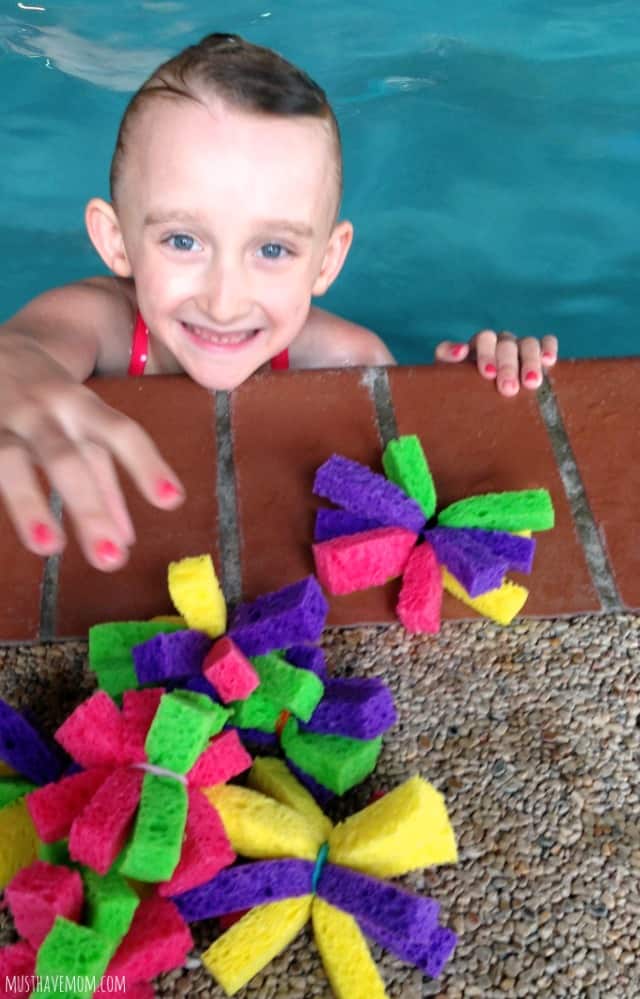 Begin by tossing your flower water bombs into the pool, throwing them all around the water.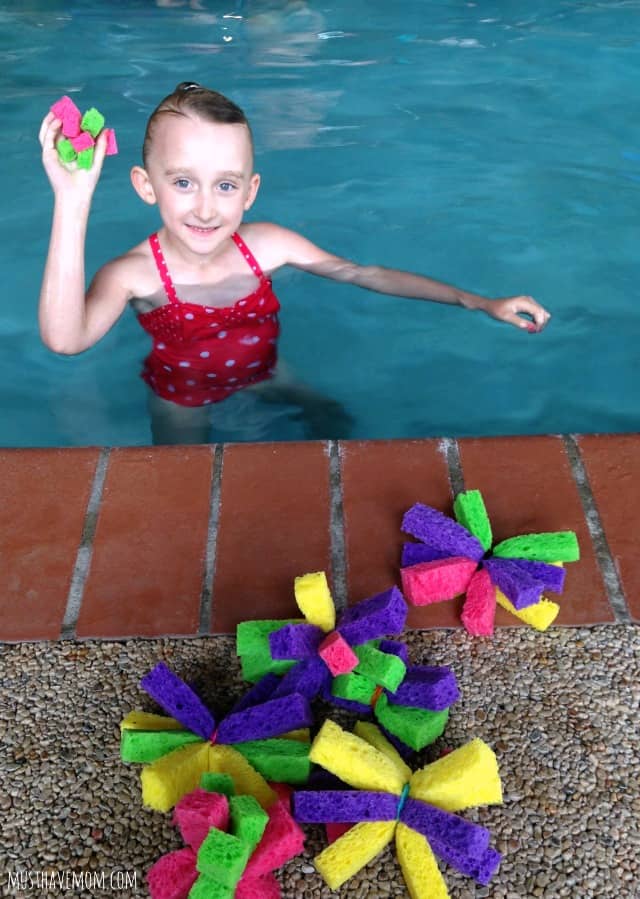 Make sure to spread them out nicely in the water.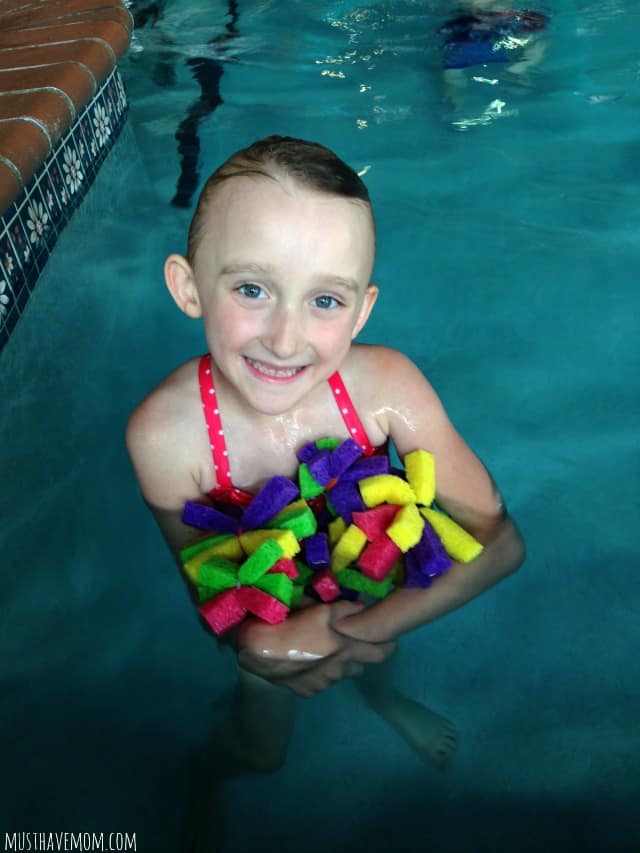 Then your little swimmer can swim around collecting their flower water bombs until they have a bouquet of flower water bombs! This encourages them to swim around the pool and it builds confidence in their own swimming skills!
What are your favorite pool games?