DIY Dresser Makeover The EASY Way!
This is the EASIEST way to do your own DIY dresser makeover! Painting a dresser white does not have to be difficult and with this method, it's a breeze! Quit struggling with painting furniture and learn these secrets!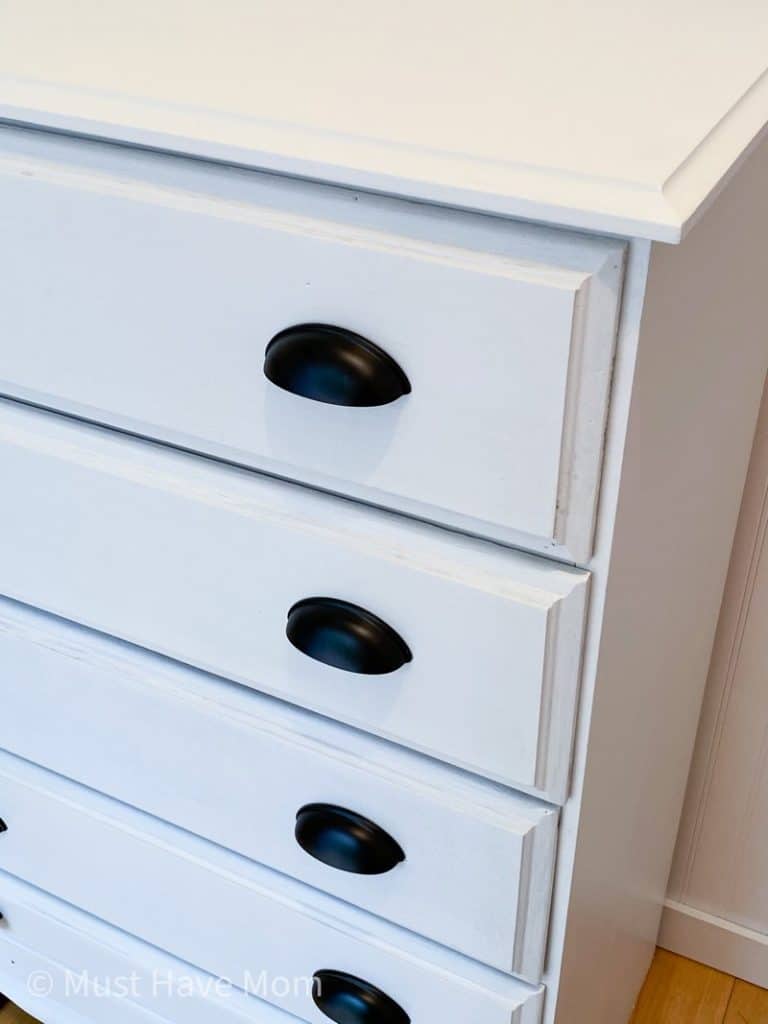 I love painted furniture makeovers, however, I hate painting furniture. It's a catch 22! With this easy DIY dresser makeover tutorial you'll learn the easiest way to paint furniture without the usual frustrations and time-consuming methods. You'll be able to easily paint any piece of furniture in just two coats without the big time commitments, time spent sanding or prepping the piece. This is truly a game-changer!
Painting A Dresser White
Painting wood white can be so frustrating because it often requires many coats of white to cover the wood underneath. By using Beyond Paint you'll only need 2 coats of white and you'll be done! It makes it SO easy. Plus, the beauty of Beyond Paint, and the reason it is my favorite, is that you don't have to do any sanding or prep work. Just wipe down the item with a rag and some simple green to get it clean and you are ready to paint! How awesome is that? I have yet to meet someone who has said they love sanding! YUCK!
So let's get to painting a dresser white and show you step by step how to do it the easiest way possible! Ready? Keep scrolling!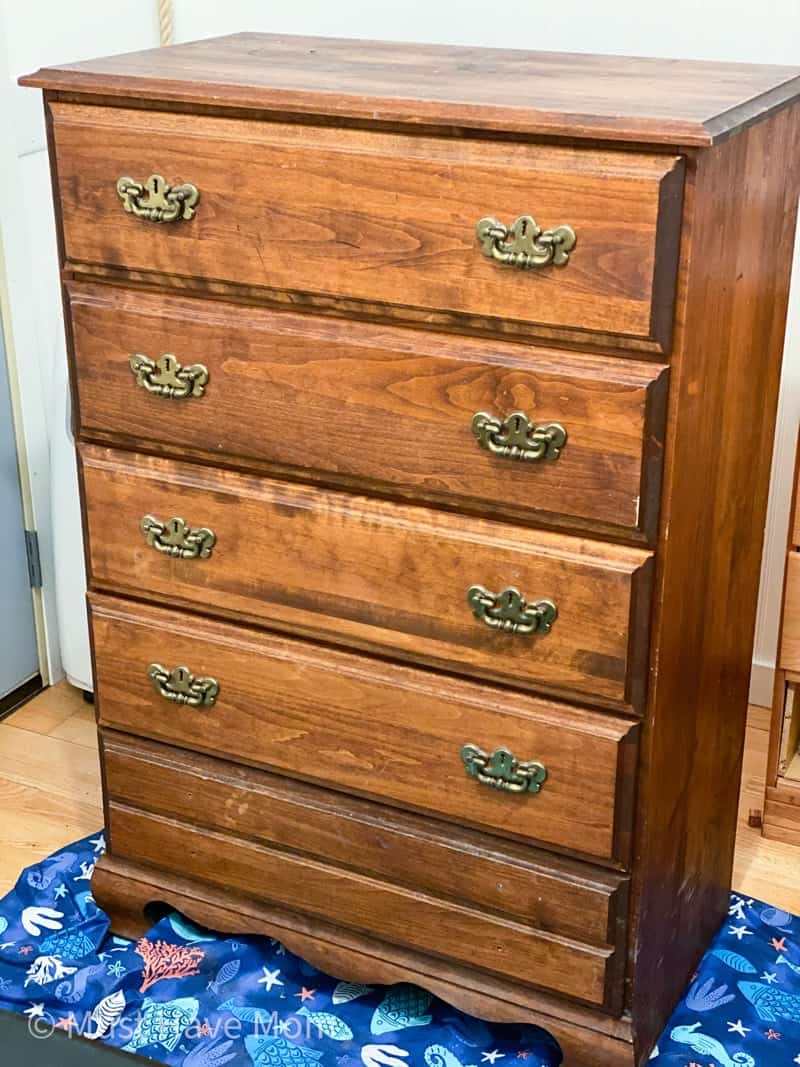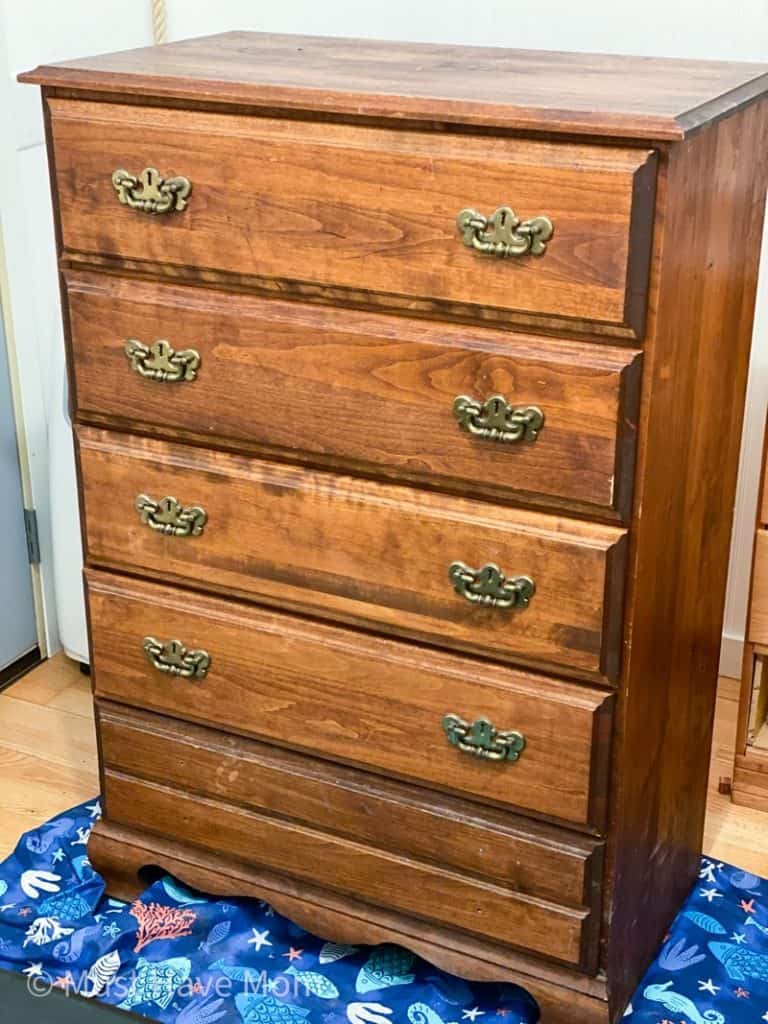 THIS is what our dresser looked like to begin with! We scored this solid wood dresser at a garage sale for $15! What a find. It was solidly built and just needed a little love. Begin by removing the hardware and wiping it down with a rag and some soapy water or simple green cleaner.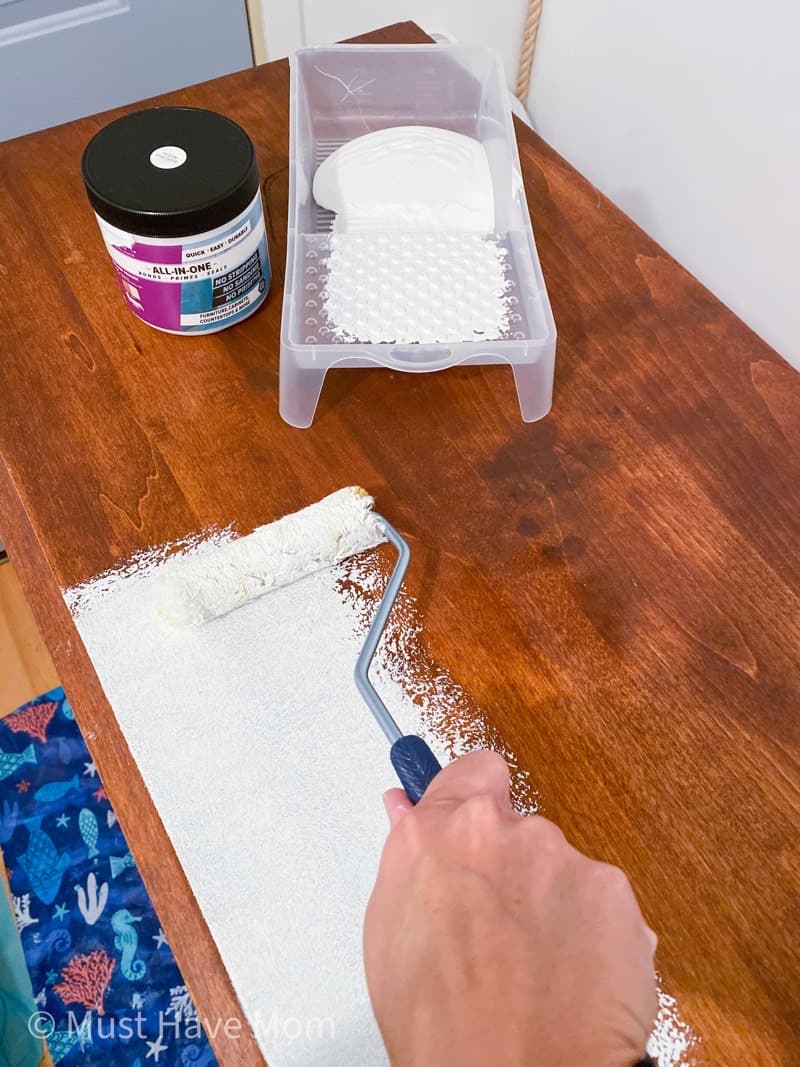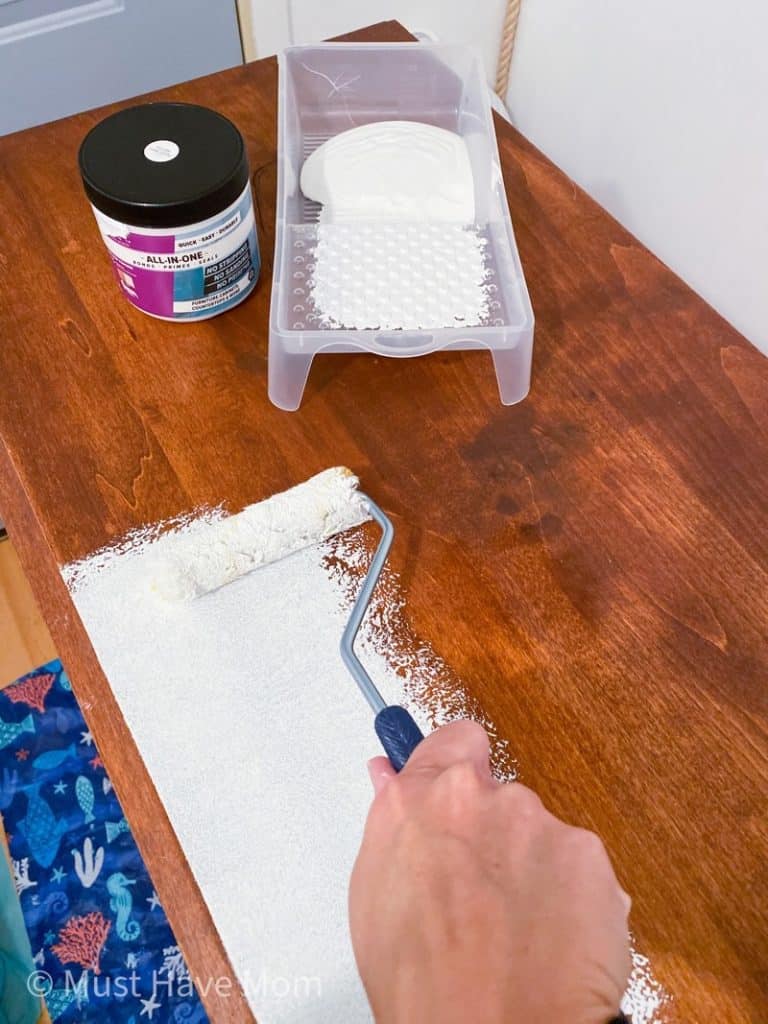 That's all the prep required and now you are ready to paint! Can we stop and appreciate how much time that saves?! It's huge.
I went with Beyond Paint in white for this DIY painted dresser. I wanted a simple piece that is white with black hardware. The end result is awesome!
You'll need the following supplies:
Start by rolling a coat of paint on the dresser. Allow the paint to dry according to the directions on the Beyond Paint container.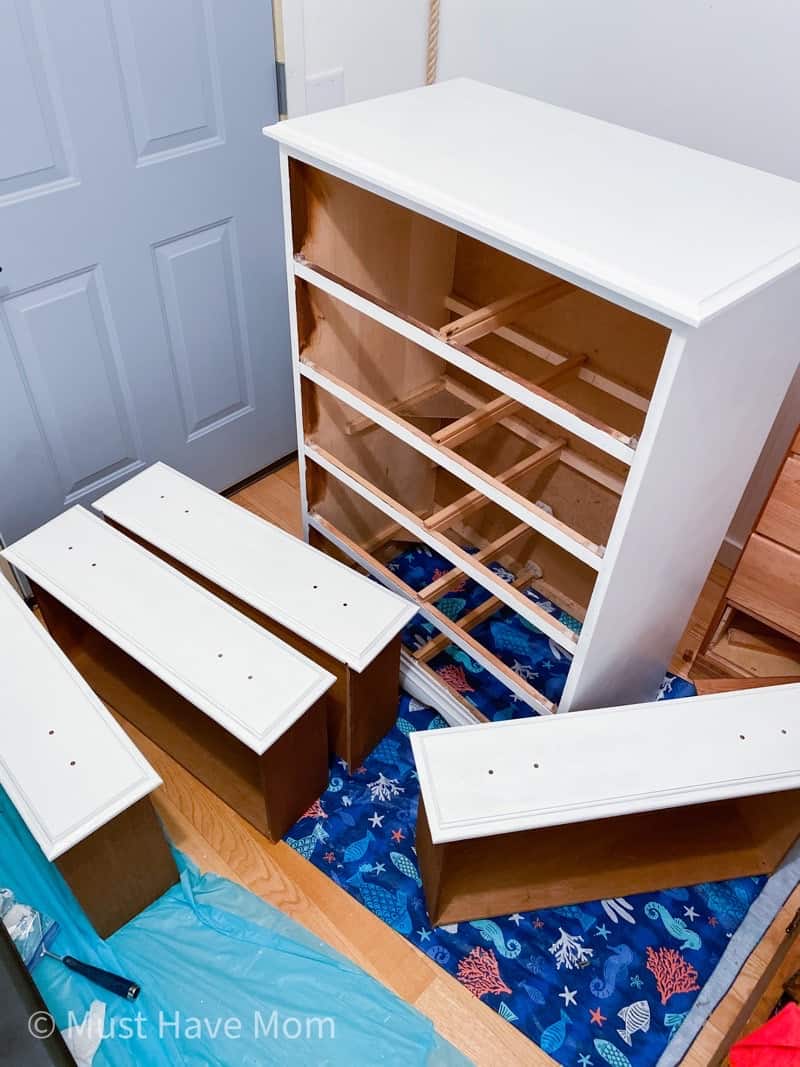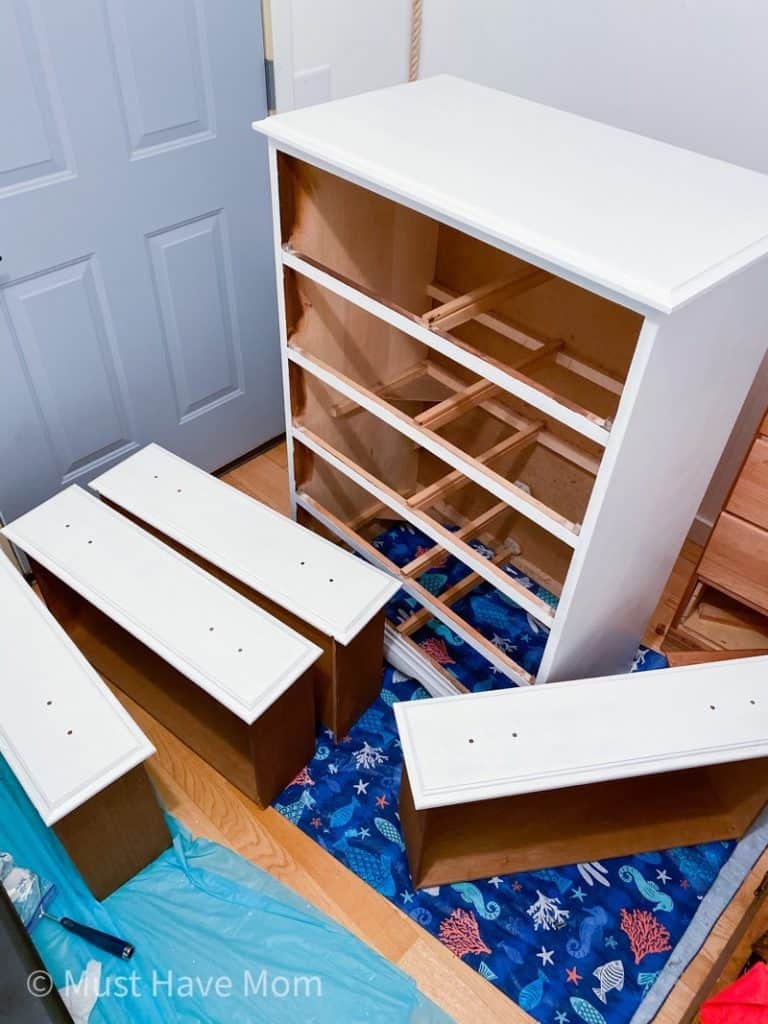 After waiting the required time between coats, apply a second coat of paint. I chose to only paint the face of the drawers as well since you only see the sides if you pull the drawers out. This just comes down to preference. You can choose to paint them if you wish.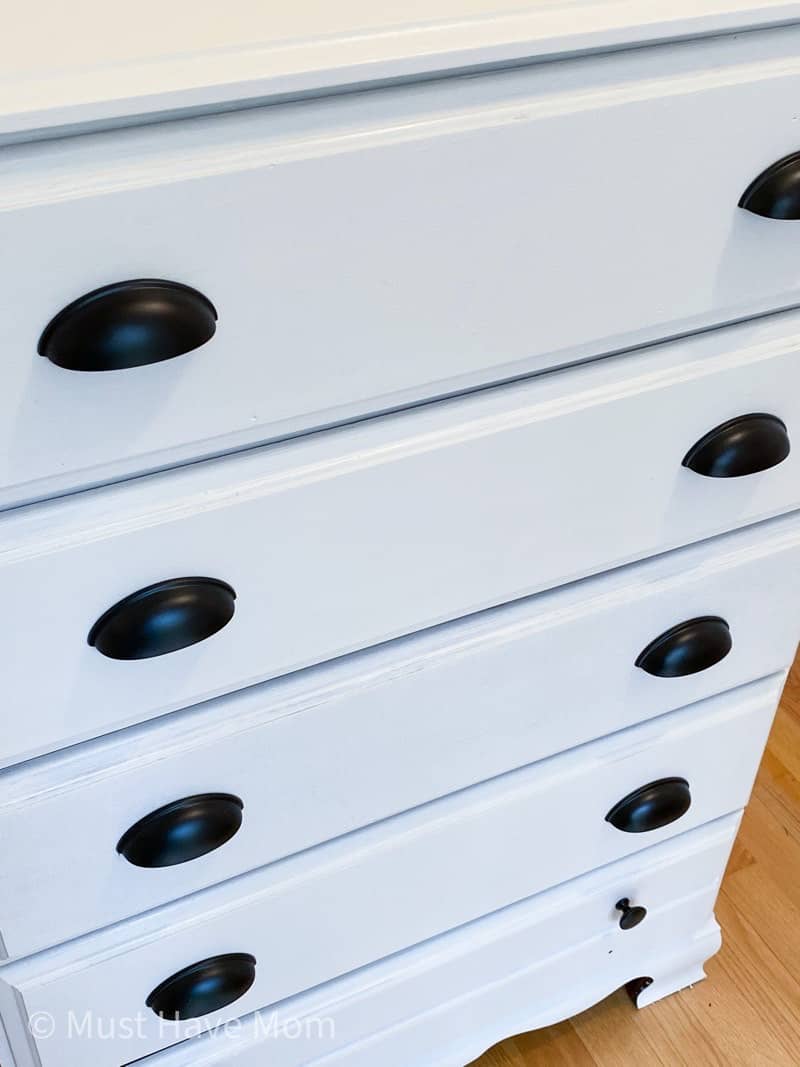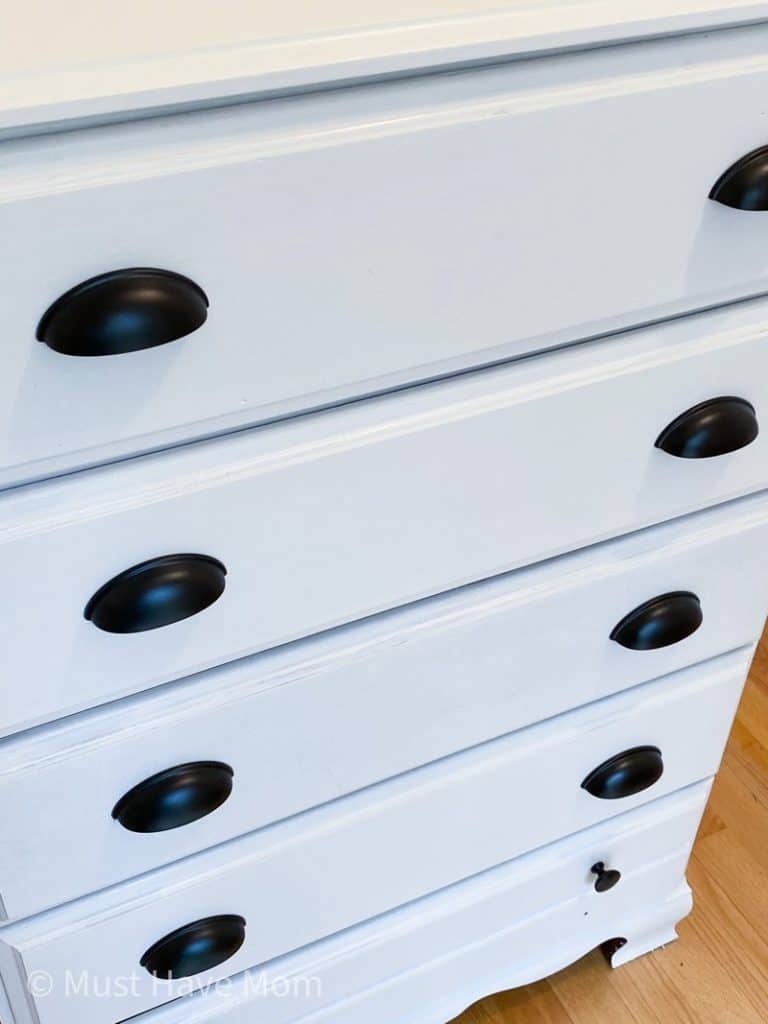 Allow to fully dry overnight. Then add your new hardware and you are finished! I promised it would be easy and you can't get much easier than this. No sanding, stripping, or priming here and there is no sealer required for this piece. If you would like to seal it you can choose to use Beyond Paint sealer on it. If you do this I would recommend only sealing the top of the dresser. This step is not necessary. I recommend the sealer for pieces that will be wiped down often such as a table. You can see a table I painted licorice with Beyond Paint and the Beyond Paint sealer.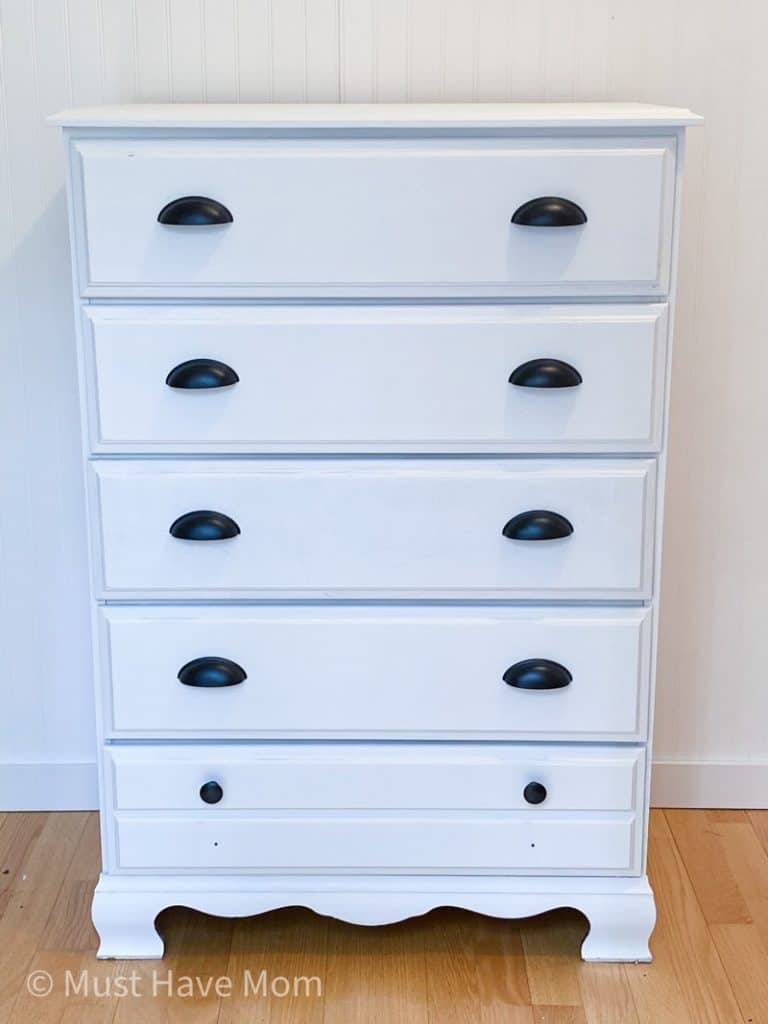 Notice that missing hardware at the bottom? When I ordered the hardware I missed the fact that this drawer had four holes drilled instead of the usual two. I'll be ordering two more knobs!
I love how gorgeous this piece turned out! I will definitely be painting more furniture thanks to the ease of using Beyond Paint. Painting a dresser white has never been easier! The furniture makeover possibilities are endless…
Beyond Paint is SO easy that I painted an entire interior of an RV with it! Walls, cupboards, weird fake wood, you name it! It turned out amazing!
Beyond Paint is unlike any other paint I have used on furniture. It is also much better than using chalk paint for furniture as it doesn't need to be sealed and it cures hard. It stands up to the elements and is formulated for use both indoors and outdoors. It truly is "beyond" any other paint I have used. Check out all of their colors and order Beyond Paint direct from their website. Use promo code MUSTHAVEMOM to save 10% off your order.
Pin DIY Dresser Makeover
Pinning our posts helps you find the project easily later and helps us spread the word about this great idea! Thanks for pinning!!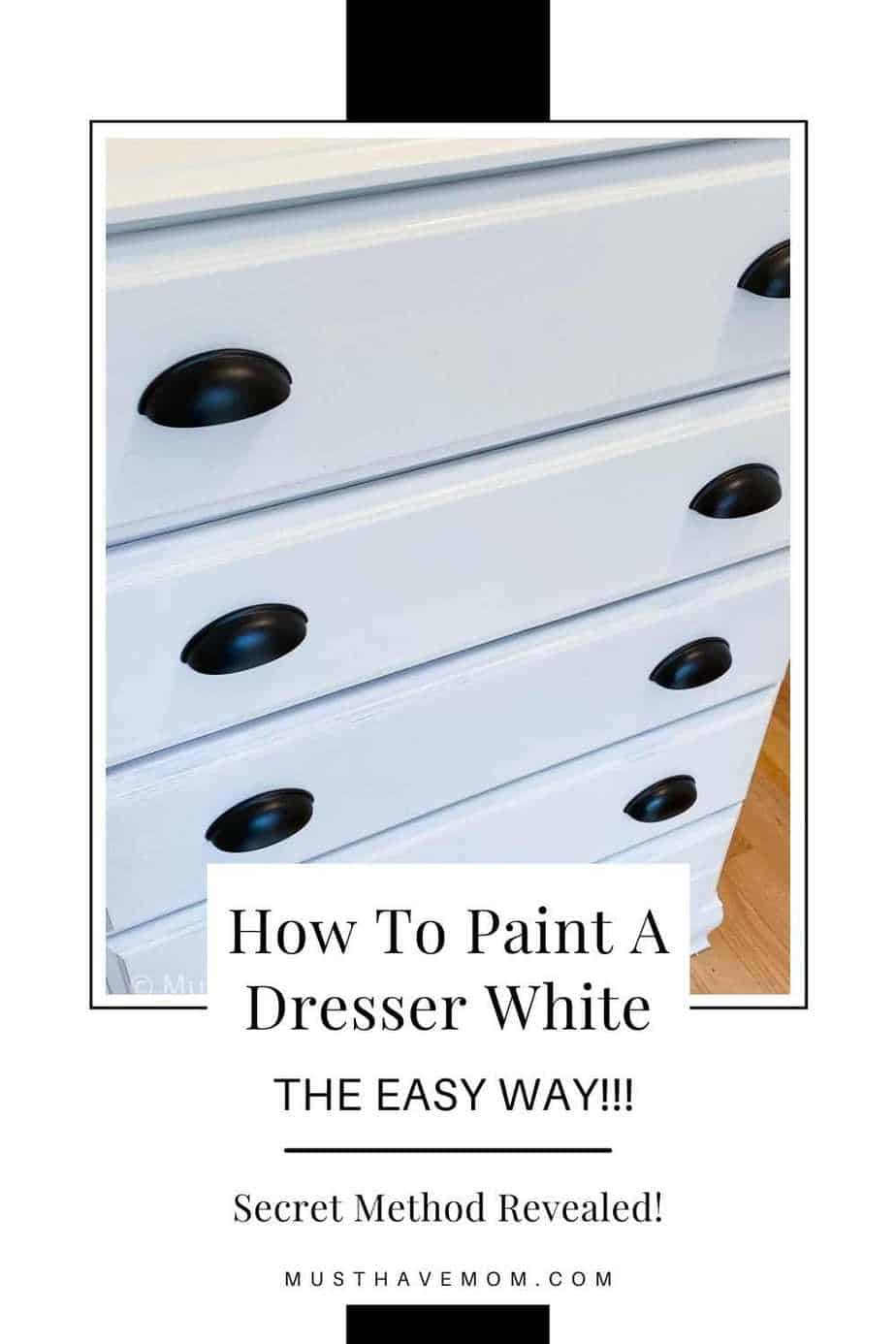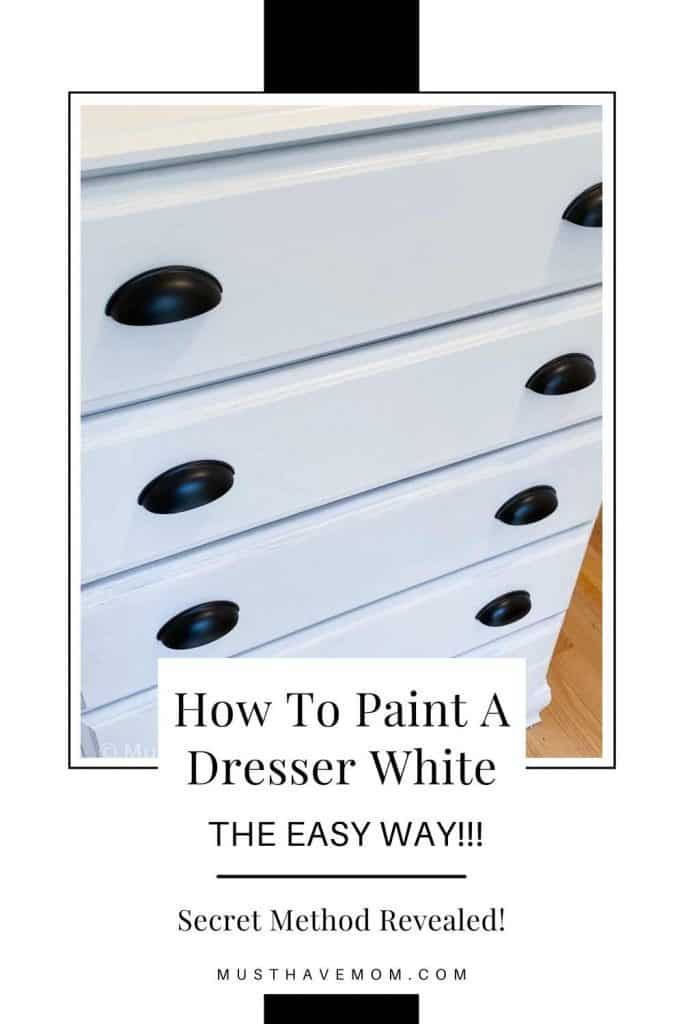 See More Of My Makeovers…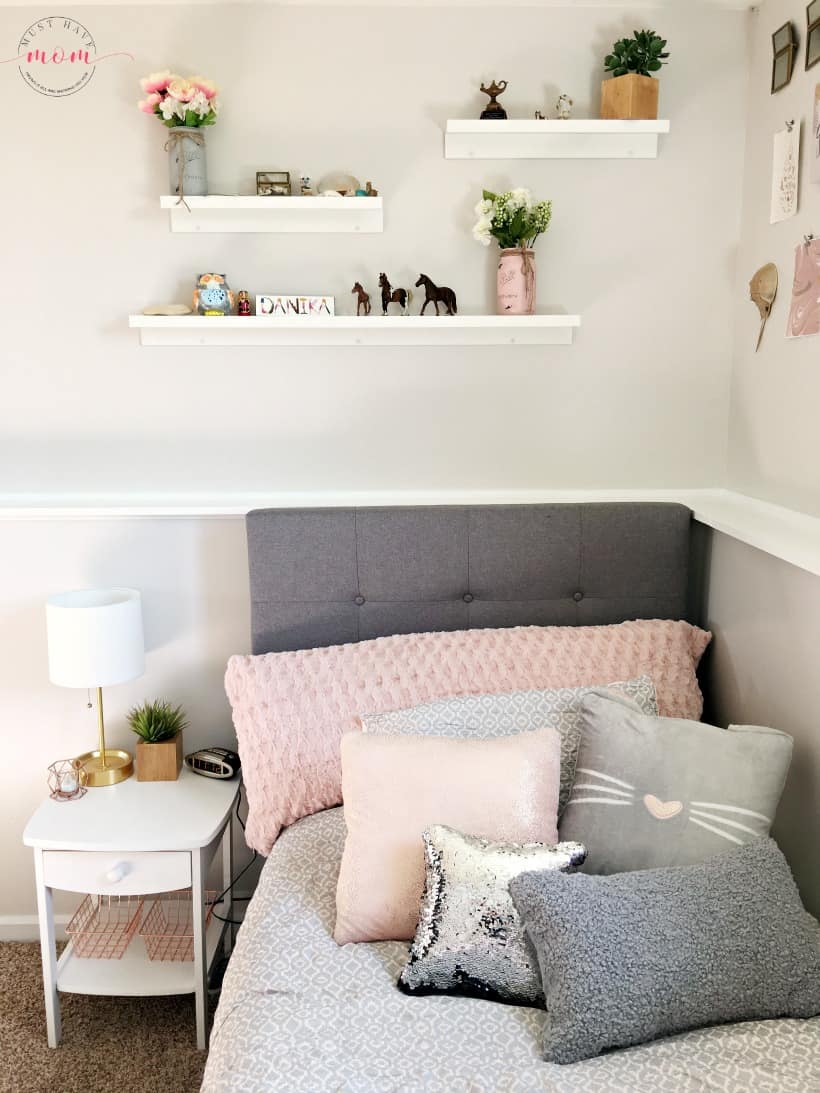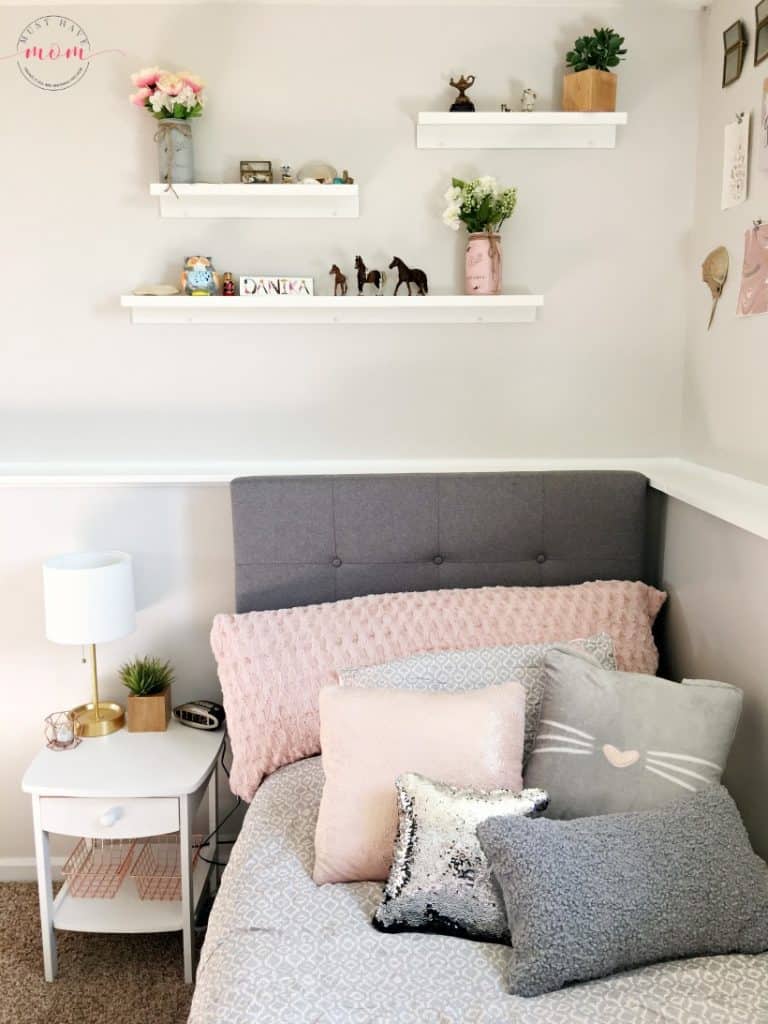 DIY Blush and Gray Girls Bedroom Makeover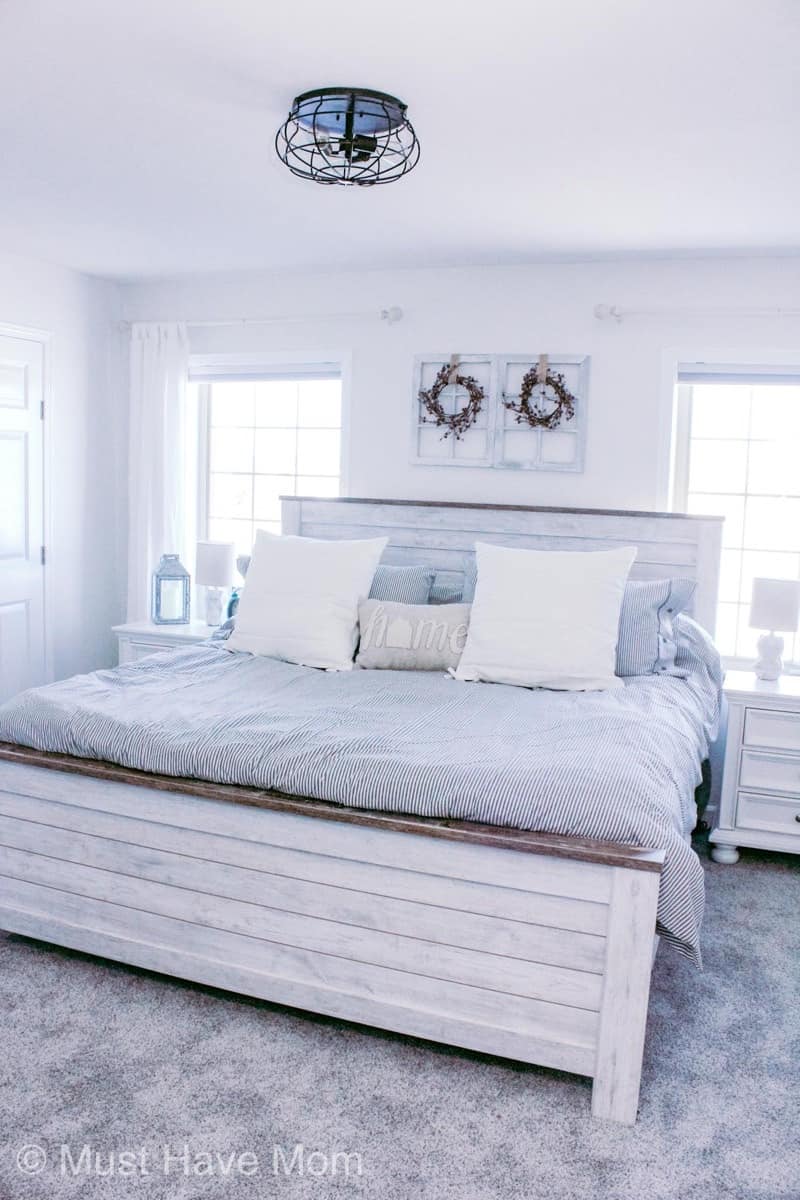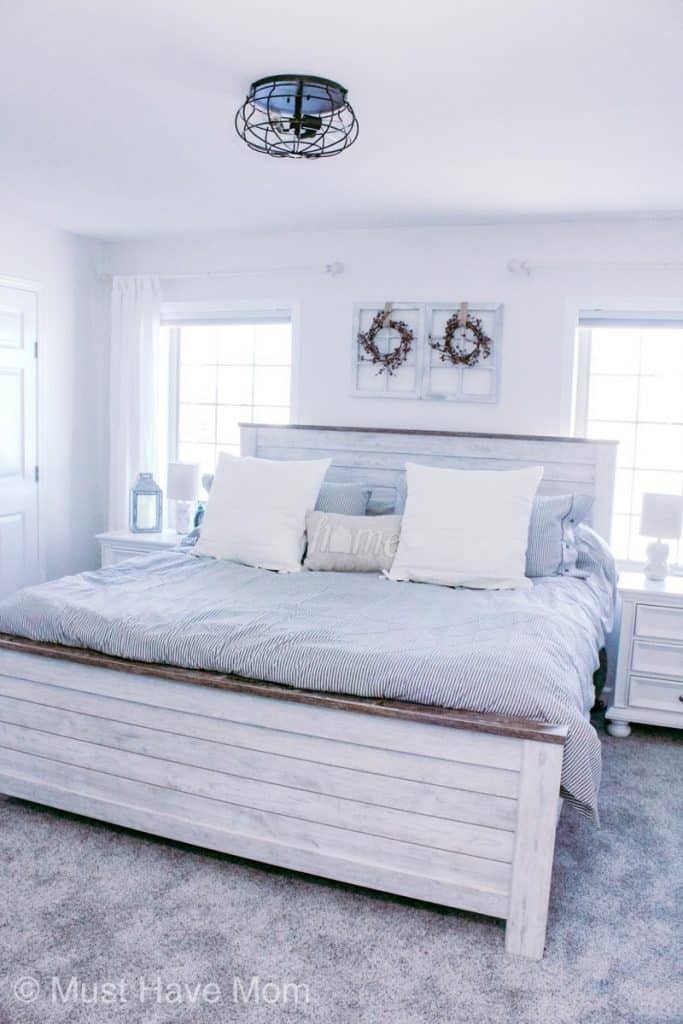 Modern Farmhouse Master Bedroom Makeover