DIY 4th of July Ribbon Crown + Parade Essentials List
Make this quick and easy DIY 4th of July crown using ribbon, pipe cleaners and tulle. It is perfect for wearing during festivities. Make sure you also grab my list of parade essentials for the perfect festivity-ready day!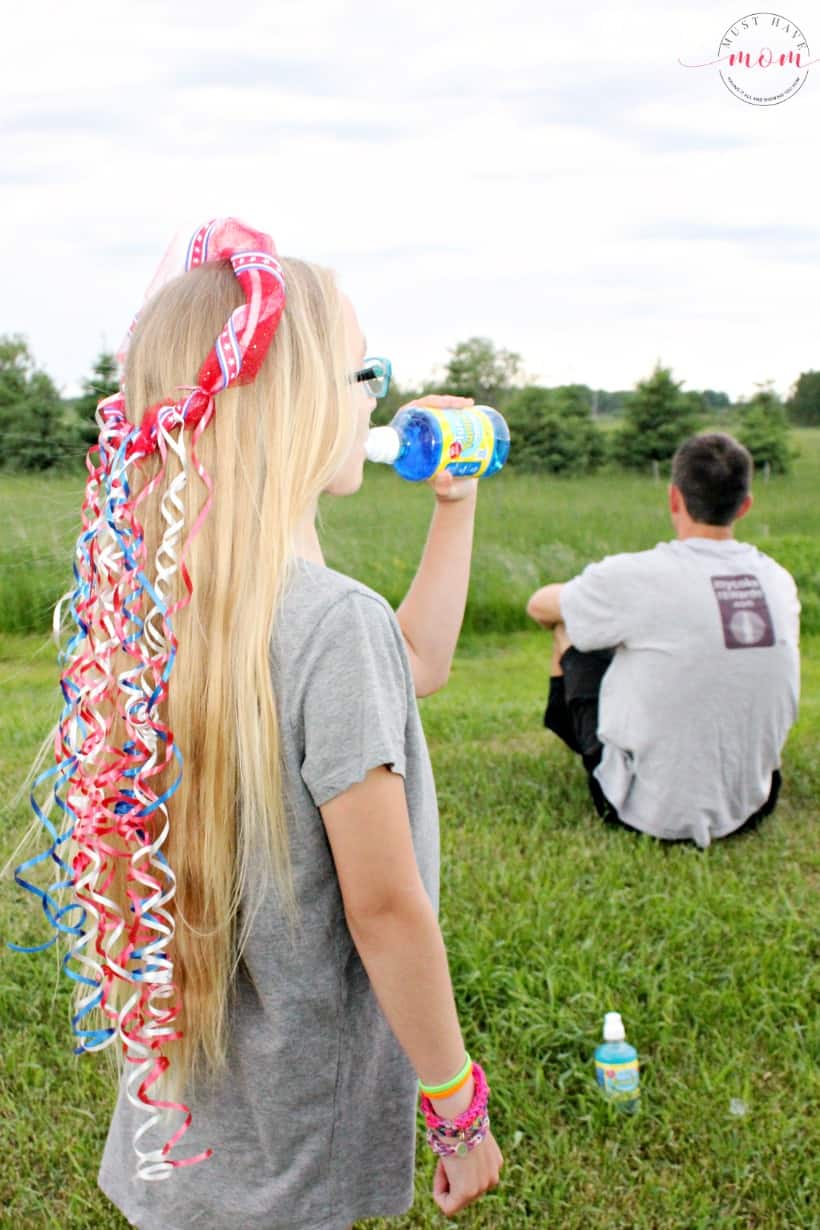 Be prepared for 4th of July festivities with this fun and easy ribbon crown and my list of must-have parade essentials. Being prepared is one of my best tips for a fun, festive day! Make sure your kids stay well hydrated on hot days watching parades and running races. I'll show you how to set yourself up for success on this busy holiday spent outdoors!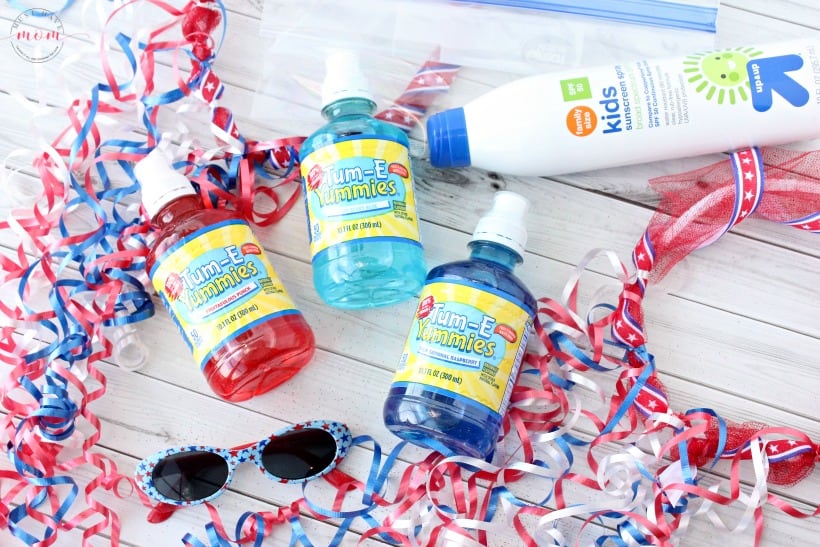 4th of July is all about red, white and blue and fun festivities! We love giving our kids Tum-E Yummies in patriotic colors for a fun 4th of July drink to help keep them cool and hydrated. Tum-E Yummies have 100% daily value vitamin C, B6, B12 and only 50 calories and 13g of sugar. They also contain no sodium so I can feel good about giving them to my kids. The spill-proof sport cap is perfect for on the go and ensures we have a spill-free parade drink. Plus, we save money by bringing our own drinks to festivities instead of buying them there!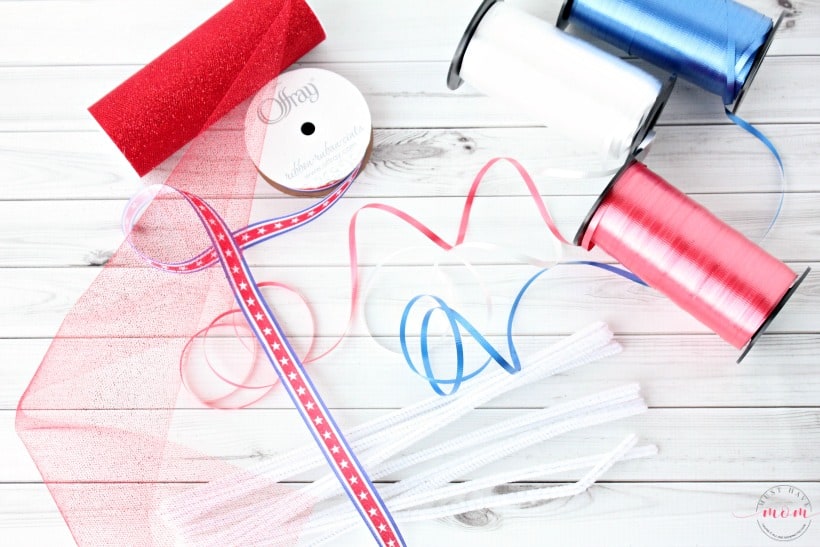 Not only is it important to keep your kids cool and hydrated during festivities, it is also fun to dress in red, white and blue and have a festive outfit! This ribbon crown is the perfect addition to every festive 4th of July outfit! This fun 4th of July ribbon crown is easy enough that the kids can help make them. They are quick to make, but the end result is beautiful! Show your patriotism and deck out your 4th of July outfit with this beautiful hair piece.
4th of July ribbon crown instructions:
To make this 4th of July ribbon crown you'll need:
curling ribbon
pipe cleaners
patriotic 1/2″ ribbon
glittery tulle approx 6″ wide (comes on a spool-like this)
scissors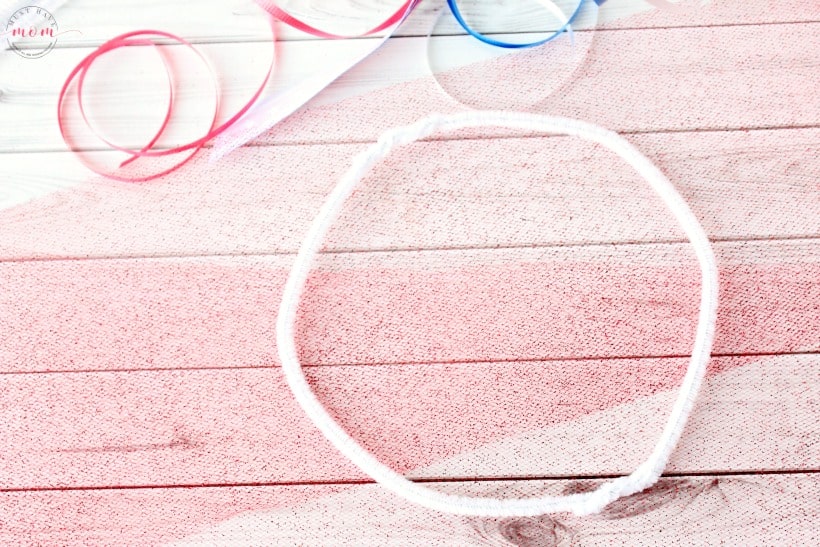 1.) Begin by creating a circular crown the size of your child's head. I used two pipe cleaners and wound the ends together to create a circle that was a perfect fit for my daughter's head.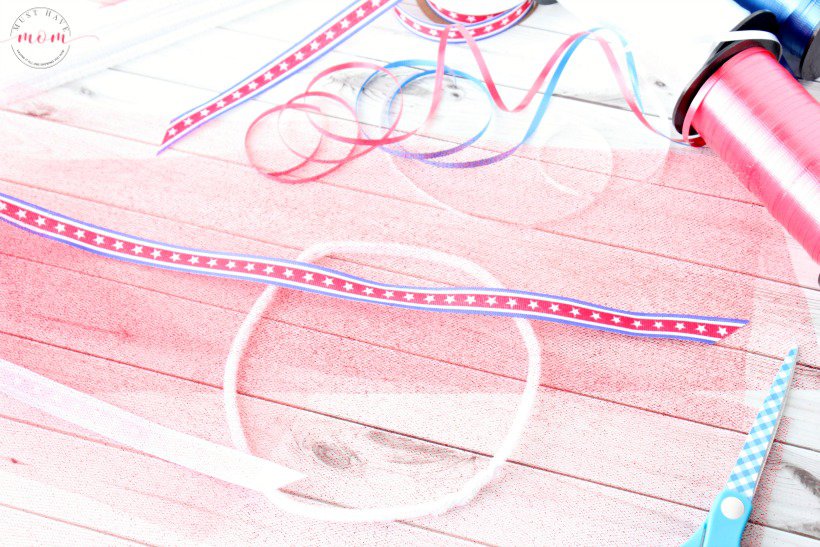 2.) Next, cut a length of tulle and patriotic ribbon that is long enough to wrap around and around the pipe cleaner crown.
3.) Wrap the tulle and patriotic ribbon loosely around and around the pipe cleaner until you go all the way around and meet the two ends.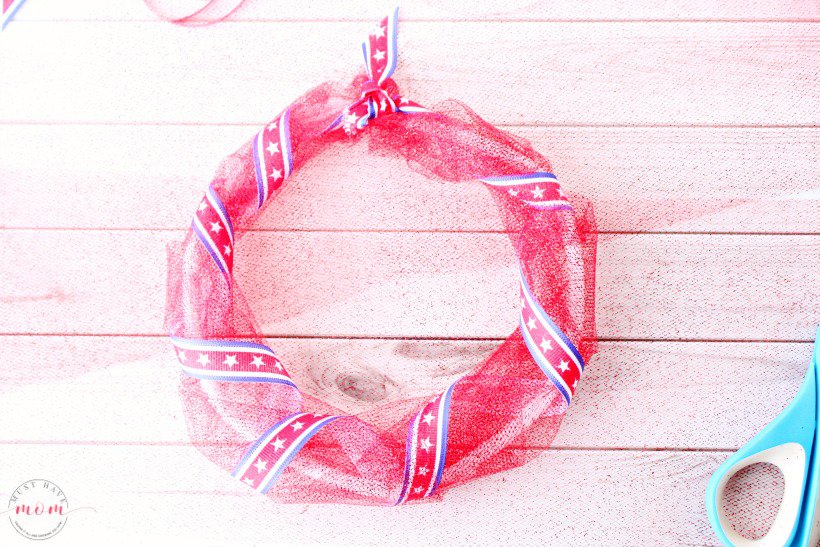 4.) Then tie the two ends together with a knot to secure them.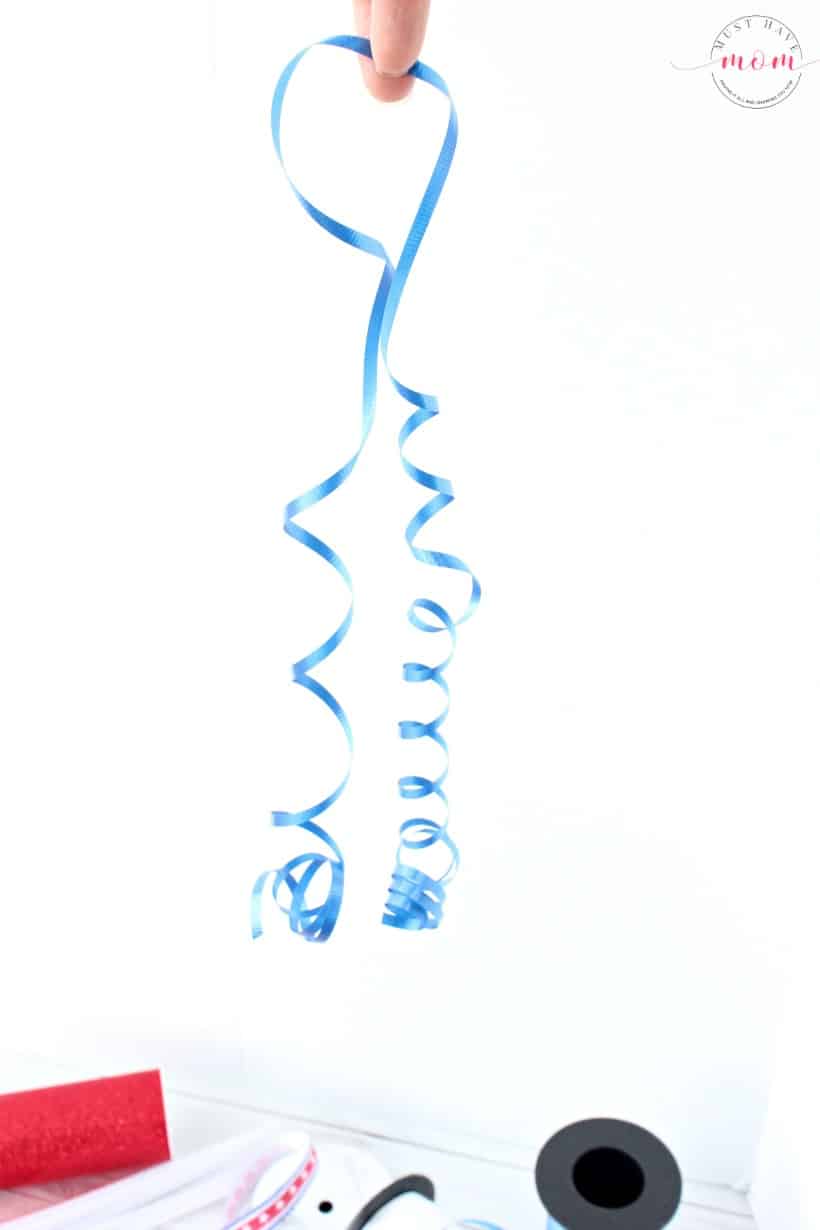 5.) Then measure a length of curling ribbon that is long enough to tie in the middle and hang down on both sides. Loosely curl it with the scissors.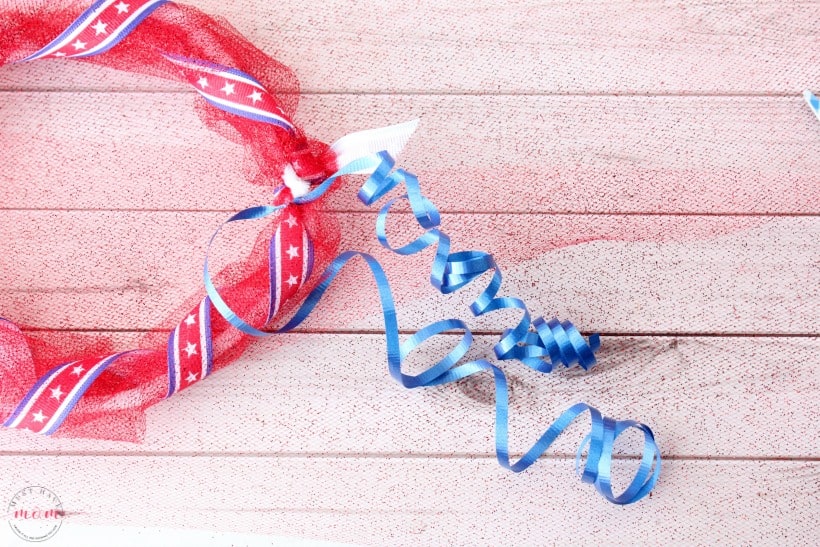 6.) Then tie the ribbon on the pipe cleaner crown in the center of the ribbon so both sides hang down.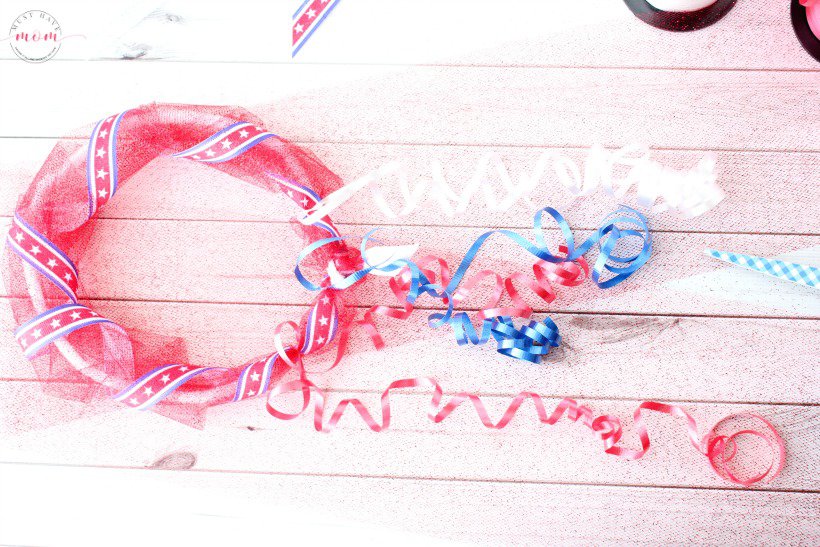 7.) Continue tying ribbons around the pipe cleaner crown to cover the bottom half of the crown.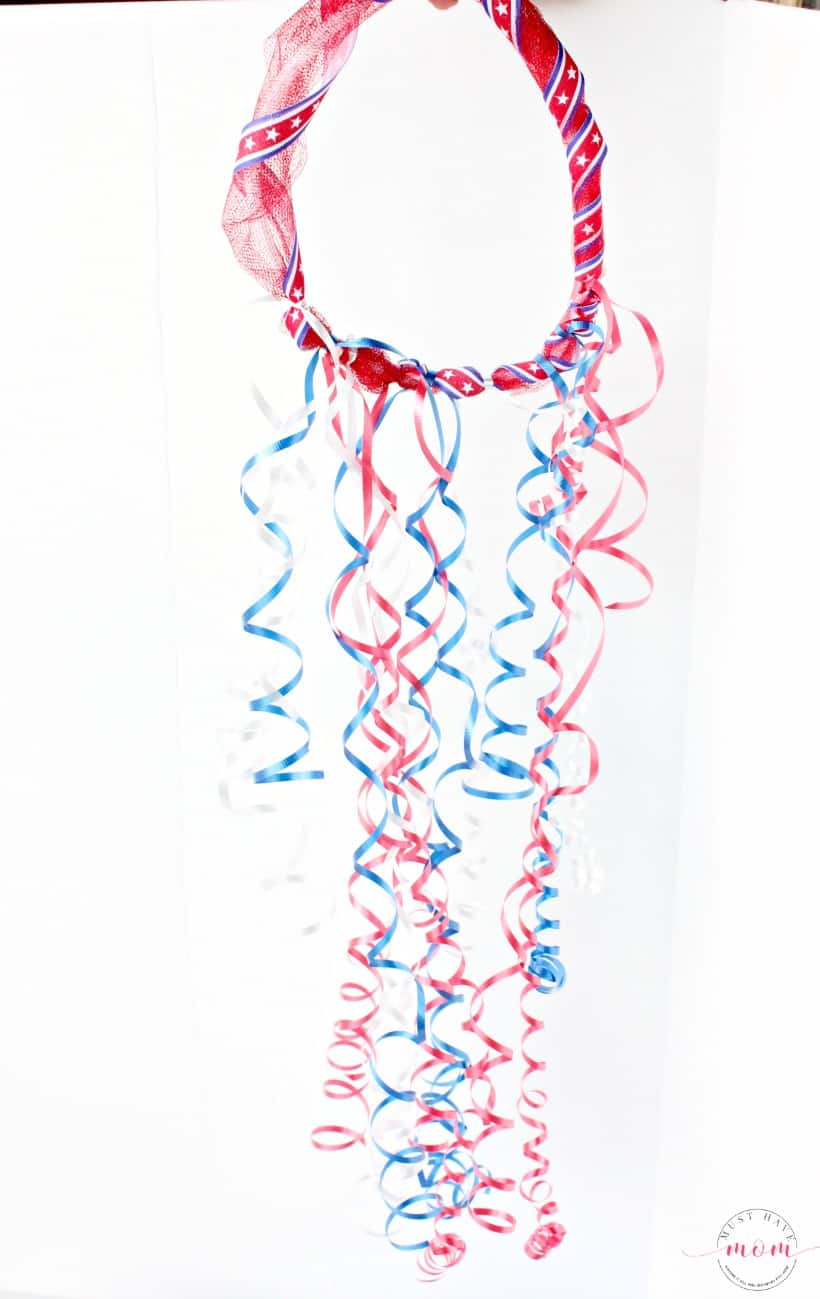 Continue tying them until you have enough to fill it in. You can trim them as needed in order to make the ribbon longer in the center and shorter as it tapers up.
8.) Then place the 4th of July ribbon crown on top of your child's head. It stayed in place really well on my daughter's head, but if you have trouble with it staying in place you can use bobby pins to hold it in place.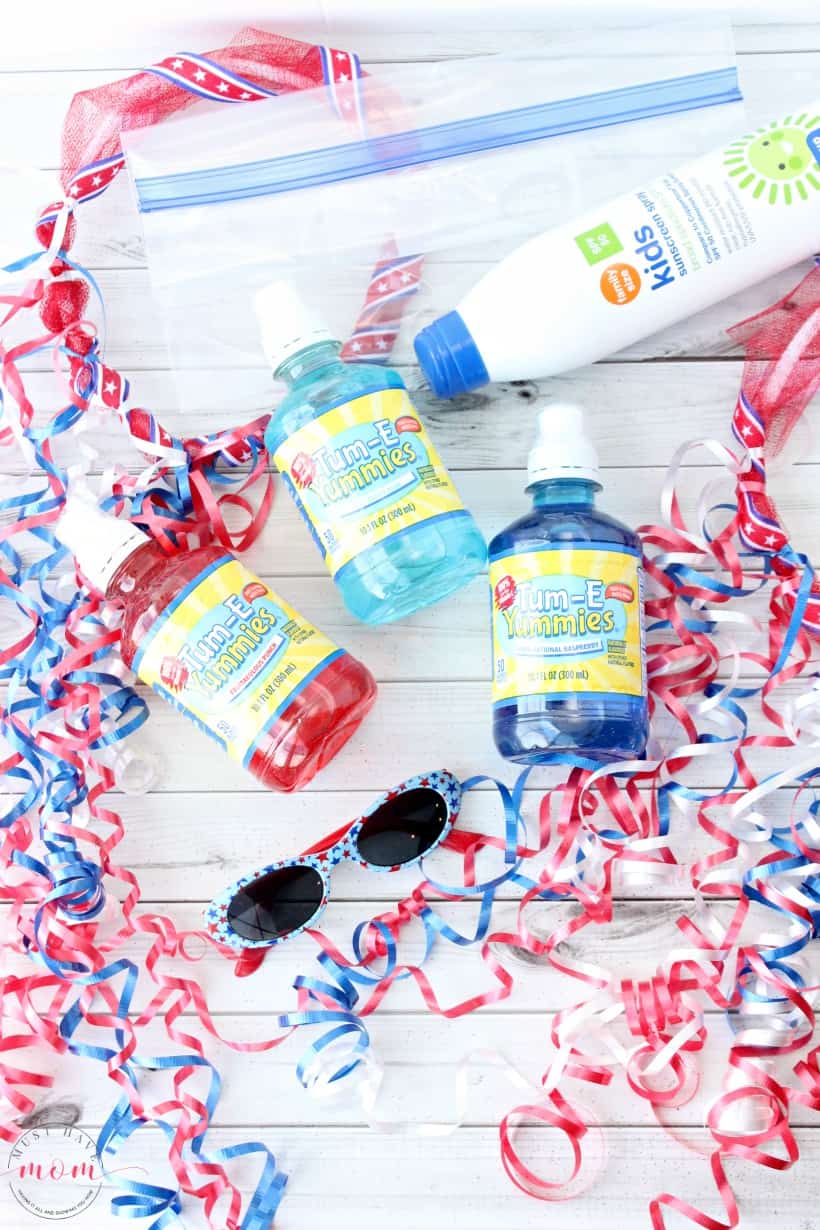 Parade Essentials
Make sure you pack all of the necessary parade essentials before heading out to a 4th of July parade. We always bring the following parade essentials with us:
blanket or chairs
sunscreen
sunglasses
large umbrella to provide shade
Tum-E Yummies drinks
a bag for candy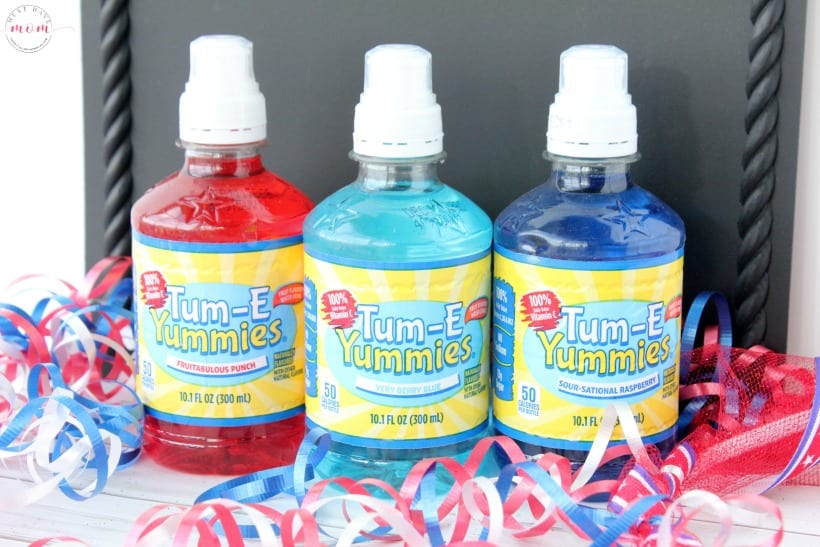 We always try to bring as many parade essentials with us as we can. If we pack well and are prepared then we are more comfortable during the parade and it saves us money. Inevitably it is always hot during the 4th of July parades we attend so bringing an umbrella for shade and plenty of drinks to stay hydrated is a must. Once the kids get hot they get cranky so we try and keep everyone comfortable and well hydrated.
For more outdoor celebration ideas, follow Tum-E Yummies on Facebook, Instagram, and Pinterest! If you create your own 4th of July ribbon crown I'd love to see it! Snap a pic and share it with me on the Must Have Mom Facebook page!
Pin the 4th of July ribbon crown: