Homemade Makeup Remover Wipes
These chemical-free makeup remover wipes are quick and easy to make, don't contain harsh chemicals like store brand facial wipes, and they will save you tons of money! Even my husband uses them and loves them! Grab the easy instructions below and whip up some facial wipes for your bathroom counter too.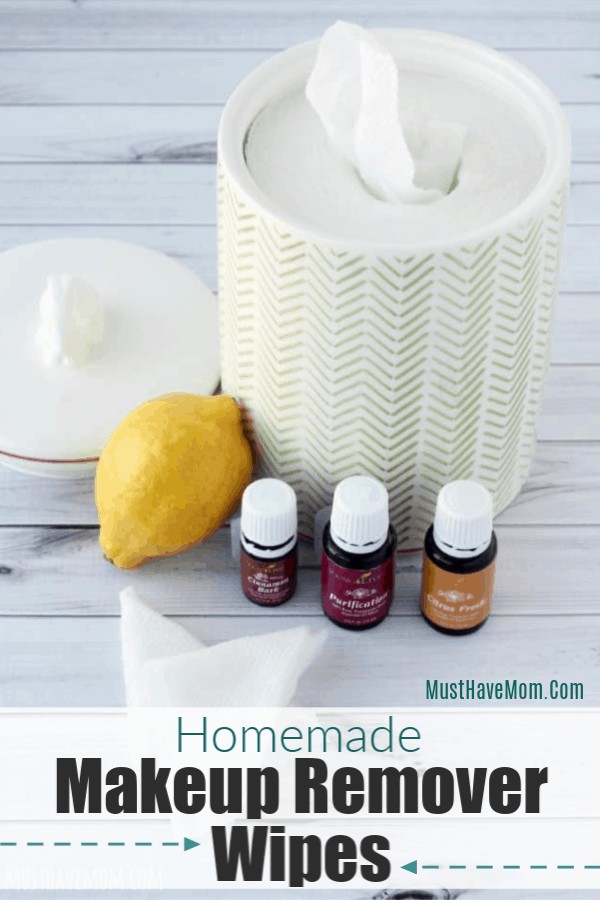 Makeup Remover Wipes
I love taking my makeup off at night and freshening up my skin. I don't like washing my face with water at night. I prefer to wash my face with water in the shower each morning. At night I like to use makeup remover wipes to clean my skin. They are luxurious and convenient but they come with a hefty price tag that adds up when using them everyday. I knew I could probably make my own at a fraction of the price I was paying for the store bought face wipes. I came up with a homemade makeup remover wipes recipe that is designed to combat breakouts and leave skin feeling clean.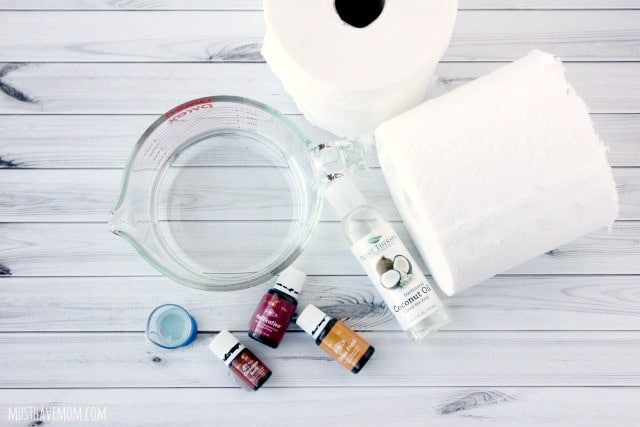 DIY Makeup Remover Wipes Supplies
It only takes a few minutes to whip up the recipe needed to make homemade face wipes. It's quick and easy and will save you money! You'll need the following supplies: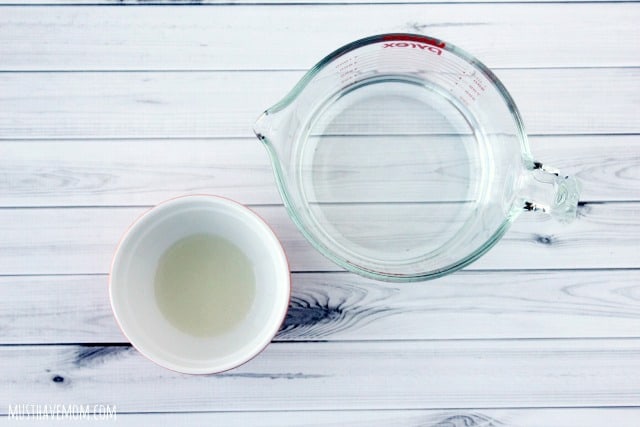 DIY Makeup Remover Wipes Instructions
I love that these makeup remover wipes are super customizable. Essential oils work differently for everyone and what works for me won't necessarily work the same for you. Experiment with what works best for your skin type. You may want to add other essential oils to this recipe or take some out and swap them. Make it how you like it for your skin. I highly recommend using pure essential oils and nothing with chemicals or pesticides added. I personally use Young Living essential oils and love them. You can read more about why I chose Young living here. Another essential oil brand that I recommend is NOW because I have visited their factory and am very impressed by their lab testing procedures and quality. Be sure to choose a high quality, unadulterated brand of oils so you can ensure they aren't filled with chemicals! Plus, you can make so many awesome homemade recipes using essential oils. A couple of my personal favorites, besides these facial wipes of course, are my lavender pillow spray and this homemade headache salve (I use it all the time!).
For my facial wipes I used Cinnamon bark (for it's antibacterial properties), Purification (a blend that contains tea tree oil and works well on my break outs) and Citrus Fresh (smells amazing and also works great on my break outs). You could also try adding melrose or tea tree.
DIY Face Wipes Step 1
First measure 1 1/2 cups of water in a glass measuring cup. In a separate bowl mix together 1 Tbsp unscented, organic liquid soap, 1 Tbsp fractionated coconut oil, 3 drops of Cinnamon Bark essential oil, 3 drops Purification essential oil, and 3 drops of Citrus Fresh essential oil. Mix well. Then mix with the water and stir well.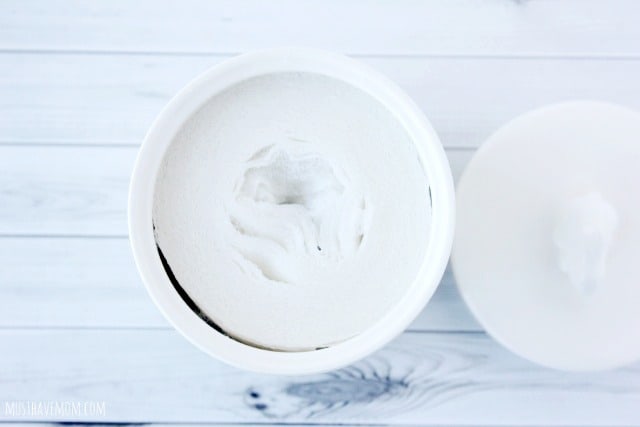 DIY Face Wipes Step 2
Remove the cardboard roll from your paper towels after you have cut them in half. To do this just wiggle your finger between the cardboard and the paper towels on each end of the roll. Push the cardboard together like you are pressing it in half and then in half again, making the cardboard tube skinny. Now you can slide it out easily. Then place your half roll of paper towels in an airtight container. Pour the liquid mixture over the top of the wipes saturating them all over.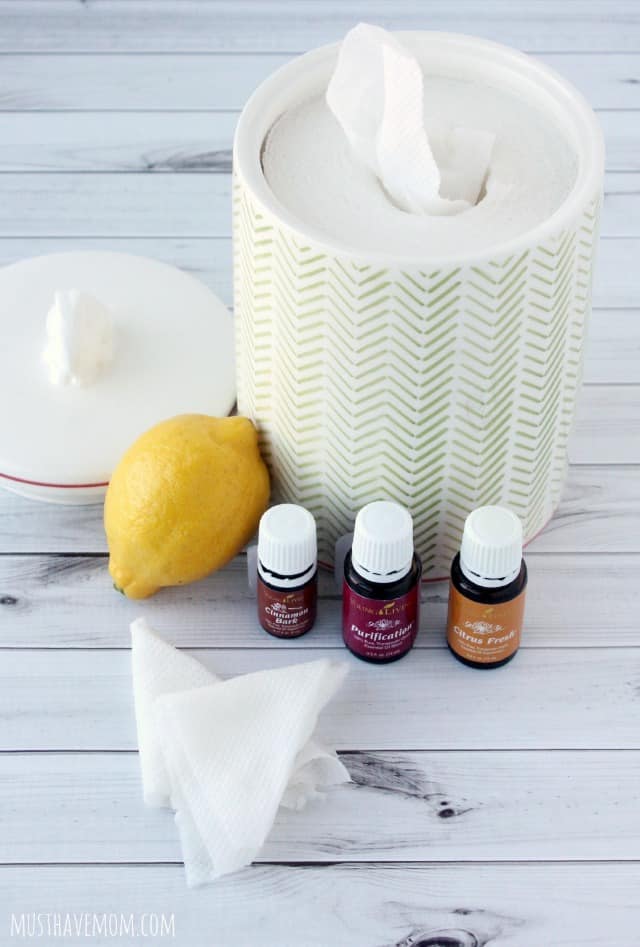 DIY Face Wipes Step 3
To use your wipes just begin by pulling one from the center. They will dispense nicely this way! Since the roll was cut in half they make nice square wipes. I used the paper towels that have the half sheet size instead of the full size paper towels so they are a nice square.
I used a pretty container that I got from Target. I can display it on the counter in my bathroom and it is handy and looks pretty too! Any glass jar will work! I also love these cracker jars to store wipes in. Be sure to only use glass to store these facial cleansing wipes in as the essential oils can eat away at plastic containers.
These will keep in an airtight container. The pure essential oils act to nourish your skin and help keep breakouts at bay. The wipes will also help remove your makeup. Avoid contact with your eyes!
You can experiment with different oils in this recipe so feel free to mix up the mixture to one that works for your skin type!
Pin Makeup Remover Wipes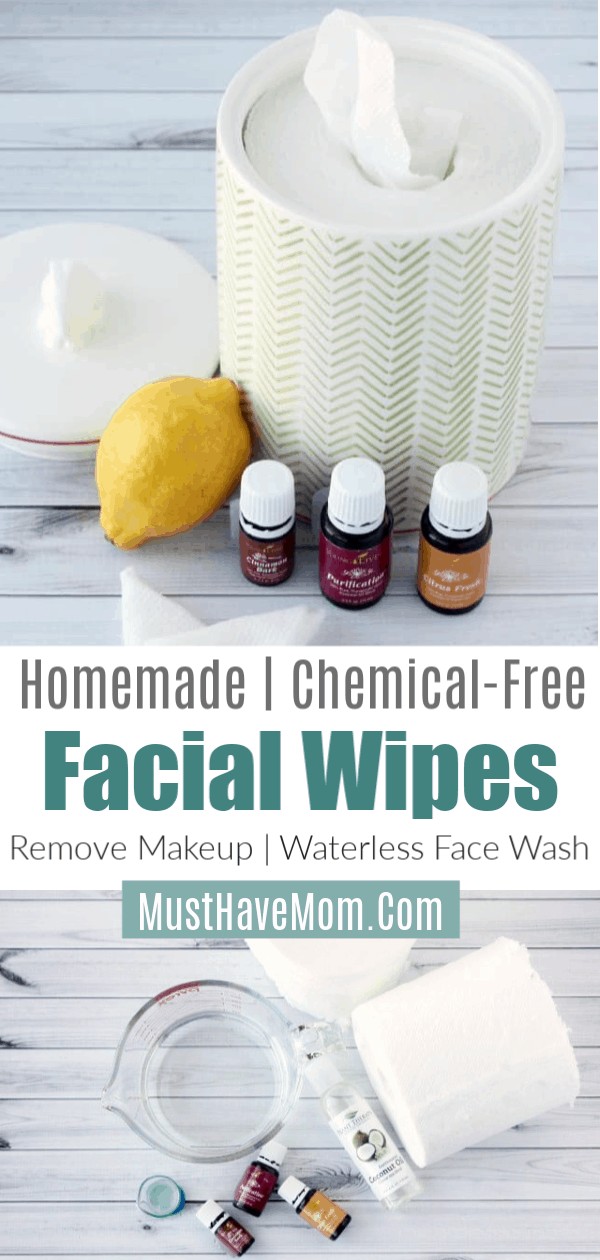 Like this post? Pin it or share on Facebook! You may also like these: