Best Restaurants In Marco Island
We have compiled a list of the best restaurants in Marco Island, Florida. We visited them all and we'll even tell you what to order (and what NOT to order!). This is our second year doing this and we know you'll love this year's results!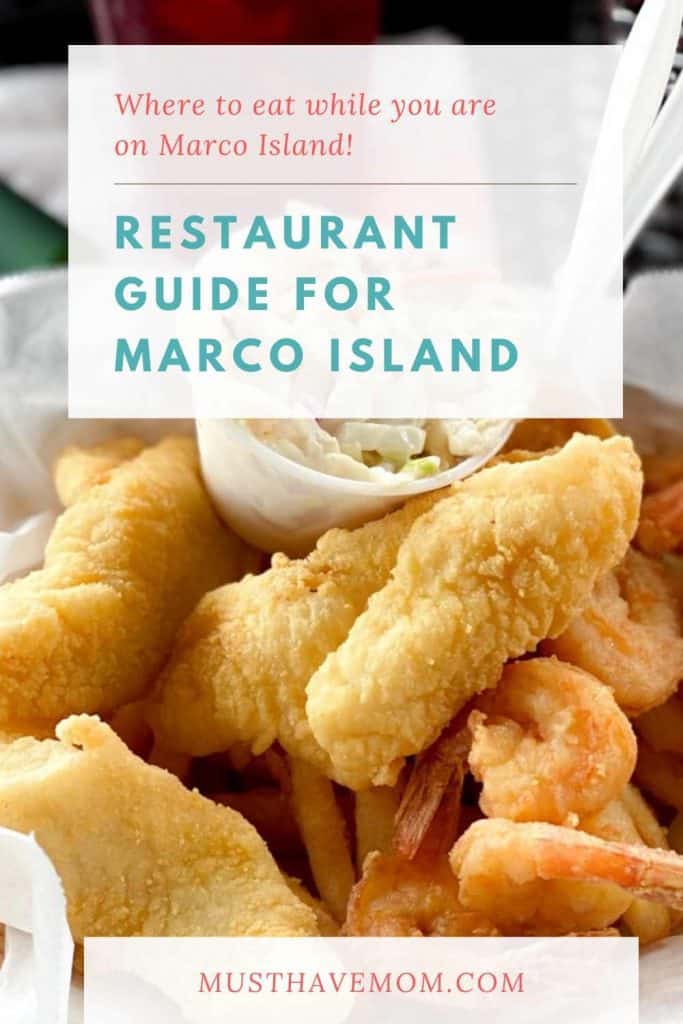 Every year we visit Marco Island, Florida where we stay at Eagle's Nest Marco Island Resort. I've been going there since I was a toddler and now I bring my own kids there. We have started a new tradition every year of going to all of the highly recommended restaurants while we are there and sharing our favorites with you so that you can dine at the best Marco Island restaurants while you are there! We started this tradition last year and covered the best Marco Island restaurants in our first edition. Be sure to read that article too as this article covers all different restaurants! AND I saved the best for last so be sure to scroll all the way to the end of this article!
Marco Island Restaurants
We stayed for a week and visited a different restaurant for dinner each night! We've broken them down by restaurant and cover what to order as well. One big tip I will share is to read up on the restaurant's reviews. Order the things that people rave about. Every restaurant has dishes they do really well and those that they don't. We did this before visiting each restaurant so we had the best chance of getting an amazing meal! I also recommend ordering seafood or Mexican as much as possible as these are dishes that are really well done on the island!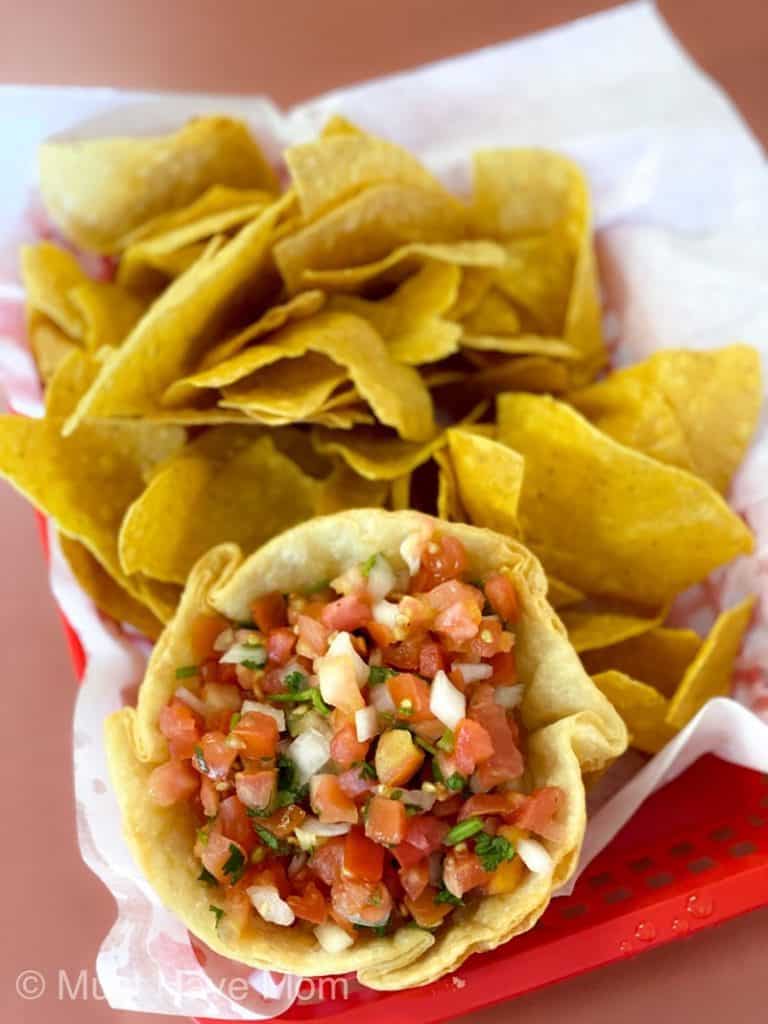 Taco Poncho in Naples, FL
Okay, this isn't in Marco Island, but if you are visiting Marco Island, chances are you'll fly into the Naples airport and need to eat a meal on your way to the island! That's what we did here 🙂
The chips and salsa at Taco Poncho are a MUST. They are authentic Mexican chips and fresh, vibrant salsa. Don't skip it!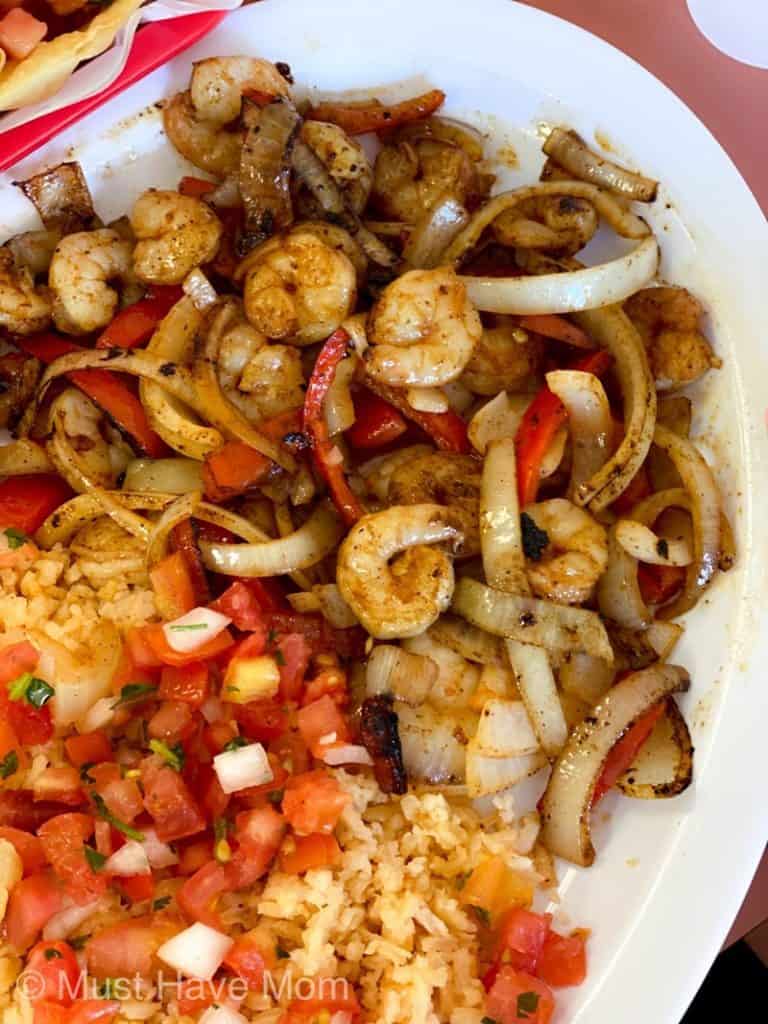 I ordered the shrimp fajitas which came with Mexican rice and pico. The shrimp were cooked perfectly and the entire dish was delicious. Full of flavor and true Mexican food!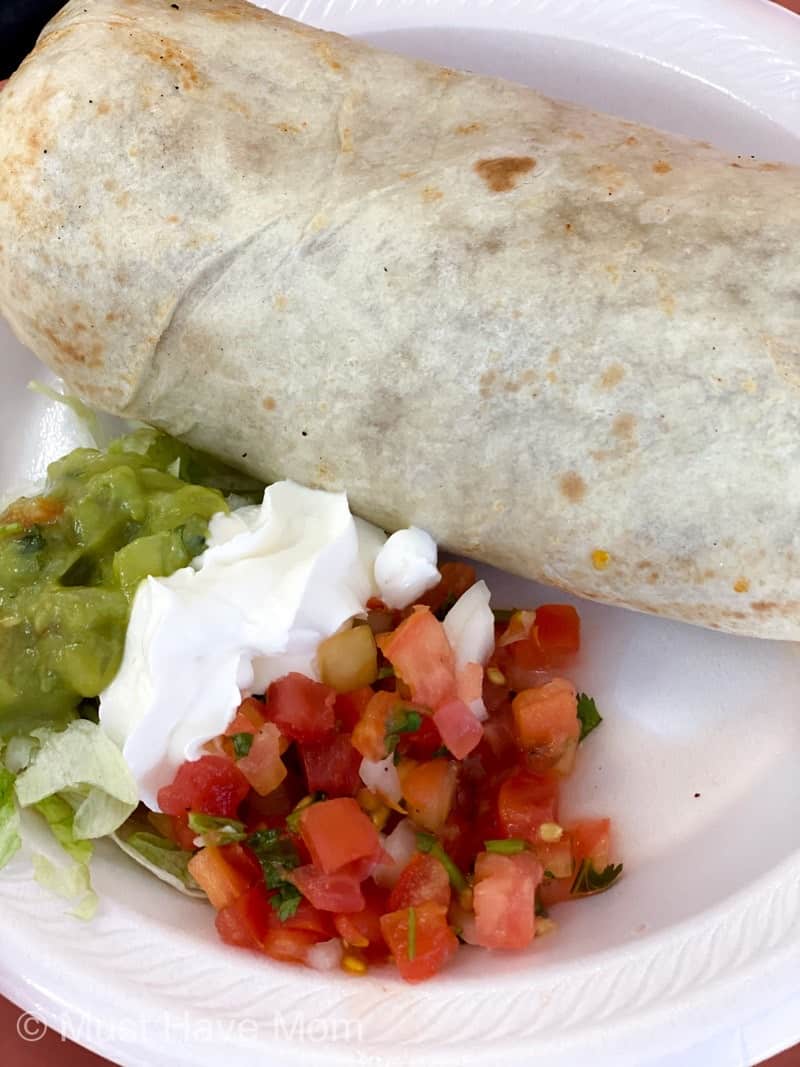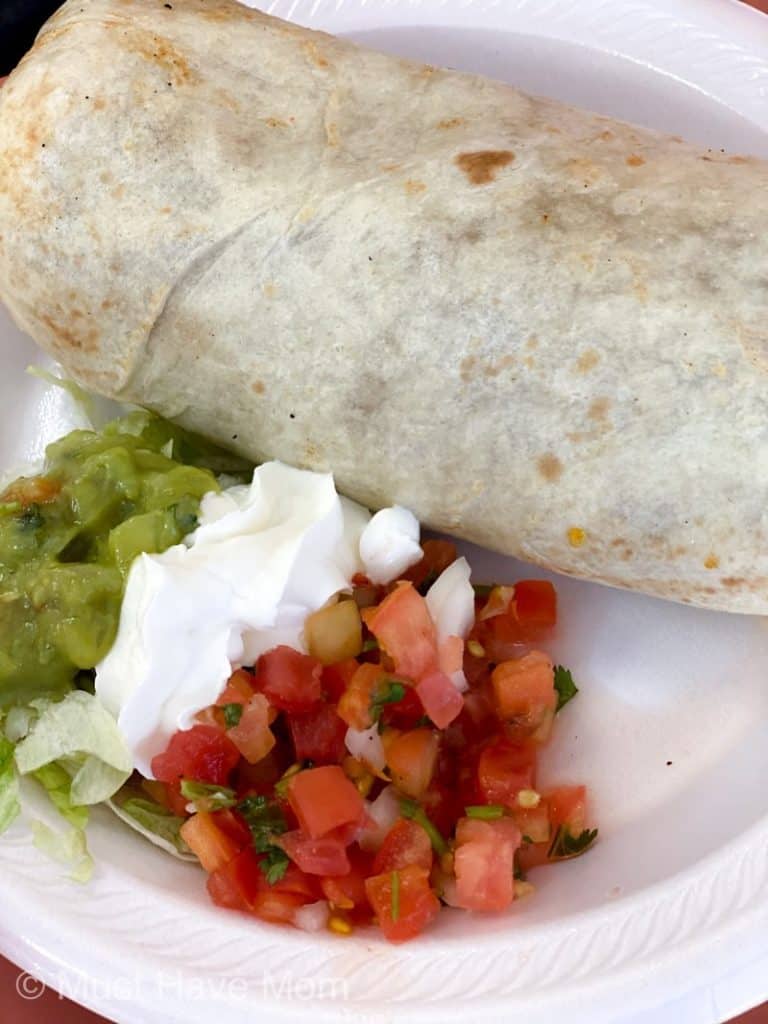 My husband ordered the California Burrito which sounded a lot like a Chipotle burrito. The portion was huge and it had great flavor.
Next time we would try the tacos! They looked fresh and amazing. Overall the flavors were vibrant and fresh. It is authentic Mexican cuisine. Of the things we tried I'd definitely order the fajitas and the chips with salsa again!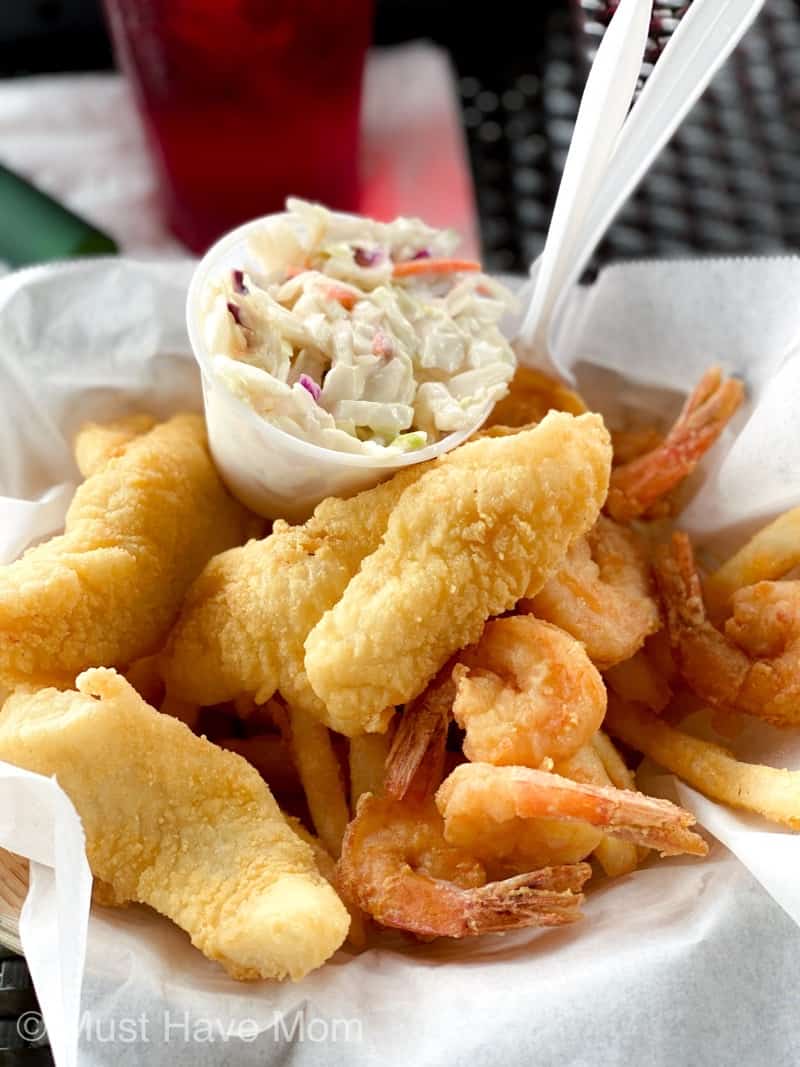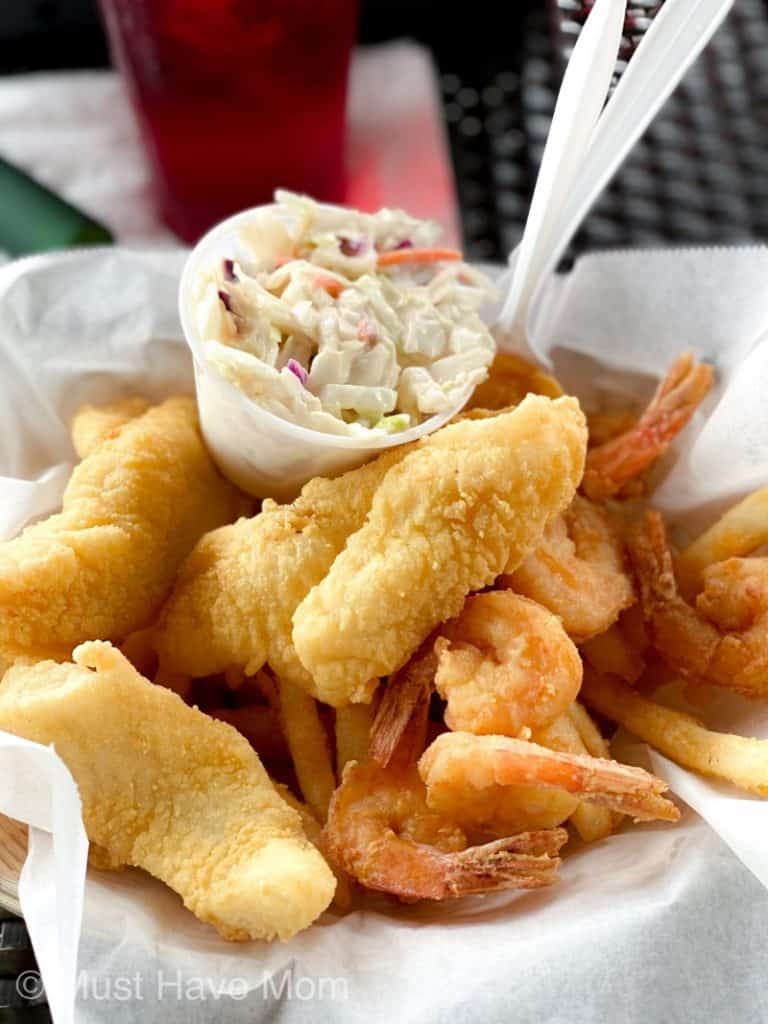 Pelican Bend, Isle of Capri
On our way to Marco Island, we had to stop off for lunch at one of our favorite places, Pelican Bend on Isle of Capri. It's a quick ride from Marco Island and you can sit right on the water!  I ordered my favorite lunch dish, the fish and shrimp basket. The breading is light and not at all greasy. The fries are delicious too. The fish is a white roughy and is delicious. It is a must-have!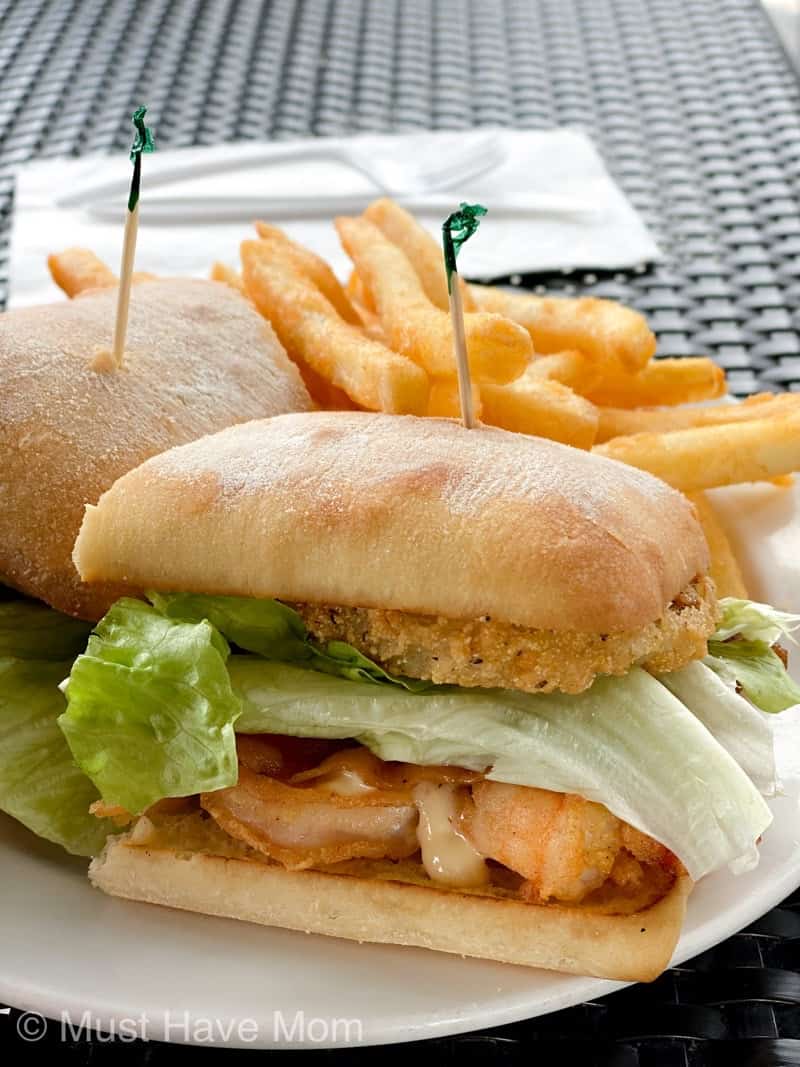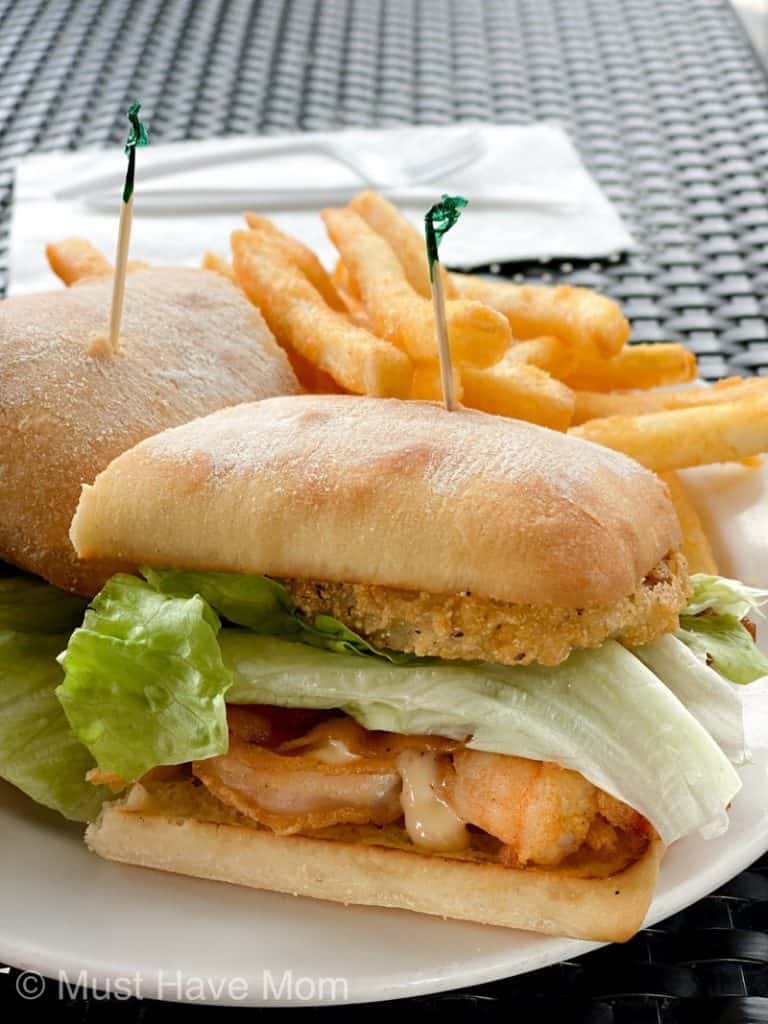 We also had the lunch special which was a shrimp BLT. It was amazing! It had fried green tomatoes on it, along with shrimp, bacon, lettuce on a ciabatta bun and it was done to perfection.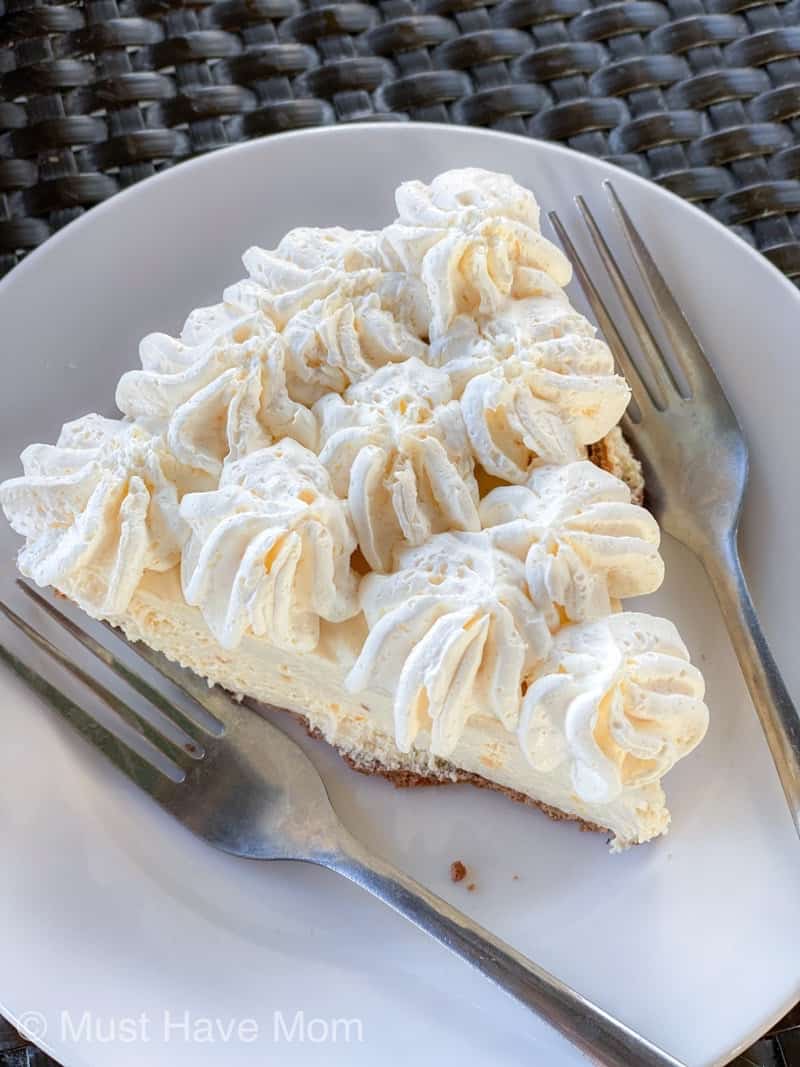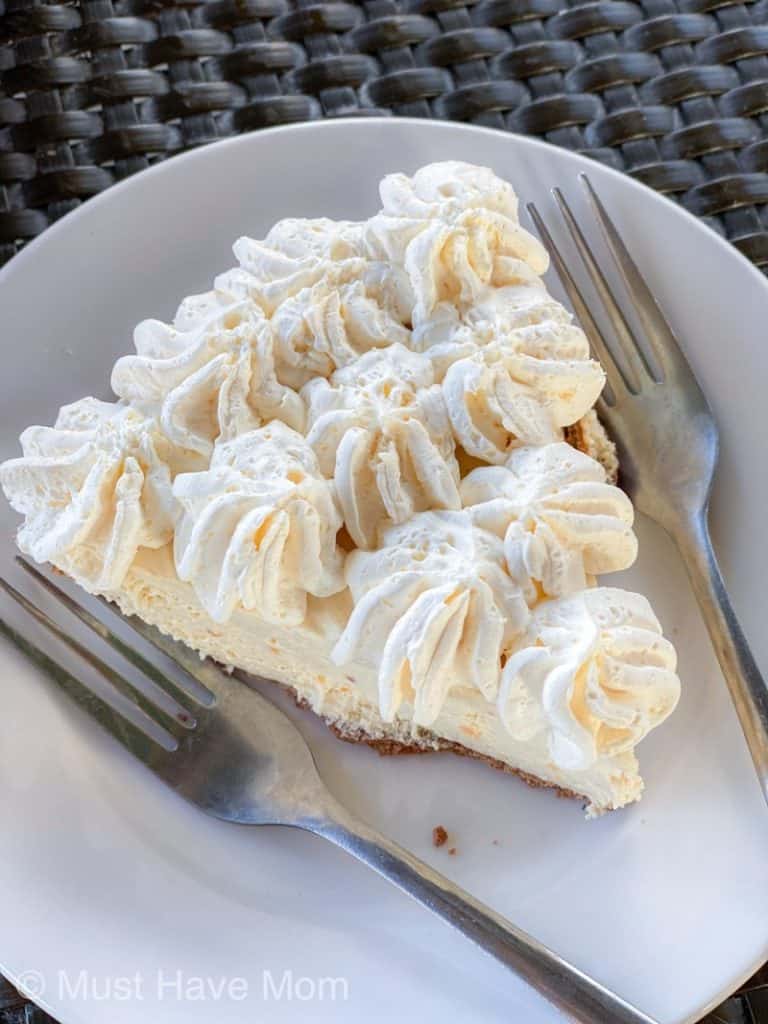 We also had to order our favorite peanut butter pie! It's a frozen pie and it is AMAZING! We also tried the key lime pie which is also amazing. Definitely a must-have.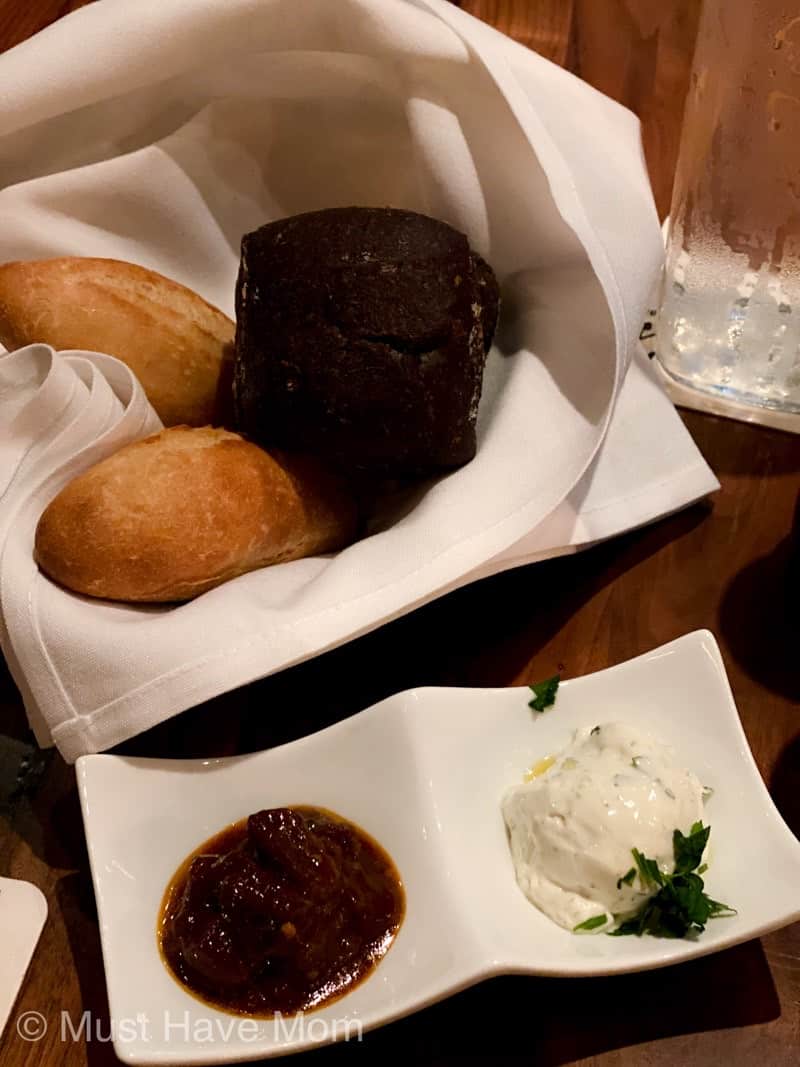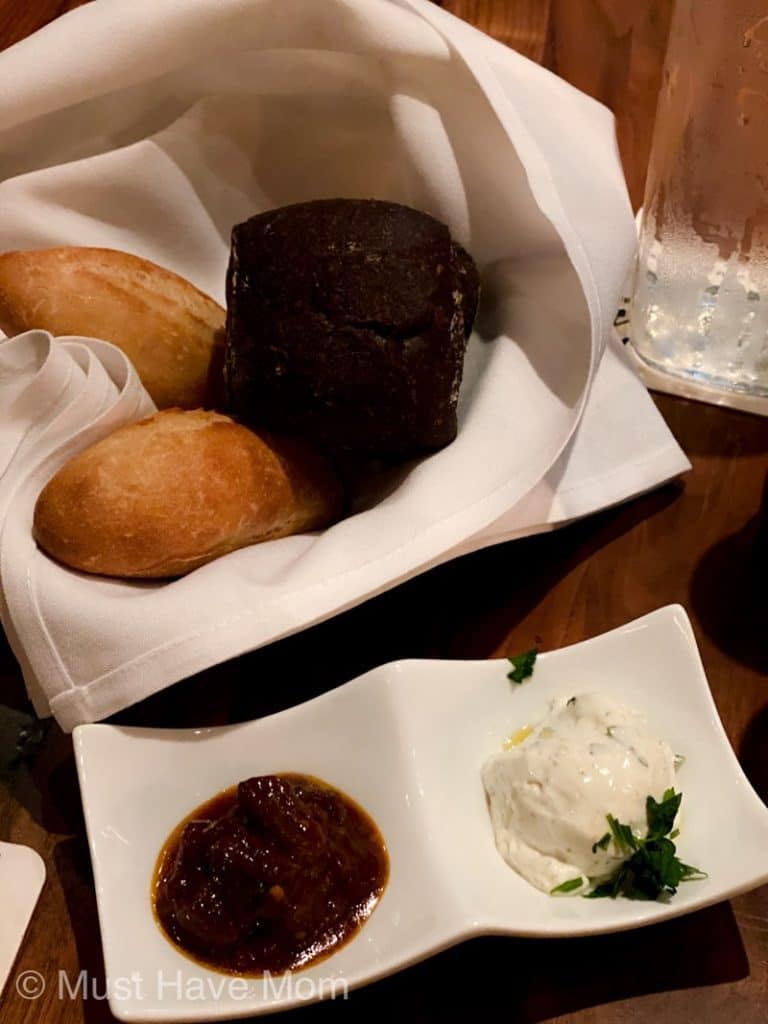 Marco Prime, Marco Island
Next on our list to check out was Marco Prime. We had heard many good things about this restaurant. It is owned by the same people that own the Snook Inn and the Oyster Society. It is definitely a classier restaurant and lacks the island vibe. Dress nicely as this is one of the fancier restaurants on our list. To start, you are given their bread and dipping sauces. They were very flavorful and different. We enjoyed the detour from your usual bread basket.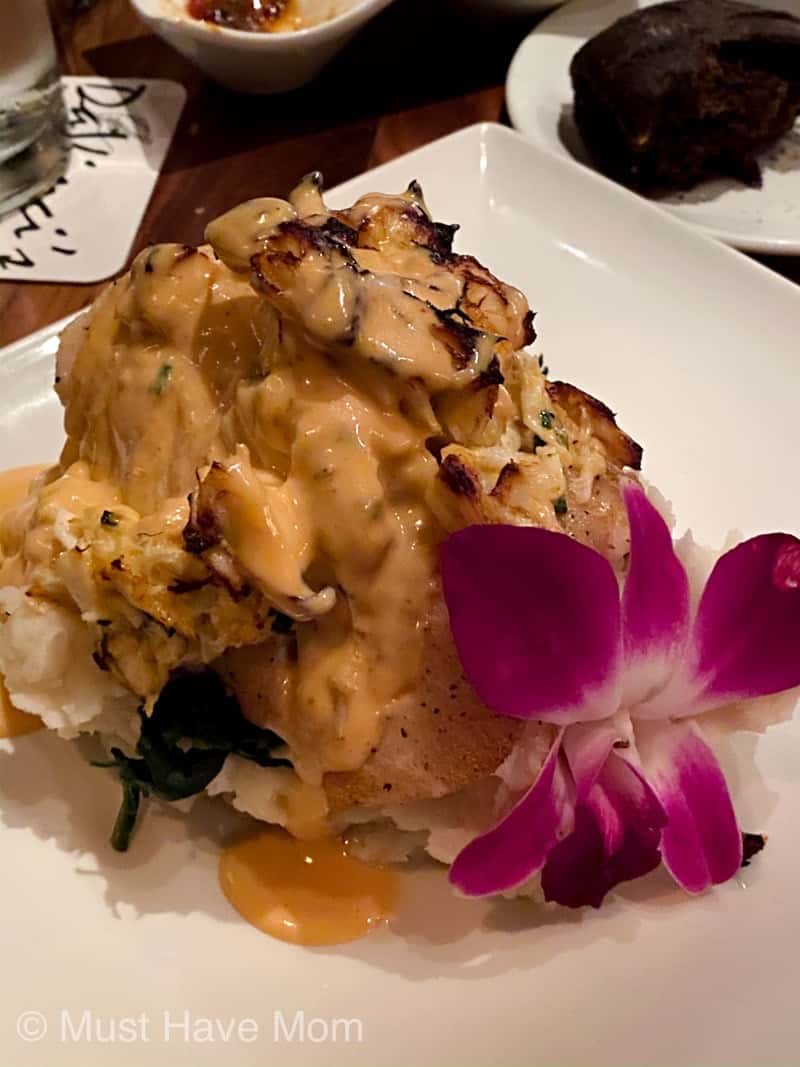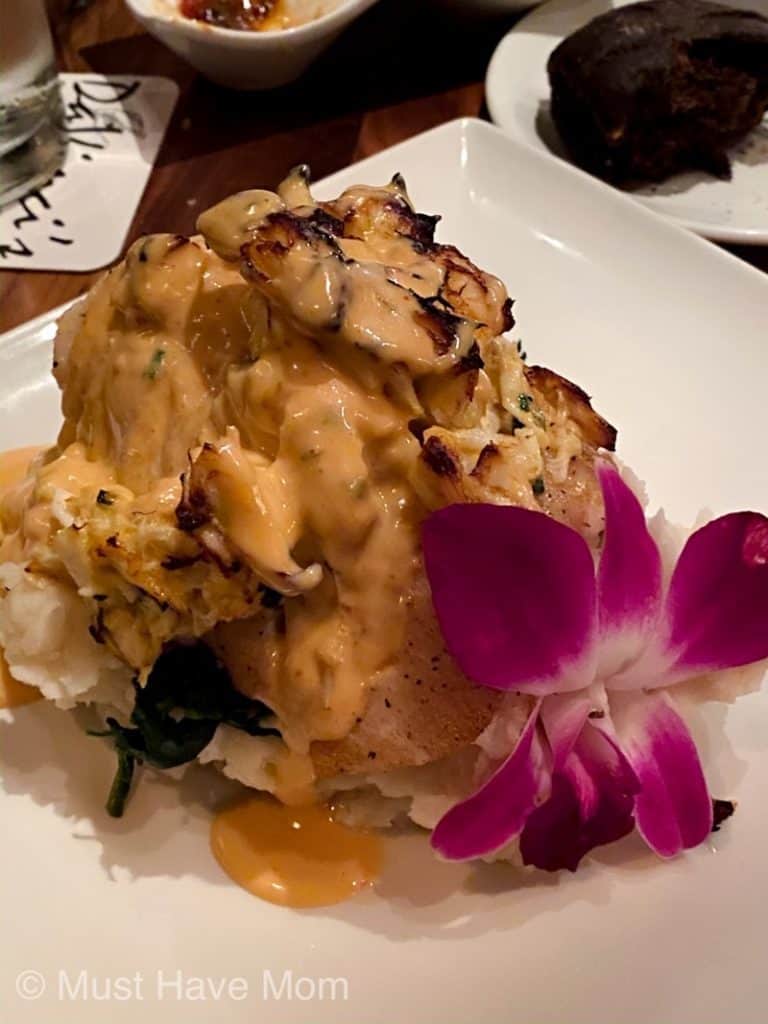 I ordered the grouper dynamito which was an incredible combination of spicy blue crab, grouper, spinach and mashed potatoes. It arrived as a mountain of food drizzled in spicy sauce. The combination of flavors was amazing. It was full of flavor, not too spicy and very satisfying. The fish and crab were cooked perfectly and the combination of seafood and mashed potatoes was a pleasant delight.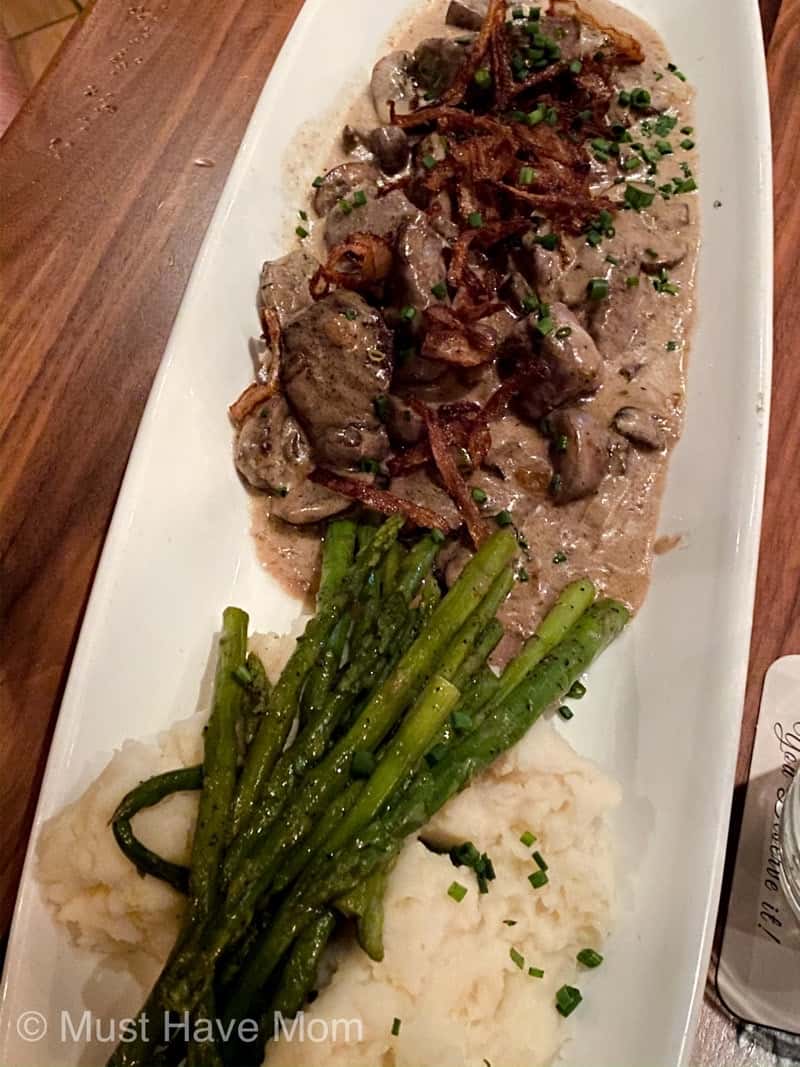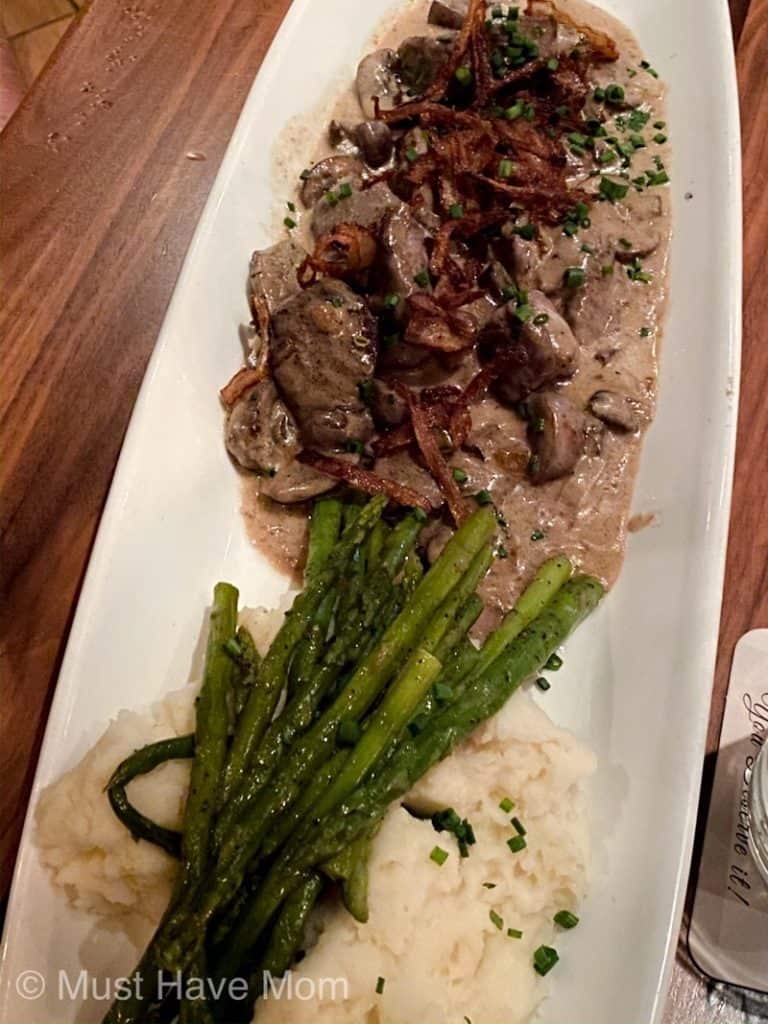 My husband ordered the Waygu Beef Tips with asparagus and mashed potatoes. The beef was cooked perfectly and was very tender. The asparagus was done perfectly and the mashed potatoes were the perfect accompaniment.
Overall, we would definitely visit Marco Prime again! The food was spot on, the service was amazing and it is a great spot to go for a classy dinner.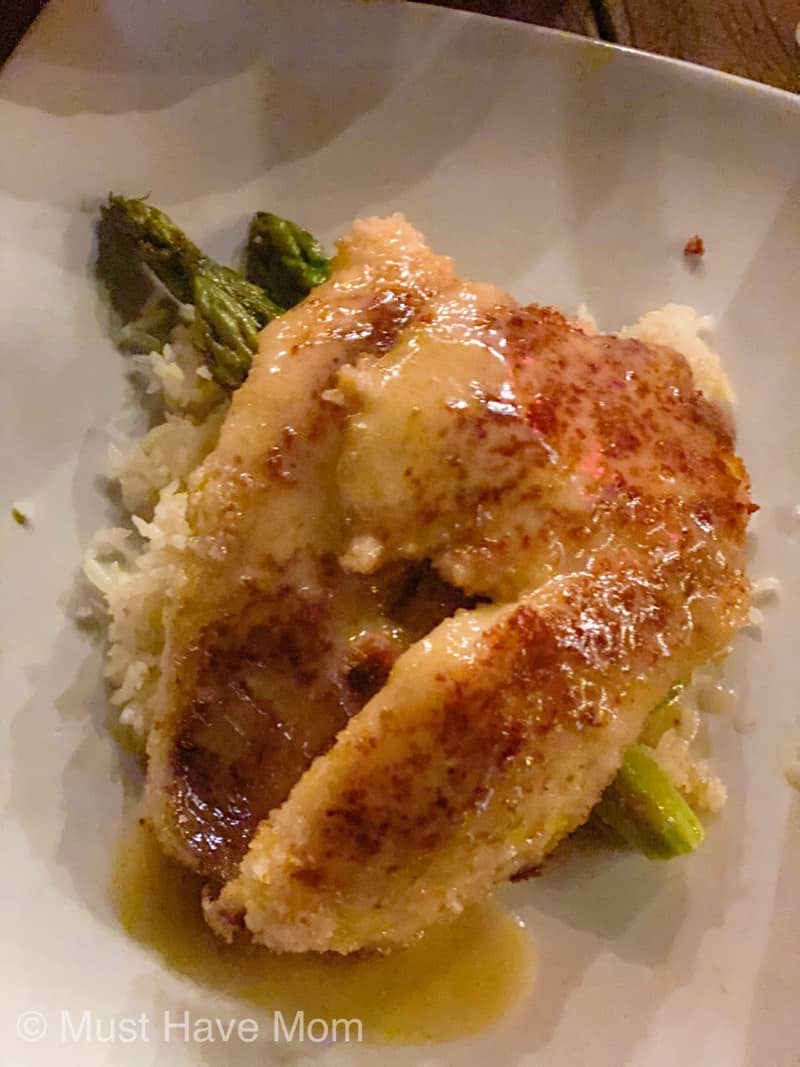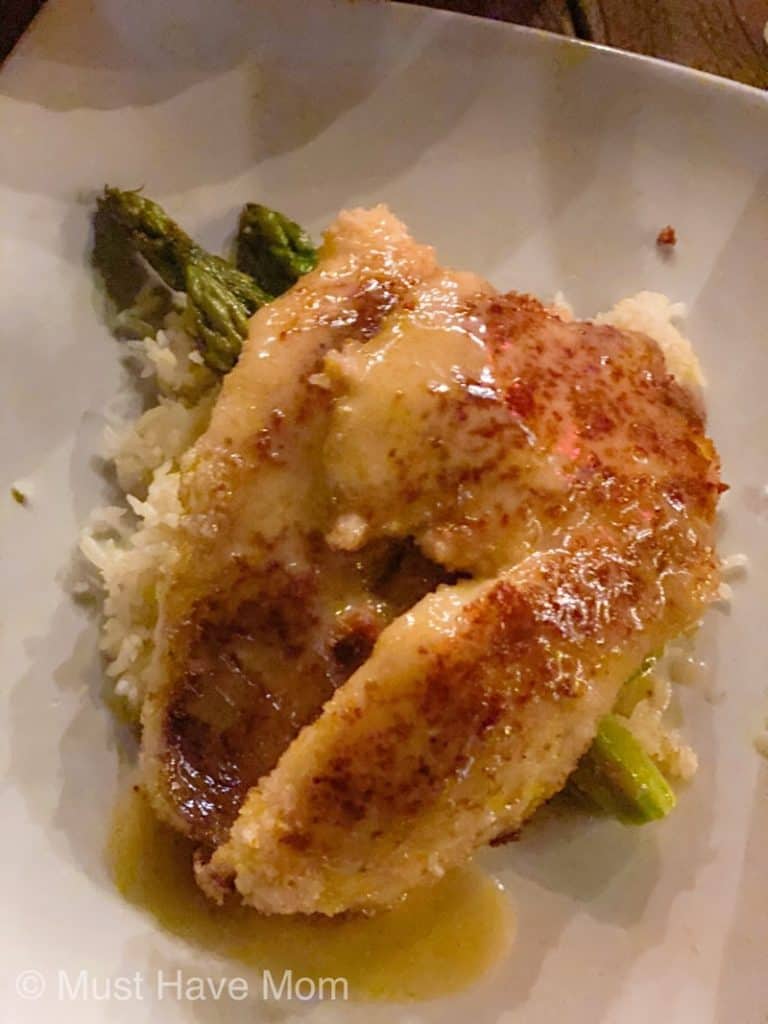 Island Gypsy, Marco Island
We visited the Island Gypsy for the first time ever. You get to sit right on the water and the waiters actually run back and forth to the kitchen across the way. The service was scattered but not because they were lazy, rather they were very busy and had a lot to handle at once. We ordered their onion rings which many people raved about on google reviews. We watched as waiters scurried around for 15 minutes shuffling the onion rings back and forth until they finally made their way to our table. By then they were cold and I am NOT a fan of cold food so I passed on them. My hubby tried them and said they are amazing with the chipotle dipping sauce but alas, they were ice cold.
Our meal arrived a short time after. I ordered the Macadamia Crusted Snapper which was served over coconut rice along with asparagus. The fish was cooked perfectly and the flavor was amazing. I would definitely order this dish again. I ate it ALL!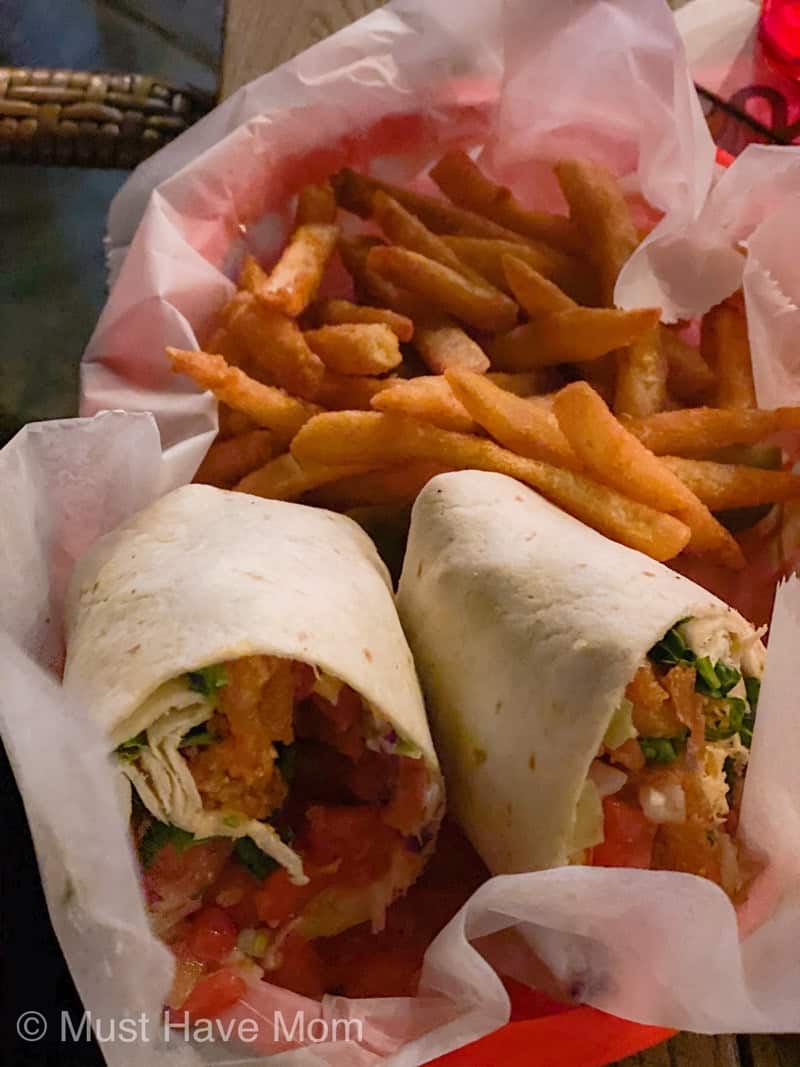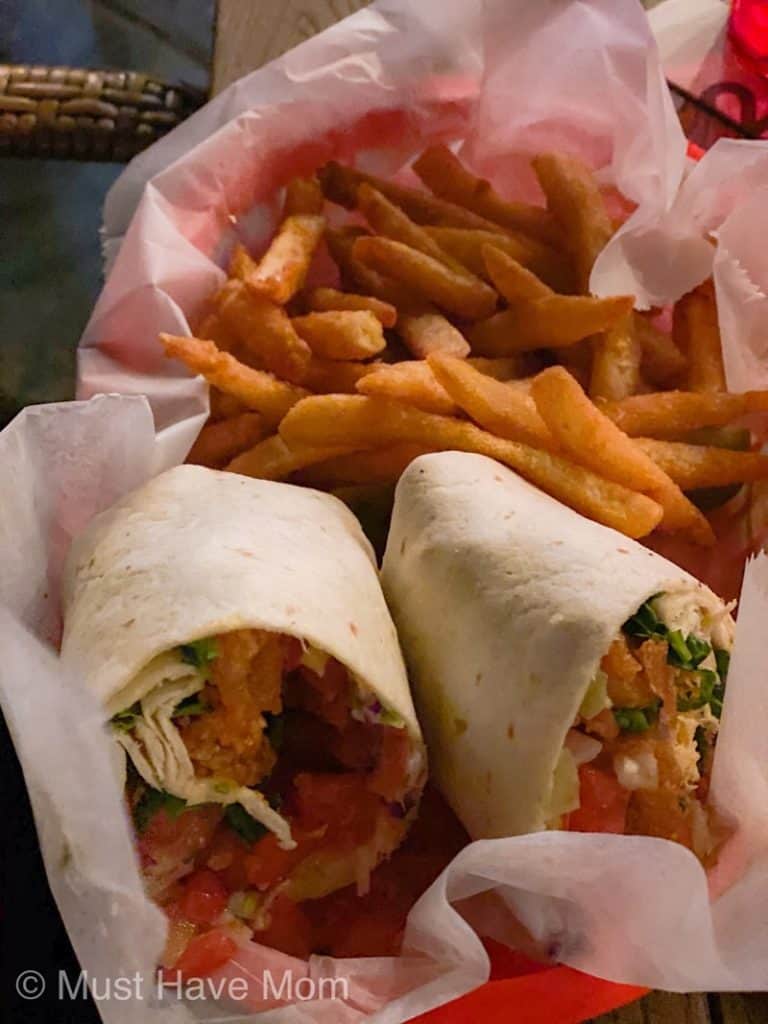 My husband ordered the Shrimp Po Boy wrap. He really enjoyed it and said everything was cooked just perfectly.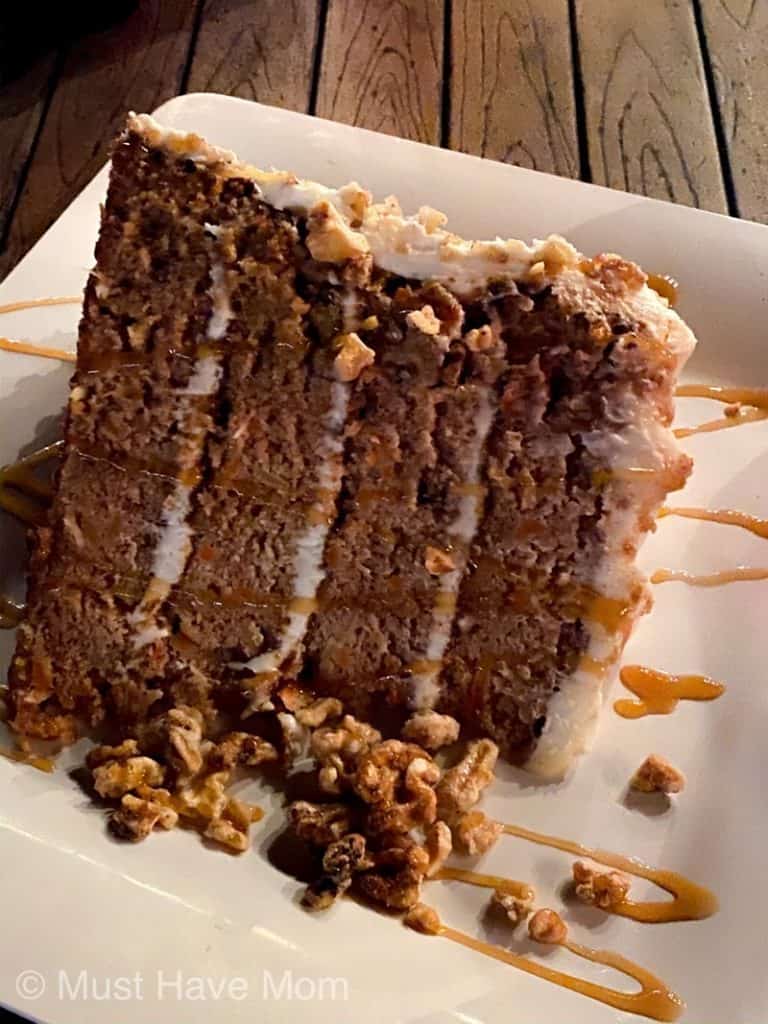 One common theme we noticed in the google reviews was that everyone loves the carrot cake. We also saw nearly every table ordering a slice of it! We had to try it and we were NOT disappointed. It is the most amazing combination of moist carrot cake, toasted nuts and caramel sauce with cream cheese frosting. It is HUGE too! We ate some and took the rest home for later. It was SO tasty and I highly recommend ordering it.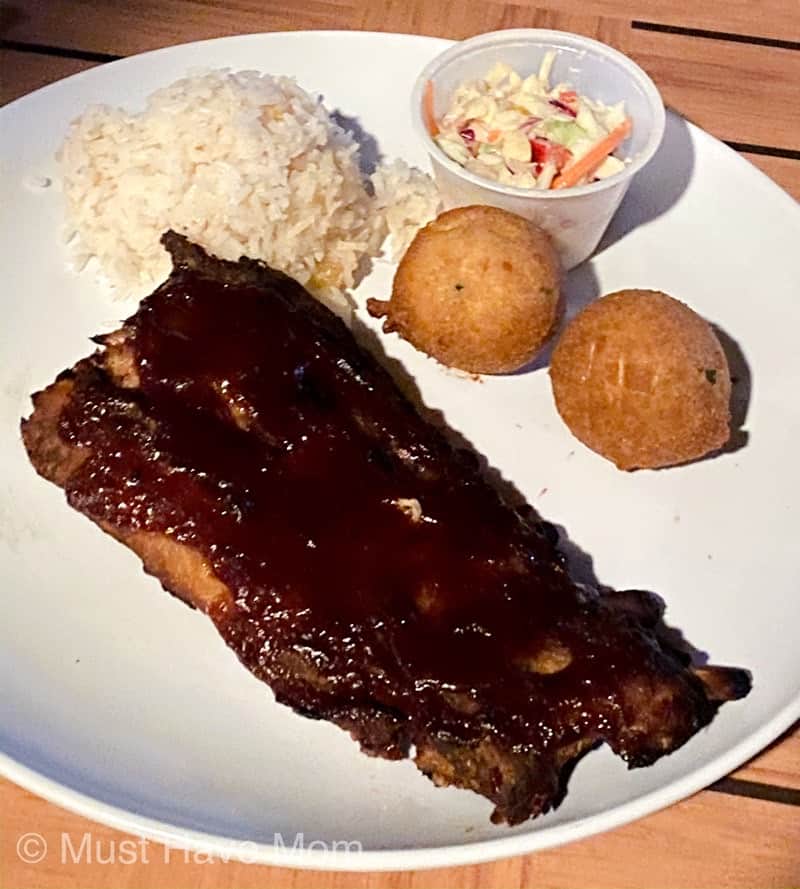 Mango's Dockside Bistro, Marco Island
Mango's Dockside Bistro was close by our condo in the Esplanade shopping center and was recommended by people. We sat outside which is always nice in Marco Island. They started us off with some bread and mango butter. The mango butter was amazing! The bread was just a store-bought dinner roll and nothing to write home about. If they upgraded the bread this would really be an amazing starter.
My husband ordered the half rack of ribs with coconut rice, coleslaw and hush puppies. The meal was very flavorful and the ribs were done perfectly. The mango coleslaw was incredible and the coconut rice was bursting with flavor. The hush puppies were a fun addition to the meal. Overall, a great meal.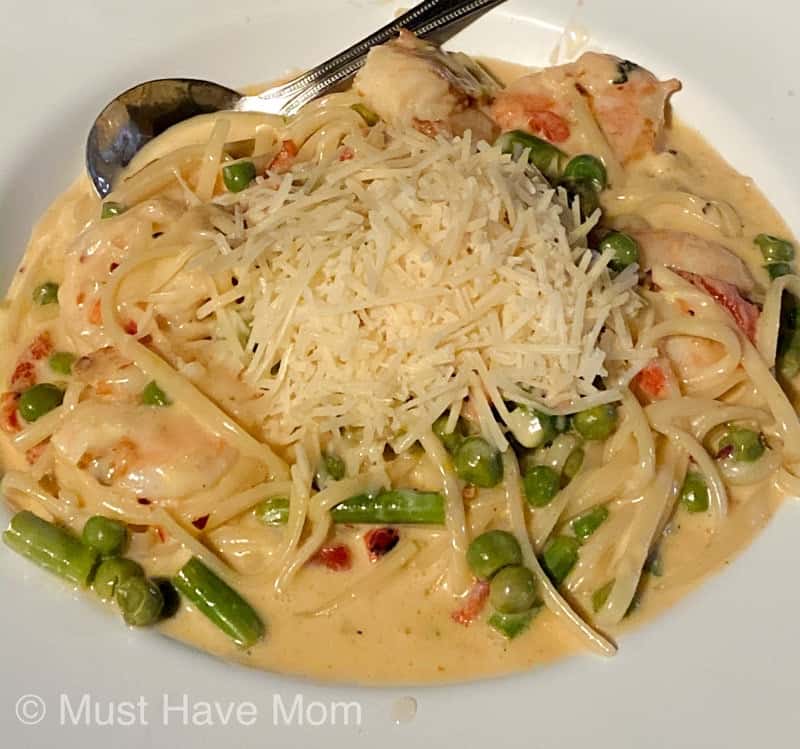 I ordered the Jerk Shrimp Pasta which had been recommended to me. The shrimp were cooked perfectly and were delicious. I found the dish to be really over-sauced. The pasta was drowning in sauce and it really overwhelmed the dish as a whole. As you can see in the picture the sauce left everything else swimming in it, more like a soup than a pasta dish. If they had less sauce this could be an amazing dish. The asparagus was a nice inclusion as well. I didn't finish this dish and ended up plucking out the shrimp and asparagus and eating them sans sauce. This dish has potential but I wouldn't order it again.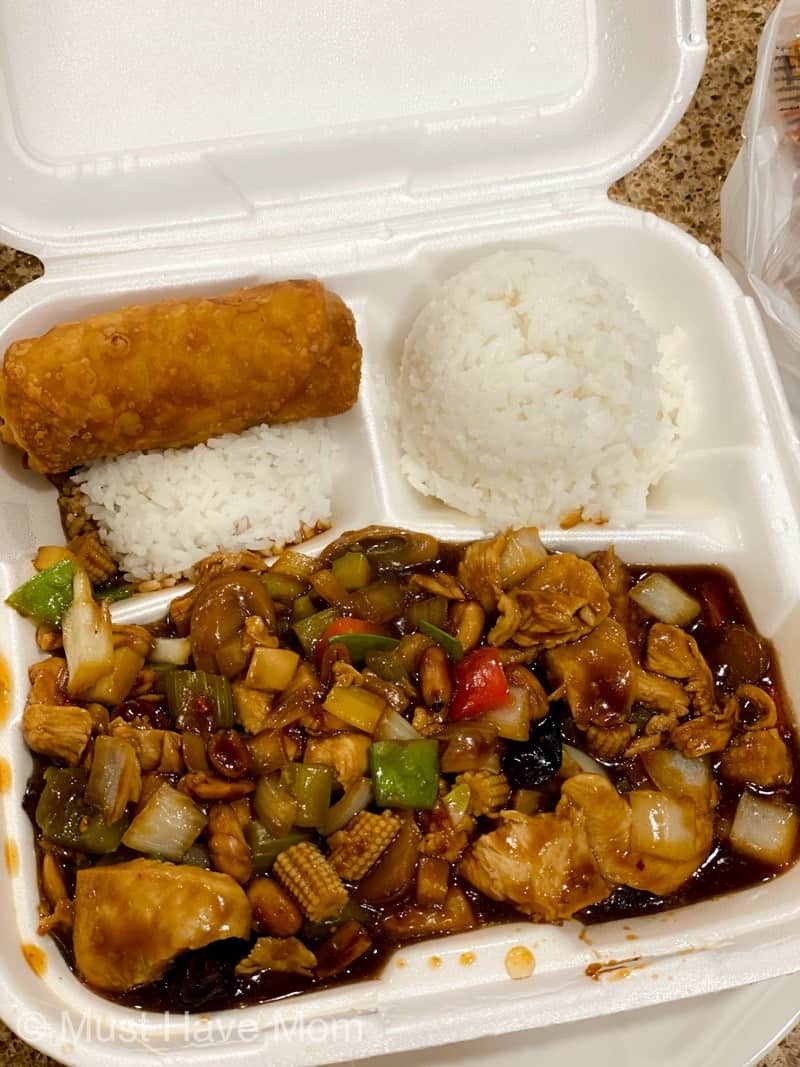 Su's Garden Marco Island
Some nights you just want to stay in and get takeout. We opted to stay in our condo, watch the sunset and indulge in a movie while we left the cooking up to Su's Garden Chinese restaurant.
I ordered the dinner special of Kung Pao chicken, egg roll and white rice. It also came with a bowl of chicken rice soup. It was a TON of food and it was SO delicious. It had all the veggies, chicken and peanuts you could ask for and was covered in a delicious sauce that was spicy but not overwhelming.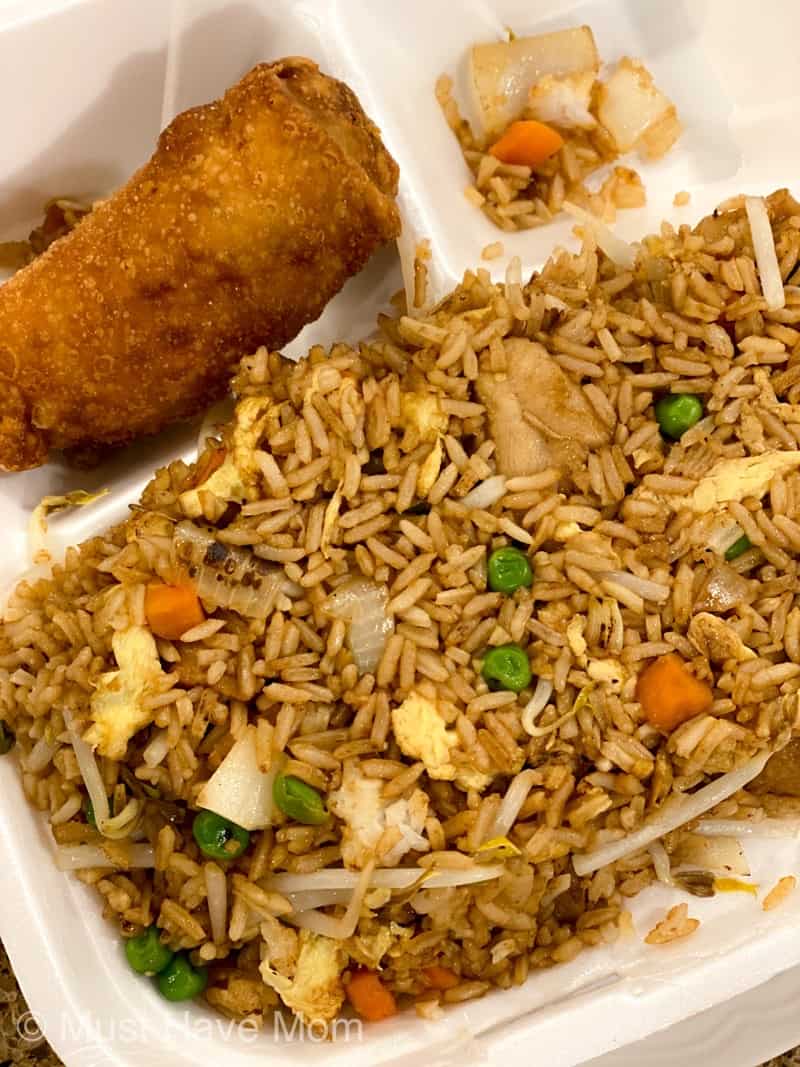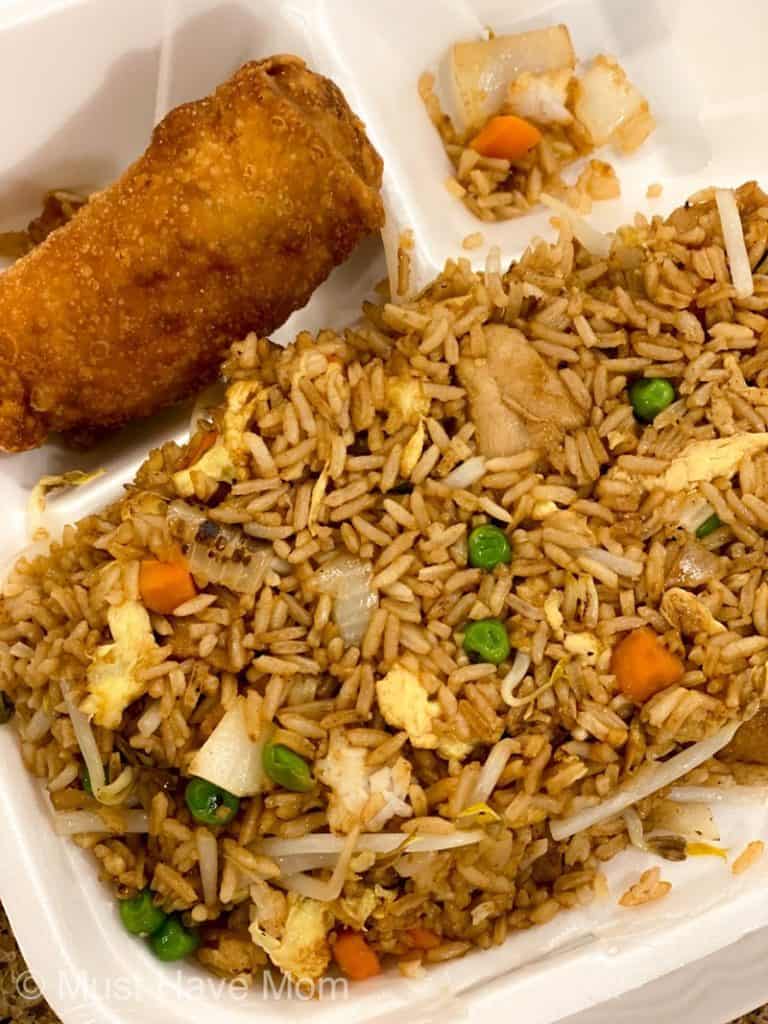 My husband ordered the Chicken Fried Rice dinner special with an egg roll and wonton egg drop soup. Once again the food was delicious and the portions are huge. We could easily have ordered one dinner special and split it between the two of us and had plenty of food. We ate this leftover the next day and still had some left after that!
Overall, Su's Garden was a great value, the flavors were awesome and they even deliver. This one is a winner for those nights you want to stay in and order takeout.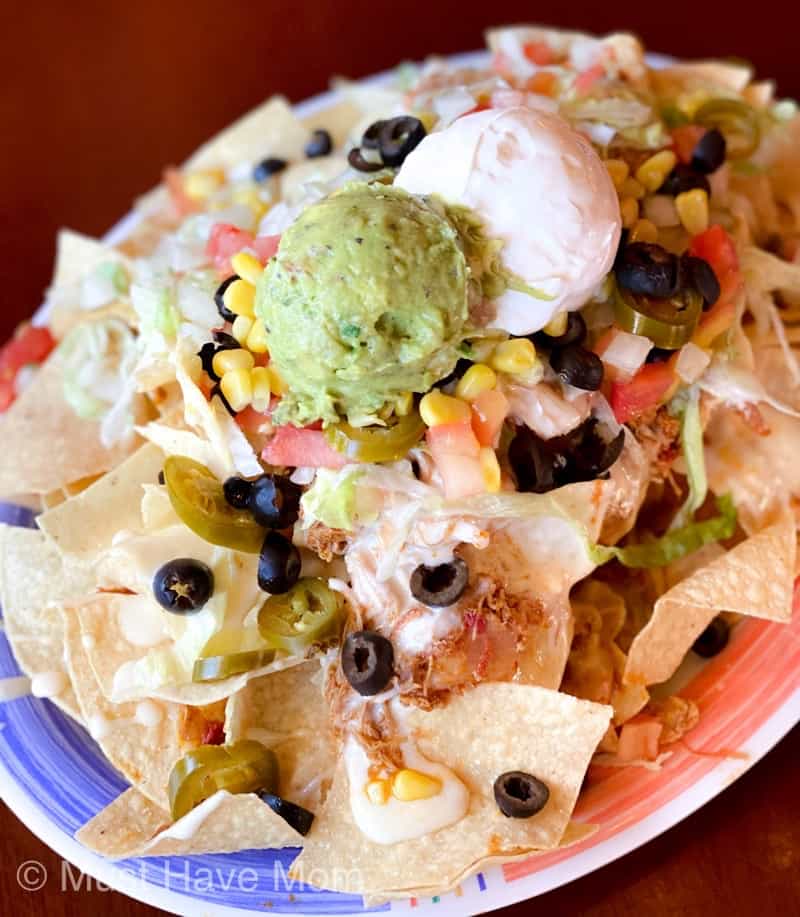 Nacho Mama's Marco Island
After eating tons of seafood all week, I was in the mood for some good Mexican food. We headed to Nacho Mama's on Marco Island. It was a chilly day so we sat indoors but they do have a nice outdoor seating area for warmer days. I had researched reviews on google and expected bad service based on what other's said. The service was a bit lacking when we arrived but once we were seated our waiter was great and checked on us often!
Of couse at a place called "Nacho Mama's" we had to order the nachos as our appetizer. The waiter warned us that they are huge and we decided to go with nachos and split an entree upon his recommendation. That was a great choice because the nachos are huge for two people! We went with the chicken nachos and boy were they amazing. My mouth is watering just thinking about them. The chips were light and crisp and the toppings were layered throughout which was awesome! The pile of fresh guacamole on top was just the icing on the cake so to speak. I would most definitely get the nachos again!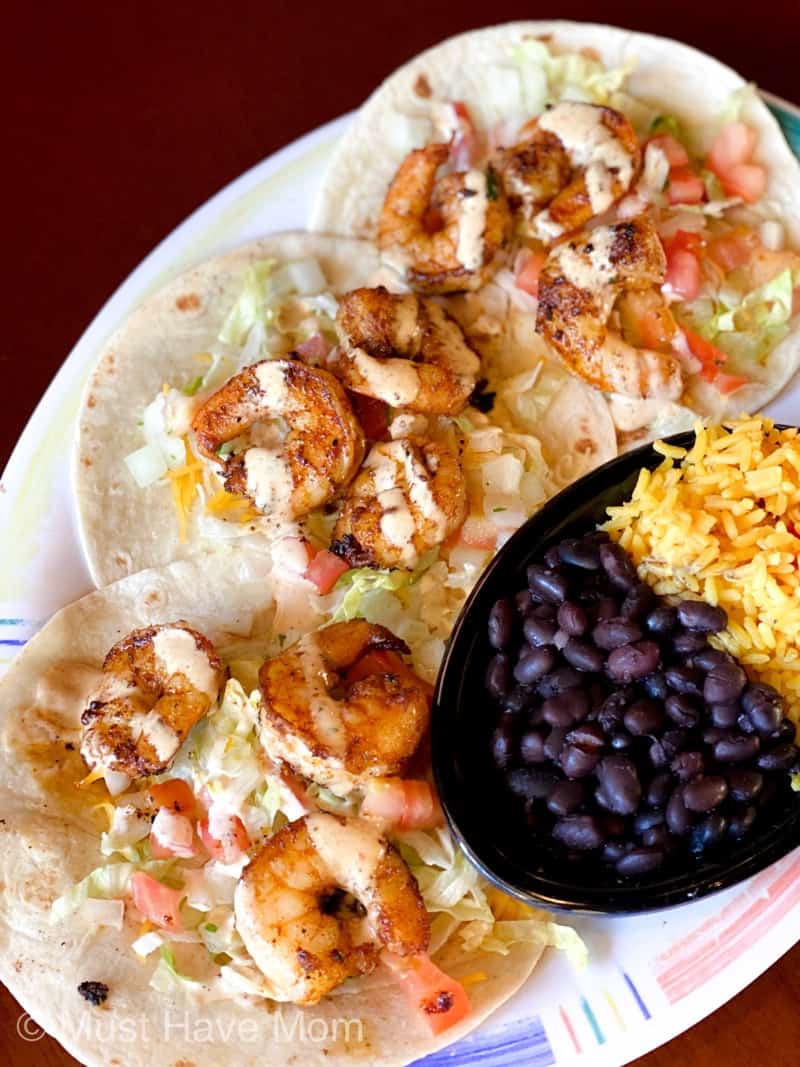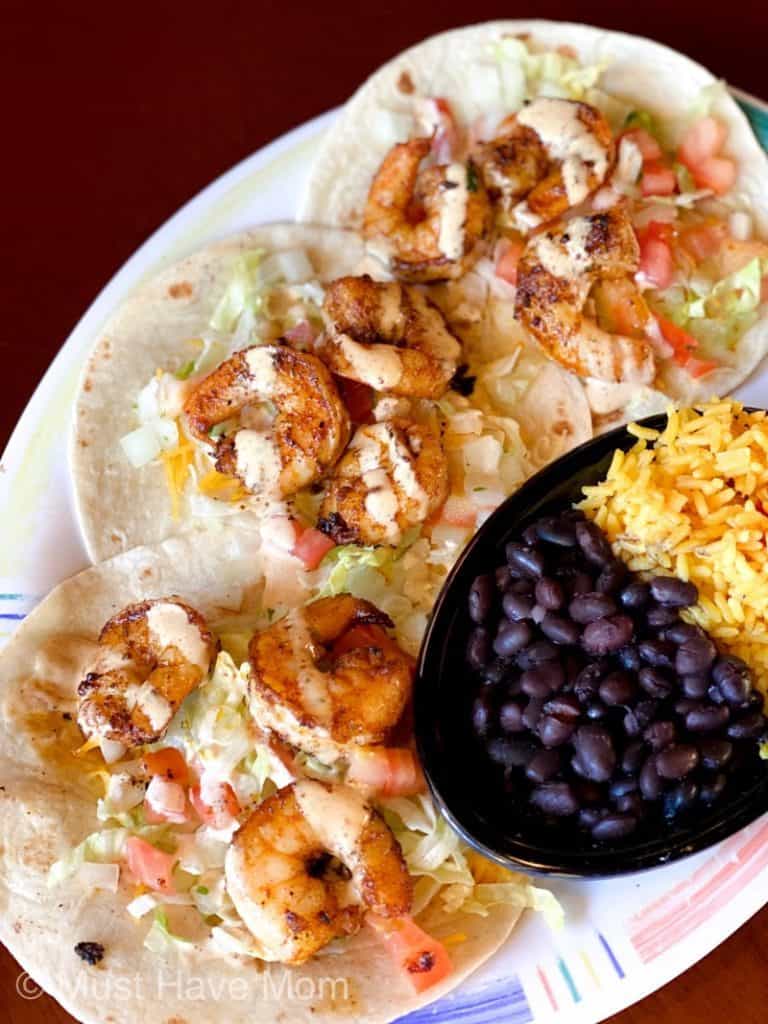 For our entree, we split the blackened shrimp tacos with black beans and rice. It came with three soft shell tacos with big shrimp nestled inside and a great chipotle ranch sauce drizzled on top. The shrimp were cooked perfectly and the tacos were superb. This proved to be the perfect amount of food for two of us to share! I would definitely order these again as they were spot on flavor and well-cooked shrimp. Nothing overdone here!
We didn't order the salsa and chips since we got nachos but we did try the salsa with our nachos and it was great. The chips and salsa looked huge and I would definitely order them if we didn't do the nachos. We also saw a huge soft pretzel being delivered to the bar and it looked amazing. Definitely need to try that next time!
Sanibel Fish House
If you take a day trip over to Sanibel Island at all (which we did!) there are many restaurants on the island. We checked out Sanibel Fish House.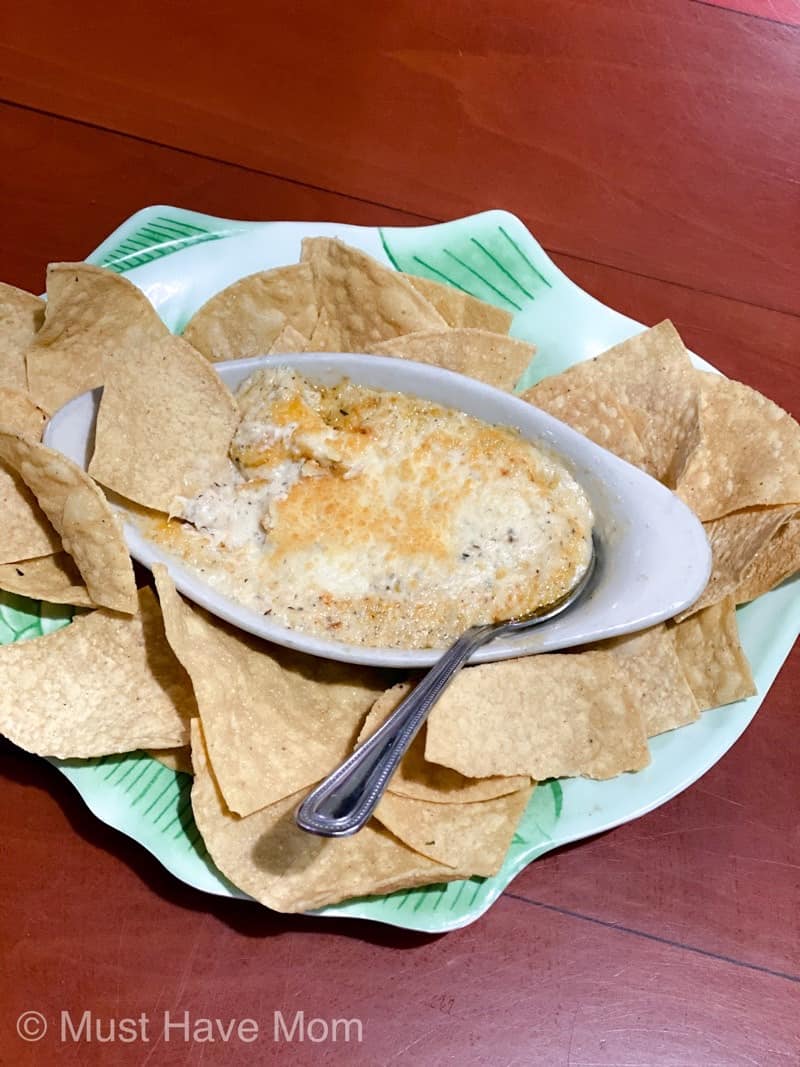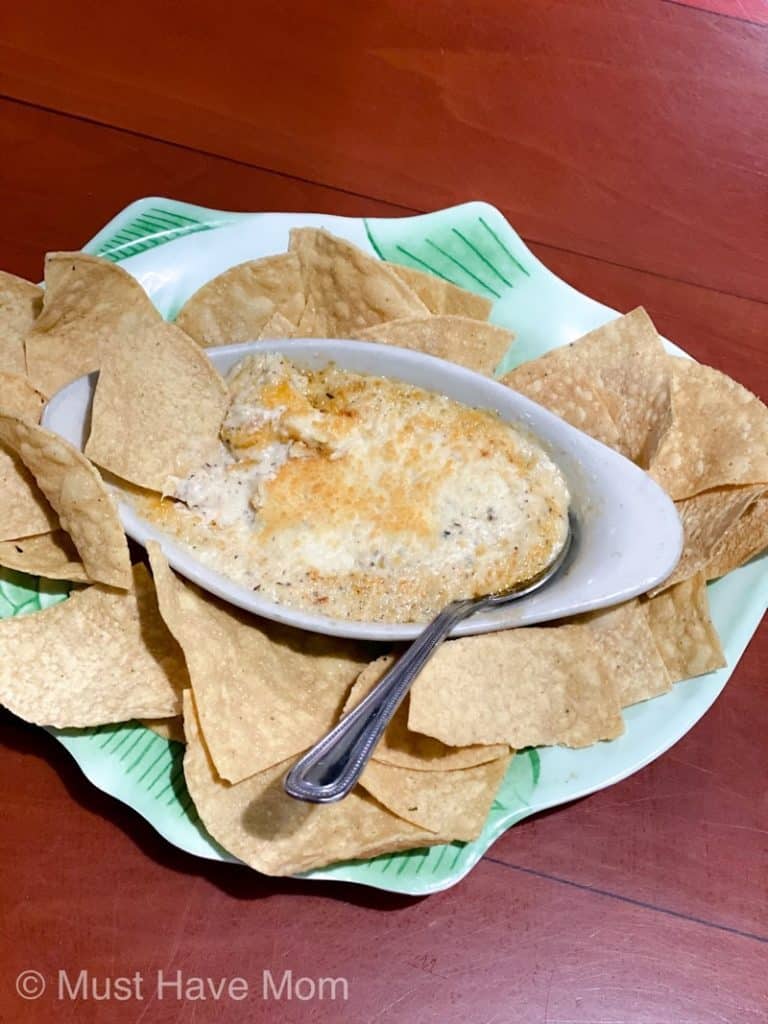 We started with an appetizer. The hot blue crab and shrimp dip was SO good. It was served piping hot with tortilla chips. It has pieces of shrimp and blue crab in a cheese-based dip that is out of this world. I would go back just for this appetizer!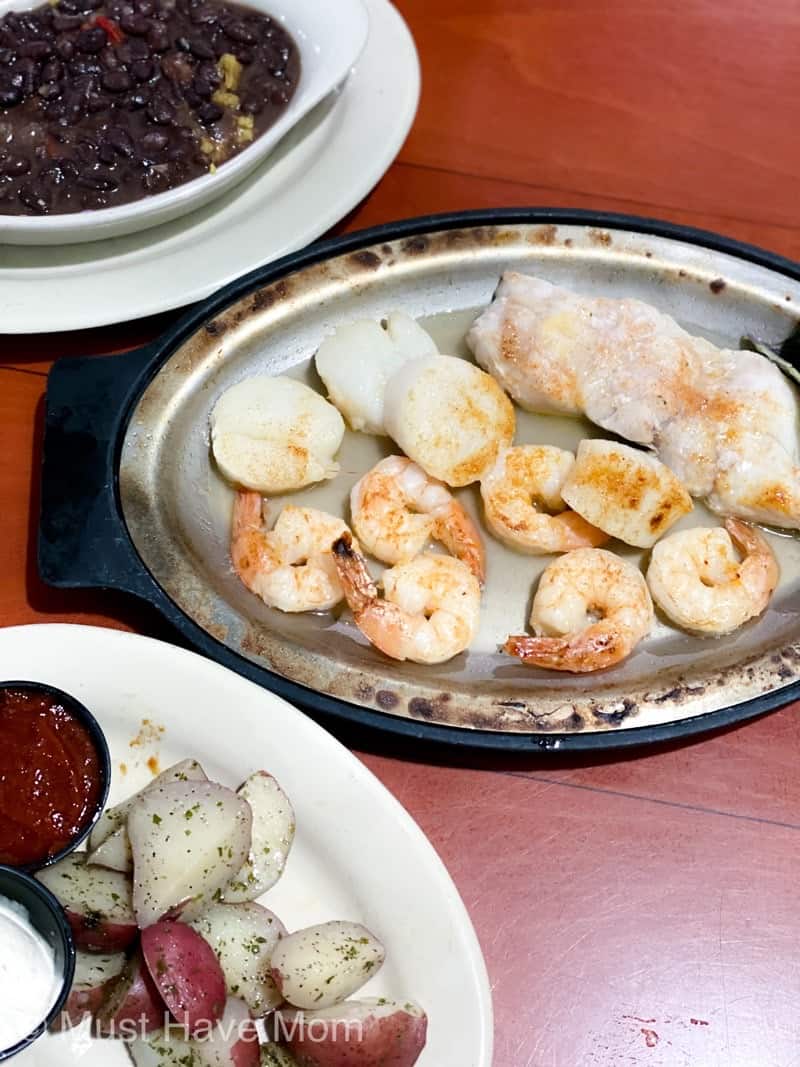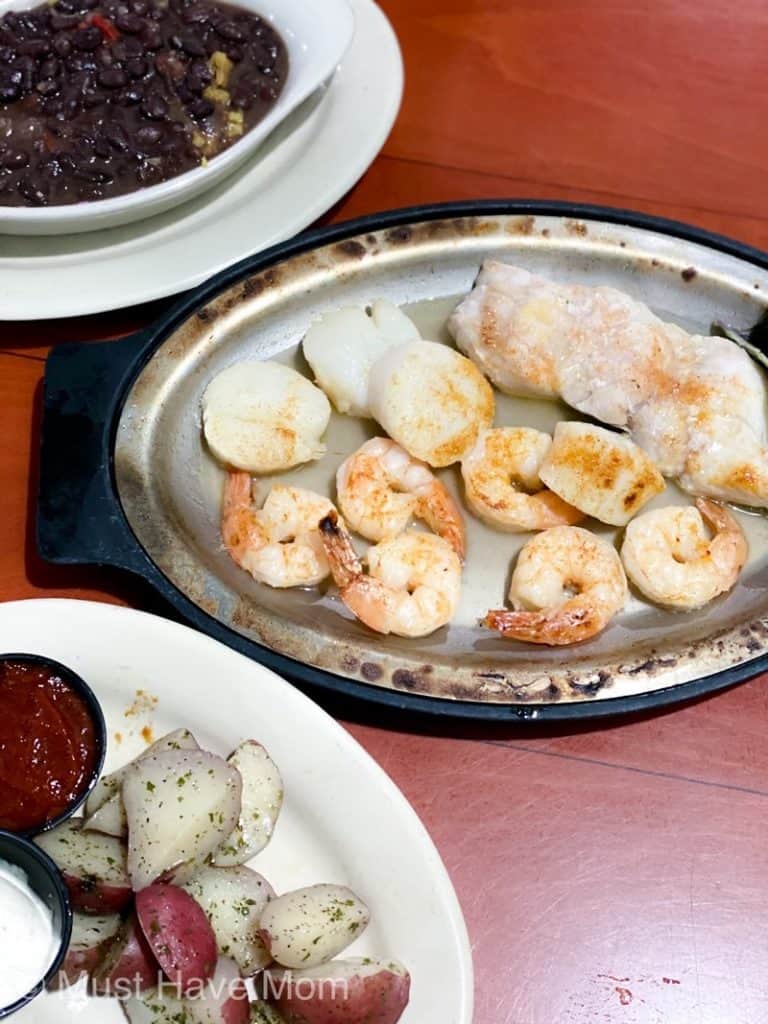 We ordered the broiled fish combo which includes scallops, shrimp and grouper. It came with two sides which we chose the rice and beans and parsley potatoes for. The shrimp was a bit overcooked and the grouper was dry. The rice and beans had great flavor. I also ordered a side salad which didn't arrive and they brought during the meal which was a bit disappointing. I wouldn't order this dish again.
Overall, I'd definitely visit again for the hot blue crab and shrimp dip but I'd choose a different entree. They did have many awards displayed for their food so perhaps we just got a bad dish!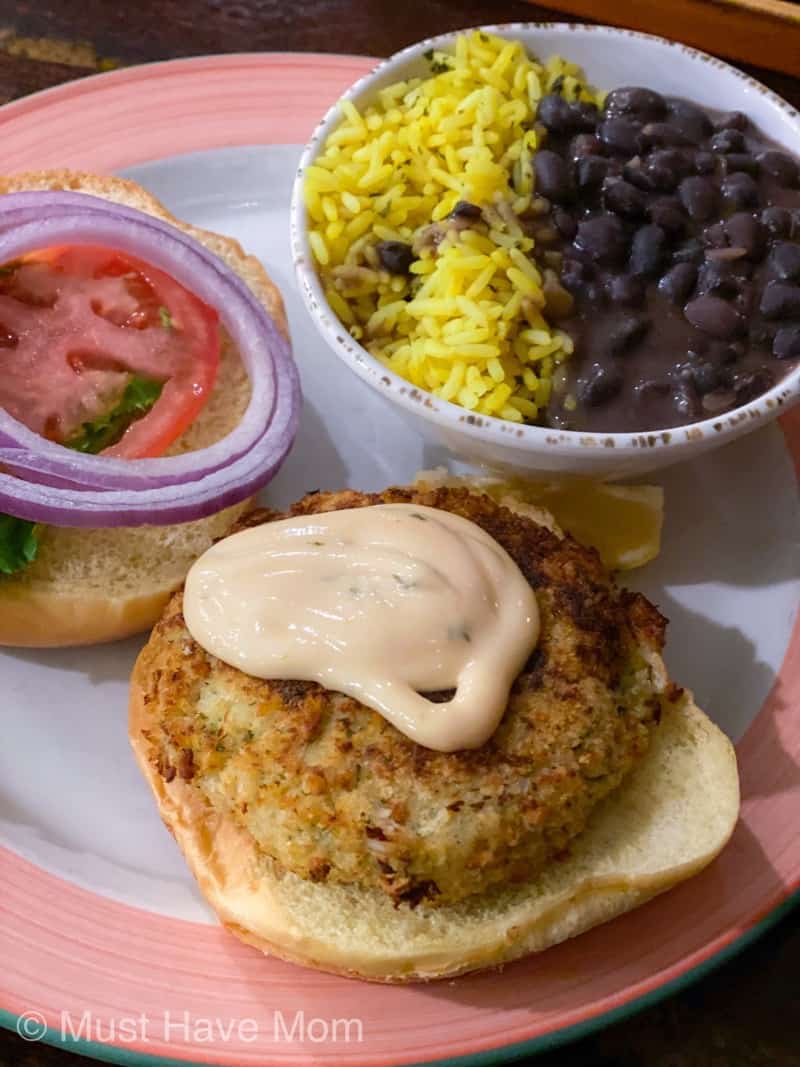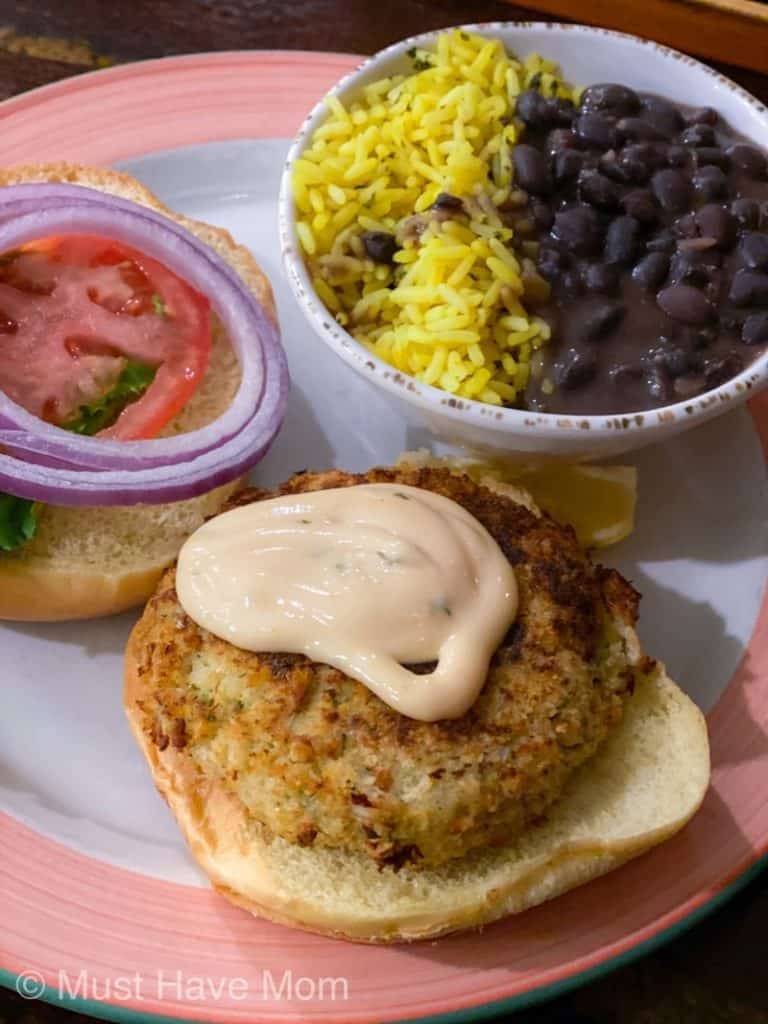 Snook Inn Marco Island
We also hit up an old favorite, Snook Inn on Marco Island. It's situated right on the water and I've been coming here for many years. It was recently bought by new owners and we decided to give it another try after a disappointing previous experience.
My husband ordered the Crab Cake Sandwich which came with black beans and rice as a side, along with a trip to the famous salad bar. The crab cake was light but filling and the fresh onion and tomato were the perfect accompaniment to this unique sandwich. The sauce was the perfect finish for this surprisingly delicious sandwich.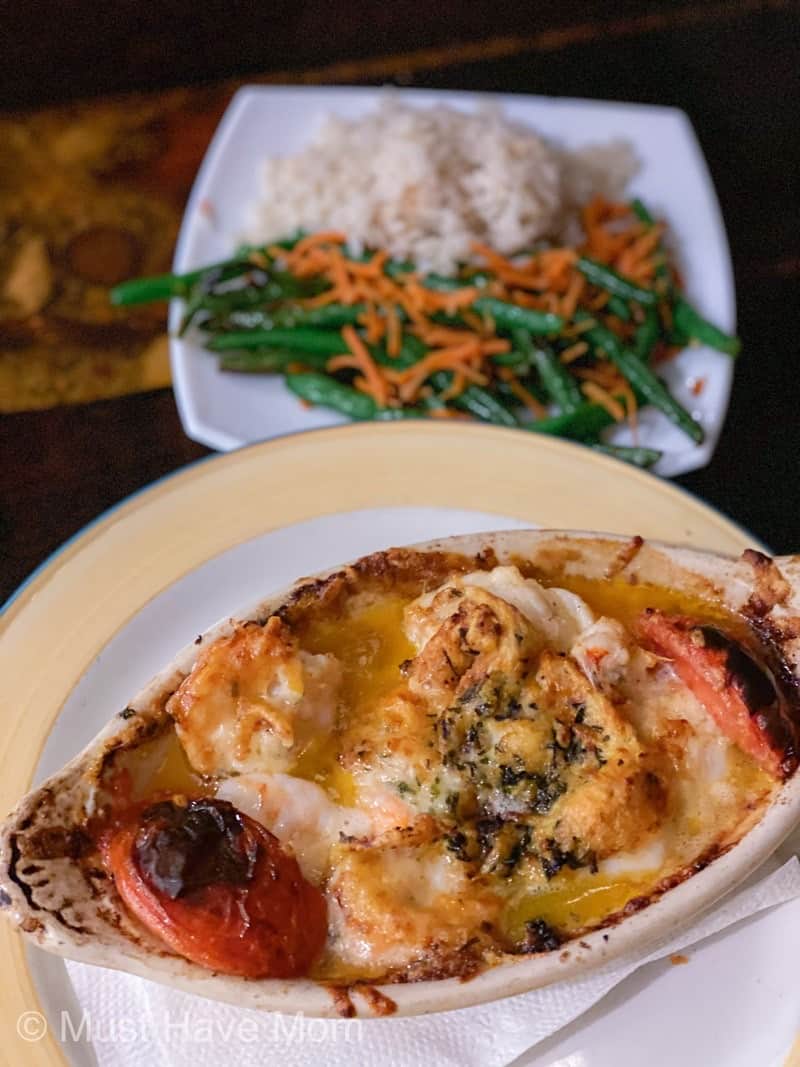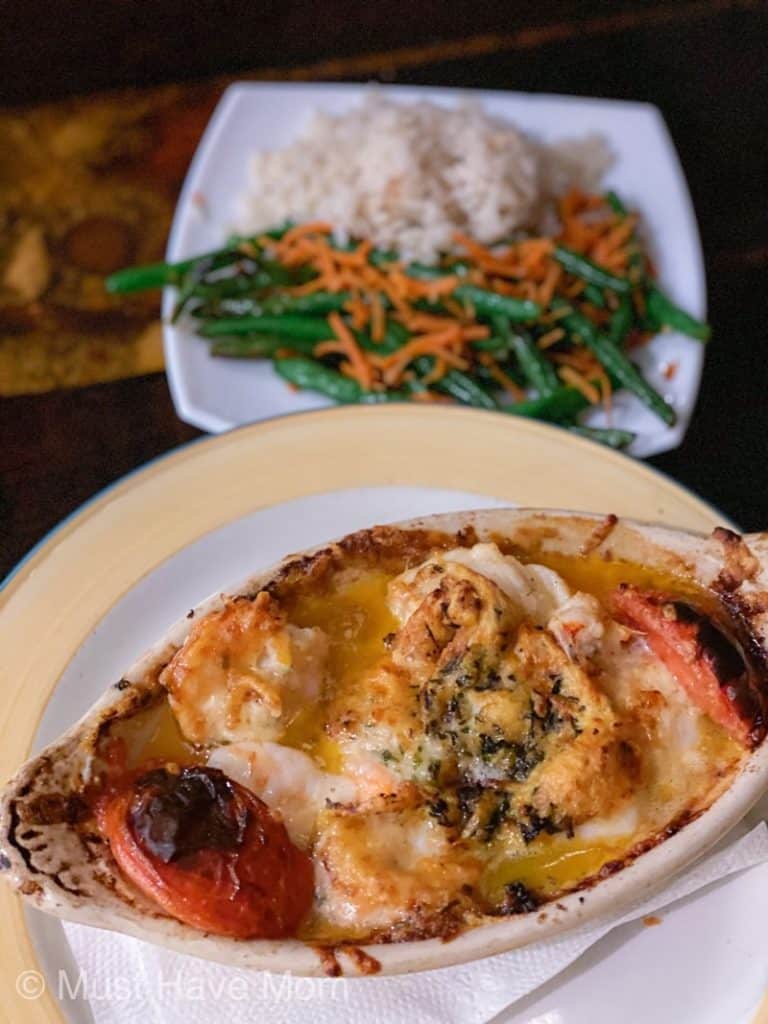 I had the Seafood Scampi which is a combination of lobster, shrimp, scallops, tomatoes and a side of coconut rice and veggies. This dish also included a trip to our fave salad bar on the island. This dish arrived at the table piping hot in the dish it was baked in. The lobster and scallops were delicious however the shrimp were overdone, likely due to continuing to bake in the hot dish. The coconut rice was vibrant with flavor and the beans were cooked perfectly. The buttery sauce on the seafood scampi was exactly what this dish needed. All in all this was a good dish but I would likely try something else next time!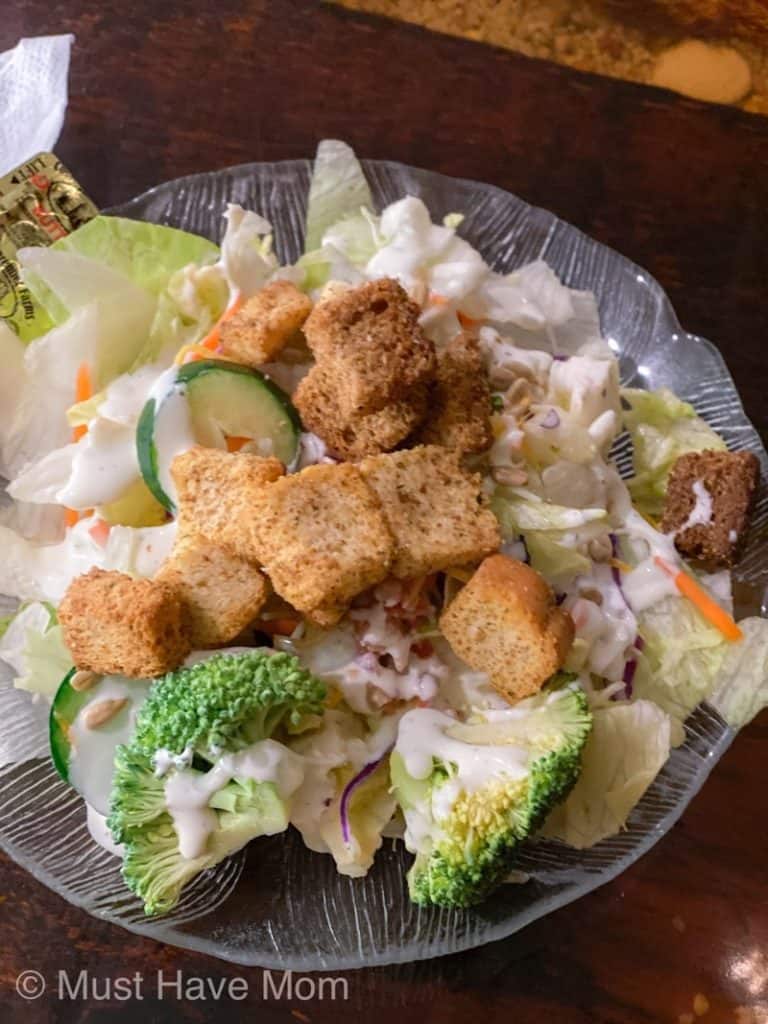 Be sure if you visit Snook Inn that you get a trip to the salad bar. It's packed with fresh veggies, dressings, homemade bread, a barrel of pickles and more. It is our favorite salad bar on the island!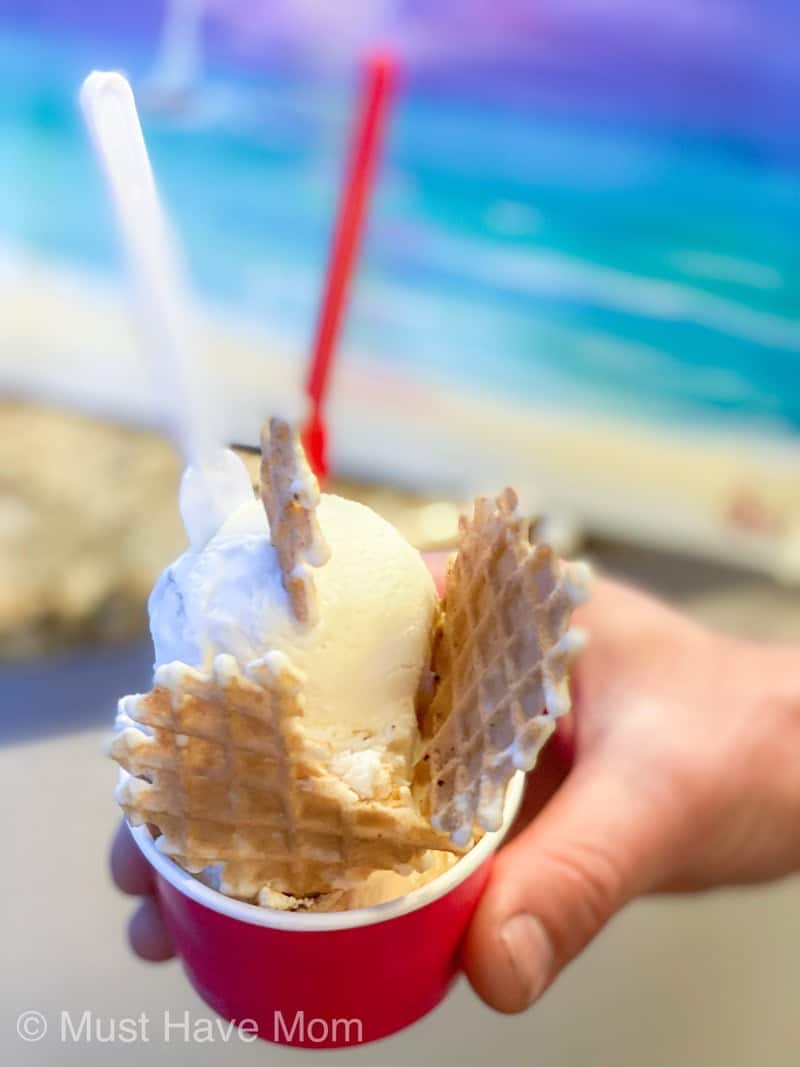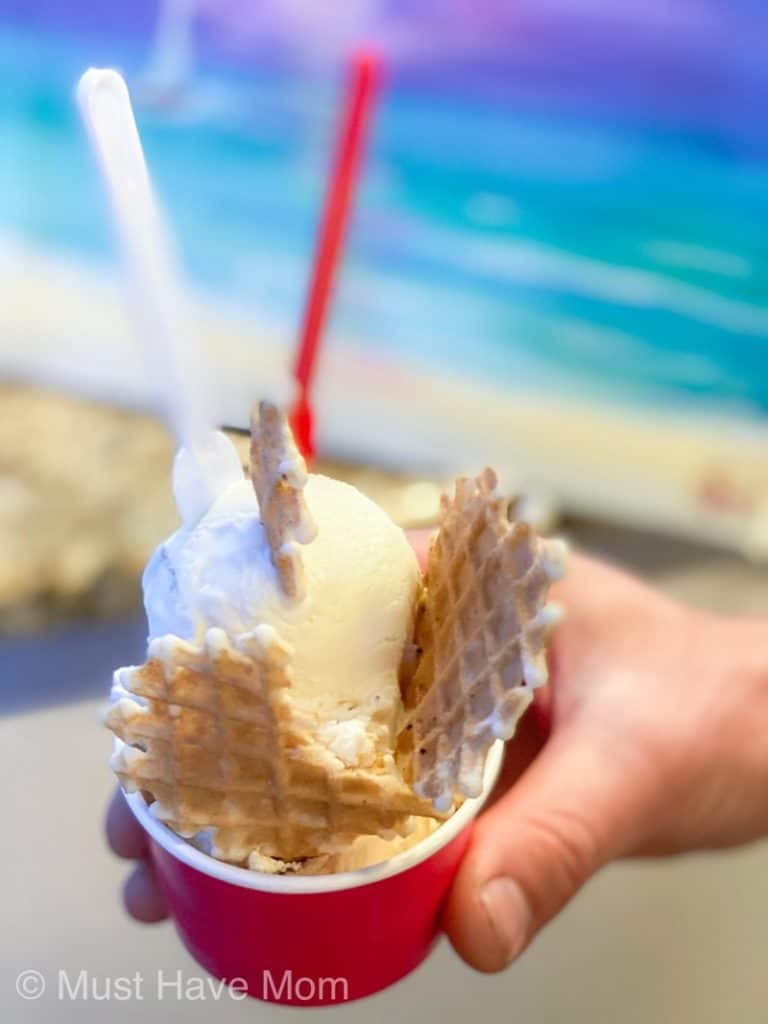 Dolce Mare Marco Island
After eating at Marco Prime or Nacho Mama's take a stroll over to Dolce Mare for the best gelato on the island! This confectionery has macaroons, chocolate-covered strawberries, chocolates and amazing gelato! We had to get the key lime pie gelato because we are in Florida! It was SO good! They have so many amazing flavors so be sure to stop and try something. This one is a winner.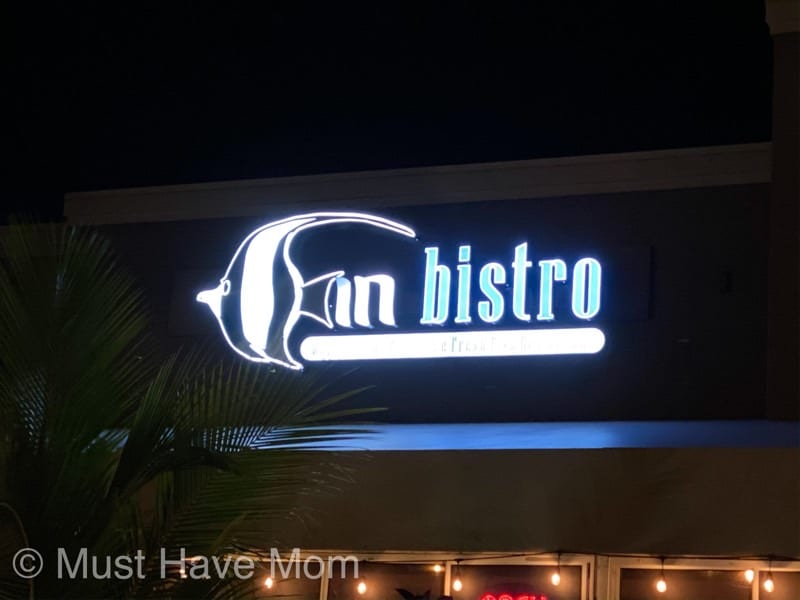 Fin Bistro Marco Island
I have saved the very best for last! Fin Bistro is by far our big winner in this year's Marco Island restaurant reviews. The food was phenomenal, the service was outstanding and they truly knocked our socks off. Known for preparing fresh, local seafood daily, they nailed it. They even close on Sundays because they can't get fresh fish delivered on Sundays. This one is a must-try while you are on Marco Island!
Located in a strip mall, you do not get the idyllic water-side seating, but the ambiance is well-done and makes up for it. You definitely don't feel like you are in a strip mall setting. The plants and outdoor seating are just fine!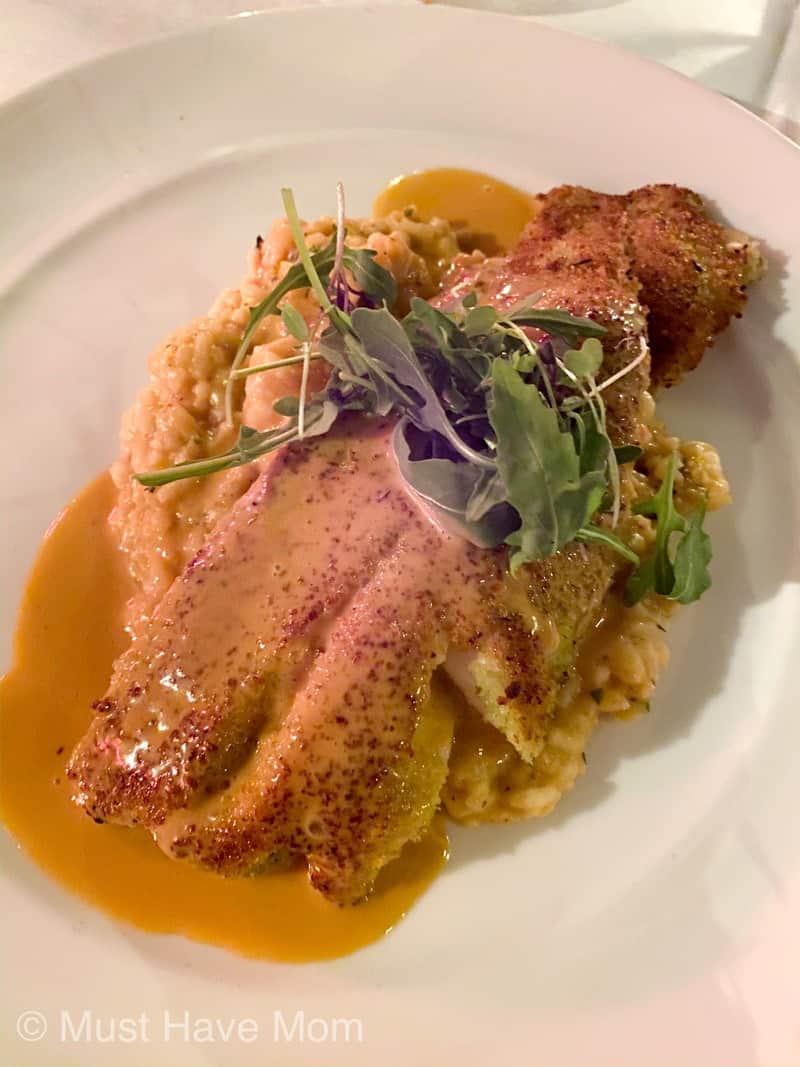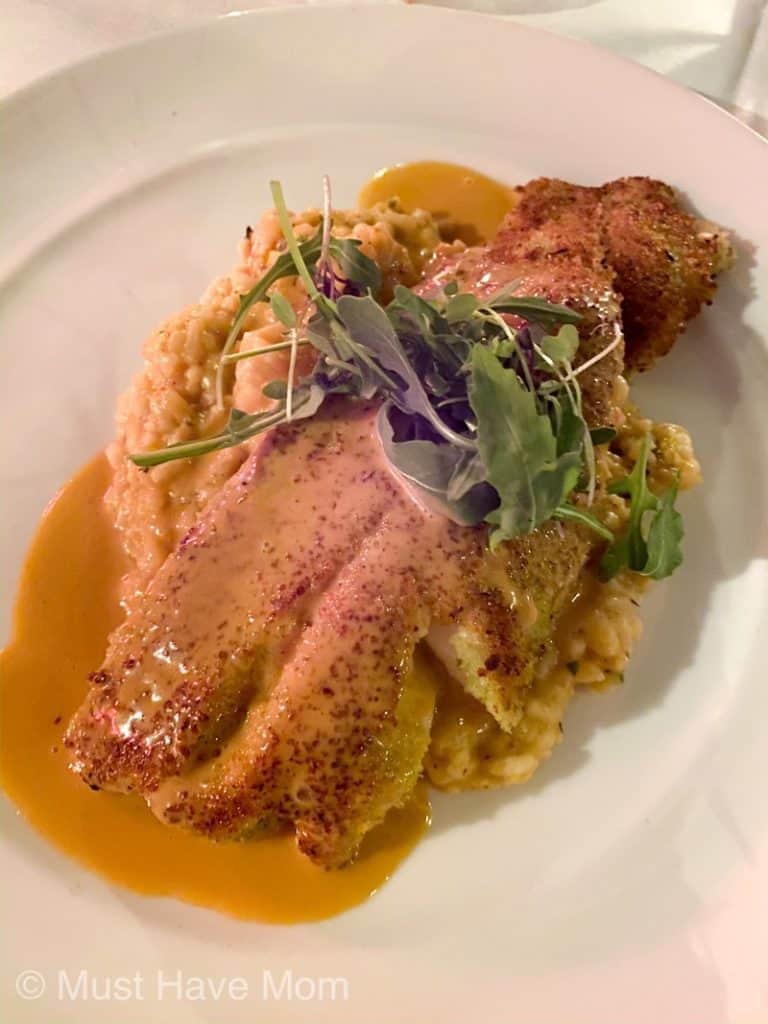 I ordered the Panko Crusted Yellowtail Snapper over squash risotto with rock shrimp and mixed greens. This fish was cooked to perfection and the risotto was out of this world! I was so blown away by the flavors of this dish. Literally, every bite was bursting with vibrant, fresh flavors that danced in your mouth. From the first bite to the last bite, this dish impressed. The array of flavors that play in your mouth is just stunning. I would happily order this dish again. It was over the top amazing.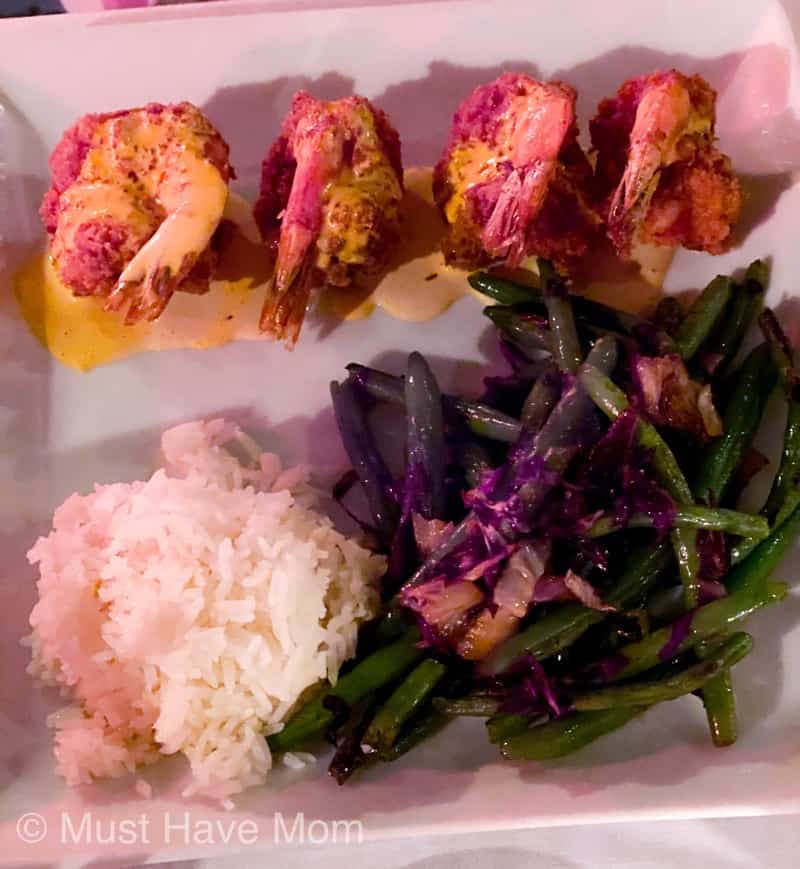 My husband ordered the Coconut Tempura Shrimp with coconut rice and green beans. With something as basic as coconut shrimp you might not expect to be blown away, but that is where you'd be wrong. This dish impressed with bold flavors that kept you coming back for more again and again. The coconut rice was bursting with flavor, the beans were cooked perfect and the shrimp was absolutely divine. This dish impressed and the flavors never dulled. They were bright with every bite.
Fin Bistro is the overall winner out of every restaurant we sampled this year. They blew us away with forward-thinking dishes that were bursting with flavors. It was a true joy to eat the meal and we left so overwhelmingly satisfied that I know we will be coming here year after year. If you only choose one restaurant from this list, Fin Bistro should be it!
Pin Marco Island Restaurants
We love when you share our posts on Facebook and Pinterest. Please share this post!