Big Blanket Co Is Best Blanket Ever!
Winter is coming and with winters come blanket hogging. So, this year we have decided to end all battles and get ourselves the Big Blanket. This huge blanket is the best gift idea ever for men and doubles as a great family gift idea!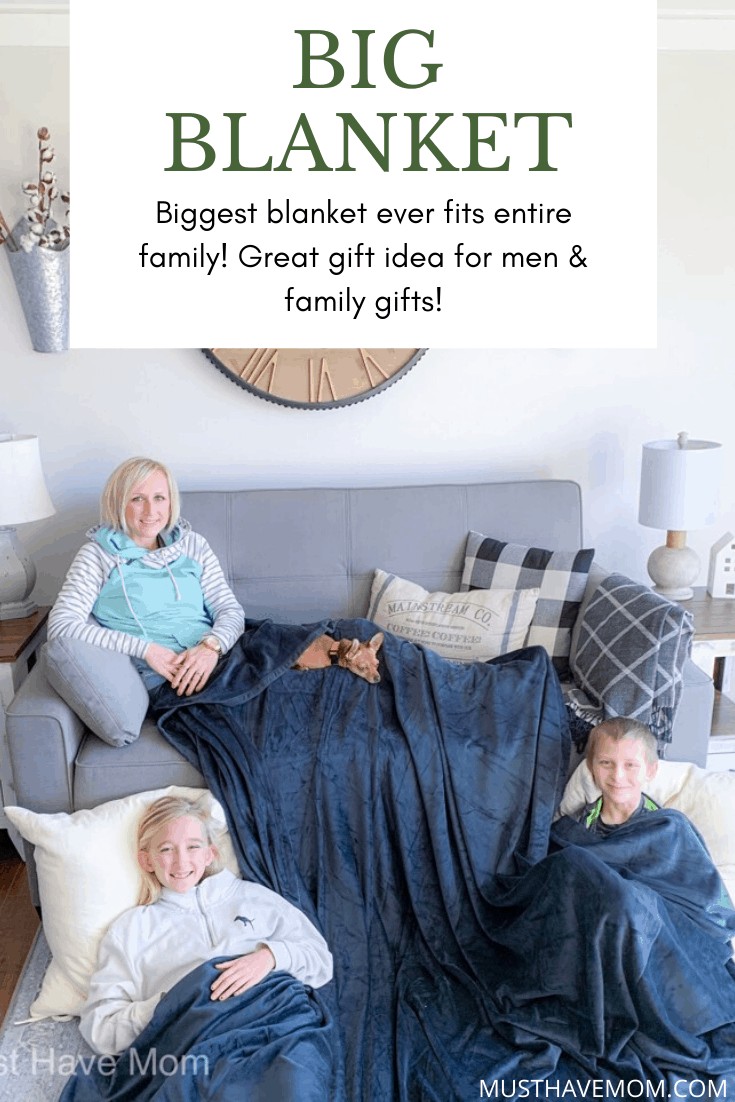 I heard about this huge blanket from the Big Blanket Co and couldn't believe that a blanket existed that would not only fit my 6′ 3″ husband under it entirely but would also fit the rest of our family of six! This blanket definitely delivers and fits us all underneath it for family movie night! And now I can't stop raving about it.
Big Blanket Co
Big Blanket Co is a company that only sells big blankets. Because their blankets are such a hit, they don't have to sell anything else.
You can select from three types of blankets:
All of these are made with the best material, that's both soft and stretchy. It's this amazing material that is cuddly and soft while having some weight to it so it feels like a nice hug when you snuggle up in it. It comes in the biggest blanket size possible, 10′ by 10′. It weighs eleven pounds. The weighted one is heavier than the original one.
The Original Big Blanket has 14 different variations: seven solid colors and seven patterns. This makes it easier for you to select one that goes with your bedroom color scheme. Even in the Premium and the weighted blanket, there are a lot of options to choose from.
The idea of Big Blanket Co comes from three guys with families. They know what's it like to share blanket so they designed these really ultra-big ones. The concept is to bring families together. It has definitely worked for us! No more blanket hogging on family movie nights. We all fit underneath this which makes it the best blanket ever!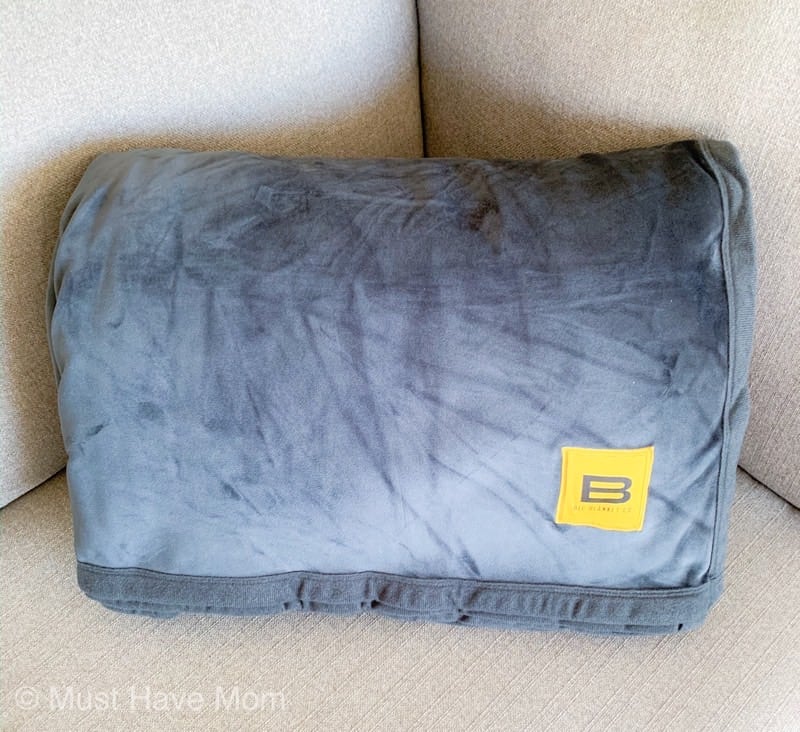 It's a huge blanket
I'm not kidding. It is literally the biggest blanket you will ever see. It's 10 feet by 10 feet so that makes it bigger than a king-size bed! Even when we are relaxing in the family room, watching TV, we can all get in together. We don't even have to snug it together.
We have been able to keep down the fights of who's getting the bigger part of the blanket to almost zero. End to all the blanket hogging.
The big size also makes it perfect for tall people like my husband who is 6′ 3″. He can never find a great blanket to cuddle under, nevermind a blanket that fits both he and I. The Big Blanket solves that problem! We can both use it and fit all four of our kids under it AT THE SAME TIME! It's kind of a big deal.
It's a weighted blanket
So there's this warm, cozy feeling. It's perfect for cold winters. Even the original one gives you a snug feel thanks to the amazing material.
Temperature regulating
I can't remember all the times when I couldn't decide whether I want a blanket or not. It's too cold without one, and too hot with one. But with this huge blanket, the material is temperature regulating so it's always just the right temperature underneath it!
Plus, these blankets have moisture-wicking. Moisture-wicking basically makes the material shed off extra moisture that's there when you sweat.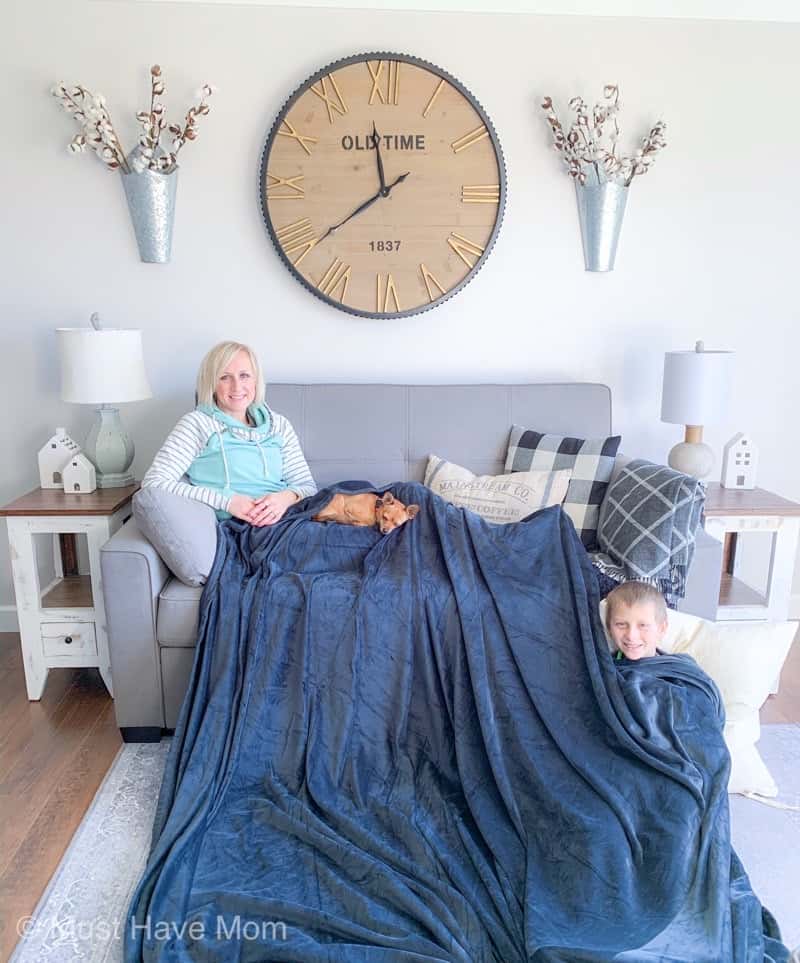 Premium Material
The fabric is so soft. The inside feels like velvet material. On the outside, it has a quilt-like fabric and there is a middle layer of polyester for warmth.
They are Machine Washable
When I'm saying premium material, I'm sure some of the more pragmatic ones of you must be thinking, 'Oh no, now we would have to dry clean it.'
No, you don't.
You can easily wash it at home in your machine. It doesn't affect the quality or texture. I've tried it myself when my daughter's dog drooled all over it (though it did take the longest time to dry).

Free Nationwide Shipping
There's no extra cost for shipping. Plus, they deliver within 2 days! The package comes beautifully wrapped and packaged with a clear carrying case.
30-day money-back guarantee
So if you don't believe all the best blankets stuff, you can try it out for yourself. And because they have the best customer service, you will get your money back in time and easily if you aren't totally satisfied.
Best Customer Service
When I say the best customer service, I really mean it. They reply to ALL your messages. And they don't take weeks to process your messages. You can talk to them on their website or their social media, and get a reply within an hour (sometimes even minutes).

Big Blanket Co Discount
I've also got Big Blanket Co to offer an exclusive discount to all of my readers!! Before you checkout, use my Big Blanket Discount code: MAMA25 and bag a $25 discount with your purchase. Get it from their website. It's cheaper there than on Amazon. My Big Blanket Co discount will bring it down even further.
Shop for Big Blanket here.
Pin Big Blanket