BEST Chocolate Chip Cookies Recipe ~ Chocolate Chip Cookie Dough Freezer Recipe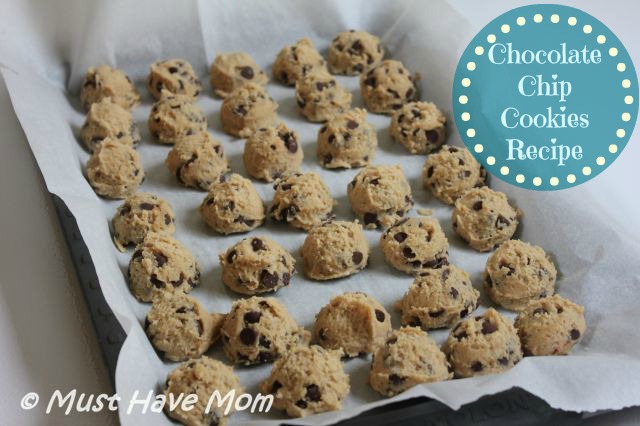 If you have been following along this week then you know that I've been sharing all of my favorite freezer meal recipes with you. If you have missed my previous posts this week then be sure to check out all of my posts on freezer cooking including my getting started freezer cooking post!
This chocolate chip cookie recipe is my absolute favorite. I've tried MANY recipes in search of the best chocolate chip cookies recipe that were crunchy on the outside and chewy in the middle. I've finally perfected it AND they make a great chocolate chip cookie dough freezer recipe too! Just pop them out of the freezer, as many as you want to eat at a time, and bake them up. You can always have hot, fresh chocolate chip cookies at the ready!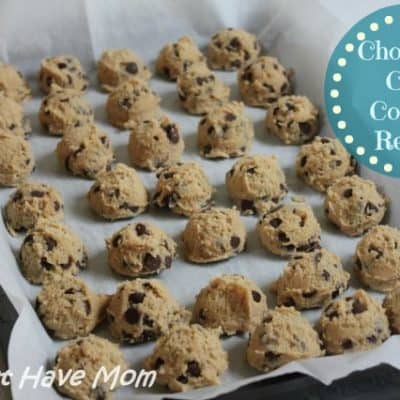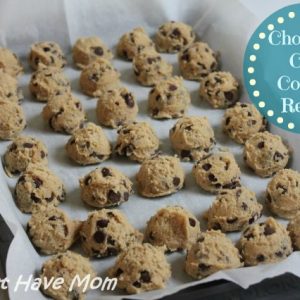 BEST Chocolate Chip Cookies Recipe ~ Chocolate Chip Cookie Dough Freezer Recipe
The BEST chocolate chip cookie recipe! Crunchy on the outside and chewy in the middle! Makes great freezer recipe too if you freeze the dough balls and pop them out to bake a few at a time!
Ingredients
2

C

Flour

1/2

Tsp

Baking Soda

1/2

Tsp

Salt

3/4

C

Melted

Unsalted Butter

1

C

Brown Sugar

1/2

C

White Sugar

1

Tbsp

Vanilla

1

Egg

1

Egg Yolk

2

C

Chocolate Chips
Instructions
In a mixer or medium mixing bowl beat eggs then add sugars, butter, vanilla, baking soda, salt and flour.

Mix until combined.

Add chocolate chips and stir in by hand.

Preheat oven to 325 degrees.

Form balls with your hands or use a cookie dropper.

Bake at 325 degrees for 10-14 min until golden brown on edges.

For best results I bake them on parchment paper.

Store in a glass covered dish to keep them crisp and chewy!

If freezing dough:

Line a cookie sheet with parchment paper and drop dough balls onto sheet.

Freeze dough on the cookie sheet in the freezer until completely frozen.

Once completely frozen remove balls from cookie sheet and put into a gallon freezer bag.

When you freeze them this way and store in a bag aftwerwards it keeps them from sticking together and allows you to pull out as many or as few as you want at one time!

Remove balls from the freezer and bake according to directions above. No need to thaw them, cook straight from the freezer. Cooking time may need to be lengthened when dough is frozen.
Like this post? Pin it, Share it, Tweet It! 🙂
Stay tuned for more freezer meal recipes!