Kids Cooking Activities Healthy Granola Bar Recipe
This week we planned a fun kids cooking activity paired with a favorite book. Grab the healthy granola bar recipe and read the book with your little one for a fun kids activity you can do together!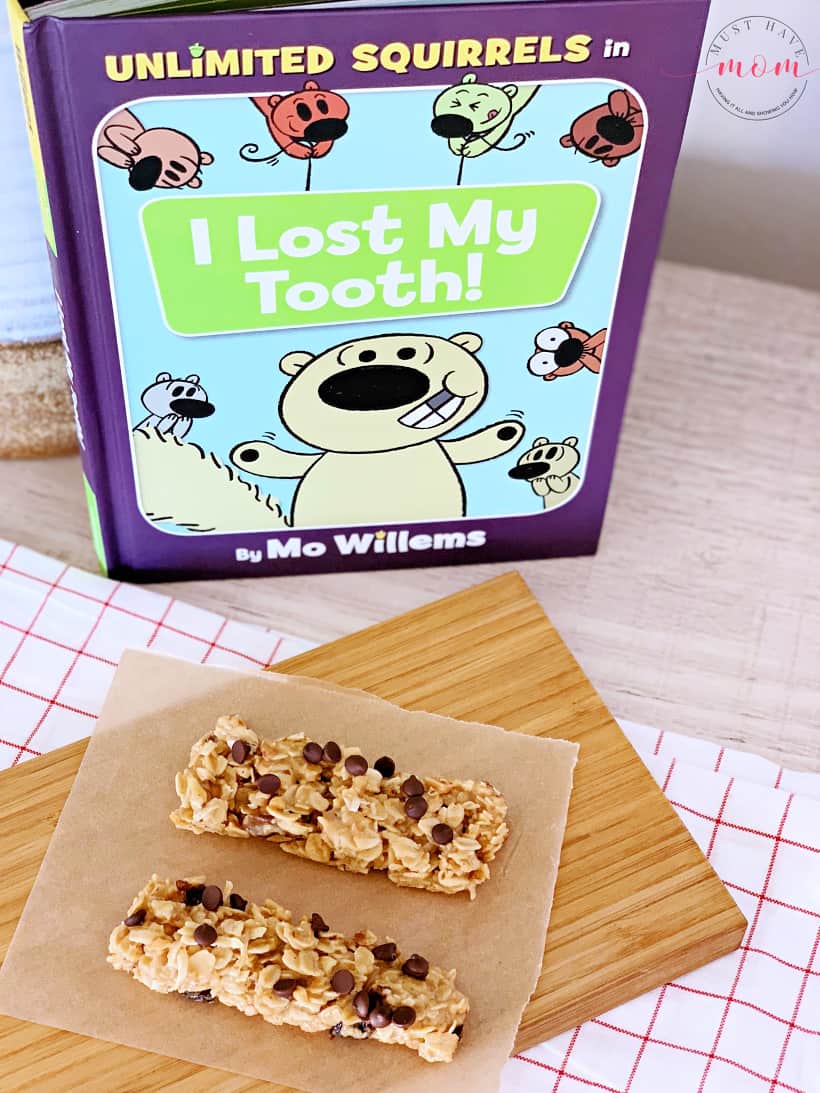 Kids Cooking Activities
It is so beneficial to get kids in the kitchen cooking with you. It gives them the ability to learn to cook and pick up lifelong skills along the way. Not only that, but it's also a ton of fun for them. My kids love to cook with me so I try to make a point of including them in fun kids cooking activities. This month we took the book Unlimited Squirrels: I Lost My Tooth! and created a healthy granola bar recipe to go with it.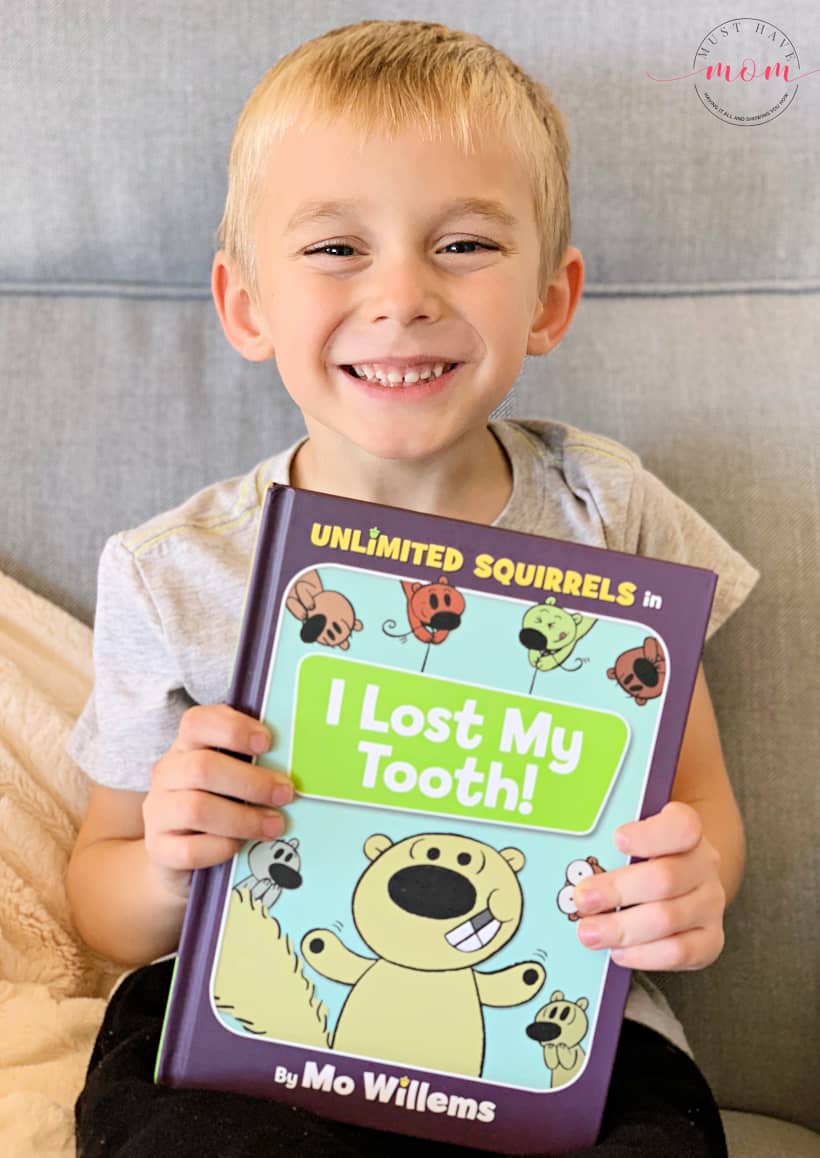 Unlimited

 

Squirrels

: I Lost My Tooth

The book we paired with our kids cooking activity is Unlimited Squirrels: I Lost My Tooth!. I love this book because it brings up funny and relatable conversation starters so I can have a quality conversation with my kiddo while doing something funny and fun.

Unlimited Squirrels features an ensemble cast of Squirrels, acorns, and pop-in guests in a page-turning extravaganza! Each book features a funny, furry adventure AND bonus jokes, quirky quizzes, nutty fact formats, and so, so many squirrels!

In I Lost My Tooth!, Zoom Squirrel has lost a front tooth! The Squirrels leap into action when they discover the missing tooth is a baby tooth! Do you know more about teeth than the Squirrels do? You will by the end of this book!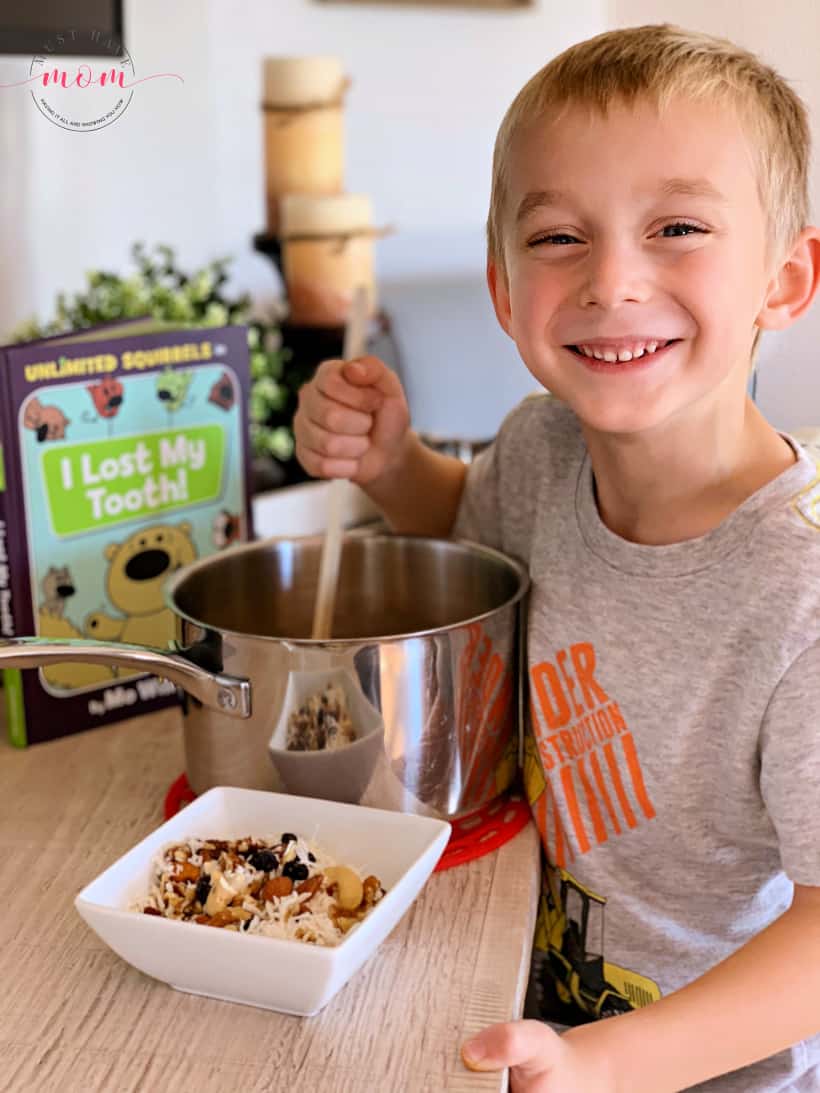 Healthy Granola Bar Recipe
What better recipe to pair with this funny squirrel book than a nutty recipe? We decided we'd make peanut butter and nut granola bars and boy were they tasty! They were really easy too so Brady was able to help a lot! You'll begin by combining 1 cup of peanut butter (or any nut/seed butter), 1/2 cup honey and 1/2 cup coconut oil in a medium saucepan. Stir it together over low-medium heat until it is smooth. You'll want to do the stove yourself and watch carefully so your child doesn't burn themselves.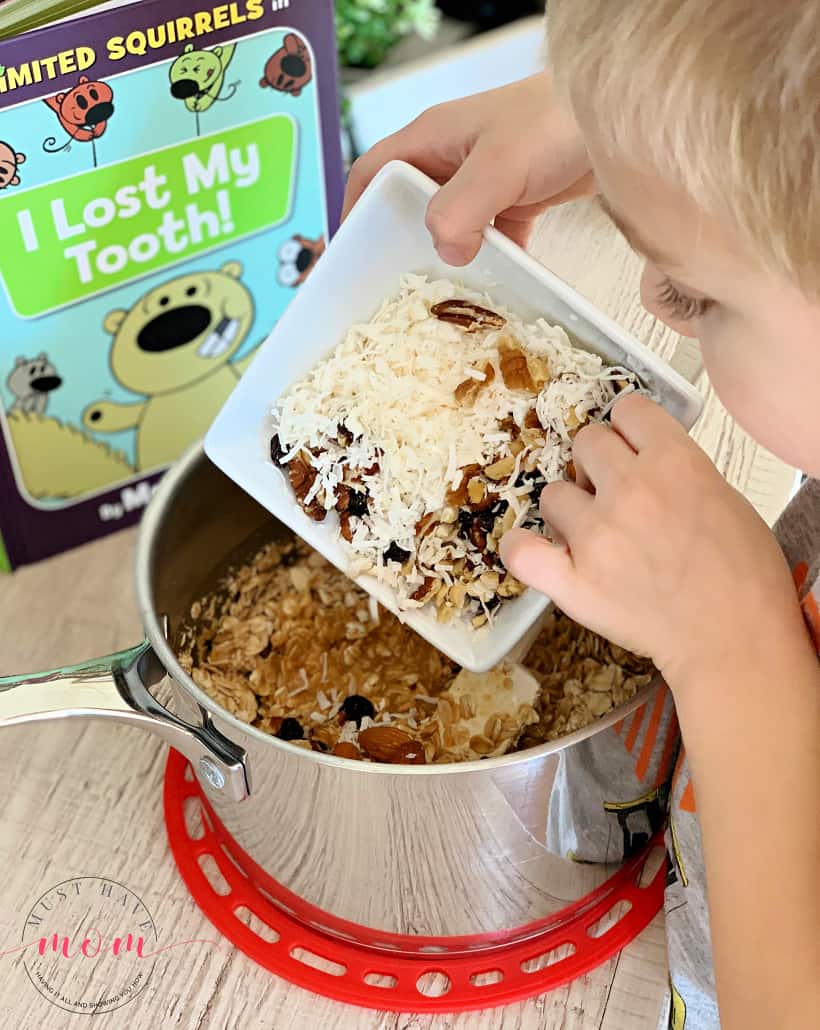 Next, add in 2 1/2 cups of old-fashioned oats, 1/2 cup shredded coconut and 1/2 cup chopped mixed nuts.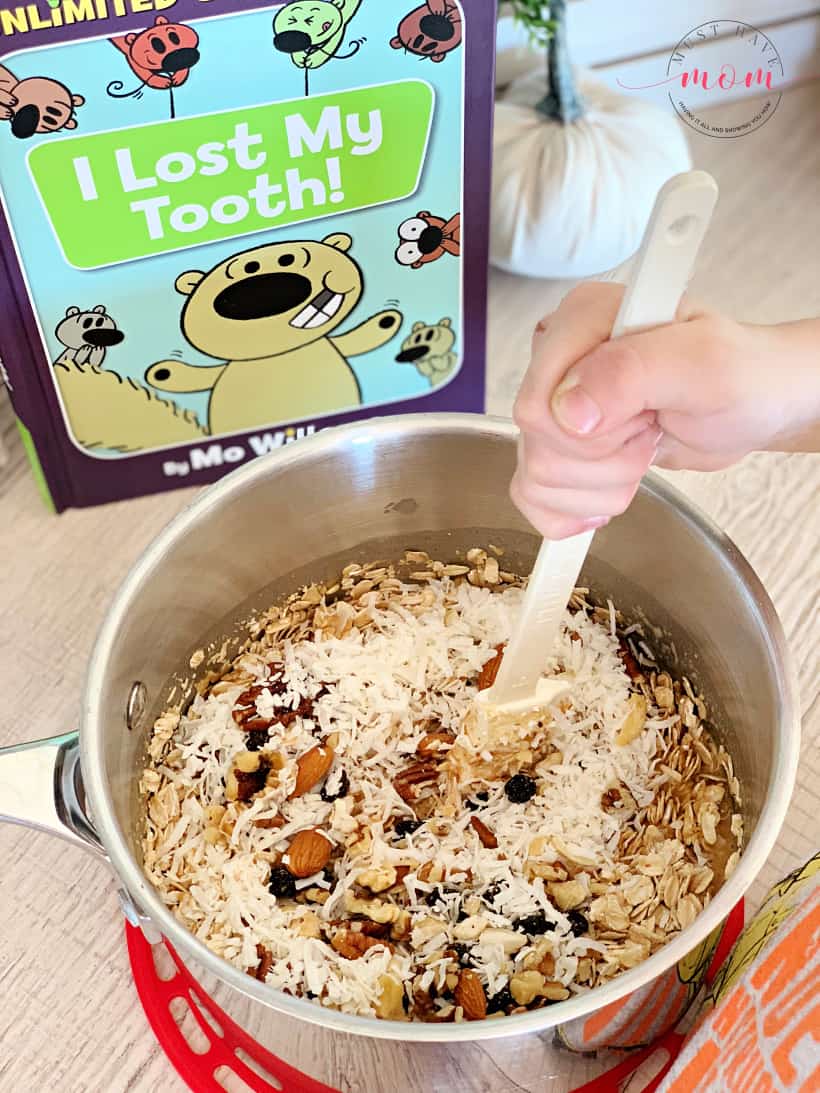 Then allow your child to carefully stir it all together, being careful of the hot pan. Once it is mixed together dump it into a greased 9×13 pan and smooth it down flat.
Finally, have your child sprinkle a 1/4 cup of mini chocolate chips on the top. Brady loved this part!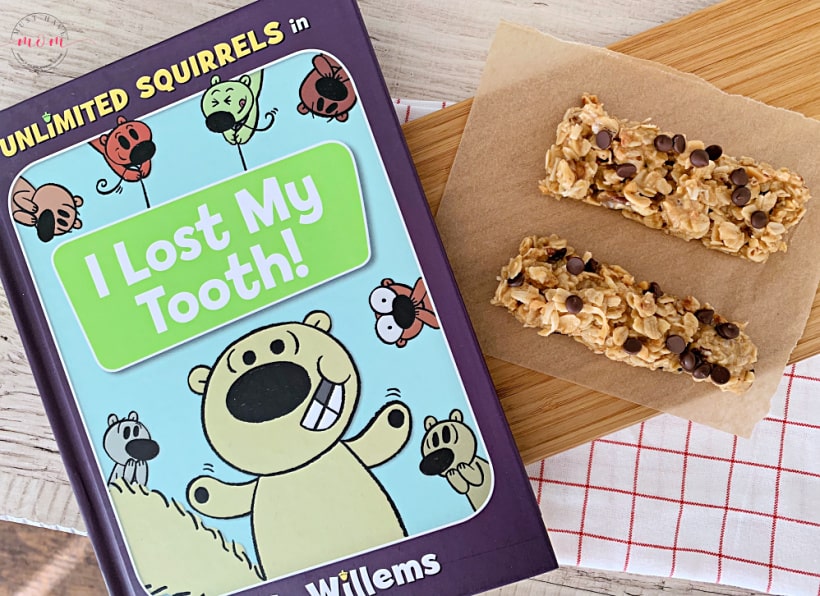 Place the peanut butter granola bars into the fridge until they get firm. Then cut them into rectangles. Store in the refrigerator in an airtight container.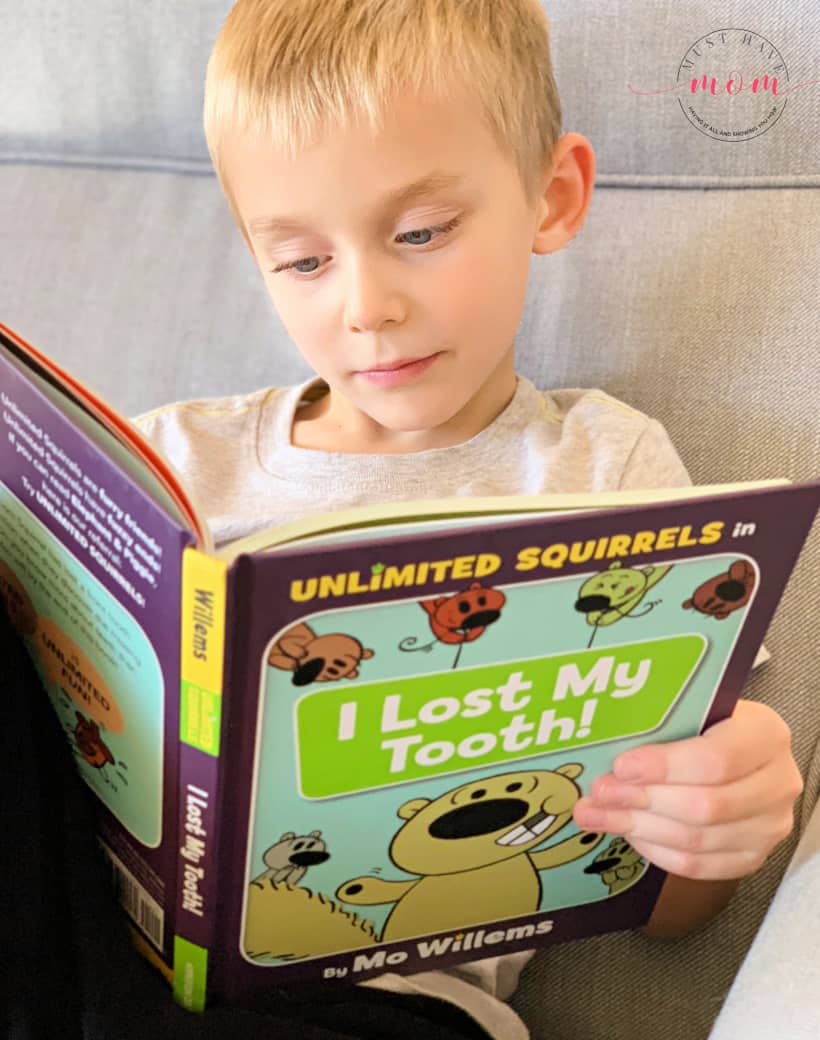 After you've enjoyed making these no bake granola bars you can dive into the book, Unlimited Squirrels: I Lost My Tooth! while you wait for your granola bars to firm up in the fridge!
Print Healthy Granola Bars Recipe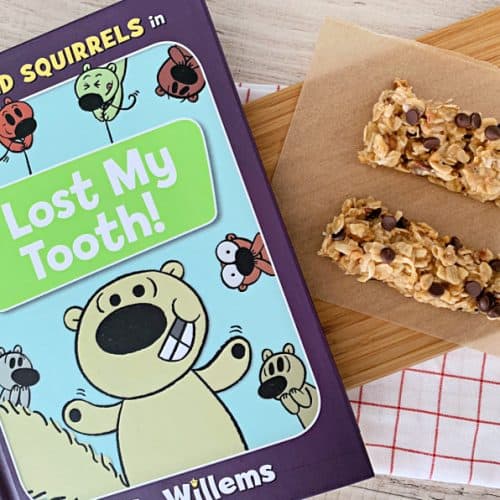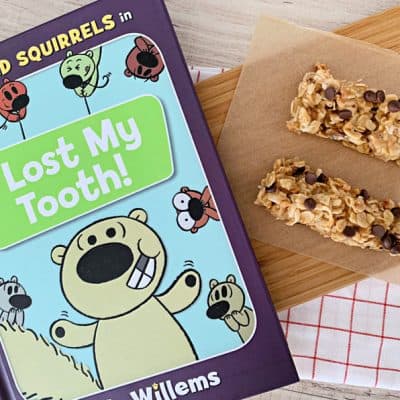 Healthy Granola Bars
This healthy granola bars recipe is no bake and really easy and versatile. Mix up the ingredients to make many different combinations!
Ingredients
1

cup

peanut butter

or any nut/seed butter

1/2

cup

honey

1/2

cup

coconut oil

2 1/2

cups

old fashioned oats

1/2

cup

coconut

shredded

1/2

cup

mixed nuts

chopped

1/4

cup

mini chocolate chips
Instructions
Combine peanut butter, honey and coconut oil in a medium saucepan over medium-low heat and stir until smooth.

Remove from heat and add old fashioned oats, coconut and mixed nuts. Stir together.

Grease a 9x13 pan (I used coconut oil spray) and dump the mixture into the pan. Smooth the top so it is flat. Sprinkle chocolate chips over the top and refrigerate until bars are firm.

Cut into rectangles and store bars in an airtight container in the fridge.
Notes
This recipe can be modified in many ways to suit your tastes or change up the flavors. Use any nut or seed butter in place of peanut butter including almond butter, sun butter, wow butter, etc.
You may also swap out the 1/2 cup of coconut and 1/2 cup of mixed nuts for any other mix ins. Use dried fruit, seeds, etc. You can also add the chocolate chips in when you mix it to create a melted chocolate granola bar.
Pin Healthy Granola Bar Recipe

Granola Bars Recipes
If you loved these no bake granola bars then be sure to also check out our other favorite homemade granola bar recipe! More granola bar recipes: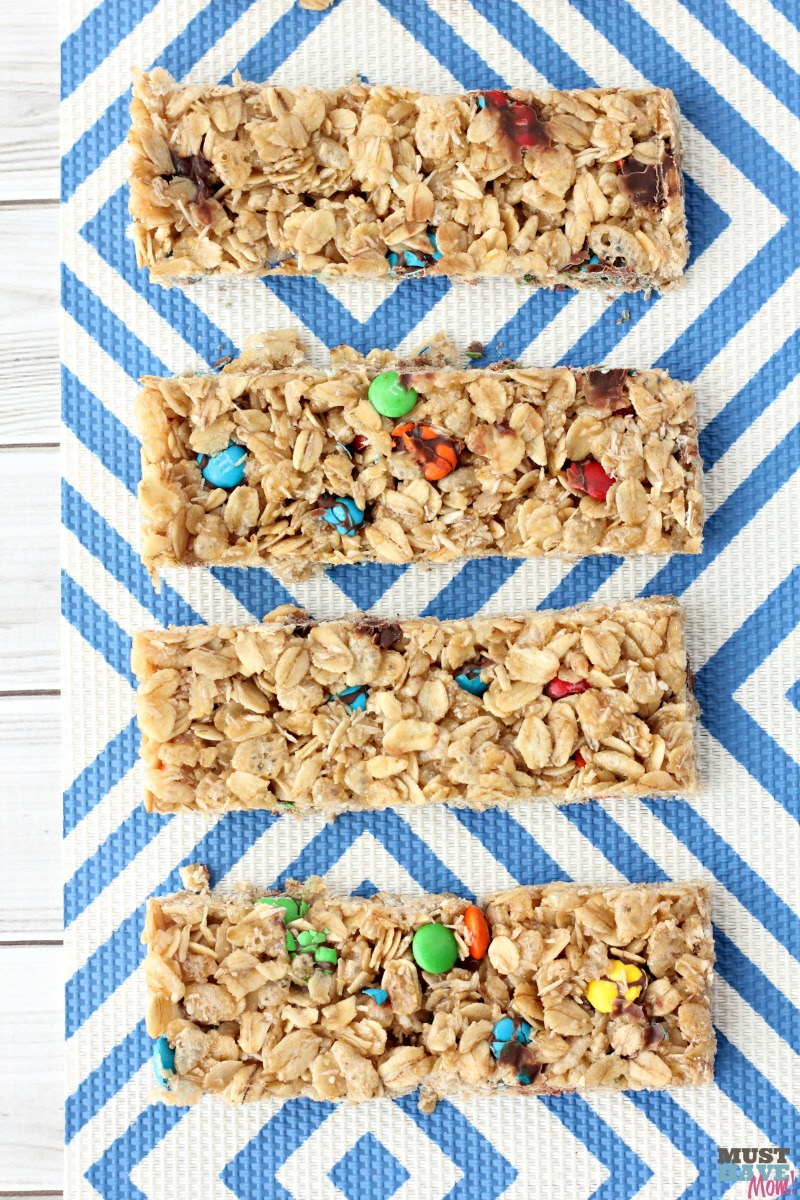 Easy Homemade Granola Bars Recipe! 1 Recipe, 8 Different Varieties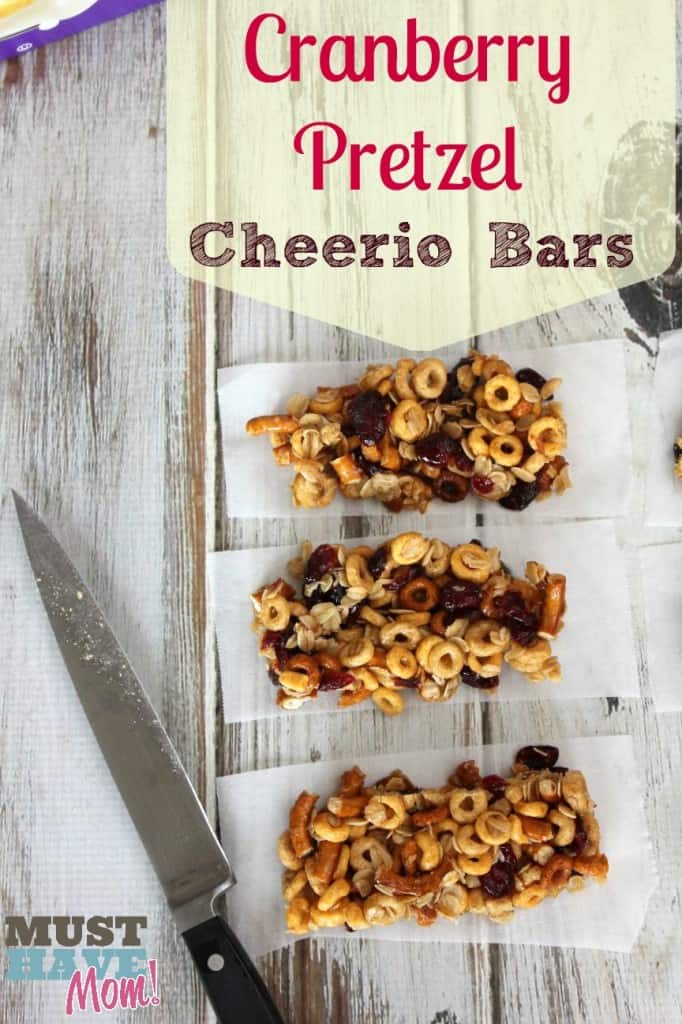 Cranberry Pretzel Cheerio Bars Recipe: Healthy Homemade Snacks!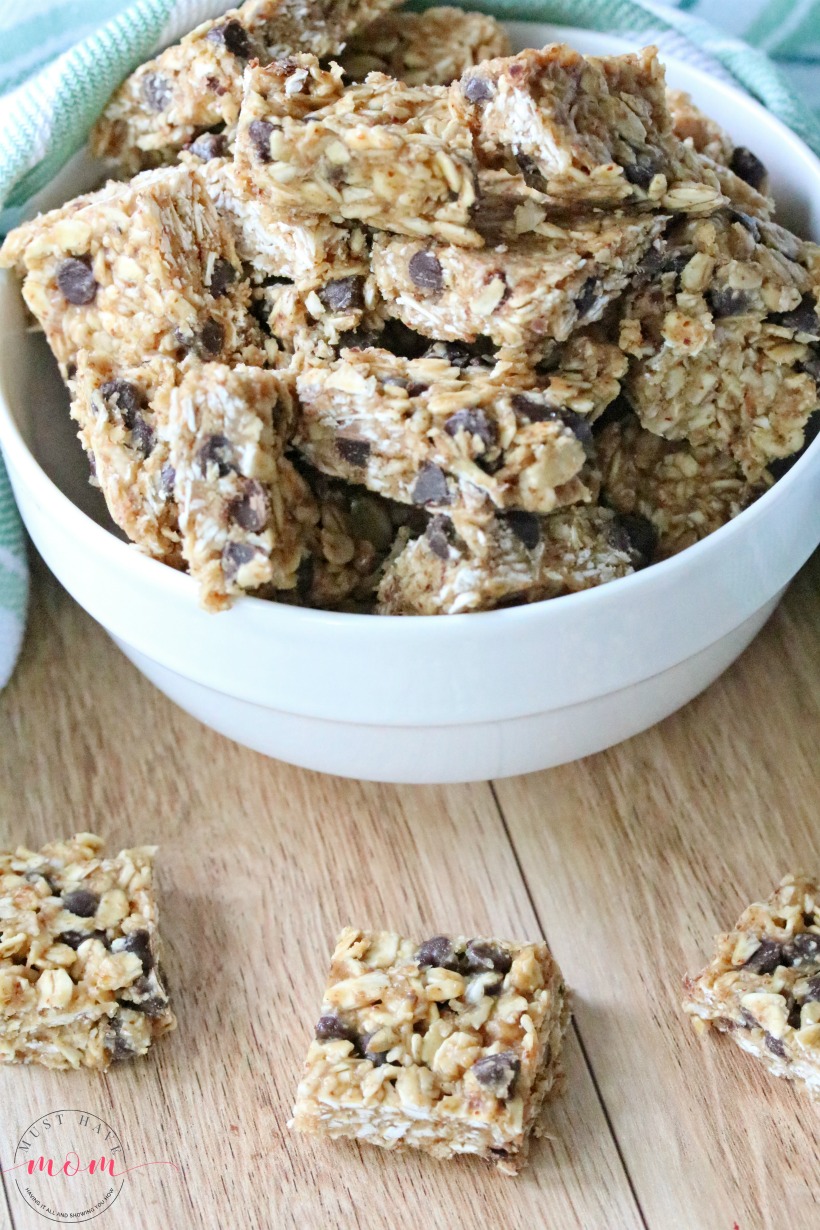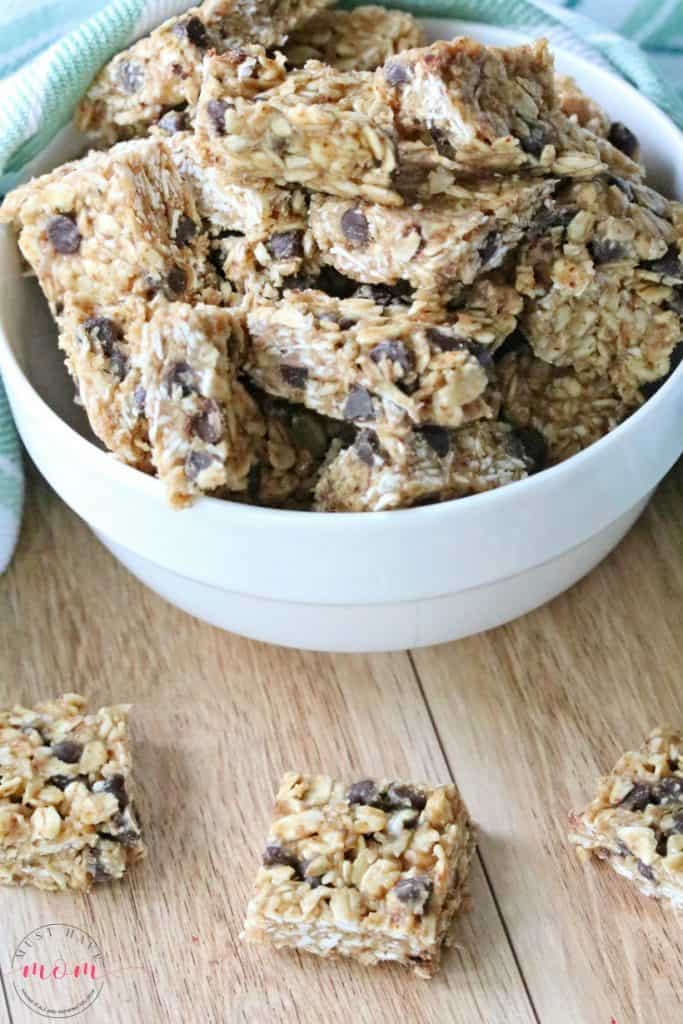 Healthy Oatmeal Chocolate Chip No Bake Bars