Hungarian Chicken Paprikash
This Hungarian chicken paprikash is SO delicious and easy. Tender chicken thighs simmered in a creamy sauce and loaded with comforting flavors served over a bed of egg noodles makes for the ultimate in comfort food on chilly days!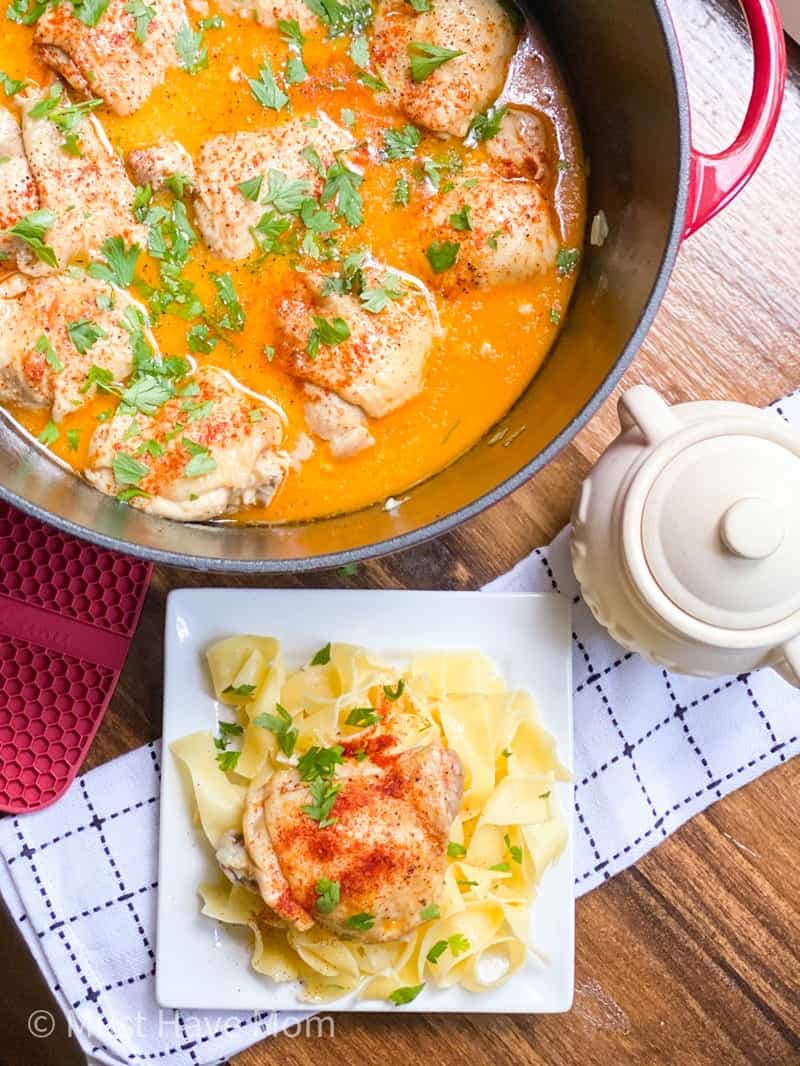 I love comfort food and this Hungarian chicken paprikash recipe is a keeper! In terms of comfort food, this Hungarian paprikash is right up there with my favorite lasagna soup recipe or these copycat Texas Roadhouse rolls.
Hungarian Chicken Paprikash
This month we have been studying Europe and we have been making recipes from the countries in Europe. This recipe made the cut and it is a definite keeper! The kids helped me make it so it made for a great recipe to make with kids. It is easy and totally doable for kids to make with you.
Hungarian chicken is one of the most popular recipes I came up with when searching Hungarian recipes. My authentic chicken paprikash recipe infuses paprika into tender chicken in a creamy sauce.
I have never been to Hungary however according to all of my research this recipe is a great replica true to it's Hungarian roots.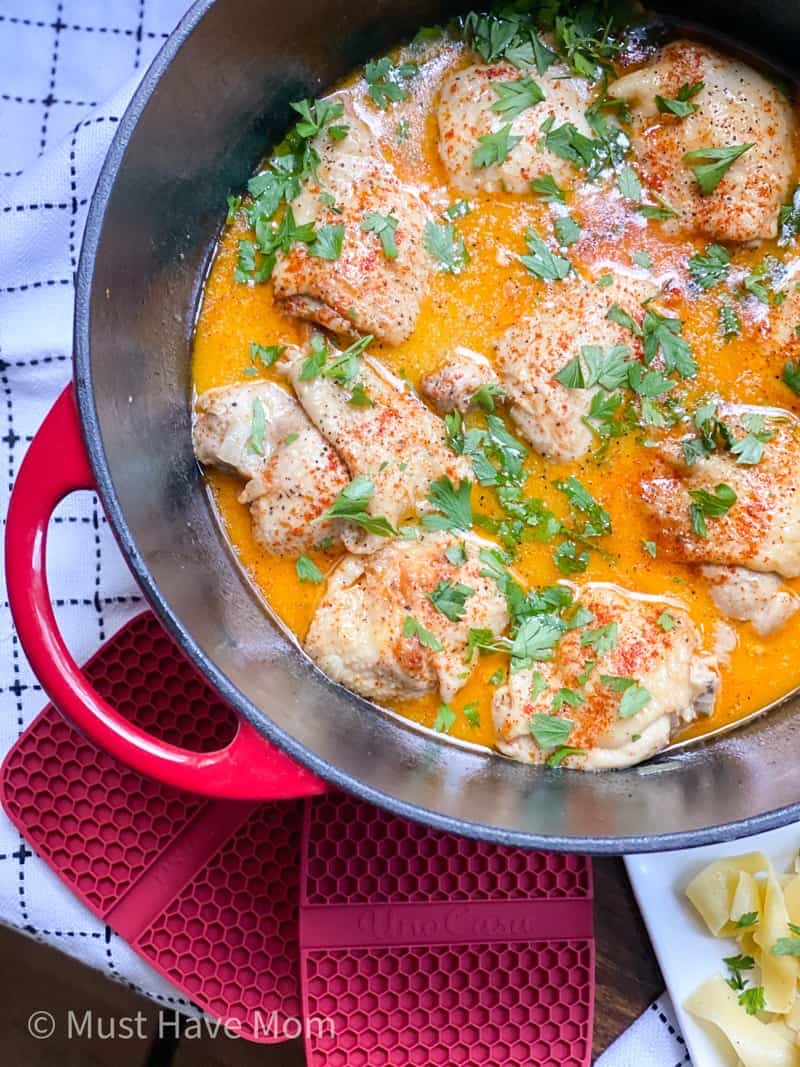 How To Make Chicken Paprikash
There are a few essential ingredients in chicken paprikash including chicken, paprika, broth, onions, garlic and cream. I made this chicken paprikash with no sour cream and instead used plain Greek yogurt. I tend to sub Greek yogurt for sour cream in most of my recipes as a healthy swap.
Depending on what area of Hungary you are in they may also include bell peppers. I decided not to include them and to stay true to the authentic recipe however if you have them and want to add them then you certainly can.
I made this recipe in my favorite Uno Casa cast iron dutch oven. It is perfect for infusing the flavor into this recipe!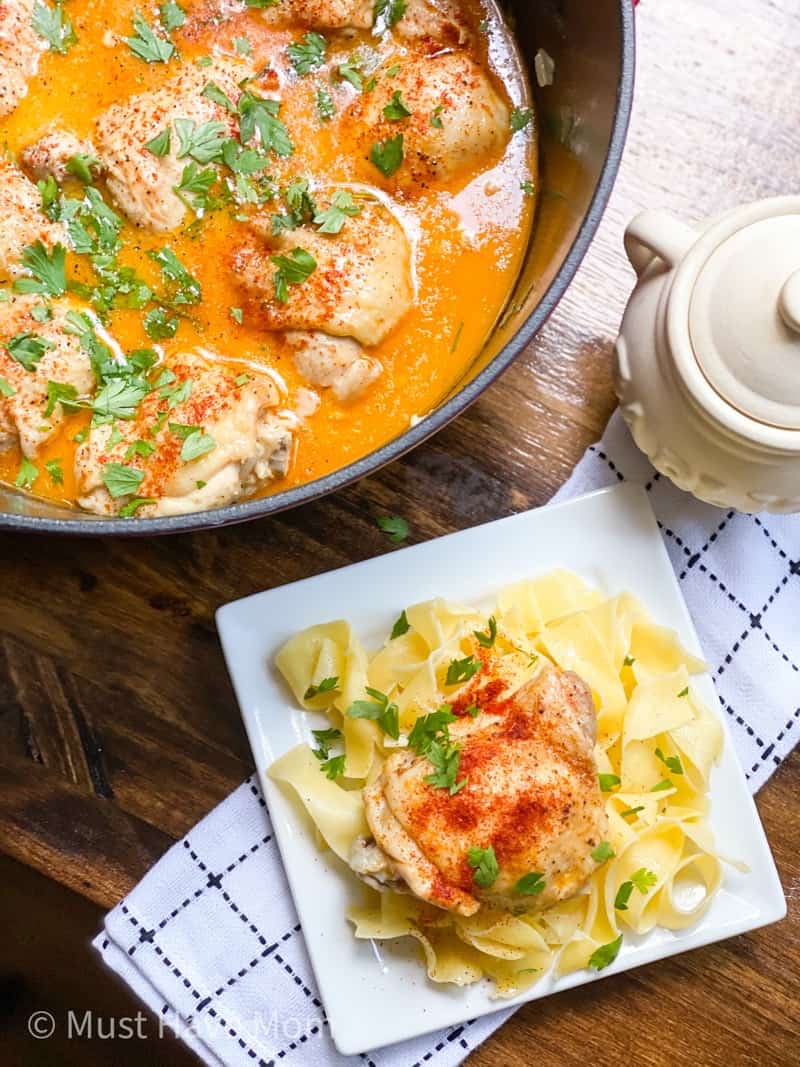 What Paprika Should I Use In Chicken Paprikash?
One of the most important ingredients in this dish is the ingredient that the recipe is named after of course, paprika! I have made this with regular paprika and I have to say I definitely recommend ordering authentic Hungarian paprika instead. It really elevates the dish! It isn't expensive either. Well worth planning ahead and ordering it to have on hand.
Don't be shy about using plenty of paprika in this recipe!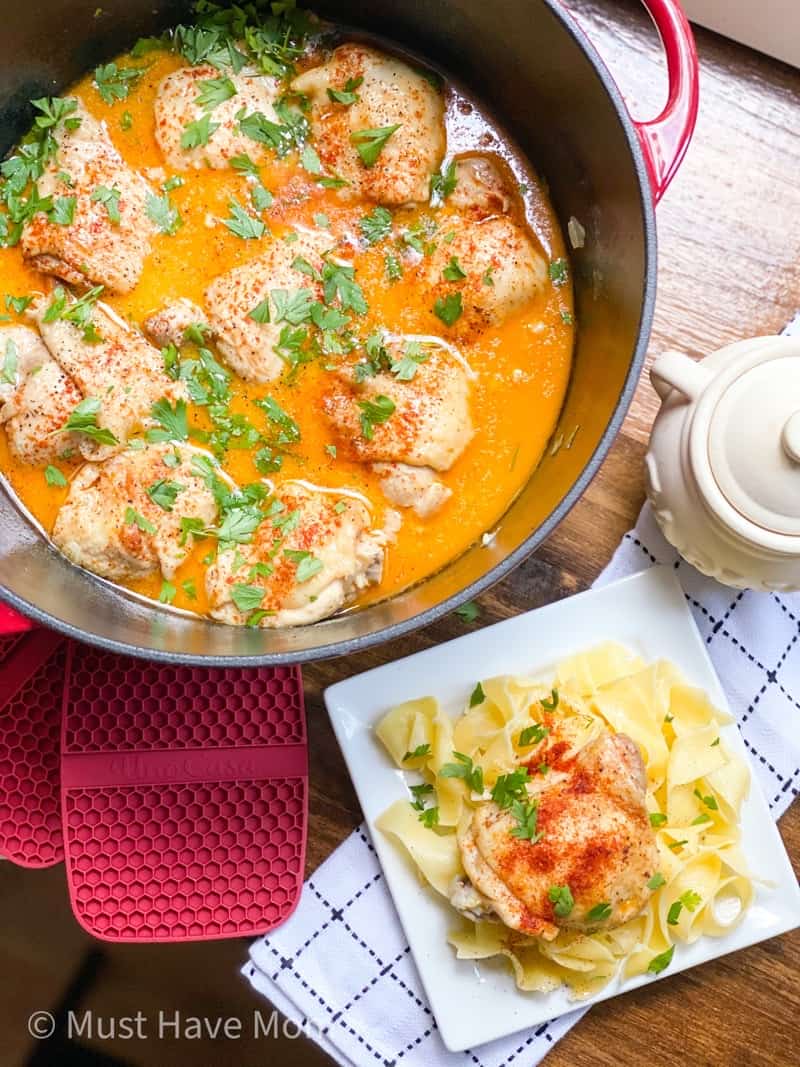 What To Serve With Chicken Paprikash
Chicken paprikash is traditionally served with Hungarian nokedli, which are similar to spaetzle. Since I don't have a spaetzle grater I served our chicken over a bed of egg noodles.
Hungarian Chicken Paprikash Recipe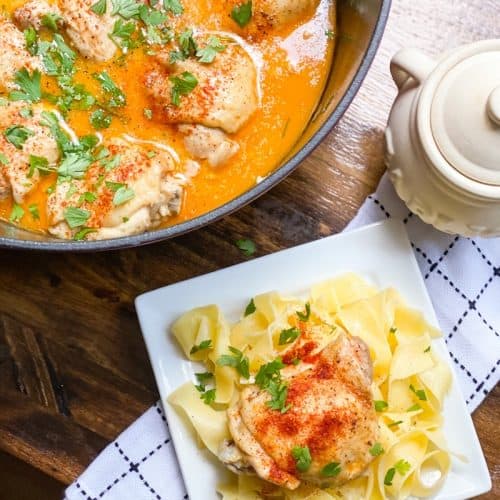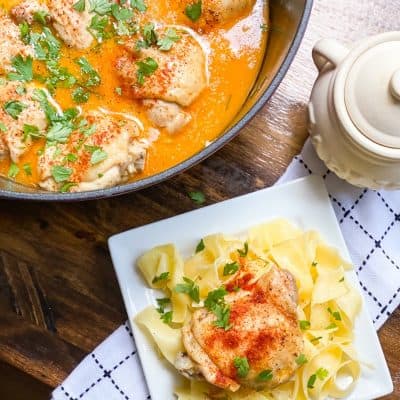 Hungarian Chicken Paprikash
Hearty and comforting authentic Hungarian chicken paprikash made in a dutch oven. This tender chicken is bursting with flavor and served in a creamy sauce that is sure to satisfy your craving for comfort food.
Ingredients
9

chicken thighs

bone in, skin on

salt and pepper

to taste

3

tbsp

Hungarian paprika

4.5

tbsp

olive oil

1

large

onion

minced

3

cloves

garlic

minced

2 1/4

cups

chicken broth

1/2

cup

sour cream

or plain Greek yogurt

3

tbsp

flour

1/2

cup

milk

4

tbsp

parsley

chopped
Instructions
Season chicken thighs with salt, pepper and paprika and rub it into the meat.

Heat olive oil in a dutch oven over medium heat. Add diced onion and saute about 5 minutes or until translucent. Add chicken and garlic and brown on both sides about 5-7 minutes per side or until golden brown.

Stir in chicken broth and bring to a boil. Reduce the heat to medium low and cover with a lid. Simmer for 40 minutes or until meat thermometer reads 165 degrees F when checking the chicken.

Once chicken is fully cooked, transfer to a plate and set aside.

While chicken is simmering, in a small bowl whisk together sour cream (or yogurt), flour and milk. Add the sour cream mixture to the pan and simmer stirring constantly until the sauce thickens, about 5 minutes.

Return chicken to the pan, cover with the sauce. Sprinkle with chopped parsley and serve immediately.
Pin Hungarian Chicken Paprikash