Pepperoni Stromboli Freezer Meal Recipe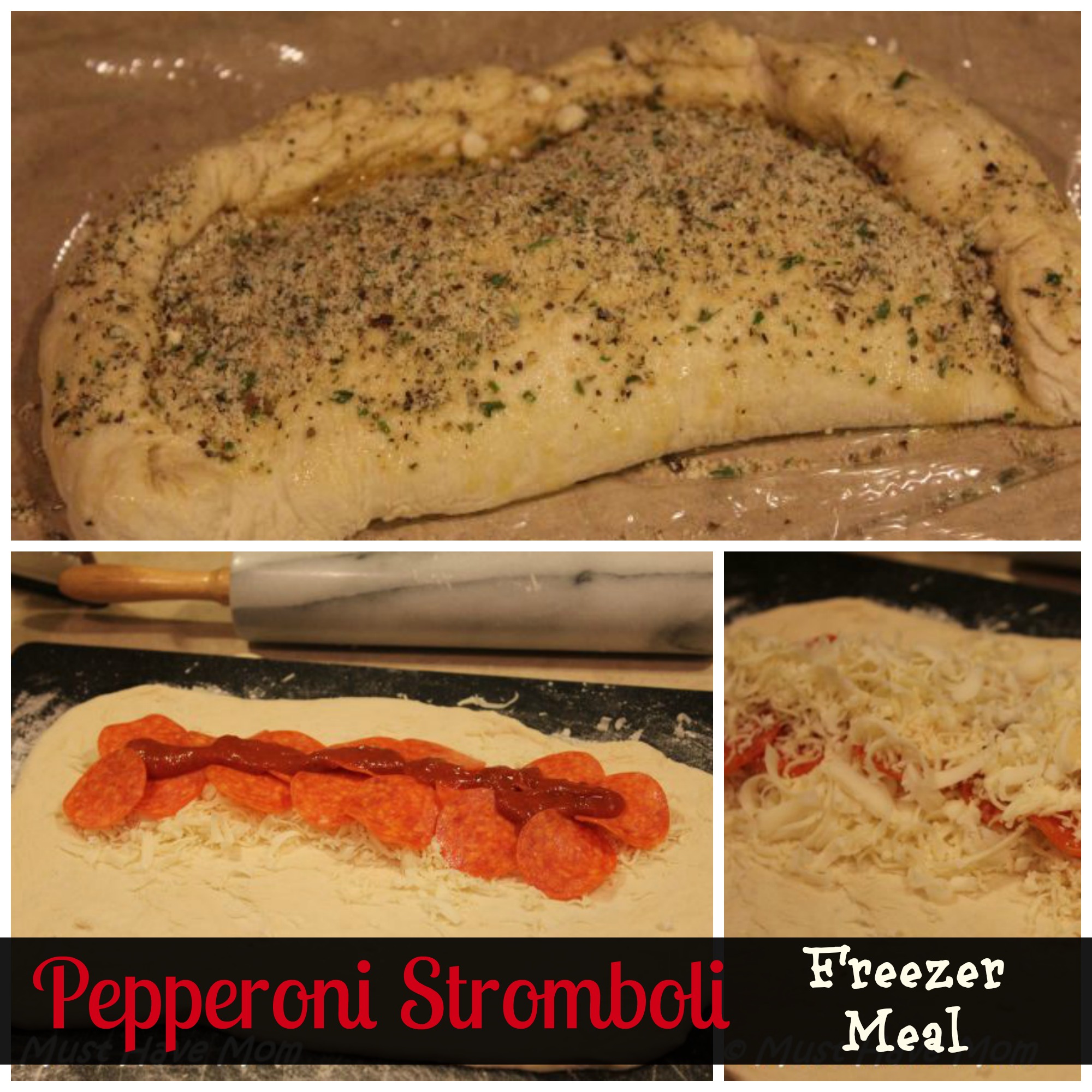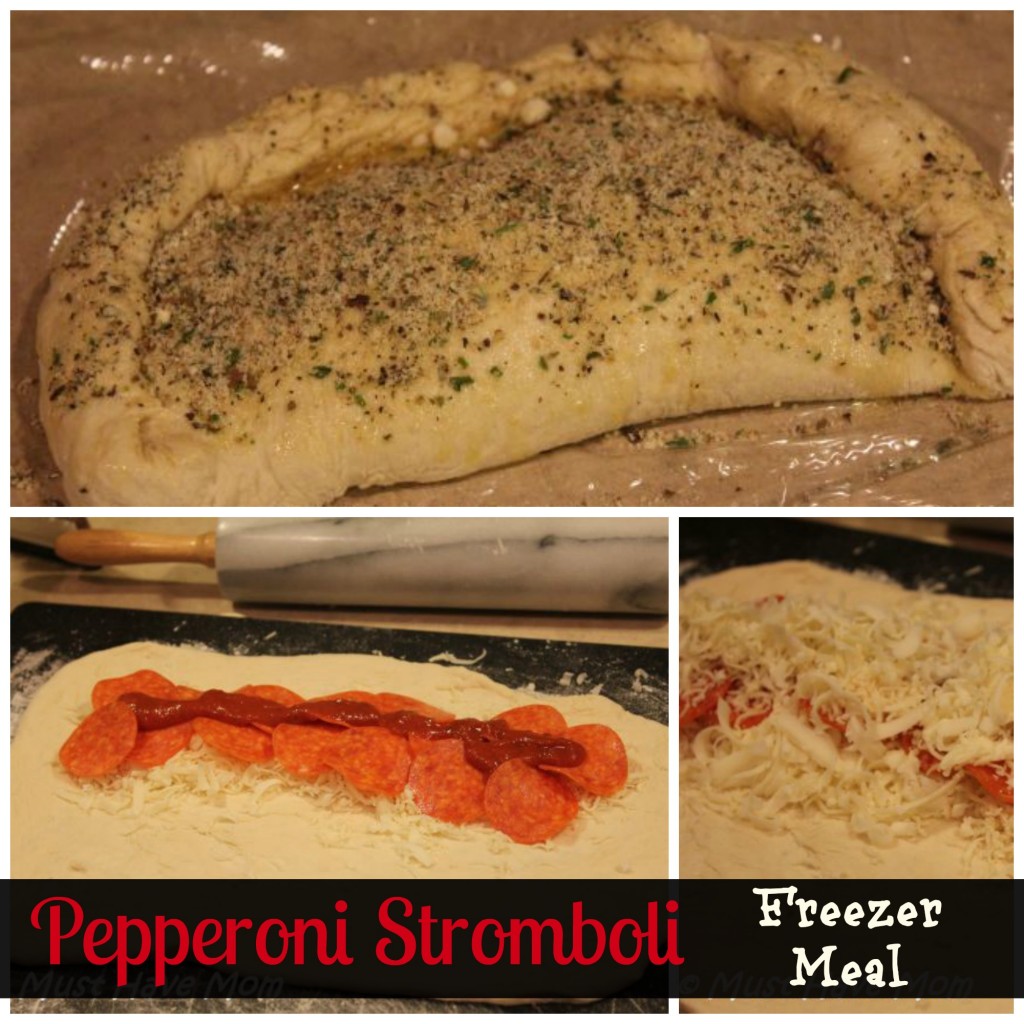 In keeping with my pizza theme today I am also sharing my Pepperoni Stromboli Freezer Meal Recipe. My favorite thing about this recipe is the topping! I make it and keep it in the fridge and top all my breadsticks and homemade Italian bread with it. It's SOOOO good! Don't be intimidated by making your own dough but if it is something you don't want to tackle then you can buy frozen dough too! This is a really easy dough recipe though that even the beginner can master. Make a bunch of these at a time and freeze them so you always have a great meal to grab. Change up the ingredients inside to suit each member of your family's preferences. You can add sausage, canadian bacon, pineapple, bacon, chicken, whatever you like!
Before you get started be sure to check out all of my posts on freezer cooking including my getting started freezer cooking post! Now on to the Pepperoni Stomboli Freezer Meal Recipe!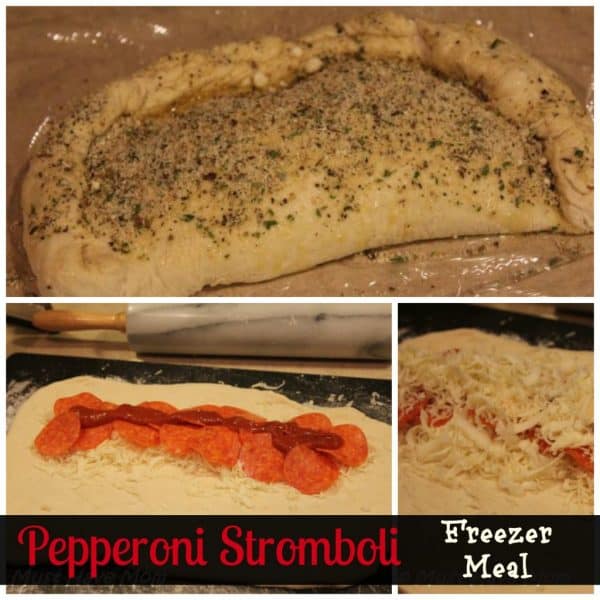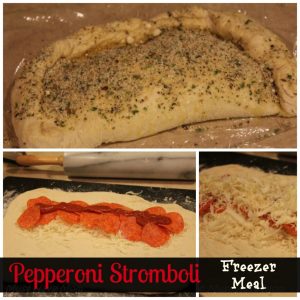 Pepperoni Stromboli Freezer Meal Recipe
Homemade pepperoni stromboli recipe that freezes great for eating later or bake right away and enjoy!
Ingredients
Stromboli:

1

pkg provolone

2

pkgs pepperoni

8

C

mozzarella cheese

1

Can pizza sauce

4

balls pizza dough

Pizza Dough:

3

C

Warm Water

105-115 degrees

2

Tbsp

Sugar

2

Tbsp

Yeast

1

Tsp

Salt

7-9

Cups

Flour

Topping:

1/2

C

Parmesan Cheese

2

Tsp

Kosher Salt

2

Tbsp

Garlic Powder

2

Tsp

Oregano

2

Tsp

Basil

2

Tsp

Marjoram

2

Tsp

Parsley
Instructions
Make dough first. Combine water, sugar and yeast in large bowl. Let Stand 10 min or until yeast is bubbly.

Add salt and stir.

Add 1 C flour and mix well.

Gradually add more flour (6-8 Cups total) until dough starts to pull away from sides of bowl and barely sticks to your finger.

Spray a glass or metal bowl with cooking spray and place dough in bowl. Cover and let rise 45 minutes or until doubled in size.

Remove from bowl and place on lightly floured surface. For this recipe you will separate into 4 balls to make 4 stromboli. This recipe can also be used for delicious breadsticks!

Next make topping. Combine all ingredients and store in shaker. I used an empty parmesan cheese container and doubled the recipe so I would have some to use on breadsticks later! Store in fridge.

Now make Stromboli:

Roll 1 dough ball into rectangle. Layer cheese and pepperoni on one side of rectangle leaving the other side bare, then top with sauce. Add another layer of cheese on top so the sauce is not touching the dough at all.

Fold over the empty side and pinch together the seam to seal.

Brush the top with olive oil and sprinkle topping on it.

Wrap in saran wrap then foil to freeze.

Cooking Day:

Defrost fully in fridge overnight.

Place in warm oven to rise and once it has risen crank up the heat to 375 degrees.

Bake on pizza stone for best results!

Cook until bottom is cooked through 20-30 minutes.
This dough recipe is fantastic for breadsticks too! Make a double batch of the topping so you always have it on hand in the fridge for topping rolls or bread with. Use whatever ingredients you love to stuff your stromboli! Just create layers and keep the sauce in the middle.
Like this post? Pin it, Share it, Tweet it! 🙂
Stay tuned tomorrow for more of our favorite freezer meal recipes!