5 Ways To Gift Memories Instead Of Stuff This Christmas!
This post brought to you by Chase Ultimate Rewards. The content and opinions expressed below are that of https://musthavemom.com/.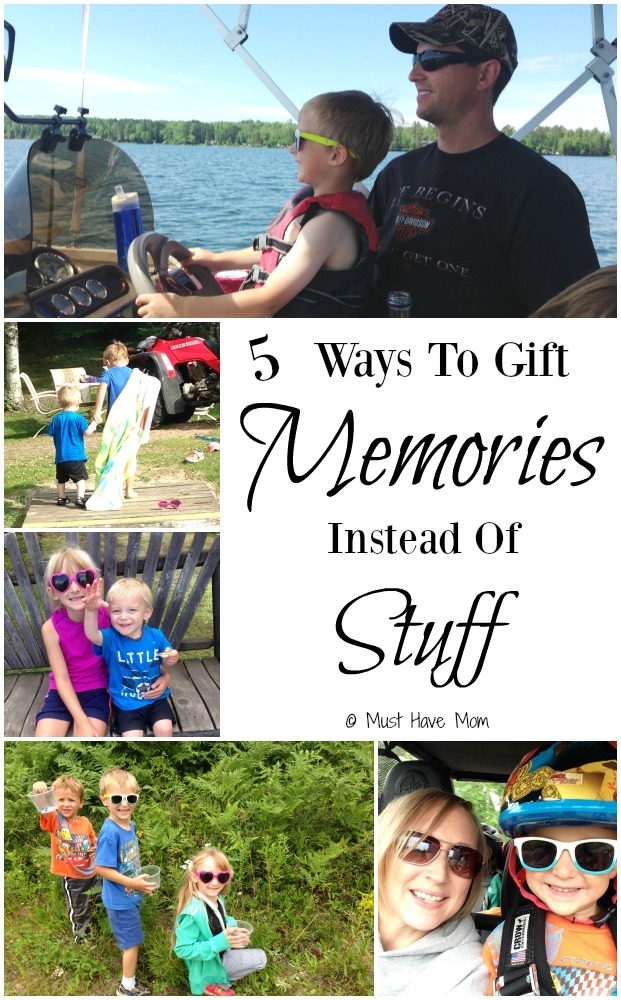 In the past year I have done a full circle from the person I used to be. I once was a mom who was constantly buying stuff. All sorts of stuff. All the coolest toys, every gadget that we thought was cool, a constant gathering of stuff. We were drowning in stuff. It eventually drove me mad and I am happy to say that we are now well on our way to being minimalist instead. Guess what? Stuff doesn't make you happy. In fact all of that stuff that I spent so many years accumulating actually led to me being more stressed out and less at peace.
Now that I have dug out from under all the stuff I can honestly say I am more at peace inside and I feel more relaxed. With Christmas just around the corner, it means there will be another influx of stuff coming into our home. I have not only re-evaluated how we live, but I have also re-evaluated how we gift. Instead of giving and receiving more stuff that none of us really need, why not give and receive memories and experiences? Let's create something amazing instead!
Gifting memories instead of stuff means that you are creating a memorable experience that creates happiness and in the long run makes for a much better gift indeed! I guarantee the majority of people would much rather have an amazing experience than more stuff to clutter up their home.
This year we are using our Chase Ultimate Rewards to create memories instead of buy more stuff! This year our family will have an amazing arsenal of photos and moments to look back on thanks to some creative planning and thinking! Here is how we plan to have an amazing Christmas without breaking the bank or adding to our pile of stuff.
First of all, use a Chase Freedom, Chase Sapphire or Ink from Chase credit card for all of your purchases so that you can rack up the rewards points. Read here why you shouldn't be using your debit card! When you use any of these cards, you earn points on every purchase and those points can be redeemed for your choice of rewards including travel, experiences, merchandise, gift cards and even cash back. At the end of the year you will have racked up a ton of points to use towards purchasing your gifts that will create memories.
Gift a unique experience: Chase Ultimate Rewards delivers cardholders a range of reward options, from travel and gift cards to unique culinary events and exclusive experiences. This is where you'll be able to draw your unique gift experiences from! You can gift your foodie loving mother a unique culinary event or gift your travel-loving husband the trip of a lifetime together! Chase has unique rewards that will allow you to gift incredible experiences in which you can create memories together.
Gift something consumable: I am a big fan of consumable gifts, anything that won't add to the clutter that I am already trying to get rid of is fantastic! Gift your child with a trip to the zoo, tickets to a monster truck show or take them to see a play. Pair it with a consumable gift such as a monster truck shaped cookie or a tub of popcorn!
Gift a tradition: Creating traditions is something that I take very seriously. As a mother to four small children, I want my kids to look back at their childhood and fondly remember the traditions we created as a family. One tradition we have each winter is to take mini vacations with our kids to a hotel with a waterpark inside. It's become something our kids very much look forward to.
Gift a lesson: Giving the gift of knowledge or a skill is something that lasts a lifetime! Gift a cooking class, dance lessons or archery lessons. By giving the gift of lessons, you're also gifting a lifelong skill.
Gift an adventure: Plan a fun adventure themed like the show Amazing Race! Plan out destinations and challenges that will guide your recipient through a series of fun activities and travel that they will never forget!
There are so many creative ways to gift memories instead of stuff this year. If you haven't already become a Chase Ultimate Rewards member then make sure you don't miss out on any more points! Sign up now and start racking up those points! Save them up and before you know it you will find that your holiday budget has shrunk nicely as your rewards points can be used to buy all those gifts instead! That's what I've done with my points this year!
How do you gift memories instead of stuff?