10 Must Haves For Travel Trailer Camping With Kids
This year we bought our very first travel trailer, aka RV, so we could go travel trailer camping with kids in tow. I love the outdoors and love camping, but I HATE tent camping. Camping in a travel trailer is SO much better. It's basically glamping because you get the camping experience minus the sore back, bug bites and convenience food. You can cook anything on the stove/oven combo and we even have a pretty good sized fridge. Did I mention it has a bathtub? Yeah, it's camping I swear. If you are an avid camper or just considering it, here are my 10 must haves for travel trailer camping with kids!

We dove into this thing head first and we've learned a few things along the way! I'd love to save you the headache of forgotten items or things you haven't even thought of yet. Learn from my mistakes and start off on the right foot.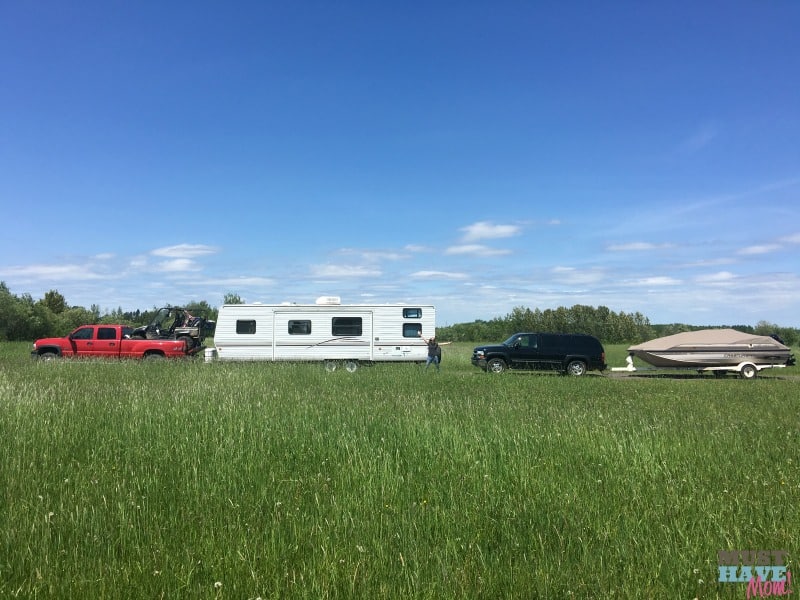 We are lucky enough to own a boat as well as a travel trailer so we end up driving separately when camping at lake locations so we can bring the boat along. In the future we will buy a 5th wheel camper so we can tandem tow the boat. For now we are happy with our bumper tow trailer! It has a queen bed in front, living/kitchen/bathroom area in the middle and 4 bunk beds in the back. It's perfect for our family of 6!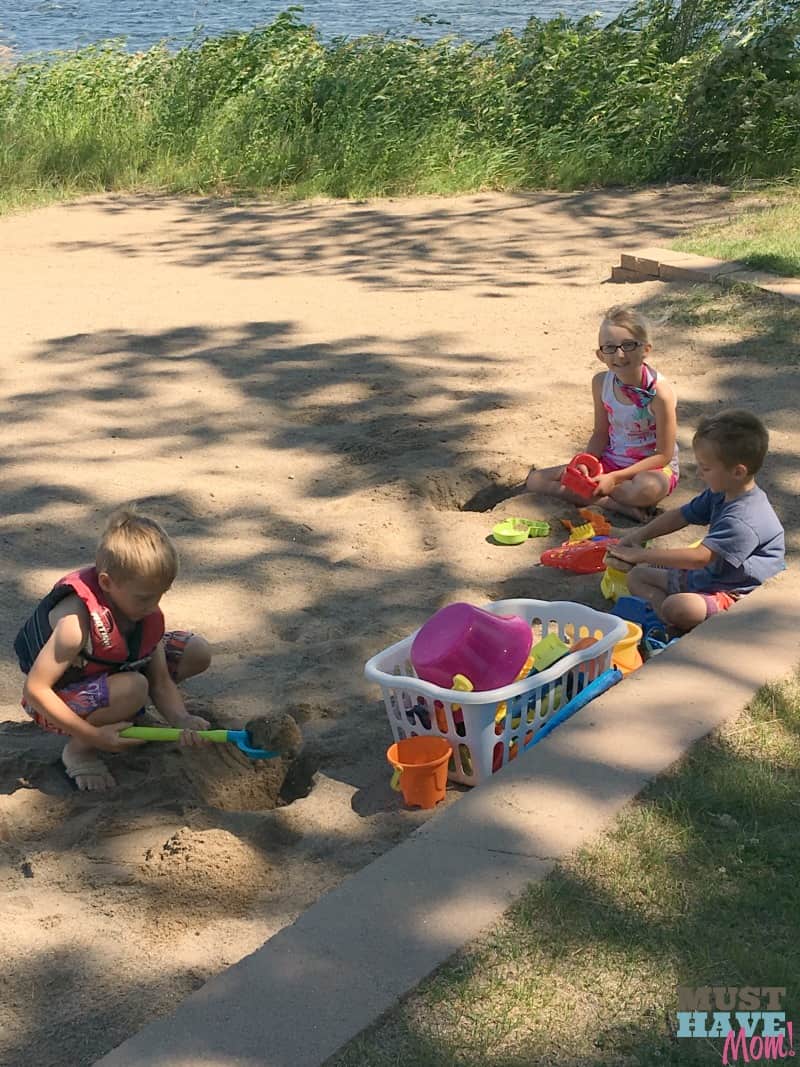 Our kids have had so much fun camping and nearly every campground we have visited has had a beautiful beach on one of our many lakes here in Minnesota. This brings me to our first must have for travel trailer camping with kids:
1.) Sand Toys are a must when camping with kids. The kids will sit and build sand castles and creations for hours!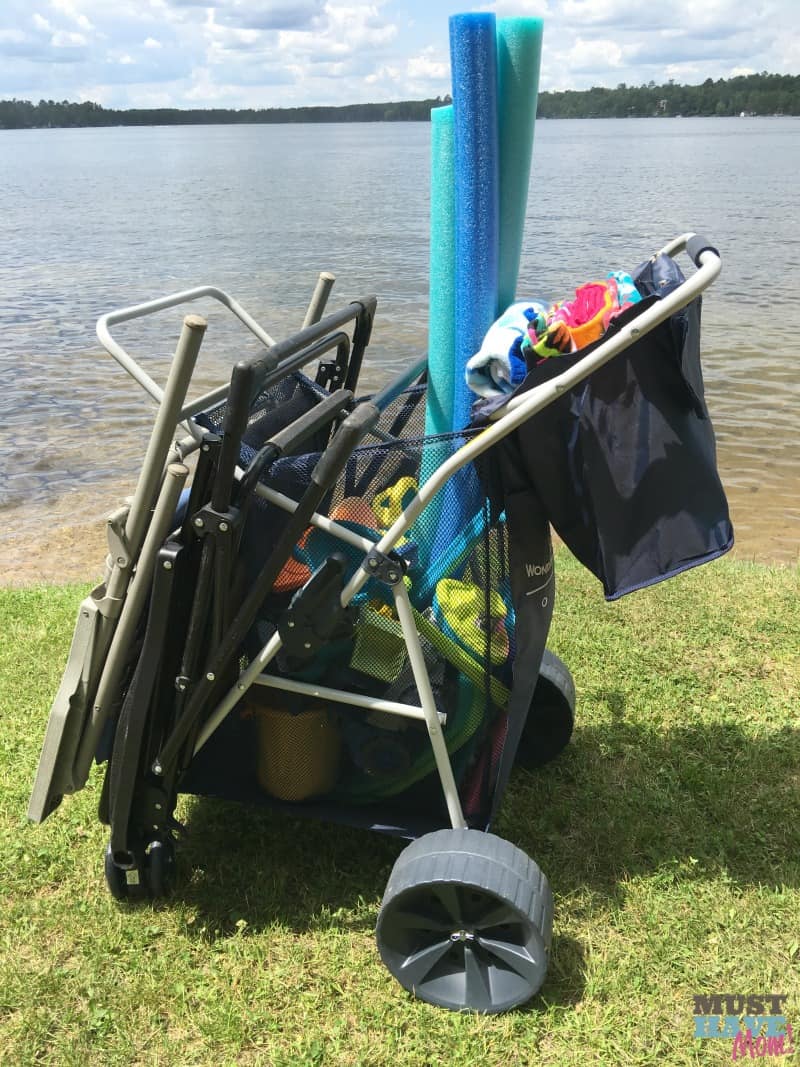 2.) One thing I didn't think about when we started camping was a way to haul all of our stuff to the beach at the campground. We ended up looking like pack mules lugging our stuff around and trying to corral four children at the same time. We love the Wonder Wheeler for this! The Wonder Wheeler easily transports everything you need for the beach in one trip! It has extra wide wheels in the back so it easily rides over the beach sand too! Pack on all the necessities including sand toys, towels, a cooler, beach chairs, and an umbrella. It's amazing how much it holds. The heavy duty mesh dries quickly too so no worries if it gets wet! Another item we have found SUPER helpful for hauling things (firewood, toys, towels, coolers) is this folding camp wagon. It has made life so much easier while camping! We even brought it on vacation to Florida with us and got so many people asking where we got it and remarking how genius it was for hauling my youngest son and all our beach stuff in.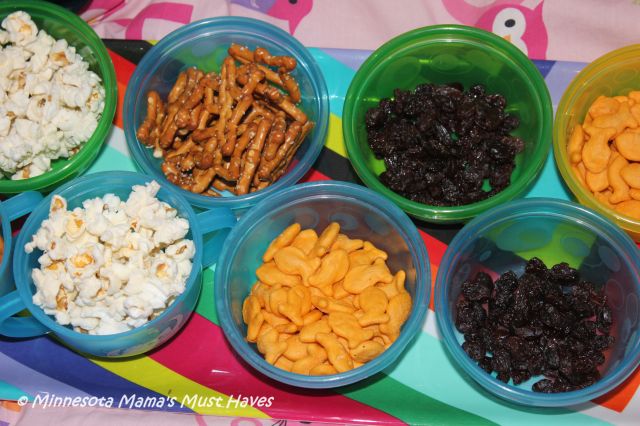 3.) Bring lots of snacks! It's amazing how much my kids snack while we are camping. I have a plastic drawer set with 3 drawers filled with grab and go snacks for them to choose from. You can include individual sizes of granola bars, yogurt covered raisins, peanut butter crackers, fruit snacks, snack mix, trail mix, fruit, etc. This s'mores nutella puppy chow is one of our favorites while camping!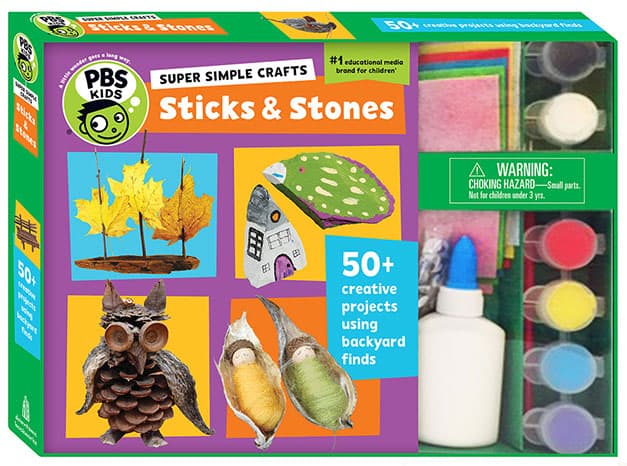 4.) Bring plenty of activities! Make it easy to keep the kids entertained by bringing plenty of activities for them to do. We bring lots of outdoor games like ladder ball and bean bags. We also bring a baseball and gloves, rackets and a birdie, jump ropes, their bicycles and helmets. I have also been bringing these fun outdoor kids like the Sticks & Stones kit above. It lets kids make crafts from things they find outdoors! It's perfect for camping. Don't forget to pack some rainy day activities too like board games, playing cards and small toys.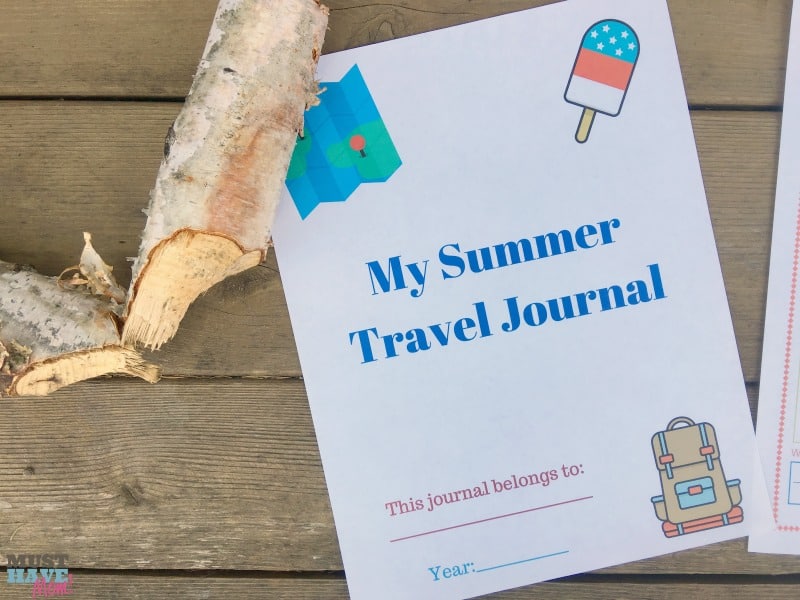 5.) Print off these free printable travel journals and have your kids keep track of each day. Each page lets them record a picture of what they did that day, the weather, how they traveled, where they traveled, how many stars they rate it and one thing they learned that day. I have SO much fun reading my kid's journal entries. For example, Aiden (6 years old) showed me his recent entry from the first time we took the kids out fishing. He jotted down the one thing he learned that day was that fishing was boring! How funny. It's a great memento and helps the kids reflect on the day.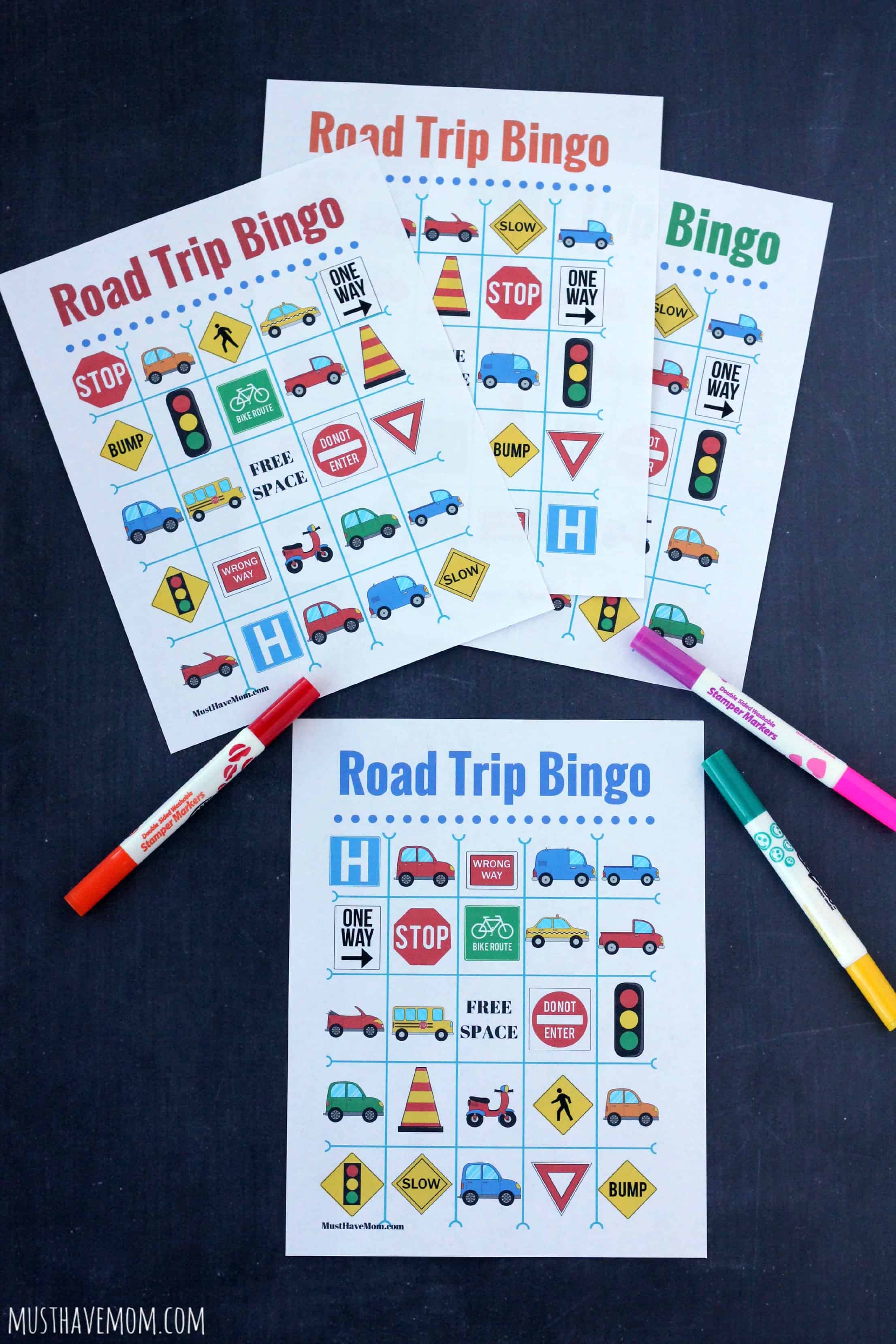 6.) Most of the campgrounds we visit are at least a couple of hours away. The kids hate the car ride so I always try and make it more enjoyable by brining plenty of snacks and some activities. This free printable road trip bingo game is one of their favorites!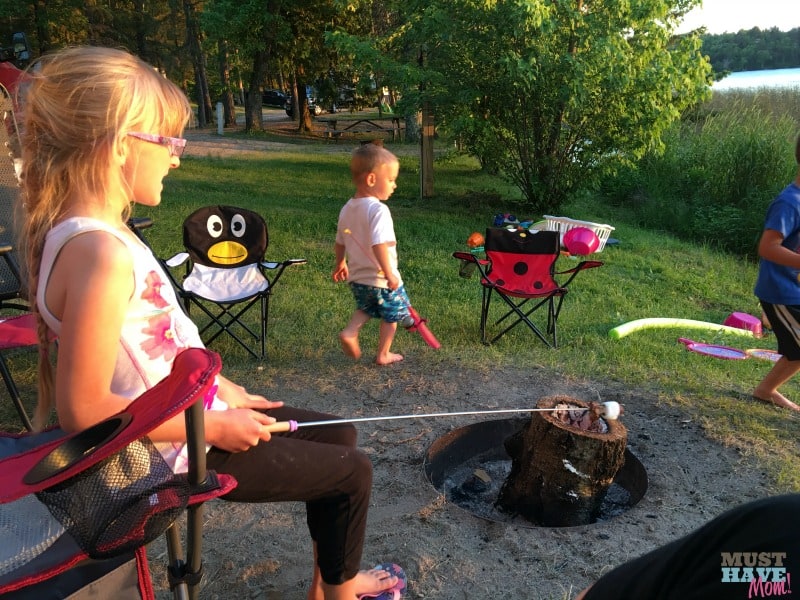 7.) Plenty of S'mores supplies! We ran out of chocolate bars on our first camping trip and my kids nearly cried when I said we couldn't roast any more s'mores for the rest of the trip. Bring along more than you think you'll need! We like to also add in rolos and saltine crackers to make some fun salty and sweet combos. The coconut marshmallows paired with a rolo taste like a girl scout cookie! So yummy.
8.) Bring a well-stocked first aid kit. You're sure to encounter some boo boos and you want to be ready to fix them up and get on with being a happy camper! Things to include in your first aid kit are bandages, bug bite relief stick, rubbing alcohol, peroxide (for poison ivy), instant ice packs, antibacterial cream (we use this one), burn cream, ibuprofen, tylenol, tums, tweezers and a magnifying glass (for removing slivers), allergy medicine and scissors.
9.) Bring a folding step stool along to help your kids climb up into their top bunks. It's also useful for reaching tons of other things! We use this one since it folds up it's easy to stow away. Also don't forget to bring extra sheets in case anyone has an accident. Make sure the kids have curtains on their windows too unless you enjoy getting up at dawn.
10.) Lots of clothes and rubber boots. The very first time we went camping it rained the entire weekend. We really didn't mind because we were in a camper and we played outside in the rain anyway, but I way underestimated how many clothes we would go through AND I forgot to bring rubber boots! In no time my kids had run out of clothes after changing out of their wet clothes a million times and their shoes were soaked. I ended up driving home for more clothes and rubber boots. I also grabbed extra rugs because our shoes tracked in so much mud. Bring way more than you think you'll need so you won't run out! Some campgrounds actually have a washer and dryer on site but many do not. Check before you go!
 Supplies We Recommend For RV Camping With Kids
Rio Beach Wonder Wheeler Wide Beach Cart

Liberty Imports Double Sand Wheel Beach Toy Set for Kids with Bucket, Shovels, Rakes, Sailboat & 3 Shape Molds

23pc Kids Beach Toys Set, Sandbox Toys; Sand Toys

Fire Buggz Fishing Pole Campfire Roatser (Blue)

Mac Sports Heavy Duty Collapsible Folding All Terrain Utility Beach Wagon Cart, Blue/Black

Coleman Kids Quad Chair, Pink

First Aid Kit Hard Red Case 326 Pieces Exceeds OSHA and ANSI Guidelines

Folding Step Stool – 11

 We love when you pin our posts and share them on Facebook!