This week I've been sharing ideas and pictures from Carson's Dr. Seuss Birthday Party. As promised I will also be sharing with you the recipes from my Dr. Seuss party food and the free Dr. Seuss printables that I created for everything! I hope it saves you some time and helps make your party special!
I had a table near the entrance with this Happy Birthday To You! Dr. Seuss book and a rhyme asking guests to sign the book. You can get my free printable Dr. Seuss Birthday rhyme by clicking the link. I've removed Carson's name so you can add in your own child's name!
UPDATE: I have had many requests for this rhyme in different ages. Please scroll all the way to the bottom of the post and check out the links for different ages. I have removed Carson's name from the bottom of the rhyme so that you can print this off and sign your child's name at the bottom (or have them sign it!). I will not fulfill requests to add your child's name to the rhyme as I am offering this as a free printable and simply can't keep up with all of the requests. If you have a different age you'd like me to insert THAT ISN'T ALREADY LISTED AT THE BOTTOM OF THIS POST drop me an email (sarah@ must have mom. com) and I will do my best to accommodate you!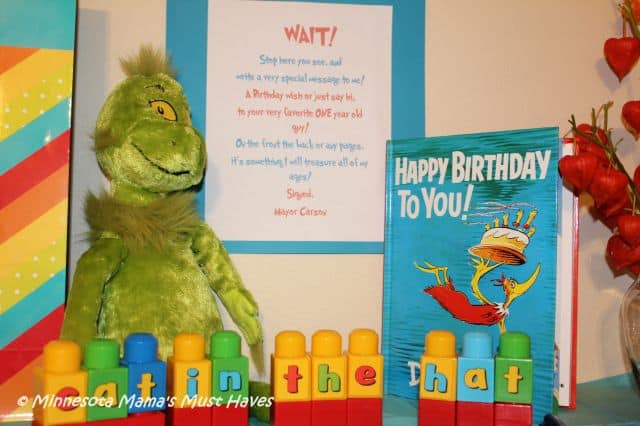 I created food picks for everything to go along with the theme! You can see all of my Dr. Seuss food ideas on my previous post. Get all the free printable Dr. Seuss food labels I created  by clicking the link! After printing them just cut them out and glue onto a piece of card stock. Tape a wood skewer (I bought the kabob skewers at Walmart in the kitchen section for 99 cents for 100) to the back of the sign. Glue or tape another piece of card stock to the back. Voila! You have a food pick!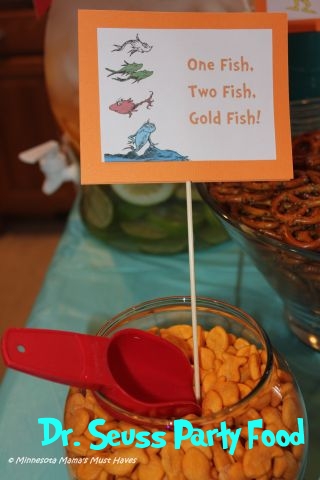 If you'd like to create some of your own signs to go along with your theme you will want to download some free Dr. Seuss fonts.
Get the free Grinched font as seen in the wording on my pictures and in the Birthday rhyme.
And you will also want the three free Dr. Seuss fonts found here.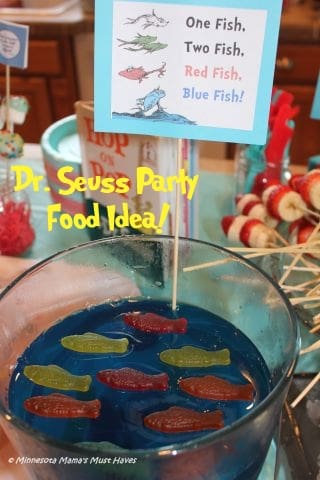 For the party favors I used small packages of goldfish and sweedish fish and stapled them together with this rhyme. You can get the free Dr. Suess party favor printables by clicking the link.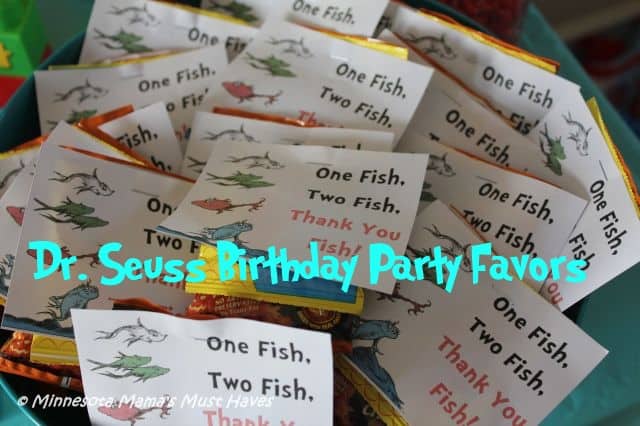 I spent many, may hours creating all of this for my party so I hope it helps save you some time! These are for personal use only and may not be sold or used commercially.
Here is a round up of all of the Dr. Suess printables and party ideas!
Dr. Seuss Birthday Rhyme (age 1)
Dr. Seuss Birthday Rhyme (age 1) Girl
Dr. Seuss Birthday Rhyme (age 2)
Dr. Seuss Birthday Rhyme (age 3)
Dr. Seuss Birthday Rhyme (age 4)
Dr. Seuss Birthday Rhyme (1 year old twins)
Dr. Seuss Birthday Party Ideas
Free Printable Dr. Seuss Food Labels
Free Dr. Seuss Party Favor Printables
If you liked this post be sure to check out my Birthday Party tab above for more fun party ideas!
*This site is copyright protected.