Travel Hacks You Will Wish You Knew Years Ago! + Trip Giveaway!
This post brought to you by Atlantic Luggage. The content and opinions expressed below are that of https://musthavemom.com/.
Traveling can be a challenge but add in traveling with your entire family along and you've got cause to plan ahead and put to use as many travel hacks as possible! Here are several travel hacks I wish I had known about years ago! Nowhere to go? Enter to win a family trip to NYC or San Diego! Now let's get packing!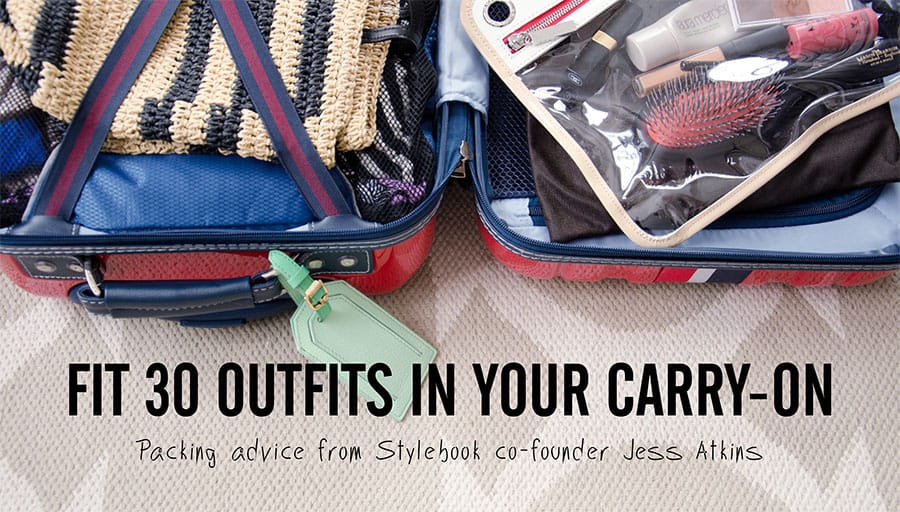 Photo Credit Stylebook
There have been many times I have traveled with just a carry on suitcase. It eliminates the possibility of the airline losing your luggage and saves time be eliminating the need to wait for checked baggage. Here is a great post on packing 30 outfits in your carry on and how to style the outfits so you have plenty of options!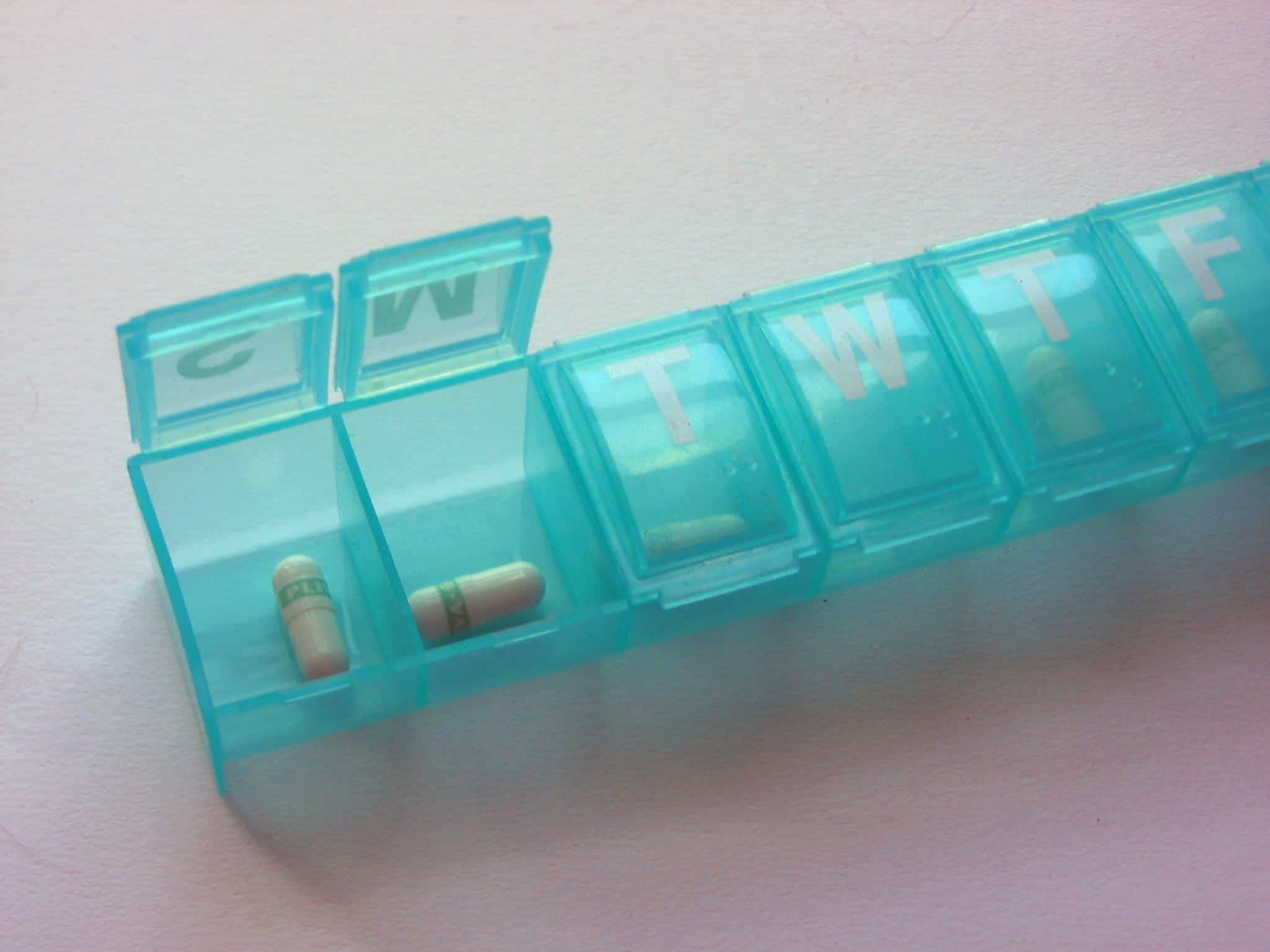 -That pill container is good for more than just pills! Use it to store your earrings, necklaces and rings so they don't get tangled up in your suitcase.
-Use a shower cap to cover the bottoms of your shoes before packing them in your suitcase. The shower cap will protect your clothes from getting dirty.
-Rather than packing your large container of foundation, fill an empty contact lens case with foundation and leave your makeup bottle at home.
-Toss a few clothespins in your suitcase so you can hang up your wet swimsuit or clothes you've washed in the sink to dry.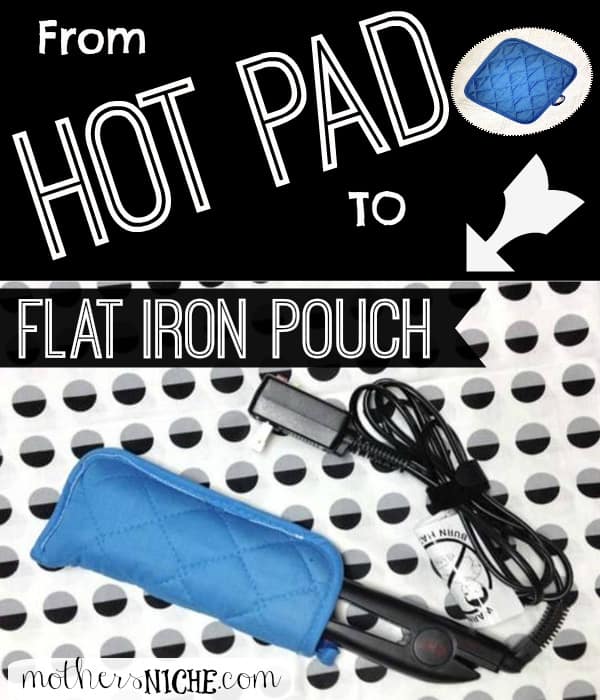 Photo Credit Mothers Niche
Turn a dollar store hot pad into a flat iron case! Now you can pack your flat iron in your bag before it cools down.
Invest in quality luggage to make your trip through the airport easy. There is nothing worse than juggling bad luggage through the airport, trust me I've done it! I can recall trying to haul two suitcases through the airport, into a cab and then into a hotel by myself. One of the suitcases kept tipping over until finally the strap I used to pull it broke off completely. Invest in nice luggage that will save the wear and tear on your body and make for a pleasant trip.
Atlantic Luggage offers an amazing line of luggage to get you to your destination! You will be amazed how much you can fit into each piece, ridding you of the hassle of multiple pieces of luggage to carry or to worry about in the airport. Atlantic Luggage has innovative features such as the Link2Go™ system, which allows you to connect multiple pieces of luggage for easy one handed rolling. Or, their 360-degree 4-Wheel Spinners allows for easy guiding and steering through busy terminals. Atlantic Luggage has thought of it all, taking the struggle out of traveling for the whole family.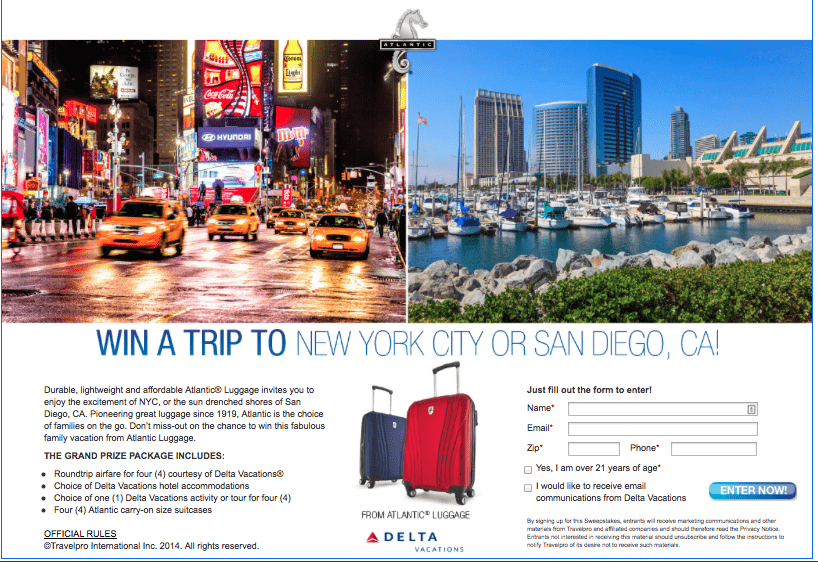 Now through November 15th, Atlantic Luggage is running an amazing sweepstakes where you have the opportunity to win a family trip for four to your choice of New York or San Diego! Because life is a trip®, Atlantic Luggage is sending you on the trip of a lifetime! So, register for your chance to win a trip for the whole family today!
Grand Prize package trip certificate is valid for: (a) round-trip economy air transportation valued at up to $450 per ticket for the Grand Prize winner and three (3) guests from a major U.S. airport serviced by Delta Air Lines near to the Grand Prize winner's home (as determined by Sponsor), to a major U.S. airport serviced by Delta Air Lines near New York City or San Diego, CA (as chosen by winner and determined by Sponsor); (b) hotel accommodations at a participating Delta Vacations hotel in New York City or San Diego, C; (c) four (4) Atlantic® carry-on sized suitcases; and (d) $300 allowance to spend on their choice of Delta Vacations Tour or Activity packages.

Total prize value of $3,700
What are your favorite travel hacks?