Must-Have Supplies For Small Dogs
*This post has been sponsored by Clorox® All thoughts and opinions are my own.
I wanted a small dog for the longest time. I had never had one and now that I'm done having babies, I wanted something small to cuddle! My husband agreed and got me the most adorable pomchi (pomeranian and chihuahua mix) ever! I didn't know where to start because I had always had bigger dogs and didn't know what small dogs would need. I put together this helpful must-have list of supplies for small dogs that you might not have thought about!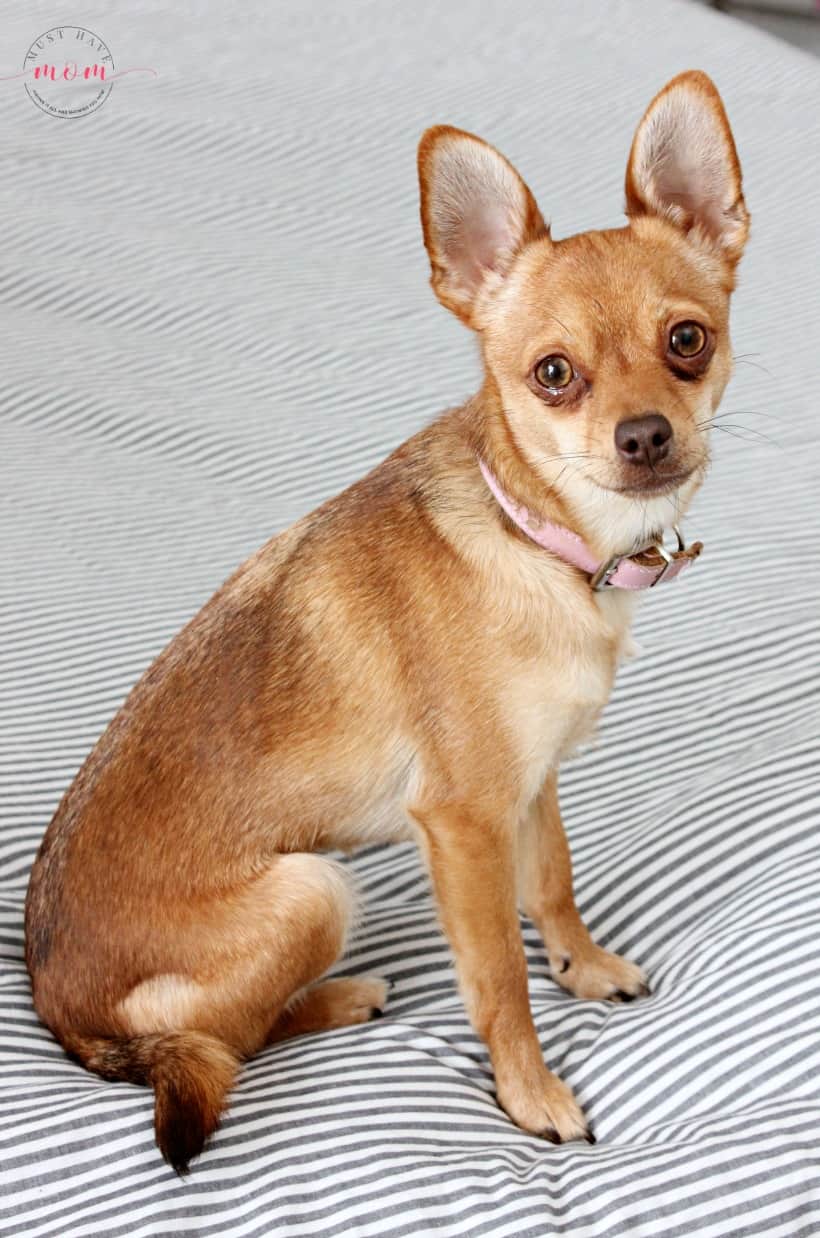 Essentials For Small Dogs
Small dogs are so much different than large dogs. I had dogs all my life, but had never had a really small dog. My dog, Maddie, was a birthday gift from my husband and she is a mix of Pomeranian, Chihuahua and Miniature Pinscher. I had no idea what to expect from a small dog, and after having her for over a year now, I have learned a few things! There are many essentials for small dogs that you might not have thought about.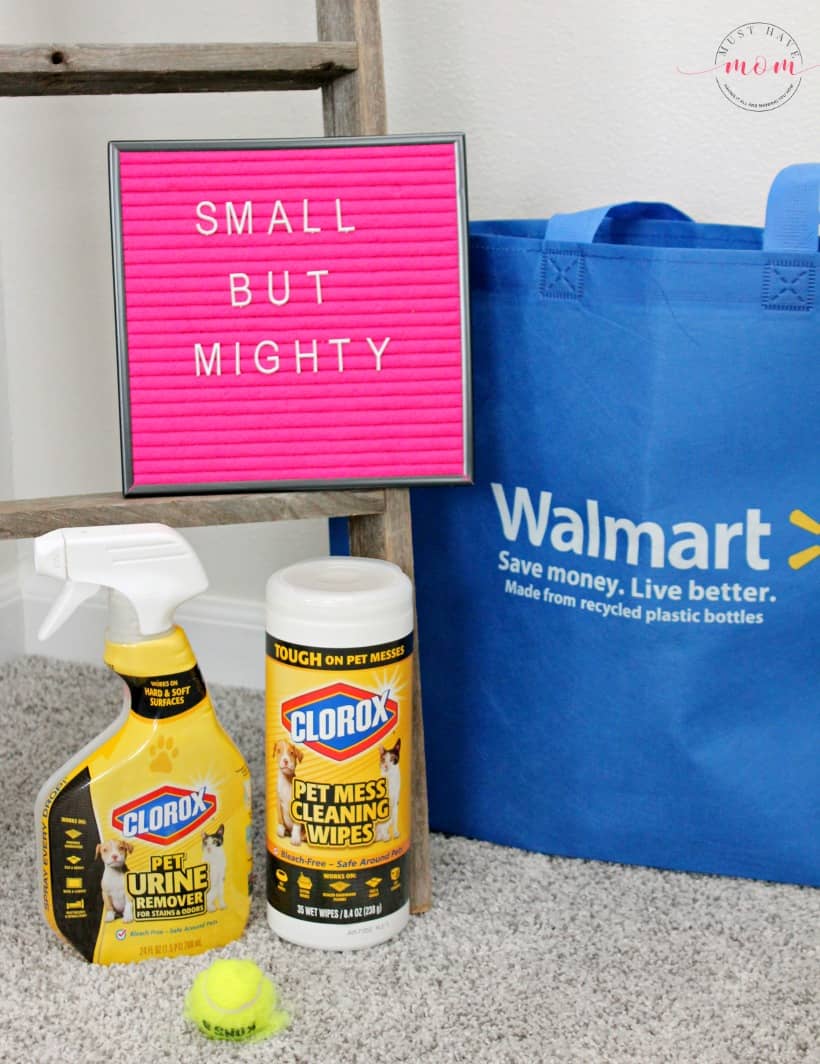 Where To Find Small Dog Essentials
Before getting Maddie, I headed over to Walmart to find the essentials I might need for a small dog. They had a great variety of supplies. If you are getting your small dog as a puppy, then be sure to also read my Ultimate Guide To Bringing Home A Puppy because puppies need different supplies as well.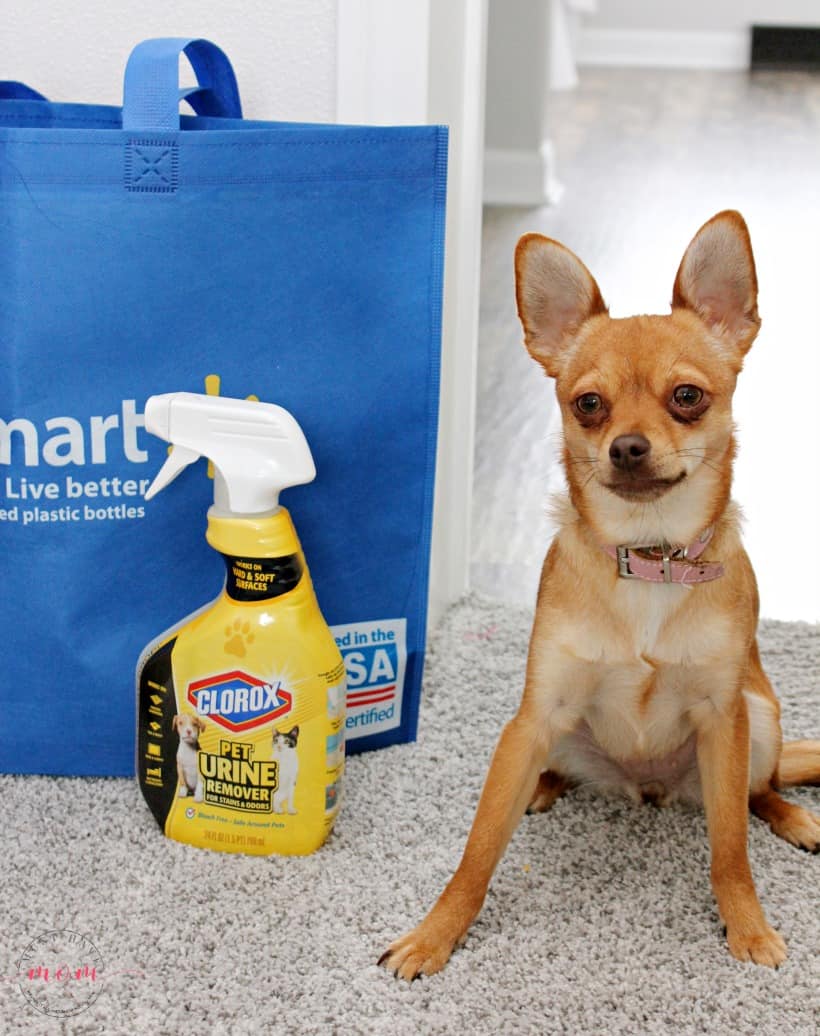 What To Buy For Small Dogs: Needs Vs. Wants
There are SO many amazing supplies for small dogs, but many are wants and there are definitely some needs that you will want to make sure you have on hand. I'll help you sort those out!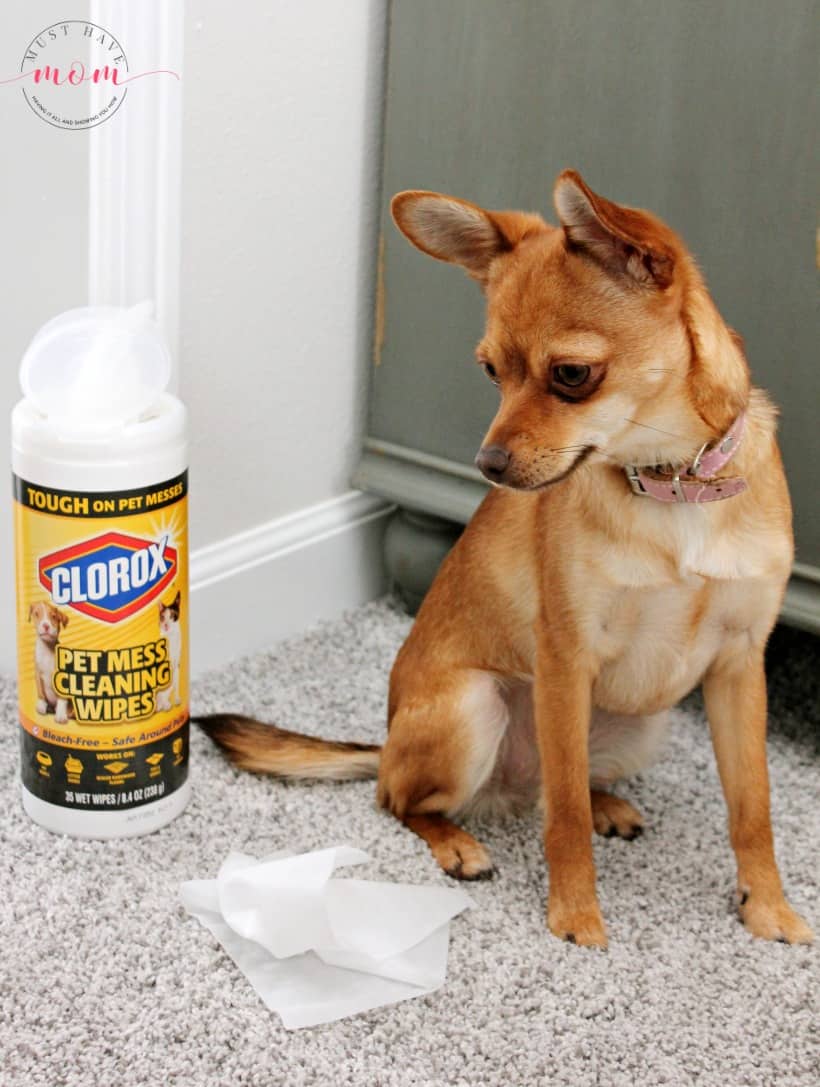 What Supplies Do Small Dogs Need?
#1 – Small dogs have small bladders and need to go outside more often. This also means that they are more likely to have an accident in the house if you don't notice that they need to go out. It took us awhile to learn that Maddie needed to go outside very often compared to our larger dog, Max, who rarely goes outside to go potty.
That means we always keep Clorox® Pet Urine Remover and NEW Clorox® Pet Mess Wipes on hand for those times that accidents occur. It's safe to use on hard floors and carpet, and it doesn't damage the surfaces. There is no bleach in them so you don't need to worry about bleaching the carpet! You can find these in the pet aisle at Walmart. Best part? Get them on sale during a bundle offer (Check it out HERE).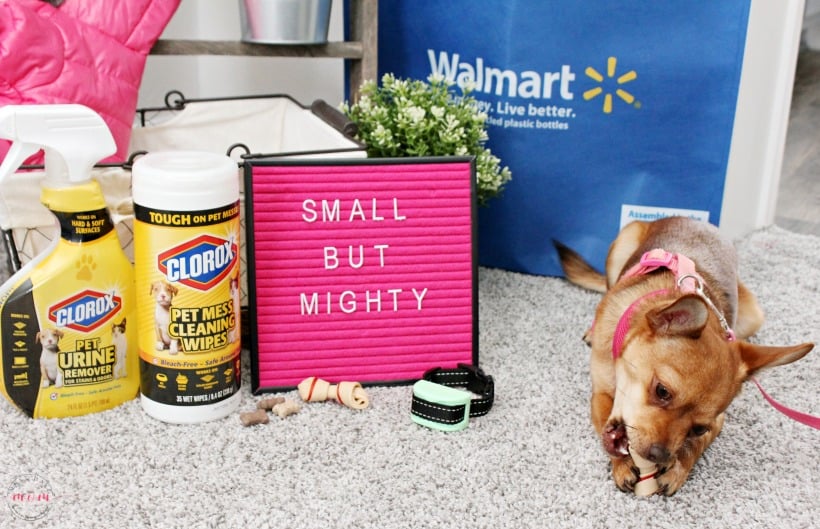 #2 – Small dogs need small things! That means buying really small treats that they can easily chew and buying small dog bones that aren't too big for their little mouths. I will say Maddie often goes after our bigger dog's bones and it's funny watching her stick her whole nose in the large hole in his bone, but small bones are safer for small dogs so be sure to get the appropriate size.
#3 – Small dogs have a tendency to bark more often so if you are in public, you may want to try a small bark collar for small dogs. We have one that works by simply delivering a vibration (not a shock) when she barks and it's annoying for her so she stops barking. We only use this when we stay at campgrounds because she likes to bark at people passing by. At home she rarely barks so we don't have to worry about it.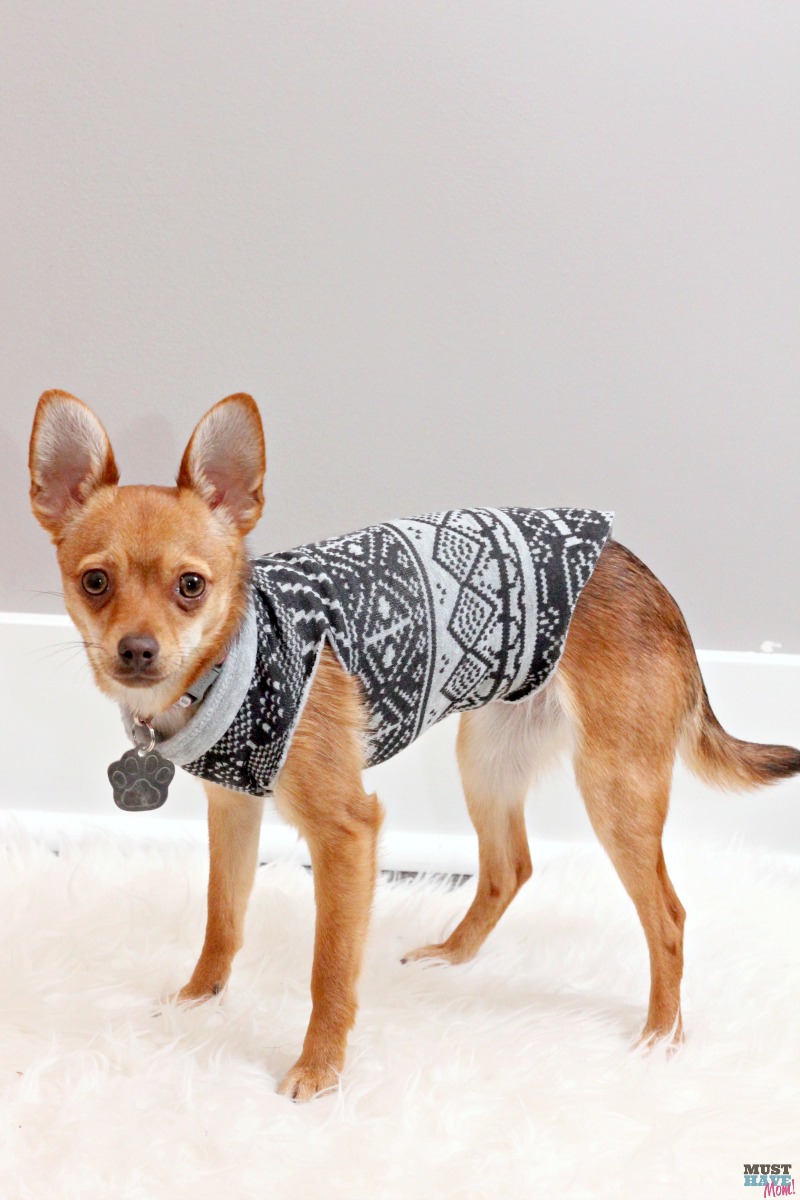 #4 – Small dogs get cold more easily and have a harder time regulating their temperature so your small dog may need a sweater or jacket if the weather is cold. I had fun buying Maddie a bunch of adorable clothes for small dogs, however, she hates wearing clothes so I only put a sweater or jacket on her if we will be outside for a long time and she might get cold. Don't go overboard on buying clothes until you know if your dog will like wearing them or not. You can even try making a DIY dog sweater out of an old sweatshirt for free.
#5 – Small dogs tend to like feeling secure. Maddie loves her dog crate when we aren't home. Even when we are home and it's a little chaotic, she'll go lay in it to feel safe. She also loves her small dog bed that also allows her to burrow inside of it. It's a cave bed so she can lay on top or crawl inside. Consider finding a small dog crate and cave bed for your small dog.
#6 – Small dogs benefit from having a small harness for walks. Their necks are so little that it can be dangerous to simply put them on a leash with a regular collar and go for a walk. By using a small harness, the tug of the leash will be on their chest instead of their neck. We only put the harness on for walks and Maddie has a collar for at home.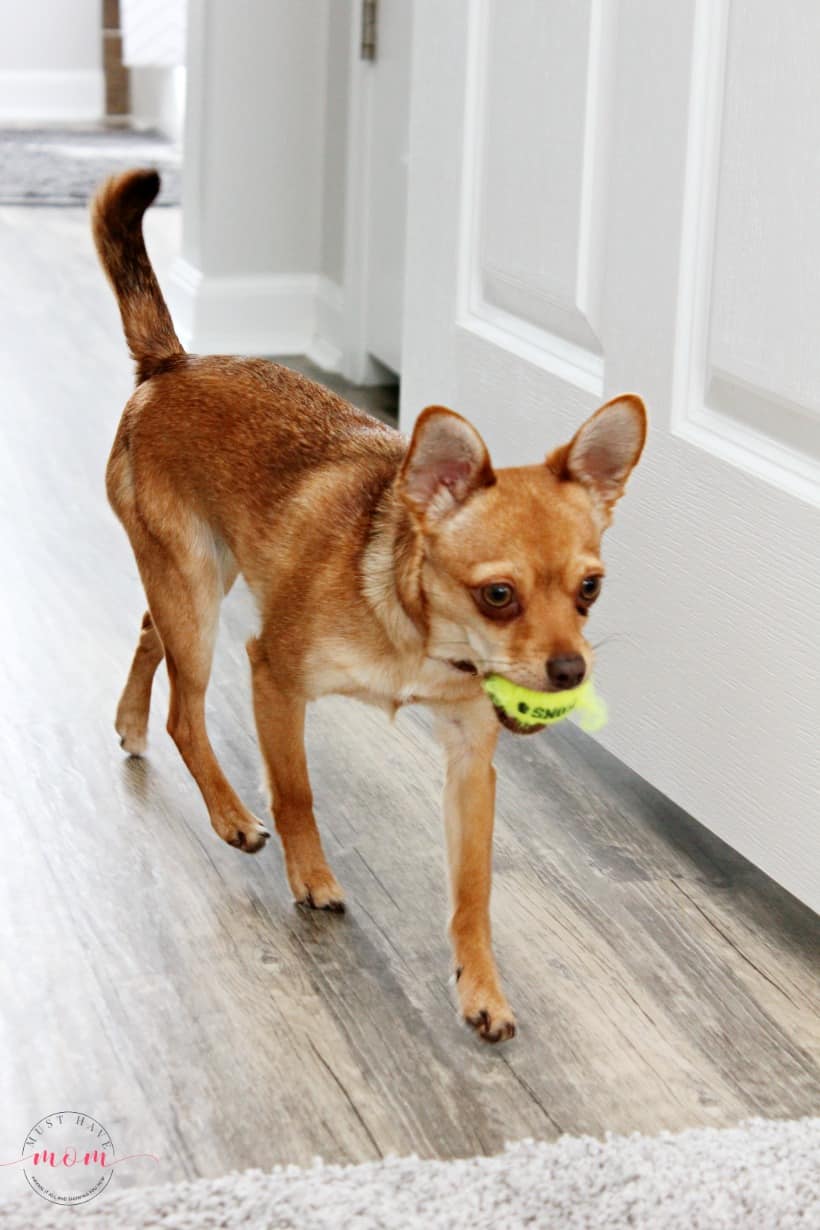 #7 – Small dogs need small toys! Maddie absolutely loves playing, and her favorite toys are these tiny tennis balls that will fit in her mouth (as opposed to regular sized tennis balls) and small plush toys that she can fetch and play tug of war with. Small dogs are energetic, and Maddie loves to play!
I was able to find all of these small dog essentials at Walmart in the pet aisle. Head there for everything you'll need at an affordable price.
Pin Must-Have Supplies For Small Dogs