Holiday Hacks & A 30 Minute Homemade Marinara Sauce Recipe!
This post brought to you by Farm Rich. The content and opinions expressed below are that of https://musthavemom.com/.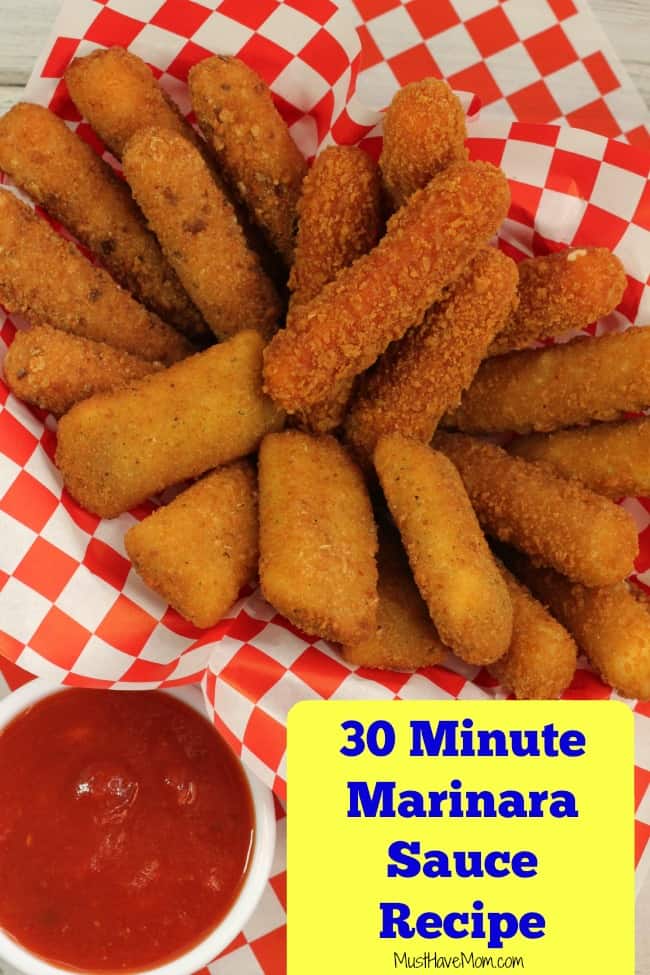 The holiday season is here and with that comes the joy of entertaining! I love entertaining and cooking up a storm for my guests. Often at this time of year I have unexpected guests drop in and I like to always be prepared. Today I'm sharing some of my holiday hacks with you AND I'm sharing my 30 minute marinara sauce recipe which you can make ahead and either store in the fridge for about a week or keep in the freezer for several months. Couple that with keeping some of my favorite frozen appetizers on hand and I'm always prepared for unexpected guests!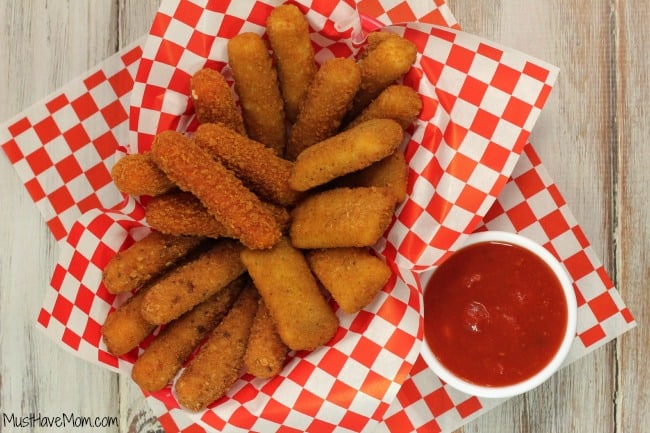 Print this recipe or pin it for later!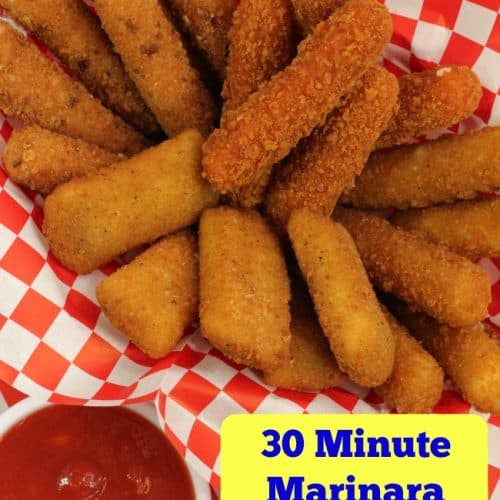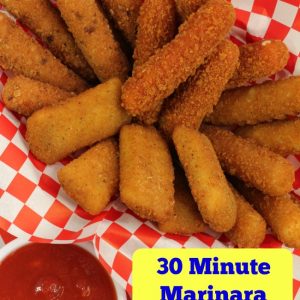 30 Minute Homemade Marinara Sauce
Easy 30 minute marinara sauce bursting with flavor and tasting like you slaved over a stove all day!
Ingredients
2

Tablespoons

olive oil

6

garlic cloves

peeled and chopped

1

28-ounce can crushed tomatoes or you can use 1 3/4# fresh Roma tomatoes that are peeled and diced

1/8

teaspoon

crushed red pepper flakes

1 1/2

teaspoons

coarse salt

1/4

teaspoon

dried oregano

1/4

teaspoon

black pepper

1

large sprig of fresh basil
Instructions
Heat olive oil in a large saute pan over medium-high heat.

Add chopped garlic and saute for 1 minute, stirring frequently.

Add tomatoes, red pepper flakes, salt, oregano and black pepper, and mix.

Add the sprig of fresh basil on top of the sauce, and use a spoon to gently press it below the surface.

Continue cooking until the sauce reaches a simmer.

Reduce heat to medium-low and continue to let the sauce simmer for 15 minutes or until the oil on the surface is a deep orange color indicating it is reduced and thickened.

Toss out the sprig of basil.

Season the sauce with additional salt and peppers desired.

Remove from heat and serve immediately, or you may store it in a sealed container in the refrigerator for up to 5 days.

You may also freeze it in a sealed container or zip top freezer bag for up to 3 months.
Once you've made your marinara sauce you can make sure you stock your freezer with these awesome varieties of 100% real cheese, FarmRich mozzarella sticks. We love these! Honestly, FarmRich has always been my favorite brand of mozzarella sticks. They totally have that recipe nailed! We keep the original variety on hand at all times. When guests drop in we can quickly fry or bake them and warm up some of my homemade marinara sauce to go with them. It's the perfect appetizer and it's always a big hit.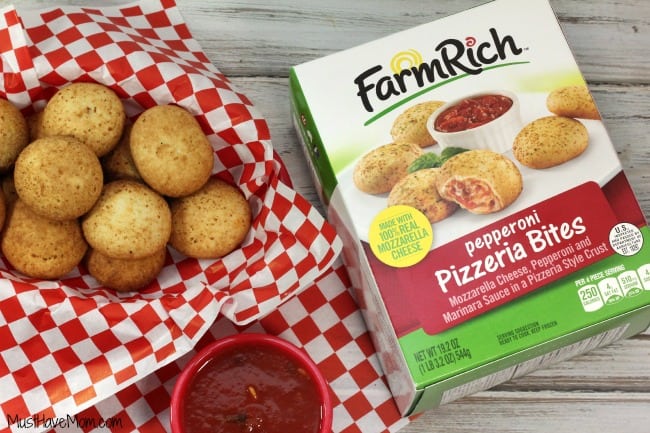 Another family favorite to serve with my marinara sauce are the FarmRich pepperoni Pizzeria Bites. They are new and they are so tasty. One of my other favorites, from all the different appetizers we tried from FarmRich. They are baked in the oven and the pizzeria style crust is so delicious! My kids went crazy for them, but my husband and sister liked them just as much!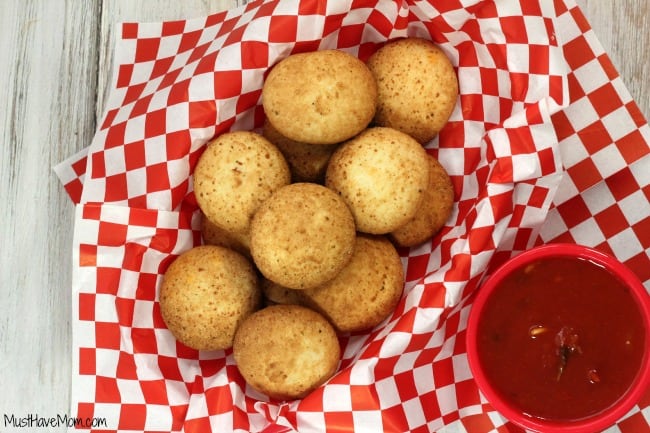 The Pizzeria Bites paired with the mozzarella sticks make for a nice variety of appetizers to serve. The Pizzeria Bites feel more like a meal-type of food so they balance out the mozzarella sticks really well. The Loaded Potato Skins are another favorite that I recommend trying!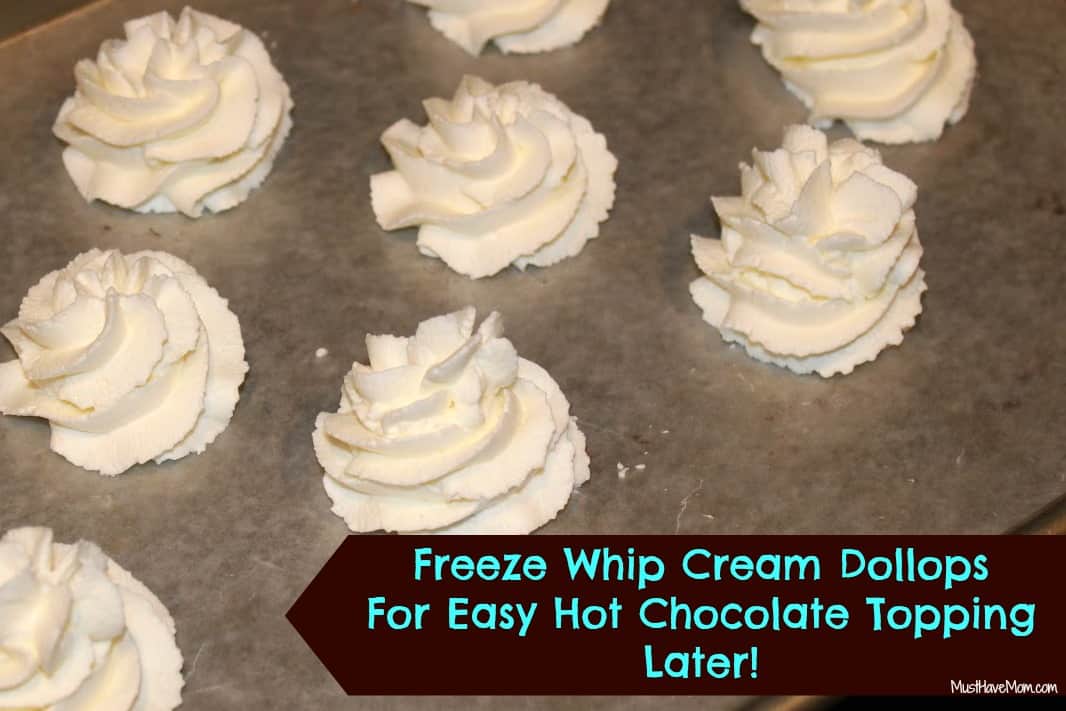 Here is an easy holiday hack that I have up my sleeve. Take a can of whip cream and make little dollops on a baking sheet lined with parchment or wax paper. Freeze them until they are solid. Then you may remove them and store in a container or bag, frozen flat in your freezer. Next time guests stop by you can heat up a batch of hot chocolate and pop the whip cream dollops out of the freezer to top their hot chocolate with! It makes for a great presentation!
With these fun holiday hacks you'll be able to spend more time enjoying your guests and less time bustling around the kitchen! I love to pamper my guests but I also want to be able to enjoy my time spent with them. This way I get to do both!
Find the Farm Rich Snacks featured in this post at your local grocer, Walmart or Target! Check their Farm Rich Product Finder to locate the nearest store that carries the variety you are searching for! Plus get $1.50 off 2 Farm Rich snacks with this coupon!
What are some of your favorite holiday hacks?