The Easy Way To PREVENT Head Lice
Danika has beautiful "Rapunzel" hair that is SO long. It's down to her bottom and it's her claim to fame. She loves her long hair. This year she started Preschool and next year will be in Kindergarten every day, all day long! One thing I worry about is head lice. Can you imagine with that long hair how awful it would be, as i it isn't bad enough, to get them! There has already been one rumor of head lice in the school and it makes me cringe. The thought of having to not only get rid of them and go through all that luscious hair but to have to go through all her stuffed animals which make up a small kingdom on their own.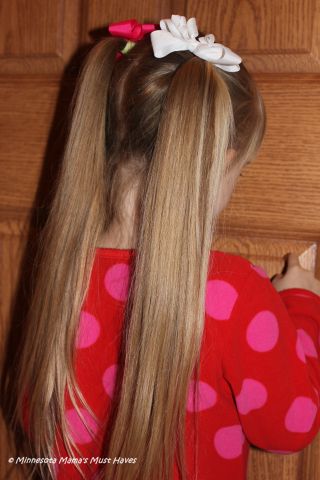 With all of this in mind I was in search of a way to prevent the head lice before they took up residence in my child's hair or in our home. Fairy Tales hair care is a line of hair care products that prevent head lice before they occur! They naturally repel lice and are non-toxic. The Rosemary Repel Conditioning Spray is our new favorite hair care product. This leading lice prevention spray also softens, detangles and eliminates frizz! Loaded with organic herbs of rosemary, citronella, peppermint, tea tree and lavender. Proven safe, gentle and effective to help prevent lice.
Danika says it smells like flowers. I feel good knowing I've sent her to school with a defense against any head lice that may be lurking around. If you haven't been fortunate enough to avoid lice i the first place then Fairy Tales also sells Lice Good-Bye to eliminate lice and their eggs. I have one on hand just in case! I hope I never have to use it!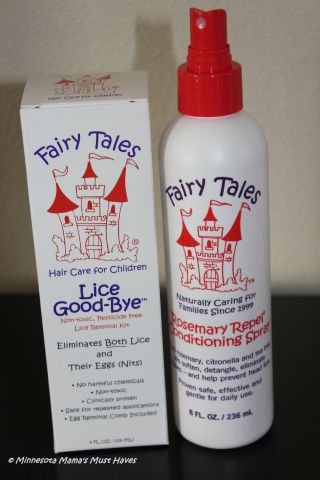 Did you know lice outbreaks can occur any time of the year and especially after the holidays when kids return back to school from long vacations?  Just like the high alert season with back-to-school, the 15 million cases of head lice each year can spring up at these crucial times. Fairy Tales uses natural and non-toxic ingredients like rosemary, lemon eucalyptus and citronella to actually repel lice and other bugs like fleas and mosquitoes away from the body to protect families from outbreaks without the harsh chemicals found in other brands.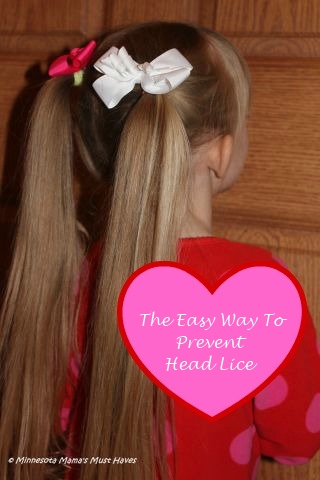 Fairy Tales offers a wide range of products and advice. Check out their Lice 911 page for more tips on prevention! Fairy Tales has been featured on the show The Doctors too!
As the Mother to a child with a severe nut allergy I was thrilled to read that the company's formulas are made with the best organic herbs and essential oils and are nut, dairy, and gluten-free! That is not always the case with natural products so that is a great achievement!
You can buy our favorite Rosemary Repel Conditioning Spray and many other products at Fairy Tales website!
Win! One lucky reader will win the Rosemary Repel Conditioning Spray and Lice Good-Bye from Fairy Tales Hair Care! Enter my Rafflecopter giveaway below for your chance to win! Good Luck!
*Site Disclosure: Products providing by company or representing PR firm for review purposes only. No compensation was received in exchange for this post. My opinions are my own and reflect my personal experience with the product.