Make Bedtime EASY With This Bedtime Routine Chart + Simple Trick!
*I have been compensated by AVEENO® and Johnson's® Baby for this post; however, I am sharing my own thoughts. All opinions are my own. 
Bedtime can really become a battleground, but it doesn't have to! I'll show you how this simple trick and free printable bedtime routine chart can take your night from a struggle to a success!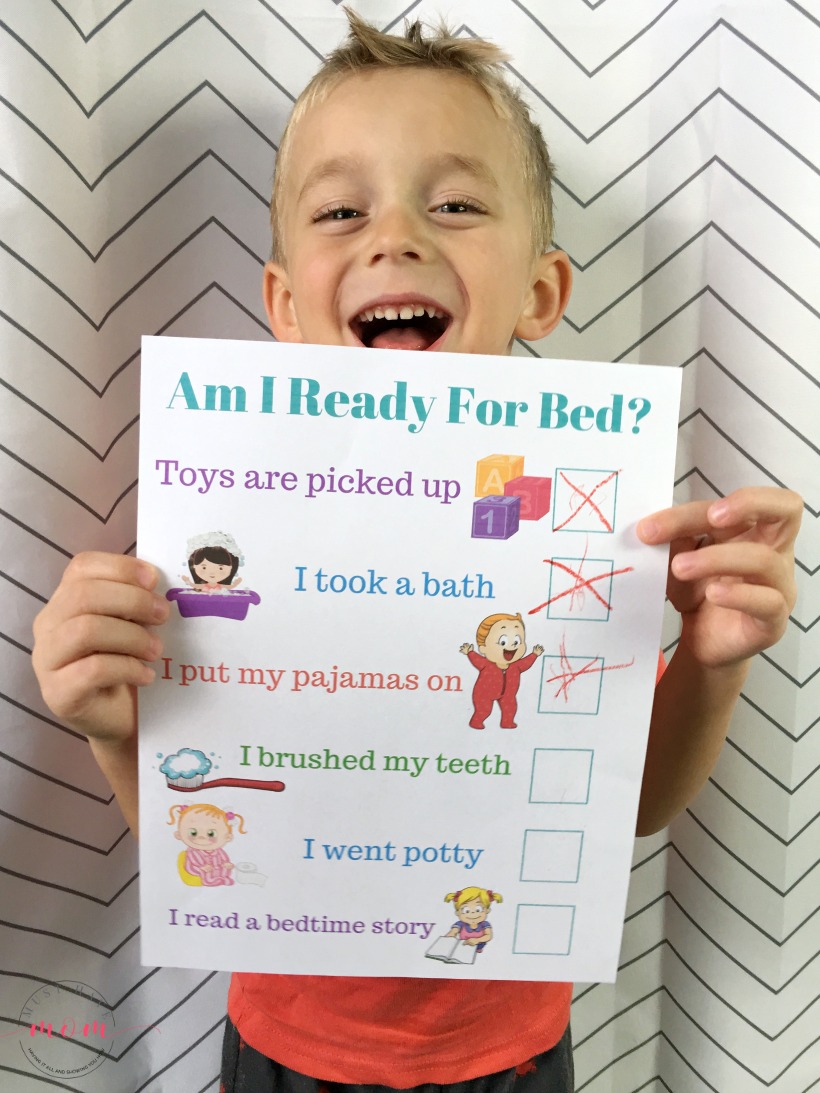 Brady is at the wonderful age of 3 where he believes he can do everything himself and he definitely has his own ideas of what he wants to do. This can create struggles, but instead of battling with him I have learned to embrace his independence and let him do the things he can and give him choices that I can live with. I'll show you my simple tricks to make bedtime easier and eliminate the battle!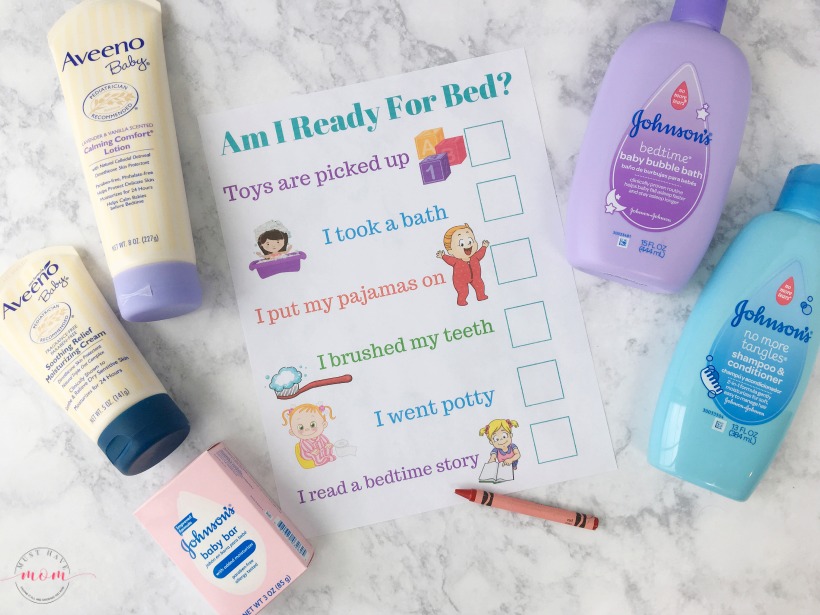 Have A Bedtime Routine Chart
Creating a solid routine for toddlers to follow will help tremendously in achieving a happy bedtime. When toddlers know what to expect and know what comes next it eliminates the uncertainty and makes them feel more in control. Imagine having someone else always telling you what to do when you didn't want to do it! This puts some feelings of control back in their court.
Creating a bedtime routine chart can help toddlers visualize what comes next and how close they are to the end, i.e- bedtime! I have provided a FREE printable bedtime routine chart at the bottom of this post! Go ahead and print it off.
Tricks To Make Bedtime Easier!
Use these tricks to make bedtime easier and have a happier toddler too!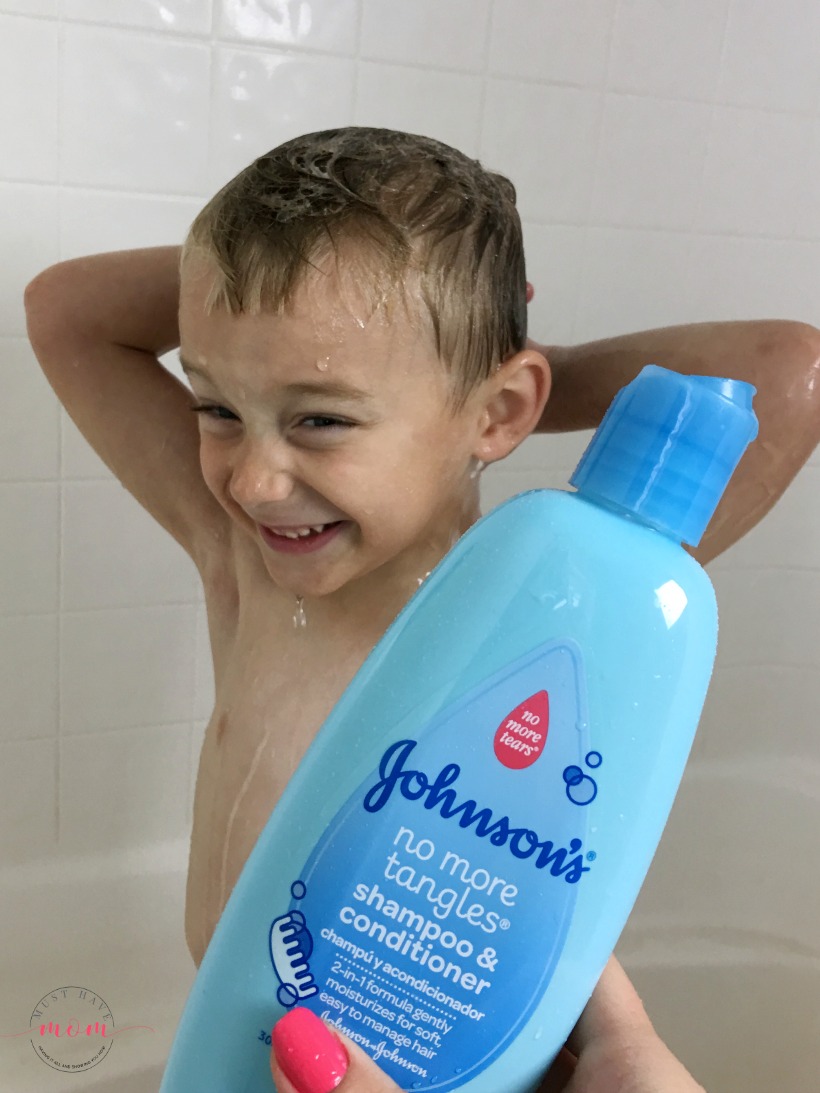 Tip #1 – Let your toddler do things they are capable of. Brady HATES washing his hair in the shower unless I let HIM do it himself and then he loves doing it! I use JOHNSON'S® NO MORE TANGLES® shampoo and conditioner made with NO MORE TEARS FORMULA® so I don't have to worry about him getting it in his eyes. He gets to wash his own hair and I don't have to battle with him. Win-Win!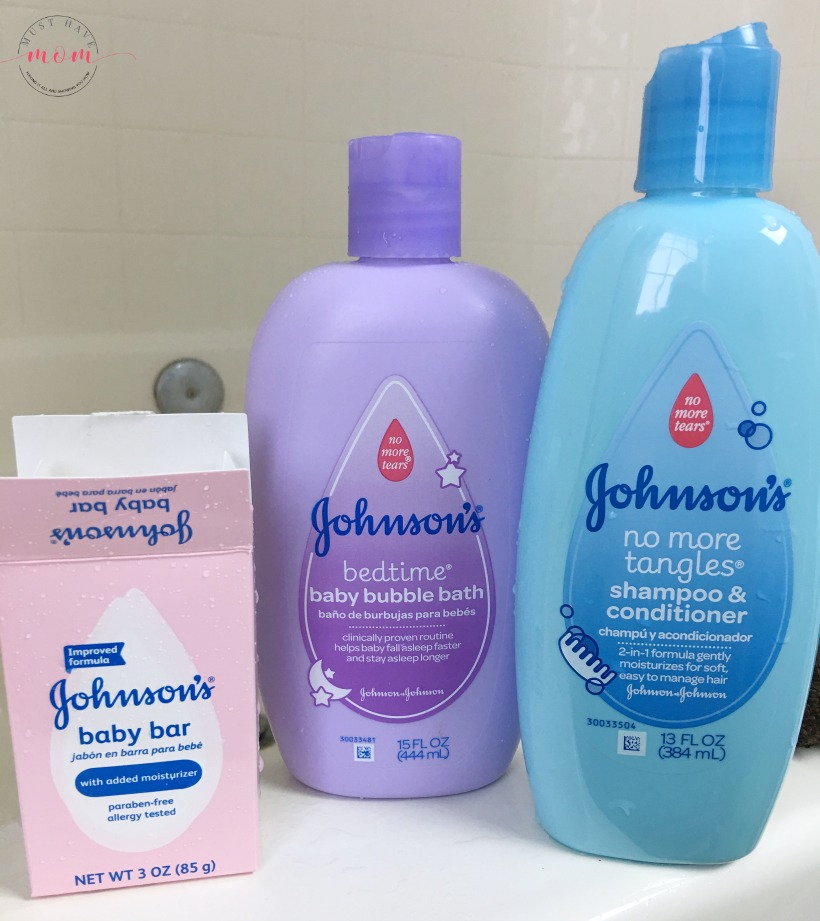 Tip #2 – Give your toddler choices that you can live with. Never give your toddler a choice you can't live with. For example, don't ask them if they want to take a bath. Ask them "Would you like to take a shower or a bath?". This still gives them the ability to make a choice, but takes away the option of not taking a bath or shower at all. They feel in control and you still get the end result you desire. Brady alternates between choosing a bath or a shower and he loves getting to choose. It makes him feel older and important, like his voice matters. When he takes a bath I also let him help put in the JOHNSON'S® BEDTIME® baby bubble bath which smells divine and helps calm him for bedtime with the lovely scent of lavender.
Tip #3 – Use the bedtime routine as teachable moments. What I mean by this is that your toddler is growing more and more independent. Use this time to help them learn how to do things for themselves and grow more adept at it. For example, I let Brady soap up his body using the Johnson's baby bar inside a soap pouch (see my soap pouch tutorial to make your own!). He learns how to wash which is an important skill to master! He also LOVES putting on his AVEENO® Baby CALMING COMFORT® Lotion which smells amazing and moisturizes his skin. I help him take the right amount, but I let him rub it in.
Factor in some additional time for teachable moments as it always takes longer to let your toddler do a task themselves!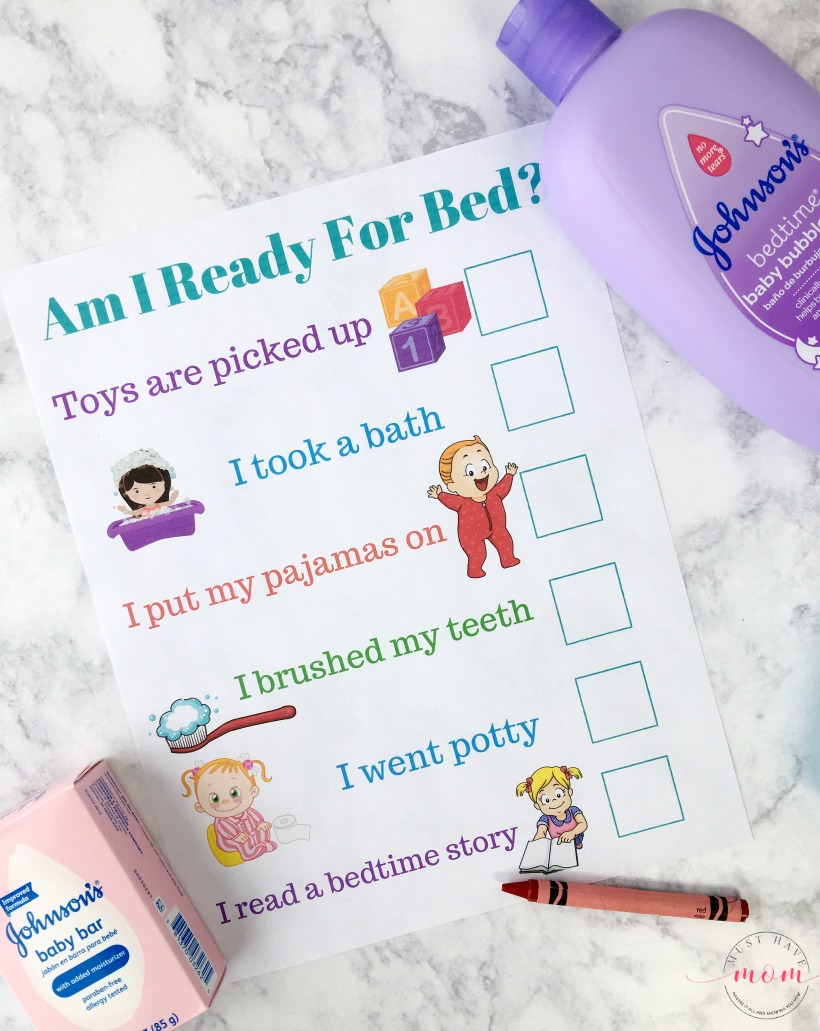 Tip #4 – Use a bedtime routine chart. By using a bedtime routine chart your toddler will know what tasks need to be completed before bedtime, and what comes next. It gives them a visual of what to expect. This way there are no surprises when bedtime hits. They complete the chart, crossing off items as they complete them, and then it's time to crawl into bed! You can laminate the chart and use a dry erase marker to use it over and over again.

Try taking this new approach to bedtime and see what results you have! You can find all of my go-to JOHNSON'S® Baby products seen in this post at Walmart in the baby care aisle or on Walmart.com!
Print Free Bedtime Routine Chart:
Click the picture below to print the free bedtime routine chart!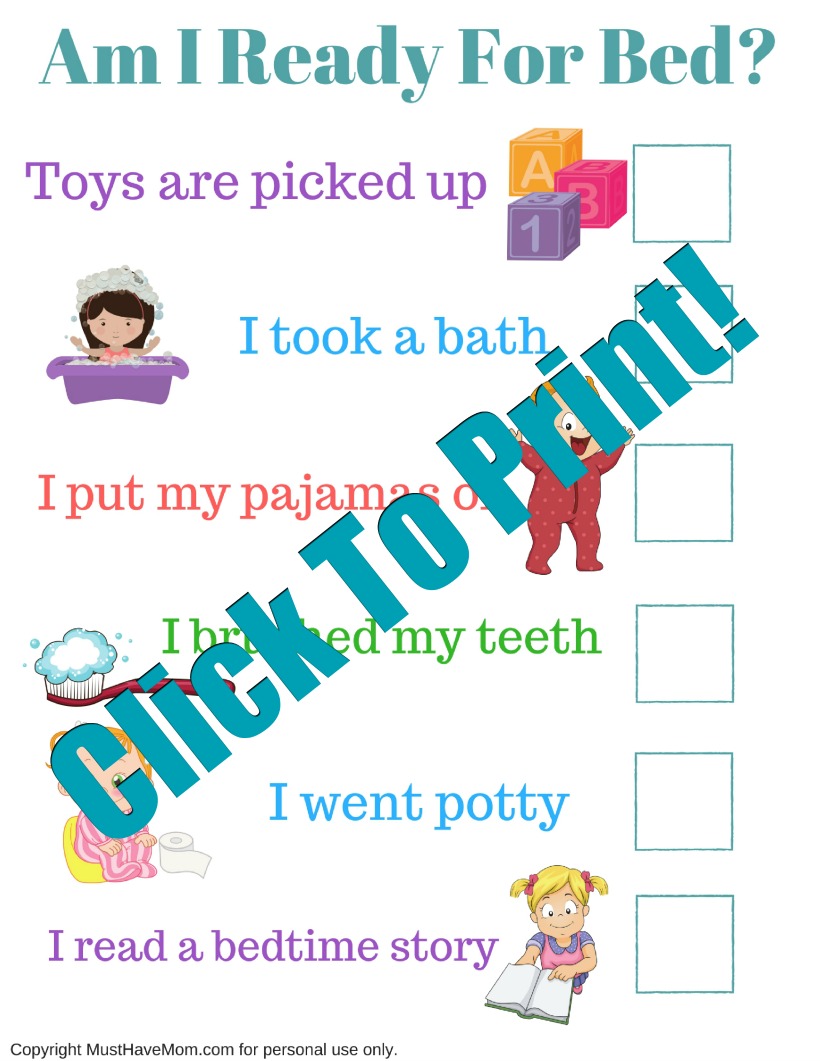 Pin Bedtime Routine Chart & Tips:

If you need to report an adverse event or a product quality complaint, please call the Johnson & Johnson (J&J) North America Consumer Care Center at 800-361-8068 during normal business hours of operation: Monday through Friday, 8 a.m. to 8 p.m. ET. After normal business hours, report adverse events or product quality complaints through www.jnj.com Contact Us page.