John Deere Tractor Birthday Party! Food, Games, Favors & More! Aiden's 3rd Birthday Party!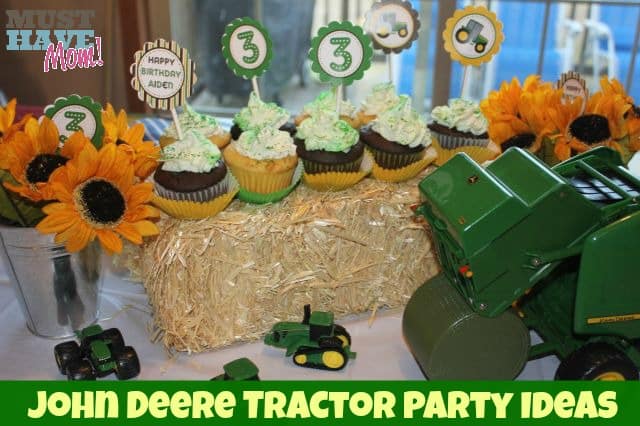 Aiden turns 3 years old this month but since his Birthday is so close to Christmas we always celebrate it the month before. I like to space out his Birthday from Christmas and make it his own special day. It works really well and he gets his special day, separate from the Christmas celebrations. This year he wanted a John Deere Tractor Birthday party theme.
I was excited to run with the idea and thrilled to team up with Lemonberry Moon party planning services and Forever Your Prints to make his party especially special! Lemonberry Moon created a custom party plan for me with all the ideas that I needed to make this party one to remember. Now when I think of party planning services I think EXPENSIVE! Let me tell you that Lemonberry Moon is very affordable and her packages start at just $19.95!
The party plan provided by Lemonberry Moon included recipes, tutorials, food, favor and decorating ideas and lists of what needs to be completed as well as shopping lists. She lays out a plan that is easy to follow and keeps you organized and on track for getting your party ready.
I loved her labels that were included in my party plan. The cupcake toppers, water bottle labels, Birthday banner, buffet labels and invites were created and personalized by Forever Your Prints. They turned out SO cute! I had them printed locally from the digital files that she sent me.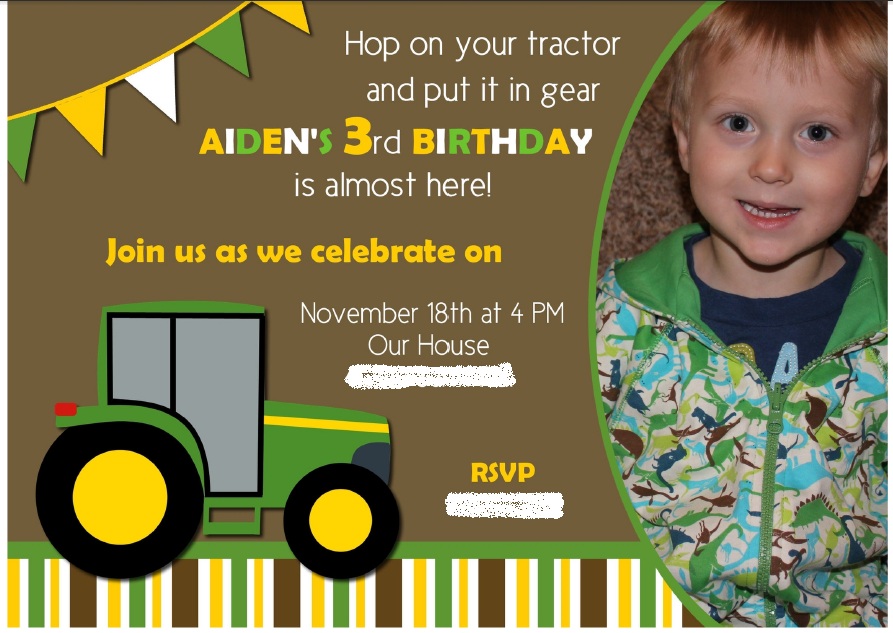 We put the cupcakes on top of hay bales
and used sunflowers in metal buckets
along with John Deere tractors
to decorate the tables.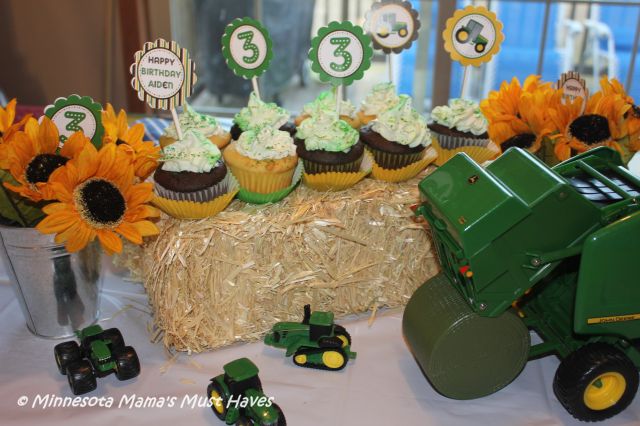 The food table was full of tractor themed food. Our food included:
"Spare Tractor Tires" (chocolate donuts)
tractor loaded with a trailer full of rice krispie "hay bales"
chocolate pudding and oreo "dirt cups" complete with worms
an "apple orchard" with carmel dip on the side
a "veggie patch" complete with dip
We also served hot dogs, polish with sauerkraut and beans. All traditional farm food!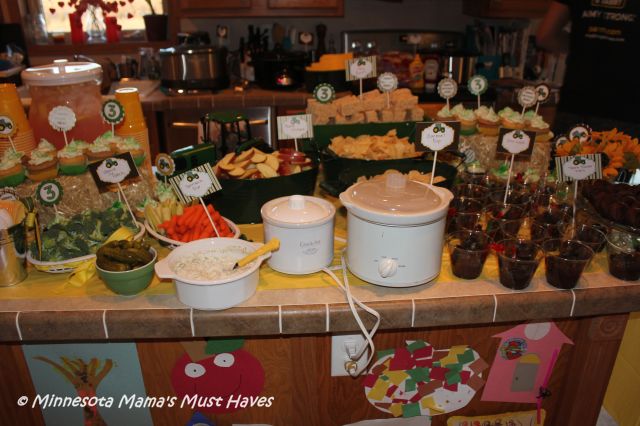 The buffet cards were taped to lollipop sticks and looked so adorable. They really completed the theme.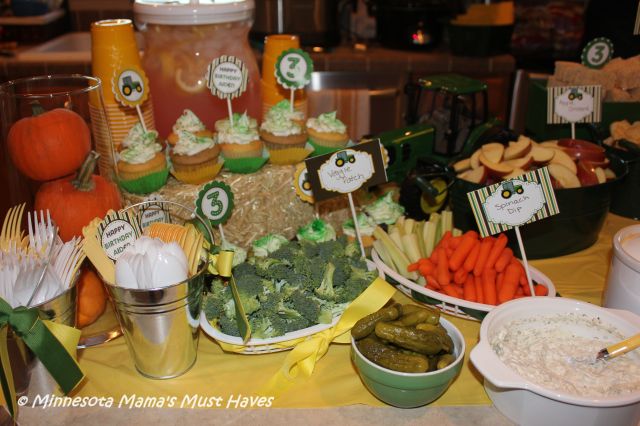 We strung the Birthday Banner up across the kitchen and also did balloon chandeliers above the tables.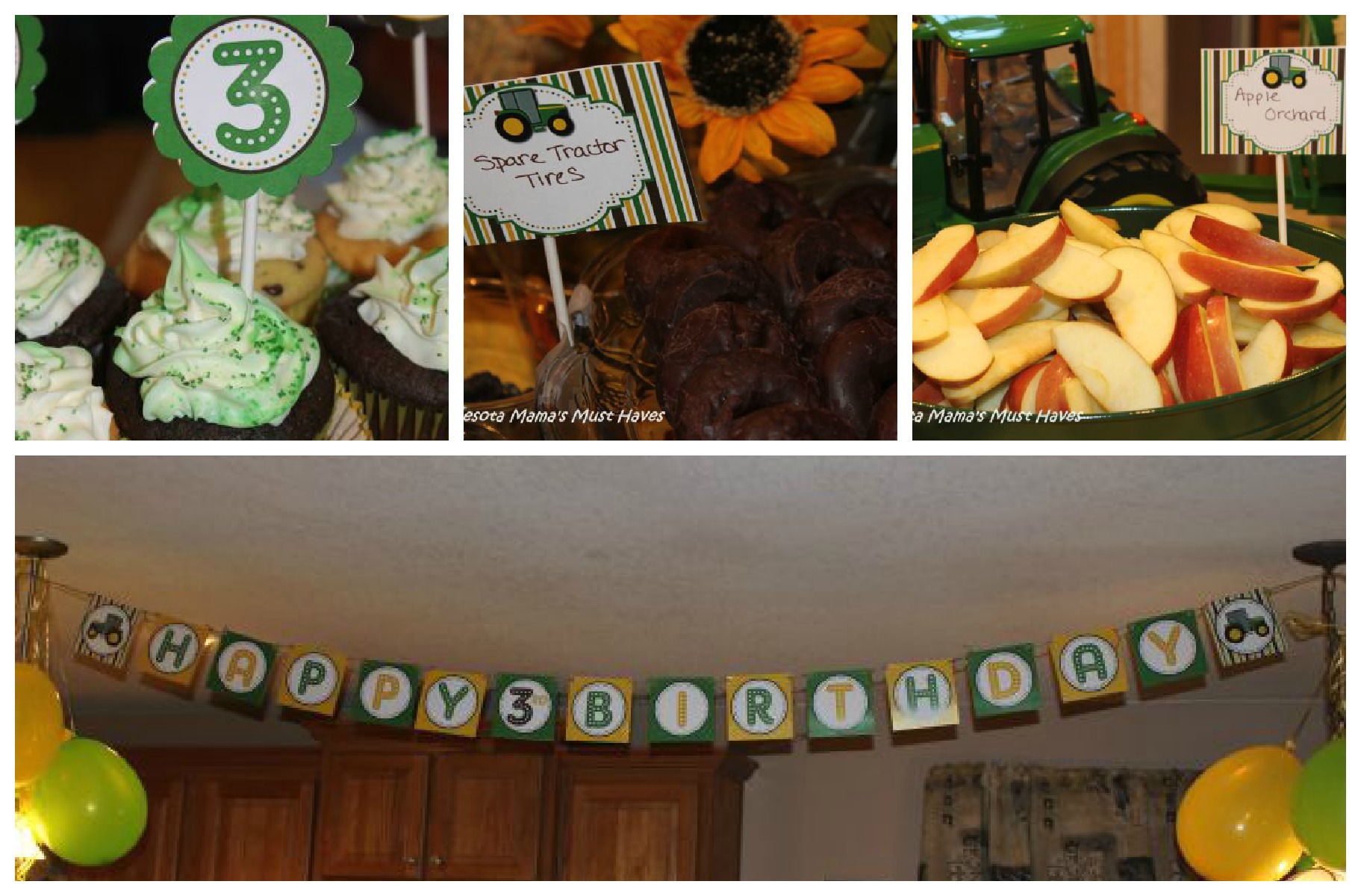 The water bottle labels were so cute!
Make dirt cups by mixing chocolate pudding with crushed oreos. We used the mint oreos so they went perfectly with our green tractor colors. Add a gummy worm to the top.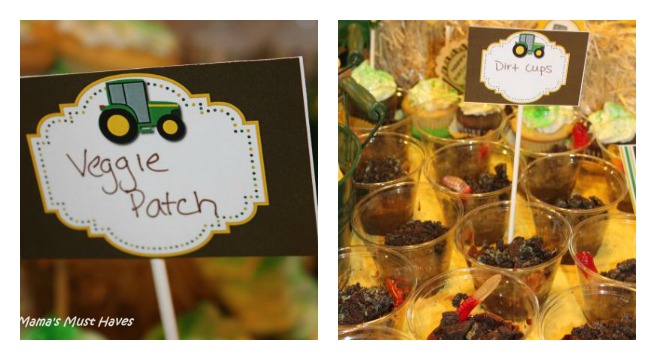 Use yellow and green cupcake liners for your cupcakes and after baking place them in another cupcake liner so that the color shows. Then serve them on a hay bale for a cute presentation.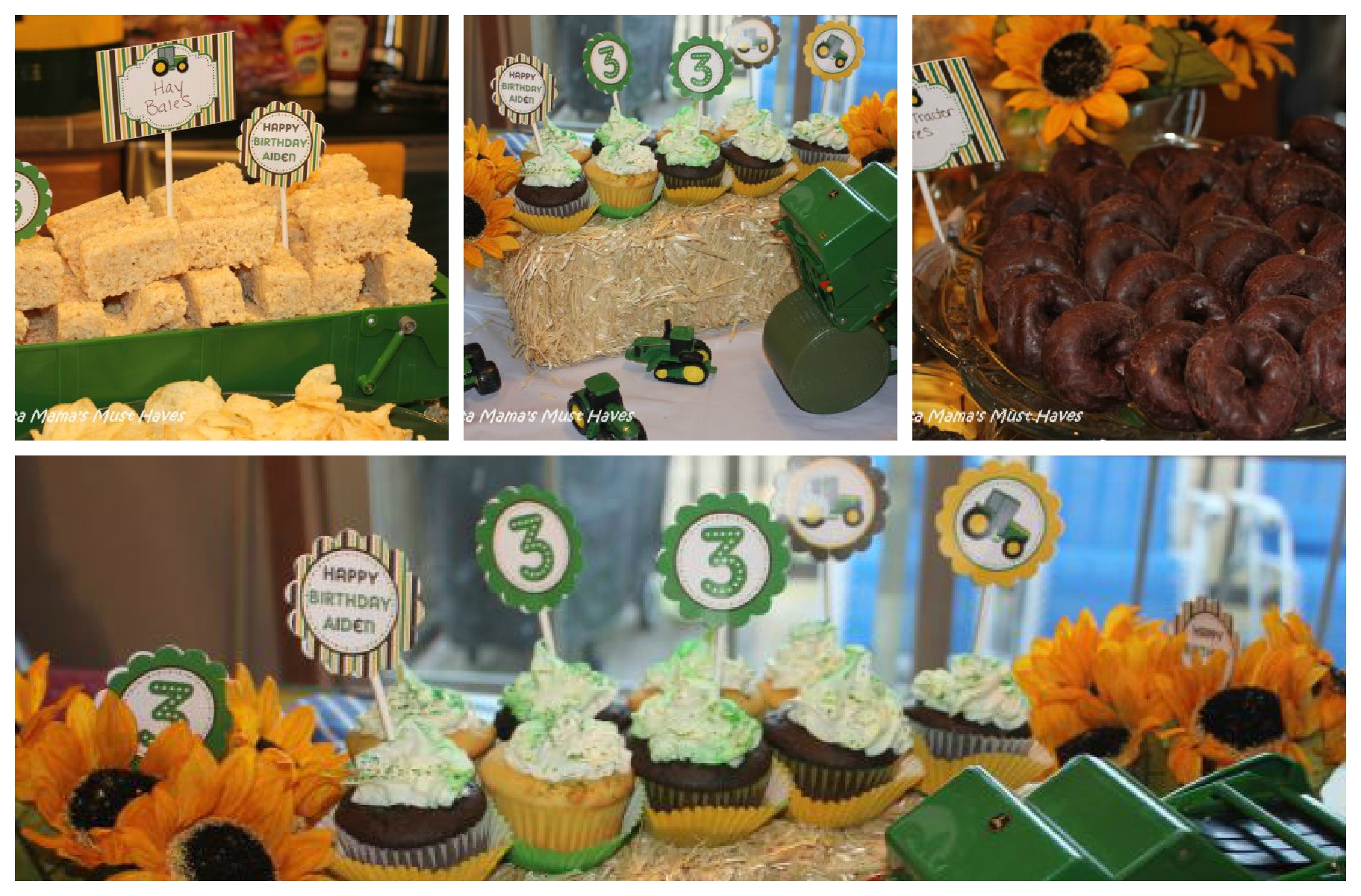 We had a John Deere Tractor Pinata
of course!
I made Aiden's tractor shirt and made both of my other kids shirts too. For full instructions on doing your own Birthday shirt in any theme to match your party see my Birthday shirt tutorial.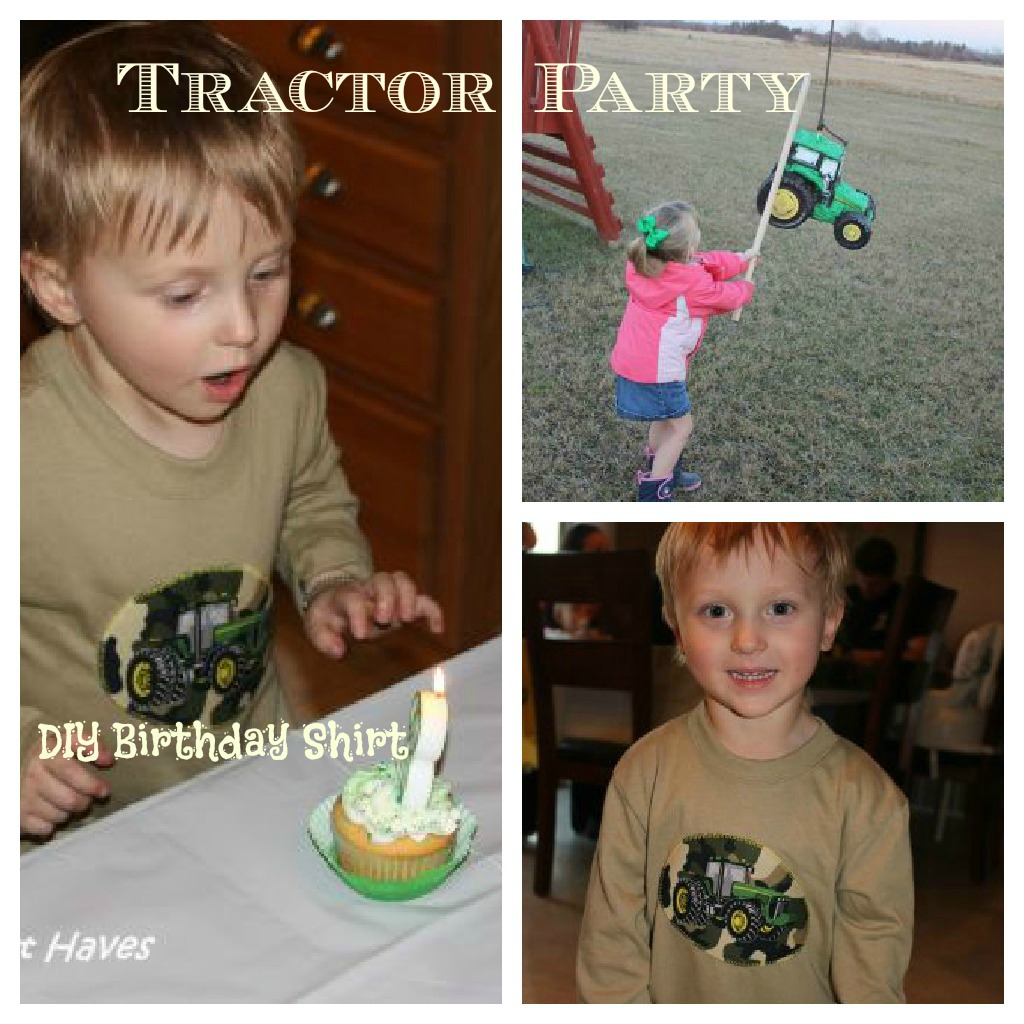 For our party game we did "Pin the Tire on the Tractor". My sister in law drew us a lovely tractor on posterboard and cut out tractor tires to fit into the spot where the tire was missing. We blindfolded the kids and spun them around and the child with the tire closest to the correct place won a prize.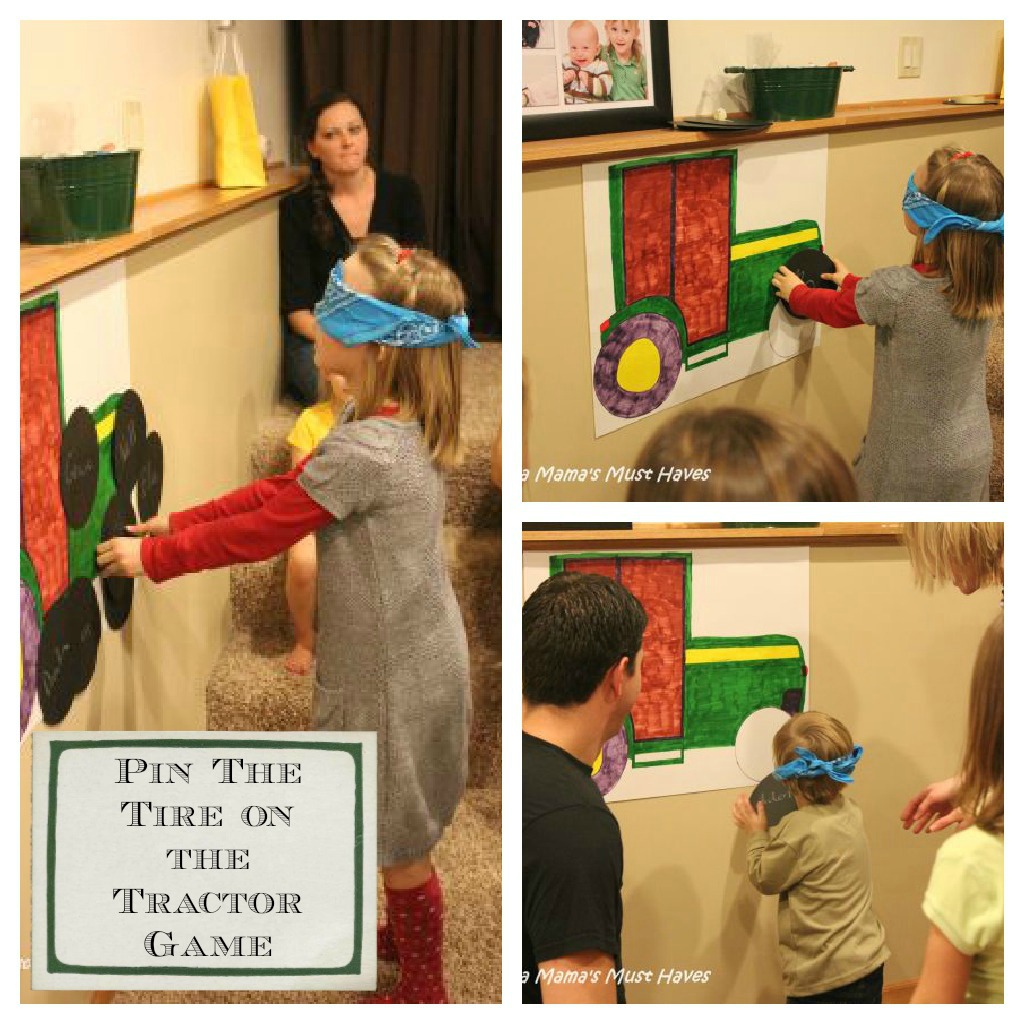 I forgot to take pictures of our party favors! Each child got to take home a bag with farm themed rubber duckies, bouncy balls, farm stickers, candy and personalized bubbles that said "Aiden's 3rd Birthday" on them! They were so cute and I can't believe I didn't get a picture of them!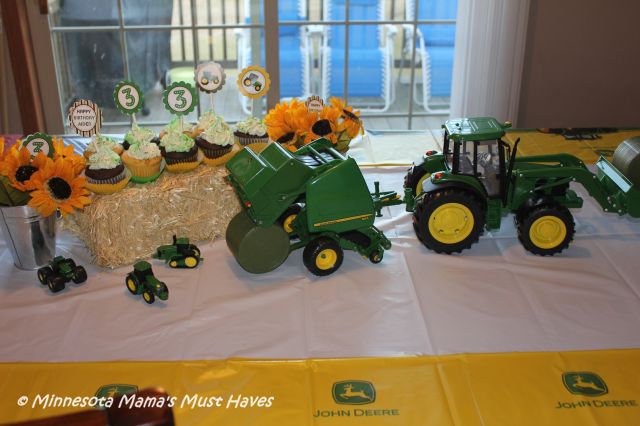 Lemonberry Moon and Forever Your Prints did an absolutely amazing job at making our party special and coming up with GREAT ideas for the party. They put together a wonderful party and I was able to stay on track and keep organized for my party. I would absolutely use their services again and plan on it!
If you are hosting a holiday party this year then you will definitely want to head over and check out the amazing holiday party that Lemonberry Moon and Forever Your Prints put together. They are also allowing everyone to print all of the holiday party printables for FREE! That includes:
Holiday Bottle Labels
Holiday Party Cupcake Wrappers
Holiday Popcorn Box
Holiday Party Sign
Holiday Mini Candy Bar Wrappers
Holiday Theme Cupcake Toppers
Holiday Buffet Cards
You can get Lemonberry Moon's awesome party plans and custom party plans on her site! Forever Your Prints offers a variety of services and everything from invites to Birthday banners are available on her site! Make your child's next Birthday party adorable and stress free. One of the things I really liked about the party plan from Lemonberry Moon was that you set the budget and she gives you ideas to create an amazing party within your budget. You can throw an awesome party for under $100 which is amazing!

*Site Disclosure: Products providing by company or representing PR firm for review purposes only. No compensation was received in exchange for this post. My opinions are my own and reflect my personal experience with the product.