This lasagna soup recipe is a family favorite. It's the most amazing comfort food in a bowl! Perfect for chilly days when you want a hot, hearty soup to warm you up and keep you full. This is sure to become a favorite at your house too!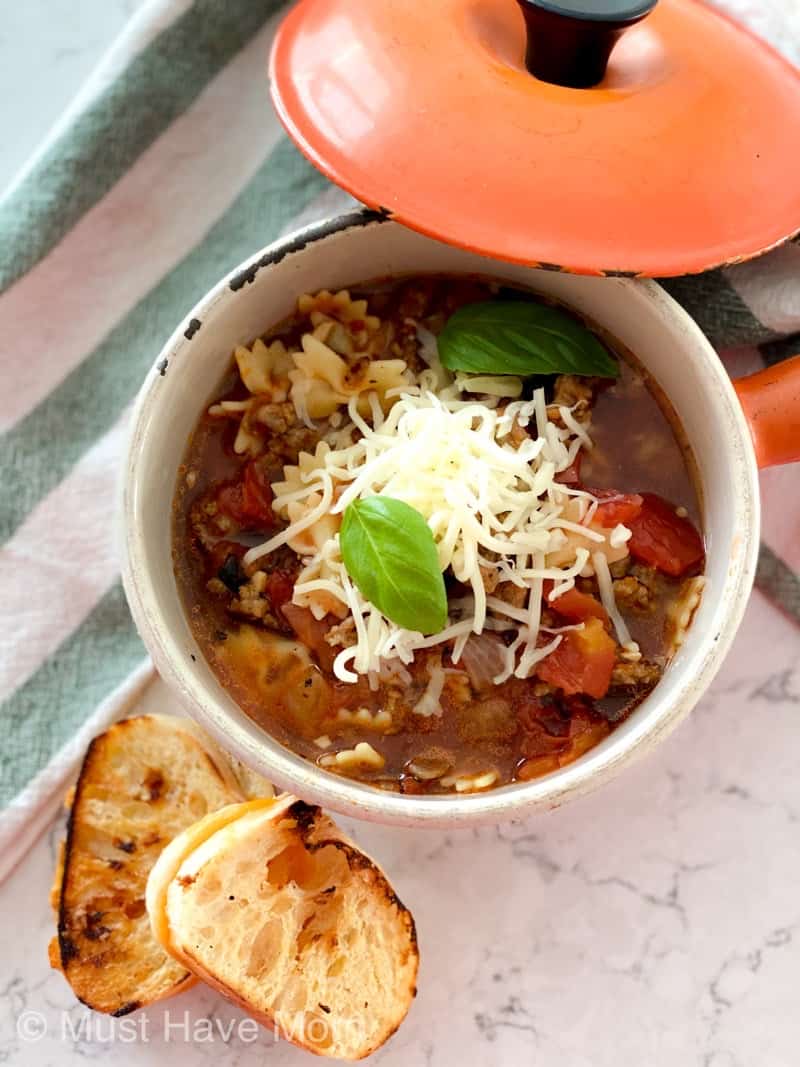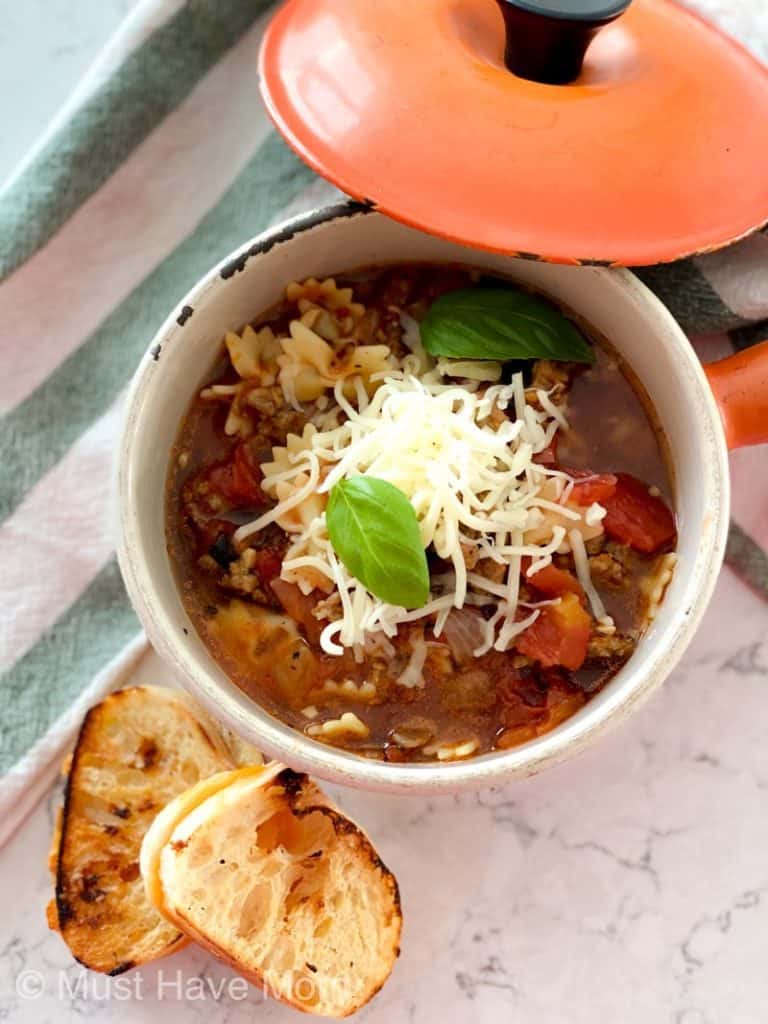 I married an Italian so it goes without saying that we love lasagna. I love making double batches of this freezer friendly lasagna recipe and freezing it so we always have a quick easy meal on hand. These Italian Stuffed Shells freeze great too! When you want a faster version of lasagna reach for this lasagna soup! It's the best spin on a classic dish.
Lasagna Soup
I first discovered lasagna soup years ago and we've been making this perfected recipe ever since! Somewhere along the line, someone called the cheesy goodness in the bottom of the bowl "cheesy yum" so we've got a new tradition around here, lasagna soup with cheesy yum! I typically serve this soup with mini grilled cheese sandwiches for the perfect kid-friendly pairing. You could also serve it with garlic bread for a delicious combination!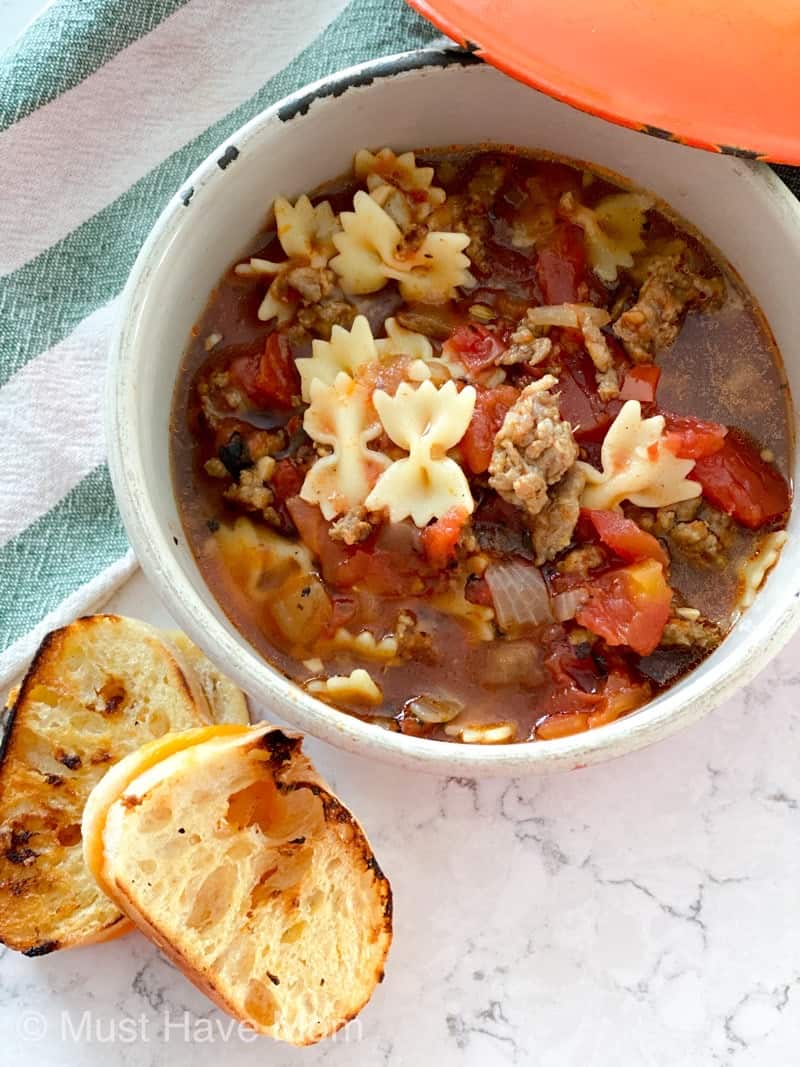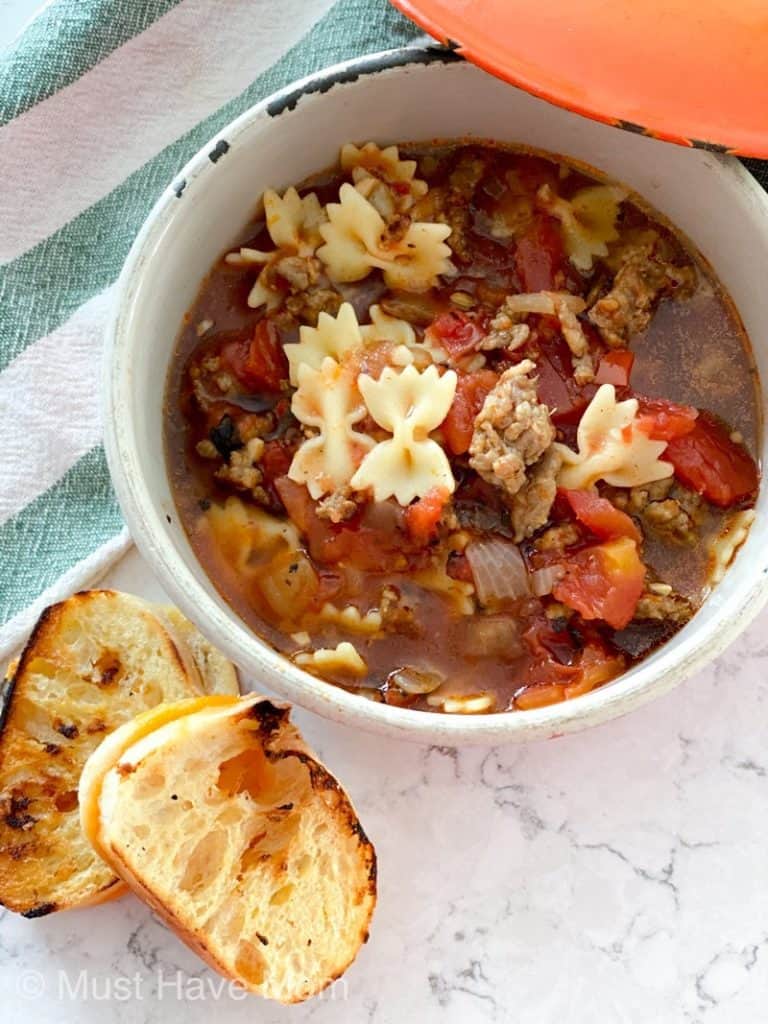 For this soup, you use Italian sausage. You can use a mild or a hot sausage depending on your preferences. I like spicy but my kids don't so I just use the mild Italian sausage and add in some crushed red pepper flakes in my own bowl of soup. I love that this recipe is easy to customize to make it kid-friendly!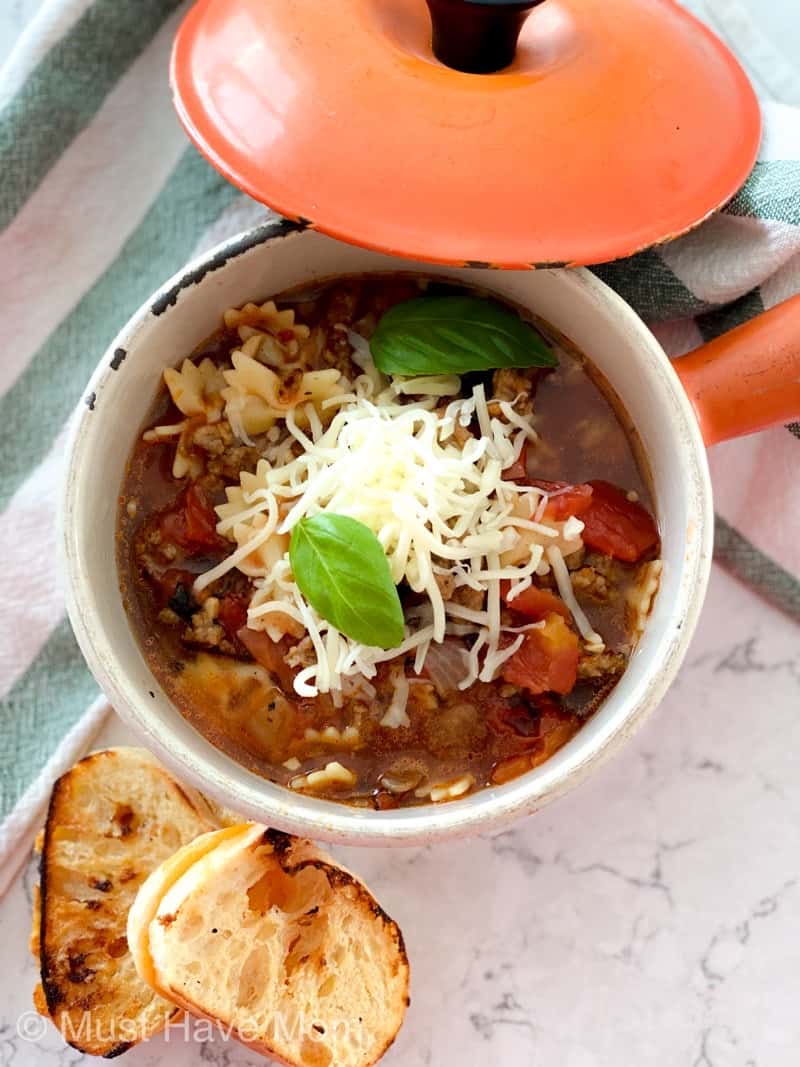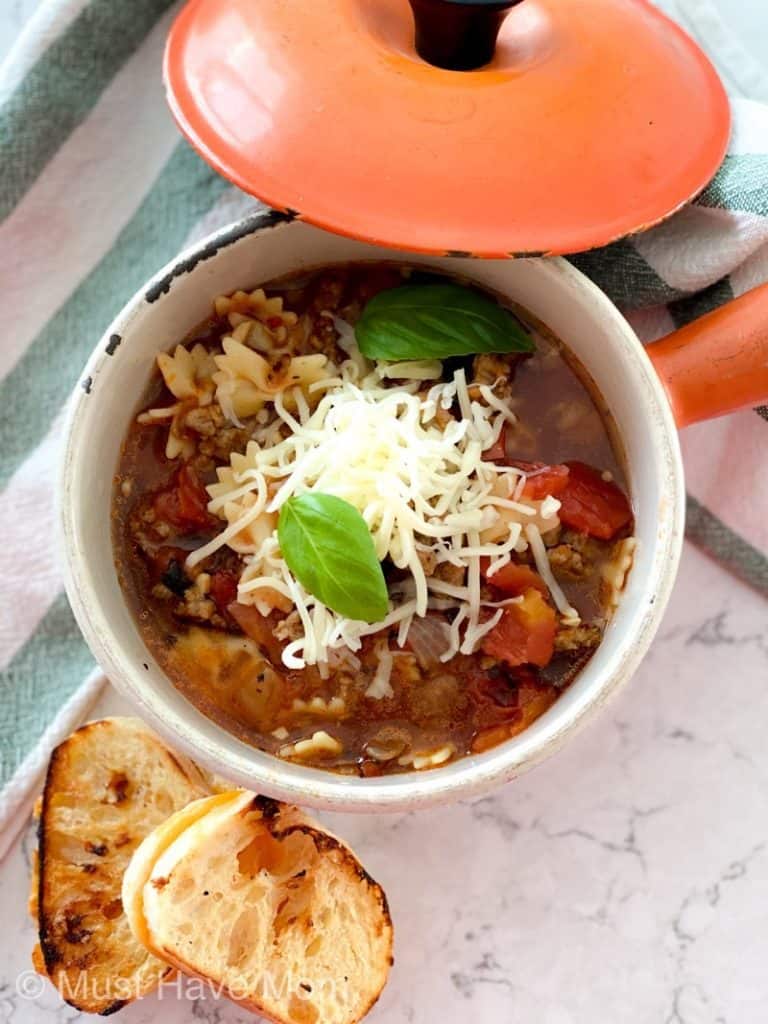 This recipe is made on the stove and takes about an hour total to make. It makes a nice, big pot of soup that will serve 8-10 people. We always have leftovers and love eating it the next day too! You can even freeze leftovers for easy meals later. Here are some tips for freezer cooking. I usually freeze them in these individual soup containers.

How To Make Lasagna Soup
You'll need a large pot (like this one) to make this soup in. (scroll down for complete recipe) You'll begin by browning the sausage and onions. Then you'll add the tomato paste. It's important to stir the tomato paste to mix it in and then continue cooking it for 3-4 minutes until it turns a rusty brown color. Don't skip this step. Afterward, you'll add in the tomatoes and simmer the soup for half an hour.
I keep my pasta separate in this recipe so that it stays al dente and doesn't get overcooked. I boil it in a separate pan and have people add as much or as little pasta as they like to their soup. It's easy to make this recipe gluten free because we always use this amazing gluten free pasta that tastes exactly like the real thing. By keeping the pasta separate you can ensure that the noodles don't soak in the soup and get mushy.
Alternatively, you can add the uncooked pasta to the soup and cook until al dente and serve immediately.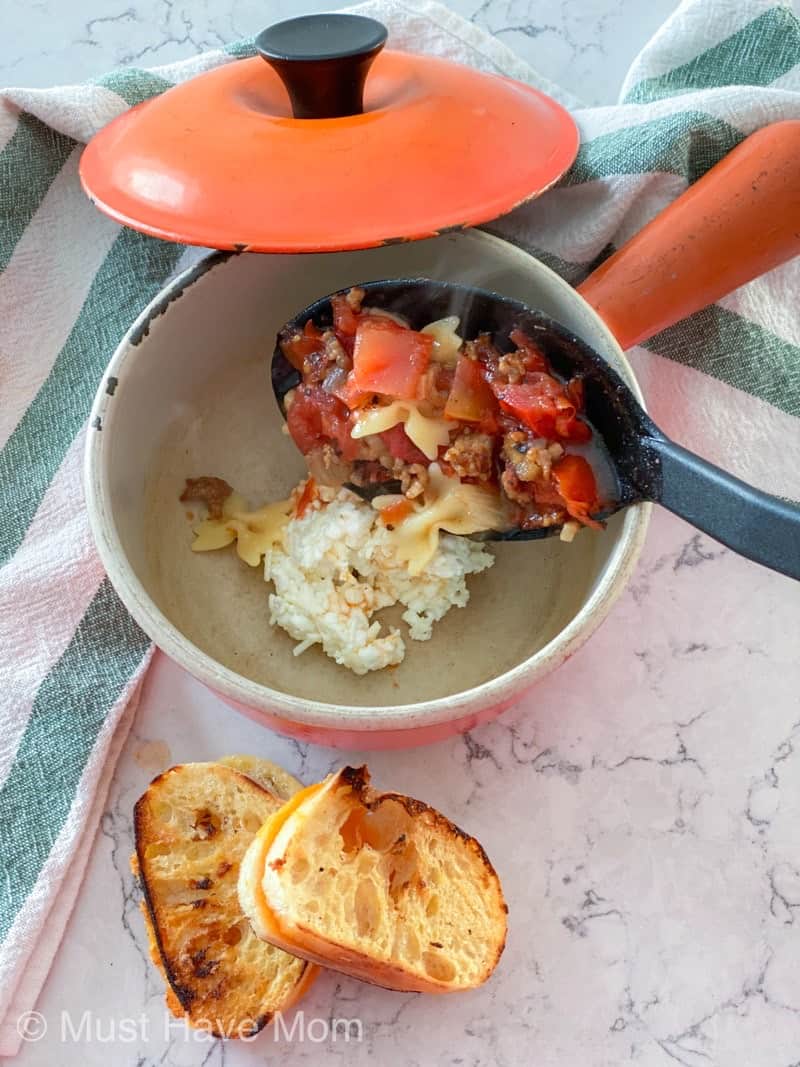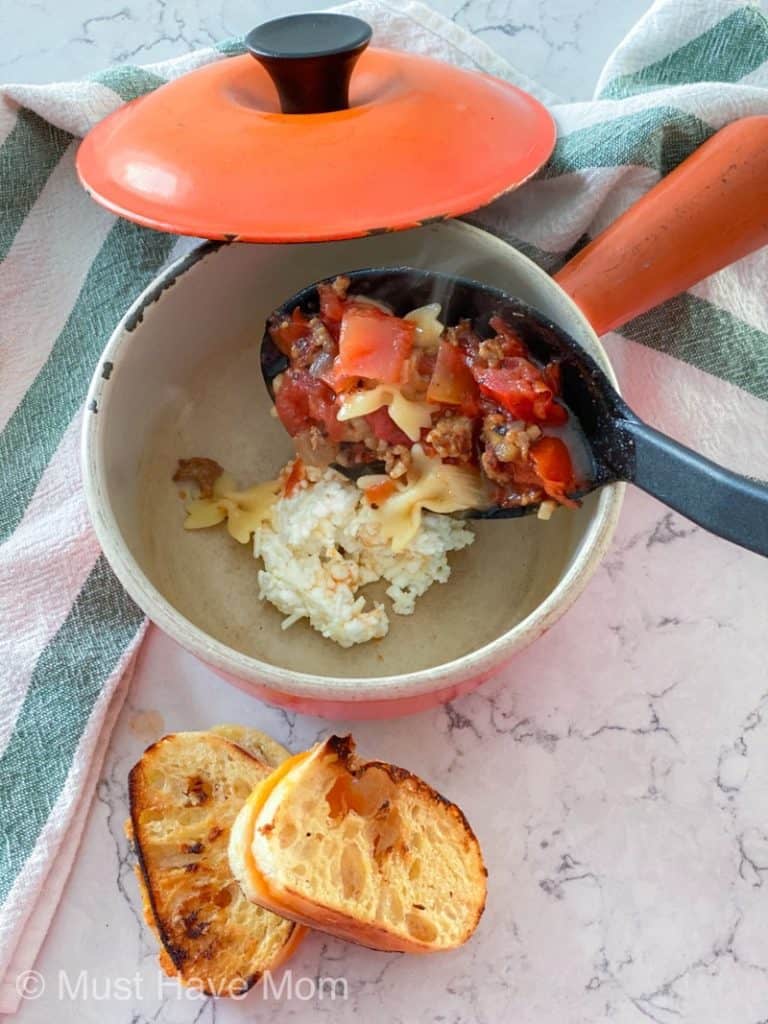 Cheesy Yum
One of my kids started calling the cheesy goodness in the bottom of the soup bowl cheesy yum and it's been known as that ever since. For the cheesy yum you'll combine cottage cheese, grated Parmesan cheese, salt and pepper to make some cheesy goodness. Put a glob on the bottom of your bowl before adding the soup to your bowl and you'll discover a heavenly similarity to lasagna! It's magical.
Lasagna Soup Recipe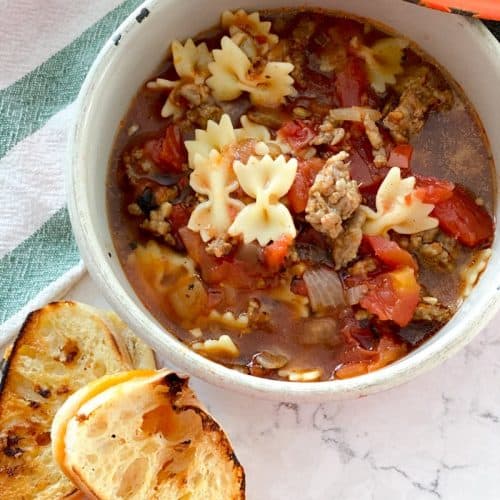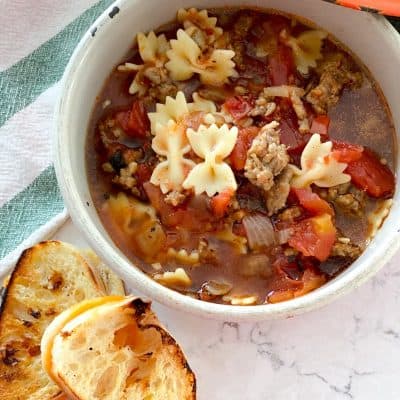 Lasagna Soup
This lasagna soup recipe is the ultimate comfort food. Tastes like lasagna in a bowl! Super easy to make!
Ingredients
2

tsp

olive oil

1.5

lbs

Italian sausage

mild or hot

1

medium

onion

diced

2

tsp

garlic cloves

minced

2

tsp

dried oregano

2

tbsp

tomato sauce

29

oz

fire roasted, diced tomatoes

2

bay leaves

6

cups

chicken stock

16

oz

bow tie pasta

we use Jovial gluten-free brand

sea salt or pink Himalayan salt

to taste

black pepper

to taste

1/2

cup

fresh basil

optional
Cheesy Goodness
8

oz

cottage cheese

1/2

cup

Parmesan cheese

grated

1/4

tsp

sea salt or pink Himalayan salt

black pepper

to taste

mozzarella

shredded, optional
Instructions
In a large stock pot, heat olive oil over medium heat. Add Italian sausage and break up into small pieces while browning it. Add onions and cook until they are soft. Add garlic and oregano and stir it in. Add tomato paste and mix it in. Cook until tomato paste turns a rusty brown color (3-4 minutes). Continue stirring.

Add fire roasted tomatoes, bay leaves and chicken stock. Mix well. Bring to a boil then reduce heat to low and simmer for 30 minutes.

While that cooks, boil water in a separate pot. Cook pasta to al dente. Drain and set aside.

While the soup is simmering, prepare the cheesy goodness. In a small bowl combine cottage cheese, Parmesan cheese, salt and pepper.

To serve: Place a glob of cheesy goodness in the bottom of each person's soup bowl. Add soup over the top and add in pasta. Optional: Add mozzarella to the top. I like to serve this soup with mini grilled cheese sandwiches or garlic bread! Enjoy!
Pin Lasagna Soup Recipe
We love when you pin our recipes for later and share our link on Facebook!