Free School Lunch Hero Day Printable Thank You Cards For Cafeteria Staff!
Did you know that May 6th is school lunch hero day? Inspired by Jarrett J. Krosoczka, author and illustrator of the popular LUNCH LADY graphic novel series, school lunch hero day is an opportunity for students to thank their school cafeteria staff with handmade cards, banners and special recognition. I love any opportunity to thank the hard working staff at my children's school so I was really excited to think up something amazing that you could all print for FREE! I've got some fun cafeteria appreciation cards that you can print off for FREE and send with your kids to thank the cafeteria staff for serving up nutritious school lunches all year long!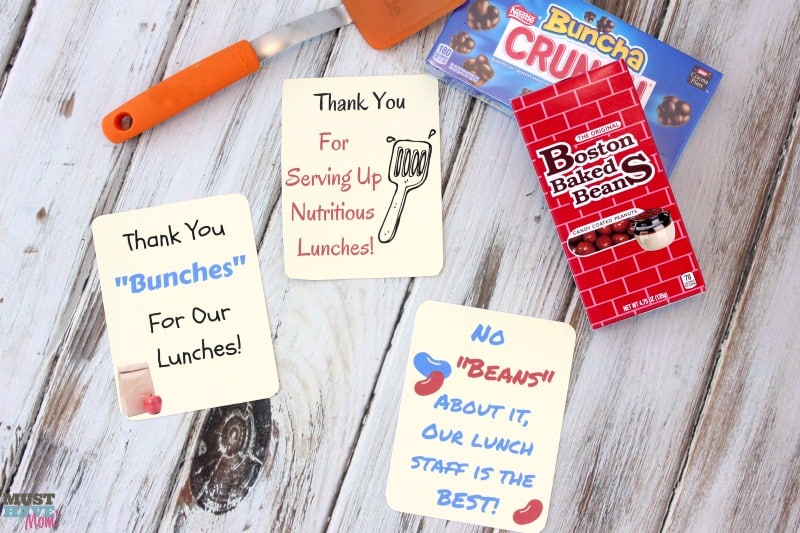 I wanted to do a play on words with these and include a little gift. These theater boxes of candy are only $1 and make a fun treat for the recipient! School Lunch Hero Day is supported by the School Nutrition Association and Random House Children's Books, and it honors the devoted and hardworking school nutrition professionals nationwide. They are very worthy to receive a treat and some recognition before the school year ends don't you agree? School lunch heroes can be found in every community but too often, their dedication to the children they serve goes unrecognized.  May 6th, School Lunch Hero Day, will inspire creativity, encourage school unity and teaching our kids a sense of gratitude.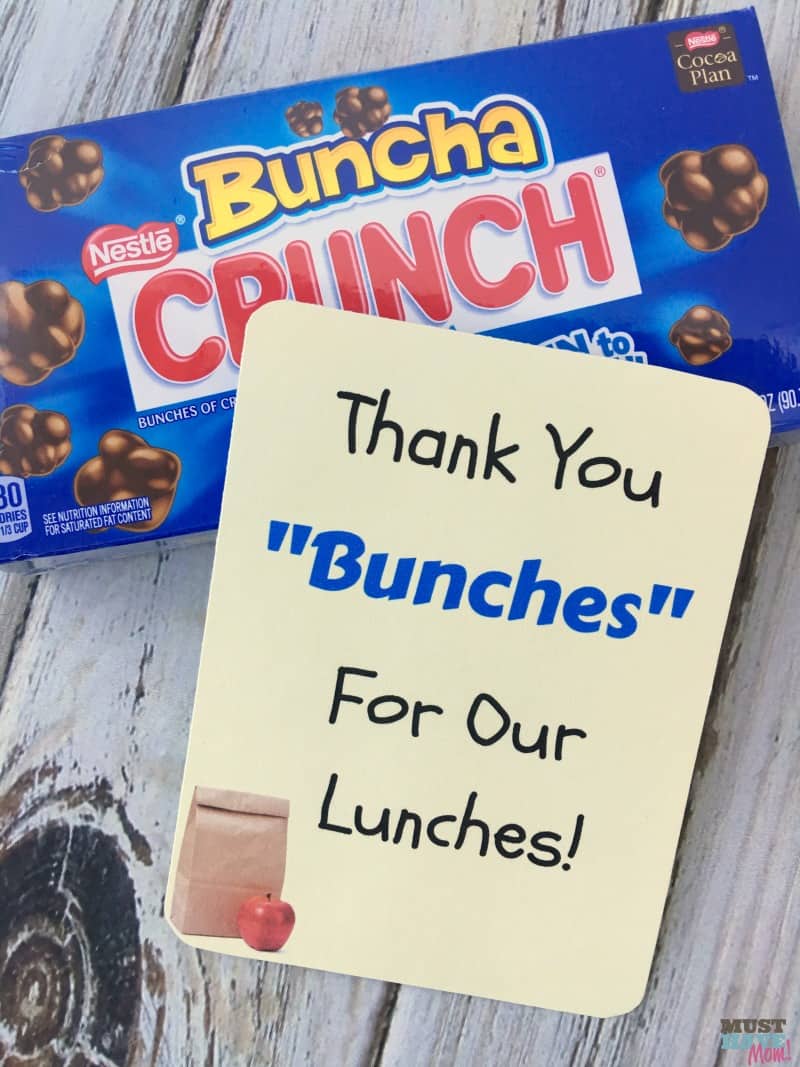 Pair this "Thank you "Bunches" For Our Lunches!" card with a box of Buncha Crunch candies. I recommend printing these on cardstock which is just a heavier printing paper. Then just cut them out and affix them to the candy box.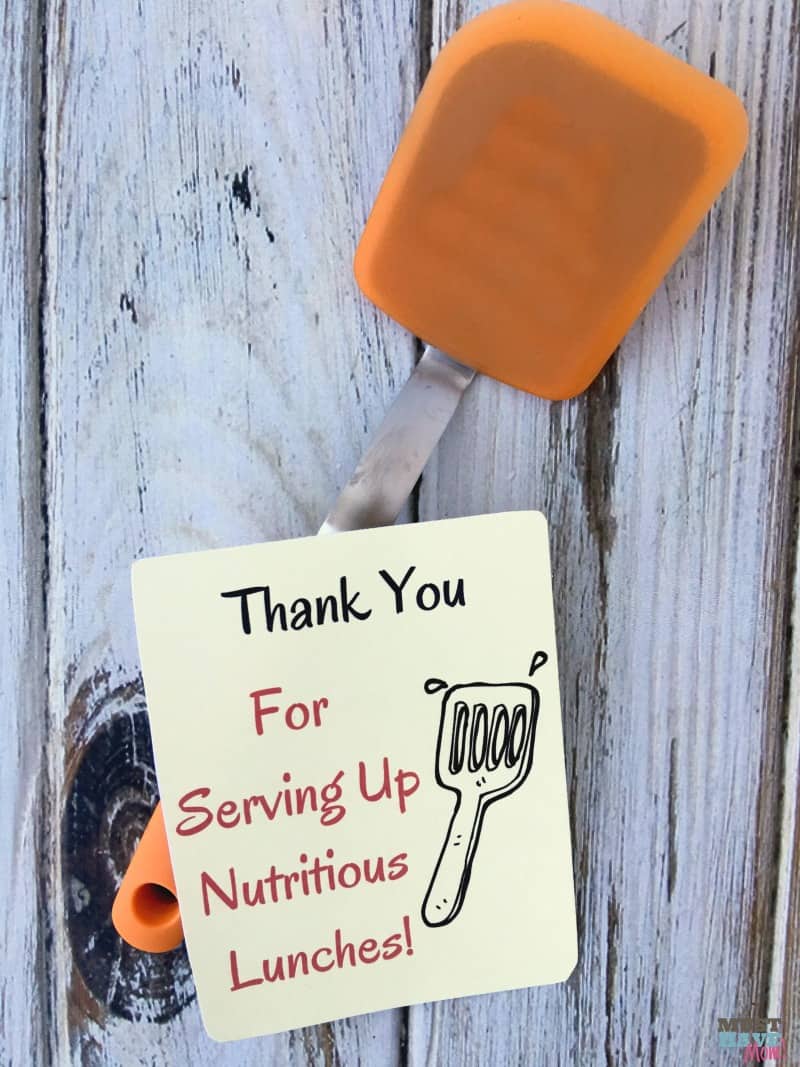 You could also gift a spatula with this label, "Thank You For Serving Up Nutritious Lunches". How appropriate right?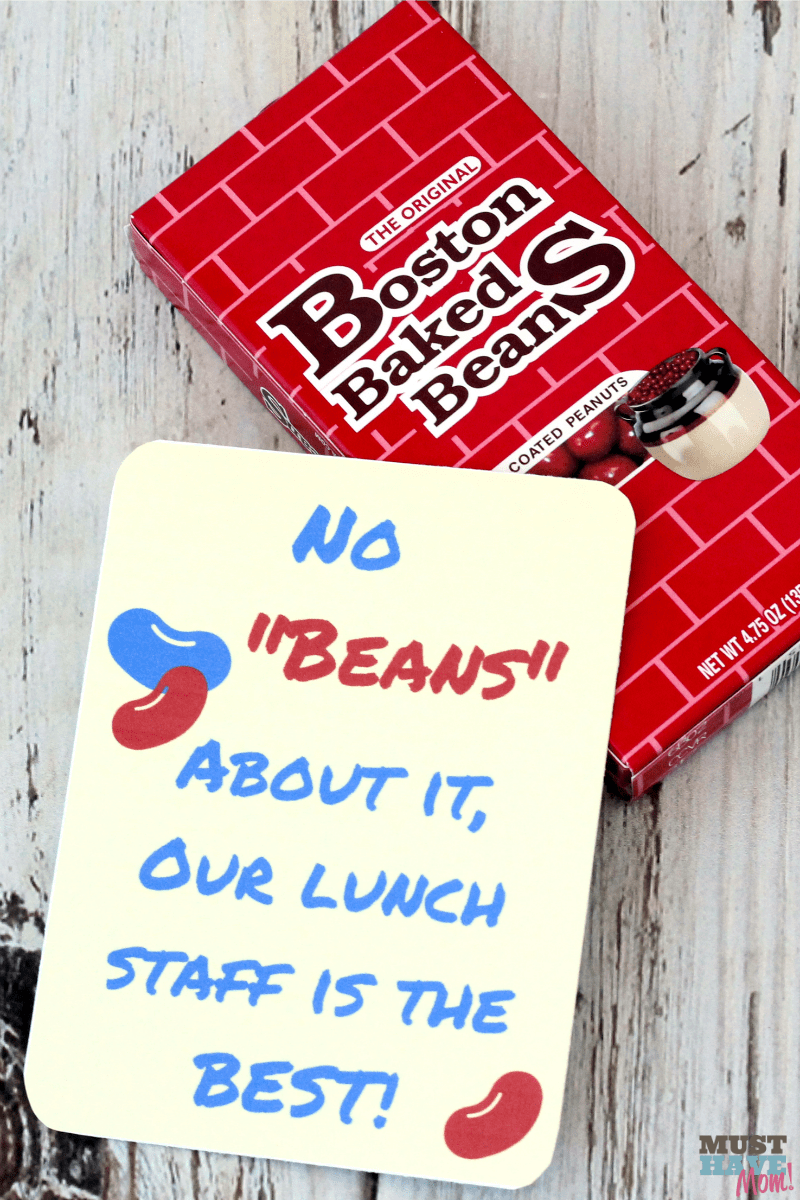 Or grab a box of Boston Baked Beans (or you could use jelly beans!) and attach this "No BEANS about it, our lunch staff is the best" printable!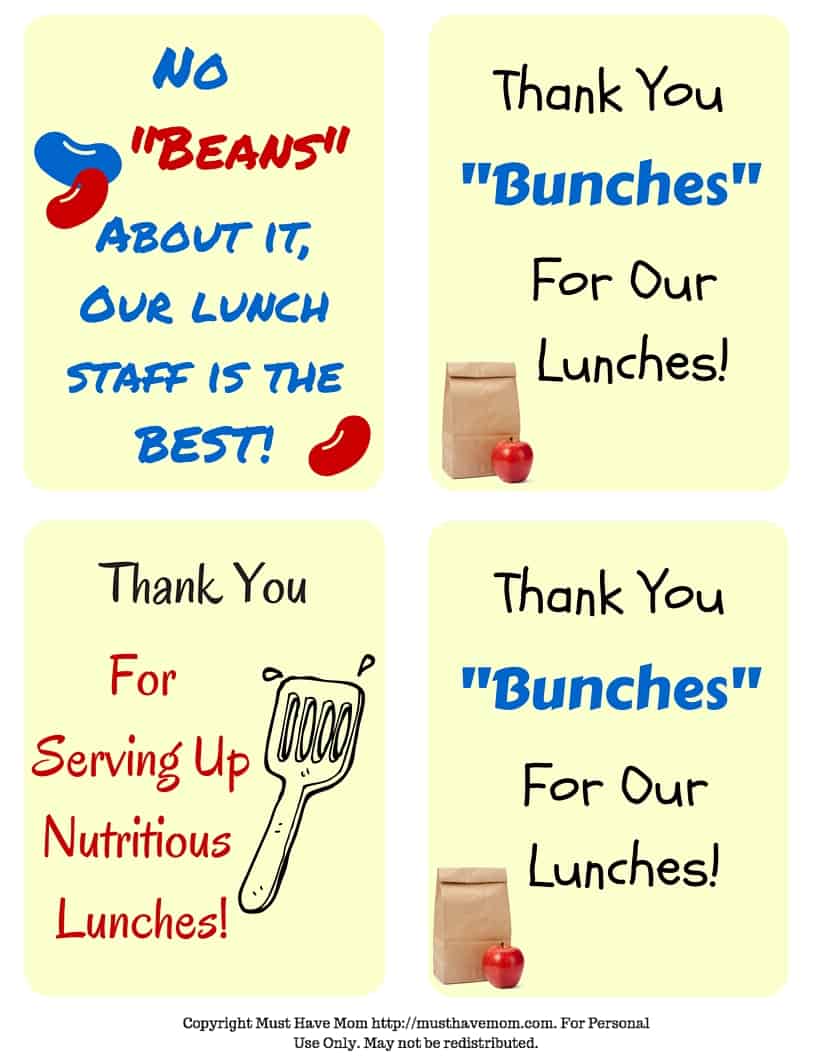 You can print off the free School Lunch Hero Day thank you notes HERE. You can also find more free School Lunch Hero Day printables and information by visiting  www.schoollunchsuperheroday.com. I really hope that you and your kids will join us in celebrating School Lunch Hero Day on May 6th and recognizing all the cafeteria staff for the efforts all year long!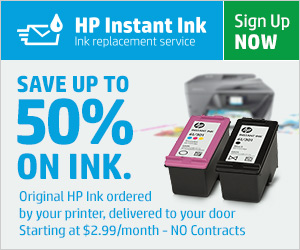 One more tip mommy-to-mommy, if you have a printer and love printing free printables, photos, checklists and more then you definitely need to sign up for HP Instant Ink and save 50% on your printer ink! I have been personally using this service for years and print up to 100 pages a month and never worry about how much ink I am using. When your printer starts running low it automatically orders more ink and it shows up at your door! No postage fees! And with plans starting at just $2.99 you can quit worrying about how much ink you are using and print all the color photos and printables you want! This is the best way to save on printer ink!
Sign up today
and start saving money on your ink.
You can also find them on Facebook and see what schools around the country are doing for School Lunch Hero Day!
If you enjoyed this post please pin the image below and share this post on Facebook to help spread the word about School Lunch Hero Day!