Fall is coming and that means it is time to decorate. I love DIY fall decor especially if it can carry me from the first signs of shorter days and cooler nights all the way through Thanksgiving with family and friends. This DIY yarn pumpkin craft is perfect for a weekend craft and has so many ways you can use them.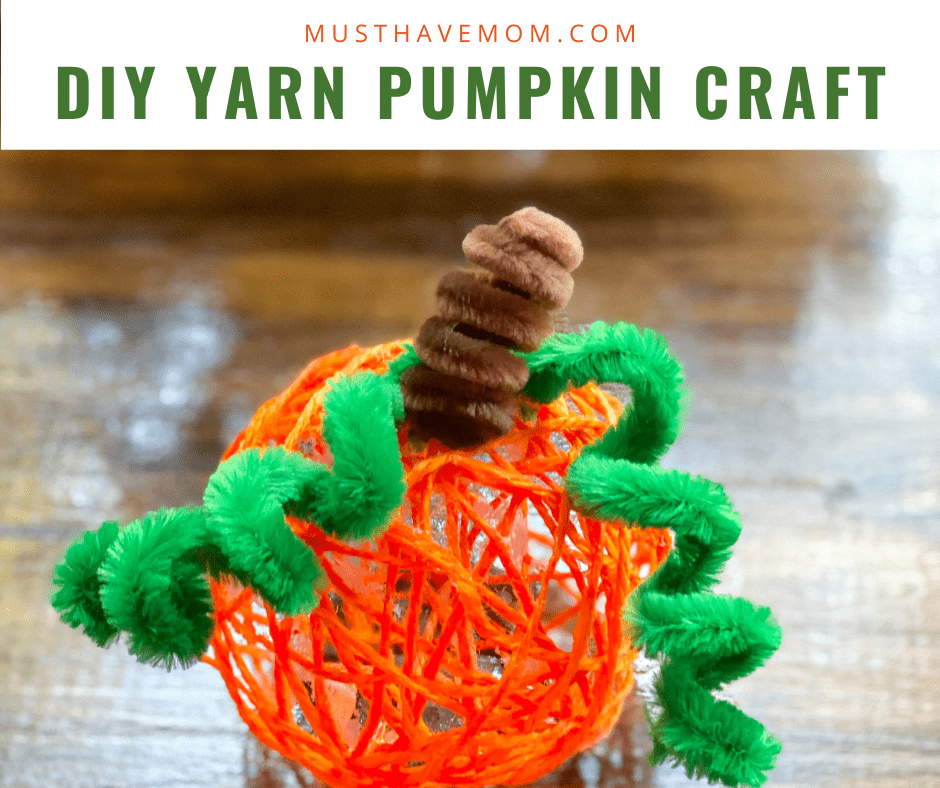 This fall I am getting my porch decor ready, planning my Dollar Tree fall decor, and dreaming of new decor for my DIY tiered tray.  These yarn pumpkins will go perfectly on the tiered tray and anywhere else I want a fun pop of color.
DIY Yarn Pumpkin Craft
For this craft you will need:
Orange, yellow, or white yarn 

Balloons (any size) I got the 9-inch balloons and didn't blow some of them up all the way to make different-sized pumpkins

Scissors

Small bowls

White glue (use Elmer's Glue-All™ for stiffer pumpkins) 

Note: This is a messy project! I'd put down newspaper, scrap paper, or even a disposable table cloth. It may be difficult for children to wrap the yarn around the balloon by themselves, and parental help may be needed. 
Pour the glue into small bowls. 
Blow the balloons to the size you'd like your pumpkins to be. 
Cut the yarn into strings that are at least 20″ long. Use about 20 strings for a smaller pumpkin. You can use more strings if you want your pumpkin to be fuller. 
How to Make Yarn Pumpkins Using Balloons
Place one of your strings into the glue, and gently press it down into the glue until at least half of it is submerged. Grab one end and hold it while stripping off the excess glue with the fingers on your other hand. 
If your yarn gets tangled, stop and untangle it before you move on. When you are done with this process, you should have a yarn string that is soaked with glue, but it should not be dripping. 
Lay the yarn on the balloon and wrap it as far as it will go. This is a messy process! Continue wrapping until all of your strings are gone, or until you're satisfied with how many strings are wrapped around your balloon.
Let the yarn dry overnight or for at least seven hours. 
When your yarn is completely dry, and the strings feel hard to the touch, push the balloon away from the strings with your thumb. 
Cut a small hole near the top of the balloon to let the air out slowly. Pull the deflated balloon out through one of the holes.
Take a brown pipe cleaner and wrap it around your finger. Place your pumpkin on a flat surface and find a flat spot on the pumpkin (so that it does not roll around). This will be the bottom. Put a little glue on the end of your spiraled brown pipe cleaner and twist it into the top of your pumpkin. 
Twist one to three green pipe cleaners around your finger. Pull them off your finger and stretch them out so they look like vines. You can attach these up by the stem by either twisting them around the yarn or gluing them on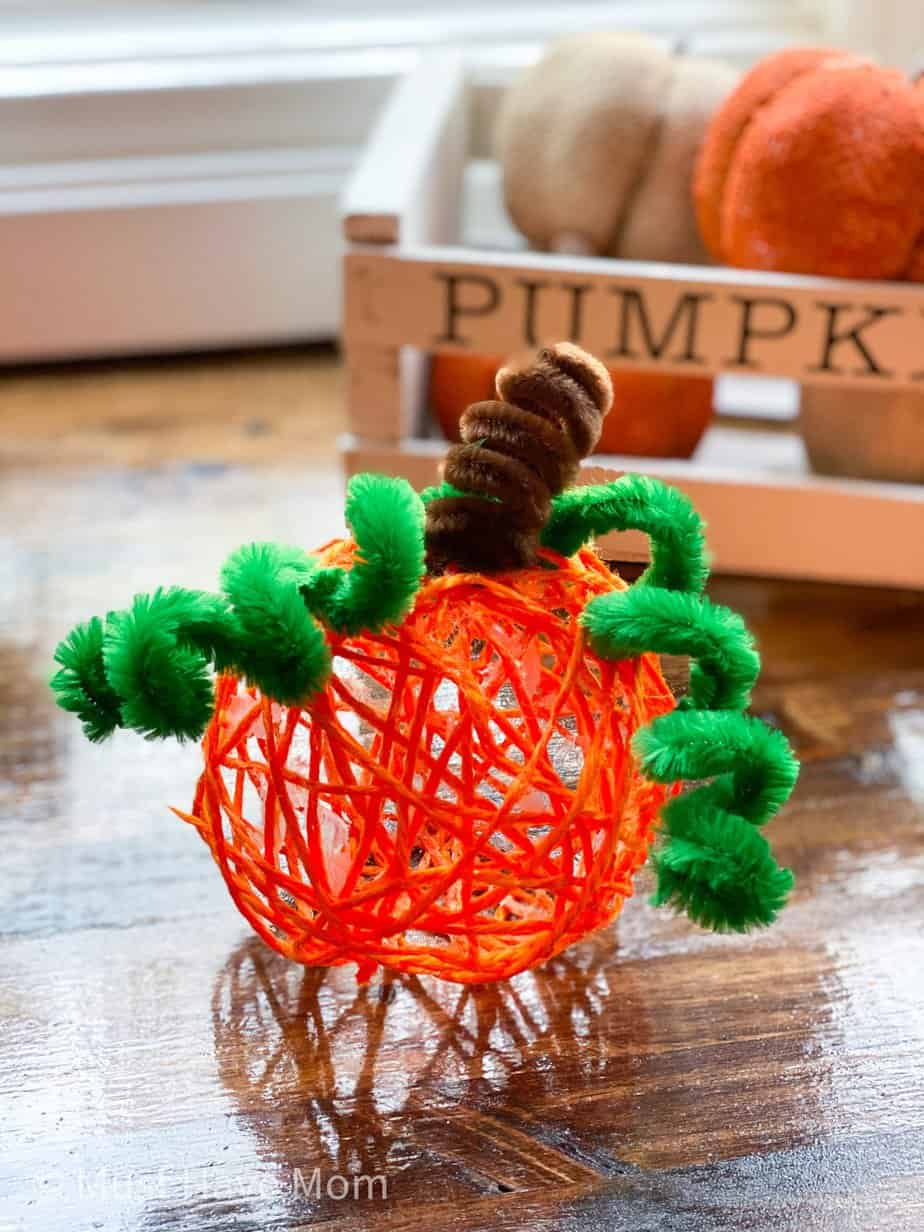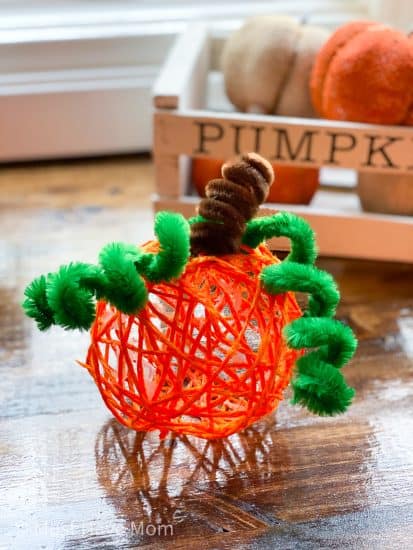 The end result is this adorable yarn pumpkin that you can use to decorate.
DIY Yarn Pumpkin Garland
You can also use your pumpkins and tie them together with yarn to create an adorable yarn pumpkin garland.
PIN DIY Yarn Pumpkin Craft
We love when you pin our content. It allows you to find it easier and also lets others see it.