Kids Cooking: Fruit & Cheese Skewers With Cinnamon Greek Yogurt Dip Recipe!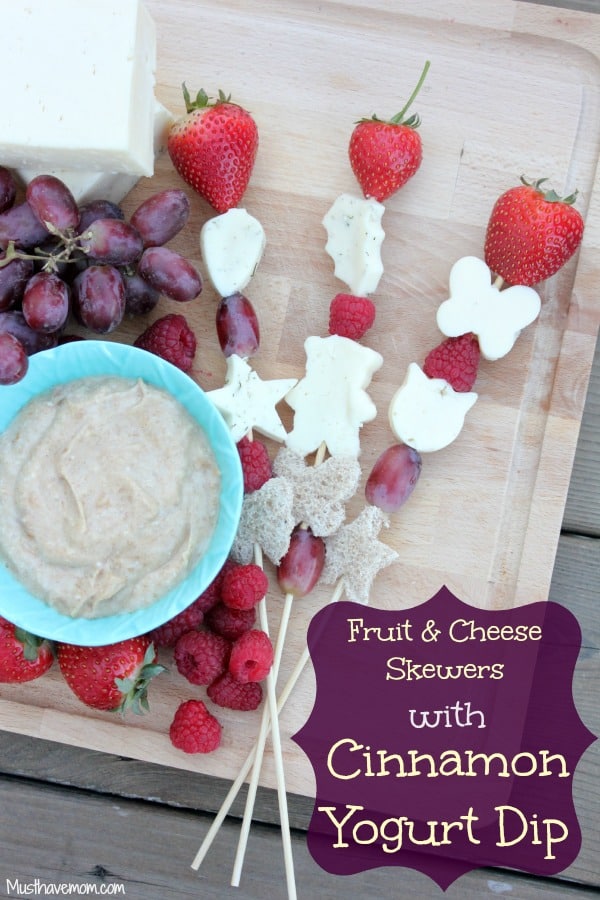 My kids love to help in the kitchen so coming up with fun recipes that they can make themselves is always fun! This recipe is sure to please not only their tastebuds, but their culinary skills as well! This is the perfect snack for after school that they will be able to prepare themselves. I love healthy snacks so this Cinnamon Greek yogurt dip uses greek yogurt, raw honey, cinnamon and soy butter. It's healthy and delicious and the kids gobbled it up.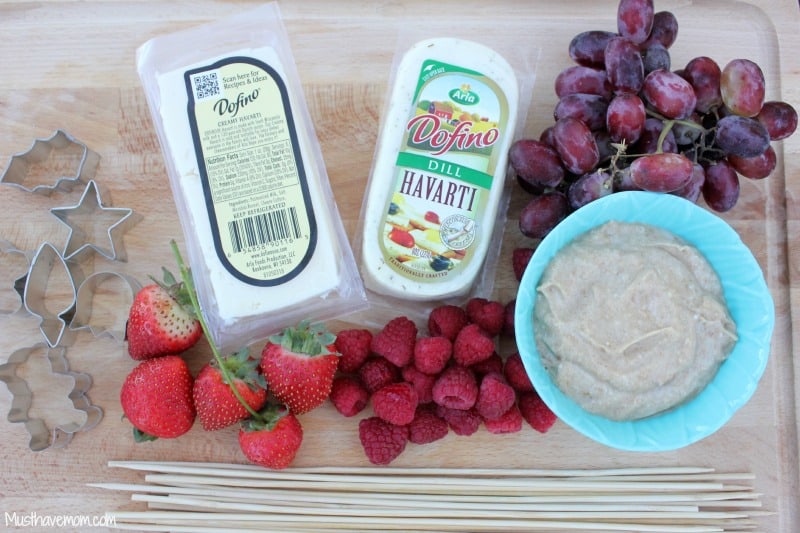 When looking at creating healthy after school snacks I look to pair things that naturally go well together like fruit and cheese. I chose to use Arla Dofino Creamy Havarti and Dill Havarti cheeses, grapes, strawberries and raspberries along with some whole grain bread.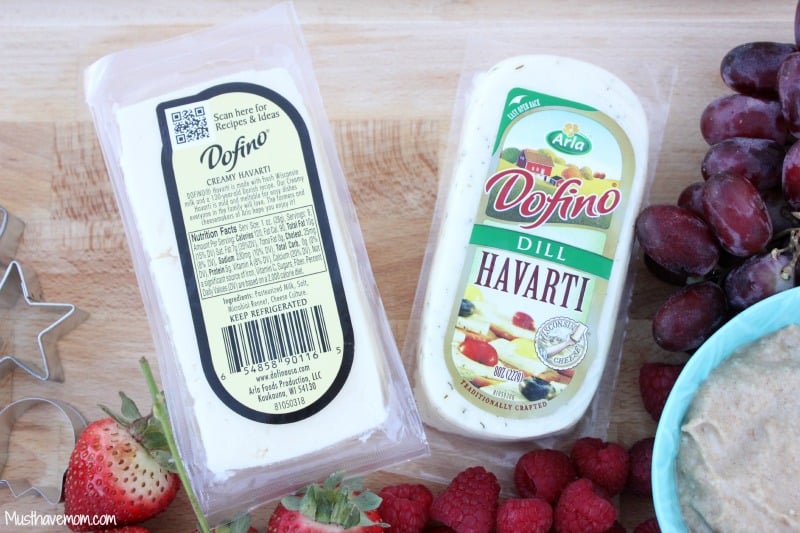 The best way that I've found to encourage my kids to eat healthy foods like fruits and vegetables is to serve them in a fun way. That's why I incorporated mini cookie cutters into this snack idea. Slice the Arla Dofino cheeses into thick slices first. An adult should do this part!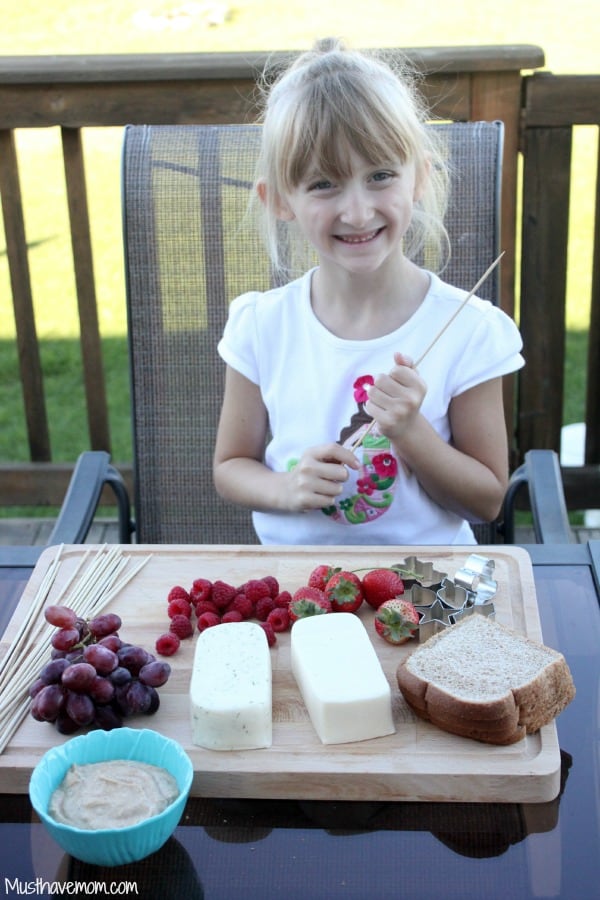 Set your child up with their own cutting board and workspace with all of the washed fruit, skewers, bread, cheese and mini cookie cutters that they will use to create their skewers.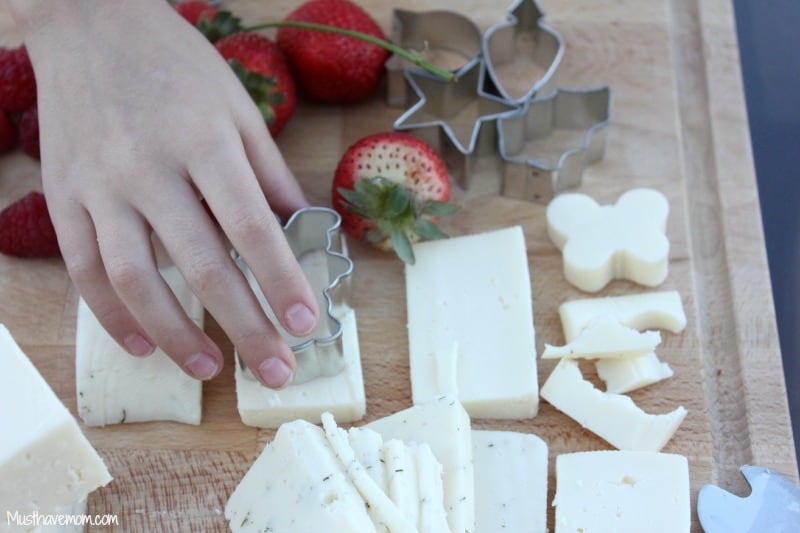 Then let them cut out shapes in the cheese using the mini cookie cutters.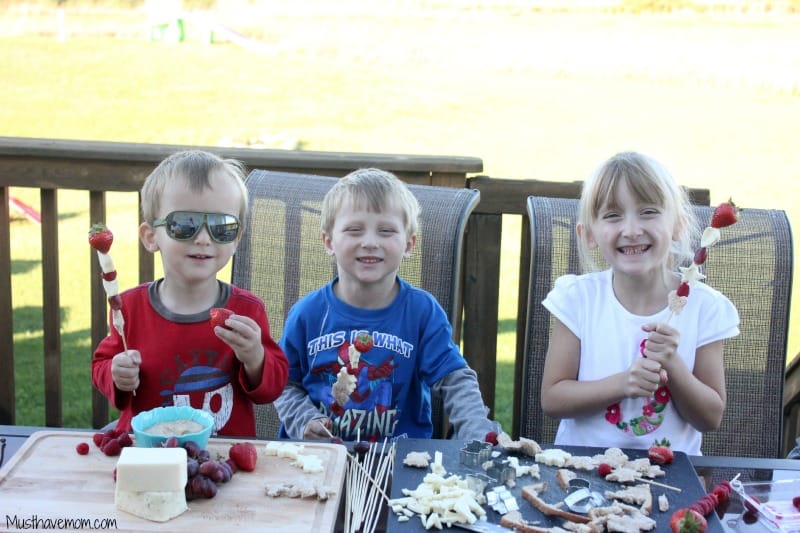 Kids of all ages can make their own skewers. My kids were all able to master this activity (ages 3, 4 and 6). They had SO much fun doing it and guess what? They ate it all too! Kids are naturally more inclined to eat healthy snacks when they have made them themselves.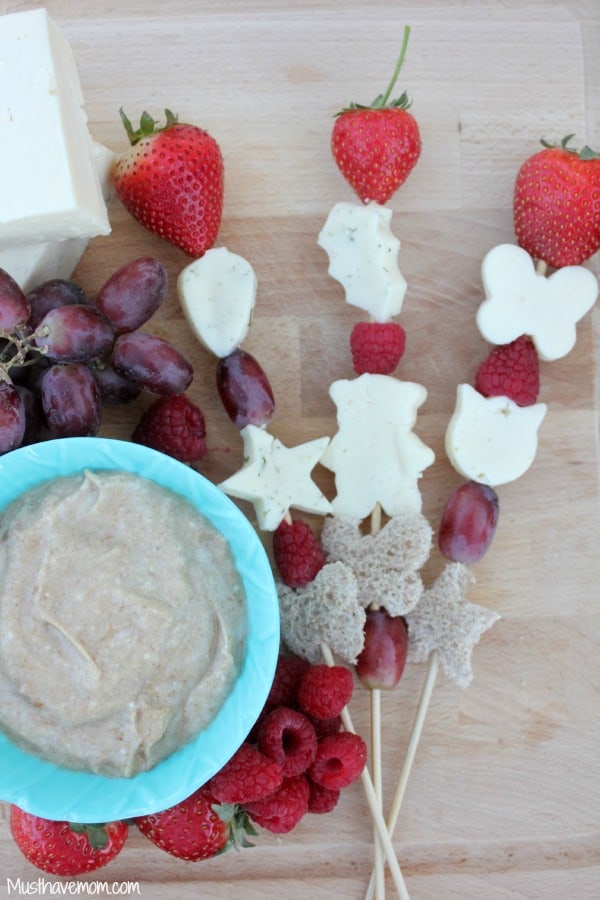 The kids can help make the fruit dip too! Have them help measure out ingredients and stir them together. Print this recipe off below or pin this post for later!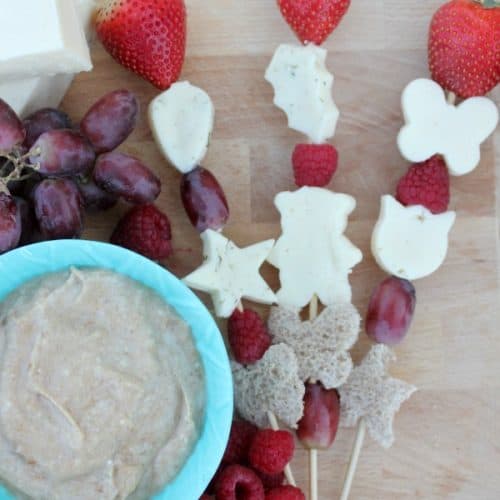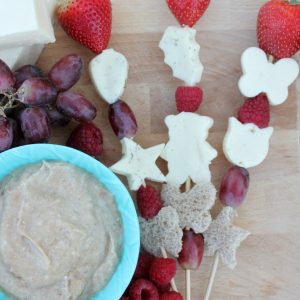 Kids Cooking: Fruit & Cheese Skewers With Cinnamon Greek Yogurt Dip Recipe!
Easy recipe that the kids can prepare! A healthy snack idea
Ingredients
For Skewers
Strawberries

Raspberries

Grapes

Any fruit will work!

Whole grain bread

Arla Dofino Havarti Cheese

Arla Dofino Dill Havarti Cheese

Bamboo skewers
For Yogurt Dip
1/2

Cup

Plain Greek Yogurt

2

Tbsp

Peanut Butter OR Soybutter

for a nut free version

Dash cinnamon

1

Tbsp

raw honey
Instructions
Cut cheeses in thick slices and allow the kids to cut out shapes using mini cookie cutters.

Cut out shapes in bread using mini cookie cutters.

Make skewers using fruit, bread and cheese

Mix together yogurt, peanut butter/soy butter, cinnamon and raw honey until blended.

Serve skewers with dip and enjoy!
What recipes do your kids love making?