DIY Instant Oatmeal Packets Recipe with Ingredient Combination Ideas

Lately I have been in a breakfast rut. It seems we have the same thing every morning and even the kids are bored with it. It was time to switch it up a little while making sure that my kids were starting their day off right. I wanted something that was quick and easy to prepare while still offering a proper start to the day so they can learn at school and have full bellies. These DIY Instant Oatmeal Packets are the perfect solution! We love how tasty they are and I love how quick and easy they are to make and prepare. Plus you can customize each packet to your family's tastes so everyone gets what they want for breakfast!
To make your own homemade DIY instant oatmeal packets you'll need these ingredients:
Old fashioned oats
Dried fruit (blueberries, cranberries, raisins, etc)
Nuts (walnuts, pecans, almonds)
Sugar (white or brown)
Powdered milk
Flax seeds (optional)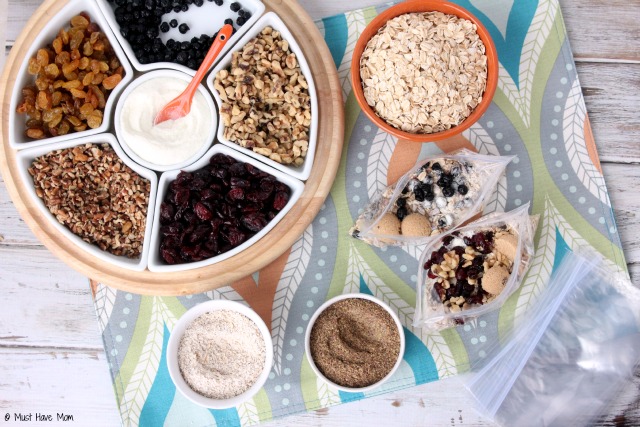 One thing I LOVE about these DIY instant oatmeal packets is that they offer the convenience of store bought instant oatmeal packets, while still giving me the peace of mind of knowing exactly what ingredients are in them. Being able to make instant oatmeal without all the added chemicals and other stuff I can't pronounce that you see on the ingredient label of store bought instant oatmeal packets gives me peace of mind.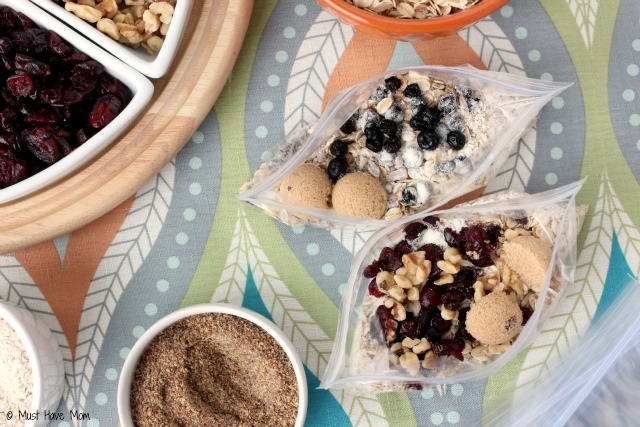 To make each DIY Instant Oatmeal packet simply use a snack size zip top plastic bag. Add the following ingredients to the baggie to create the base of your mix:
1/2 Cup oats
1 spoonful of ground oats (I just put the oats in my food processor and grind it until it is a fine dust)
1 Tbsp of powdered milk
1 Tbsp of flax seeds (optional)
2 tsp of white or brown sugar
To this base mix you will then add your choice of mix ins from your dried fruit and nuts. Play around with spices like cinnamon or nutmeg too! I try to add a total of 3-4 Tbsp of mix in ingredients to each base mix.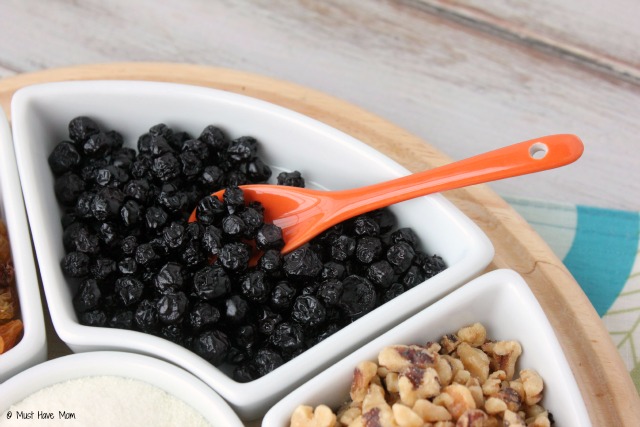 The combinations for these DIY Instant Oatmeal Packets are endless but here are some of our favorite flavor ideas:
Blueberries & Cream – Add dried blueberries and walnuts or pecans to your base mix
Cinnamon Raisin – Add raisins and 1/2 teaspoon cinnamon sugar to your base mix or 1/4 teaspoon cinnamon
Fruit & Nut – Add dried cranberries and golden raisins along with chopped pecans to your base mix
Cranberry Walnut – Add dried cranberries and chopped walnuts to your base mix. Optional: drizzle with maple syrup after you microwave it.
Strawberry Almond – Add dried strawberries and slivered almonds to your base mix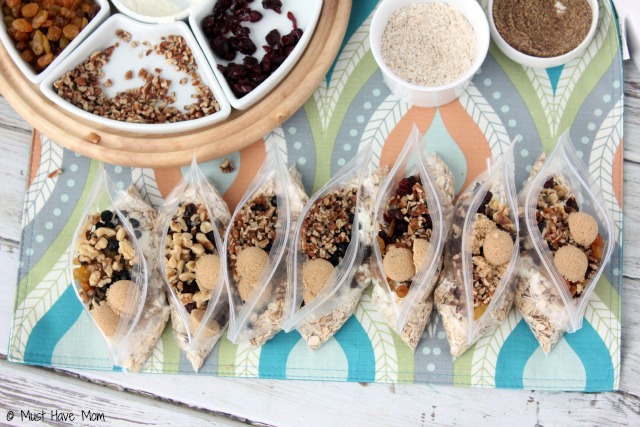 I typically fill up as many baggies as I plan on making with the base mix in each baggie. Then I'll add the mix in ingredients to each one. An even better way to make these is to get the kids involved and let them each choose their mix in ingredients! This makes for a fun breakfast that they helped make!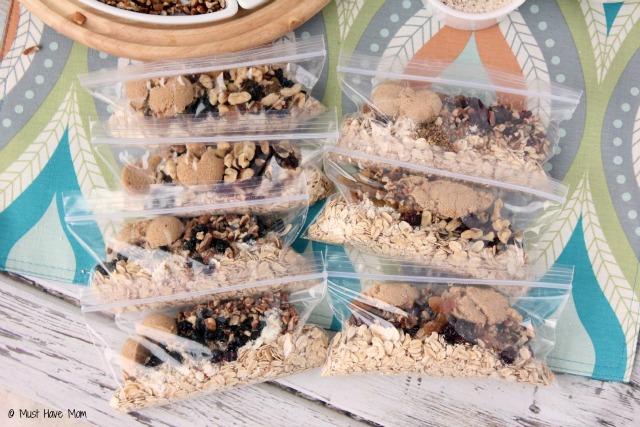 Label each DIY instant oatmeal bag with the flavor so you can easily grab your favorite from the pantry when you are in need of a quick, yummy breakfast!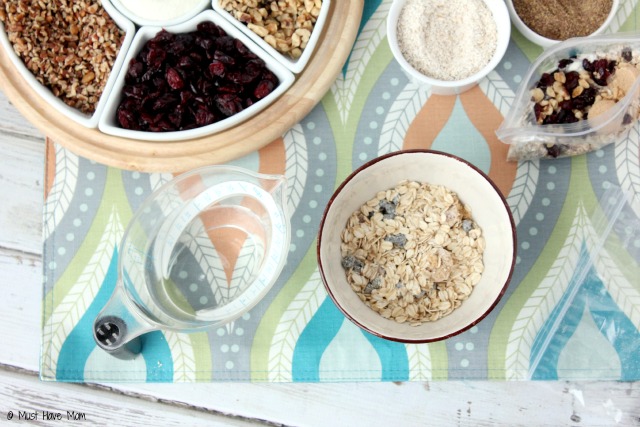 When you are ready to make your DIY instant oatmeal simply dump it in a bag and add 1 cup water. Microwave it for 2-3 minutes, stirring halfway through the cooking time, until desired texture is reached. Cook for less time for a thinner texture, or cook longer for a thicker texture.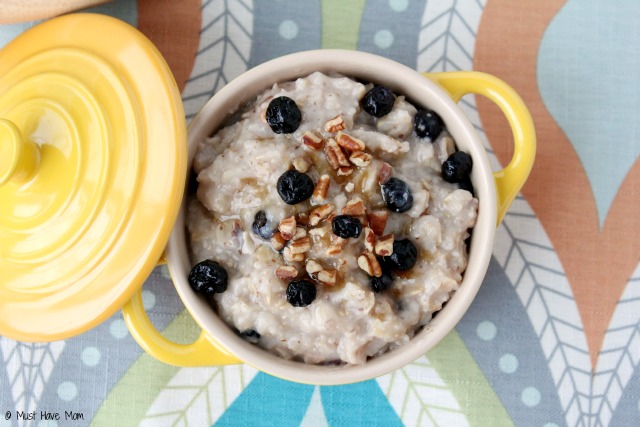 When you're done you'll have a yummy DIY instant oatmeal that rivals any store brand! These are far more hearty and delicious than the store bought kinds. Make up a bunch and keep them on hand for hectic mornings. Oatmeal is a heart healthy breakfast that will also keep your kids full and satisfied at school.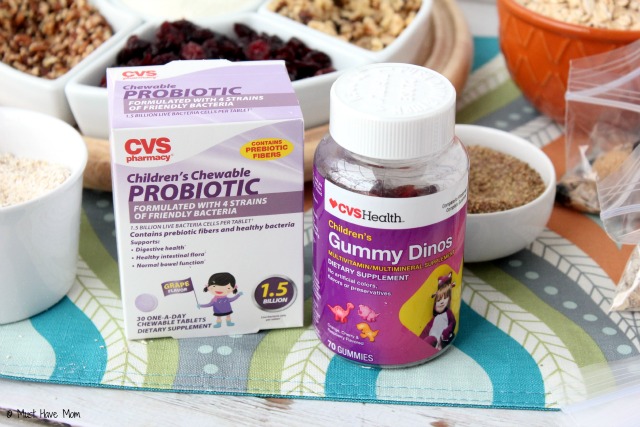 It's so important to start the day out right and experts agree that setting our kids up for success in school each day starts at home. Starting them off with a healthy breakfast is a big factor in concentration and focus during their school day. Not only do we start our kids off with a hearty breakfast like these DIY Instant Oatmeal packets but we also start out each day by giving them CVS Children's Chewable Probiotics and
CVS Gummy Dinos
. Ensuring that they stay healthy means that they will miss less school due to sickness and they'll stay on track. If you aren't starting off your child's day with a vitamin and probiotic then I encourage you to explore the benefits of doing so!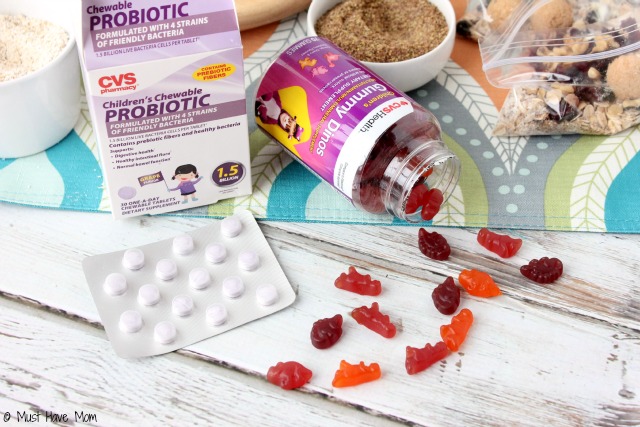 CVS Gummy Dinos are a great way to start the day and my kids love them! They taste great while providing them essential vitamins they need which is especially important if your kiddo isn't getting enough of all the food groups. CVS Gummy Dions use all natural flavors and colors from natural sources. They contain no preservatives and are free from wheat (gluten), milk, eggs, tree nuts, peanuts, and soy.
If you aren't familiar with probiotics, they can be a great addition to your morning routine. They provide good bacteria which support a healthy gut and immune system. The CVS Children's Chewable Probiotic is grape flavored and it is much easier than mixing in a powder as other types require. I've tried chewable and powder and prefer the ease of the chewables. Find both of these products at CVS or CVS.com.
Print off the instructions below and start making your own homemade oatmeal packets!
Homemade Instant Oatmeal Packets
Author:
Prep time:
Total time:
Easy homemade oatmeal packets that you can make and keep in the pantry. When you want to make one just add a cup of water and microwave! Make each packet to each family member's tastes.
Ingredients
Base Mix
1/2 Cup Old Fashioned Oats
1 Tbsp ground oats (just put some old fashioned oats in the food processor and grind them up into a powder)
1 Tbsp Powdered Milk
1 Tbsp Flax Seeds (optional)
2 tsp white or brown sugar
Mix Ins
2 Tbsp dried fruit – raisins, golden raisins, cranberries, blueberries, etc
2 Tbsp nuts – chopped walnuts, slivered almonds, chopped pecans, etc
Instructions
For each oatmeal packet combine "base mix" ingredients in a snack size zip top bag.
Add your choice "mix ins" to the bag.
Store in a dry place.
When ready to eat simply pour the contents of the bag into a microwave safe bowl. Add 1 cup water and microwave 2-3 minutes, stirring halfway through. For a thinner texture microwave for less time, for a thicker texture microwave longer.
You can also add honey or maple syrup to the top of it after cooking!
If you enjoyed this post please share it on Facebook and pin it for easy finding later!