Homemade Dr Seuss Costumes & Storybook Character Dress Up Ideas
It's I Love To Read month and that means that this week is Dr Seuss dress up week! Friday is the day our kids wear Dr Seuss costumes or storybook character costumes. I've got a bunch of great Dr Seuss costume ideas and storybook character ideas that you can make yourself at home! These are inexpensive and EASY to make.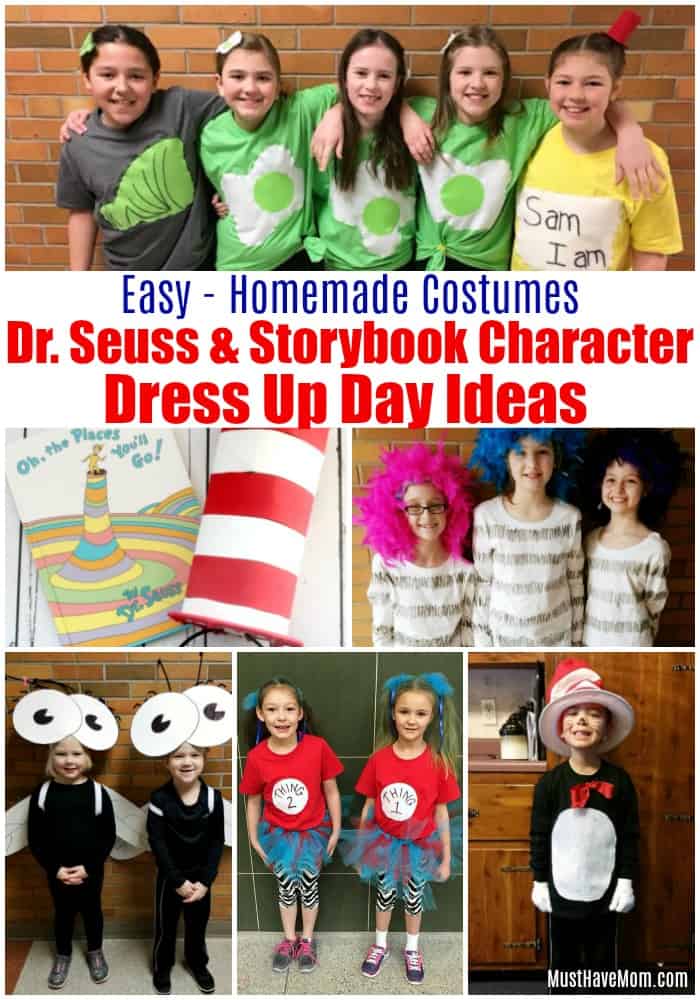 Dr Seuss Costumes
This week is dress up week at school for Dr Seuss and I love to read month. I've got all the homemade Dr Seuss costumes and storybook character dress up ideas you need to properly outfit your child for this fun Seuss-themed week! As a mom, I know how tough it can be to come up with fun and easy homemade Dr Seuss costumes or storybook character costumes so I've gathered up all of my fellow mom's ideas to help you create a fun and easy costume for I love to read month! I hope these ideas inspire you. All of these costumes can easily be made at home with very little time or money spent. I've also linked to the supplies below each costume so you can order anything you don't have on hand!
Dr Seuss Group Costumes
If you have a group of friends that want to dress up together, it's really fun and easy! These costumes are perfect for a group of friends to do together. Gather your friends and pick a favorite book or theme!
This idea comes from Green Eggs & Ham. One person dresses up as Sam I Am with a yellow shirt, white felt sewn or fabric-glued on and a little red hat. Write "Sam I Am" on the white felt in black permanent marker. Make the small hat with felt or construction paper. Bobby pin it in the hair. You'll also need one person to dress up as the "ham". Get a dark shirt and green felt to make the ham. Use a dark green permanent marker to draw the lines and make the ham. The rest of the group can go as the green eggs. Use green shirts and sew or glue white and green felt on to create the "green eggs".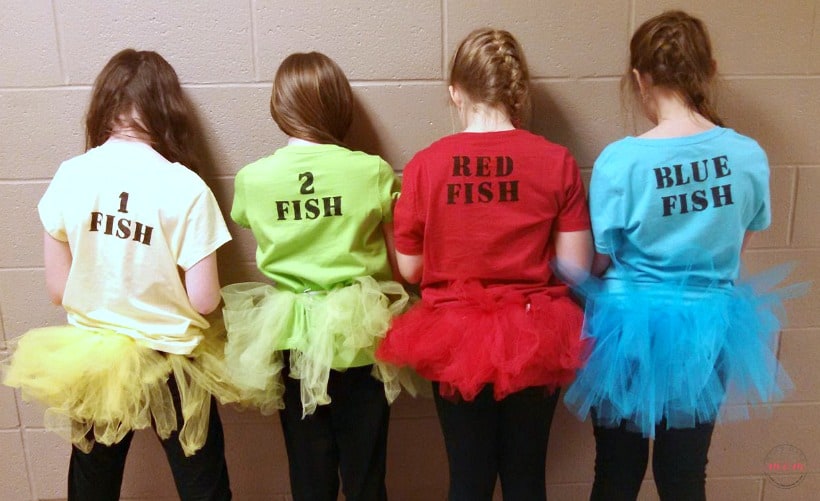 One Fish, Two Fish, Red Fish, Blue Fish group Dr Seuss costumes are also a lot of fun! You'll need a group of four for this costume idea. Get a yellow, green, red and blue shirt and use a black permanent marker and stencil to write on the backs (or the fronts!). Make your own colored tutus with elastic and colored tulle. Pair it with black leggings.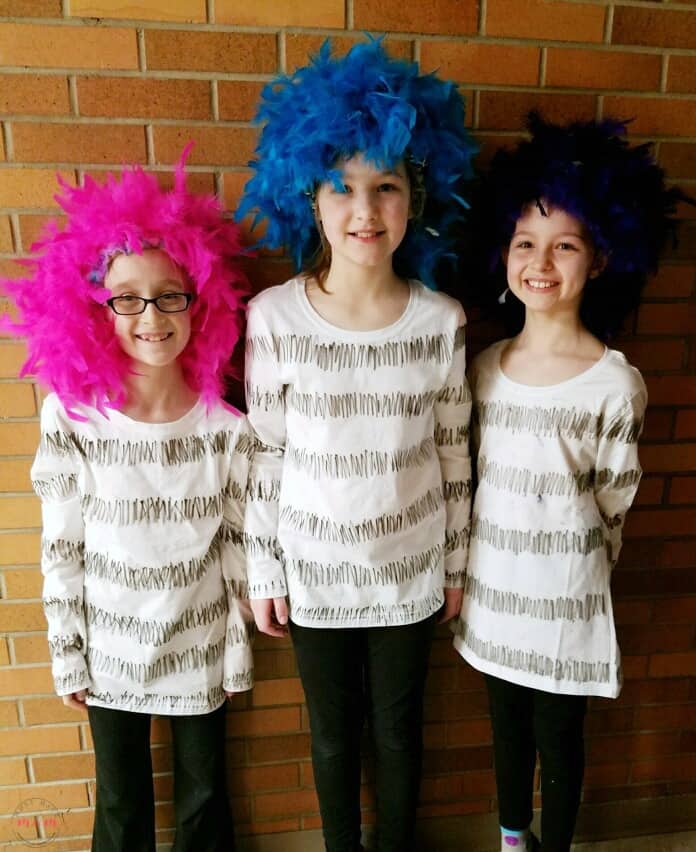 These truffula trees from the Lorax are so adorable and easy. Each truffula tree will need black pants, a white long-sleeved shirt and a poofy wig. Use a black permanent marker to draw the lines on the shirt for the trunk of the tree.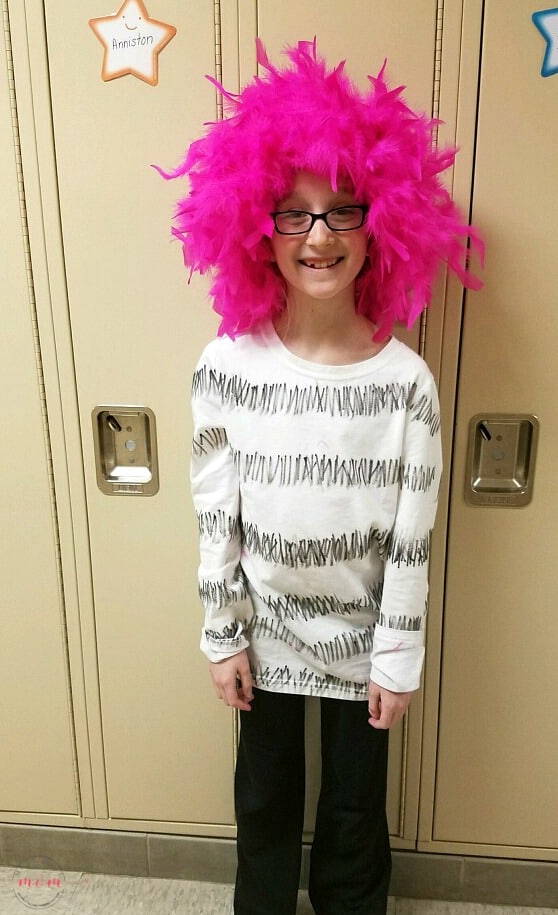 Get various colored feather wigs for each group member.
Cat In The Hat Costumes
Cat in the Hat is a popular choice for Dr Seuss costumes during Dr Seuss week! Here are som easy ideas you can make at home.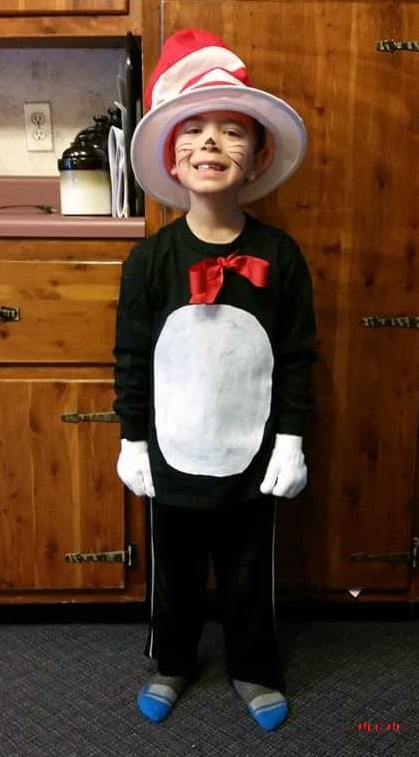 This Cat in the Hat costume was made with black pants and a black shirt. Sew or glue white felt to the center for the belly. Add a red ribbon bow to the collar. Wear white knit gloves and top with a Cat in the Hat hat! Draw on whiskers and a nose with black face paint.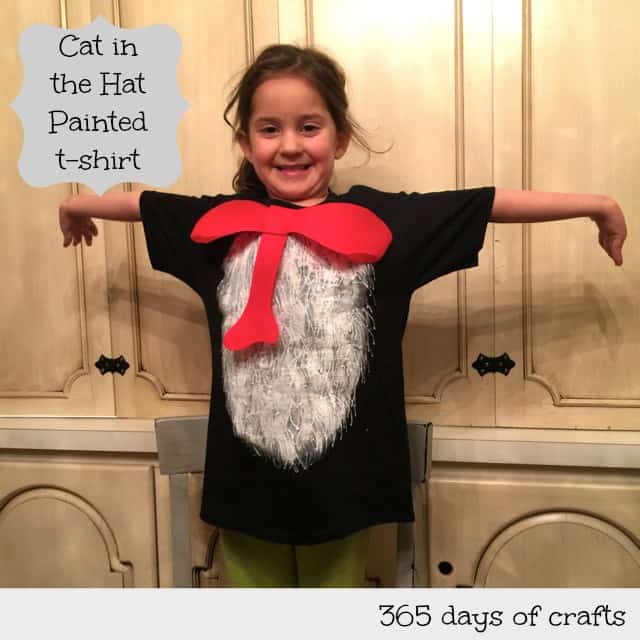 If you're feeling crafty then give this cat in the hat painted t-shirt a try. Directions for this costume are here.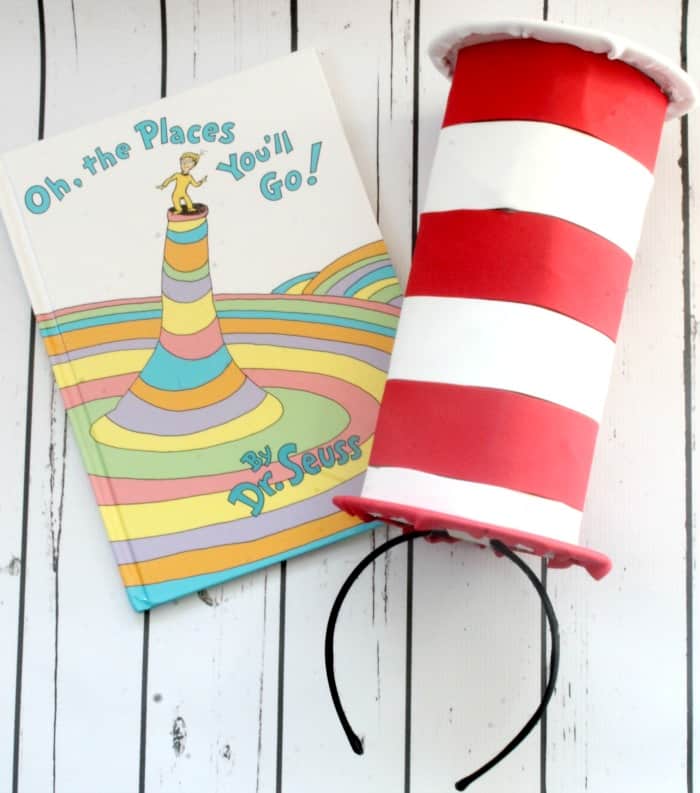 You don't have to buy a hat for Cat in the Hat either, you can make one with this Cat in the Hat tutorial that uses cardboard and craft foam!
Thing 1 and Thing 2 Dr Seuss Costumes
Thing 1 and Thing 2 are another popular choice for Dr Seuss costumes. Here are a variety of ways you can dress up as Thing 1 and Thing 2! Be sure to check out my Dr. Seuss Thing 1 and Thing 2 puppets too!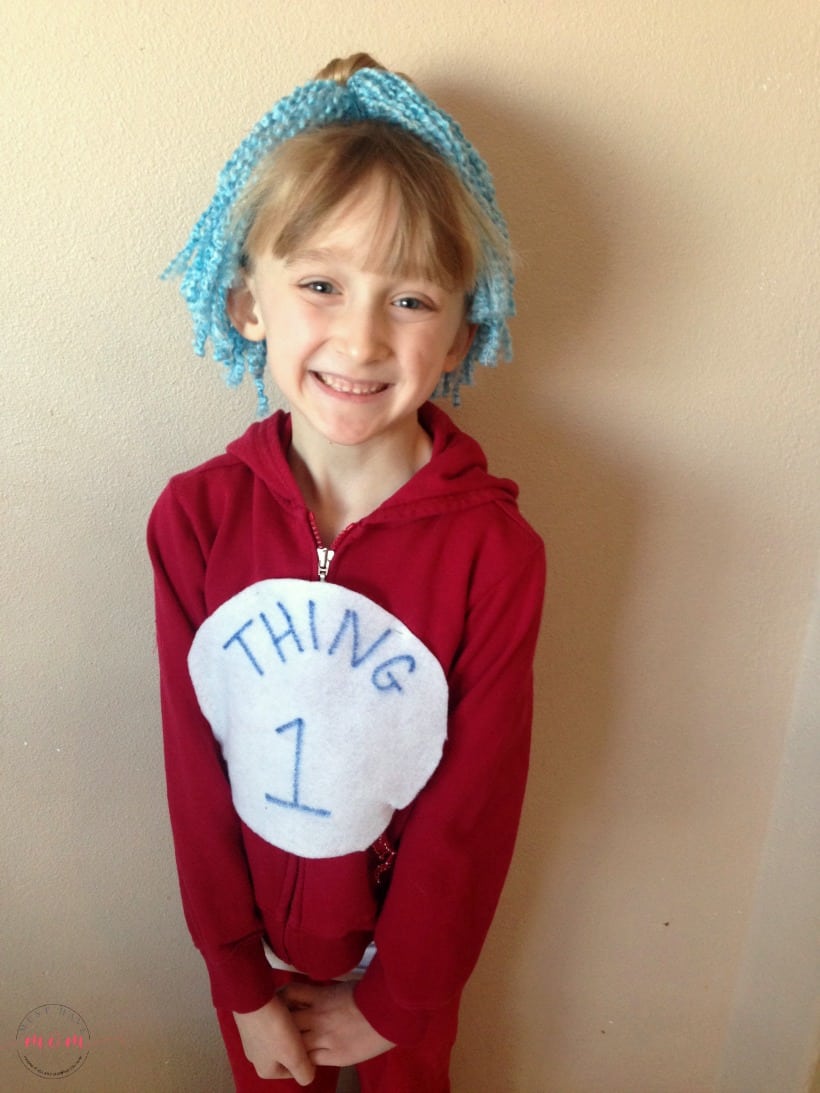 This Thing 1 costume was thrown together in five minutes. Wear red pants and a red shirt. Add a white felt circle to the belly (I pinned it on) and write "Thing 1" on it with permanent marker.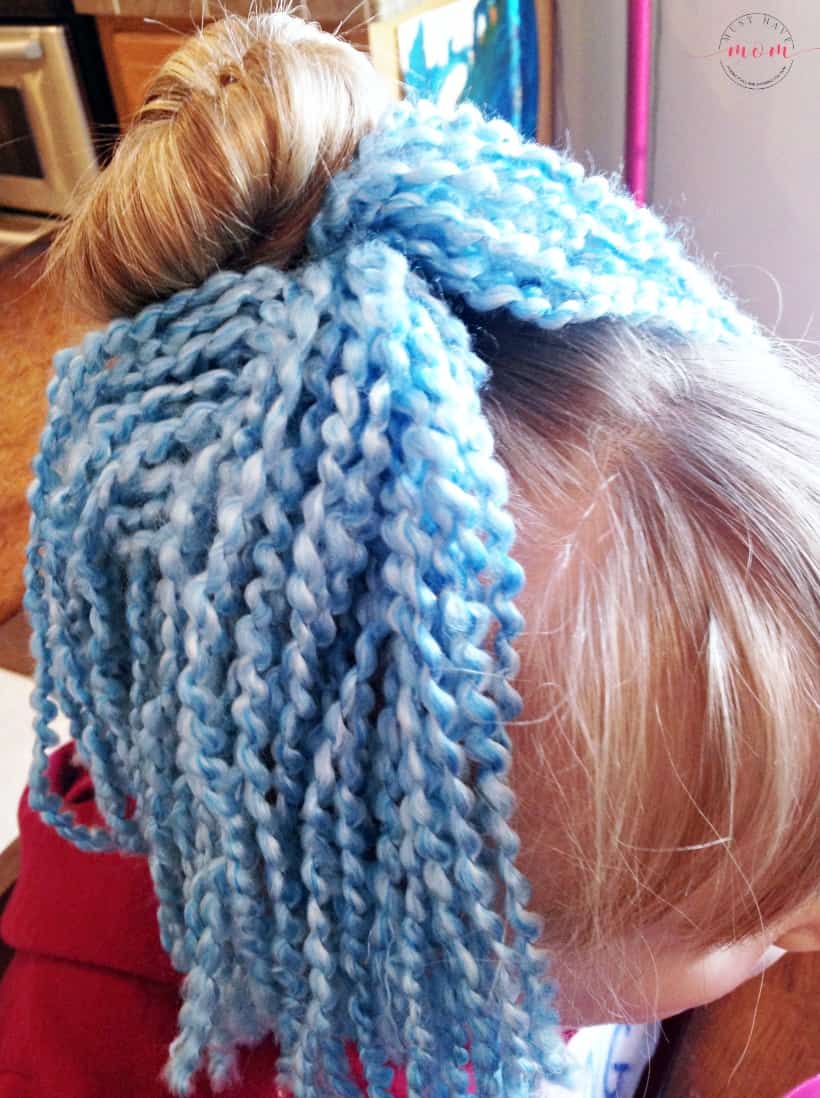 For the Thing 1 and Thing 2 hair I simply used blue yarn and wrapped it around and around a book. I then cut one side, holding the other side together. I wrapped another strand of yarn around the center to secure it together. Then, bobby pin it in front of a bun.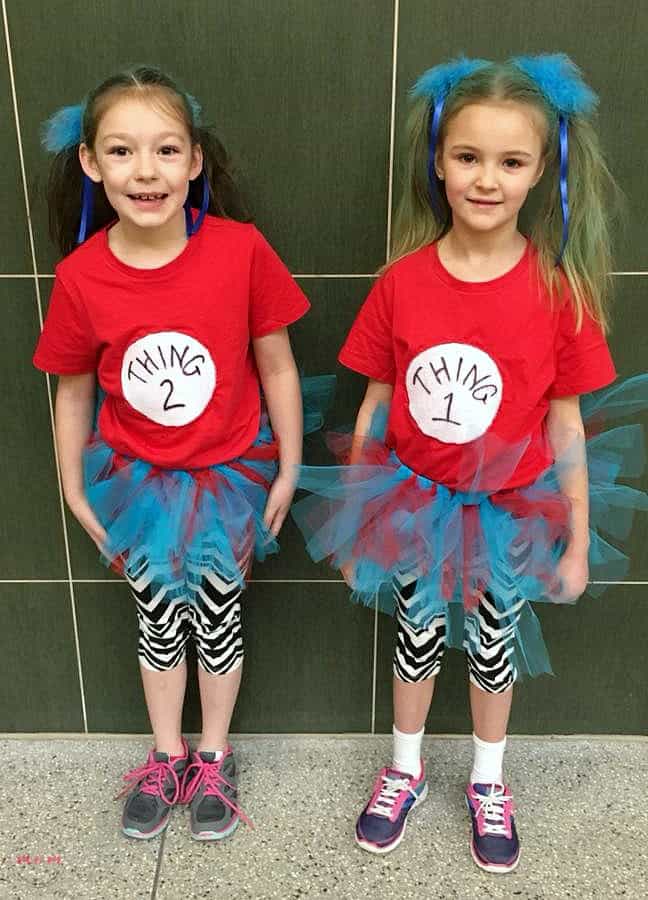 This Thing 1 and Thing 2 costume used red t-shirts with a white felt circle sewn on. Then pair with leggings and a blue and red tutu. Simply tie strands of tulle onto an elastic to create the tutu. Add some blue fluff and ribbon to their hair to complete the look.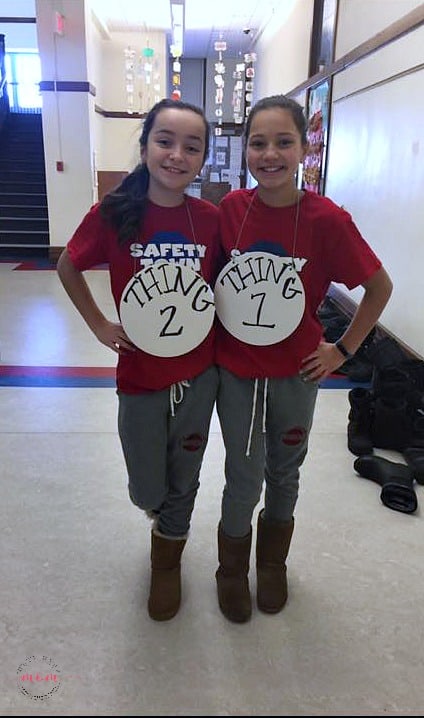 You don't have to sew or glue with this variation. Simple wear a red shirt and use paper plates or posterboard to create the Thing 1 and Thing 2 signs. Add string to them and wear them around the neck. So easy and genius!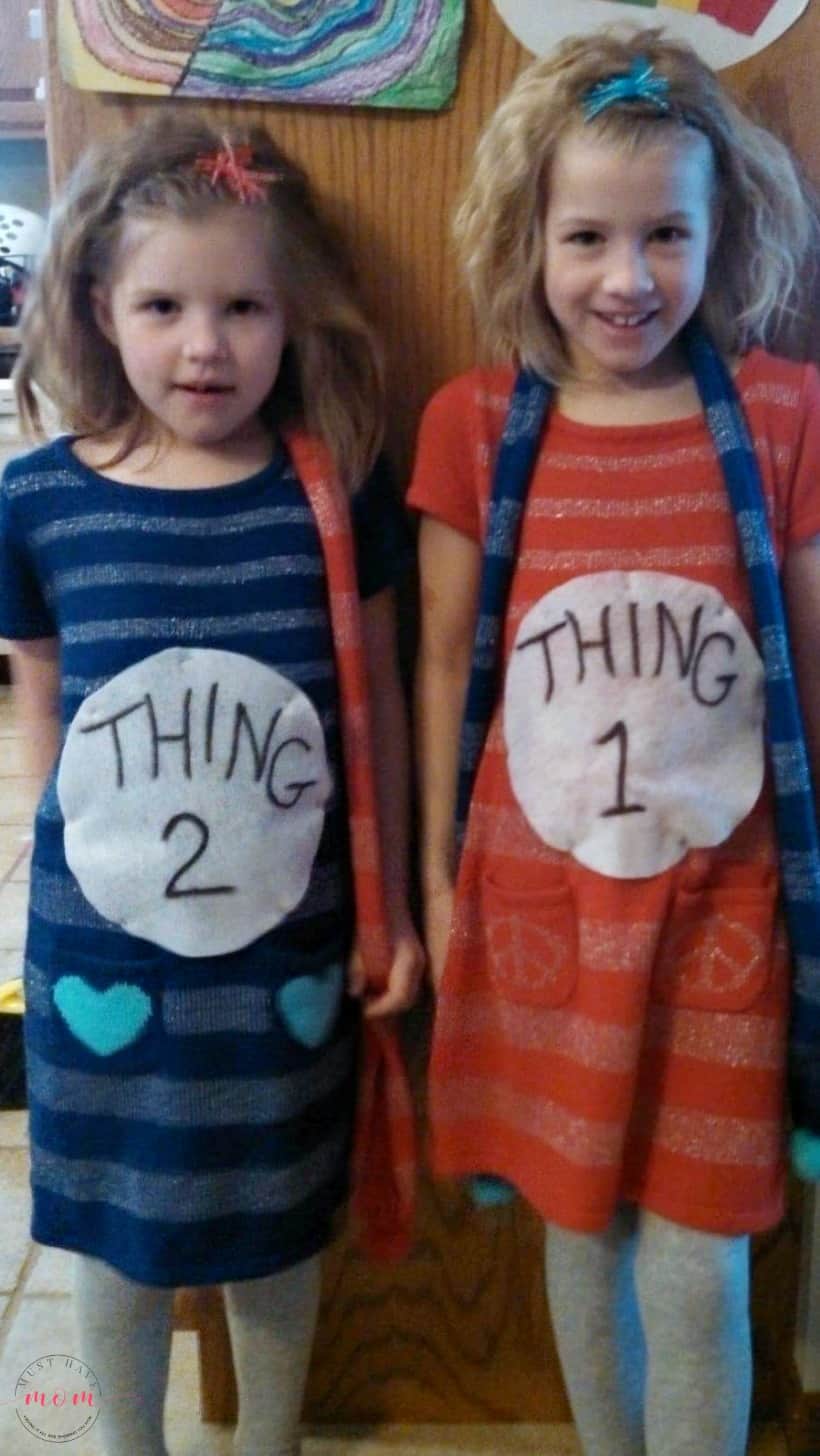 This cute version uses dresses instead of t-shirts. Pin Thing 1 and Thing 2 felt circles to each belly.
One Fish Two Fish Costume
I love One Fish, Two Fish, Red Fish, Blue Fish and this costume is quick and easy to make! My one fish two fish wine cork painting activity would pair really well with these fun costumes!
Use a yellow shirt and colored felt to make this shirt. Cut the felt in the shape of a fish and use a permanent marker to write on the shirt.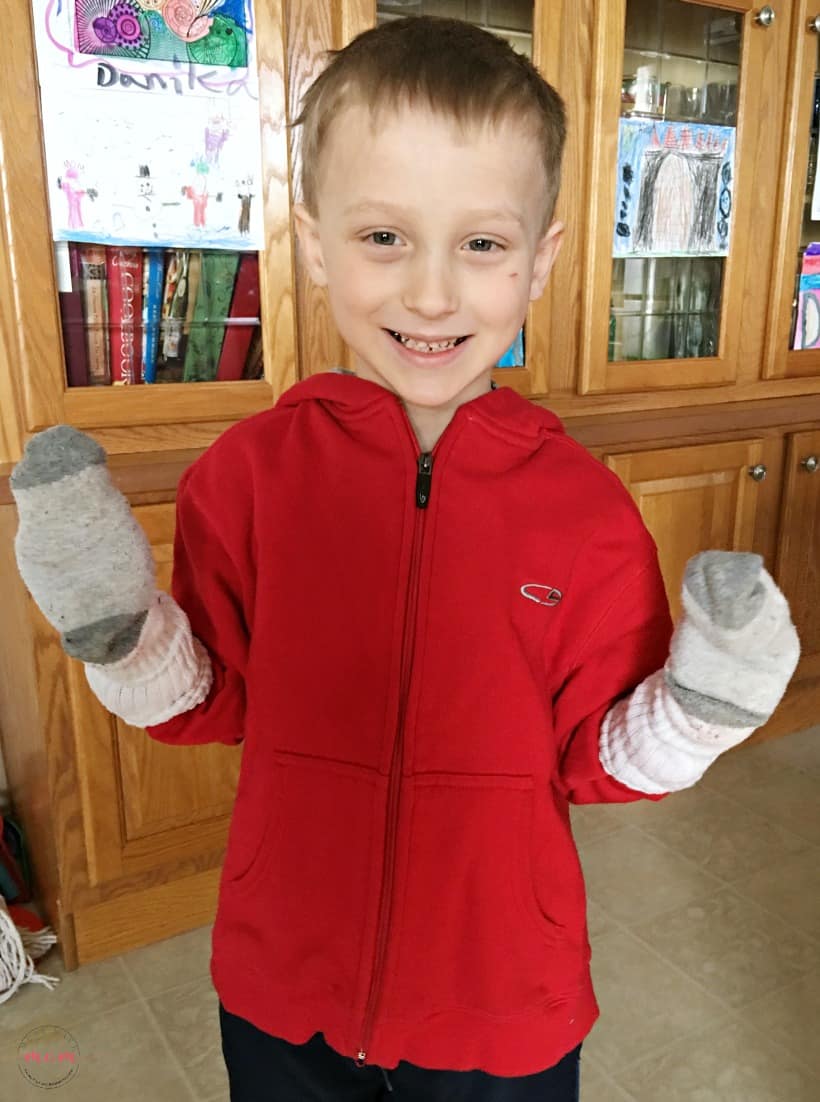 If you need a really last minute costume (like I did!), then simply grab a pair of socks and use safety pins to pin them to your child's sleeve (so they can take them off when they need to write and not lose them). You've got a quick and easy Fox in Sox costume!
Storybook Character Dress Up Ideas
These storybook character dress up ideas are adorable and easy. You can pick any storybook character for dress up day and use your imagination to make it come to life.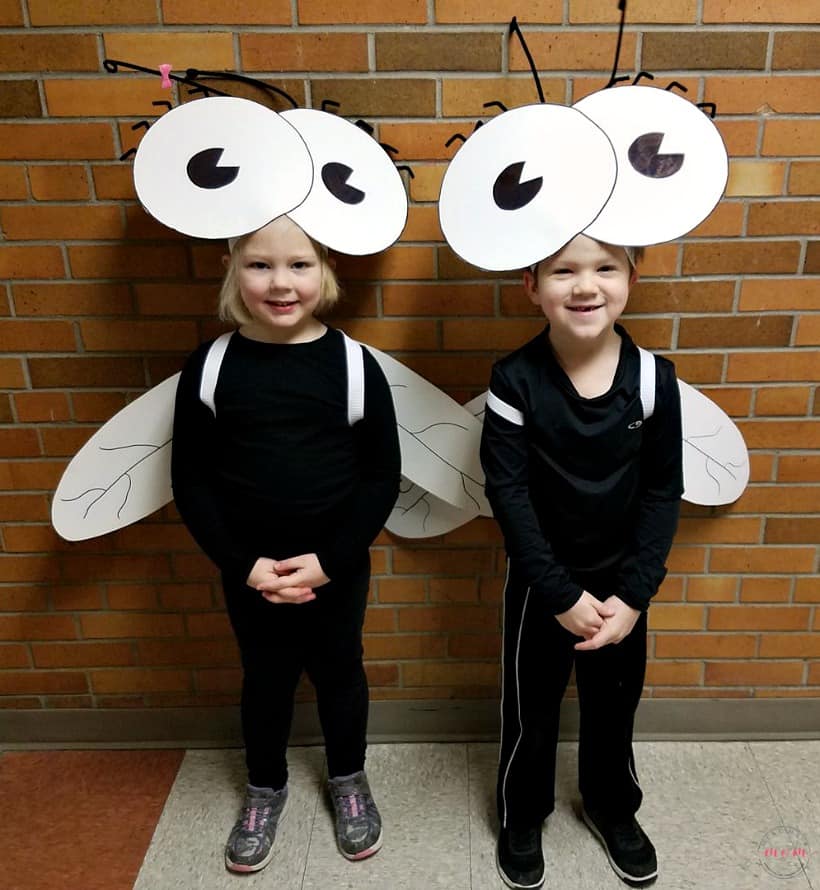 This Fly Guy meets Fly Girl costume idea was so adorable and it wasn't as hard as it looks to make either! Start with a black shirt and pants. Then make the wings and eyes from posterboard. Use a black marker to draw on the details. Fasten black pipe cleaners on the eyes for eyelashes and fasten the wings to elastic that goes around the child's arms.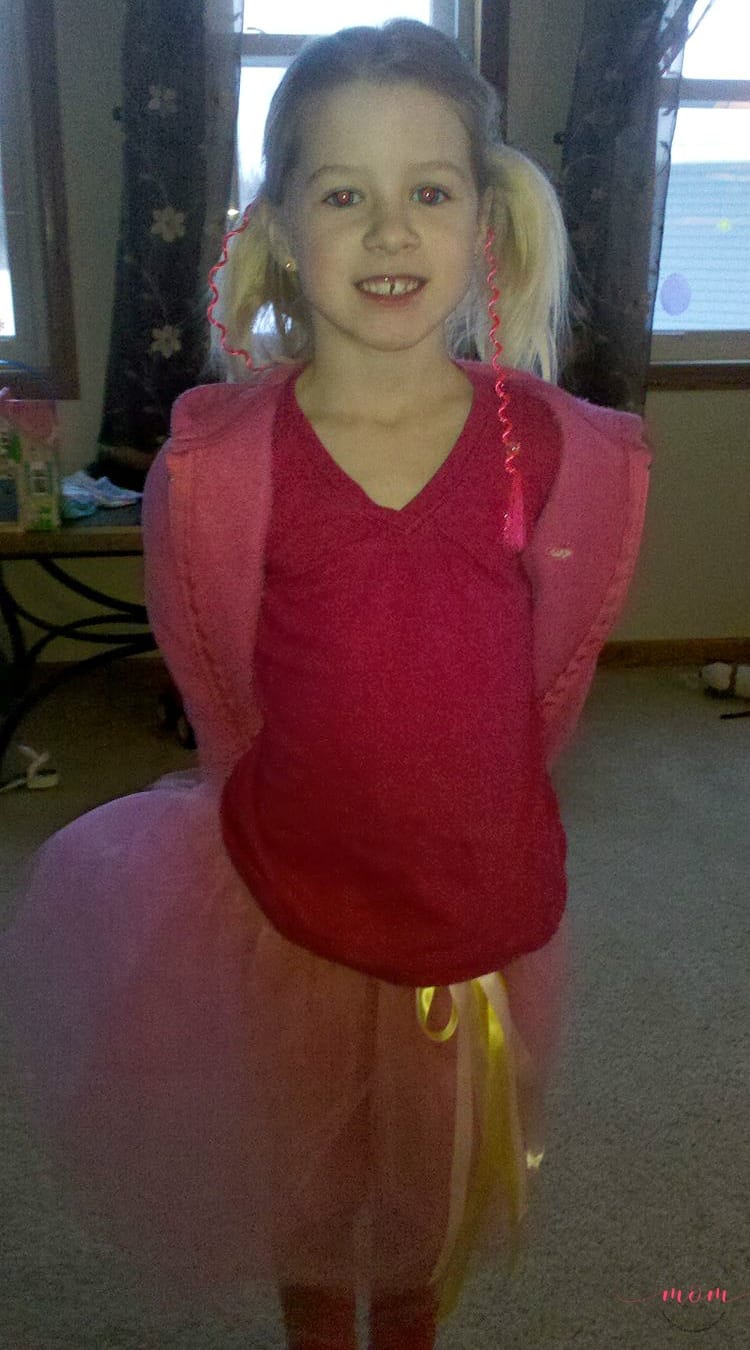 Pinkalicious is a fun and easy costume idea! You'll need a pink tutu and a pink shirt. Add some pigtails with pink ribbons or bows and you've got a super easy storybook character costume.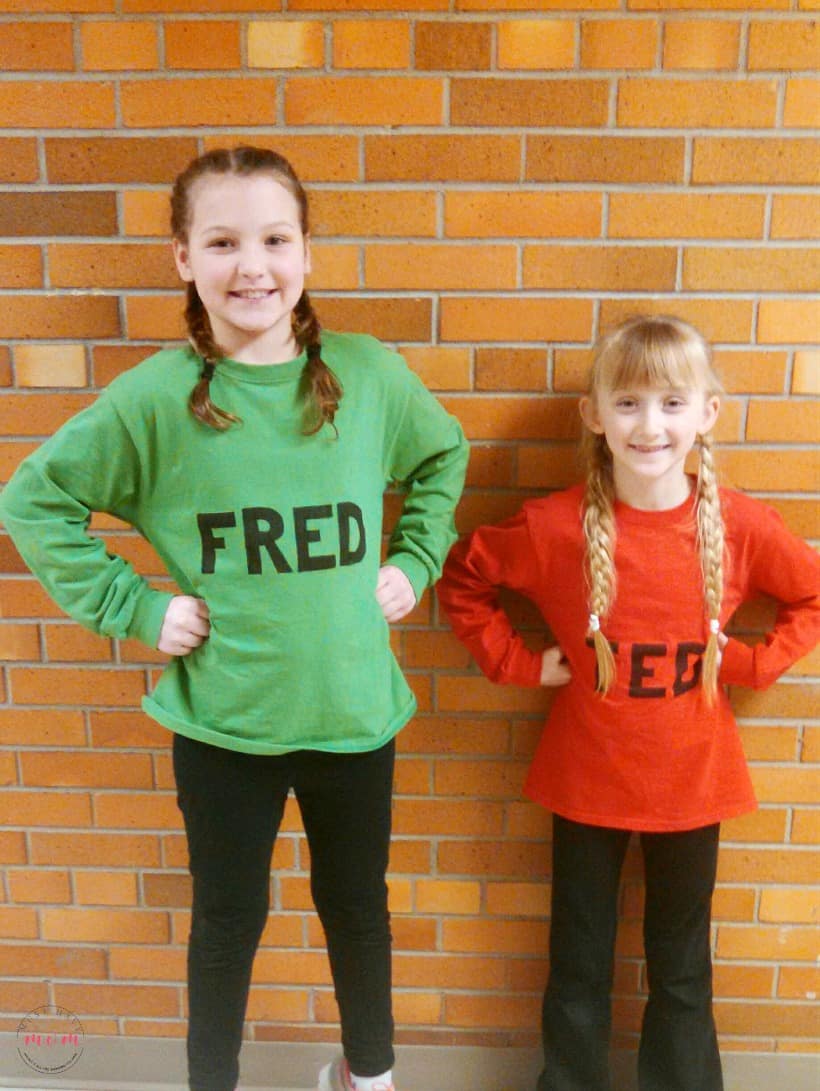 This Fred and Ted storybook character costume idea is perfect for friends who vary in height. My daughter is much shorter than her friend so it was adorable! This is from the "Big Dog, Little Dog" book. Get one long-sleeved green shirt and write "Fred" on it. Get a long-sleeved red shirt and write "Ted" on it. Pair with black pants.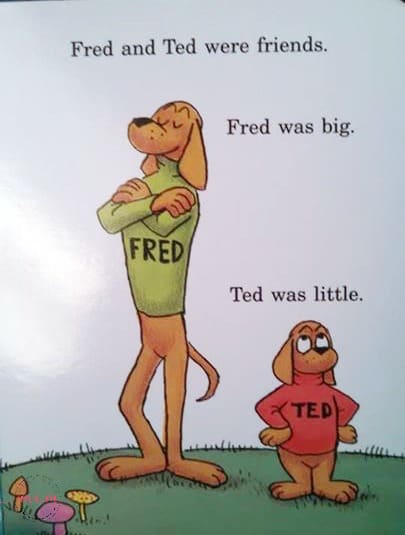 Use the book as a prop!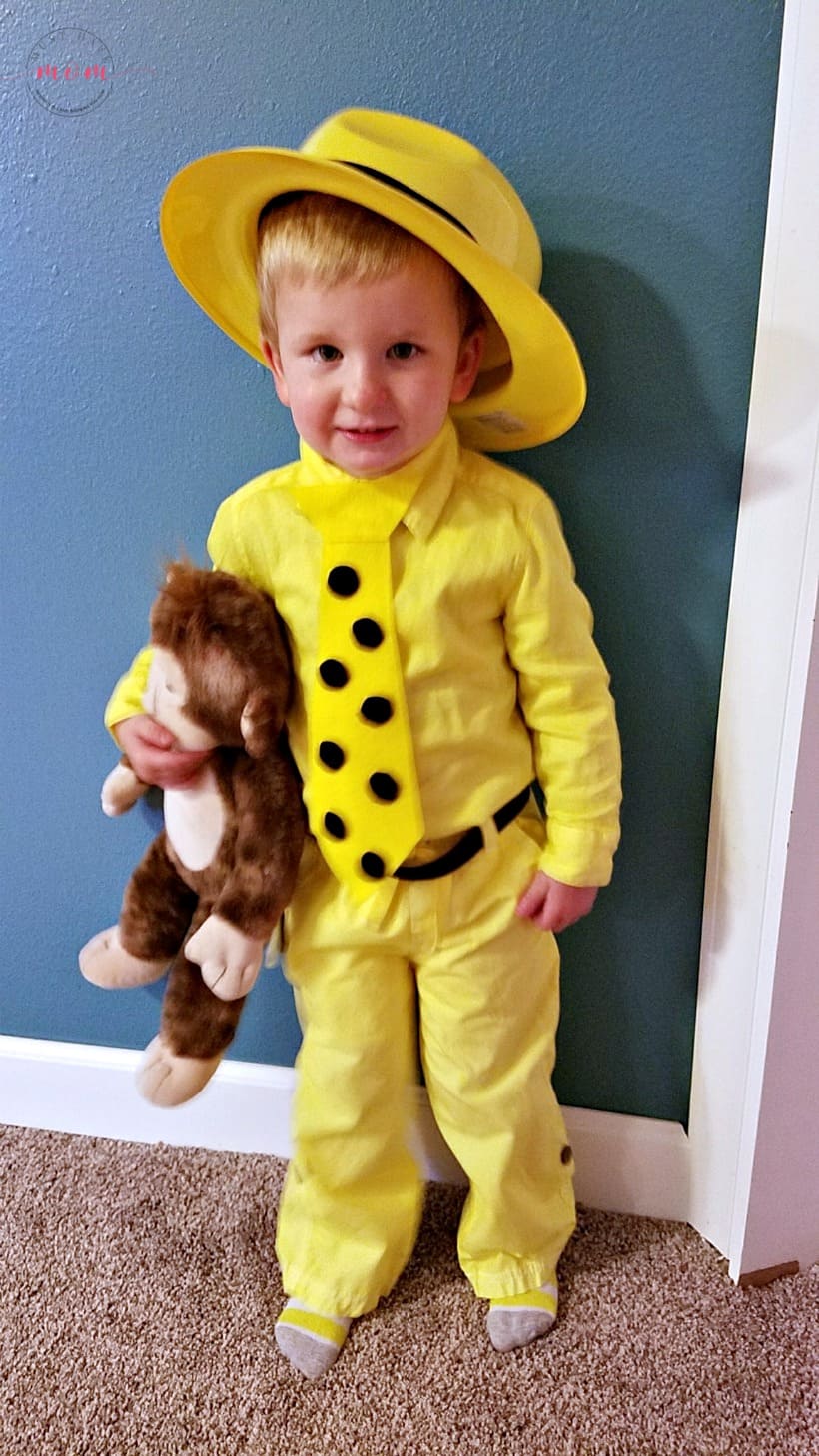 The man in the yellow hat from Curious George is another fun costume idea. You'll need yellow pants and a yellow button down shirt. Add a yellow tie with black felt polka dots attached to it. A yellow hat completes the look. Don't forget to grab a stuffed monkey too!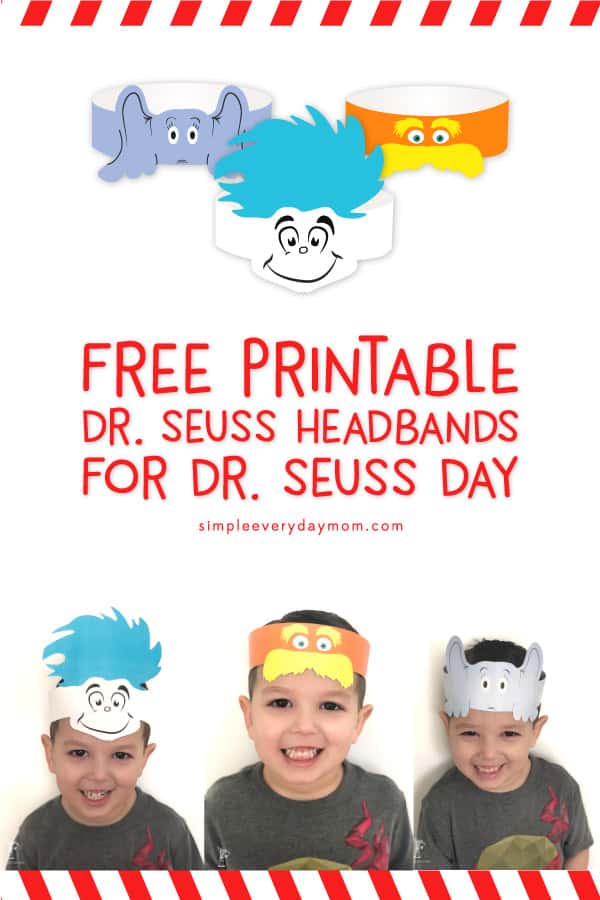 Not feeling crafty? Print these free Dr Seuss headbands and call it a day!
I hope these fun Dr Seuss costumes and storybook character dress up ideas will inspire you to create your child's Dr Seuss week costume! Have more ideas? Leave them in the comments so we can all inspire each other!
Pin Dr Seuss Costumes + Storybook Character Dress Up